With the enormous number of e-bike brands to choose from in the United States, it helps to narrow down your search to only the most unique electric bikes and the best USA brands. 
Although there are many well-known USA brands, there are only a handful of electric bikes both designed and manufactured in the USA.
The three top electric bike brands "made in the USA" are:
Bike Friday
Optibike
Electric Bike Company
The three brands above claim to build their bikes in the U.S. rather than having them manufactured overseas. However, the first two are quite pricey. Optibike's least expensive model is $2795 but goes up to $18,000+. Bike Friday builds them "by hand" and asks you to contact them for the prices, while Electric Bike Company e-bikes are the most affordable, starting at $1699.
Other companies may design their e-bikes in the U.S. but build them overseas. This helps keep manufacturing costs down. Thus, if you decide to buy a 100% USA-made e-bike, you'll generally pay more.
Fortunately, there are many high-quality brands in the United States that offer well-made electric bikes (even though they may be built outside of the USA).
So, what are the best e-bike brands in the USA? Check out the companies that make the 2023 list based on popularity, affordable prices, and special features:
* Read the detailed descriptions below to find out what makes each electric bike company special.
The best e-bike brands aren't only defined by using top-quality parts and being the most expensive. Rather, it's important that it's the best for your needs. And since all riders have different ideas of what their perfect "family" of e-bikes is, as well as what features they need, you should understand what a company is all about before purchasing from them.
With my research and the detailed list that I've put together, you'll be able to find a USA e-bike company that fits your budget and needs perfectly!
Aventon is one of the best electric bike brands thanks to the variety of e-bike models, high value, and low prices. Their focus seems to be on making e-biking accessible to everyone.
This is probably why they are a popular brand, as you can find what you're looking for but pay a reasonable price.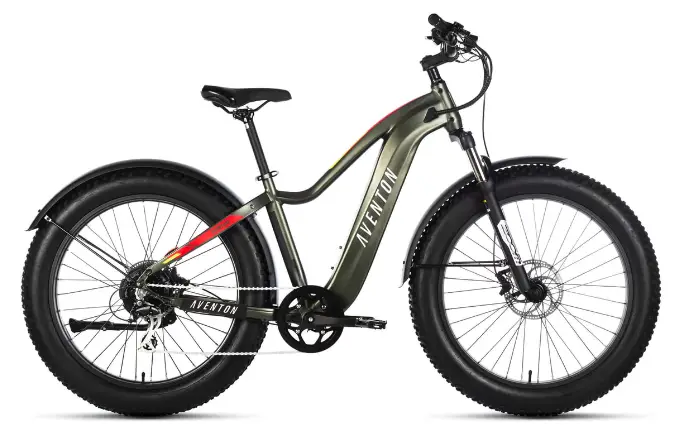 Brand Features and Benefits
Aventon offers a variety of types of electric bikes. They have a folding e-bike, commuter bike, road e-bike, family bike, and an off-road model.
In addition, each one is offered in multiple frame sizes (S, M, L) and in a step-through model, thus fitting just about anyone.
All of their models are Class 2 or 3 and have a top speed of either 20mph or 28mph, while most offer a 40-45 mile range per battery charge.
An added bonus is that every e-bike connects to their Aventon app which allows you to change your bike's speed, essentially making it a Class 3.
Cost
Aventon Bikes offers direct-to-consumer sales, which is another way to keep costs low, in addition to manufacturing overseas.
The average cost for an e-bike is around $1600, but you can get a great commuter bike, the Soltera) for around $1400 or opt for the popular Aventure fat tire bike for just under $2000.
Pedego is one of the oldest and largest e-bike companies in America, starting as a small company with just six employees back in 2008. It was started in Southern California by two good friends and business partners who wanted to improve the quality and style of the e-bikes that were on the market.
Since then they've grown to become an international brand that's been featured on HGTV!
Brand Features and Benefits
And, according to Navigant Research, Pedego is a top brand of electric bikes in America. They make electric bikes for adults and young people who are looking for lightweight commuter options and recreation. And they've added an e-trike to their line-up which is perfect for the elderly, disabled, or just about anyone who'd prefer to have 3 wheels on the ground instead of two.
Some of their most popular models include the Interceptor, Ridge Rider, and the Latch Electric Folding Bike. One of the things I love about Pedego is the various options they offer for different models. For starters, they have an incredible choice of amazing colors, depending on the model.
Their e-bikes also offer classic or step-thru frames and battery or wheel options.
Cost
Pedego's comfortable electric bikes start at over $1600 for a pedal-assisted model with throttle (like the Element), which is anything but basic, up to almost $6000 for a full suspension electric mountain bike (eMTB).
The Rambobikes.com mission is to provide every American with a safe and effective means of transportation, at prices that are affordable to the average person's wallet. As such, they offer all levels of electric bikes from their most basic models up through eMTBs designed for hunting or sports use.
Rambo Bikes is located in Portland, Oregon, and manufactures all its e-bikes in the Pacific Northwest.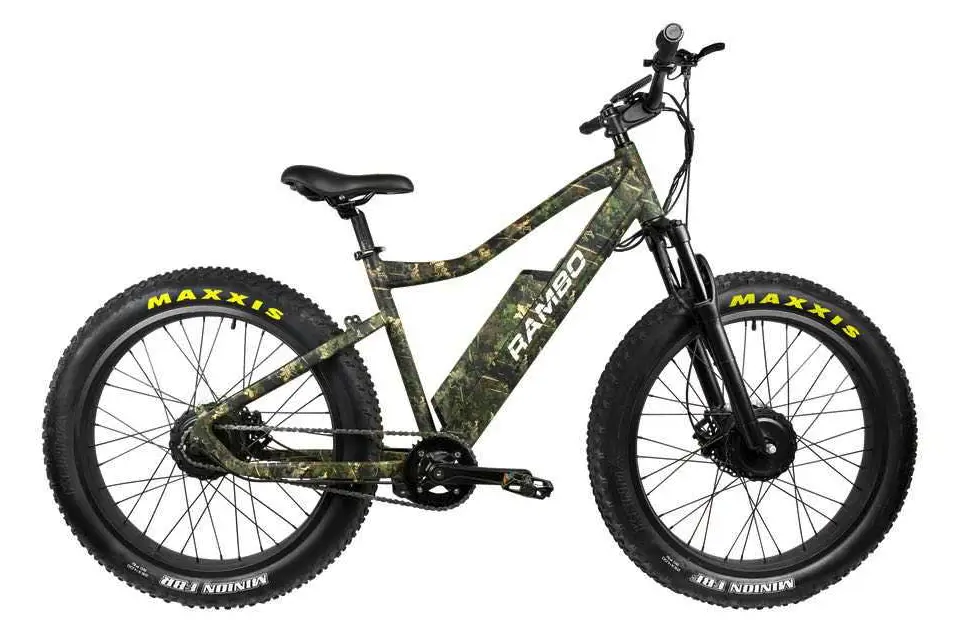 Brand Features and Benefits
The company offers a variety of features on some models that include:
Front suspension forks for riding comfort
Rear hand brake with safety wire cable lock to prevent theft from bike racks or other sources. This also gives you added stability when riding
A Shimano derailleur system with a twist shifter for easier gear shifting.
They also strive to make it easy by offering custom assembly services and excellent customer service – what more could you ask for? It doesn't hurt that each model comes with its own warranty on parts as well as the frame itself–another way Rambo Bikes stands out among other brands!
Cost
Their prices start at $1399 for The Cruiser and go up to almost $8000! However, they have a dozen or so models under $5000 and several in the lower price range. And they offer a payment plan, making it hard to say "no"!
They even have an Electric Bike Conversion Kit available in kits ranging from $800-1300 which turns almost any bike into an electric bike.
One last thing… all of their dozen or more models are capable of off-road riding (some specialize in hunting) and even offer various colors and sporty patterns to suit your needs!
Another American-made electric bike company is Ride1Up. They are located in San Diego, California, a perfect place for e-bike riding. Their focus on commuters and encouraging people to ride their e-bikes instead of driving, help them stand out as being eco-conscious and one of the best e-bike companies in the U.S.
Their e-bikes offer a wide variety: From multiple commuter e-bikes, a folding e-bike model, and to a cargo cruiser.
Ride1Up has been around for over 20 years, which is why they're so popular with their loyal customer base who have grown up riding them!
This brand has been featured in the New York Times, Forbes, and many other major publications, just another reason to be confident in their brand.
Note: I have a Ride1Up 700 Series and can't say enough about it (you can read my 700 Series review here).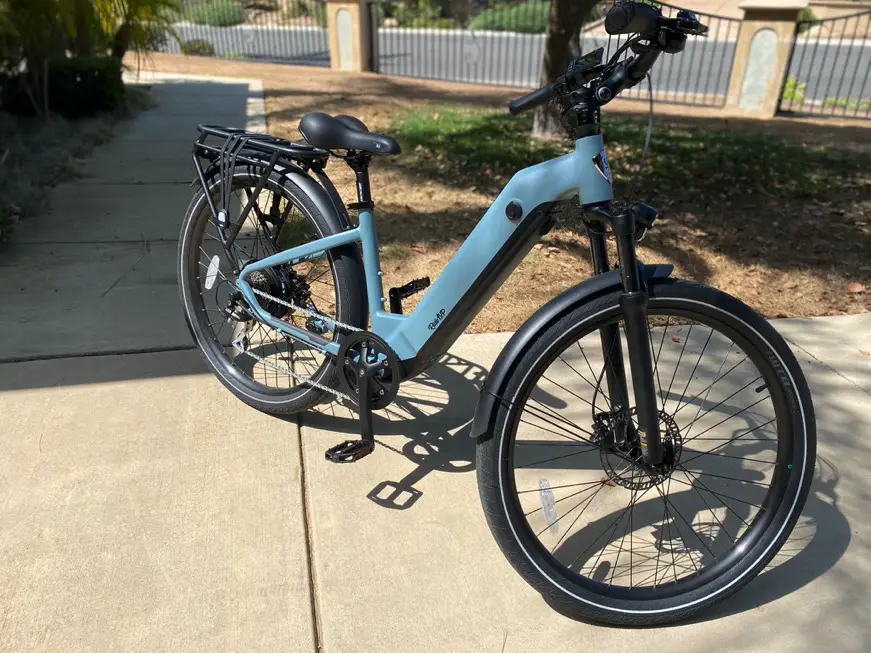 Brand Features and Benefits
The Ride1Up company offers a wide variety of high-value e-bike models that are priced right, most with a step-thorough or step-over frame option. These include commuter e-bikes, folding bikes, and cargo cruisers.
Plus, they come in different sizes such as Large, Small, or Step-Thru, which means that they'll fit a wide range of people, including those who are shorter than average like me (I fit perfectly on the 700 Series even though it has 27.5″ wheels)!
Colors are somewhat more limited than other companies' e-bikes, but there are still at least two to choose from in most models.
Another huge bonus… they give you a 30-day trial. If you're not happy, you can send it back for a complete refund!
Cost
The cost of these e-bikes is a huge selling point… they're all in the lower price range of $1000-$2200. Relatively inexpensive but not so low where you need to be concerned about getting good quality. You might like to check out my 700 Series model… I think it's one of the best value e-bikes around with features you wouldn't expect for the price.
Vintage Electric Bikes are made in California (check out their stunning showroom in Santa Clara) and promises to give you the fastest e-bikes in the US.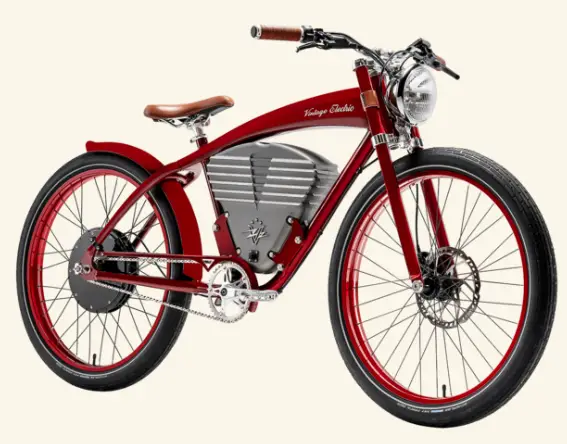 Brand Features and Benefits
These e-bikes certainly look special! Vintage sells different types of vintage-looking electric bicycles (yes, just like vintage cars), including throttle-powered and pedal assist cruisers, hybrid commuter bikes, and cargo cruisers for carrying groceries or kids.
And, as they claimed, these are fast, powerful e-bikes, especially when you add the optional "Race Mode" feature for an extra boost when riding uphill! In this mode, you can get a speed of up to 36mph!
Cost
The various models cost from just under $4000 to over $7000. Well, what can you expect from classic, vintage-looking e-bikes? Additionally, you'll have to add racks for $300 up.
What can I say…you really have to take a look at this vintage-style brand to see why it's so incredibly cool.
If you want to know what brand has some of the best electric bikes on the market based on price and quality, Rad Power Bikes has got you covered. This company's electric bikes are designed in California and then assembled at the warehouse in Eugene, Oregon. The company was only officially launched in 2015 but it's already trending as one of the best e-bike brands in the United States.
As electric bike companies go, they have one of the most diverse product lines on the market, with models and price points affordable for many riders. Plus, they've won numerous awards and have been featured in many well-known publications.
This is one of my favorite brands because, well, they're "rad", as the name exclaims. And I can vouch for them personally as a very happy RadMini Step-Thru folding electric bike owner (now called the RadExpand).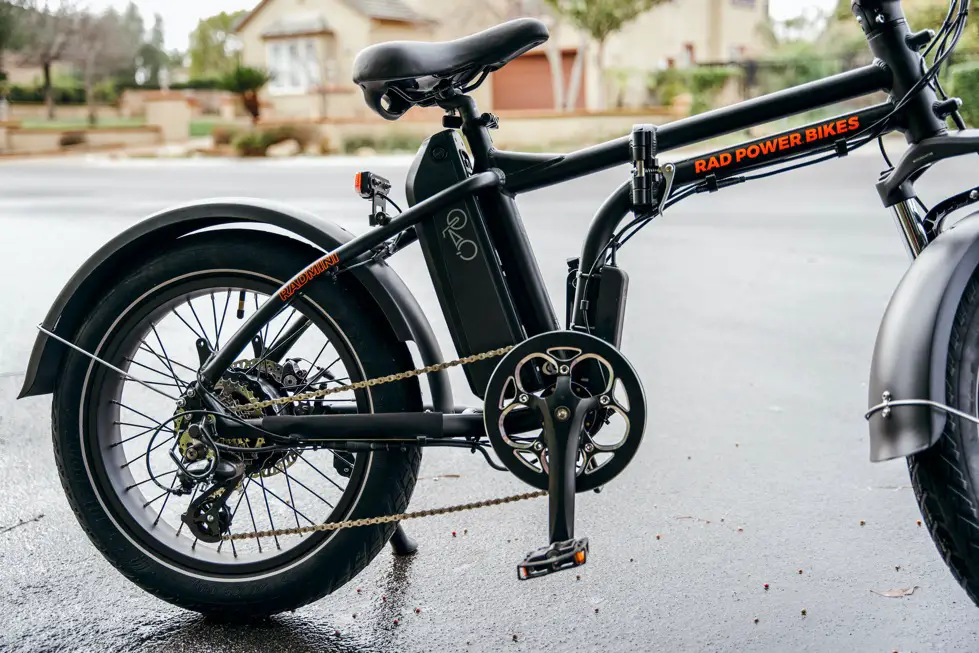 Brand Features and Benefits
Their models include e-bikes with a range of power, from lightweight city commuters to higher-powered mountain bikes.
But one of their original stand-out features is the fat tire electric bike, which many brands now use as well. The fat tire is a 3-4 inch tire that allows riders to go as far as they want on the road but also to do some off-roading, thanks to the wider tread and grip of the tires.
But this doesn't mean that they're too pricey. In fact, not only do they have high-quality bikes at a reasonable cost, but you can also order them online and quickly finish assembling them yourself (they come about 70% assembled). Or check to see if their on-demand delivery service is available in your area.
Plus, they have literally thousands of reviews on bikes, all 4.7 to 5 Stars! And reading them will really help you decide which model of electric bike is for you.
The only unfortunate problem is with their bike weight… at 68lbs for the RadMini, it's really hard to lift one into a car, bus, or train.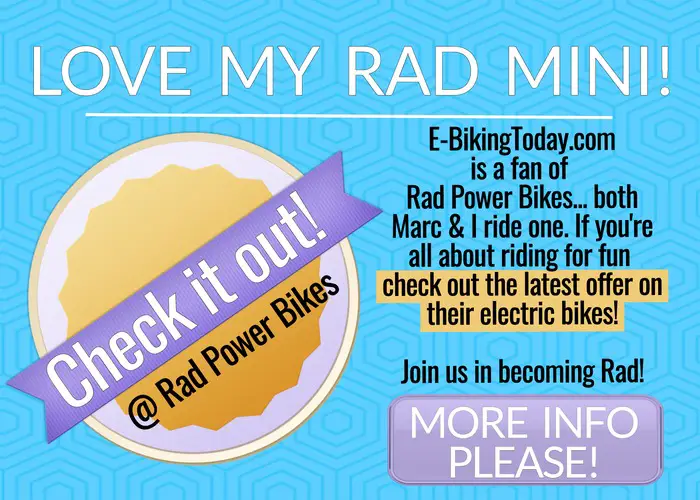 Cost
Rad's electric bikes start at $1099 for their Metro e-bike, up to around $2000 for their Rad Wagon Cargo bike. It's worth noting also that some of their bikes are on their fourth version, meaning that they have been constantly improving and upgrading their great electric bike for many years.
Charge Bikes started in 2004 with the goal of making affordable but durable and fun e-bikes. However, after years of absence in the American market, it was just re-launched in the US in 2020 by Dorel Sports, a Connecticut-based company.
This small, personal brand wants to make e-biking affordable, fun, and accessible to all. That's why it has re-emerged with a focus on the electric bike.
Brand Features and Benefits
Charge Bikes is comparable in price and overall ratings to Rad Power Bikes. However, they only have a few models to choose from including a city bike, comfort cruiser, and an eMTB (which won "Best E-Bikes for 2021" in c|net).
But they do offer their bikes in more colors and their models fit a wide range of different heights, averaging 5'0 – 6'3. They even have a couple of low-step frames as well.
Further, they have a list of features that are standard in all of their models, including an almost 50-mile battery range and built-in cargo racks.
So, choosing a model is much easier!
Cost
Charge Electric Bikes cost from $1699 to $2499 for the electric mountain bike. These prices include their standard features for all models.
e-JOE Bike is another cool brand made in the USA. They're located in San Diego, California, and have been around for more than a decade. Their goal is to make high-quality, affordable e-bikes that span a range of functionality.
e-JOE Bike actually describes riding their bikes as the "ultimate life hack". This seems pretty accurate coming from one of the top electric bike companies in California where outdoor enthusiasts are always looking for something new to do!
And this also makes sense given their focus on providing you with whatever type of bike you need, from an easy-riding cruiser to a commuter bike, to a folding step-thru, or to a lightweight city bike. they'll be sure to find the best electric bike for you!
Brand Features and Benefits
Here's what makes e-JOE Bikes special: They're one of the only bike companies that not only fully assemble their bicycles in the USA but also design all components to be interchangeable with each other. This makes it easy for riders to pick up any model from their catalog without having to worry about compatibility issues or parts availability.
Since they're relatively inexpensive as quality e-bikes go, you may even want one model for short trips (such as the SUNDAY City model) and another type of e-bike for longer distances (like the ONYX Sports model). And then you can easily interchange parts if needed!
Thus, they're one of the best electric bike brands for flexibility!
You can shop online (shipping is free!) but also visit one of their many dealers throughout the USA.
Cost
You can buy any of the e-JOE Bike cruisers or the folding or city e-bike for $1200 to over $1800. Even though the price range is small, the bikes each have their own special features to consider, so take a close look!
KHS Bicycles is another one of the true American e-bike companies based in Los Angeles California. They're a good bike brand overall and have a small selection of bikes in their line-up which can be found all over the US.
Brand Features and Benefits
Even though KHS Bicycles has only a handful of e-bikes available, they include a wide variety, from a commuter e-bike or electric mountain bike to a cargo cruiser. Their 2022 models include the MOVO 1.0E cruiser for men and women (with a small, step-thru option) and an EASY 24 with a one-size step-thru frame. Some of their other bikes also come in Small and Medium, so you can find the size that fits you.
The best part about KHS is that they're really a lifestyle brand… you can shop for t-shirts and other fun gear and accessories right online.
Cost
Unfortunately, you can't purchase an e-bike off of the website, but instead, need to find a local dealer. The benefit to this, however, is that you can try out the various models and get direct help answering all of your questions.
Soul Beach Cruisers, based in Tempe, AZ, is a bike company started in 2011 with the desire to produce "performance" cruisers that were low maintenance.
Not only did they accomplish what they originally set out to do, but they also developed and now specialize in the oversized fat tire Stomper models that are excellent for bigger riders… and they've added this to their list of electric bikes as well.
So, they have some of the best electric bikes for big and tall men and women!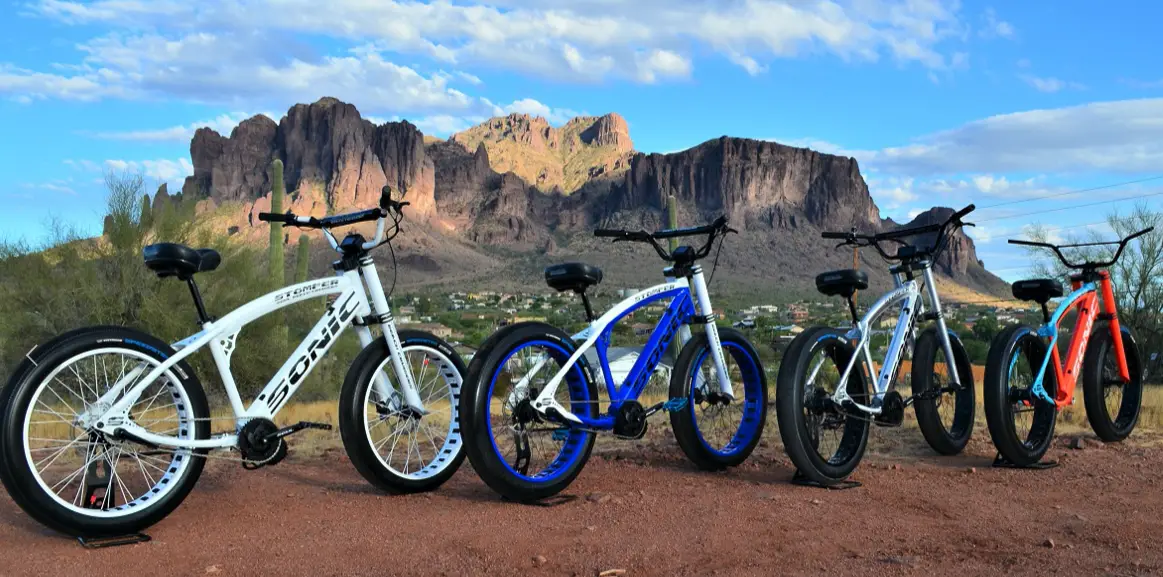 Brand Features and Benefits
Once they got into electric bike production, they created the Soul Fast Electric Sonic Stomper electric mountain bike with a 1500W peak-output motor.
As a brand that has e-bikes with mid-drive motors focused on speed and power, as well as being BMX-inspired, their cruisers are anything but slow and dainty. And considering their models have 750W motors and up, they aren't the best electric bikes for kids or the elderly.
Cost
Although these bikes start at an average price for electric bikes ($1899), they quickly go up to $5000+ for their Sonic SS Stomper Race Edition!
Lectric eBikes is a relatively new e-bike company in Arizona, having only been started in the USA since 2018.
What is interesting about Lectric eBikes? They designed the Lectric XP e-bike that almost immediately earned the Electric Bike Review Top Choice Award for "Best Folding Electric Fat Tire Bike of 2020".
Brand Features and Benefits
Their Lectric XP e-bike and their dedication to giving customers what they want have helped them grow quickly in the United States.
Further, they only use proven quality parts from companies like Shimano, Tektro, LG, and others, yet pride themselves on keeping the prices down. And they even have step-thru folding electric bike models.
Cost
It's kind of hard to believe that their popular XP model has sold over 30,000 times… until you hear the price.
At just $899-$1999, these bikes have all the best features, but are more affordable than most! So, this is the best electric bike for affordability!
Trek Bicycles is one of the largest US bike companies and is located in Waterloo, WI. They've manufactured endless types of bikes and now cater to electric bike riders with around a dozen models of super high-end, high-quality bikes.
They can tout numerous professional reviews and awards including the MBR E-Bike of the Year 2021.
Brand Features and Benefits
One thing that's unique about this company is that its models come in a variety of options and colors, making the brand's e-bikes very unique. With Bosch motors and parts, as well as integrated battery systems (which means that it looks nicer and is fully protected by the frame), there's no doubt you're getting the absolute best electric bikes.
You'll just have to check out their website to get a full feel for the immense value of them.
Cost
So yes, you guessed correctly… Trek bikes are a bit more expensive. They start at $4600 and go up to well over $12000. But, if you want the best, Trek is definitely one of the best electric bike brands!
Mod Bikes designs and builds its best electric bikes in Austin, Texas. They're all about you getting where you need to go in style, while also encouraging you to have fun.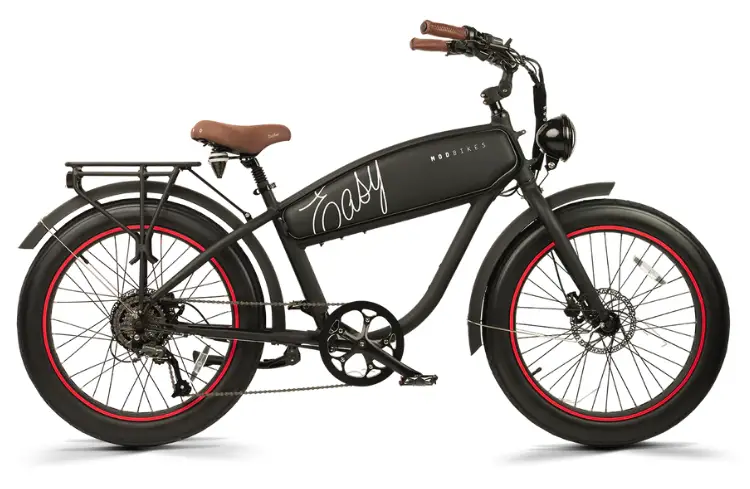 Brand Features and Benefits
Mod Bikes has a beautiful line of bikes to fit everyone's needs. Their sleek yet vintage look gives you the sense that riding one would really feel special.
And here's what's super unique to their brand… they have a model, new in 2021, called the MOD Easy that offers an optional sidecar (or even a side basket if you'd like)! The sidecars have a payload of 120lbs so that you can carry your child, cargo, or even your dog. It's the perfect country bike ride!
What makes this company even more awesome, besides their cool e-bikes and sidecars, is that they give free returns and a 5-year limited warranty, both of which are practically unheard of.
Cost
I think you'll be surprised at the prices here like I was, especially given their offer of a sidecar. You can get the powerful, long-range, multi-terrain MOD Easy with sidecar (and throttle) starting at just over $3300 while it's available for pre-order. All of their e-bikes fall in the price range of $1900-$3900.
S.A.M.'s Bike Company is a family-owned company in Illinois that was founded in the early 2000s by Goldie and Andy, a couple who wanted to enjoy outdoor time with their grandchildren. After searching for the best electric bikes built in the United States that was also affordable, and not finding what they wanted, they started manufacturing their own brand.
Brand Features and Benefits
You won't find a spectacularly detailed website from this little company. But what you will find is a solid line of e-bikes including electric mountain bikes with wide tires, trikes, and foldable options. As seniors themselves (as well as one being a lung cancer survivor), they've focused on providing bikes that'll overcome physical limitations from medical conditions and aging.
What really makes this brand special is that very few companies in the USA offer electric tricycles, but this company offers two different models, which shows a commitment to their focus. And their prices are extremely reasonable as well.
Cost
You can get one of their best electric trikes for as low as $1200 (trikes are considered specialty bikes!). Further, their lowest-priced model starts at only $900 while their highest goes up to $2300.
NOTE: Because their web presence isn't very strong, I'd definitely give them a call at the number listed on their website instead of placing an order online.
A long-standing US bike brand based in Cambridge, Massachusetts, Montague Bikes claims to have made the best folding bike frame (and strongest). After all, they've been making folding bikes since 1987.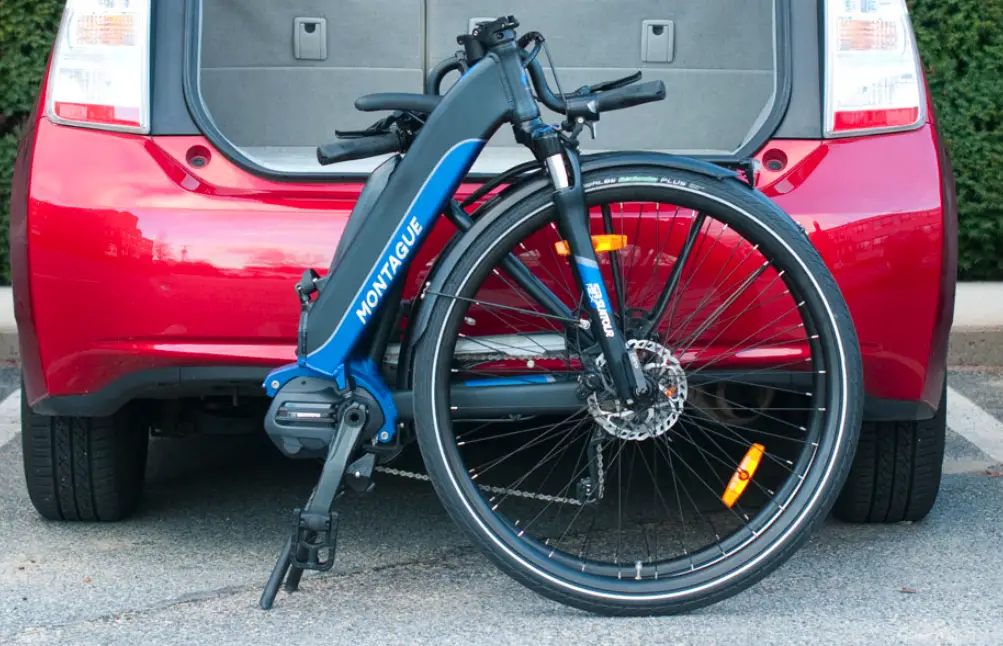 Brand Features and Benefits
What makes this company interesting, is that, although they've been selling bikes for many years, they only have one electric bike model, the M-E1.
However, what's unique about this e-bike is that it's a full-size folding e-bike that focuses on performance… "the world's first" according to Montague.
If you're looking for a folding bike, you'll typically find one with smaller than average wheels (20″ is common) to accommodate the need to fold. But the M-E1 has full-size 700c tires and STILL folds up easily! And it gives you the same quality ride as any of the other best electric bikes (non-folding).
Cost
The cost of this special folding bike is $3695 and you can have it shipped directly to your home (but expect some minor assembly). Otherwise, you can find a local shop and just pick it up!
Another electric bike company from Ontario, California, Qualisports USA is all about "Smiles per Mile", their way of telling you how much fun it'll be by riding their e-bikes. Not only are their bikes designed to look great, but they also want them to be an affordable method of transportation.
Further, they use the word "quality" in their name to show their commitment to building their e-bikes with quality parts.
Brand Features and Benefits
When you visit their website, the first thing you'll notice is the distinct look of their entire fleet of e-bikes. They're all foldable with only 16″ tires. This makes them easy to fold, easy to move, and easy to store. These practical models are perfect if you're living in an apartment, dorm room, or other small space. Plus, they're easy to take with you on a bus or train (the least expensive NEMO model is only 30 lbs!).
And, for a serious fat tire ride, the 4.25″ wide tires on the BELUGA will seriously get you over some rough terrain.
Cost
These handy e-bikes are priced very well… from $899- $1399, so getting an e-bike is much more accessible. Plus, you can make payments starting as low as $82/month!
The Electric Bike company, one of the few true ebike brands made in the USA, has a simple goal…. To offer the best USA-built electric cruiser. 
They make their custom cruisers using local bike builders and high-quality materials. Plus, they test them in their own US factory and deliver them fully assembled, right to your door.
Brand Features and Benefits
With a nice selection of cruiser and commuter e-bikes, you can pick what works best for you. Choose from beach cruiser style to a foldable model or even one with more rugged tires.
But their best feature is clearly the ability to customize your own. Custom design yours by choosing the frame color, trim, spokes, rims, drivetrain, wheel size, and more (depending on the model).
You can even choose your battery, which means you decide how far you want to go on a single battery charge!
Cost
Although their e-bikes don't start at the lowest cost, prices are affordable starting as low as $1699 (some customization options are at an additional cost). This is impressive considering the level of customization you get!
Another California-based company, Juiced Bikes started in 2009 by a U.S. Olympic high-jumper named Tora Harris, who also happens to have a degree from Princeton in mechanical and aerospace engineering.
Not surprisingly, Tora was able to produce his first high-performing electric bike with a high-capacity lithium-ion battery shortly thereafter.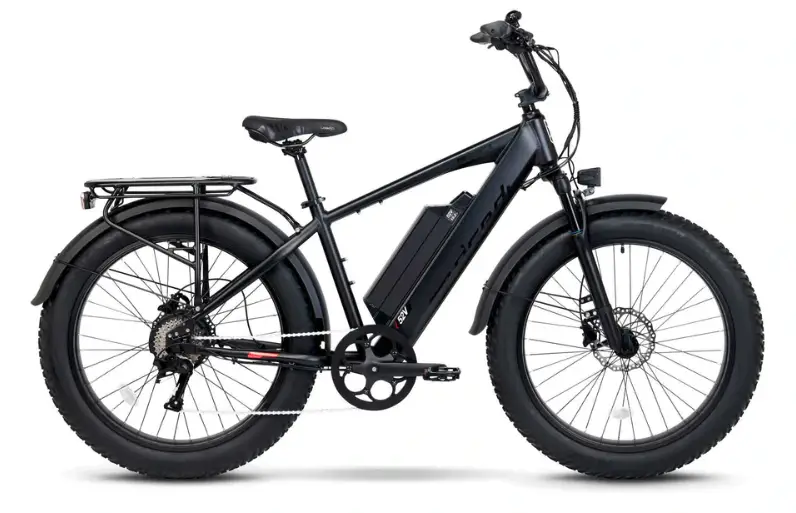 Brand Features and Benefits
Juiced Bikes stands out as a leader in the industry due to its upgraded features and affordable prices.
With a huge 52V battery pack and a maximum speed of 30 miles per hour, it's not surprising that e-bikers choose a Juiced bike for its powerful performance.
Another huge bonus is you'll get a riding range of up to 100 miles!
Cost
I'm actually surprised that they offer their lowest-cost e-bike at only $1499 given that it has a 52V battery and can be upgraded to Class 3. Their most expensive model, the HyperScrambler 2, is even well worth the cost of $3499, having dual batteries, 30+ mph speeds, and a 100+ mile range.
Summary
Now that you've read through the best electric bikes company list, you've probably realized that there are brands included that are big and super small, expensive and inexpensive, and stylish or classic.
This isn't your standard list of e-bike companies because I dug deep to find all of the great brands that have something unique to offer, some of whom you've never heard of.
Finding the right electric bike company to purchase from is a personal thing. It's a big investment! And, after all, you'll be happy with finding the best electric bike brand that's made in the USA and built just right for you!
Still not sure which brand is for you? Take a look at the most popular e-bike brands (updated list!)!