One of my favorite brands, Ride1Up has stylish electric bikes that look a lot like regular bikes but can meet the needs of a majority of e-bike riders. However, when it comes time to choose which model to purchase, you want to make sure you're making the right choice.
Generally, the best Ride1Up e-bike for you will compliment your riding style, have the desired features, and fit you comfortably. This review of Ride1Up electric bike models will help you determine the best e-bike model for you from the Ride1Up brand.
Since Ride1Up carries several sleek-looking models, each offering something special, you'll want to make sure you get the best e-bike to meet your needs.
Check out the table below and then read on to find out all of the details you need to know about each Ride1Up electric bike model in order to choose the best one for your situation and riding style.
| | | | | | | |
| --- | --- | --- | --- | --- | --- | --- |
| Ride1Up Model 2022 | Motor | Range | Weight | Special Features | Best for… | Price |
| Revv1 | 750W | 30-60 miles | 93 lbs | Moped-style seat and fit | Riders with rugged, adrenaline-kicking style who want to have fun while riding | $2395 |
| Roadster v2 | 350W | 20-30 miles | 33 lbs | Single-speed belt drive; road bike styling | Commuters & city riders | $1095 |
| Core 5 | 750W | 20-40 miles | 49 lbs | Lightweight, with an integrated battery | First-time e-bike buyers | $1195 |
| Turris | 750W | 25-45 miles | 55 lbs | Upgrade of the original best-selling model (500 Series) | Best for long-distance riders and touring | $1295 |
| 700 Series | 750W | 30-50 miles | 62 lbs | Versatility; meets many needs | Riders who want a taste of the higher-end e-bike market without paying more | $1695 |
| LMT'D | 750W | 30-50 miles | 53 lbs | 100nm of torque for fast acceleration | Best for those who want the ultimate power | $1895 |
| Prodigy | Mid-Drive Brose | 30-50 miles | 50 lbs | Brose Drive System; Torque sensor | Best for riders wanting a higher-end system at a value price | $2295 |
| Cafe Cruiser | 750W | 30-50 miles | 65 lbs | Cargo | Riders needing to carry a lot of cargo | $1595 |
Continue reading below to take a detailed look at the unique qualities of the Ride1Up e-bikes and why one might be the perfect electric bicycle for you over another.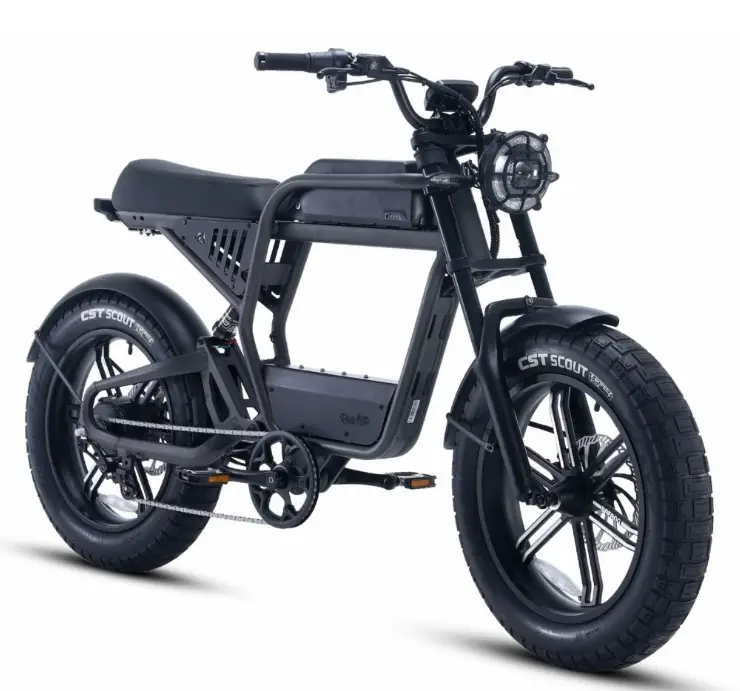 Ride1Up has always been known for its stylish commuter e-bikes. But, now that they've added a stylish "moto-inspired" bike to their line-up, the game has truly changed.
Not only does this cool-looking fat tire e-bike have 4″ fat tires, but it also offers an option of full suspension. So, while it can glide along the street, it performs on rugged terrain as well.
It has a range of up to 60 miles, a powerful 750W motor, and a twist throttle, but still has a comfortable upright seat position. Plus, if a maximum speed of 20mph doesn't satisfy you, you can unlock the speed to 28+mph with the off-road mode!
And, if that weren't enough, hydraulic brakes, 100mm suspension, and hardened alloy fenders will take your ride to the next level! If you're a thrill-seeker, then this is the best Ride1Up electric bike for you.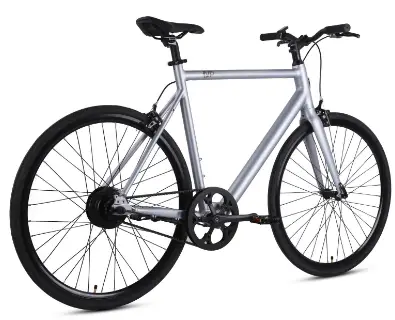 The Ride1Up Roadster is a classic among the Ride1Up line-up. It's the most simple e-bike, with a single-speed only, instead of 7 or more like the other models. It's also the cheapest model.
The Roadster is the best Ride1Up electric bike if you want a sustainable and easy commute, or if you want to ride a belt drive e-bike with a single speed. It's a great e-bike for flat roads.
The Ride1Up Roadster v2 is a great option for those looking for an electric bike that is both durable and affordable. This model has a number of features that make it a likely choice for its low price of $1095. These include a strong 350W rear hub motor, comfortable seat, and sturdy frame.
The Roadster v2 also has a large battery that can provide up to 30 miles of riding on a single charge. So, you can ride a lengthy commute or enjoy it for daily rides. Plus, its extremely lightweight frame (weighing only 33 lbs), makes it easy for lifting onto a bus or train, or up flights of stairs to your apartment.
A notable feature is its carbon belt drive, which few bikes have. Other features that make this e-bike a great value are its sleek frame, compact LCD display, and its ability to get up to a top speed of 24 mph with pedal assist (no throttle on this model).
It also has the most colors to choose from out of all the brand's bikes and has two different sizes, both being high-step frame options.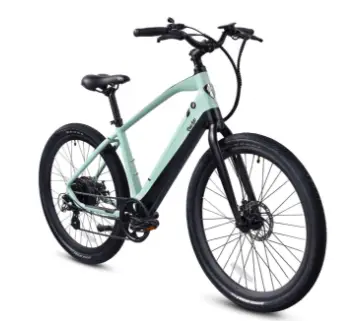 The Core 5 might not have high-end components but it has all of the necessary essentials for having a great ride.
The Ride1Up Core 5 is the best electric bike from the Ride1Up brand for beginner riders and entry-level buyers. The price may be low but it still has a 750W motor and can reach a top speed of 28 mph, so you're not missing out on the fun.
And, if you're looking for a way to reduce reliance on fossil fuels and save money on transportation costs, it can't be beaten in quality and value for the price. The Core 5 electric bike from Ride1Up is a great option for those who are looking for an affordable and reliable electric bike. This e-bike has a number of features that make it a great choice for commuting or cruising around town.
The Core 5 has the power to help you get up hills without getting tired. It also has a 48-volt battery that will give you a range of up to 40 miles per charge, making it perfect for commutes or weekend rides. The 7-speed Shimano transmission ensures smooth shifting, while the mechanical disc brakes (with a sensor to cut off electricity) provide solid stopping power.
The great value you'll find here in a well-made and simple electric bike is unparalleled. Plus, there are three colors and two frame styles as options.
READ OUR COMPLETE CORE-5 REVIEW HERE!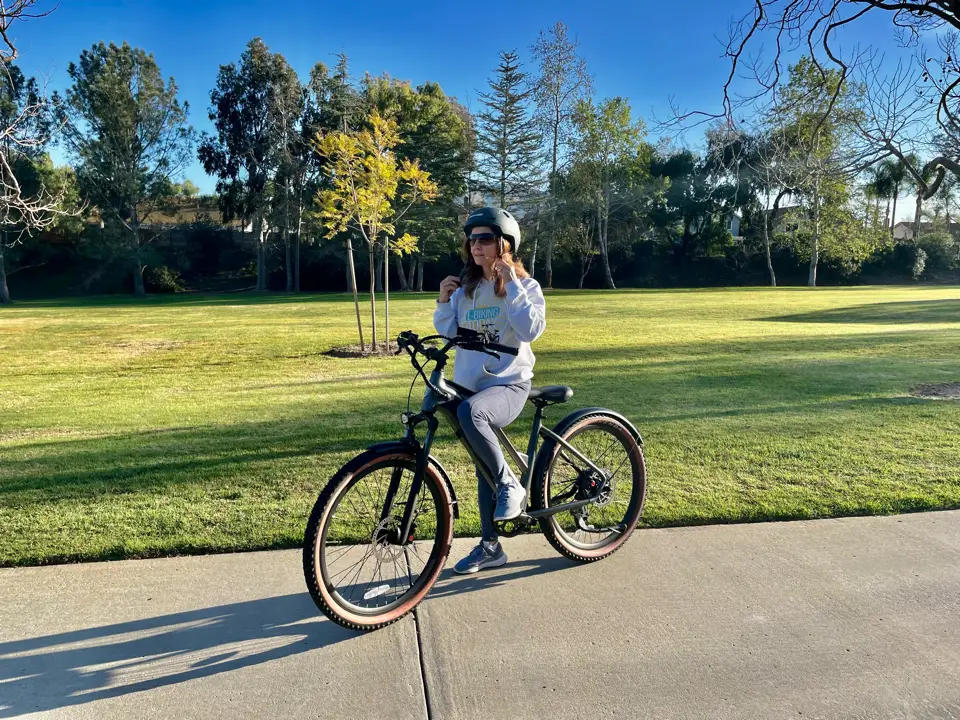 A new best-seller, and what looks like an upgrade of the classic 500 Series, the Turris offers more than most e-bikes at its price.
The Ride1UP Turris electric bike is one of the best electric bikes for you if you want above-average features that'll make your ride more comfortable for commuting or touring. It's an entry-level electric bike designed for riders who want an exceptional ride experience on a smaller budget. With agile 27.5″ all-terrain tires, it can cover a lot of ground fast.
It has a powerful 750W rear hub motor that can take you up hills with ease and a battery range of up to 45 miles, so you're sure to tackle a long day riding with ease.
The Ride1UP Turris is also very affordable compared to other electric bikes on the market. If you're looking for an electric bike that's fun, efficient, and at a reasonable price, the Turris is definitely worth checking out.
Get it in your choice of two colors and two frames that'll fit most people.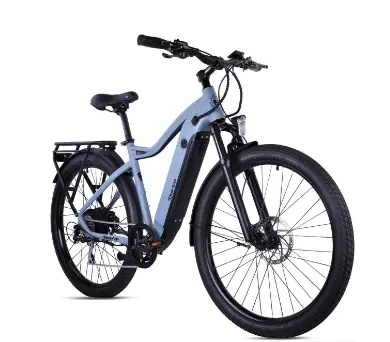 The Ride1Up 700 Series electric bike is a great option for those looking for an e-bike that offers high performance and a variety of features. It's the best e-bike for anyone needing a well-rounded, fast e-bike for commuting, fitness, or leisure.
This amazing electric bike comes equipped with a powerful motor that makes it easy to conquer steep hills and provides plenty of torque for fast acceleration. It also has 8 speeds, which allow riders to adjust the bike's speed to match their needs.
Additionally, the 700 Series electric bike comes with an integrated pedal assist cadence sensor, Shimano gears, integrated lights, and hydraulic disc brakes, which make it easy to stop quickly when needed.
The Ride1Up 700 Series electric bike is also comfortable to ride. It has a hydraulic fork, an adjustable plush gel saddle, and handlebars that allow you to find the perfect riding position. And the Schwalbe Super Moto X tires are wide enough to ride lightly off-road.
It'll accommodate riders as short as 5'0″ with the step-through frame, but you can also opt for the regular bike frame as well.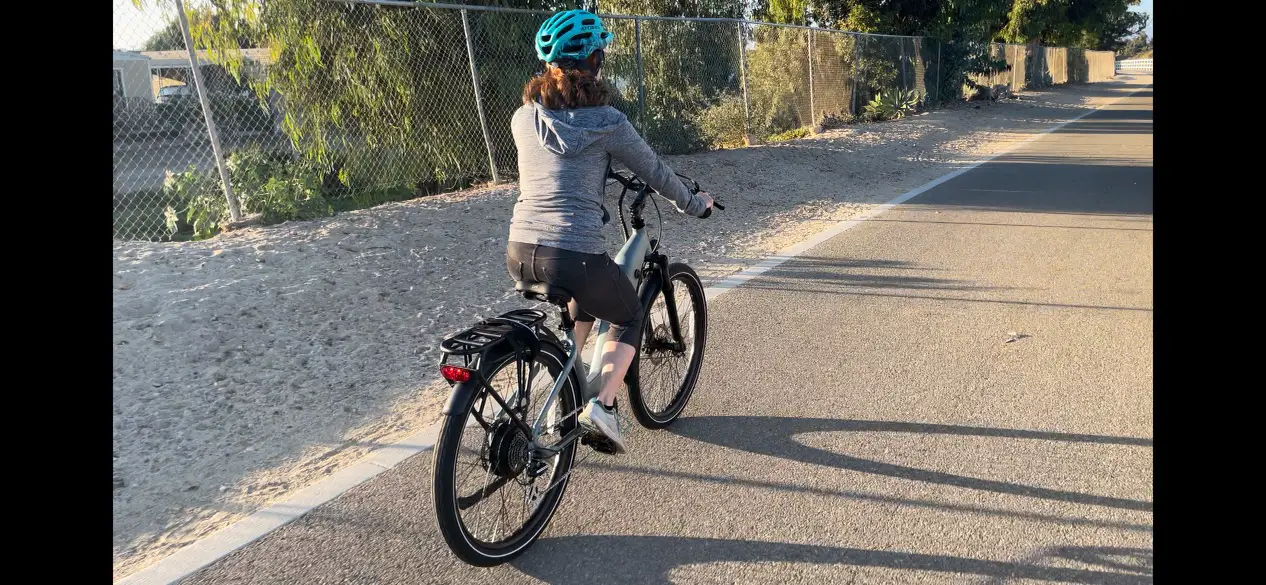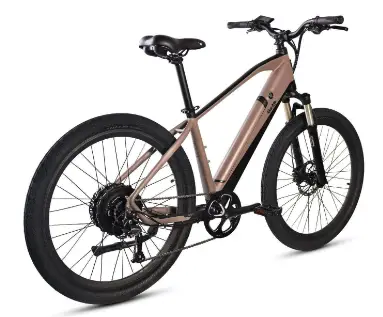 The Ride1Up LMT'D electric bike is the best option on the market for many because it offers a smooth, comfortable ride with plenty of power. The e-bike's lithium-ion battery can take you up to 50 miles on a single charge, and the motor is powerful enough to handle hills and other obstacles.
This is the best e-bike for you if you want maximum power and fast acceleration in a Class 3 electric bike. The 100nm of torque will get you moving quickly and the powerful geared hub motor will keep you moving.
Other great things about the LMT'd include hydraulic brakes, Shimano 8-speed shifters, and a thumb throttle for extra bursts of speed.
It's also built for comfort, with an adjustable seat and handlebars that let you customize your ride. Plus, the 2.2″ color LCD display keeps you informed about your top speed, distance traveled, and lets you customize pedal assist.
It comes in your choice of two colors and a step-over or step-through frame.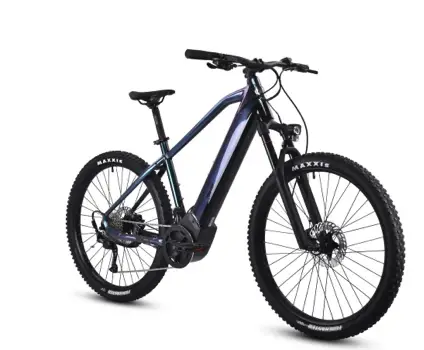 This is Ride1Up's most expensive e-bike, and for good reason.
The Prodigy, at around $2300, features lots of cool things including a Brosen TF Sprinter mid-drive motor, Shimano drivetrain, Tektro hydraulic disc brakes, and a Brose controller and integrated torque sensor.
The Prodigy is the best Ride1Up e-bike for you if you intend to ride hard and often, appreciate the excellent quality components, and are willing to pay more money for excellent value.
It also includes a 6061-T6 aluminum frame, air suspension fork with a hydraulic lockout, and Shimano shifters. Like the other e-bikes in Ride1Up's line-up, it has an integrated battery and powerful motor, which will carry you to a top speed of 28 mph, as far as 50+ miles… designed for a comfortable ride all along the way.
Finally, you can choose from three different frame types, including a step-through frame, as well as your favorite color (of three options).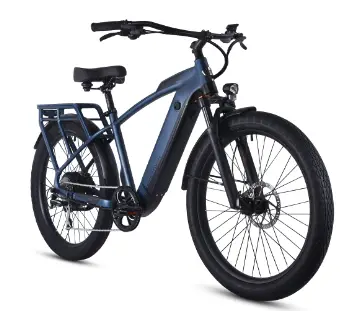 The Ride1Up Cafe Cruiser electric bike is perfect for anyone looking for a functional but comfortable and stylish way to get around town with precious cargo.
It's the best Ride1Up e-bike for carrying cargo as it holds up to 300 lbs and comes with an integrated rear rack, which has a weight capacity of 130 lbs all by itself.
The Cafe Cruiser e-bike has a variety of features that make it perfect for both commuting and leisure rides, even with a child seat on the rear rack. The cruiser-style frame is comfortable and stylish, while the 750-watt hub motor provides substantial power to help you get up hills or accelerate quickly. And although it's practical, you can still get up to 28 mph with pedal assist or use the throttle to get moving quickly.
The lithium-ion battery can last up to 50 miles on a single charge, making it perfect for longer trips. This e-bike also comes with a built-in headlight and taillight, plush comfort saddle, and 3″ wide tires.
You can get the cruiser with a low-step or high-step frame, choose from three cool colors, and it comes with a rear rack.
One major con of the Cafe Cruiser… it isn't built to fit anyone shorter than 5'5″.
If you want an e-bike like this but are too short to fit, take a look at the best small electric bikes for ones that are sized for smaller riders.
Are Ride1Up Good E-Bikes?
Ride1Up is one of the popular e-bike brands that produce high-quality electric bikes that everyone can enjoy because they're affordable, reliable, and provide good value. It offers a variety of e-bikes for almost every need. Even the Prodigy model offers exceptional value for the money even though it's the brand's most expensive bike!
Because it's a fast-growing US-based brand, you can be sure that it's focusing on maintaining high quality. Hence the reason for its exceptional customer reviews and new or improved models.
What makes Ride1Up the most unique, as compared to other brands overall, is that their e-bikes are Class 3 e-bikes with top pedal assist speeds of 28mph and integrated batteries. So, their electric bicycles look sleek and move swiftly, no matter which one you choose to buy.
Other reasons their e-bikes are worth buying are their durable, lighter-weight frames, powerful torque, and long-lasting battery life (672Wh) in their higher-end models. The truth is, any one of their bikes can replace car commutes.
Learn more about where Ride1Up e-bikes are made (and why you might like one).
Best Alternative Brands to Ride1Up
If you're seriously shopping for electric bikes, you've probably looked around at several brands other than Ride1Up. Although you're likely to find your perfect e-bike within their nice selection of high-quality, value-oriented e-bikes, there are some other top brands you may wish to take a look at first.
Rad Power Bikes

Rad Power Bikes is one of the largest brands in North America, with several different style of e-bikes to look at. The main difference between this brand and Ride1Up is that they offer fat tire e-bikes, off-road bikes, and a folding electric bike. They're also Class 2 e-bikes instead of Class 3, so pedal assist can take them to a maximum speed of 20 mph.

*See our complete brand comparison between Rad Power and Ride1Up e-bikes
Aventon

Another well-known company that's been around for over a decade, Aventon also offers a wider range of types of e-bikes with some of them being Class 3 e-bikes just like Ride1Up. Like Rad Bikes, they also offer an electric folding bike and off-road or fat tire bike options that you won't find at Ride1Up.

*Compare Rad Power Bikes vs Aventon in this article
*Compare Aventon Bikes to Lectric
Juiced Bikes

From an adventurous off-road e-bike to an electric commuter bike, Juiced bike models can reach top speeds of 28 mph, like Ride1Up's e-bikes.
Plus, they offer a couple of other powerful features including a cadence sensor and torque pedal assist, 52-volt batteries, and long-distance riding ranges (up to 100+ miles in one of their models. You will pay more to get these, however.
Find out here if Juiced Bikes are a good brand!
Final Look
In this Ride1UP electric bike review, I've shown you how each of Ride1Up's e-bikes has unique features and qualities that make it special. And no matter which one strikes you as the number one best, they all look impressive.
As you probably only intend to buy one electric bike, it's essential that you take a deep look at what each e-bike will offer you and how it can meet your specific needs. For example, while the Core 5 is a popular entry-level e-bike, the Ride1Up 700 Series offers practicality and amazing value.
Make sure to take a look at the table above to discover every model's special features and who will benefit most from each one!