Now that parents and grandparents are discovering the ease of riding an electric bike, it's not surprising that they want to bring a child or grandchild along who is too young to ride a bike.
Thankfully, there are ways of putting a child on an e-bike so that no one misses out!
In general, putting a child's seat on an electric bike is something most parents and grandparents can do relatively easily. Most seats can hold kids up to 50lbs (typically ages 1-4) but some can handle children up to 75lbs. Babies under 6 months of age should not ride on an e-bike at all.
However, to use a child seat safely requires understanding the precautions you need to take on an electric bike, as well as the age of the child. Although some of these concerns are the same as for a traditional bike, e-bikes add another layer of concern, which I discuss below.
Continue reading to check out the child seat comparison chart below. Child seats were chosen based on my research and customer ratings of each. It'll help you choose what type of child seat you need for your child given their age and ability, as well as safety and other concerns.
Is It Safe to Carry a Child On an Electric Bike?
It's generally safe to ride with a child on an e-bike as long as you take certain precautions. Although some of the concerns are the same as when riding a regular bicycle, there are additional ones to consider when riding on an e-bike with a child in a child seat. These include:
The added weight of an electric bike
The ability to go much faster than on a regular bike
Keeping all electrical components away from your child
Greater loss of battery charge due to added weight
Protecting your child from weather and wind (due to longer rides and faster speeds)
Since electric bikes generally weigh more, it's extra important to practice getting on and off the bike with a fake "load" before putting a child on it. That'll help you get a feel for how to balance on your bike. Losing balance could mean having the e-bike fall over, putting your child at risk for injury when they fall up to 3 feet to the ground.
Further, never leave the child unattended on the electric bike, even if strapped into the child's seat. If they shift seat positions or try to get off, they could topple the bike.
Have a system for getting the child on the e-bike, especially since it's likely heavier than a standard bike. this might include having someone hold the bike while you put the child in the seat (and take them off). Or you can use a double-sided kickstand to balance the bike.
Make sure your child is strapped in tightly using the harness system that comes with the bike seat, even if you think they're old enough to stay in the seat. A dog could pique their interest or they could fall asleep, thus shifting their weight to one side and causing them to fall off. And, on an e-bike, you don't want them to be able to reach any electrical parts.
Finally, it's easy to get carried away on an electric bike and end up riding for hours. This could be a problem if your battery loses its charge (which may happen more quickly due to the added weight of a child and the child seat).
Also, don't forget that any age kid is exposed to the sun and weather. The wind at higher speeds can be brutal! Make sure to apply and reapply sunscreen as well as dress them for the weather (layering is always a good idea).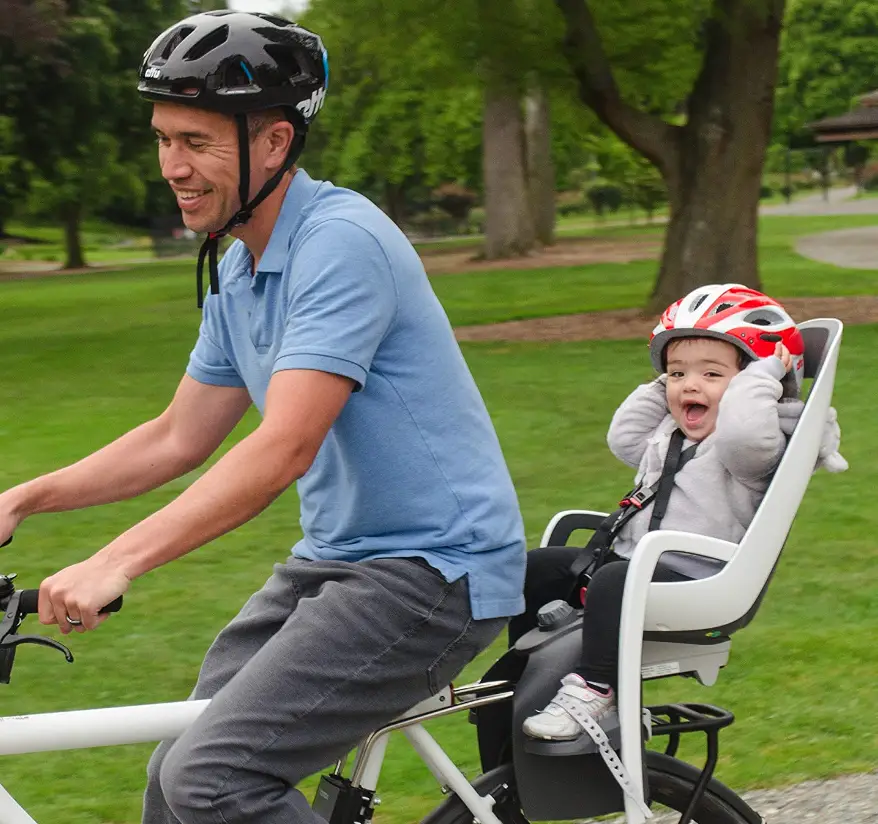 Can You Put a Baby on an Electric Bike?
According to the American Academy of Pediatrics (AAP), it's not recommended to put a baby in a child seat on any bike if they're under 1 year of age or weigh less than 40lbs. Babies must be able to sit up on their own, unsupported, as well as have the strength in their necks to hold up their heads independently.
Once they're able to do so, it means that they're able to wear a lightweight helmet and can securely ride in a rear-mounted seat or a child trailer. To be secure, child seats should have a sturdy harness that goes over the shoulders and a high back to fully support the baby.
Not surprisingly, the Academy also states that only an adult should carry a baby on their bike (don't let your teenage rider do it). And, I'll add that you should always make sure their eyes and faces are protected from the sun and wind, that you ride slowly, and that you avoid busy streets!
You should follow this advice as well if you're going to carry a toddler on a bike. Even toddlers might not be able to tell you what they need or whether they're uncomfortable.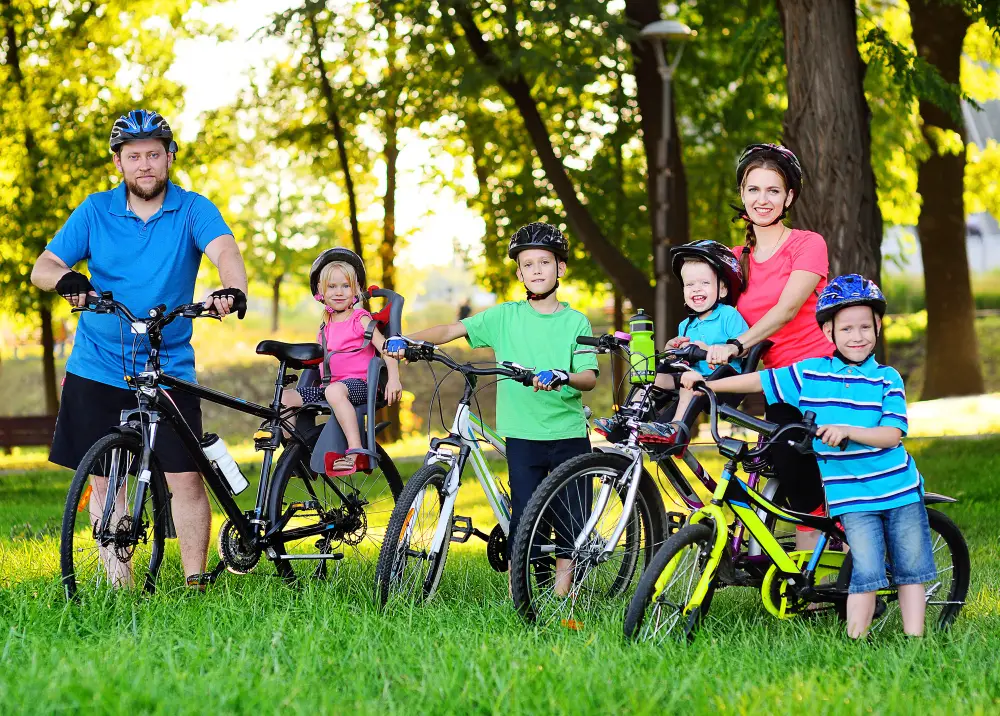 What Kind of Child Seat Do I Need for an E-Bike?
First of all, deciding what kind of seat you need really depends on the bike. With the increasing popularity of e-bikes, there are many models to choose from that'll carry a child. These are typically cargo e-bikes that already have a rear rack to attach a child seat.
If you haven't already purchased an e-bike, buying a cargo (or sometimes called "urban") model that's already fully equipped to add on a seat is a simple solution.
However, you can also add a rack to your current e-bike which will then allow a child's seat to be added. Because e-bikes generally have stronger frames than standard bikes, there's a good chance that adding the weight of the seat and your kid won't be a problem.
But you should check with the manufacturer first to make sure your model can safely handle a rack and a child's seat.
Most child seats are attached to the rear of an e-bike, while a few are mounted on the front. Although this is similar to any bike, the placement of the child seat on an electric bike may be further determined by the location of the battery and other electronics.
When buying a child seat to put on your e-bike, you'll primarily be looking at two options, the rear seat (most common) and a front seat (less common).
Rear Child Seats
These are the most common types of bike seats for small kids and toddlers. This is because they fit on most e-bikes and are better at accommodating your child's size and weight than a front-mounted seat.
Further, there are so many electric bikes that come with a rear rack ready to attach a child seat. In fact, if you're buying a new cargo bike, it's likely that the same company has a seat that works perfectly with your model.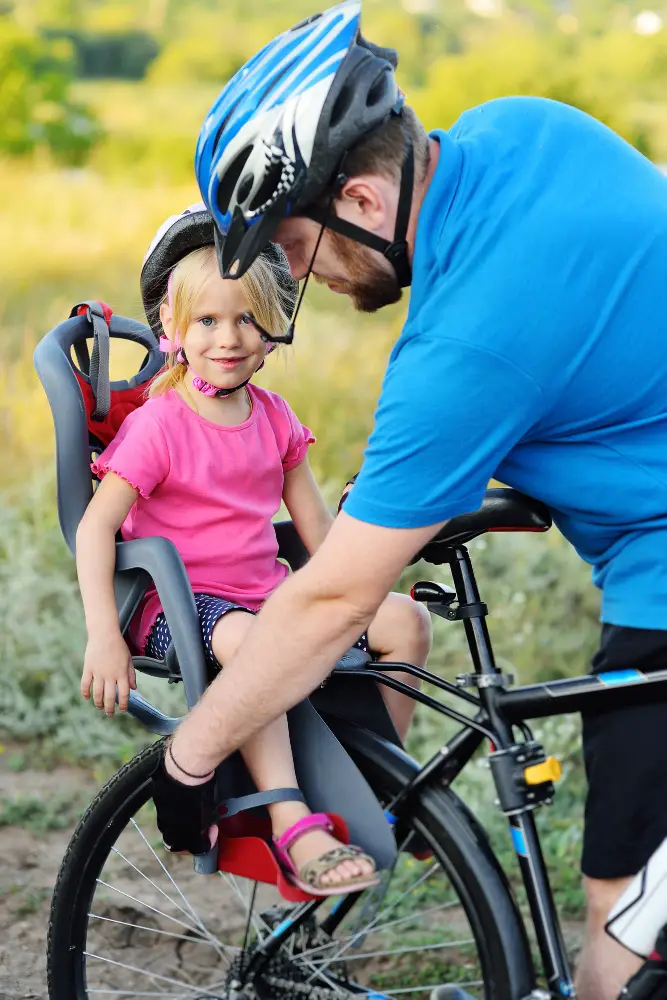 When purchasing a rear child seat you should look for:
a high back that supports the head
cushioning around the neck and head
washable, padded lining
a 3 or 5-point harness with a childproof safety buckle
reclining backrest for napping (and then you get a longer ride!)
adjustable footrests
ventilation throughout seat
leaves space for additional cargo on the back, if possible
Front Mounted Child Seat
Although this option is far less common than a rear seat, some parents really like it. For one, it keeps your small child up close to you, allowing more interaction. You can easily talk to your child about what you see and check on them to make sure they're comfortable… without turning around or yelling. Your child may also be happier being close to you.
A front seat is also a bit smaller and lighter, which can be a benefit while riding and traveling.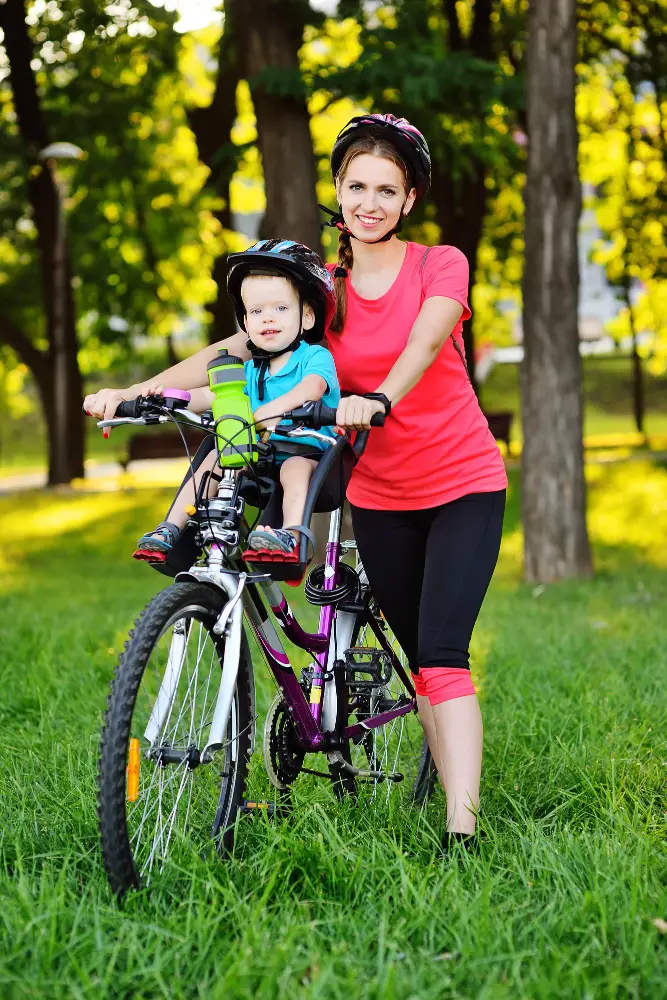 However, there are some downsides to a front seat, which are why this option is less popular:
you might not have this as an option if the location of the battery or other electronic parts interferes with the seat's attachment. So consider this before buying a new e-bike if you'll want to use a front seat.
may only be useful up to 35lbs (and just remember, the AAP doesn't even recommend putting your child in a seat until 1 year of age or 40lbs).
you need to be a strong rider and comfortable carrying your child upfront… there's a greater tip-over risk and a head-on crash would clearly be more dangerous
may be harder to steer with the child in front
your knees may hit the seat as you ride
more difficult to put on due to 3 different possible mounting locations: Frame, seat post, handlebars
Additional Options to Take a Child With You When You Ride Your E-Bike
Trailer– Many parents and grandparents opt for a trailer that attaches to the rear of an e-bike. A trailer is great for kids ages 1 to 6 and usually up to 40 lbs, although you can also get a double trailer, and some convert into strollers.
This is a comfortable way to ride but has its downfalls. Because the kids sit low to the ground and behind you, it'll be harder to have a conversation. Also, they're closer to car exhaust and aren't as visible, so I wouldn't recommend using these in traffic. But, they are popular on bike paths!
Trailer bike– A trailer bike will attach to the bike's seat post or a rear rack. This can be a good option for a child who wants more independence and to be on a "big kid's" bike. A child will be able to pedal but still counts on you for balance and to control the bike in general.
A good age for allowing a child to ride a trailer bike on a traditional bike may be about 4 years of age. But on an e-bike, I'm thinking they should be a bit older and able to handle the sudden changes in speed. Of course, as a parent, it's your responsibility to make sure you are riding at a slow, even pace that your child can manage. I'd consider turning off the motor entirely.
Their own bike– Of course, if they're old enough to ride a bike on their own, around 6 and up, then they'll absolutely love the independence! They'll be really slow initially, so you won't get much use for your electric bike while riding with them.
However, when they're quite capable of riding a regular bike, you can even consider getting your kids their own electric bike.
I've written a guide for parents to learn more about e-bikes for independent children:
Best Child Seats for Electric Bikes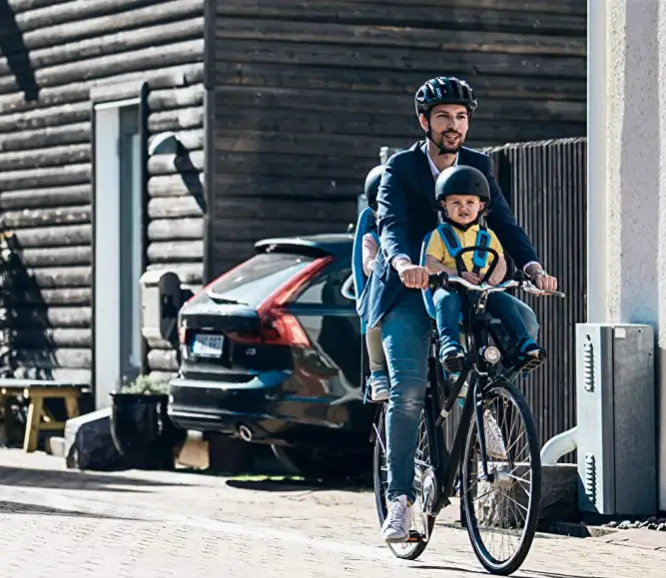 The best child seats for an e-bike have a 3 or 5-point harness for safety. All of the models I've included here have one PLUS a 4+ Star customer rating.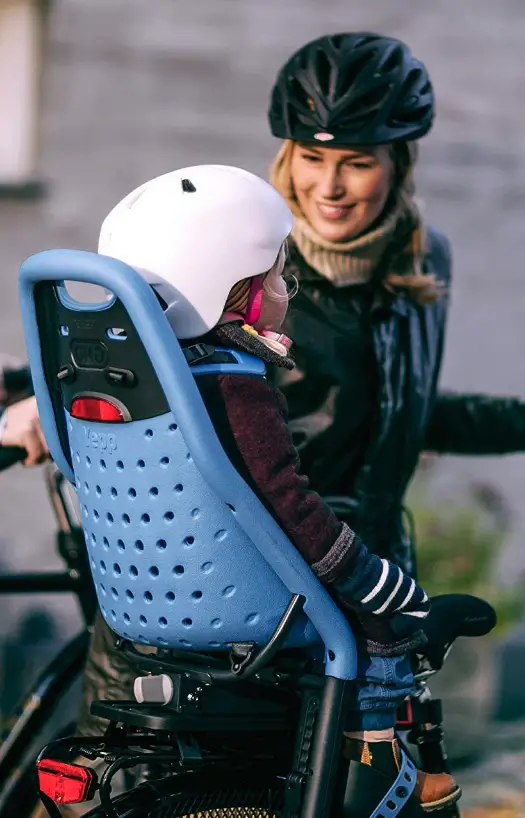 Best Child Helmets
Every child of the recommended age (12 months and up) should wear a safety helmet. It's usually the law in many places, although why would any parent or grandparent not want to protect their little one's head?!
Plus, wearing a helmet now will make it a lifelong habit (even when they're of the age when it's no longer legally required). You can be a good role model and wear your own helmet, no matter what your age.
I've found the best helmets for small children ages 1-3, which are much harder to find than for older kids. These were also the most popular with thousands of 5-star ratings!
Here's the Schwinn 3D Characters helmet (many other characters to choose from):
What's the Best E-Bike for Carrying a Child?
As mentioned above, there are already many models of cargo e-bikes that are made for carrying kids. They usually have sturdy rear racks ready to attach a bike seat. And many manufacturers will have recommendations as to the type of seat for the e-bike you're purchasing.
The best cargo e-bike I've found that will easily allow a seat to be added as well as carry your older child on the back is the Rad Power Bikes RadWagon.
Get this… you can carry two (2) kids in child seats on the back! For parents of 2 small children (or fathers/mothers of multiples like myself), this is a game-changer! Not to mention that you can load a bunch of other stuff on the bike as well, front, back, and sides. You've got to take a look to believe it.
Thankfully, it's reasonably priced at $1999. With its 350-pound load capacity and ability to put two child seats on it (plus add other cargo) it's perfect for fun and errands with the family. Plus, it just looks really cool (also comes in white or bright orange)!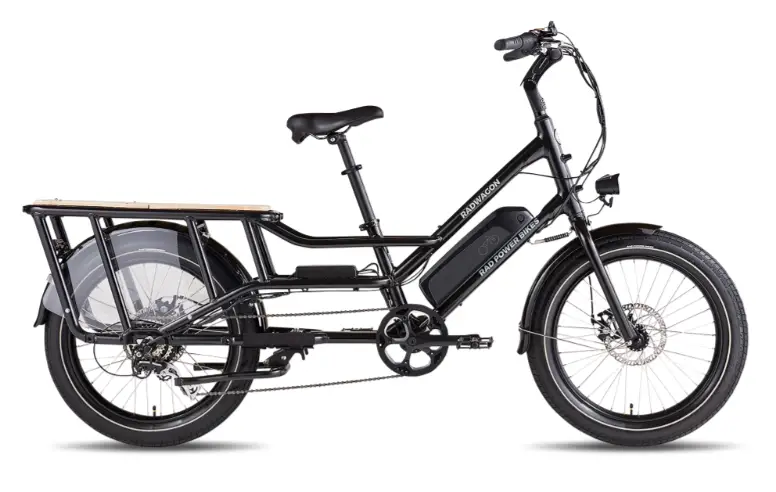 In Conclusion
Children love riding on bikes, even if they're not yet able to do the pedaling. And thanks to strong e-bikes that are able to add a child seat, tiny tots can participate in the family ride.
It's great to know that you can put child seats on an e-bike. However, just make sure your child is old enough to sit in a bike seat. And make sure you get the right e-bike with the best child seat for your situation.