Helmets are essential pieces of safety equipment when riding an electric bike as they protect your head from severe injuries in case of an accident. Thousand and Bern are among the leading bike helmets due to their outstanding features. If you're considering investing in an e-bike helmet, you should know how Thousand Helmet compares with Bern bike helmets.
If you want a lightweight helmet with excellent ventilation, go with the Thousand option. Otherwise, opt for the Bern helmet if you want a helmet with the most coverage. While the Thousand helmet has seven air vents to keep your head cool, Bern provides the most head coverage for safety.
In the rest of this article, I'll examine why Thousand and Bern helmets are among the best on the market. By comparing their features, including similarities, you'll be able to make an informed decision about the best helmet for your needs. Keep reading to learn more about these great helmet brands.
Basic Similarities
Before jumping into the specifics of each helmet, let's examine what they have in common. This way, you'll know what you get by buying any of them.
Both Thousand helmets and Bern helmets come in a range of colors, so you can choose the one you like. You may also decide to match the helmet color with your bike or riding outfit.
And both helmets have straps that make them secure while riding. The straps are stiff, making them durable and comfortable.
They also have certifications, such as CPSC and ASTM, ensuring they meet safety standards. Such certifications are an assurance that any helmet you buy meets minimum safety standards to better keep your head secure while riding on your e-bike.
Finally, both Bern and Thousand helmets feature a Multi-Directional Impact Protection (MIPS) liner in their helmet options. MIPS technology reduces rotational force and increases protection from angled impacts. These types of impacts are why head injuries are the most common cause of fatalities among bicycle riders.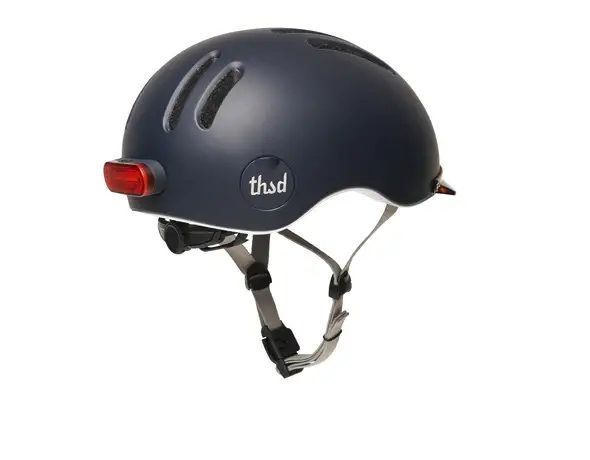 Thousand Helmet vs Bern Bike Helmets: Differences
Although these two helmet brands have similarities, they also have differences that make them unique in their own way. You should consider these aspects when choosing between Thousand and Bern helmets.
The table below shows the main differences between Bern and Thousand helmets:
| | |
| --- | --- |
| Thousand Helmet | Bern Helmet (find on Amazon) |
| Has seven air vents and three cooling channels | Has 11 air vents |
| Has a visor | Not all models have visors included |
| Uses a magnetic latch system | Uses a clunky strap |
| Has a pop lock for easy locking on the bike | No pop lock feature |
| Weight ranges from 360 to 410 grams (0.79 to 0.9 pounds) | Weight ranges from 350 to 510 grams (0.77 to 1.12 pounds) |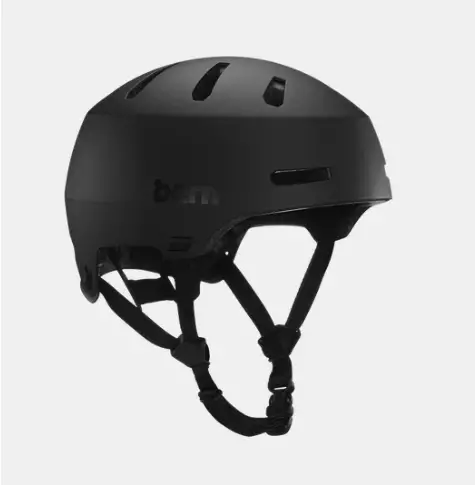 Table 1: Differences between Thousand and Bern helmets
Now that you know what the Bern and Thousand helmets have in common and the differences, let's look at each unique helmet separately and see what it has to offer in terms of:
Ventilation
Coverage
Fit and finish
Comfort
Thousand Helmet
Thousand helmets are designed to save 1,000 lives, hence the name. However, meeting this goal meant the company had to incorporate various high-quality safety features in the helmet. 
Below is some more information about this helmet brand's safety features:
Ventilation
Ventilation is a crucial consideration when choosing a helmet for an electric bike. Riding is a form of exercise, and your head can quickly feel hot under your helmet. As a result, covering your head with a helmet that doesn't permit air circulation traps more moisture, making the ride uncomfortable.
A Thousand helmet really comes out on top when it comes to ventilation. It has seven large air vents at the top and rear sides and three cooling channels. These air vents and cooling channels keep your head feeling comfortable during intense rides, even during hot weather.
The air vents at the top have a unique design that enhances the helmet's overall look. They also have mesh covers to keep insects and other small particles from entering.
The rear air vents facilitate the expulsion of moisture from the head. This helps your head to feel cool throughout your ride.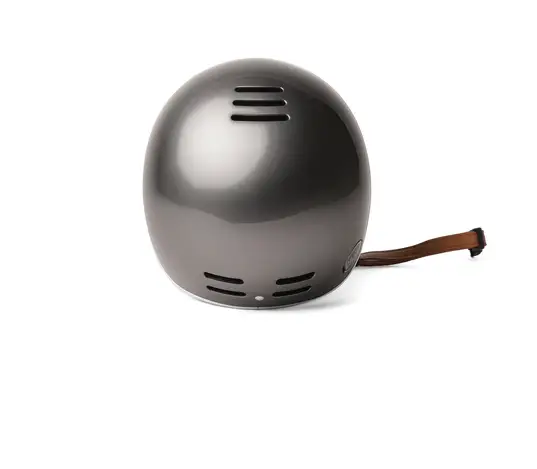 Coverage
Although the Thousand helmet offers good coverage for your head and ears, it falls short of protecting the back of your neck. The coverage is not as extensive as that of the Bern helmet, which is better for winter rides.
You should, therefore, think twice about a Thousand helmet if you want something that covers your entire head.
Fit and Finish
The Thousand helmet has a sleek design with a smooth finish that adds to its aesthetic appeal. It fits nicely on the head without feeling too tight or loose.
The helmet has adjustable vegan leather straps, allowing you to customize the fit according to your preference. Vegan straps are an added advantage and a lovely touch since they are soft and eco-friendly.
What's more, the thicker padding in the envelope ensures a snug fit and added safety while riding. Helmets come in Small, Medium, and Large to help you get the right fit.
Comfort
The Thousand helmet provides exceptional comfort thanks to its thick padding in the envelope and adjustable straps. Plus, the air vents also contribute to keeping your head cool during long electric bike rides, preventing discomfort caused by excessive heat and moisture buildup.
A helmet's comfort should take into account elements like sun and rain.
Thousand helmets have a narrow visor that shades the eyes from sun and rain, and they are interchangeable, allowing you to change color and style according to your preference.
Bern Helmet
Bern helmets (Amazon) are made for outdoor sports like e-biking, cycling, skateboarding, skiing, snowboarding, and more. Thus, they offer excellent protection and safety for extreme weather conditions and sports.
Interestingly, they offer each helmet with or without MIPS. You'll pay around $20 more for a MIPS helmet, which is totally worth it.
Let's take a look at these sought-after helmets in more detail: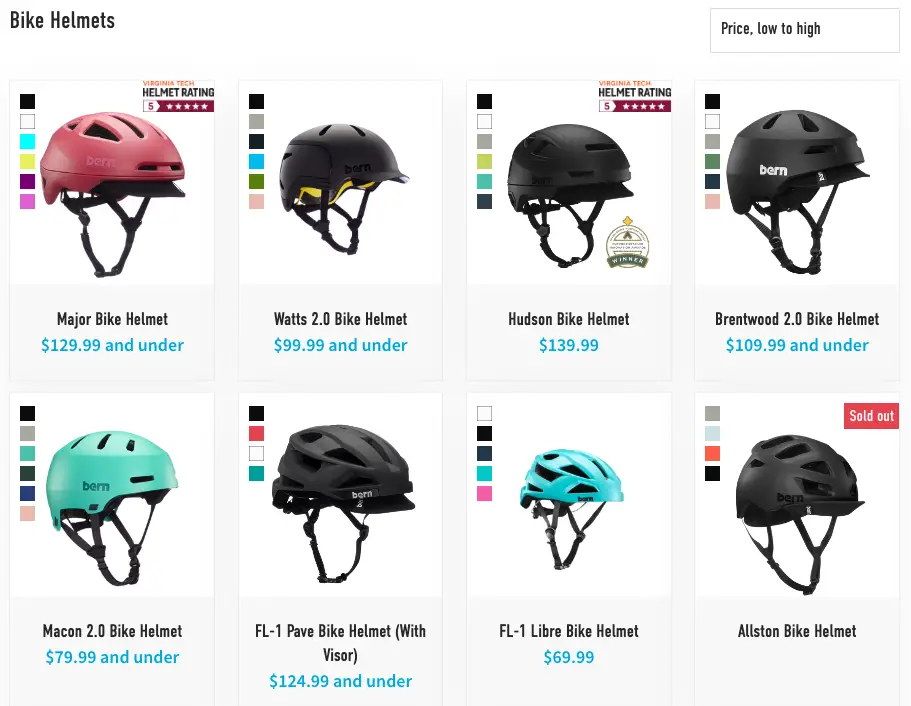 Ventilation
Bern helmets have almost the same air vents as their Thousand counterparts. Although a Bern helmet has 11 air vents, they are smaller, making its ventilation capacity slightly lower than the Thousand helmet.
However, it still offers good ventilation for keeping your head cool during long e-bike rides.
The air vents in the Bern helmet are strategically positioned as follows:
Six on the top of the helmet: These air vents help dump heat from the top of the head. As the air flows above the head, it cools down the head and helps keep it comfortable during intense rides.
Five vents at the helmet's rear part: These vents assist in the expulsion of moisture from the head, keeping it cool and dry during the ride.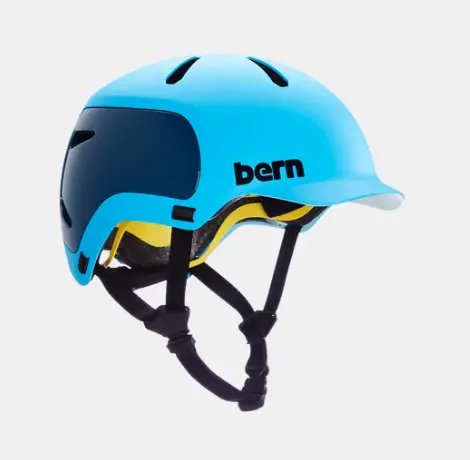 Coverage
Bern helmets have the edge over their Thousand counterparts when it comes to coverage. These helmets cover the entire head, including the back of the neck. This makes them a suitable option for cold-weather rides and other extreme sports that require extensive coverage for added safety and protection.
The helmet's coverage is enhanced by its dome shape and extended rear profile. The rear profile is also lined with faux fur, making it warm and comfortable for winter rides.
Fit and Finish
Bern helmets are designed to fit correctly for comfortable rides. The large adult size option has a versatile size range from 59 to 62cm (23.23 to 24.41 inches). The range ensures that the helmet has a bit of leeway for different head sizes.
The helmet has a BOA closure system at the back that facilitates micro-adjustments. This is crucial if you want a close-fitting helmet.
Finally, Bern helmets have a stylish matte finish that makes them aesthetically appealing.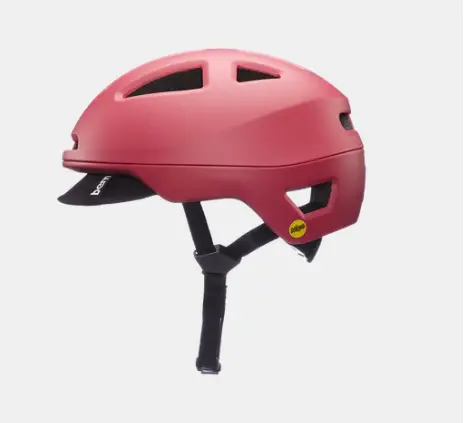 Comfort
Bern doesn't disappoint when it comes to comfort. The helmet has detachable ear pads to protect from excessive wind noise.
Moreover, the helmet has brims that protect your face and eyes from extreme light, especially when riding without goggles (check Amazon).
The only downside is that some Bern helmets lack visors. Fortunately, you can buy them separately.
Final Thoughts
Both the Thousand helmets and Bern helmets are excellent helmet brands on the market whether you ride an electric bike or a regular bike. As the Thousand brand takes the lead in ventilation and fit, its Bern counterpart has the edge in coverage and comfort. However, both brands have MIPS liners and certifications that signify high safety.