If you're an avid e-biker, you know that safety is paramount. That's why you need the best possible gear, including a reliable helmet. But what if your helmet wasn't just a protective accessory but a smart one? That's where the BASE CAMP Smart Helmet comes in.
I recently got my hands on the new SF-999 Smart Helmet. And thinking I was just getting a cool-looking bike helmet with lights, I was completely surprised by what made this helmet… well, so smart.
In this article, I'll take a closer look at the BASE CAMP Smart Helmet and what you need to know about this special helmet tech. From its sleek design to its unique features, I'll explore how it can enhance your riding experience. And I'll also tell you about one small disappointment.
What Makes the BASE CAMP Smart Helmet So Smart?
At first glance, the SF-999 Smart Helmet looks like a regular urban bike helmet, but it has some impressive features that make it stand out. To begin with, it's Bluetooth-enabled. This means you can connect it to your phone and listen to music, answer calls, or get GPS directions. You can also operate the helmet remotely with a watch-style remote control that attaches to your electric bike's handlebars.
The helmet has built-in speakers, providing a clear and crisp audio experience. It also has a windproof microphone, making it easy to ride and talk on the phone without interference from the wind.
Further, the helmet has rear lights that also double as turn signals (watch the video above to see how they work!)!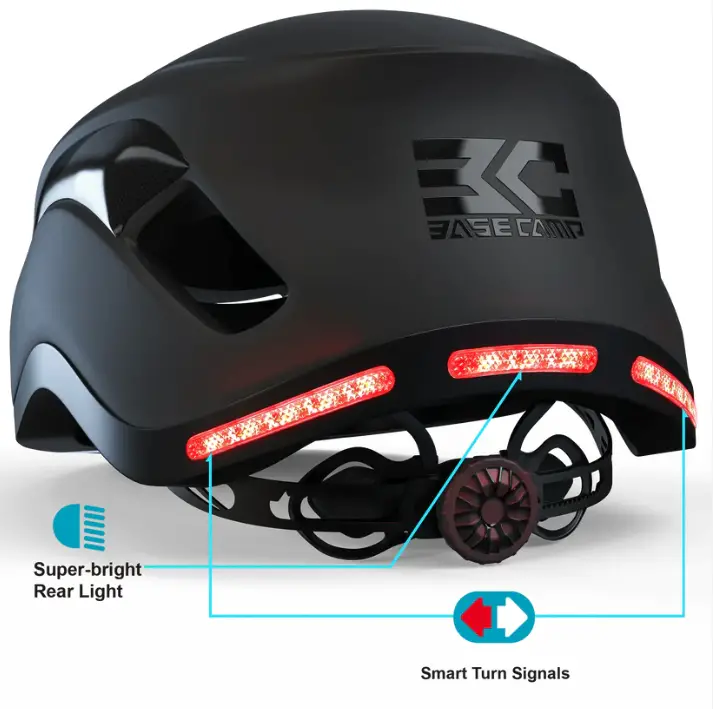 Unboxing and Setup
When you receive your Smart Helmet, you'll be impressed with the packaging. The helmet comes in a unique foamy mesh bag, which you can reuse to keep your helmet safe and dust-free. Everything is clearly labeled, and the contents are packaged in a little zippered black pouch.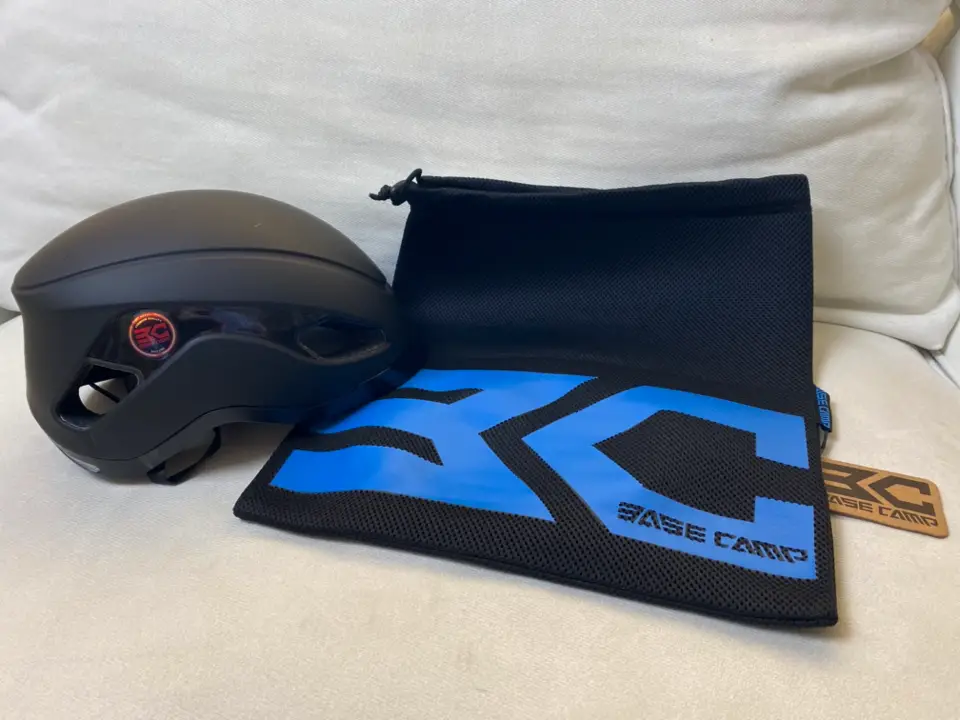 What you get
Inside the little pouch, you get a USB-C cable, a handy little user manual, a small screwdriver, and a Remote Control that attaches to your e-bike's handlebars for easy operation. The screwdriver is sized to open the remote's battery compartment.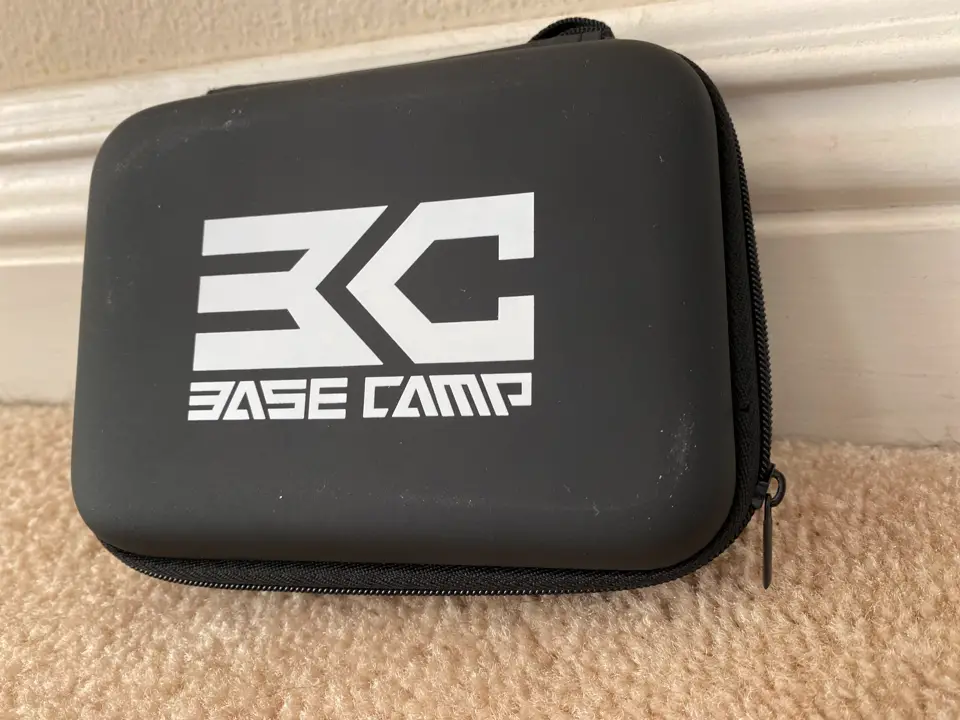 How to set up the smart helmet
You can read the user manual to set up your phone, but it's really simple to do. Just turn it on and pair it immediately with Bluetooth using the following instructions.
To set up the helmet, turn it on by pressing the button on the right inside the helmet. You'll be surprised by the voice that tells you loud and clear what is happening.
From there, open up your phone's Bluetooth settings and select "SF-999," to pair it successfully with the BASE CAMP Smart helmet. You can also attach the remote control to your e-bike's handlebars to easily operate the helmet.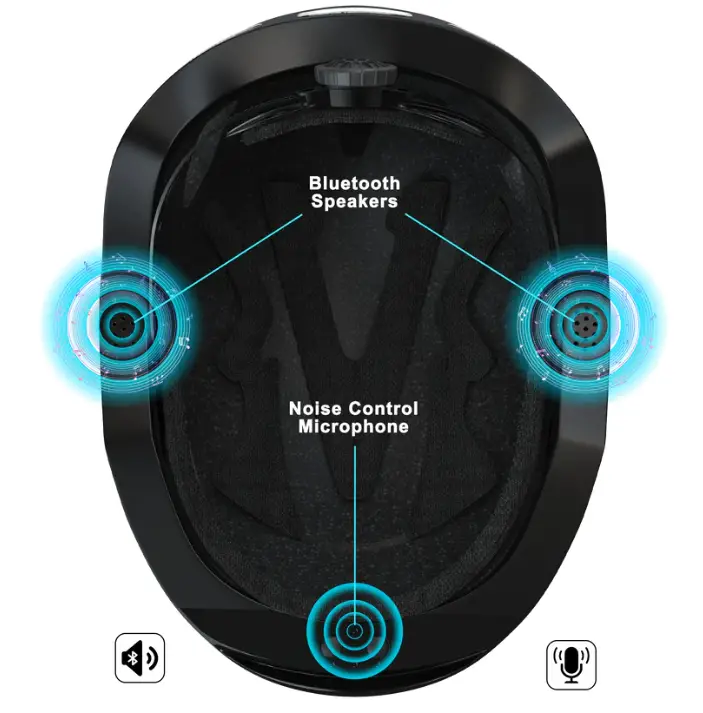 Comfort and Safety
One of the best things about the BASE CAMP Smart Helmet is how comfortable it is. It has an upgraded fit system that makes it easy to adjust, and the speakers sit right above your ears, providing an excellent stereo effect. Just adjust the soft chin strap and tighten the dial on the back of the helmet.
In terms of safety on your electric bike, the helmet meets or exceeds safety standards and has been crash-test certified by CSPC, ASTM, and CE EN. It also has a rear light for increased visibility and a proprietary wind tunnel ventilation system to reduce moisture and keep you cool.
How the Smart Helmet Works
When testing the smart helmet and riding up to about 15 MPH, the wind didn't seem to interfere much with the sound. Beyond that speed, it got a little more difficult to hear. But the windproof microphone and hands-free calling were impressive, making it easy to ride while talking.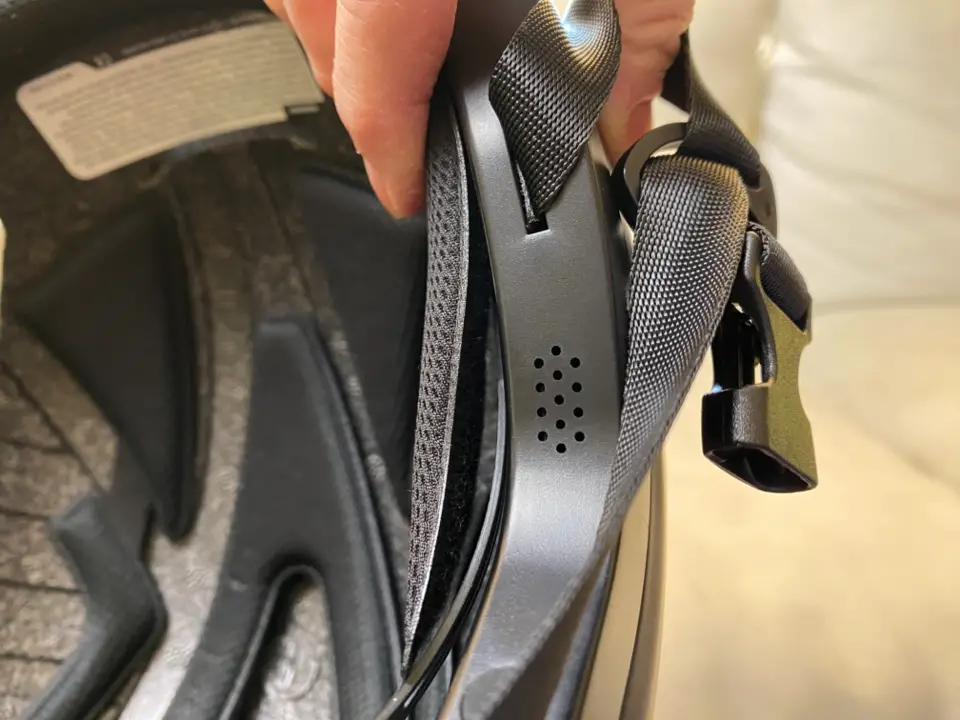 But what I think is the coolest feature of this smart helmet is the "watch-style remote". It connects to the bike helmet via Bluetooth and offers a power or pause button, as well as left and right turn signals. Simply attach it to the handlebars to easily pause music or use the turn signals.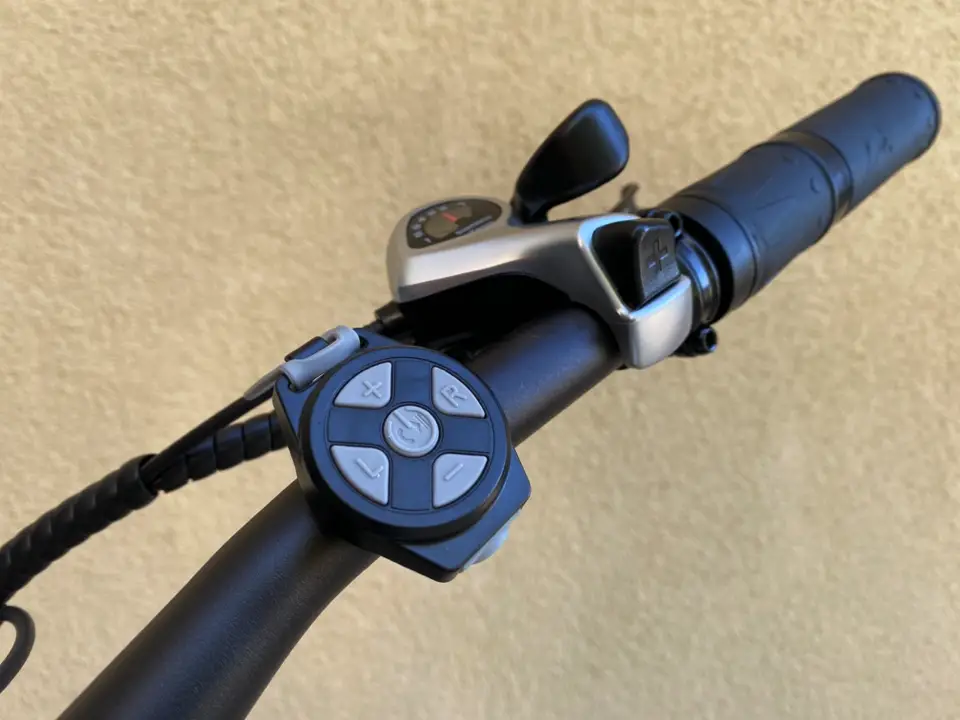 You might also like to use the Smart Helmet's streaming capability with GPS navigation!
It's also lightweight and waterproof, offers increased visibility with the rear light and turn signals, and has a proprietary "wind tunnel ventilation system.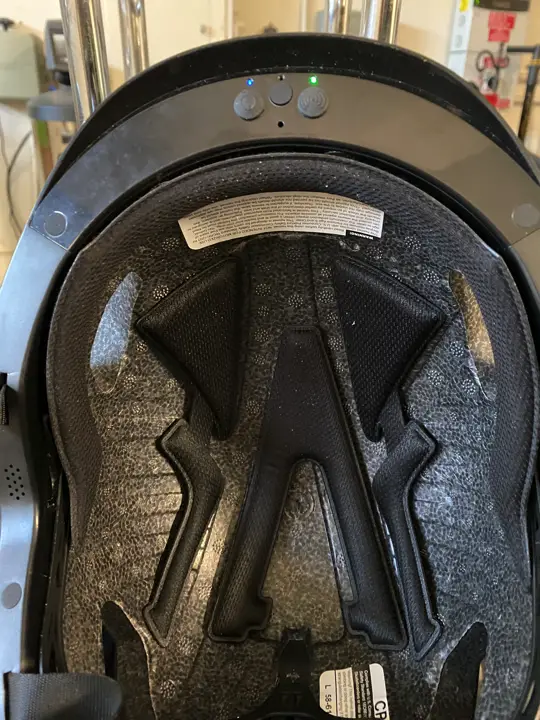 Battery Life
The BASE CAMP Smart Helmet has a battery life of up to 10 hours, which is enough for a full day's ride and more. It's also lightweight and waterproof, making it ideal for all-weather riding.
Size and Fit
Although it comes with an upgraded precision fit system, there is one unfortunate downside of this smart helmet. It only comes in one size. So it may not fit securely on either small or extra-large heads. It should fit most adults, however, who have a head circumference of 22-24 inches (56-61cm).
Make sure to measure your head and fit the helmet securely to maximize its protection. You can do this by using a soft tape measure to wrap around your head about an inch or two above your eyebrows.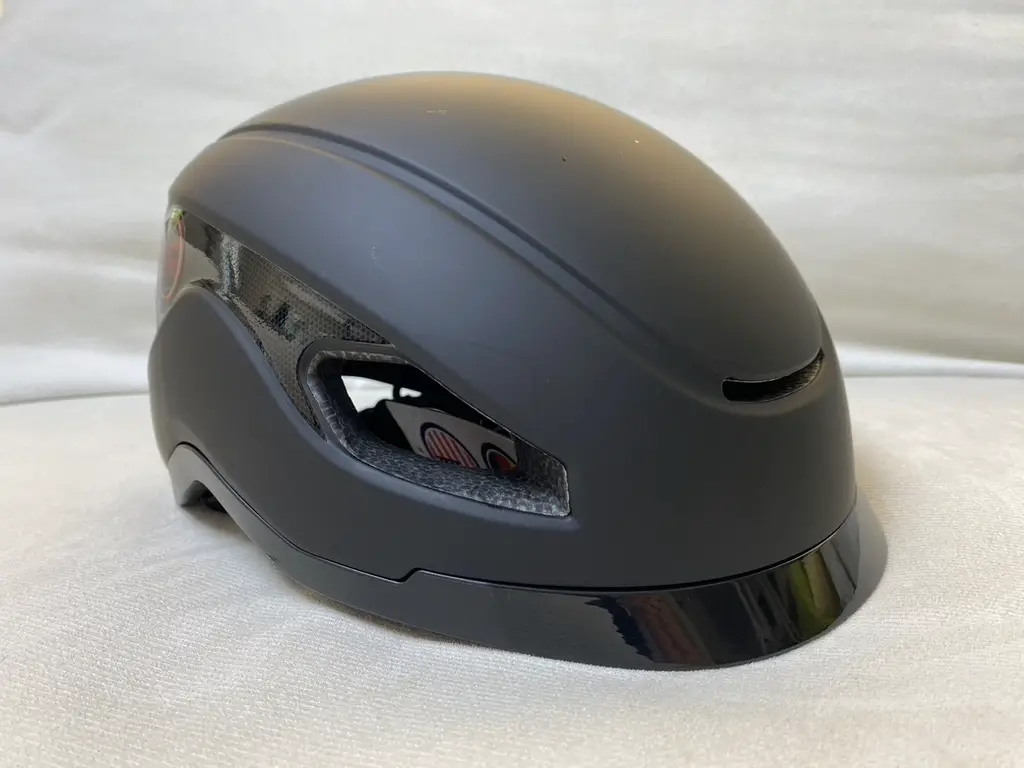 BASE CAMP Boards
Here are a few things you might want to know about the BASE CAMP brand before you make a purchase. Although they have traditionally sold electronic skateboards and scooters since 2005, they also offer safety gear, backpacks, apparel, and more. So it makes sense that their bike helmets are made for other fast-paced vehicles like electric bikes as well.
They also offer a 180-day warranty on the SF-999 Smart Helmet, while offering a 1-year warranty on other helmet purchases (to be free of manufacturing defects. Plus, there is lifetime customer support and products can be shipped to the U.S. as well as other countries worldwide.
Smart Helmet Wrap-Up
The BASE CAMP SF-999 Smart Helmet is an excellent upgrade to your e-bike riding experience. With its Bluetooth connectivity, watch-style remote control, and built-in speakers, it offers a truly smart and immersive experience. It's also comfortable, safe, and comes at a competitive price.
If you're looking for a reliable and smart helmet for your e-bike, the SF-999 bike helmet is an excellent choice.
Retailing at $119.90, it's already competitively priced (the Xnito helmet costs a bit more). But make sure to watch the video for a special discount code! 
Overall, the Base Camp SF-999 is the best smart helmet for listening to music or talking on the phone while taking an exhilarating e-bike ride.
My husband, Marc, can't get enough of it and I doubt I'll be able to wrestle it away from him. But at least I know he's safe and comfortable on his electric bike while wearing BASE CAMP's smart helmet, enjoying every second!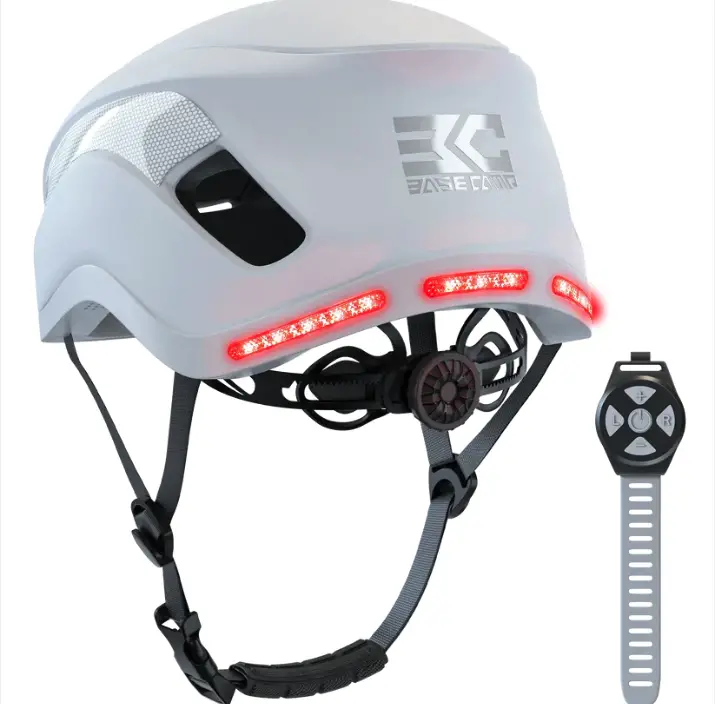 Special E-Biking Today offer
Take a look at the BASE CAMP SF-999 smart helmet before enjoying your next ride!
Make sure to use the following discount code from E-Biking Today: Enter "ebiking" at checkout (5% discount off the SF-999 Smart Helmet)
Read reviews, compare other electric bike helmets, and get more e-bike safety tips here: