Riding an e-bike can be a fun and exciting experience unless you feel awkward and uncomfortable while doing it. So it's important to choose an e-bike that fits you well, especially if you're a small woman.
The best electric bikes for a small woman have lightweight frames, narrower handlebars, a shorter reach, an upright riding position, a lower adjustable seat, and a low, step-through frame. There are a handful of affordable options (under $1500) that offer the features that a small woman who has shorter-than-average legs and arms needs to ride comfortably.
Being a barely 5'2″ woman myself, I recognize how important it is to get the right bike. They are NOT one-size-fits-all, no matter what you might be told. To find the perfect bike for my shorter stature, I did some research and compiled the five best choices for my height and needs as a woman.
Here are the best 5 e-bikes for a small woman:
Research and compilation by Lisa Sylvester, EBikingToday.com
Further, I've only included high-quality, affordable options (in the $1000-$1500 range). You don't need to spend thousands of dollars to get a good bike just because you're petite or have short legs. There are plenty of good options, but I did have to do some digging.
Now that I've already done the research, and I've had my own riding experiences, I'm sharing more about the five best e-bikes for you if you're a small woman.
And, I'll tell you which e-bike I picked that fits me perfectly (but also has one big downfall for a small woman)! So keep reading below.
---
Price- $1399.00
This beautiful, award-winning (per Bicycling 2020) step-through e-bike meets all of the criteria for being perfect for a small woman. It's affordable, easy to get on and off, relatively lightweight for an e-bike (under 50 lbs), and actually comes in two different sizes… Small or Medium.
That's right! Forget "one-size-fits-all"! The Small claims to fit women as short as 4'11" and going up to 5'8″. So, if you're hovering around 5′ tall, you should have no problem with this bike.
Because it's a step-through model, you won't have to throw your leg over a tall bar to get on and off. In fact, you can easily slide off the seat if you need to get off quickly at a light or for a quick stop!
Take a look at the size differences for the Small vs the Medium e-bike: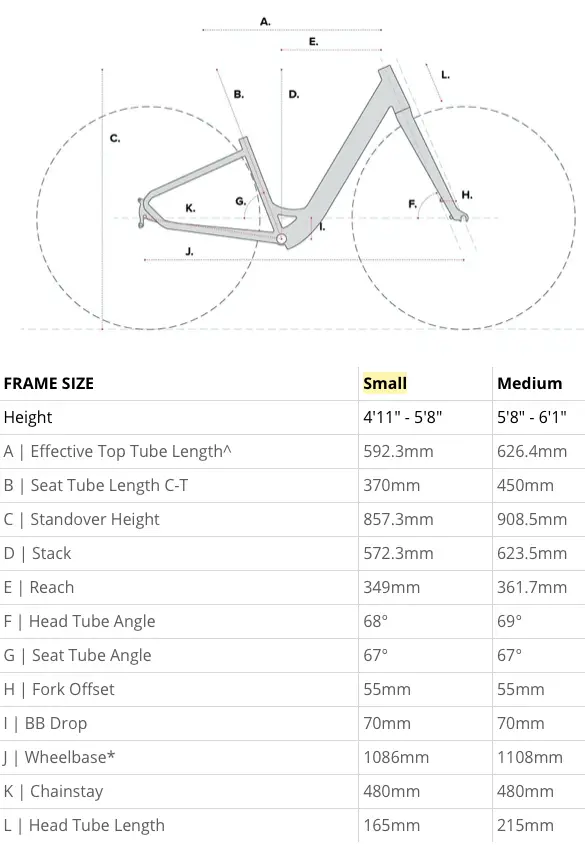 As you can see, the standover height and the reach are significantly shorter, making this model more comfortable for anyone with a smaller frame. But I think that the fact that it also has a cushy wide saddle, an upright riding position, and wide tires makes it perfect for any small woman to ride.
E-Biking Thumbs Up
The powerful motor (750W), speed (up to 28mph), and range (40 miles average) make it as competitive as any e-bike out there, regardless of the size of its rider!
E-Biking Thumbs DownEven though the wide 2.2″ tires make for a comfortable ride on most surfaces, they aren't "fat" tires and may not ride through softer dirt or sand as well as a fat tire would.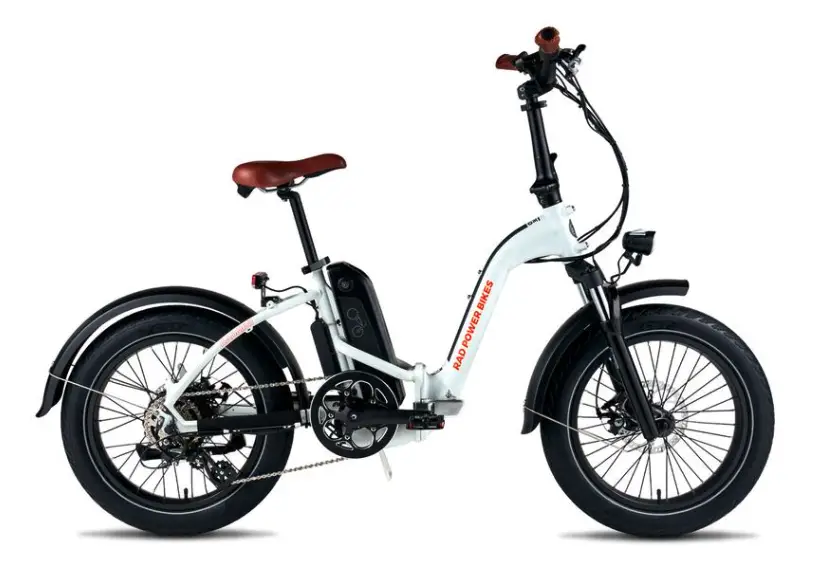 Price- $1499
I can testify to The Rad Mini Step-Thru being a great e-bike for a small woman… because it's the one I bought (as I mentioned earlier, I'm about 5'2″… and that's probably stretching it)!
What I love about this e-bike, first and foremost, is that it's comfortable for my small size. I can easily step onto it and reach the handlebars. And because the handlebars adjust, I played around with them for a bit until I found the perfect position that gave me the closest reach.
I never feel like I won't be able to get off quickly if I need to. I've been on my husband's Rad Mini 4, and frankly, I felt a little uncomfortable with getting on and off. As you can see in the size chart below, even the Rad Mini 4 doesn't fit shorter legs nearly as well as the step-thru model.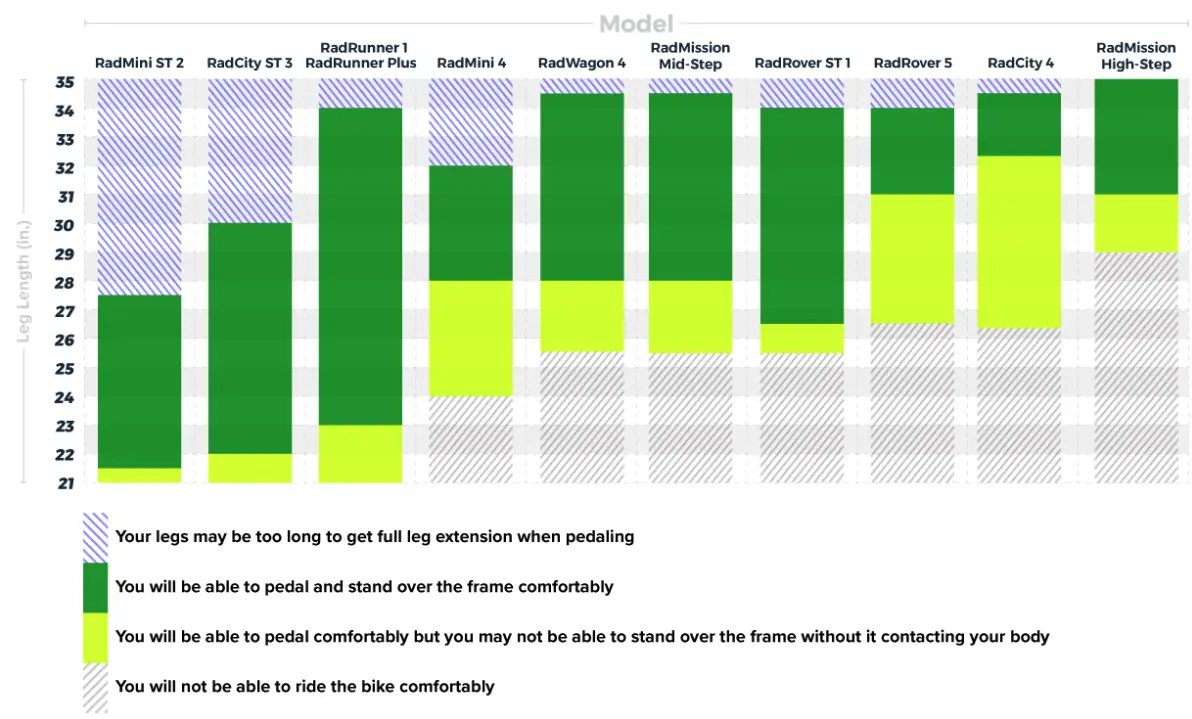 Here's what else I love about the Rad Mini Step-Thru:
750 Watt Motor (so it's powerful, and yes it goes fast!)
Gets up to 45 miles per charge
Easy twist throttle
3″ Fat Tires… so I can ride off-road easily, in sand, dirt, or mud (but still ride on any street or paved trail)!
It's foldable… so I can take it anywhere to ride without messing around with interior car space or a special bike rack and locks!
So, really, I ended up choosing this e-bike because I'm short and, when all other things were considered equal, I just had to have the Rad Power fat tires and the ability to fold it up!
Unfortunately, it's impossible to find a fat tire bike that folds and comfortably fits a small woman that isn't heavier than the other lightweight e-bikes talked about in this article.
So, you'll have to decide whether it's worth having a 68lb e-bike in order to get these features and a bike that fits you.
If you have a riding partner that can help lift it into the car, then weight might not be an issue. Or, if you plan to only ride around town and your neighborhood, then weight doesn't need to be a concern either.
However, if you want to travel and trail-ride, then you'll have to be able to lift it, either folded or not.
Check out the newest version here!
| | |
| --- | --- |
| E-Biking Thumbs Up | Fits a small woman with short legs very well and still has all of the other cool features you might want your e-bike to have |
| E-Biking Thumbs Down | At 68lbs, this is NOT a lightweight bike, so it may be hard to maneuver into the car if you don't have any help |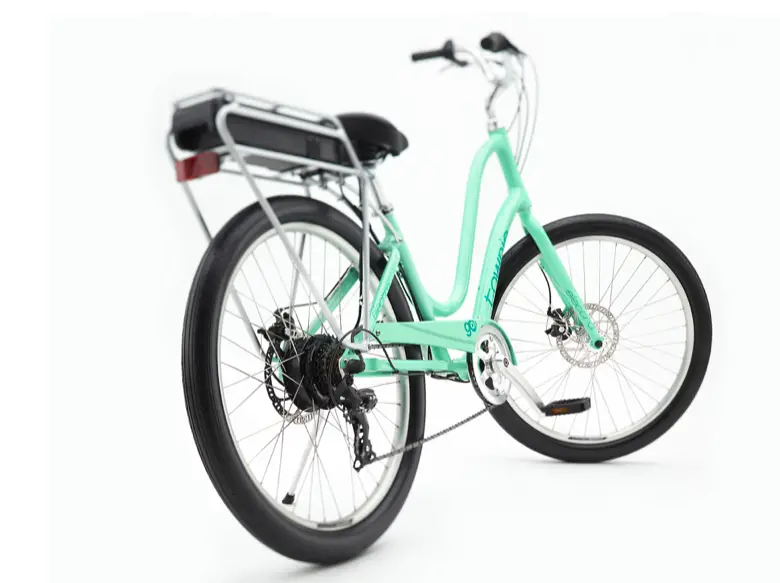 Price- $1499
The Trek Townie Go is perfect for you if you want a fun, easy-to-ride, colorful, lightweight bike that'll get you down the road in comfort.
It's got 2.35 inch wide tires, an ergonomic shock-absorbing seat, and pedals that allow proper leg extension so you can put your feet flat on the ground whenever you need to.
And, with a 250W motor, you'll get to where you need to go, but you won't have to worry much starting off too quickly.
Riding small inclines will probably be okay, but if you plan on riding big hills, 250 Watts of power may not be enough.
The reach is just under 13 inches, so it should be easy for small women with shorter arms to reach the handlebars.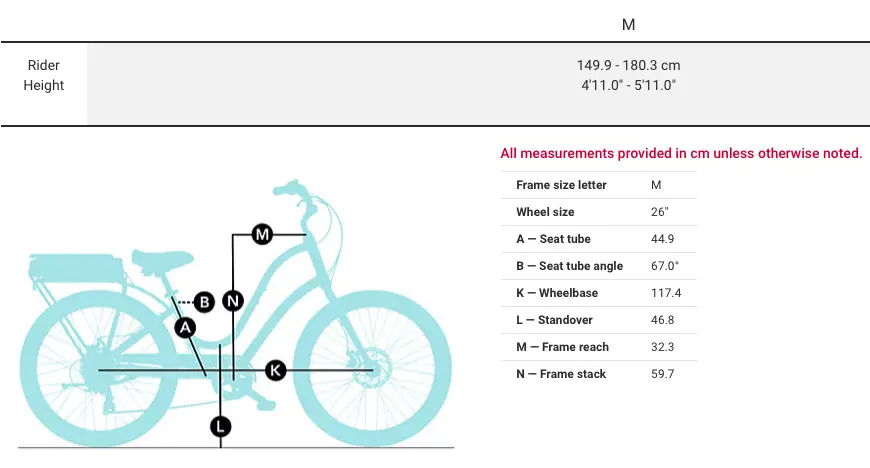 | | |
| --- | --- |
| E-Biking Thumbs Up | Lots of pretty colors to choose from! |
| E-Biking Thumbs Down | No throttle… but this might be a good thing if you don't want to worry about getting started too fast. |
Price- $1099
A less expensive model than the Pace 500, this is still a great e-bike for a small adult woman who doesn't need quite as much power and speed. It has a 500W Motor and goes up to 20mph with the throttle or pedal-assist.
With this less expensive model, you'll also get a battery that averages 35 miles on a charge vs 40 miles with the Pace 500.
So, saving $300 on this model really comes down to it being somewhat more of a leisure e-bike rather than a sporty one.
This e-bike still comes in "Small" and weighs a little less than the Pace 500 (46lbs).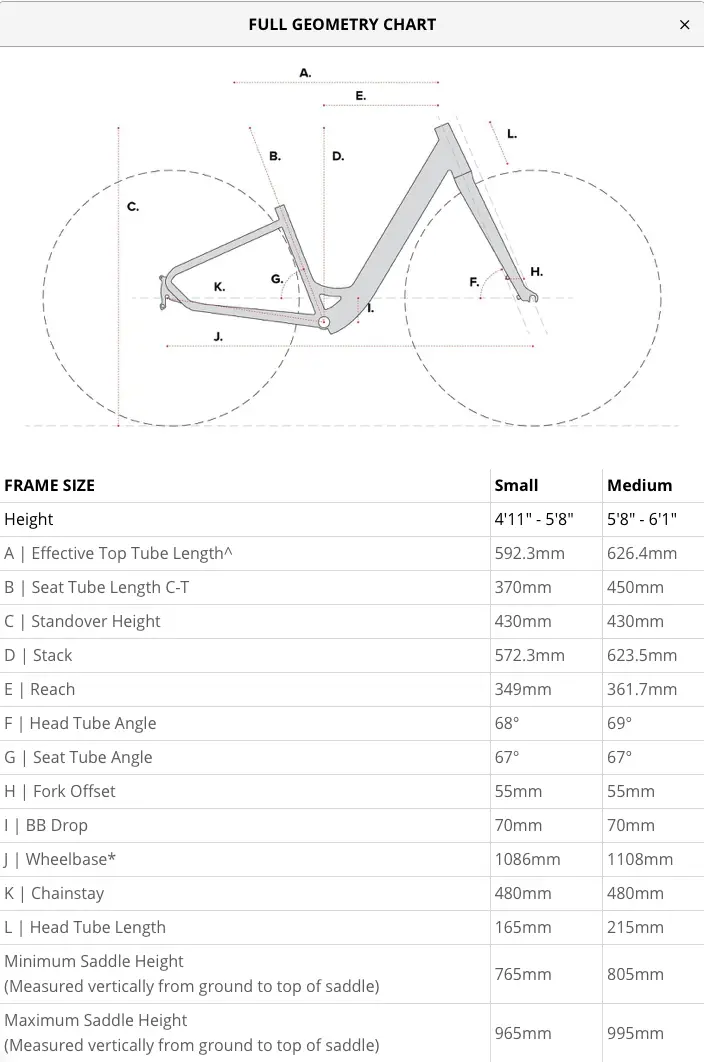 | | |
| --- | --- |
| E-Biking Thumbs Up | Save $300 over the Pace 500 e-bike and still fit well on it if you're a small person |
| E-Biking Thumbs Down | Not enough power to climb hills |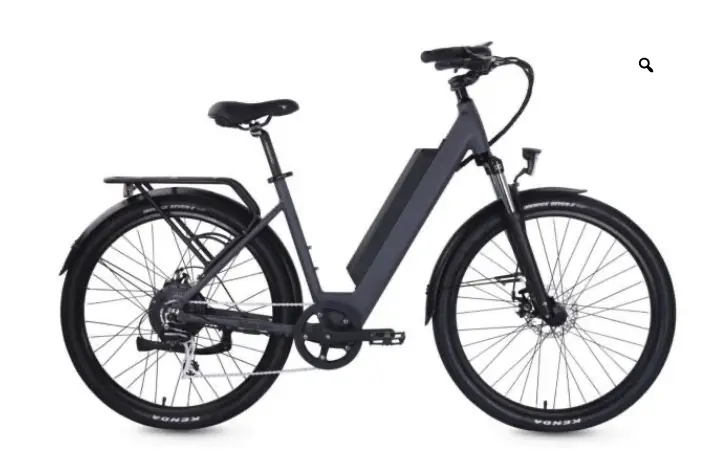 Price- $1295
This is a Class 3 e-bike with an 800W motor and throttle. So it's powerful and will get you moving fast. And, a small woman will fit on this e-bike if they're 5'1″ or taller, according to the manufacturer.
So if you're shorter than that, consider the models discussed above, speak to the manufacturer before purchase, or see if you can try it out in person.
The 500 Series is worth it, however, as it comes with a lot of great features for smaller women, including a "plush" comfort seat, adjustable angle seat post, 2.2in wide tires, and a low step-through. Plus, it's not too heavy at 55lbs.
So, if you can fit on it, it'll be a comfortable ride!
It's also touted as a good touring electric bike for riding long distances. Depending on the terrain, rider weight, and incline, you can get up to 45 miles on one full battery charge.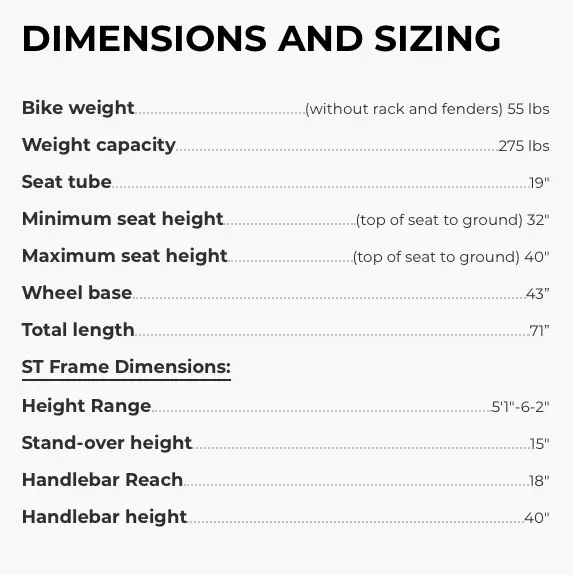 E-Biking Thumbs Up
Super low stand-over height at only 15 inches.
E-Biking Thumbs DownAs a Class 3 E-bike, you may not always be allowed to ride on certain trails. Decide where you'll be riding and make sure this is okay with you before purchasing.
Do Electric Bikes Have a Weight Limit?
I've talked about the best e-bikes for small woman, focusing on height and leg length.
But you might also like to know more about the weight requirements for an e-bike before you purchase one.
Almost all e-bikes have a "payload" of 250 lbs (115 kg). This means that it can withstand carrying up to 250 lbs, including body weight and cargo.
All of the e-bikes mentioned above state that they can withstand a weight of up to 250 at the least. However, the Ride 1Up 500 Series and RadExpand Step-Thru both have a payload of 275 lbs, while the Pace 350 and 500 Step-Throughs can hold up to 300 lbs of body weight and cargo combined.