No matter whether you need to replace an old electric bike tire, are doing an e-bike conversion, or need help buying an e-bike with the right tires for your riding style, deciding on the ones that'll be best for you should be a top priority.
Getting the best electric bike tires for you depends primarily on where you ride, how fast you ride, and your general riding style, in addition to the weight of the e-bike.
Additionally, the best e-bike tires can withstand the bike's extra weight and the greater force on the tires themselves during braking or accelerating.
Below is a list I put together to help you choose the type of e-bike tire that may be best for you. Take a look at the tire sizes and what terrain they're generally good for… then continue reading to find out what tire and wheel size you need and how to choose the best tire in just 3 steps.
I'll help you decide which tire will work best for you so that you'll have an easier time buying the perfect tire or e-bike with the right tires.
Do E-Bikes Need Special Tires? Really?
Electric bikes require tires that are durable enough to support the extra weight of a larger frame, battery, and additional electric equipment, such as the motor and controller.
Although Europe requires electric bicycle tires to be certified, the United States does not. Rather, the differences in U.S. e-bike tires are entirely the choice of the manufacturers and USA brands.
E-bike tires may even be different amongst the models of the same brand. So, although an electric bike may have special tires to accommodate its weight, it might also have the same tires you can find on any bike, at least in the USA.
Still, reputable brands understand the need for tire durability and use tires that allow for the correct tire pressure to maintain stability and traction.
However, if you're choosing the best tire for your situation, it's important to consider the type of tire that'll work well before you purchase an e-bike, replace worn-out tires , stock up on tire inner tubes, or buy new tires for an electric bike conversion. After all, you're likely to ride harder and go farther on your electric bike thanks to pedal assist and how it works.
A good tire also impacts tire puncture protection, flat tires, and how long your tire will last (along with correct tire pressure).
E-Bike Tire Size vs Wheel Size
When considering what electric bike tires are the best, you need to understand the importance of tire size versus wheel size. Much of an e-bike's performance is dependent upon the size of both the tire and the wheel.
Here are some common wheel sizes and tire widths for electric bikes as well as the e-bike brands and models that use them:
As you can see, many electric bikes come with somewhat wider tires to support the weight of the components. E-Bikes with wider tires are generally better for riding on dirt or sandy trails while also riding smoothly on the road.
Electric Bicycle Tire Size
Tire size is determined by the width of the tire. In turn, tire width has much to do with the type of electric bike the tires are on and the terrain on which you'll be riding.
A wider tire will help your e-bike ride comfortably on a greater variety of terrain, while a thinner tire will make your electric bike ride smoother and more efficiently on the road.
Electric Bike Wheel Size
Wheel size is all about the diameter of the wheel. Electric bike wheels can range from 12 inches to 29 inches in diameter, which is quite a huge difference.
Foldable e-bikes used for commuting often have very small 12″ to 20″ wheels. The wheel size is small so that you can easily fold up and carry your e-bike up a flight of stairs, or on a train or city bus.
The largest wheels are typically found on bikes that are ridden for sport (such as an electric mountain bike) and racing or riding long distances (such as an electric road bike). You'll also find cargo e-bikes (to carry children, dogs or cats, and goods), electric trikes (with 3 wheels), and some of the biggest fat tire e-bikes in this wheel size category.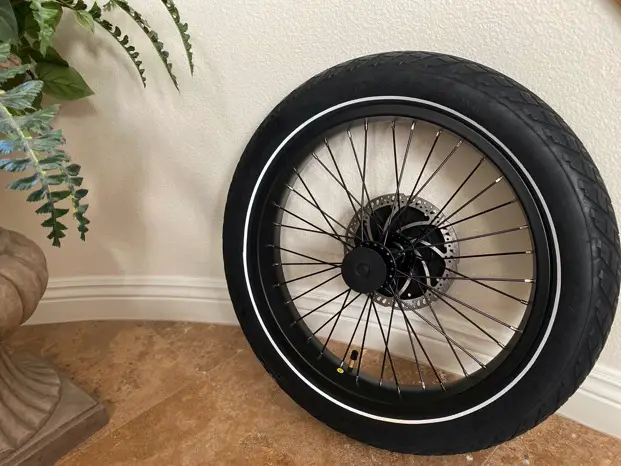 3 Steps to Choosing the Best E-Bike Tire for Me
It's much easier to choose the best e-bike tires if you know how and where you plan on riding. Complete these steps to help you find the best electric bicycle tire for your situation by answering each question:
Step 1- Will you be riding on paved roads or off-road? Or both?
Decide on what type of riding you'll be doing most often. If you'll be riding off-road in the dirt, gravel, snow, or sand, then you'll want a tire that has at least a 20-inch wheel with a tire width of 2.6 or more. And, if this is your primary type of riding, you may want a 26″ or larger wheel with a much fatter tire.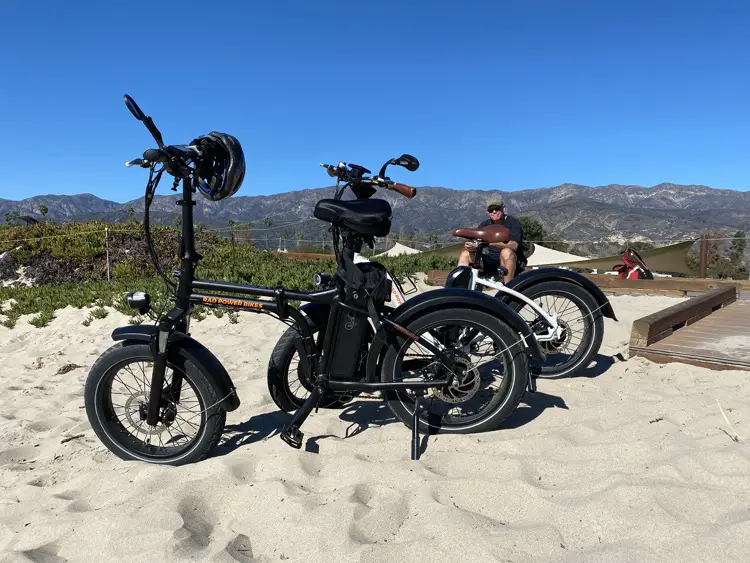 If you'll only be riding on paved road or bike trails, a thin tire will provide the best performance as far as speed and efficiency go.
However, if you expect to find yourself riding on both paved trails and rougher terrain, then you'll want a tire that is wide enough to help you get over the bumps and loose ground safely and comfortably, while still providing a relatively efficient ride on the road.
My own RadMini e-bike does exactly this with it's 3.0 inch wide tires (not super fat tires but much wider than standard bike tires).
Finally, if you only plan to ride in the city or on your daily e-bike commute to school , you can choose any wheel size. But a folding e-bike with smaller 12 inch-20 inch wheels will make it easier for you to carry it on public transportation or store it at work for the day.
Step 2- Will you need to transport your e-bike to trailheads or for traveling?
If your answer is "yes", consider doing one of two things:
Get an electric folding bicycle with a smaller 20″ wheel so that you can toss it in the back of your car for traveling. I wouldn't go any smaller than a 20″ wheel, however, if you plan to ride on off-road terrain or non-paved trails.
Or, if you'd prefer a larger wheel and fatter tire, be prepared to spend additional money for a bike rack that'll support the weight and size of an electric bicycle (check out this one on Amazon). You won't be able to use a standard bike rack.
Step 3- How much are you able or willing to spend?
Now that you have an idea what size tire and wheel will work best for you, you can start searching for a tire. Higher quality tires will cost more but may be worth it if you ride long distances.
And, if you're planning on buying a new e-bike with your choice of tires, then this is a good time to check your budget.
In general, fat tire e-bikes, electric cargo bikes, and electric mountain bikes will be somewhat more expensive than smaller tire foldable or commuter e-bikes due to added features such as wider tires or bike racks. And getting a good tire with puncture protection is a must.
If you're looking to buy an electric bike under $2000, these brands will give you some great options with different sized wheels and tires:
Want to find an e-bike under $1000? Look here:
Electric Bikes on Amazon (paid link)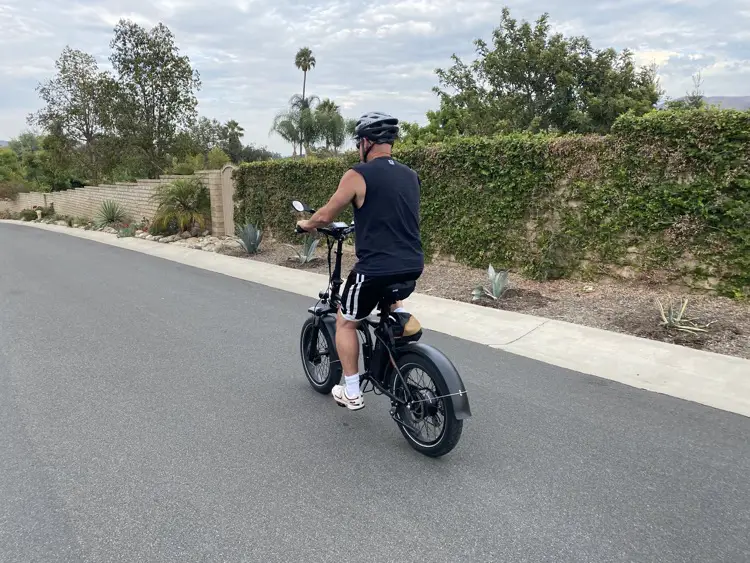 Are Fat Tires Better for E-Bikes?
Using a fat tire on your electric bike is a good idea if you plan on riding off-road and you aren't worried about having to lift, maneuver, or store your bike in a small space.
A fat tire e-bike will give you better traction on all surfaces because they're super wide and have more contact with the ground. It'll also ve much more comfortable to ride when going over bumps or uneven ground.
But you'd probably rather have a smaller, lighter tire if you'll only ride on the pavement or if you have a foldable e-bike... It'll be much easier to manage with a smaller-width tire.
Further, if you get a poor quality fat tire as opposed to a high-quality e-bike tire, then there will be little advantage to having a fat tire just for the sake of it.

Can You Put Bigger Tires on Your E-Bike?
For starters, this depends on whether you want to put on bigger (and taller) tires or tires of a different width.
If you plan on substituting tires that are larger in diameter, then you'll also need to put on larger rims. But if you just want wider tires, then your current rims should work well.
As discussed in this article earlier, you'll also want to consider the type of riding you'll be doing the most. Getting a wider tire with the same wheel diameter will help you traverse rougher terrain (as long as your wheel size is a minimum of 20″).
Or, you might prefer narrower tires if you'll be sticking to the road and have a folding e-bike.
So, in general, you can put bigger tires on your e-bike but you should check with the manufacturer to make sure you're getting a compatible size.
Conclusion
Now that you've learned how to choose an electric bike tire (and in just 3 steps), you should consider your ultimate purpose for riding an electric bike.
Knowing how you want to ride and where you want to ride will help you decide on the right tires, whether you're replacing worn-out tires or buying a new e-bike.
Remember, you'll be choosing the best tires for your situation, not just good-quality tires.