A fat tire e-bike doesn't just give you more grip on the road… it takes you to off-road places you never imagined such as rocky paths, beaches, snow-covered terrain, and tall mountains. Fat tire electric mountain bikes typically have fat tires over 3" (7.62 cm) wide to provide more surface contact for better stability and traction, thus making them an excellent option for mountain biking.
The best fat tire electric mountain bikes are the ones that are powerful enough to climb steep hills, equipped with a long-lasting battery, and have a good suspension. Mountain e-bikes with fat tires should also be comfortable enough to make your ride enjoyable.
And no matter your price range, it's important that the electric fat tire mountain bike (eMTB with fat tires) you choose has a better than average cost-to-value ratio with top-of-the-line parts and accessories for a safe, reliable, and durable riding experience.
Some considerations might be:
What kind of suspension do you need to meet your desired riding style
What accessories and safety features each model comes with
And how fat do you want your tires to be
In this article, you'll discover seven of the best electric mountain bikes with fat tires for recreational and adventurous use for beginners and experienced riders. But first, I'll tell you what you need to know before choosing and buying one, so keep reading.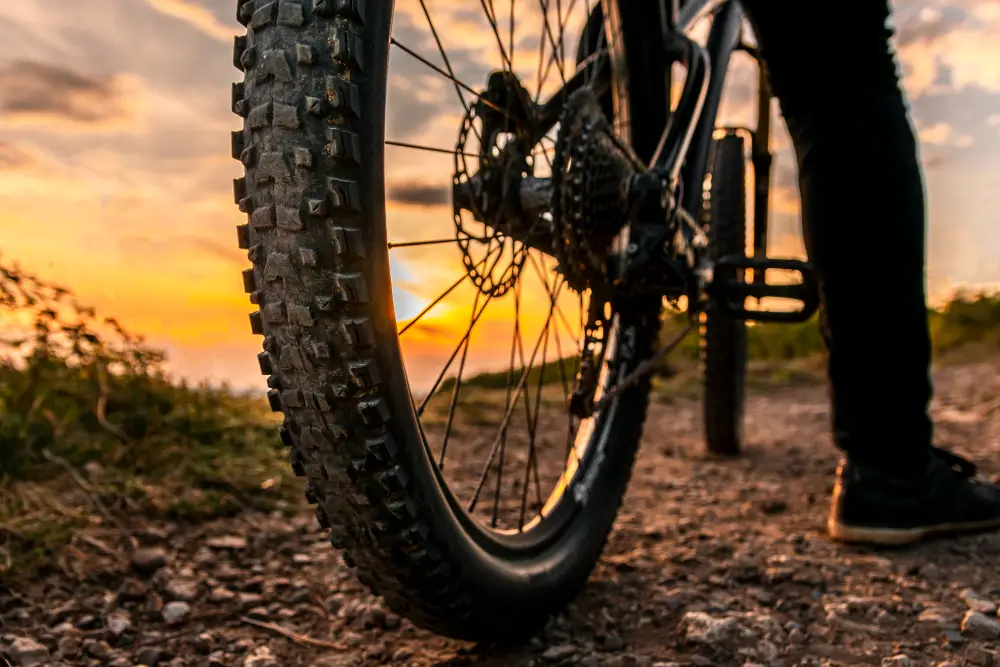 Factors To Consider Before the Purchase of a Fat Tire Electric Mountain Bike
Purchasing an electric bicycle already shows you are ready for some fun e-bike adventures. But, you will also need to think about what you hope to do with your e-bike. 
The following factors are all good things to consider ahead of time that will help you to narrow down your purchase choice, such as: 
Initial price and safety equipment costs
Electricity usage
Maintenance fees
The type of terrain you desire to travel on
Mountain E-Bike Logistics
Duration of Battery Power
This tells you how far you can ride using motor assistance. Unfortunately, you may not get accurate battery information for your e-bike.
Many things can affect the battery life, such as overall weight, the type of terrain, and pedaling input. However, if you look at the watt-hours (Wh) of your battery, the higher the number, the longer the battery lasts. 
Typically, a higher wattage also means a heavier battery that adds more weight to the e-bike.
Tire Size
Your tires are crucial for your electric mountain bike. They provide grip and cushioning that impact your ride by responding to the terrain you are on. Wider tires offer more traction, suitable for technical mountain bike trails and riding on inclines. 
Conversely, narrower tires will help you travel faster and do not handle rough terrain as well.
So keep in mind that buying an electric mountain bike with fat tires may not be what you want if you intend to speed down mountain hills, as the wider tires will cause some drag. Regular mountain bikes have tires closer to 2″ wide, instead of the 3″-5″ wide ones found on fat bikes.
Your Physical Size
Some e-bikes are better suited for taller individuals, as well as have weight limits. So, check out the specifications and sit on the e-bike before purchase if you can. If you can't find the information you need online, contact customer service and inquire for more information.
Suspension
Consider the type of terrain you plan to ride on. Electric bicycles can come with an air fork front, hardtail, or full suspension. These types of e-bike suspensions give the rider different experiences:
Full suspensions are more comfortable, offering more safety and overall enjoyment as they respond to bouncing over rough terrain ideal for off-road cycling. This style tends to make the e-bike heavier and more costly.
Hardtail suspensions are suitable for recreational riding. This style generally requires less maintenance and is more lightweight and affordable. However, the ride may not be as comfortable. 
An air fork front suspension is when the spring rate can be changed by modifying the air pressure to set an exact spring rate, resulting in a "softer" suspension.
Serious mountain bikers will typically choose a full suspension e-bike if it's affordable to them. However, a rigid fork suspension (hardtail suspension) will be suitable for many recreational riders of electric fat bikes.
Cost of the E-Bike and Electricity
There will be the cost initially spent for the e-bike, gear, and safety equipment and cost over time, including energy costs to charge your e-bike and repair costs. The most expensive e-bike may not fit your needs, and often you can find what you'd like at an affordable price while obtaining all of the other features you hope your e-bike has.
A breakdown of costs is offered to give you a general idea of what items may cost. Please note that you will need to look into actual costs further for your particular demographics.
Let's take a look at an idea of what you might have to pay.
Initial Purchase and Electricity Cost
The initial purchase cost of a fat tire electric mountain bike can range from $600-$7500. This can vary depending on where you live, the brands of e-bikes, and the e-biking features you wish to have for mountain adventures. 
But here's the good news: You don't need to buy the most expensive mountain bikes since many lower-cost ones offer the necessary safety and reliability for an off-trail experience. Most fat tire e-bikes mentioned in this article range from $600-$2,800, but I show you one that costs over $7000.
Your electricity costs will vary depending on where you live, but in the U.S. it will average around $30 per year. Not a huge cost in comparison to gas for your car, but interesting to know.
Cost of Safety Equipment
Safety gear is essential and a safe and responsible way to ride, especially on the rough terrain and gravel found on rocky mountain paths. You can find gear designed explicitly for biking which will keep you comfortable and protect you. 
Quality helmets, in particular, reduce your odds of a head injury by at least 50%. The store you buy your e-bike from will likely have safety gear for you to purchase. 
However, due to variances in pricing, all suggested items in the list below are examples from Amazon.com for your reference specifically designed for use with mountain biking. Some of these items may add weight to your e-bike but consider what is essential for your comfort and safety for an enjoyable biking experience. 
So, with an e-bike purchase and accessories, you can plan to spend about $1,400 – $7,800 upfront. Then after that initial cost, $30 annually on electricity plus any repair or maintenance work that needs to be done. Where you purchase your e-bike may offer warranties and maintenance options, so please inquire there.
Now that you've got an idea about what you want in an electric bike and the costs involved, you are ready to make excellent choices for your mountain adventures. 
All of these electric bicycles are described as being mountain bikes. However, keep in mind that while all of these are equipped to handle some off-roading, not all can comfortably handle heavy-duty, rough terrain mountain explorations.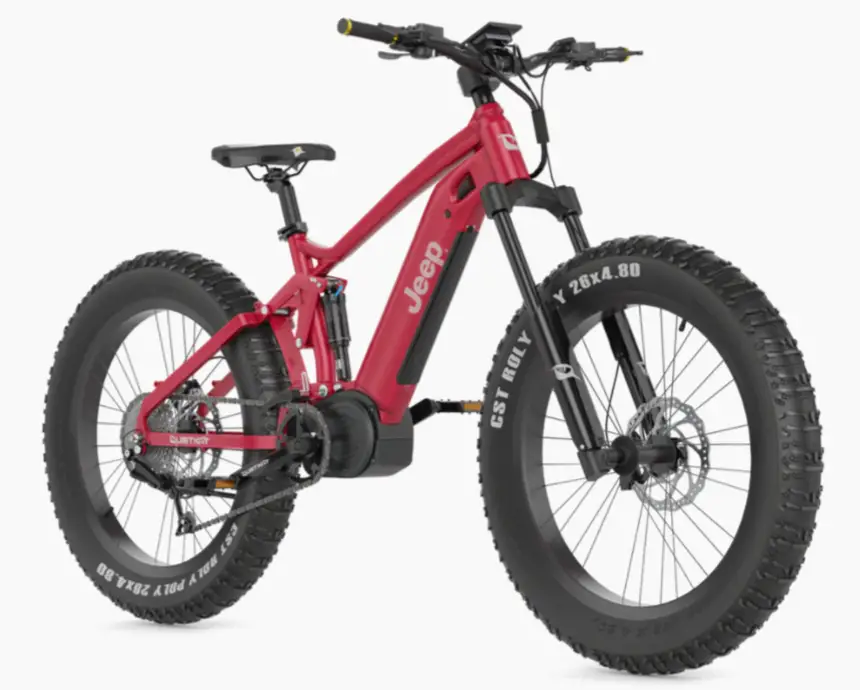 Best True Off-Roading Experience: Quiet Kat Jeep
This model was designed in partnership with Jeep bringing the user an off-road experience for terrains such as soft sand, snow, hard-packed trails, and rocky surfaces. When purchasing this e-bike, you have a choice of a 1000W or 750W motor, and a size for people under 5'6" (167.6 cm), 5'6"-6' (167.6 cm to 182.8 cm), and over 6' (182.8 cm). 
This electric bicycle features a 9-speed drivetrain with torque for climbing steep inclines with its full suspension frame and inverted suspension fork for traction and comfort.
The brake system utilizes four-piston hydraulic disc brakes for control and fat tires at 26" X 4.8", offering one of the largest available in the fat tire category. Just like Jeep vehicles, the air in the tires can be adjusted for traction on different terrains. 
Additionally, this e-bike can handle loads up to 300 lbs (136.08 kg).
The battery is 14.5AH/48V, and the e-bike weighs 70 lbs (31.75 kg) overall. You can choose charcoal or matte red for the color.
Bottom line: This e-bike offers a truly off-roading experience for serious mountain bike riders.
Read more here about how fast the QuietKat Jeep can go!
Pros
Customizable: This electric fat tire mountain bike offers purchasers options for color, motor size, and compatibility with their height.
Off–roading: It is designed with a full suspension and fatter tires for comfort and handling off-road terrains. Reviewers of this e-bike love its capability for this main reason.
Cons
Cost: This e-bike is more costly with all of the special off-roading supports and features. Plan to pay well over $7000.
Heavy: This e-bike weighs 70 lbs (31.75 kg), and the battery itself is 12 lbs (5.4 kg). This may be too heavy for some people to handle.
The Quiet Kat Jeep Bike can be viewed below:
Best Custom Suspension and Comfort: RadRover 6 Plus
Rad Power Bikes has designed this powerful fat tire bike to hit mountains, beaches, deserts, and dirt roads in comfort! The upgraded 750W motor and half twist throttle ensure you have enough power to get up hills and over bumps.
The 48V/14Ah battery has a range of around 45 miles (72 km), give or take depending on your riding style and throttle usage. Plus, with 5 pedal assist levels (and a 12 magnet cadence sensor), you can easily make modifications to get more battery range.
With its new semi-integrated battery, it has a refined look in addition to great comfort due to the ergonomic frame giving you a smooth ride. Additionally, the custom suspension fork with preload adjustment and 60mm of travel can get you over a wide range of difficult terrain.
Some perks include:
Automatically activated integrated lights: headlight, tail light, and brake light give you greater visibility, day or night.
Custom cable covers for protection and easy maintenance access.
Enhanced but simplified LCD user interface giving real-time stats, trip time, and time of day.
Bottom line: Rad Power Bikes RadRover Plus offers a comfortable off-road ride for outdoor enthusiasts.
Pros
Advanced and Customized: This electric fat tire bike has been improved with its excellent ability to tackle hilly areas, greater stopping power with its high-performing hydraulic disc brakes, custom geared hub motor, and a semi-integrated but removable battery.
Comfort: It's been redesigned with an ergonomic frame, smoother handling, and 4-inch wide tires.
Good for Many Sizes of Riders: Accommodates a wider range of rider heights than before and offers a step-thru model for the shortest riders.
Affordable: At $1999, it's a reasonable price for high value.
Cons
Heavy: This electric bike's weight is over 73 lbs (33 kg), so it will be too heavy for some people to lift into a car for travel.
Check out the RadRover Plus Bike video here:
This electric fat tire bicycle comes with a durable and well-balanced frame with the choice of a 750W or 1000W rear hub motor for tackling rough terrain. It offers a front suspension fork and is equipped with a rear rack system for carrying gear.  
It comes with a 12.8AH/48V battery that offers a range up to 48 miles (77.25 km) of travel in ideal conditions. It can carry a load of 325 lbs (147.42 kg) and is fitted with an adjustable coil suspension form and a 7-speed drivetrain.
This e-bike is available in three sizes, depending on your height. The tires are 26″ x 4.5″ for the medium and large e-bikes and 24″ x 4.0 for the small bike, which is fat enough for handling off-road terrain. 
Riders can choose from three colors for the frame: 
Sandstone
Veil Poseidon Dry Camo
Charcoal
Bottom Line: This e-bike is in the mid-range of cost and is constructed in such a way that it can handle off-roading reasonably well. Riders can choose from motor sizes, height sizes, and colors when purchasing.
Pros
Load capacity: This fat tire e-bike can handle up to 325 lbs (147.42 kg) with an added rear rack for carrying cargo and gear on an updated frame.
Affordable: This model is more affordable than some other fat tire mountain e-bikes.
Customizable: Riders can choose their motor size and height size, as well as the color of their e-bike.
Cons
Shifting: Reviews indicated that for some, the shifting needed to be adjusted. If you don't know how to do that, you may need assistance.
Battery charging: You may need an adapter if you wish to charge the battery off of the e-bike.
Watch the video below to see a demo ride for the Quiet Kat Ranger:
Amazon.com offers this mountain e-bike with a 48V/15aH removable battery and 7-speeds. This 26" (66.04 cm) fat-tire electric bicycle can go up to 28 mph (45.06 kph) and is designed for use on snow, at the beach, or riding on mountains with its anti-skidding fat tires.
When purchasing, you can choose a silver or black frame color and select the expert assembly option. Bike tires may also need to be pumped up with the proper pressure tire settings upon arrival at the rider's home. 
Every e-bike sold has gone through road testing, so there may be some dust on the tires.
This e-bike features a multi-functional LCD screen, has a hydraulic brake system and shock absorber front fork, and a bright front light.  
Bottom Line: If you are a more experienced rider and want to go fast, this is the option for you since this has a very powerful motor.
Pros
Removable battery: You can take the battery off and charge it inside your office or home.
Budget-friendly: This e-bike is low cost and arrives quickly when purchased from Amazon.com.
Visibility: It has a front light for riding at night or in low-light conditions.
Cons
Height: This e-bike is not designed for smaller riders.
Basic front suspension
Assembly: Riders may need assistance to put this together and can order assembly for an extra cost when purchasing.
You can see the Velowave e-bike unpacked and assembled on YouTube:
This German-designed e-bike has a traditional compact and rigid aluminum frame with a bottle-mounted battery set-up for easy removal to charge inside your home if desired. The battery is 768 Wh for extended distance riding, supplied with 48V/12 Ah, for a maximum speed of 20 mph (32.18 kph) powered by a 250W motor. 
It comes with a rigid and robust handlebar with ergonomic grips and a saddle for comfortable riding and performance. The design offers a high-top tube for sturdiness and gives you the ability to effectively transfer your pedaling power from the electric bike to the road.
This eMBT has an easily accessible panel and a built-in USB port for charging your phone. 
Consumers can purchase a black or white frame and choose a tire size of 26" (66.04-cm), 27.5" (69.85-cm), or 29" (73.66-cm).
Bottom Line: I'd recommend the NMC Prague Electric Mountain Bike if you're looking for quality parts at an affordable rate. This e-bike is suitable for beginners and those looking for comfortable and general off-road riding experiences with various tire sizes for people of different heights.
Pros
Affordable: This off-road e-bike offers an affordable option paired with an outstanding quality of motor and brakes that are reliable, demonstrating an excellent cost-to-value ratio, as compared to other e-bikes in the same price range.
Beginner level: This reliable e-bike is excellent for beginners and suitable for experts.
Maximum Comfort and Durability: This e-bike is ergonomically designed to be comfortable and corrosion-resistant.
Tire sizes: The varying tire sizes make this an option for people of various heights.
Cons 
Accessories: This e-bike does not have as many accessories and added safety features.
Weight: This is a heavier model weighing approximately 55.11 lbs (25 kg). 
Suspension: This is a "hardtail" design, meaning there is only a front suspension fork and not a full suspension. Thus, it's better suited for light mountain trail riding and commuting than intensive off-roading.
Tire Width: If you're looking for a true electric fat bike, these tires don't quite match up to the others.
Check out the NMC Prague Electric Mountain Bike in action on YouTube:
Canadian-designed iGo's Outland-Oka's cost remains under $3,000 and is well designed for mountain bicycling. It comes with a 750W rear hub motor (U.S) and 672Wh, 48V/14Ah removable and integrated battery. This battery can also be upgraded. 
The powerful motor paired with the e-bike's 57 lbs (25.85 kg) will not overtake the rider in tighter and more technical terrain and is equipped with a 4.72" (120 mm) air fork Suspension, a 9-speed drivetrain, and hydraulic disc brakes. 
Additionally, this e-bike pairs with an innovative iGO Drive Connect App for iOS and Android, where riders can customize their profiles and go into "off-road mode" to reach top speeds of 26 mph (41.84 kph where permitted).
Bottom Line: This e-bike was built for rougher terrain with a powerful motor and a customizable and compatible app.
Pros
Upgraded: It is lighter overall with a smaller frame and upgraded components.
Assembly: This e-bike comes 95% assembled.
Battery and motor: The battery and motor combination supports a solid range.
Customizable app: The iGO Connect App works with your e-bike for personalized statistics and mode operations.
Cons
Suspension: The air fork style on this design might struggle a bit for heavy trail riding.
Cost: This option is more expensive than some of the others mentioned here.
View the iGo Outland – Oka on YouTube:
This Canadian-designed e-bike has the outdoors in mind with its camouflage paint. It comes with a 500W rear hub motor and a 48Wh/14 Ah battery, or you can upgrade to a 48V/20 Ah, and travel up to 20 mph (32.18 kph). 
The company also offers an e-bike frame option for those who are slightly shorter than average. The drivetrain, torque sensor, pedal assistance, and hydraulic disc brakes make this e-bike well-prepared for rougher terrain.
The Boar lacks a suspension fork and is rigid instead for increased durability for heavy use and hard impacts. 
Bottom Line: This electric bicycle is great for mountain adventures and accommodates shorter and taller riders. It comes in a cool camouflage look.
Pros
Control: The sensitive pedal assistance system is more responsive.
Terrain: The 9-speed drivetrain is a well-adept and affordable setup for e-mountain biking.
Battery upgrade: You have the option to upgrade to a longer-lasting battery.
Height: There is a frame option for those shorter in stature.
Aesthetics: The frame is painted in a camouflage-like print with black spokes and hubs on the tires as well.
Cons
Cost: This e-bike model is more expensive than the others mentioned in this article.
Comfort: The rigid front fork is not as comfortable when riding.
Watch the Surface604 Boar Hunter Electric Mountain Bike video:
Key Takeaways
There are several excellent options for the best fat tire electric mountain bikes. The QuietKat Ranger is the best overall choice for ideal equipment at a mid-range price. 
Considering the terrain you want to travel on, durability, and motor strength will help you make the best decision for your e-biking adventures. And, don't forget your safety gear!