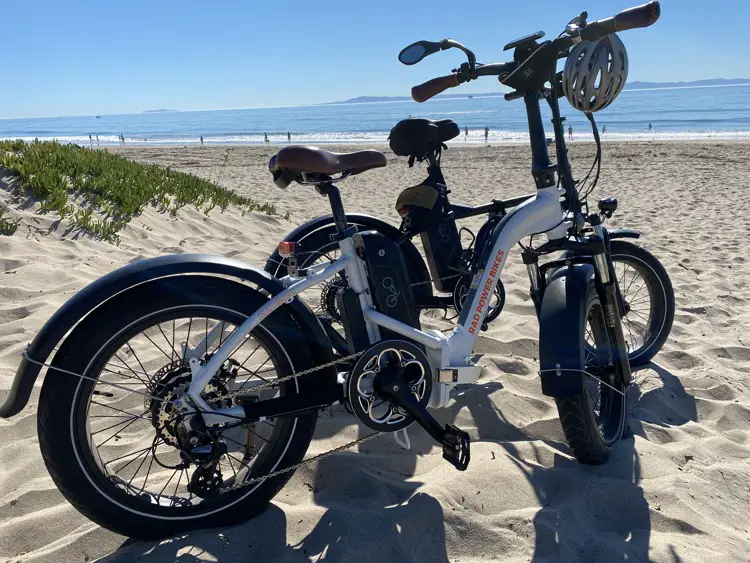 Who Am I and How Can I Help You Learn About E-Biking?
Hey There!
I'm Lisa and I'm here to help you discover the joy and value of electric biking.
I've been researching, reviewing, and writing helpful content on electric bikes since the very beginning of 2021, after getting my first e-bike (the RadMini from Rad Power Bikes) and falling in love with it! Since then, I've had four different electric bikes from three different brands that have taught me a ton about types of e-bikes and their differences.
And I've had a lot of fun! Watch the video for just a glimpse!
How My E-Bike Life Started
Along with my husband, Marc, our dive into e-biking began on a whim after all three of our kids had "left the nest." We were looking for excitement, good health, and adventure that would last well into our 80s. So, I talked him into getting our first e-bikes… with absolutely no regrets!
I knew that living in sunny Southern California would provide us the opportunity to ride our electric bikes all year long, in decent weather. I further saw this as an opportunity to learn as much as I could about electric bikes obsessively. So, I started researching, reviewing, and writing articles… and I eventually started the E-Biking Today YouTube channel.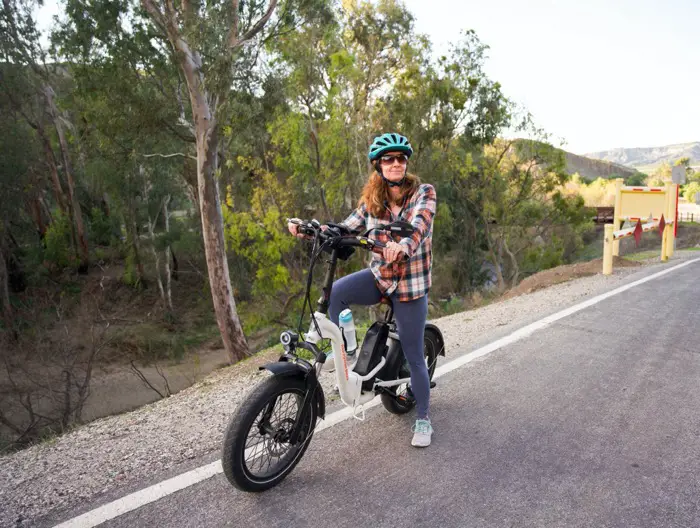 Why Should You Ride an Electric Bike?
I have to say, with the rise in gasoline prices, there isn't a better time to try one out. Even if you don't wish to commute to work or school, you can ride your e-bike on errands, to the gym, to pick up dinner, or just for fun… and save a ton of money on gas!
And even if you live in a location where it rains, snows, or is cold for a good part of the year, there are e-bikes that can handle pretty much anything and get you where you need to go.
Or if you have physical limitations or injuries, electric bikes can allow you to ride a bike again. You'll get the pedal assistance you need to ride far, exercise, and enjoy the outdoors!
Plus, and here's the number one reason to buy an electric bike… exclusive e-bike brands are growing and offer numerous, affordable model choices! Thus, e-biking has become more accessible for commuters, fitness lovers, and recreational riders alike.
The truth is that you CAN find the best e-bike for you with a little knowledge! E-Biking Today is here to help you find your first e-bike (or second or third), the right accessories, and to learn everything you need to know.
Join the FREE E-Biking Today Electric Bike Community on Facebook!
How to Start Your Own E-Biking Journey
First, fill out the pop-up form on the left to get your E-Bike Buying Guide. It's a quick and simple way to find the best electric bike for you.
Then, when you have a question, you'll find helpful electric bike guides on the homepage of the website. Just click on one of the categories at the top of any page or enter a word or two in the search field that defines what you're looking for.
For example, I'd suggest typing in "Guide" to get a list of the different guides offered. Or enter the word "Best" to find various articles on different types of e-bikes, brands, and accessories.
Another good option, entering "battery" and "batteries" will teach you what you need to know about the most important component of an e-bike.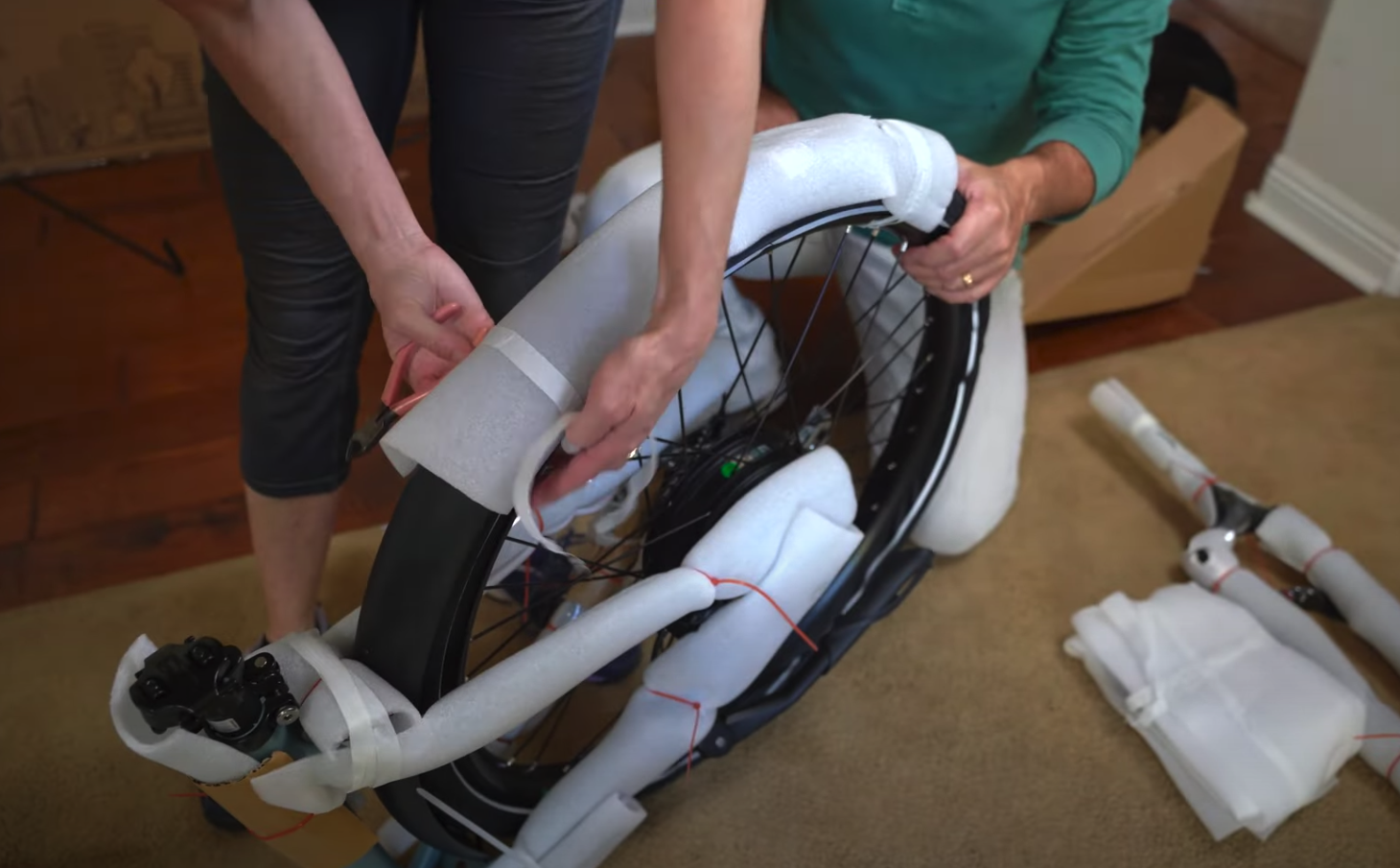 What If I Already Own an E-Bike?
If you are an e-bike owner, you can get help with maintenance, battery charging or alternative forms of charging, safety issues and regulations, and even the best bike paths and trails. Additionally, discover the best riding tips, e-bike lifestyle and travel information, and gear and accessories. Just use the search box or browse through E-Biking Today's categories.
My e-bike obsession assures you that I've shared information for everyone! And I'm continuously adding more articles and videos every week.
So, join in on my exploration of electric bikes. I'll pass on my research, knowledge, and firsthand experience to you, so that you get the most utility and pleasure from your e-bike.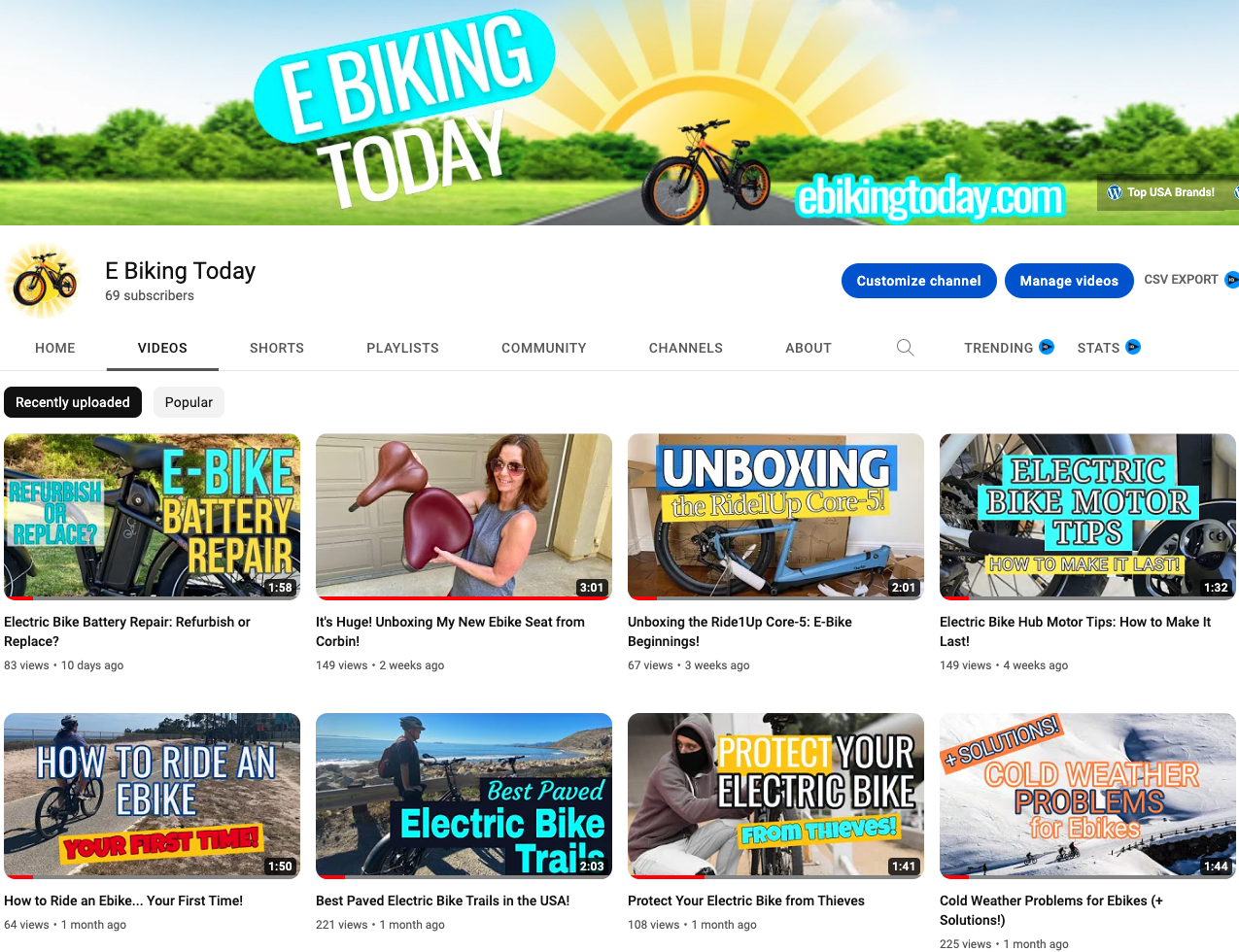 How to Live an E-Bike Life
At that moment when you first realize how an electric bike can change your life for the better… that's when living the e-bike life becomes possible for you.
The best way to live an electric bike life is to not be afraid of becoming part of the e-bike community. Your e-bike lifestyle might be different than others, but we all have something in common. It's so much fun riding past other e-bikers as we smile and nod at each other because we know how fortunate we are.
And you can go even further… E-Biking Today offers several ways to learn, share, and be part of the community of e-bike riders. Check these out:
Electric Bike Facebook Community– Join our community to ask questions and share e-biking information (show us pics and videos of your latest ride)

YouTube Channel– Subscribe to get all of the newest reviews and information (and leave a comment… I'll write you back); plus use our new handle of @ebikingtoday to easily find us on YouTube.com

Pinterest Sharing– This is a quick way to connect to the information you're searching for!
Now, go out there and live your best life e-biking… today!
Are you new to electric biking? START HERE!