In the history of humankind, one of the greatest inventions was the wheel. Thanks to technology, the wheel's invention took many forms, from the steam engine to fuel-powered vehicles and now, electric mobility. Today, more cyclists and mountain bikers are taking riding to the next level with electric bicycles.
But if you want to ride rough bike paths or do some mountain biking, you'll find it hard to find any reasonably priced electric mountain bikes from high-end brands. In fact, many of the best electric mountain bikes cost upwards of $6000, which is likely out of your price range, especially if you're buying your first electric bicycle. So
Here are 8 of the best e-bikes for mountain trails and roads that are affordable (under $2000):
Ancheer Electric Mountain Bike
Kemanner 26-Inch Electric Mountain Bike
Ecotric Seagull Electric Mountain Bicycle
M2S R750 HT Integrated All Terrain
NAKTO Discovery Electric Mountain Bikes
ENGWE EP-2 Folding Electric Bike
W Wallke X3 Pro Electric Bike
Speedrid 26 Electric Bike
So, what are some of the cheaper mountain trail e-bikes options available in the market? This comprehensive guide provides details for the most affordable of the best electric mountain bikes that can be ridden on a mountain trail, dirt path, or on a rougher road. And, a few bikes on this list are even available directly from Amazon, unless otherwise noted.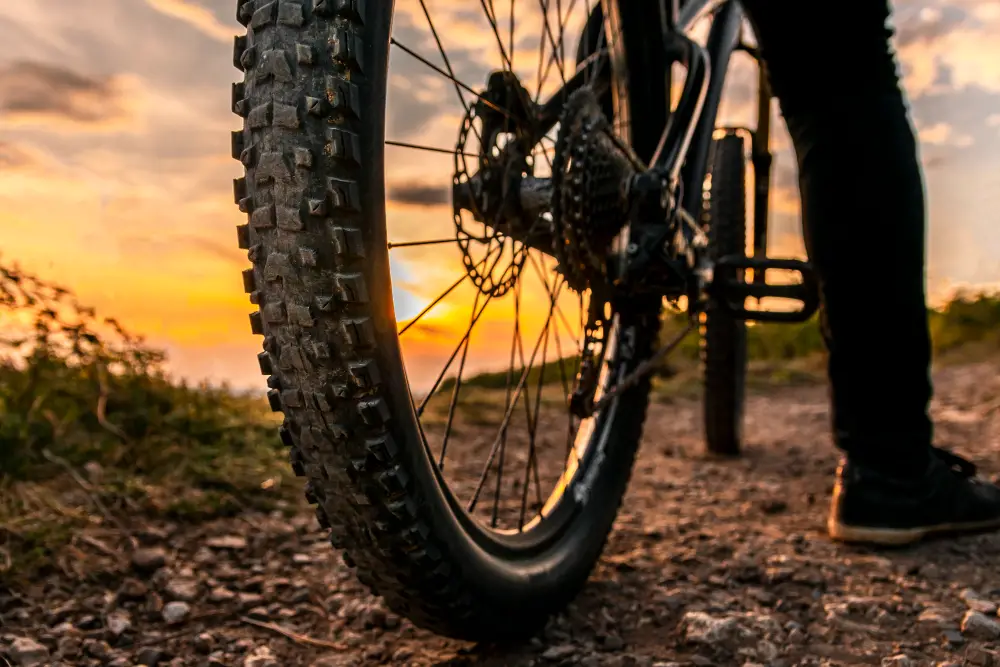 This budget-friendly model is a great hardtail option for riding on hills and trails with 24-speed gearing and 5-level pedal assistance for speeds up to 19.5 mph (31.38 kph). 
It is slightly cheaper than most e-mountain bikes and comes with high strength and lightweight forks, 27.5" (69.85-cm) tires, and front and mechanical disc brakes. This model is not intended for downhill racing or extreme sports, which is to be expected for an e-bike that's this affordable.
The e-bike frame is made of aluminum, and the whole e-bike weighs about 55.11 lbs (25 kg) with a load capacity of 3,330 lbs (1,510.46 kg). It comes with a 36V 10.5 Ah lithium-ion battery that takes about 6 hours to charge on or off the frame. 
The motor is a high-speed 350W brushless motor, and it comes with an LCD Speed Display to indicate the motor power ratio, battery level, error indication, total mileage, and more.
Bottom Line: This e-bike has a slightly larger motor, lower speed capability, and a lower cost than many electric mountain bikes (e-MTB's), as well as most electric bikes in general.
Pros
Water-resistant: This e-bike is water and corrosion resistant, protected against water sprays from any angle. 
Affordable: It is affordable yet made with quality parts making it a well-built option. 
Technology: The LCD screen offers helpful e-bike statistics. 
Cons
Battery: The battery needs a longer charging time.
Difficult to assemble: This e-bike comes 85% preassembled, and some users report needing assistance to put the rest of it together. You can pay a fee to have it done for you.
Uncomfortable: It can be uncomfortable to ride on technical or obstacle-laden trails since it is a hardtail style.
Ancheer Electric Mountain Bikes can be purchased on the Ancheer website.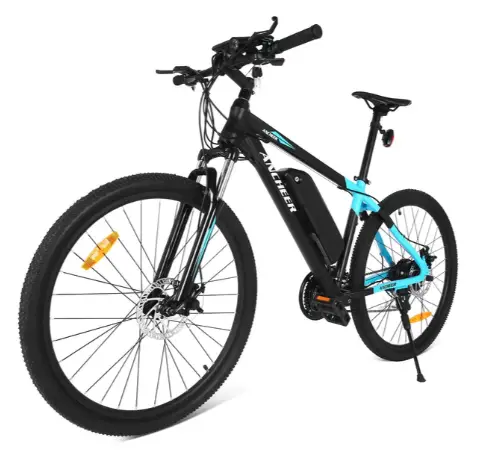 This electric mountain bicycle comes with 26" (66.04 cm) wheels with aluminum alloy double-walled rims providing greater durability and a faster ride on light trails with less drag. This e-bike can go up to 21.5 mph (34.6 kph) and has an aluminum frame that comes with a charger for the 36V/8Ah battery. 
It comes in black and offers pedal assist, a 250W motor, LED headlights and horn, and disc brakes for all-weather stopping. 
The 21-Speed gear increases power for going up hills, traveling further, and adapting to varying terrain. The strong full-suspension offers a comfortable ride for both beginners and experienced riders. 
This affordable mountain e-bike is foldable, making it compact for car or train transportation when you cannot ride and want to take your e-bike with you. 
Bottom Line: This e-bike is the lowest cost of all electric bikes in this article and comes with a full suspension for a smoother ride. It can be difficult and frustrating to assemble, and you may need to pay someone to help you put it together, thus negating the price differences. 
Pros
Portable: This e-bike is foldable and compact, making it easy to transport.
Weight: It is designed to be lighter in weight, making it easier to transport.
Suspension: It comes with a full suspension for comfort and a smoother ride.
Cons
Assembly: It comes semi-assembled, with no instruction manual.
Motor power: The motor is not as powerful as other options.
Performance: It does not perform well on highly technical trails with lots of roots and rocks. 
Check out the Kemanner 26" Electric Mountain Bike (available on Amazon.com). The review for this e-bike can be found on YouTube:
Ecotric offers one of the best electric mountain bikes that's affordable by saying you can "fly like a bird" when riding. And so named this version the "Seagull." 
Its motor is a brushless toothed rear hub at a powerful 1000W, and it can go 20 mph (32.18 kph). Still, according to the instruction manual, it is adjustable to go faster to a maximum of 26-28 mph (41.84-45.06 kph where permitted), the fastest of the options mentioned in this article. 
The removable lithium battery is 48V 13Ah, with a 20A reflecting guard plate, needing a 6-8 hour charge time. It has a hydraulic front fork suspension with a 26" (66.04 cm) tire and a hydraulic disc braking system with a correlating braking light and lighting that automatically comes on in the dark. 
This model also offers pedal assist and walk-assist and 7-speed gear. 
This e-bike's frame is made of aluminum and is durable, agile, and elegant in design to capture the sense of a bird in flight with the bike's unique straight sloping upper tube.
Bottom Line: If you are a more experienced rider and want to go fast, this is one of the best electric mountain bikes for you since this has a very powerful motor.
Pros
Powerful: The powerful motor can allow the rider to go faster speeds.
Visually Appealing: The e-bike's design is unique and aesthetically pleasing.
Visibility: It has a red rear light for increased visibility.
Assembly: The reviews state that it is easy to assemble.
Cons
Height: This e-bike is not designed for shorter people.
Battery Capacity: This e-bike's battery takes more time to charge because it's hold more charge than some.
Check out the Ecotric Seagull Electric Mountain Bicycle!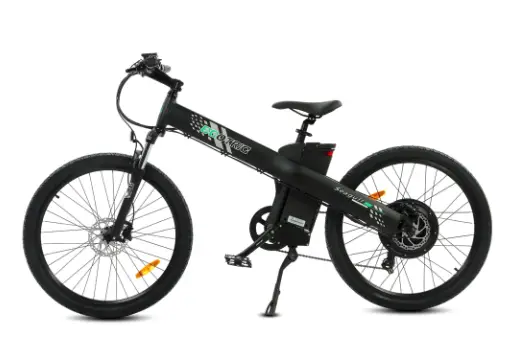 M2S or Mountain To Sea is a company that specializes in the best electric mountain bikes in the hopes of inspiring you to embark on an adventure. This All-Terrain electric mountain bike is one of their newest models, as well as one of their mountain bikes that cost less than $3,000.
Some features that make this model noteworthy are the frame is made of aluminum, and the air suspension fork can be locked out, should you desire to go off the beaten path. It also works well with fat bike tires, making it great for riding in sand and snow. Fenders and a tiny back rack are also included in this bike, which is removable. Plus, the bike is water-resistant enough that you can simply hose it down to clean it.
In addition to the electric aid, the drivetrain has eight gears. The throttle is handled by your left hand on this pedal-assist, which has nine different speeds. As an alternative, you can also use the cadence sensor, which allows you to ride your bike not only at a preferred speed, but while using the preferred amount of effort to do so.
Beyond this, the battery is designed to be entirely integrated, yet still detachable. It has a range of 20 to 75 miles (32 to 120 km), and since the engine is in the back hub, there's no need to stress about the front hub failing while you're out on the trail.

You can check out the R750 HT on the M2S website.
This is a 350W fat tire electric bike with thick tires and a built-in battery. It can run for 20 miles (32 km) at a speed of 25 mph after only 4-6 hours of charging time. And with its pedal assist technology, you can go twice as far without the battery running out of power.
This e-bike is great for riders who don't want a fast charge, as the charging period is only 4-6 hours. Still, this charging rate is faster than most other options. You can also convert from pedal help to electric mode easily, and it's incredibly simple to assemble.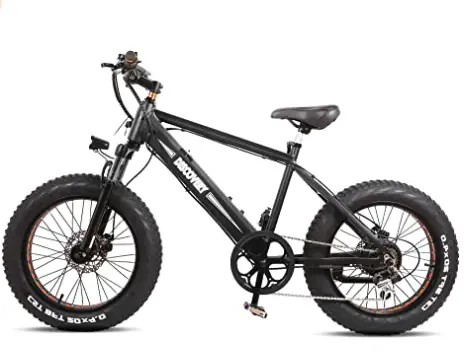 This is a foldable e-bike with fat tires in width similar to the NAKTO Discovery. The frame is made of a similar aluminum alloy, as is the rest of the product.
It should be noted, however, that this is designed for persons who are 5'10" to 6'5″ (177.8 to 195.58 cm) tall, and has an adjustable handlebar and seat to fit. It also has one of the most powerful motors on the list, with a maximum power output of 750W.
With a rider height of 5'10" to 6'5″ (177.8 to 195.58 cm) and a weight restriction of 330 lbs (149 kg), this e-bike has created a niche in the market for larger and heavier persons. Its motor and brakes are powerful enough to accommodate taller people and give sufficient stopping force even in steep terrain.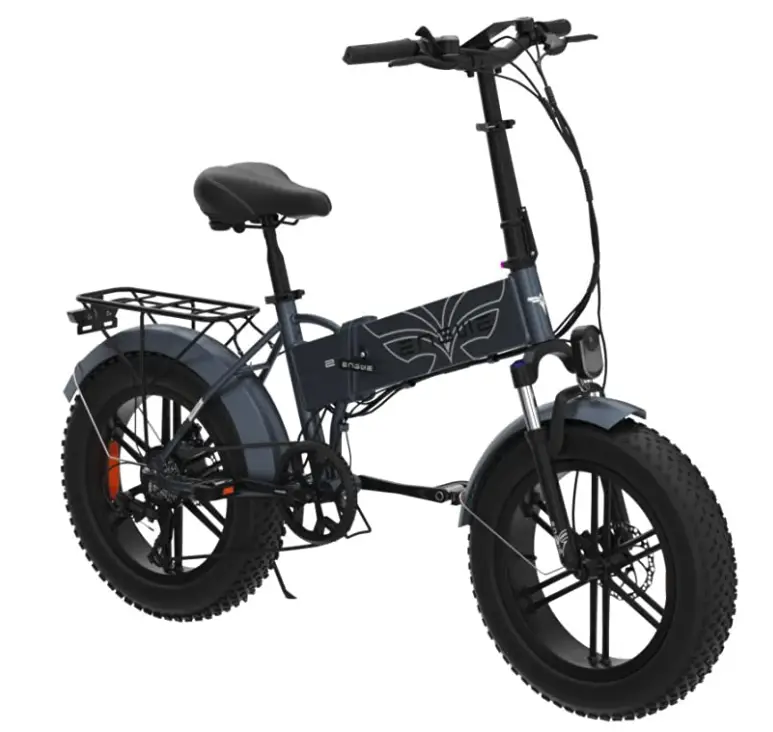 Another foldable e-bike in the market, it offers more comfort on uneven terrain thanks to its dual suspension. It has a wider rider height range than the ENGWE EP-2, although it still excludes the majority of female riders. It also has twin disc hydraulic brakes and can handle riders weighing 300 pounds (136 kg).
This e-bike is ideal for people weighing under 300 pounds (136 kg) who are taller. However, the bike performs substantially better when relying exclusively on the motor's power, especially given the 40-mile (64 km) range. Finally, because it's collapsible, it's easier to store.
The electric bike has a maximum speed of 28 mph and a mileage range of 60 on pedal assist and 40 on throttle mode. The e-bike motor capacity is 750W.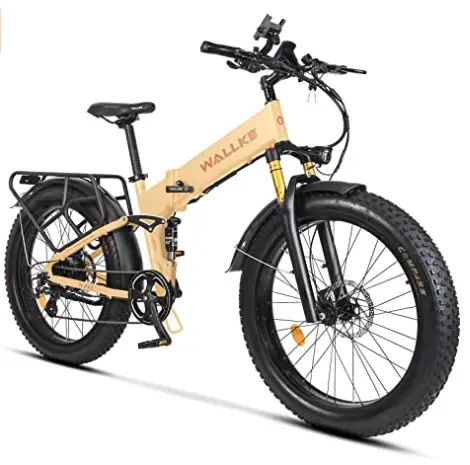 If you're not interested in a fat tire bike, this is a wonderful option. It's more suitable for those who like to pedal and is ideal for most average height persons given the 5'1″-6'3″ (154.94-190.5 cm) rider height range. However, the bike can be powered by a motor in specific circumstances. Of course, smaller tires mean a thinner bike frame, which means it's easier to pedal due to the reduced weight.
This variant is recommended for users who want to pedal rather than rely on the e-bike's motor. It also works for folks who want higher ground clearance because of the bigger circle of the wheels. Also, as previously said, it's suitable for persons of medium height, both men and women.
The e-bike's slim frame is one of its best features since it makes it easier to transport the bike.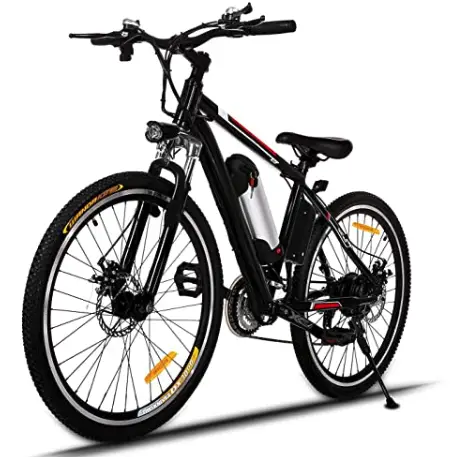 What Is an Electric Bike?
As the name suggests, an electric bike is powered by an electric charge. Compared to conventional bikes, e-bikes require less physical work to acquire the same speed, with most having a top motor speed of 15.5mph, 20 mph, or 28 mph, depending on its e-bike classification. Although it has electric assistance, you can go faster if you pedal harder.
Electric bikes provide convenience to users by being faster than conventional bikes and offering an easier ride. People of all ages can ride an electric bike without exerting as much force. And this is true for electric mountain bikes as well; you'll be able to explore way more territory, even over rugged terrain, before getting tired!
Range of an Electric Bike
The distance you can travel with an e-bike is a factor of many variants. For starters, the size of your battery determines the amount of electric charge your e-bike can hold. A smaller battery means a reduced distance. 
Your electric bike's range is also affected by the weight you carry. A loaded e-bike may cover a less range compared to a light one. 
You can increase the range of your e-bike by changing the amount of assistance from the motor. This means you may have to pedal more to cover more terrain. If you're traveling a short distance, you can switch your motor to provide maximum assistance.
For more range, you can also carry an additional battery. An e-bike's design makes it pretty easy to switch the batteries (however, you'll want to check out this guide to make sure you replace it with an interchangeable battery). Depending on a battery's capacity and brand, the cost ranges between $500 to over $900. The price range is for batteries with a capacity of 400wh to 700wh.
You can also boost your range by riding in eco mode. However, it's essential to note that low tire pressure can cost you your range. Therefore, maintaining the right pressure in your e-bike's tires is vital for improving your range and making your ride comfortable, being even more important for riding on mountain trails.
Components of Electric Bikes 
An e-bike has three fundamental components; the motor, the sensor, and the battery.
The Sensor
E-bikes generally have two kinds of sensors;
Speed Sensor. This sensor provides torque assistance after a few pedals
Torque Sensor. Superior to the speed sensor, a torque sensor kicks in with the slightest pedaling. The sensor picks the effort and increases power as you increase your speed.
The Motor
An e-bike can have three possible motors:
Rear hub motor. This type of motor can be found on mid-range e-bike models. This type of motor is more complex because of its interaction with gears and other bike parts. In addition, it's placed at the rear to improve traction.
Front hub motor. This type of motor is located at the center of the front wheel. E-bikes with a front hub motor have a similar feel to driving a front-wheel-drive car. 
Its location at the front makes it quite responsive and nippy around corners.
Central Motor Drive (Mid-Drive). Mounted at the lower part of the e-bike's frame, central motor drives multiply your effort, directing it to the gears and rear wheel. Although, as it's located at the bottom, it seldomly affects your stability.
The Battery
Batteries can either be placed low on the frame or in the luggage rack. Batteries typically charge for five to six hours but don't always need to be fully charged. For long-distance rides, it's advisable to carry a spare battery. 
For more about how the best electric mountain bikes work, you can watch this video here:
What To Consider When Buying an E-Bike for Trails and Off-Road
Buying your first e-bike can be overpowering. Most riders may be enticed to begin with cheaper models with fewer features. This is fine as long as you find a reliable e-bike and expect your steep climbs to be a little slower, avoid overly technical terrain, and have a strong enough battery capacity.
In any case, on the off chance that you want to enhance your abilities and thrust your limits, you'll need to invest in a more robust model, such as a high-end e-MTB with a carbon frame and full suspension.
Here are a few vital highlights to consider before choosing your off-road electric bike or mountain bike: 
Sturdiness and Strength
It can't be understated that having the security of unwavering quality in an electric bike is ideal for apprentice riders. Ensuring you find a solid e-Bike will help shrug off any potential harm you may experience as a newbie venturing into such a challenging territory. 
The Suspension
Your e-bike's suspension is also an important consideration. Depending on what you want to accomplish, there are tough and more severe trails as well as longer-distance trails where comfort is a priority. Therefore, it's crucial to know how you'll use your bike before you go out and buy one. Some of the pricier mountain e-bikes allow you to customize the suspension's behavior.
Hardtail vs. Full-Suspension
When buying one of the best electric mountain bikes, one of the most important things you'll want to consider is whether to get a hardtail (front suspension) or full-suspension bike. Hardtail e-MTBs and e-bikes in general, are more conservative models with front suspension only. They're better suited for smoother terrains such as dirt roads and uneven paths, as opposed to hard, rocky trails.
Thus, if you plan to thrust your limits, you may be better off considering a full-suspension e-bike, as these are much more flexible when riding on harsh terrain and heavy-duty mountain trail switchbacks.
Your Budget
Electric bikes are quite costly, especially as you move into mountain bike territory. However, you can find one that suits your budget. Therefore, the ideal place to start when shopping for the best electric mountain bike or one that rides well on rough terrain, is to set a budget. Then, with your figure in mind, you can use it to filter out electric bikes based on cost and your budget range.
Your Needs
Do you need an electric bike for your daily commute or for weekend hikes? Based on your needs, it might be that you'd prefer one that rides smoothly on roads as well as can be taken off-road. E-bikes have different features suited for various functionalities. For instance, if you need one for riding up a hill, an e-bike with a high torque motor system or a mid-drive motor system is best. 
The Motor
Unlike other parts of the e-Bike, replacing a motor isn't easy. A motor is your e-bike's powering force. Motors are the driving force behind your e-bike's torque. If you need more torque in your e-Bike, it's best to consider a high-performing motor such as the Performance Line CX from Bosch.
To learn more, read this article on electric bike motors.
The Battery
As mentioned, the size of the battery determines the range of your e-bike. A bigger battery is ideal for long-distance since it will give you more range; however, it's heavier and takes longer to charge. This suggests that you'll need to focus on a lighter battery that has high volts and amp-hours if you'll be riding it in the middle of a mountain trail for hours.
When choosing a battery, be sure to check whether the brand you prefer has a selection of both smaller and bigger batteries.
Your Height
If you're tall, it's important to ensure the electric bike can accommodate your height. The dropper post is the most crucial feature to consider when shopping around. More often than not, taller riders find out they can't use certain brands because they don't have a dropper post that's long enough.
And if you're smaller than average, you'll want to make sure you buy an e-bike that allows you to sit and reach pedals comfortably but also stay in control. This is especially important if you're riding bumpy mountain trails and roads with loose gravel and dirt.
Wheels 
The size of your wheel isn't as crucial as you would think. If you're tall, you'll probably go for a larger frame, which comes with larger wheels. Rather than the wheel size, the type of e-bike tire you use determines how well your e-bike handles. Besides, most tires are available in a variety of wheel diameters.
The wheel's structure is a different tale. Wheels constructed of aluminum, carbon, and even other metals are available.
The density of the materials differs significantly, but this is less of an issue on an electric bike or eMTB because the motor and battery are heavier. However, it's advisable not to choose a more expensive carbon wheel for an eMTB. Carbon wheels are more delicate, and you must replace them when they break, although aluminum wheels can usually be repaired.
Weight
Check the electric mountain bike's weight restriction. How much room do you have left for you and your belongings? This could be less than 220 pounds for some e-bikes (100 kg). However, it's significantly greater for some, such as Giant, with a limit of 286 pounds (130 kg).
Another issue to consider is how you transport your bike. If you're using a car, check whether your vehicle or bike rack can handle the weight of your e-bike.
Safety and Security
Make certain that you prioritize safety. The speeds on any electric bike can be much higher than on a regular bike. Therefore, a strong helmet and other protection, such as knee pads, are essential. The amount of protection you require will also be determined by how you use your e-bike.
Examine the Warranty
Whether it costs $1500 or $10000, buying an electric bike is a significant and considerable investment. However, you can relax knowing that your money is well spent with a warranty. Most electric bike companies with bikes selling for over $2000, for example, should provide a two-year warranty on hardware, motors, and batteries, with no restrictions for regular use.
Finding the best electric mountain bike may seem like an uphill task, but taking your time to find the suitable bike pays off in the long run. Having a checklist of your ideal features will help you narrow down to the right selection.