Considering that e-bikes are quite a bit heavier than regular bicycles, knowing the weight of an electric bike is extremely important before buying one. Having an e-bike that's too heavy for you can decrease the joy and fun of e-bike riding… and might be more than you can handle.
Generally, an electric bike weighs up to 40 lbs more than a regular non-electric bike. Depending on the added weight of the frame, motor, and battery, as well as the type of e-bike, it can weigh between 32-70 lbs (15-32 kg), with most weighing over 50 lbs (23 kg) and some weighing as much as 80 lbs (36 kg).
I've put together a chart showing you a comparison of e-bike weight differences among various models and types. You can see how the weights vary, even between the same types.
Ultimate Electric Bike Weight Comparison Chart
See more e-bikes below under Weight Comparison Charts
This chart is a great place to find an electric bike with a reasonable weight for you. But continue reading to find out what else you need to know about how much e-bikes weigh and why it matters (some bikes are better if they weigh more and some are not).
Plus, you'll find charts of specific types of e-bikes and their weights below (folding, commuter, hybrid, road, etc.). Check out how much each of these electric bikes weighs: a fat tire or folding e-bike, a commuter/city e-bike, an electric road bike, a hybrid, or an electric mountain bike.
Does the Weight of an E-Bike Matter?
How much an e-bike weighs is more important than you might think. The actual weight of an e-bike matters for four primary reasons:
Quality and Performance

Cost

Rider Capability

Weight of Rider
E-Bike Quality and Performance
An e-bike's weight is largely determined by:
The size and material of the bike's frame itself (approximate weight 30-50 lbs)
The type and size of the motor (typically weighs 10-12 lbs)
And the battery capacity (typically weighs 10-20 lbs)
These materials and components affect the quality and performance of an electric bike, but not consistently.
For example, the more an e-bike frame weighs, the lower the quality it generally is because it's made with cheaper metals. However, in general, e-bike frames are thicker and therefore heavier than regular bikes so that they can support the extra weight of the electric components, including the motor, battery, and controller.
The frames also must support wider, heavier tires as a general rule.
Alternatively, heavier motors and batteries are bigger in order to offer greater power and range, as a general rule. A bike with a rear hub motor (built into the rear wheel of a fat tire e-bike) will need to have greater power because of the width of the tire. So, the motor will likely have a higher wattage of 500W to 1000W.
Additionally, having a larger and heavier battery typically offers increased capacity… meaning that it'll hold its charge longer, allowing you to ride farther and for a longer time period. Greater battery capacity is essential to performance for many.
However, it's important to note that some manufacturers are making higher-quality batteries in smaller casings. And if you're willing to spend more money, then you can get a battery that weighs less but has more capacity than larger battery packs. You'll typically find higher-priced, premium e-bikes with smaller batteries.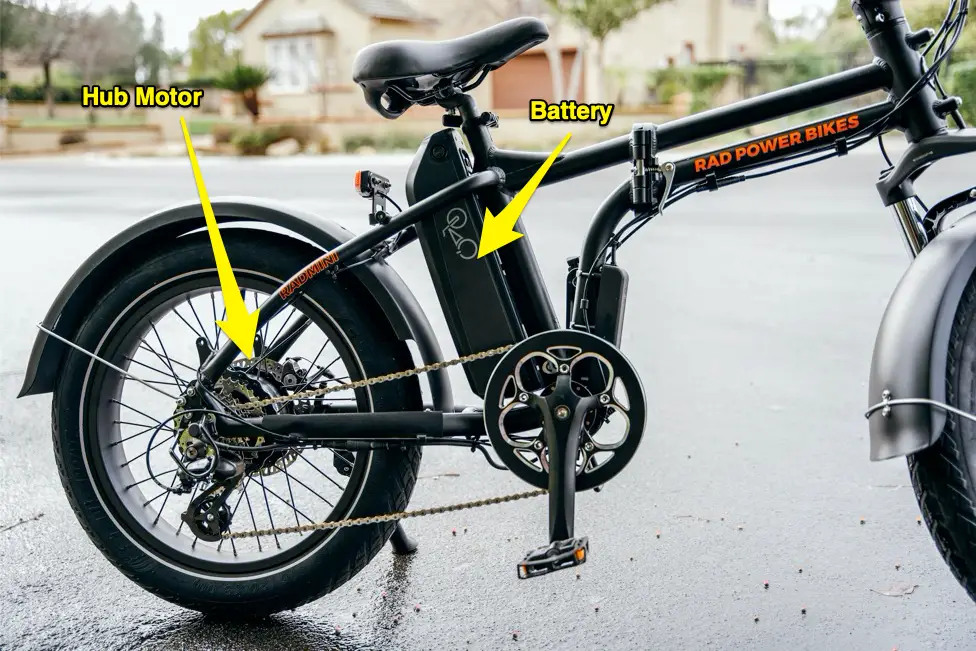 Electric Bike Cost
A heavy e-bike around 70 lbs (32 kg) will typically cost more than an e-bike weighing around 50 lbs (23 kg). The cost of an e-bike is determined by the quality of the materials used to build it.
For instance, if a frame is made from carbon fiber, it'll be lighter than typical heavy aluminum frames. This lighter material will add to the cost of an electric bike.
And, as mentioned previously, it'll cost you more to get an electric bike with a smaller but higher-capacity battery.
Virtually every part of a lightweight e-bike will cost more due to the use of higher-quality materials and construction. So if you buy a cheaper electric bike, you can expect it to be on the heavier side overall.
Rider Capability
Another important reason that the weight of an e-bike matters strictly depends on the rider.
Because electric bike frames can be very heavy, they may not suit the person who will be on them or the motive for riding.
Not only might they need to be lifted to get into the car for traveling to bike trails, the bus (for commuters), or for hanging storage, they need to be easily manageable while riding. A person needs to be able to get on and off easily, jump off for a quick stop, balance the extra weight, grab and hold it if it starts to fall, and maneuver it around corners and in tight spots.
Thus, searching for a lighter (and/or smaller) framed bike might be a top priority for a:
NOTE: Getting an e-bike with a step-thru frame is one way of making it easier to handle. Unfortunately, these frames don't necessarily weigh less.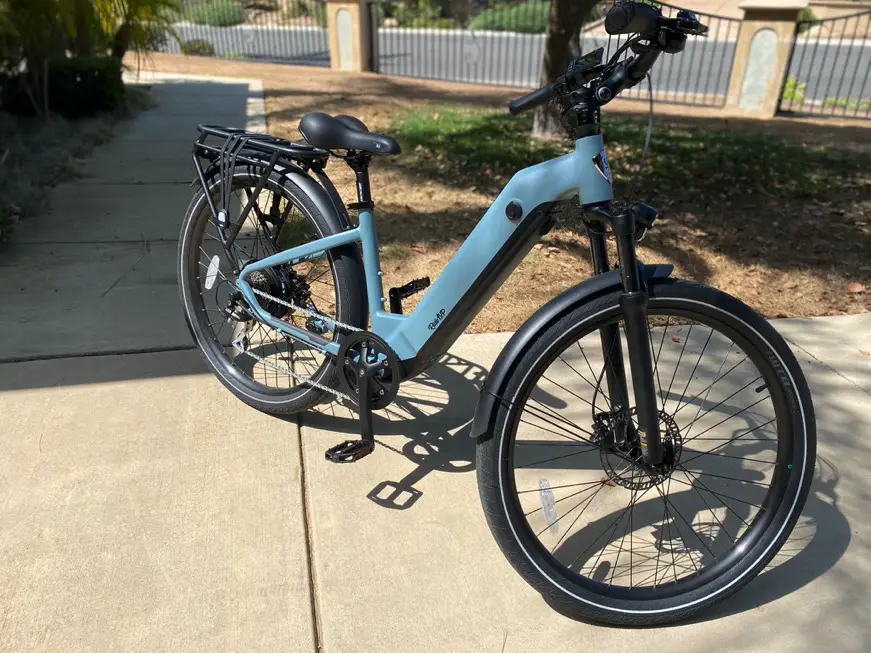 Weight of Rider
It's not just the weight of the e-bike that matters. Rider weight will make it easier or harder to ride a heavy e-bike.
On the one hand, if you're a heavy or obese rider, you'll need a bike that can hold your weight. Thus you'll need a heavier frame. And when riding a heavy e-bike frame (and pedaling against your own weight), you, your battery, and your motor will need to work harder to get where you're going, even with electric pedal assistance.
If this is the case, you can help minimize this problem by getting an e-bike with more motor power… a higher-watt bike of 750W would help.
On the other hand, if you're a small person or don't have a lot of strength, you probably won't slow the e-bike down and battery capacity will remain high because the bike doesn't have to work so hard. However, if you're not a strong rider, the heavy e-bike will make it more difficult to get started pedaling, especially on an incline.
I also have a solution for this… get an e-bike with a throttle! It'll help you get started without pedaling and comes in handy all the time for me (especially since I'm a small person riding in a hilly area).
What Is a Good Weight for an Electric Bike? (Weight Comparison)
There isn't necessarily a "good" or "bad" weight for an e-bike. Rather, what is a good weight depends on whether you will need to lift it and whether you can manage it safely while riding.
Additionally, it depends on the type you want or need: One that is foldable, climbs mountains, rides efficiently through the city, conquers the road smoothly, or rides well over both asphalt and rough terrain.
Just keep in mind that the extra weight of the battery pack and electric motor, not to mention added accessories like cargo racks and baskets, will also determine how much an electric bike weighs, no matter what type of ebike it is.
What is a Good Weight for Folding E-Bikes
Foldable electric bikes can weigh more or less than the average e-bike depending on their wheel size, tire width, and frame size. Typically, a small commuter folding electric bike with 12-16 inch wheels might weigh 28 pounds while a full-size hybrid folding e-bike with 20″ wheels can weigh 70 pounds or more (which is more than the average e-bike in general).
If you're looking for a small one to lift onto buses for commuting or to an upstairs city apartment, then stick to a folding e-bike you can easily lift depending on your size and strength (perhaps under 40 lbs).
If you want one with 20″ wheels and or 4.0″ wide fat tires, you'll have to pay more to get one at a reasonable weight of around 55 lbs.
You can see in the comparison chart below how variable the weight is for e-bikes that fold up.
Folding Electric Bikes Weight Comparison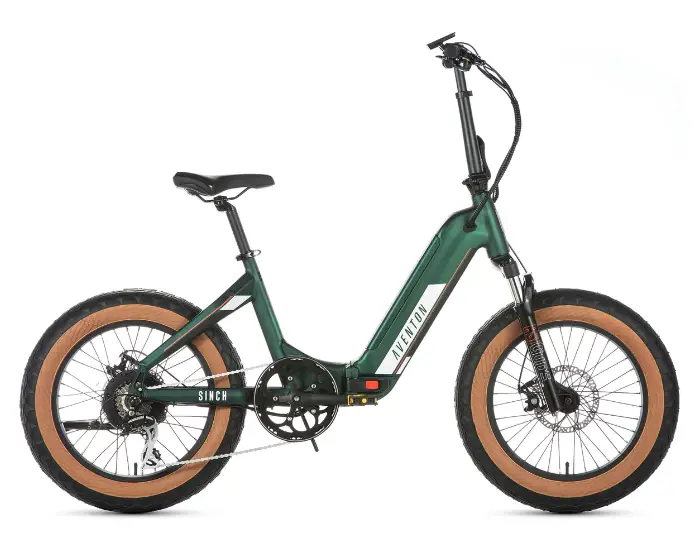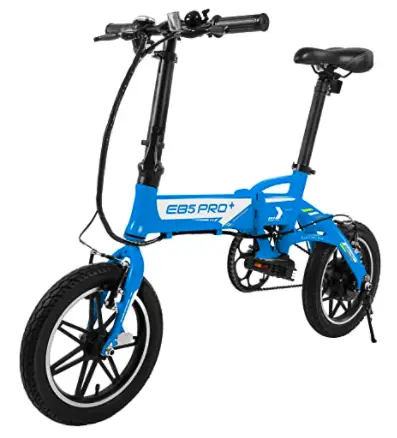 How Much Does a City (Commuter) E-Bike Weigh
Typically, a city e-bike, often used for commuting or just riding locally, weighs less than some electric bikes with wider tires and larger frames. You should be able to find one that weighs an average of 55 lbs.
Because you'll be riding primarily on asphalt and concrete, you won't need wide tires, which will reduce the overall weight. But you might want cargo racks to carry a surfboard, books, groceries, or supplies, which will affect how much electric bikes weigh.
However, if you are also looking for one that folds, as above, you'll need to find one with wheels 12″-20″.
City and Commuter E-Bike Weight Comparisons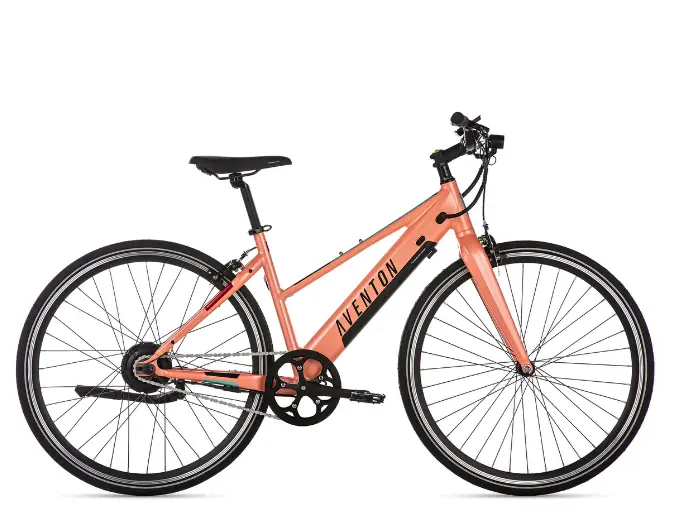 How Much Does a Hybrid E-Bike Weigh
Hybrid electric bikes can be quite heavy due to the variety of features that allow them to ride well on paved roads and off-road. Typically the weights range from 45-75 lbs primarily depending on the size of the wheels, tires, and added accessories as well as the battery and motor.
Because it's a hybrid, it'll have wider tires than electric road bikes or city e-bikes. The tires will then weigh more, the frame will need to be thicker and heavier, and the battery will need to be more powerful (and thus bigger) to have a decent range.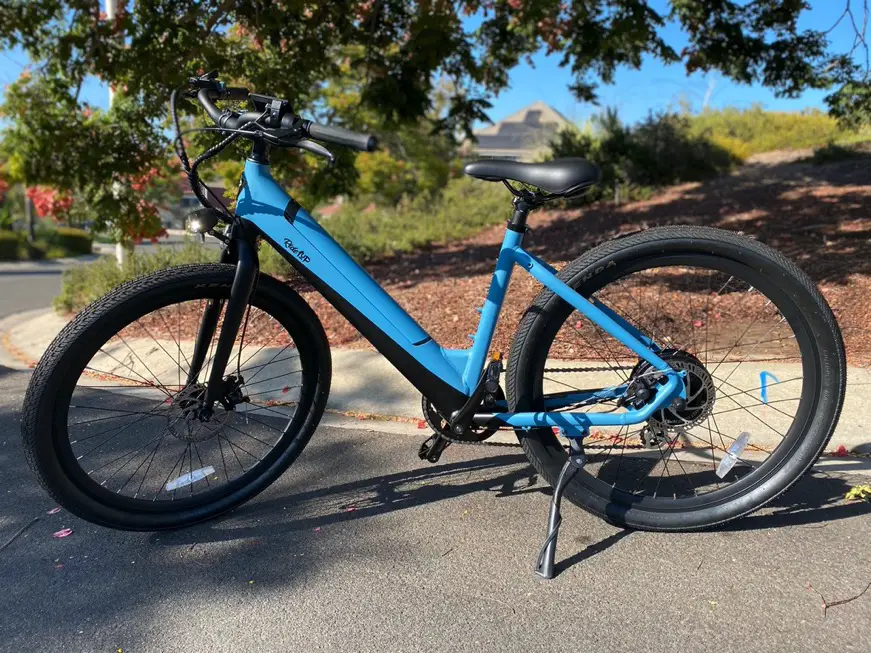 Hybrid E-Bike Weight Comparison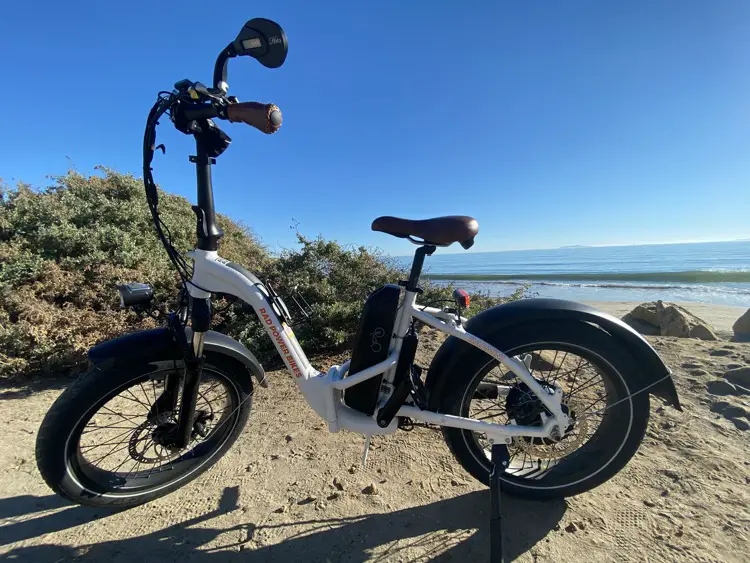 Best Weights for Electric Mountain Bikes
Electric mountain bikes (eMTBs) typically have a similar weight range as all e-bikes. You can find one weighing 38 pounds or 80 pounds, depending upon the size of the frame, tires, motor, battery capacity, and other electric parts.
Better suspension systems will typically weigh more. Plus, heavier mountain bikes (with fat tires) can provide better control and traction on rough terrain. So, in this case, getting the lightest eMTB might not provide you with the best quality mountain bike.
Following this logic, the best weight for an electric mountain bike is at least 50 lbs, and perhaps closer to 60-70 lbs for a truly heavyweight eMTB.
Electric Mountain Bikes Weight Comparison
How Much Fat Tire E-Bikes Weigh
Not surprisingly, fat tire e-bikes will weigh more than comparable e-bikes with a similar frame, and electric components. And the wider your tires, the heavier the bike might weigh. The truth is that you're unlikely to find an e-bike with 4.0″ fat tires weighing less than 60 pounds.
So, when you're looking at an e-bike that's going to be that heavy regardless, does weight really matter? You simply can't plan on easily carrying it upstairs or onto a bus!
Fat Tire E-Bike Weight Comparison
How Much Does an Electric Road Bike Weigh
Electric road bikes are typically lighter than other electric bikes, weighing around 40-50 lbs. This is due to their need for road speed. They have narrower tires and lighter frames so that they can go fast… this is why they're often used for racing.
Even if you don't have the need for speed, road e-bikes are a good choice if you need a lighter bike and you only plan to ride on paved trails or roads.
Electric Road Bike Weight Comparison
What is the Lightest Weight Electric Bike?
According to my research, the lightest e-bike weighs in at under 19 lbs and costs around $14,000. But, if you're looking for a reasonably affordable lightweight electric bike, you can grab the under 23 lbs Hummingbird Electric foldable commuter e-bike for around $5400.
And since that still is way out of line with most people's budgets, I suggest you use the charts provided in this article to find the best e-bike for you based on model and weight.
Finally, take a look at my other article on the lightest e-bikes for more ideas.
Find out how much weight an e-bike can pull!
How Can I Reduce the Weight of My E-Bike?
Reducing the weight of your e-bike significantly will be hard to do. However, there are a few things you can do to make a difference in how much your electric bike weighs.
Here's some good news:
As more lightweight carbon frames are being used, electric bikes will get lighter. However, they'll still always be heavier than traditional bikes because of the added electrical components.
That being said, improved technology will also continue reducing the weight and size of the batteries and motors… So I think we can all expect to have lighter e-bikes as time goes on!
Conclusion
As you've read, electric bikes vary a lot in their weight and there are many reasons why. These reasons will help you choose the perfect e-bike for you. Thus, how much one weighs is a huge factor to consider before buying one.
The weight comparison charts listed in this article are here for you to review at any time (finding the weight of an e-bike on the brand's page can be a challenge).
Just remember that choosing the right e-bike weight is a personal decision and you should find one that suits you.
Ready to do some brand comparisons?