Hanging an electric bike is dangerous due to the risk of it falling on someone or the bike itself getting damaged. And there's no doubt that storing an e-bike can be more of a problem than for a regular bike because of its delicate electric parts.
However, if secured correctly, you can hang an electric bike safely, either on a wall or from the ceiling. But because an e-bike is heavier, bulkier, and more likely to cause harm or get damaged if it falls than a traditional bike, hanging one can present some unique challenges.
In this article, I'll explain the reasons you might hang your e-bike as well as where and how to do it.
Plus, I'll show you the heavy-duty equipment you need to make sure it's secure, so it doesn't damage your electric bike or harm you or a family member.
Reasons Why You Should Consider Hanging Your Electric Bike
There are a number of reasons that you should think about hanging your electric bike. The first and foremost reason might be to avoid theft.
Below are three good reasons why you should hang your electric bike:
1. Save space in your garage, shed, or inside your home
You may not have room to store your electric bike inside your home. Further, your garage might already be stacked with items that don't fit inside!
And, if you live in an apartment or condominium, it's even harder to find a place to safely store your electric bike. Further, you probably don't have any yard space for a bike shed (Amazon link).
One great way to solve this problem is by hanging your electric bike.
2. Keep your electric bike out of the way
Additionally, your e-bike will be out of your way if you hang it. You won't have to worry about causing bruises by running into it. Nor will you have to worry about knocking it over and causing damage to your bike, furniture, walls, or items (such as other bikes) stored in your garage.
3. E-Bike theft prevention
With your electric bike hanging up, it won't be easy for thieves to grab and carry off, especially if it's hanging from the ceiling.
Plus, you have the added security of keeping it indoors… so you've really got two layers of protection.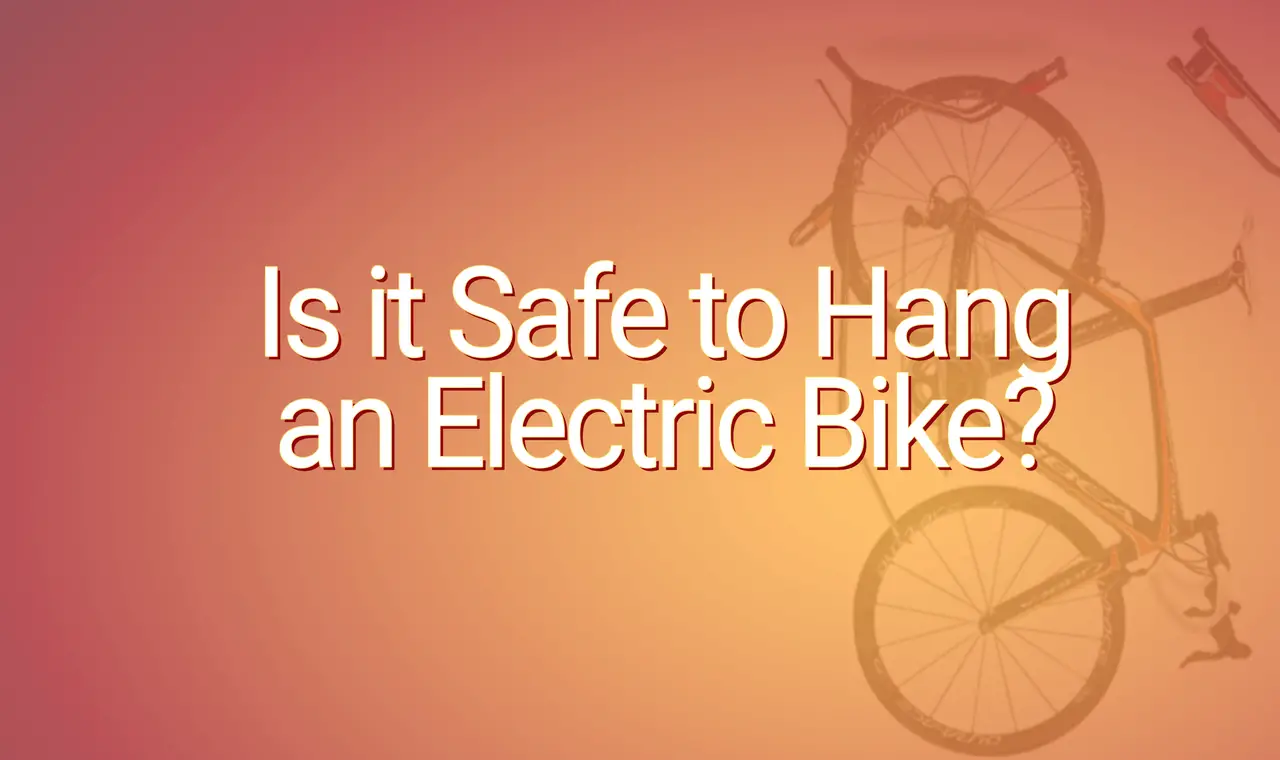 Hanging a Regular Bike vs an Electric One (how they're different)
There are key differences between hanging a regular bike and an electric bike.
Weight of electric bike
The extra weight of an electric bike alone can make it more dangerous to hang up than a traditional one. Not to mention that it's bulkier, likely has wider tires, and has sensitive electric components that require special care.
Electric bikes can easily weigh up to 70lbs or more. Not only are their frames thicker, in order to support the electric motor and battery, but the popularity of fat tires also makes e-bikes even heavier and requires more space.
However, if you're willing to pay a bit more for a high-quality road bike, like the Trek Domane +, you can find e-bikes that weigh under 40lbs (the Trek Domain weighs 38lbs).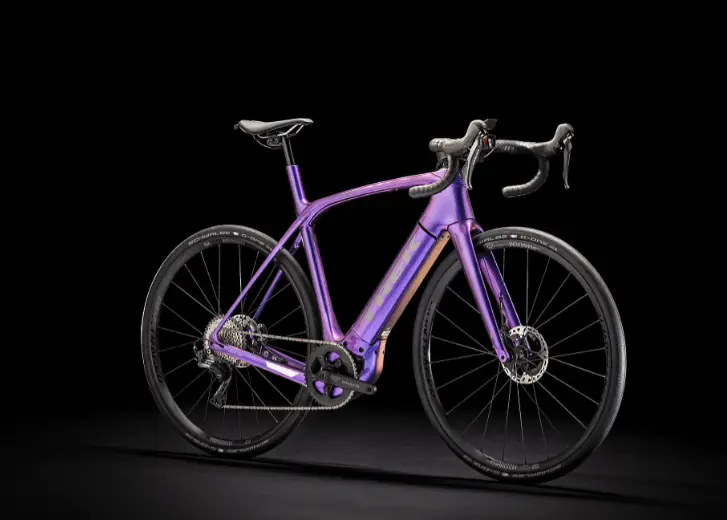 E-bike tire size
E-Bikes have a wide variety of tire sizes. This is why it's not always an option to use a traditional garage floor bike rack… because the tires may not fit in between the slots!
In fact, most e-bikes have wider tires than traditional bikes to support the heavy bike frame. And, if they're fat tires, then they're likely to be 2.75″- 4.0″ wide or more.
My own RadMini Step-Thru e-bike has fat tires that are 3.3″, which is a pretty average size for a hybrid fat tire bike.
So, the point is, whereas you might need a bike hoist or hooks that hold up to 40lbs for most traditional bikes, you'll instead need one that holds an electric bike up to 80lbs!
Further, whereas typical bike hooks will allow you to hang a bike with average-sized wheels, you'll need to find one that will accommodate your electric bike's generally wider tires. And if you have fat tires at 3″-4″ wide, your mounting method may need to be reconsidered.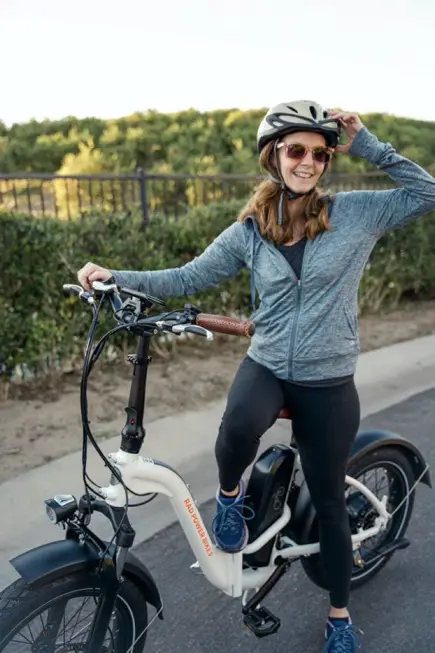 Should You Hang Your Electric Bike on the Wall?
Typically, if you're considering hanging your e-bike on the wall, you'll have to choose between vertical or horizontal.
Vertical mounts save wall space, while horizontal mounting saves the most space in the room you're hanging it in. If you have a lot of open wall space in your garage, you can easily store your electric bike on it.
Choosing between the two, vertical or horizontal, and the best hanging bike mount isn't that difficult once you consider the weight they hold.
Check out these wall rack options from Amazon:
Weight Capacity may be dependent on hanging rack on studs or beams.
*This article contains paid links to Amazon.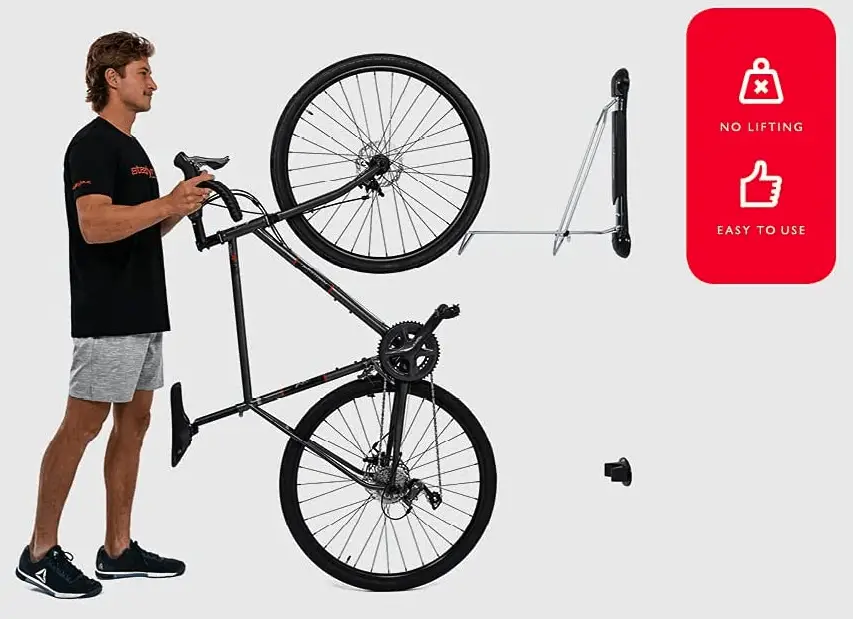 Benefits of hanging your e-bike on the wall
Your e-bike will be easier to lift than if hanging from the ceiling (assuming you don't put the bike hooks or bike rack too far up the wall)
You might find a spot inside your home for storage, such as behind a door
It'll be more accessible and easier to take out and ride than if you hang your e-bike from the ceiling
Cons of hanging your electric bike on a wall
Your electric bike is more likely to get bumped from a car or other garage equipment (or slammed between the door and wall if hanging inside)
E-Bikes are still much more difficult to lift due to weight and size
A typical bike rack might not hold your e-bike due to tire size or weight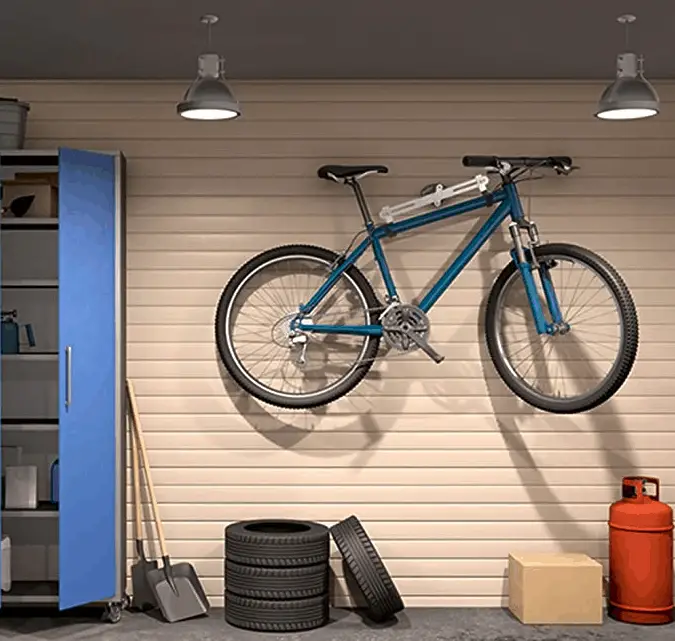 Can You Hang Your Electric Bike from the Ceiling?
You've likely seen many bikes hanging from ceilings. Traditionally, however, they're regular bikes that don't weigh more than 30lbs. But is it safe to hang an electric bike from the ceiling?
Thankfully, there are ways to make sure your e-bike and its equipment stay safe, as well as ways to make sure no one gets hurt by a falling electric bike.
And, since hanging your e-bike from the ceiling might seem like the best option if you lack space to store it in, then it'll help to understand the pros and cons.
Here are some choices from Amazon:
Consider adding a 2×4 board to your ceiling for maximum safety.
The RAD Cycle Products Rail Mount Bike Lift is a good example of a hoist and pulley system that'll hold up to 75lbs: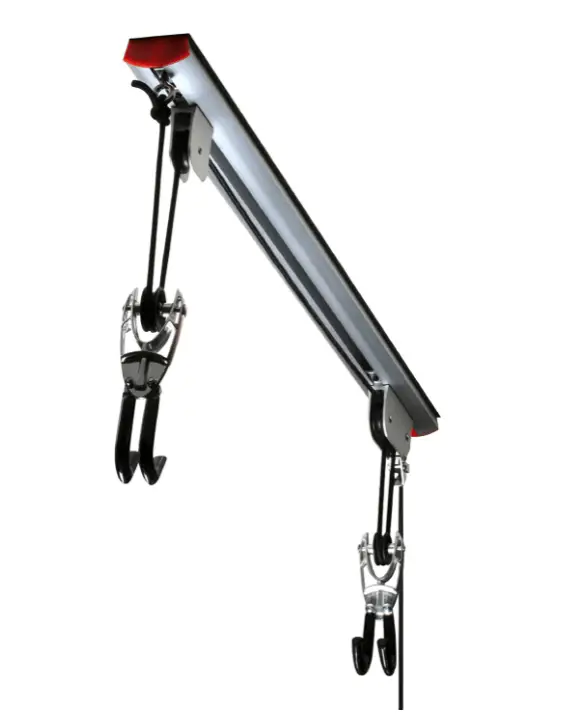 Benefits of hanging your e-bike from the ceiling
Your e-bike will be completely out of the way of your car, lawnmowers, other large equipment stored in the garage, and people
Using a pulley system will make it fairly easy to get your electric bike up to the ceiling
Ceiling bike racks allow for a wider range of tires sizes, so they're perfect for hanging fat tire e-bikes
It'll be quite difficult for your e-bike to get stolen
Cons of hanging your electric bike on a ceiling
You'll need a super strong, safe bike rack system to hold your electric bike overhead
Your e-bike will be difficult to hoist or lift (if not using a pulley) due to weight and size
A typical bike rack might not have a load capacity high enough to hold a heavy electric bike
How to Hang Electric Bikes for Storage Safely
Once you've decided whether to hang your bike from the ceiling or on a wall (and which way… horizontal or vertical), finding out how to do it safely is your next step.
And this is primarily dependent upon the type of bike rack or pulley system you choose and the weight of your electric bike.
It may not be safe to hang your e-bike this way if it weighs too much for you to handle. Make sure to protect your back and shoulders, as well as the rest of your body from harm. I know that my 5'2″ body definitely couldn't lift my 68lb Radmini e-bike up a wall by myself. But it helps to have a partner!
How to hang your e-bike on a wall mount (safe and secure)
Some wall mounts are more secure than others, especially when it comes to an e-bike weighing 50lbs or more. At least installing a wall bike rack or hook is relatively easy.
You'll want to find the wall studs using a stud finder. Then hang the bike rack according to the directions that come with the wall mount.
I love the Steadyrack Bike Rack System because it accommodates multiple tire sizes and holds a bike up to 77lbs. The Fat Tire rack holds tires having a width of 2.8″ to 5″!
Steadyrack Bike Rack from Amazon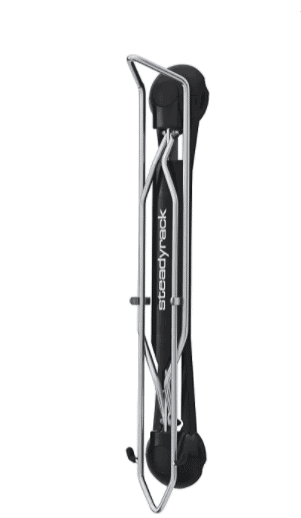 Just confirm your e-bike weight and load capacity of the bike rack. Then choose the right size vertical tire rack when you purchase!
How to hang your e-bike from the ceiling
Because of the heaviness of most e-bikes, I'd recommend using a pulley lift or hoist so that you won't have any problem hanging the bike due to its weight.
First, you need to find out what load capacity is needed for your e-bike. Check the manufacturer if you're not sure of the bike's weight.
Then make sure your electric bike weighs less than the ceiling bike rack weight load allows for.
Next, consider adding a 2X4 to your garage ceiling so that you can ensure the pulley lift will be secure once installed. Attach the pulley according to the instructions that come with it.
You might even choose a pulley system that holds large items (like this one from Amazon) if your electric bike weighs a lot. This kayak hoist actually holds up to 125 pounds of weight, so you can be sure it'll keep your electric bike safe and secure.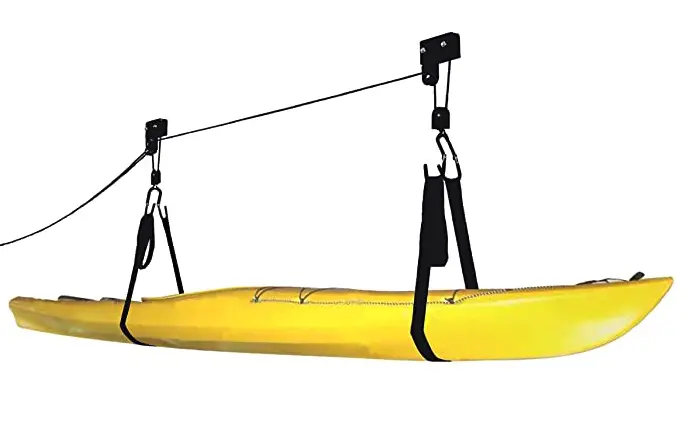 Safety Tips for Hanging your Electric bike
Don't hang it upside down unless the manufacture recommends it: You may damage its electric parts

For safety: Add a 2×4 board to your garage ceiling before installing a bike rack

Find a wall stud to attach your wall rack safely to

Buy and install a bike rack that has a load capacity higher than your e-bike to make sure it'll stay hanging safe and sound

Know how much weight you can safely lift before deciding how to hang your electric bike

Don't ever hang your electric bike by the spokes, even if its suggested (an e-bike is too heavy and will damage the spokes)

Remove the battery from your e-bike to decrease its weight load and to keep the battery in a safer location.

Just follow these safety tips and choose a bike rack system that can hold more than your bike's weight. You'll love getting your electric bike out of the way and feel good about keeping it stored safely!