Electric Bikes are a hot commodity right now. They have been steadily increasing in popularity for the last few years, and it's not hard to see why. And they offer many benefits over traditional bikes, such as increased range and speed that make them much more practical for commuters or casual riders.
However, they also come with an increased risk of theft because of their higher overall value! And they're not any harder to steal than a regular bike.
The best ways to prevent your electric bike from being stolen are: You should invest in high-quality bike locks, be aware of where you park your e-bike, and consider using a bike alarm system or GPS.
In this blog post, I'll give you 10 essential tips to prevent your e-bike from being stolen. I'll discuss them in detail so you can enjoy all of the perks of owning one without worrying about someone stealing it. After all, a stolen bike is expensive to replace!
Invest in a High-Quality Bike Lock
There are multiple lock options for your e-bike, but despite which one you chose, be sure to invest in a strong, high-quality one. This might mean a slightly more expensive one, but locks that are too cheap can be broken and manipulated a lot easier.
In general, better quality locks are at least $35 but can be anywhere in the range of $40-$150. You want to make it as difficult as possible to break or cut off a lock, so make sure the material of the lock is plenty tough and solid. Locks that are at least 16mm in thickness are usually the hardest to break with bolt cutters!
Use multiple locks
Additionally, it's a good idea to have more than one lock on your e-bike, as most thieves aren't going to spend time lingering around if they intend to steal. Their goal is to find a bike that's fast and easy to steal. So why would they take the time to go for a bike that has 2, 3, or 4 locks on it?
The better your bike is locked up, the less likely it (or the parts) are to be stolen! 
Lock down the most important parts of your e-bike
You can also lock down certain parts of your bike. Specifically, the battery, as this is the most commonly stolen part on an e-bike! Make sure to lock it in a way that goes through the handle of the battery if possible. You can also remove the battery after your ride and keep it with you in your bag.
Additionally, it's smart to secure your wheels, seat, stem, and handlebars to your bike to prevent the theft of these individual parts. The best bet is to lock down each wheel as it's easy for a thief to steal the rest of the bike, even if just one wheel is locked down.
What Are the Best Locks for an E-Bike? Get two or three!
There are multiple locks that will work for your e-bike, but how do you determine the best one? Here is a brief description of the types of locks you can choose between. 
U-Locks: These are U-shaped locks that wrap around the bike frame and wheel to prevent theft. These are great options for locking up your bike tightly. But they also can make your e-bike more difficult to transport because of the rigid shape. These are the most common and generally toughest locks to keep your e-bike from getting stolen. They're typically less expensive than the chain locks.
Chain Locks: These are slightly more portable because you can get them in various weights and sizes. You can also buy the chain and the lock separately. These locks are very strong and can be easily wrapped around your bike due to the different lengths of the chain. They tend to be quite expensive.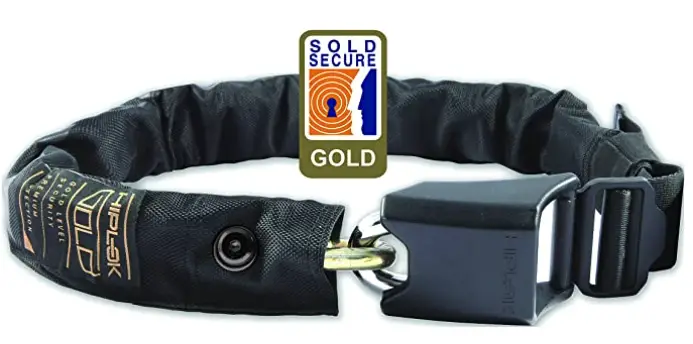 Folding Locks: These locks are very transportable because they fold up into compact locks and are easy to use. Their quality will be different depending on the manufacture, so make sure you check reviews and research before buying one.
Cable Locks: These are the cheapest options. However, that also means they are the least protective and can be cut easily.  I really don't recommend getting one of these for valuable electric bicycles!
The best brands for e-bike locks
I've researched and compiled a list of some of the toughest lock options to keep your e-bike from being stolen. Even so, I recommend using more than one lock, as well as more than one type of lock.
Of course, you can also read the reviews of the lock you are thinking about buying and see how others experienced it first!
Are Electric Bikes Easy to Steal in Crowds?
Some may think that your bike is in more danger on an empty street or shopping center, but oftentimes bike thefts actually happen in large, bustling crowds. This is because there are more distractions going on and people to hide behind. Unfortunately, many bystanders who see a suspicious person jiggling with a bike lock don't confront the situation and continue walking by. 
Your e-bike won't necessarily be safer on an empty street either. It's just that bike thieves know that tourist areas with lots of people are prime areas to find e-bikes left unattended.
Make sure to lock your bike up well no matter how populated a street or shopping center is and keep a close eye on it if you can. Otherwise, I'll say it once again, use multiple locks!
Where Can I Chain My E-Bike?
Along with not letting your guard down in crowded areas, you should pay close attention to where you lock your bike up. Park in well-lit places whenever possible, and try not to leave it unattended outside too long, especially at night.
Chain your e-bike to a solid, hard-to-remove object such as a street light, metal post, concrete barrier, solid metal bike rack, or a parking meter.
Don't attach your e-bike to a railing or object that looks flimsy or can be easily broken or removed, like wooden fences, flimsy trees, stop signs, or chain-link fences.  
Another benefit of locking your e-bike up to an object stronger than its mainframe is that the only way to steal the bike will be to possibly damage it. The good news here is that most thieves don't want to steal a bike that will end up damaged if they do.
Also, avoid parking in the parts of town that are reported to have more theft and petty crime. You probably know where these areas are within your city or county, so it's a good idea to steer clear of parking your electric bike in these areas. At times it might be better to park your e-bike somewhere you know is relatively safe and walk the rest of the way to your destination.
And keep an eye out for any strangers who might be closely watching you lock up your bike, as they may be trying to gauge how easy it will be to steal it once you leave.
Store Your E-Bike Inside 
This may be a bit complicated to do when out in public as most stores and public places won't let you bring a large e-bike inside. But I'd certainly try keeping your e-bike with you whenever possible!
Talk to your boss about storing your e-bike indoors if you commute to work on your e-bike, or if you ride your bike to class, ask your professor. Some grocery stores and other establishments will let customers bring it inside as well. 
When at home, try and designate an area of the house for your bike. This can be the living room, bedroom, or garage. However, it's not uncommon to have an e-bike stolen out of a garage, so it's still a good idea to lock it up in the garage for extra security!
And if you live in an apartment or condo, bring your e-bike indoors with you, as many bike thefts can happen overnight at apartment complexes as well.  Consider putting down an extra rug to roll it onto if you're concerned about damaging the floor.
If you're struggling to find a place to keep your e-bike indoors, take a wheel off to make it a bit more compact. If you haven't yet bought an e-bike, consider getting a foldable one so that it'll fit into tight spaces.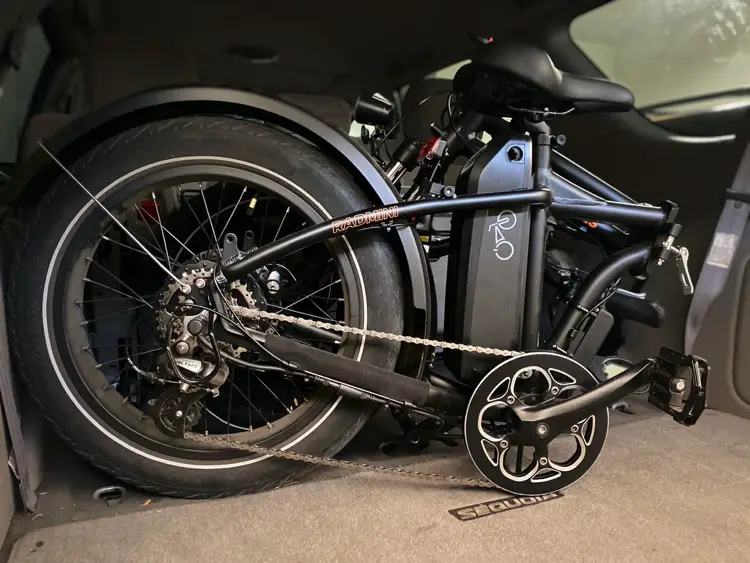 Park Your E-Bike in Different Places
Parking your e-bike in the same place every day may raise the possibility of it getting stolen. If you use it to commute to work, school, or to volunteer somewhere regularly, an advanced bike thief may take notice. They'll study your routine and find out how many hours the bike is left alone.
Try to find different places to lock it up or park on different sides of the building you are commuting to, as long as you can still safely lock up your bike. Don't make it easy to steal!
What is an Alarm Lock? Add One to Your Arsenal!
You can also purchase a lock that sets off an alarm if your e-bike is being handled or tampered with. If there are people around, this may alert someone who will stop the thief. If not, the alarm sound will hopefully scare off the thief. 
Some quality alarm lock brands and names include the AlarmD Pro, ABUS Bordo Alarm 6000A, ABUS 770A Smart-X, Wsdcam 113dB, and ZiiLock. Bike alarms are generally quite inexpensive, so it's very likely to be worth getting.
Install a Bike Tracker or GPS Device 
You can install a GPS device onto your electric bike so that, if it's stolen, it can be tracked. And if a thief knows there is a tracking device attached to it, they might avoid it entirely. However, these trackers can still be taken off fairly easily if discovered, so it's a good idea to try and hide or disguise them. 
The company Sherlock offers a way to install a tracking device into the handlebars and can be tracked using an app on your phone, so it is much more difficult to find. Other brands that sell e-bike GPS tracking systems include the Samsung SmartThings Tracker, Tile Sticker, SinoTrack, Spytec GPS, and Invoxia GPS Tracker. 
Create Fake Warning Signs & Get Creative
If you can't afford to buy an actual alarm or tracking device, a great way to outsmart a bike thief is to create a fake yet authentic-looking warning sign to place on your bike. Thieves will often go for the easiest option. So having even handmade signs (along with multiple locks) might cause them to pass up your bike and take their chances with another one. 
Put up a security sign
You can find templates for certain signs, or just type one out yourself. These signs can include a warning label saying that there is a GPS tracker on the bike, or that an alarm will sound if the lock is broken.
If parked outside of your home or workplace, add that they are being watched by security cameras around the perimeter. You can do this even if there are no security cameras. If a thief doubts the authenticity of these signs, they will most likely not want to take their chances. 
Camouflage your e-bike
Another creative way to add more security measures to your e-bike is to camouflage it as an older or less important bike.
Many e-bikes are new and shiny-looking, but if you're willing to sacrifice their appearance for better protection, then this is a viable option! There are some ways you can help make it look much less desirable: Paint fake rust onto its frame and handlebars, place a grocery bag over the seat, get mismatched handlebar grips, add splotches of paint, or stick on little pieces of duct tape.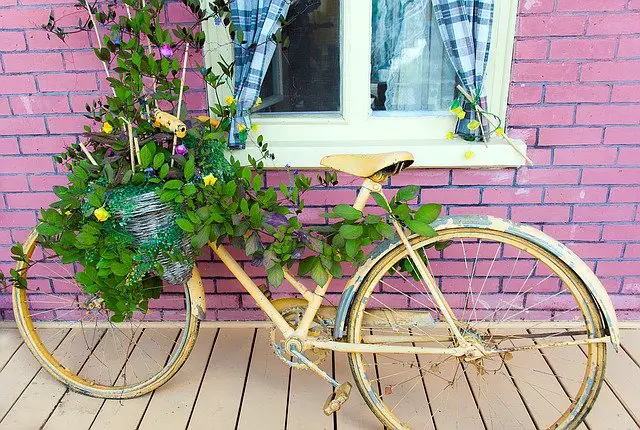 Should I Insure My E-Bike? Get insurance if…
Some companies or websites will offer insurance when you buy your bike. So, it's a good idea to look into the insurance policies of the company you buy your bike from. Be sure to look over all of the specific details, like whether the insurance will cover just your battery being stolen or instead only cover the whole bike. 
Typically, e-bike insurance from renters and homeowners policies offer very limited coverage. So pay close attention to every aspect of the insurance you are looking to buy. Some homeowners insurance policies will only cover your e-bike if it is stolen directly from your home. But they won't cover it if stolen off the street or outside of your work.
Do I need insurance for my e-bike?
So, it may be a good idea to buy e-bike insurance if you have an expensive bike and no other insurance will cover its loss. Some good insurance companies that may cover electric bikes include Progressive, Markel, Velosurance, Sundays Insurance, and SPOKE. 
In conclusion
Are electric bikes easy to steal? They may not be harder than any other bike to steal, but they are much more valuable and expensive to replace.
Therefore, electric bicycle theft prevention is not something to be taken lightly, and cases of theft are spiking in many places. As electric bikes continue to gain in popularity, so does the potential of thieves wanting to scavenge them for their value. 
Unfortunately, it's just too easy to steal one… and quite tempting since they're generally worth more than an average bike.
Therefore, it's a great idea to update your anti-theft protocols to better protect your e-bike! Purchasing quality bike locks, using more than one at a time, paying attention to where you park your bike, and using methods like an alarm system or GPS tracker can be very useful ways to protect you from bike theft.