E-bikes have many features that will make you want to buy one but there isn't a more useful feature than having the ability to fold up in half. And the surprising truth is that the cost of having this additional feature isn't that different than any other electric bicycle.
But how much does a foldable electric bike cost and are the cheaper ones still good quality?
Folding e-bikes cost between $450 and close to $4000, with a huge selection averaging around $1500. Because folding e-bikes are so popular, there are several high-quality brands and models to choose from that are priced in the cheaper range.
E-bikes are, in general, quite a bit more expensive than standard bikes due to their electrical components. And so you might think that having the added feature of being foldable would make it even more expensive than a non-folding e-bike. But, in actuality, brands need to modify features in their regular e-bikes to give them the ability to fold up, thus reducing some costs in other areas.
Some of the components that may decrease the overall price are the heavier weight, smaller wheel size, battery, and use of a hub motor instead of a mid-drive motor. I've addressed these more later in this article.
10 Folding E-Bike Brands and Models Listed from Cheapest to Most Expensive
To help you with your decision on what price to pay for a foldable e-bike, I've put together more information below.
How Much Does a Good Folding E-Bike Cost?
Depending on your personal budget, you can get a high-quality, good foldable e-bike for around $1500 give or take.
The reason for coming up with this price point is that if you want it to last and you want to be comfortable riding your e-bike frequently or long distances, you need one made with good quality components. If you buy one that's too cheap, you'll get an e-bike made with cheap, substandard parts… and it probably won't even have a decent warranty.
To get a good folding e-bike, you can plan on spending at least $1000. When buying one, consider what affects the price so that you can decide what is more important to you.
How the Cost of a Foldable E-Bike is Determined
When it comes to anything electronic, smaller and lighter is more expensive. The same is true for electric bikes.
If a bike only weighs 48 pounds versus a hefty 68 pounds, it's going to be more expensive because brands have to use smaller, lighter-weight components. And it costs a company more to get those components in the first place. So, they forward the extra cost to the buyer… you!
Parts that will vary significantly in price on a foldable electric bike are the battery, motor, weight, and tire size.
Battery: Batteries may be smaller than some electric bikes, especially mountain bikes, in order to fit properly and still allow the e-bike to fold up. And, if the battery is smaller, it is either going to be a good battery but more expensive, or it's going to have a shorter life.

So, this is a good example of why buying a very cheap folding e-bike isn't such a good idea. It will cost you more in the end when you have to replace it quickly.

Motor: Foldable e-bikes often use a Hub Motor, as opposed to a Mid-Drive Motor. This is likely due to the ability to place a hub motor more towards the front or back of the bike, and out of the way of the folding component. Since a mid-drive is known for better performance, and is thus more expensive, using a hub motor will bring the cost of the e-bike down.

Weight: As discussed above, weight is the factor of the parts used on the bike. Bigger, less expensive parts make the bike heavier. And, thus, brands can charge less for these parts.

Wheel and Tire Size: Foldable e-bikes come with smaller wheels so that they can be folded up. The tires are usually about 20 inches as compared to a standard size of 26 inches. So, this makes an average foldable bike less expensive.

However, many foldable e-bikes now have "fat" tires, which are wider and grip better on rough terrains like mountain trails, dirt, and sand. So, although the tire is smaller, it's now wider, which can add back to the cost of the bike.
Further, although charging and maintenance costs will be close to the same as a non-folding e-bike, you should keep in mind that the part that folds the bike could need to be repaired at some point.
Advantages and Disadvantages of a Folding E-Bike (Pros and Cons)
Before you decide to buy a foldable bike, take a look at the pros and cons to make sure that it's right for you.
Pros
Cons
Easy to store in smaller areas
If you don't have a place to store an e-bike at all,
having a foldable one won't help much
May be cheaper overall than a standard e-bike
You'll still spend a lot of money
There are many good-quality foldable ones to choose from
If you get a cheap one, it might not last long
They look cool!
You might get a nasty look or two
(Fat tire folding bikes look a little like mopeds)
Fits more easily in your car, or on a bus or train
(perfect for commuters and travelers)
Heavy and can be hard to lift
The main reason anyone wants a foldable e-bike is so they can take it wherever they go. This is a huge advantage if you commute daily to work or school, love to travel, or want to ride on paths far from home. And it's good to know that even with a relatively small budget, you can make it happen.
If you still think it's too costly and unaffordable, consider how much money you can save as compared to driving a car. Not just in gas, but in maintenance! Buying a $1500 e-bike and riding it 10 miles every day will save you thousands of dollars compared to buying a car. And you'll save thousands more in maintenance.
And an e-bike will get you further, faster than any other electric vehicle such as a scooter. Plus, can you ride your scooter on a dirt hiking trail? Probably not… the tires simply aren't big enough.
Here's another advantage. If you need a really small and lightweight folding e-bike, then you can find one with 16 or even 12-inch wheels, which will make storing, folding, and lifting so much easier.
So you just have to decide if the pros of having a foldable e-bike outweigh the cons. Once you decide to get one, you can find reasonably priced models in your budget range.
Best Folding Electric Bike under $2000:
As I've said, there are a ton of foldable e-bike options under $2000, so it's a bit difficult to pick the very best one, especially since buyers value different things.
However, if you want an all-around flexible bike with tons of great features, then, after many hours of research, I can suggest what my husband and I decided to purchase…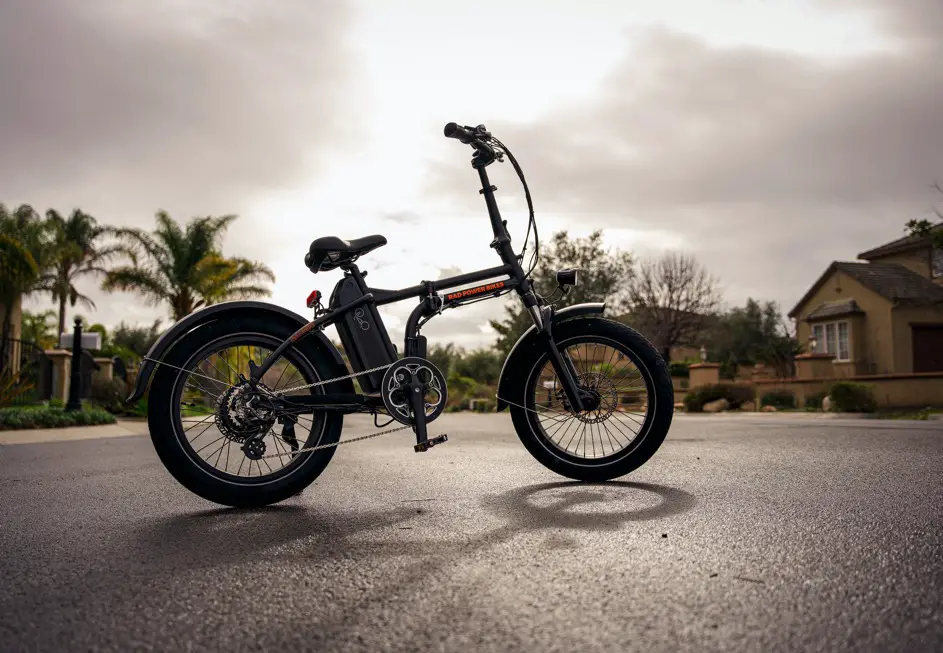 It's the RadExpand (RadMini) Foldable E-bike from Rad Power Bikes. Check it out!
First of all, this bike is awesome because it comes in the standard model and then also has a step-through version. So you'll most likely fit on the Rad Mini Step-Thru even if you're a smaller-than-average person. And it's super easy to get on and off it, without having to swing your legs over the top bar.
At $1500, it's made with quality parts, like Shimano gear shifters, and has features that every serious e-bike rider will want:
A twist throttle (super easy to use and has quite a kick)
20-inch wheels with 3.3-inch wide fat tires (grip the ground well through water and dirt)
750 Watt, geared hub motor (powerful enough for just about anyone)
A speed of up to 20mph (up to 28mph with the throttle)
Five (yes 5!) Pedal-Assist Levels (there is no such thing as not being able to ride up a steep hill)
And up to 45+ mile battery range (which is way higher than most foldable e-bikes)
With this e-bike, we can go faster than we even want to and ride pretty much anywhere, including on sand and dirt trails thanks to the extra-wide, gripping fat tires.
Here's the only downside to the RadExpand… it's fairly heavy, weighing around 68 pounds. So if you don't have the muscle or the help you need to lift it into the car, then you'll want to find another option.
Best Folding Electric Bike under $1000:
If you're looking for a bike under $1000, you'll have lots of options but you'll have to be careful about the quality. Some cheap e-bikes will just not measure up to ones that cost just a couple of hundred dollars more.
If you read the reviews, you might find that a 4-star rated foldable e-bike doesn't measure up to what you want or need. If you plan on riding a lot, or far, a bike with a poor battery or a frame that squeaks will just cause you grief.
Further, even the e-bikes with a 4 1/2 star rating and 200+ reviewers seem to have one or more issues. And only you can decide which concerns are serious enough to make you want to avoid that bike.
So, choosing the best folding e-bike under $1000 basically comes down to what minor (or sometimes major) issues you are willing to put up with.
How Much is the Cheapest Electric Bike?
So let's say that you decide you really want to try out a foldable e-bike but just don't want to shell out the cash for an expensive one not knowing if it's what you really want. You can then actually buy a foldable e-bike for $400-$600, either through the manufacturer or even on Amazon.
The cheapest electric folding bike I've found is under $400 (plus tax and a $20 delivery fee) from Ancheer.
It's a pretty surprising find, given that Ancheer is a solid brand with lots of mid-range pricing. I also can't believe it offers a throttle and can get you up to 20 miles per hour!
Here it is!
ANCHEER Folding Electric Bike, 20" Commuter (Amazon)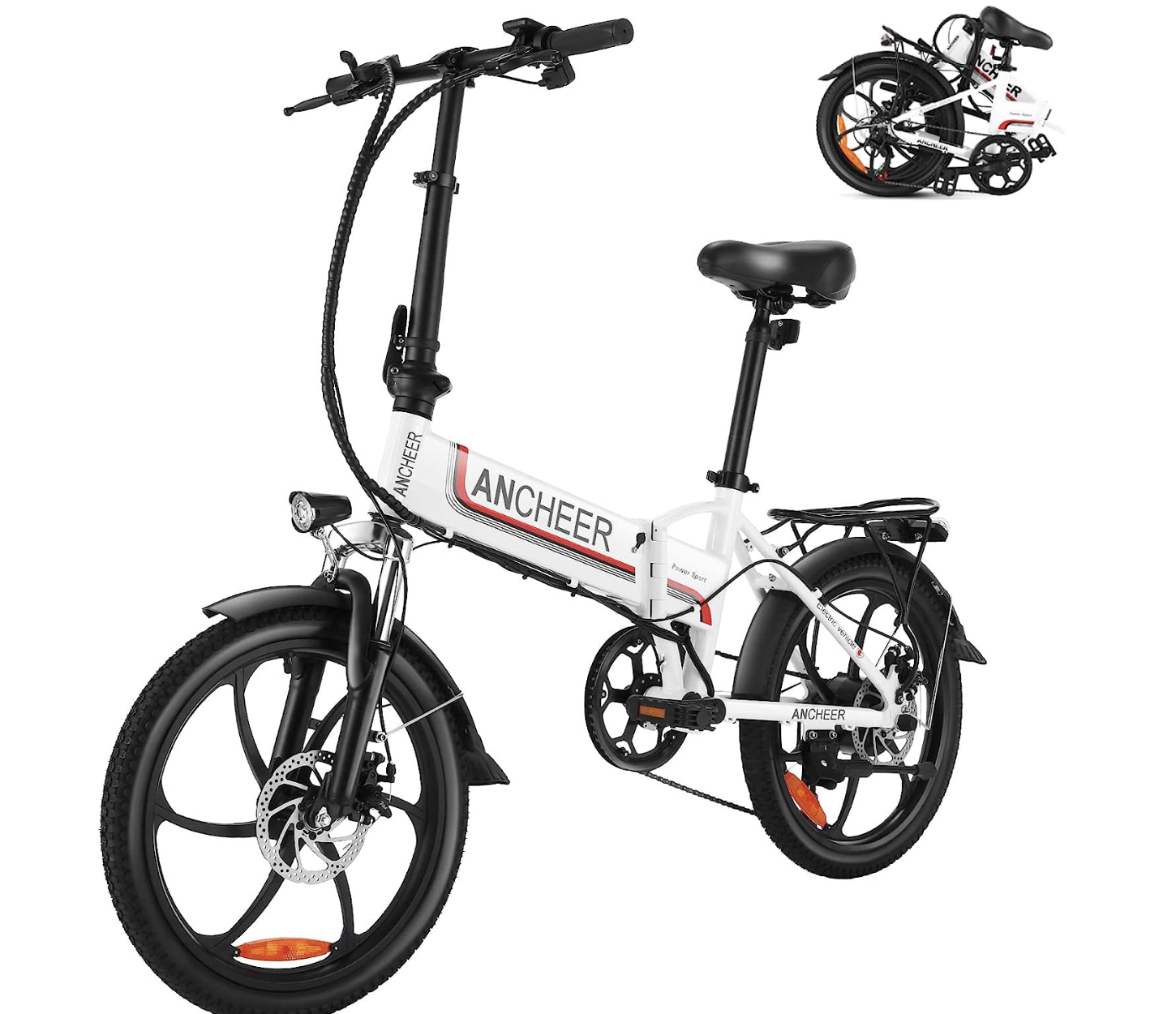 Because the tires are only 20″, as opposed to a typical 26″, this ebike is easy to fold up and put in a car or bus, or store in a small area. However, with narrow tires, this bike is best for riding on a paved path.
If you're a commuter, student rider, or simply want to ride around town for groceries or for fun, then this could be the very cheap e-bike you're looking for. It might also be the perfect electric bike for parents to give their teenagers who need an inexpensive ride to school!
And, this is nice… it has an overall 4 1/2 star rating on Amazon and you can read lots of reviews before purchasing!
So, although that might be the cheapest e-bike around, there are many that cost under $600 that are foldable.
What is the Lightest Folding Electric Bike?
If you're certain that you want a high-quality foldable e-bike, but you also want the lightest one, then you won't get it for cheap. It's going to cost you but it'll certainly make it easier to fold and travel or commute with.
However, the price is going to be dependent on the type of e-bike you want as well. If you want a lightweight folding mountain electric bike, then you're going to pay more than for an electric road bike.
Hummingbird claims to have the lightest foldable electric bike, coming in at under 23 pounds (3.4 Kg)! This UK company has definitely figured it out. But you'll be paying around $4500 U.S. dollars (3745 Euros). Describing it as a "city bike", they call it the "lightest electric folding bike in the world".
Watch their video to see how easy it is to fold up and lift:
However, if you're not quite willing to pay nearly $5000 for a foldable e-bike, then there are some other relatively lightweight options that'll cost less.
In fact, there are some really cheap options, including the SWAGTRON Swagcycle EB-5. It folds up and comes in at 37 pounds and only $500.
Keep in mind that, in order to make a folding electric bike weigh less, you have to give up something. Most of the lightweight options are all about commuting and riding on the road. So, you won't be doing any amazing off-roading. You're also generally giving up power when you get rid of the weight.
What is the Average Cost of an E-Bike?
Average e-bikes, regardless of whether they're foldable or not, range from $400 to $4000, with the most good-quality options in the $1000-$3000 range.
However, unlike foldable bikes that seem to cap their price around $4000, regular e-bikes can cost as much as $8000 or more! However, very few people will want or need to purchase an e-bike in that price range when you can get a high-quality one with fantastic features for less than $3000… and most likely for less than $2000.
Further, as e-biking becomes more popular and there are more brands and models to choose from, the average cost of an e-bike will likely decrease. As it is, there are so many different models. Therefore, you need to know what type of e-bike you want before searching for the perfect bike.
For example, an average road e-bike can cost quite a bit more than the average commuter e-bike. In general road bikes are priced closer to $1500 and end up on the expensive end of $8000. Electric mountain bikes are priced similarly higher.
And then there are hybrid e-bikes. Because of their cross-over nature, you can find a lot of these in the $1000-$3000 price range. They're priced this way because they provide the ability to conquer the road and the dirt, but they don't really specialize in either.
Conclusion
You can buy a good folding e-bike that's affordable but not cheap in the $1500-$3000 range. But if you want to buy a cheaper one, you may get what you pay for.
So, the most important consideration becomes what type of foldable e-bike you want and what features will be most useful to you. Once you decide this, then read reviews on the brands and models you're looking at before buying.