Electric bikes are the best way to explore sand and beaches. And buying your own is a worthwhile alternative to renting an e-bike every time you want to ride.
Unfortunately, with so many options on the market, it can be difficult to find the best electric bike for riding in the sand on the beach.
The best electric bikes for sand riding will have a powerful motor and battery, pedal assistance, wide fenders, and fat tires that can traverse soft or hard-packed sand.
The best electric bikes for sand are listed here:
Top 5 Best Electric Bikes for Sand
In this article, I'll help you understand why sand can be a problem for e-bike riders and give you the solutions you need. Then I'll go into detail about the five favorite e-bikes I've compiled that'll get you through the sand and on your way!
Can Electric Bikes Ride On Sand? Basic Requirements
First, consider the potential limitations and requirements of riding an e-bike in the sand.
Electric bikes can ride on the sand with a few requirements. They need all-terrain or fat tires, wide fenders, and a proper cleaning after each ride. They should also be ridden primarily on hard-packed sand.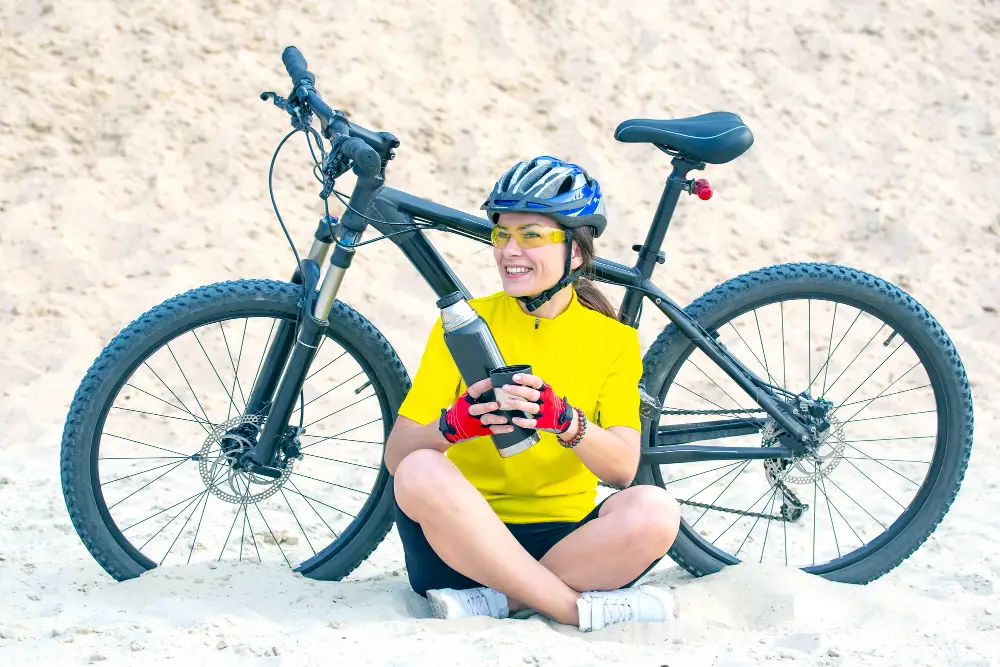 Fat tires
There are a lot of advantages of fat tires ad the right ones will allow you to ride on sand without sinking in. All-terrain or fat tires work best in the sand. The perfect tires are ones that have a lot of surface area to create friction with the sand.
Most fat tires are at least 3-4 inches wide. the more time you'll be spending on riding in the sand, the wider your tire should be. If you're planning to ride on the beach every day, then a 4-inch tire is best.
But if you'll be doing a lot of street riding as well, it may be harder with a 4-inch tire.
Some of the more comfortable electric bikes come standard with fat tires and have a lot of clearance so these will be good for riding on any terrain including sand. The truth is, fat tires make riding an electric bike fun!
Wide fenders
Wider fenders will help keep the beach from getting into your drivetrain and gears and damaging it with saltwater, dirt, and other debris. Fenders will also keep the sand from flying up into your eyes while you ride.
Make sure that any e-bike you choose to buy has fenders that are as tall and wide as the tire is.
How to clean sand off your e-bike
After you ride on a sandy surface, be sure to brush any loose particles off of your bike. You don't want them to get stuck between moving parts like the gears, brakes, or motor.
You may also need to clean down deep under the derailleur if you've been riding through wet sand all day long!
Use a dry or very slightly damp rag to wipe down our e-bike, being cautious to avoid sensitive electric components. Not only will this keep sand from falling into unwanted places, but it'll also help protect metal or aluminum parts from corrosion during long periods of non-use.
Cleaning the sand off your e-bike after each ride will also help limit scratches and visual damage.
Hard-packed sand vs loose sand
Just because you get an electric bike good for riding in the sand doesn't mean that you should ride it in all sand types. In fact, loose sand can cause quite a few problems.
And when you have that nice new e-bike, you'll probably think twice about riding it through soft sand.
Hard-packed sand is just better for electric bikes to ride on:
It's less strenuous to ride on

You won't have sand flying into your eyes (which also makes it easier to see where you're going)

Sand won't be as likely to get into and damage electrical parts and other important components such as your chain and pedals.
Fat Tire E-Bike vs Beach Cruiser
Upon first thought, you might think that you need a "beach cruiser" to ride on the sand, especially at the beach. However, a beach cruiser is really just for "cruising" up and down the boardwalk or sidewalks near the beach and not for strenuous sand riding.
For instance, most tires on an electric beach cruiser are typically just over 2 inches. These tires don't provide enough contact with the softer ground to help them get over such terrain.
Further, even electric cruisers aren't typically built with the power you need to get through softer sand. Most of them come with a 250W motor as opposed to a 500W or 750W one.
That being said, e-bike brands are combining all different types of features on different bikes now. But, even if you find an electric bike with a 750W motor and fat tires labeled as a "beach cruiser", can you really call it a "cruiser"?
So, let's focus on what electric bike you need to ride in the sand as opposed to what it is called! Here are the five best e-bikes for sand that I researched and put together for you.
Top 5 Best Electric Bikes for Sand
Now that you understand what's important when it comes to riding an electric bike in the sand, you can begin shopping for the best electric sand bike for you.
To reiterate, you should find one with a strong motor, varying levels of pedal assistance, and fat tires with wide fenders covering them.
Here are the top 5 best sand e-bikes I listed above. These are for riders who plan to spend time on the beach or in the desert sand.
$1999
Recognized as one of the "Best Electric Fat Bike" by Electric Bike Review in 2021, this fat tire bike is fast, solid, and perfectly capable of riding in sand.
The RadRover e-bike is a perfect way to get out and explore the great outdoors. With fat tires that can handle any terrain you throw at them, this electric bike will allow you to venture off-road without worrying about getting bogged down in mud or sand!
Electric power
You'll have plenty of power on hand thanks to the 750-watt motor and 48V, 14 Ah lithium-ion battery. In fact, you can typically ride for up to 45 miles on a single battery charge. Plus, you can ride up to 20 mph until the motor stops assisting you, likely getting up to 28 mph if you really try!
Of course, given that sand provides a lot of resistance (and it might be windy on the beach or desert), you probably won't get quite that far on one ride. Any strain on the battery will reduce its capacity. Still, you can go for a full day's ride on the beach!
Plus, this Rad Power Bike has 7 levels of gearing along with pedal assistance, which means you have plenty of torque to power through the sand, wet or dry!
Fat tires
With full 4-inch Kenda tires and an internal K-shield tire liner, these tires are puncture-resistant. This means more protection from sharp debris hiding under the sand. Glass, rocks, and metal are commonly found hiding beneath the surface, especially in loose sand.
Further, you get two fenders included on the RadRover Plus, front and rear, which not all e-bikes come with. And they're durable enough to withstand sand and other harsh elements as well as wide enough to protect you and the delicate electric parts.
$1999-$2199
Yes, there is a reason the Scorpion X is "juiced"! Juiced Bikes defines it as "moped-style" e-bike. This is appropriate given the incredible power of this e-bike.
The Scorpion X is a premium electric bike that comes with an amazing price tag. However, this futuristic ride features the latest technology and brings more than just speed to the table.
Electric power
The Scorpion X is the ultimate e-bike for those looking to take their ride anywhere… dirt, gravel, trails, and of course sand. It has a 750 Watt motor and 52 Volt 15 Ah battery that lasts 15% longer than most batteries. In fact, you can ride it up to 28 mph, possibly over 55 miles!
Additionally, it actually comes with both a torque and cadence sensor (most bikes only have one or the other). This allows for pedaling and traveling at higher speeds, even on the sand!
Other power boosters on this e-bike include a 750 Watt Bafang motor, an 8-speed transmission, and an easy-to-use twist throttle.
Fat tires
Even the tires on the Scorpion X have an edge over the Rad Rover (just slightly).
They're not only puncture-resistant, they're 4.25 inches wide (instead of 4 inches). Even this little bit can give the bike more traction in the sand and help you out when you need to get through deep sand to get back to the sidewalk or road.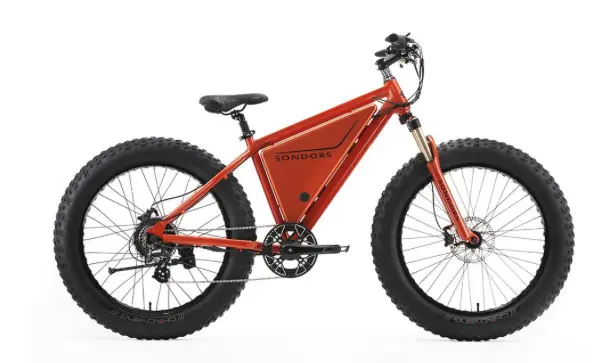 $2699
Sondors offers a few different versions of e-bikes that can ride aptly through the sand. However, the XS model is the most powerful version of its all-terrain options.
Electric power
With a 750 Watt motor that speeds up to 20 mph, it uses a 48 Volt 17.5 Ah extended range battery. That gives you a riding range of up to 60 miles on one charge!
Of course, you'll need to use the 7-speed gears and 12-magnet pedal assist to get over this many miles, especially if you're riding in the sand. But you might just be tempted to 100% throttle it the whole way.
Fat tires
Just when you thought you'd never afford an e-bike with an even fatter tire, the Sondors XS comes along. These 26-inch wheels come with 4.9-inch fat tires. Sondors proclaims that the tires are their own "signature" tires.
*SAVE $50 on a Sondors e-bike with my personal referral link
One last thing worth mentioning: The Sondors XS comes with a high-performance air suspension to make traversing through sand, dirt, and gravel a breeze.
$1699
The Sinch is the perfect companion to live with if you're in a small apartment by the beach! So, I just had to throw this one in.
Not only can you ride it on the street to the beach, but it's also one of the best small, foldable electric bikes to take you on a ride in the sand.
The folding, portable design lets you take it with you anywhere as well as store it under a desk or in a closet!
Electric power
Being a folding e-bike doesn't mean the Sinch has less power or capability. Like the other sand e-bikes discussed above, it has a 750 Watt motor and a 48 Volt, 14 Ah Lithium-ion battery.
With an average 40 mile range, it boasts 5 pedal assist levels and a throttle that'll get you started quickly.
Fat tires
Like the RadRover e-bike, the Sinch uses 20 inch Kenda tires. But even this "little" folding e-bike has full 4-inch wide fat tries that are puncture resistant.
Looks like you'll have to add your own fenders, however. But to get a folding e-bike that can ride in the sand with 4-inch tires for only $1699… adding on a couple of fenders is worth it.
If you decide not to add fenders though, make sure you ride on hard-packed sand only!
$2699
Here's another super powerful fat tire e-bike from Juiced Bikes. It's pricier for sure, but there are reasons that just might be worth it.
The RipCurrent S is the ultimate sporty utility e-bike for anyone who wants to get out and explore their surroundings. It can handle sand, hills, dirt trails, and gravel. It truly is a fully-equipped fat tire bicycle that delivers loads of fun and unmatched versatility.
Further, it comes with loads of super functional upgrades that will blow your mind!
Electric power
The RipCurrent S e-bike is the king of performance. It has a massive 52V 19.2 Ah battery, 750W motor, and a riding range of 70 miles!
It also has a thumb throttle, geared 9-speed transmission, and both cadence and torque pedal assist sensors. With speeds up to 28MPH, you can get where you're going fast, even if you're riding on sandy terrain.
Fat tires
All-terrain, 4-inch fat tires are included on the 26-inch wheels. These are puncture-resistant, knobbed Kenda tires that increase stability and comfort on all off-road terrains.
Extra upgraded features include an advanced LCD display with different riding modes and a rear rack. For all the reasons I've mentioned above, this could be the #1 best electric bike to ride in the sand.
Conclusion
I've assembled 5 of the best electric bikes for sand to help you find a great bike that'll work perfectly for you at the beach. The ones I've listed are all top-rated and are in the lower to average price range, so there should be an option that fits your budget and needs.
You can see how they stack up against one another in terms of power, speed, range, tires and more!
Do any of these sound like they might suit you?