Wish you had an electric bike that could go almost anywhere? One that rides over a variety of terrain smoothly but zips around comfortably on paved trails and city streets?
Hi, I'm Lisa from E-Biking Today and I'm excited to share my Aventon Aventure 2 electric fat bike review and ride experience with you.
Let me say that this electric bike has been the most fun ride experience I've had, much of it thanks to its torque sensor! Overall, I'm also impressed by the quality and value that exists in this $1899 fat tire ebike.
Another surprise is that Aventon actually added upgrades to the Aventure 2 while lowering its price by $100 from the original Aventure e-bike. 
I'm excited to share all of the details with you!
Plus, although I've struggled a bit with finding any disadvantages of this cool adventure ebike, I did find a few. I'll tell you the pros and cons and why you should buy (or not buy) it in this Aventon Aventure 2 electric bike review.
Aventon Aventure 2 Video Review
Aventure 2 Specs, Performance, and Ride Experience
Discover what you need to know about the Aventon Aventure 2 in the table. Take a look at its specifications and my ride experience and review notes.
Aventon Aventure 2 Priced at $1899
Original Aventure Priced at $1499
| | | |
| --- | --- | --- |
| Performance | Components | Review Notes & Ride Experience |
| Motor | 750W (Sustained), 1130W (Peak) Brushless Hub Motor (48V) | More than powerful enough for commuting and off-road riding |
| Battery | 48V 15Ah Removable Lithium-ion Battery | Above-average range (720Wh) but the same battery size as the original model; beautiful frame integration |
| Range | Up to 60 miles (96 km) | My range test revealed that I rode 27 miles (43 km) and lost approximately 43% of my battery charge (see the image below); if you use higher pedal assist levels and more throttle, or ride off-road, the real-world range will be much lower… still, the range is more than sufficient for most riders |
| Top Speed | 28 mph (45 km/h) | The Aventon Aventure ships as a Class 2 ebike with a top speed of 20 mph (32 km/h), but I easily unlocked it to its maximum speed of 28 mph by pushing a couple of buttons to modify the display. |
| Brakes | Tektro Hydraulic Disc Brakes | Stopping is smooth and capable |
| Fork | Lockout Suspension fork with 80mm Travel | Comfortable all-terrain riding; bumps were sufficiently minimized for me and the suspension even worked better for my much heavier husband Marc. |
| Drivetrain (Gear Shifts) | Shimano 8-Speed Trigger Shifter | Easy to change; 8 gears make a difference over the standard 7-speed gearing |
| Derailleur & Cassette | Shimano Derailleur & 12-32T cassette | Smooth-shifting transitions |
| Display & Controller | Smart LCD Backlit, Color Display | Nice-looking display that connects to the Aventon app: Collect your ride stats, unlock the ebike to 28mph, and make other adjustments |
| Tires | 26″ x 4″ Fat Tires | Provide a solid, smooth, and comfortable ride; I didn't experience any slipping on off-road terrain and felt confident I could tackle steep hills (both going up and down) |
| Throttle | Left-Side Thumb | The throttle is powerful and will push you to 20 mph (32 km/h)quickly; I noticed that I had to push it all the way down to make it work |
| Sensor | Torque Sensor | The torque sensor provides an amazing ride experience; you'll get as much power as you give! I love this feature and think it adds great value to the Aventure 2; it's definitely superior to a cadence sensor |
| Payload Capacity | 400 lbs (181 kg) | You can carry a lot of weight, so it's a great e-bike for a heavy person as well as a rider carrying a lot of gear. |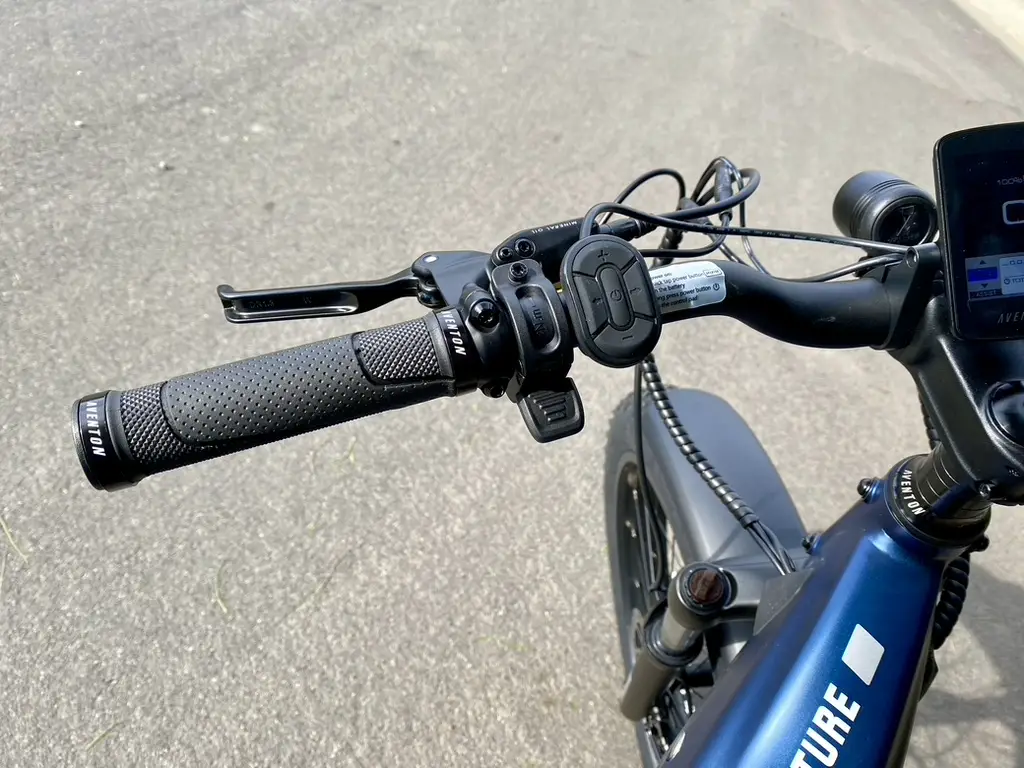 Pros of the Aventon Aventure 2 (Reasons to Buy)
I'm about to show you everything that's amazing about the Aventon Aventure 2 in this ebike review. Not only is it a huge tech upgrade over the original Aventure, but it also smashes other electric bike competition (including Rad Power Bikes RadRover Plus) by including a torque sensor!
Torque Sensor
Why is a torque sensor helpful to e-bike riders?
The torque sensor on the Aventon Aventure 2 makes the biggest difference in its overall value. This upgraded setup provides a responsive and intuitive riding experience, one that senses when you begin to pedal.
I noticed that when I pedaled harder, the motor instantly responded by providing more power. So, I was able to quickly and easily accelerate from a stop, climb steep hills, and maintain a consistent speed on uneven terrain.
Another way to look at it is this: a torque sensor measures the amount of force or pressure applied to the pedals by the rider. Thus, I really love that the Aventure.2 starts moving when I pedal and actually stops moving when I stop pedaling. Overall, a torque sensor lets you choose how hard you want to work and lets you do so consistently (in turn, this provides a better opportunity for exercise).
Finally, electric bikes with a torque sensor help conserve battery life and offer a longer range, even more so for off-roaders or commuters who ride at higher speeds.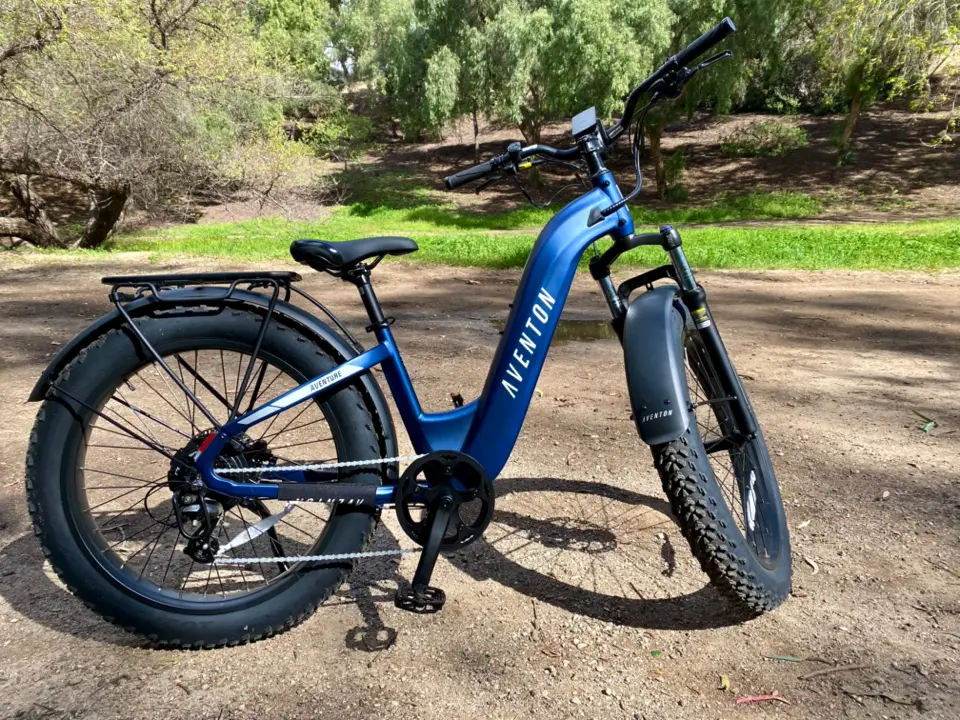 Torque Sensor vs Cadence Sensor
With a cadence sensor, you can feel a delay between when you start pedaling and when the motor engages. 
In fact, there are times when I've felt as though an ebike is driving itself and my feet are just along for the ride. 
I've actually had many near misses with doors and cars riding ebikes with cadence sensors, which simply measure the rotation of the pedals. And there was that one nasty curb that I didn't miss!
Overall, the torque sensor makes the Aventon Aventure 2 an excellent choice if you want a high-performance e-bike that rides like a natural extension of your own pedal power.
Above-Average Value
There are some other serious advantages of the affordable Aventure 2 electric bike in addition to the torque sensor. These include an 80mm front suspension fork, hydraulic disc brakes, and 8-speed gears. You also get 4-inch all-terrain fat tires.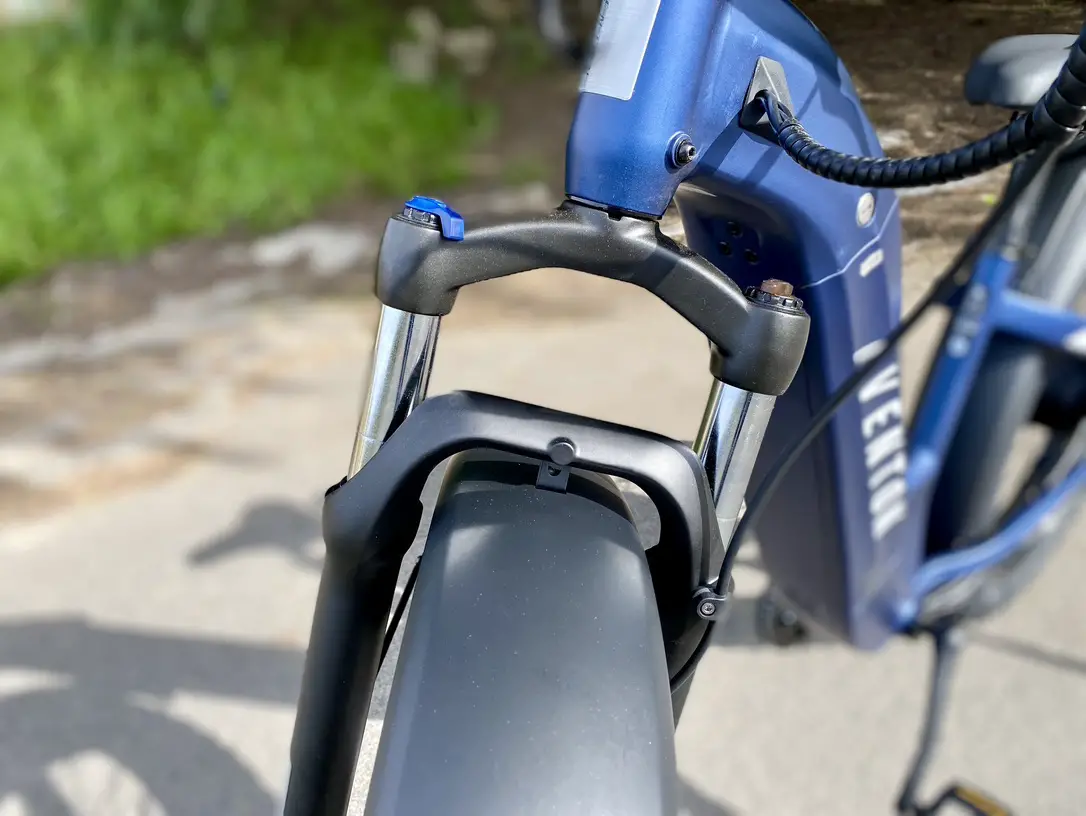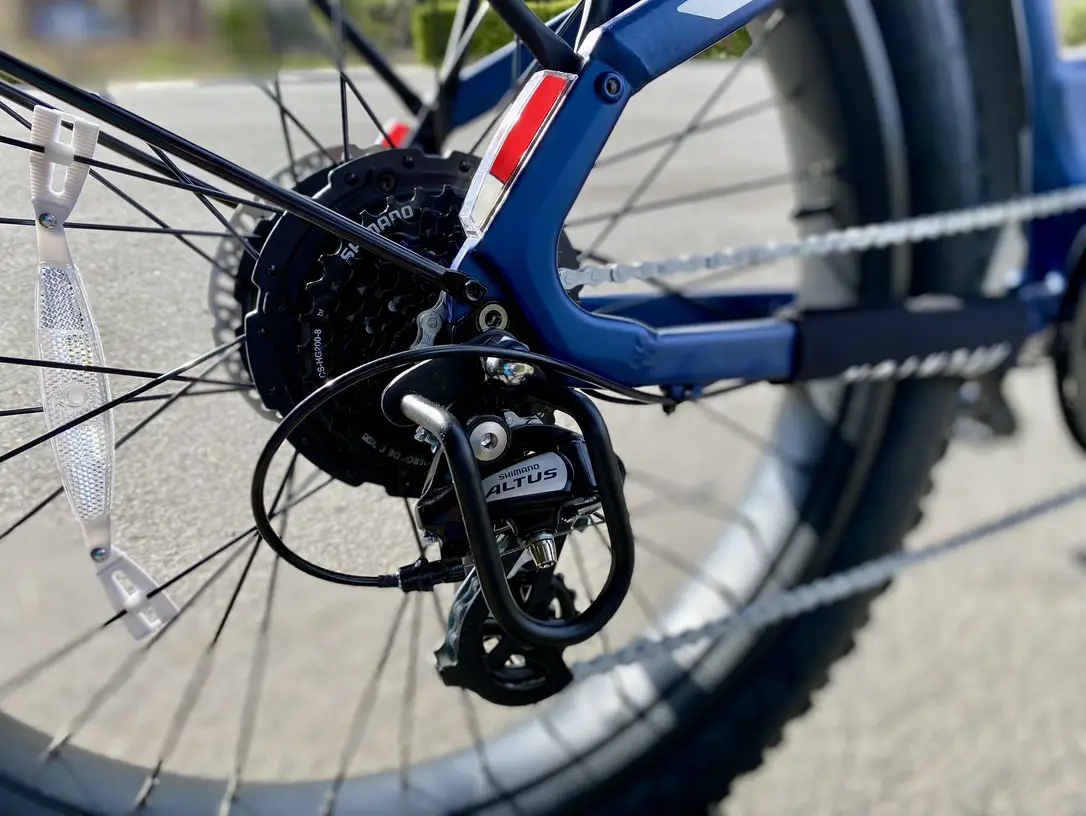 These features have made my ride experience incredibly comfortable. I've gone up and down hills off-road that I wouldn't dare try on other electric bikes. So, I've had a ton of fun riding through canyons and dirt trails, even after it's been raining.
Plus, the 750Watt motor and 4-level pedal assist can take you up to at least 28mph with a battery range of up to 60 miles. Just choose from the color-coded Eco, Tour, Sport, and Turbo modes. I've spent most of my time riding in Eco, Tour, and Sport modes with short throttle bursts. And I've only lost roughly 43% of my battery in 27 miles (43 km).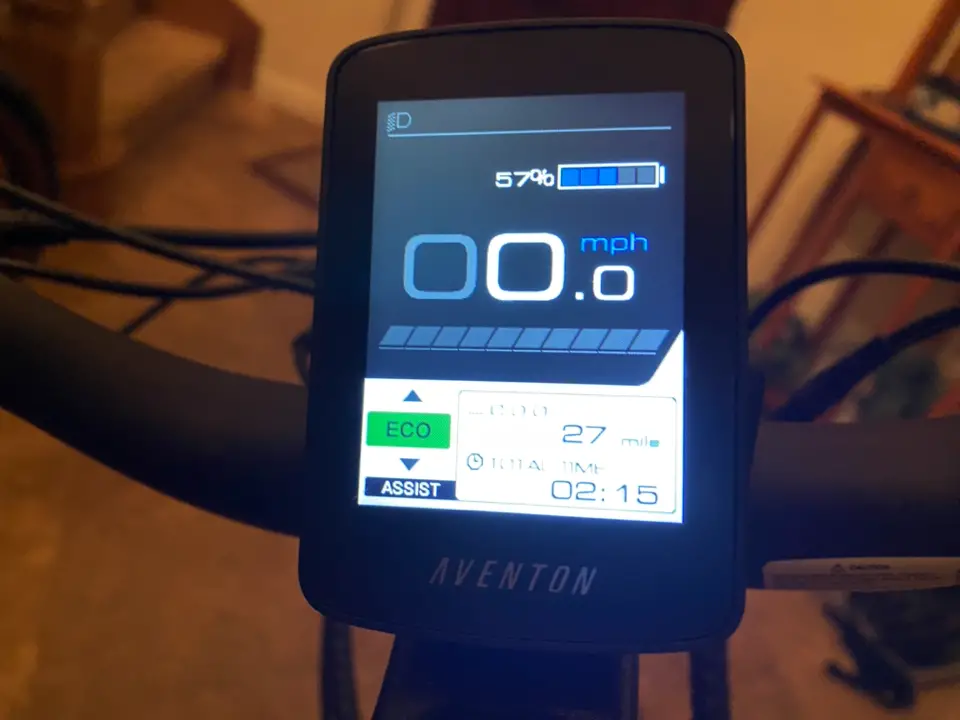 I was also surprised at my level of comfort on the new Aventon Aventure 2 ebike. Not only is it a smooth ride on or offroad, but the ergonomic grips, saddle, and overall fit make the ride experience truly enjoyable. But, if you need a wider saddle, it's easy and inexpensive to replace. 
Further, the Aventure 2 ebike holds up to 400 lbs of weight! Thankfully, you can use the on-demand throttle to help you get moving if there is a lot of weight on the bike.
And I can't forget to mention that Aventon ebikes have included a bunch of features as standard equipment: a strong kickstand, fenders, and a rear rack to tote your gear.
These benefits really add to the amazing value of this electric bike!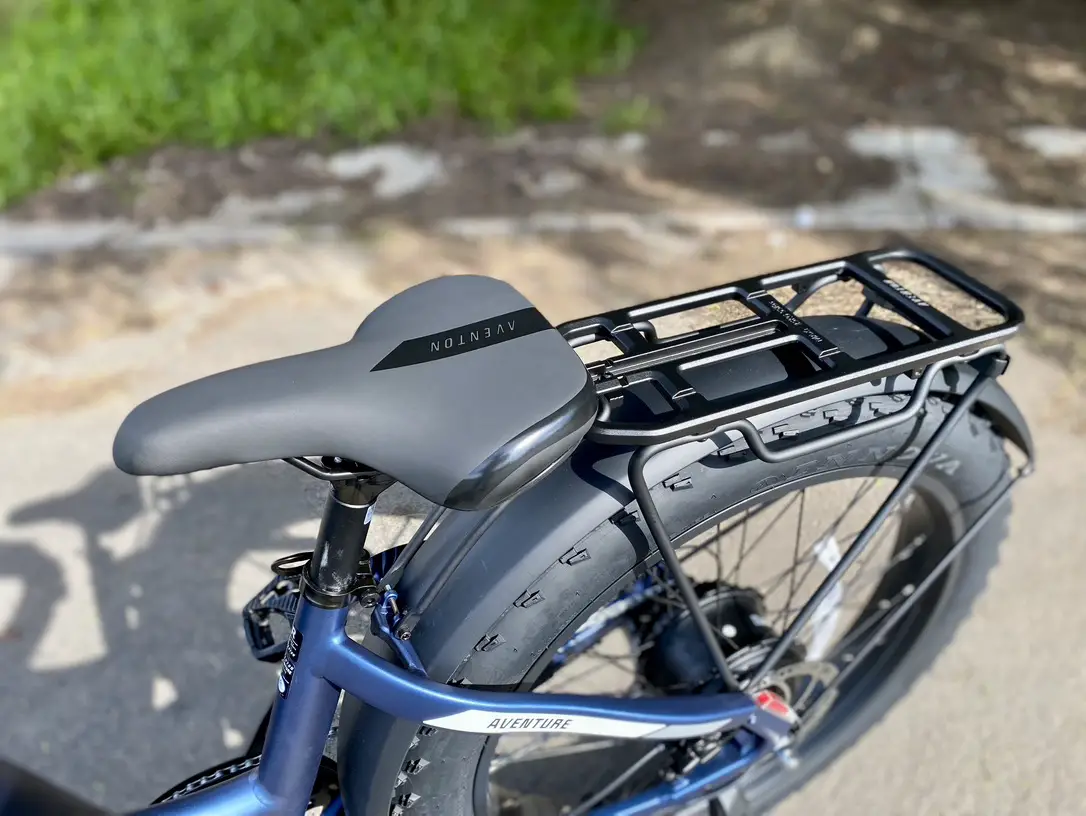 Advanced Tech Features
Another cool advantage of the Aventure 2 is the backlit, smart LCD display that pairs with the iOS or Android Aventon app. Just press and hold the + and – buttons (at the same time) to get the menu. 
Then use the arrow keys to move up or down and choose what you want to modify. Using the app, you can record your ride stats and increase the speed limit up to 51km/h (equivalent to 31 mph). There are probably very few rides where you need to go that fast, and I don't recommend it from a riding safety standpoint.
There's also an integrated headlight and two (2) rear lights with a special new tech twist… turn signals. So, you have a light on either side of the tire. Simply press the left or right arrow for each turn signal. They're a little hard to see during the day but are especially useful at dusk, dawn, or at night when it's harder for cars to see cyclists.
Please use caution, however. I don't think you should rely only on these turn signals since most drivers aren't looking for them. Instead, you should always look around, use hand signals, and know what's coming up behind you in your bike's rearview mirror.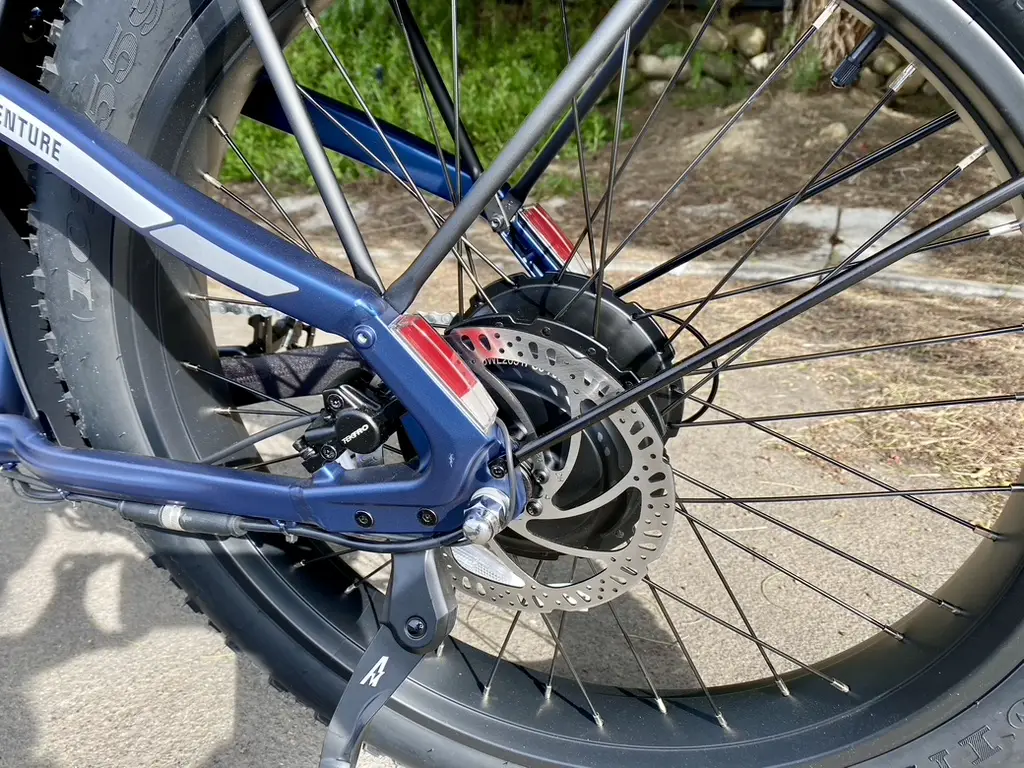 Aventure 2 Size and Fit
Another thing that shoots the Aventure.2 to the top of my best ebikes list is the sizing and fit. You can get a step-over or step-thru model, each with two frame sizes to choose from. Thus, ANYONE can ride, even a shorter person like me. 
Sustainable Packaging
Also, Aventon electric bikes provide sustainable packaging for boxing and shipping, using rope ties and eco-friendly, easy-to-remove tape. Plus, the accessories and extra parts (such as the pedals) come in a super sturdy accessory box that you can repurpose!
Cons of the Aventon Aventure 2 (Reasons Not to Buy)
I'll admit that I'm kind of reaching here for a few cons of the Aventure 2. But you should know everything before you buy. There's only one thing about the Aventure that might be a reason not to buy.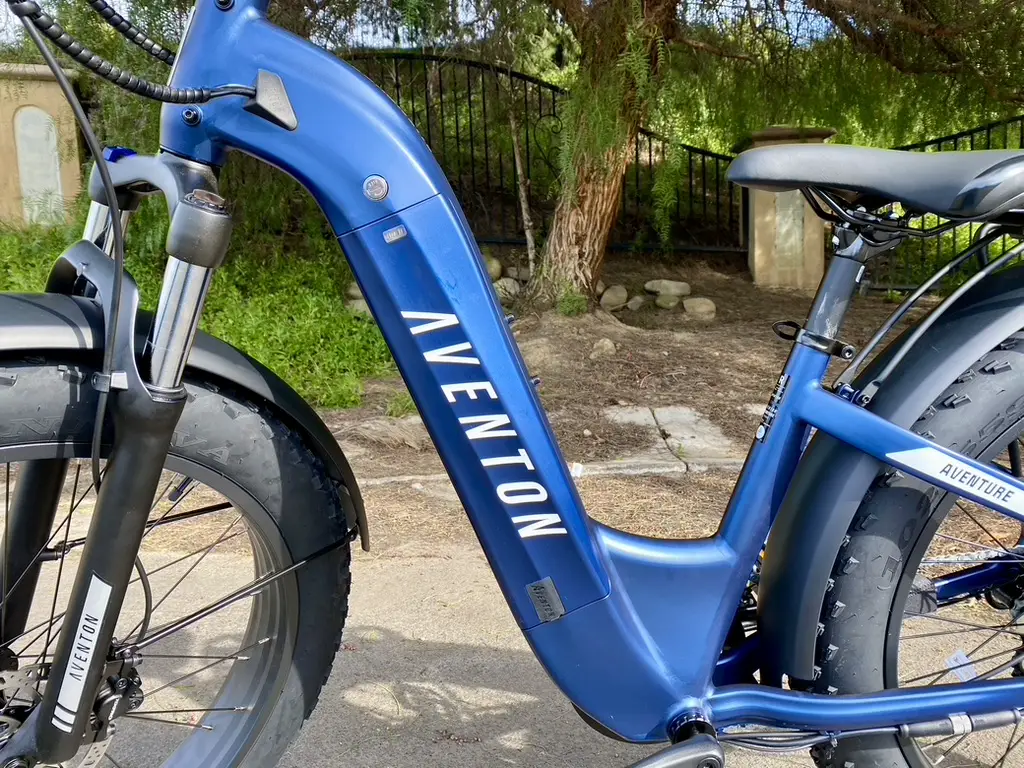 Heavy Electric Fat Bike
The Aventure 2 weighs 77 lbs (35 kg), which is not unusual for a full-size fat tire ebike, but it's quite heavy just the same. The Aventure 1 weighs 73 lbs (33 kg). So, presumably, a little bit of weight was added to enhance the performance of the Aventure 2.
Likely, if you would have trouble lifting 77 lbs, you'll still have trouble lifting any heavy e-bike. However, if you have a riding partner to help or don't see any need to pick up your e-bike, then this won't be a big concern for you.
Truthfully, if you want an adventure electric fat bike, it'll be a heavy ebike no matter which one you choose. Further, even a smaller folding e-bike with 20-inch fat tires won't get you over as much diverse terrain.
So, here are my thoughts. You might as well get the Aventon Aventure 2 since it's one of the best electric bikes with fat tires and a great torque sensor setup. Compare how much electric bikes weigh in this article.
Aventon App Connection
I've found that I have to check my electric bike's connection with the Aventon app to make sure it's recording my stats before each ride. If you don't care about recording your ride statistics, then this isn't a con for you. And it's not a big concern in the first place.
Additionally, when adjusting the speed limit, you can only do it in kilometers per hour. Therefore, you'll have to spend a few seconds looking up the equivalent in miles per hour.
For your information, 51 km/h is equivalent to 31 mph, which is the top speed on the display. I was able to easily get my Aventure 2 up to 28mph (45 km/h). But, I honestly don't have anywhere I feel is safe to test it at a greater speed.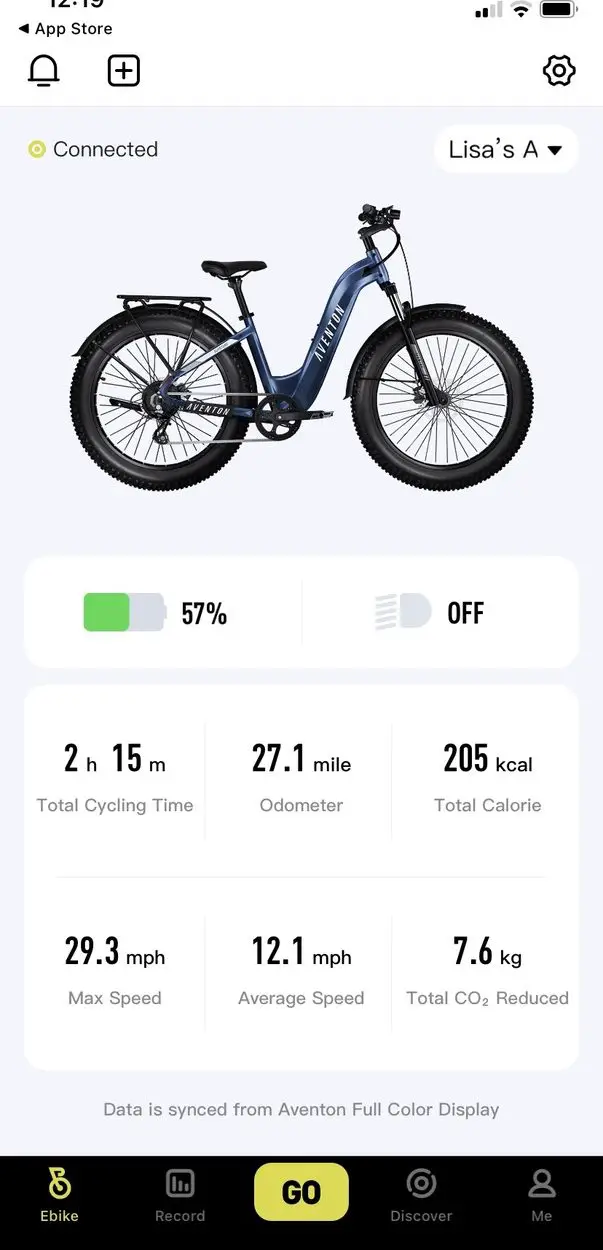 Missing a Simple Feature
Here is one of the most unfortunate things I discovered during my Aventon Aventure 2 electric bike review. With all of the other amazing features, it doesn't come with a bike bell. Yes, I'm joking! However, it doesn't seem like it would be hard for Aventon to add one!
Unboxing and Assembly Time and Instructions
The Aventon Aventure unboxing and assembly were pretty easy. Watch my Aventure assembly video for some tips and tricks.
Weight, Load Capacity, & Dimensions
| | | |
| --- | --- | --- |
|  | Step-Through Regular/Large | Step-Over Regular/Large |
| Bike Weight | 77 lbs | 77 lbs |
| Load Capacity | 400 lbs | 400 lbs |
| Rider Height Range | 4'11"-5'7″/ 5'7″-6'1″ | 5'3″-5'10″/5'10"-6'4″ |
| Stand-Over Height (Inseam) | 19" | 26″/28″ |
| Seat Height | 32″-41″ | 33″-42″ |
| Handlebar Reach | 15" | 15″ |
Aventon Brand Overview
| | |
| --- | --- |
| Service and Support |  |
| 1-Year Warranty | Standard |
| 30-Day Returns | This is a great guarantee that you will love your e-bike |
| Free Shipping | Standard if you live in the Continental United States |
| Affirm Payment Plan | Choose from 6, 12, or 36 months of payment |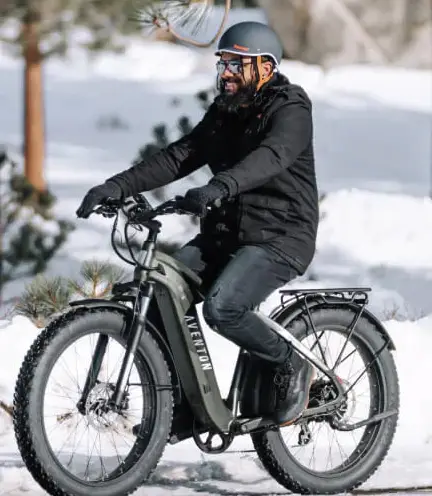 Aventon Aventure 2 Electric Bike Review Wrap Up
The Aventon Aventure 2 electric bike includes powerful and high-quality new technology designed to take you on exhilarating adventures that were once just in your imagination!
With its impressive torque sensor and fat tires, my ride experience has been unparalleled! So, my assessment is that the Aventon Aventure 2 ebike is the best electric fat tire bike for riding both on the street and off-road. 
Again, make sure to watch the Aventon Aventure unboxing and assembly video to see exactly what you'll be signing up for!
Enjoy your ride!
Ready to compare other e-bike brands with Aventon? Take a look: