You've heard of the Aventon brand of electric bikes, and have likely heard friends and family raving about their own Aventon e-bikes. But now that you're interested, it's hard to choose the best one for you from the large variety of options.
The best Aventon e-bike will be the one that matches your riding style, has the features you want, fits into your budget, and meets any special needs you may have.
In this article, you'll find out what you need to know to discover the best Aventon e-bike for you, no matter your size, experience, desires, or needs.
Review the table below that shows who each model is best for. Then continue reading to learn the important details of each e-bike to help you make a final decision.
First, let's discuss whether Aventon e-bikes are really as good as they sound.
Are Aventon E-Bikes Good?
The Aventon brand has an eye-catching line of electric bicycles that come in multiple colors, frame sizes, and various styles perfect for commuting, off-roading, traveling, road-biking, and cruising. Beyond this, the brand has thousands of positive reviews and happy customers for every model.
This speaks to the quality of their e-bikes, excellent features, and top-notch customer service. And, according to Forbes.com, Aventon electric bikes give you the "most bang for your buck".
Another thing I like about Aventon is its focus on making electric biking easy and accessible for you. That's why they design and build their products to be affordable, free to ship, and easy to assemble (many customers are surprised to be able to put together the e-bikes on their own). Aventon also believes that everyone should enjoy the benefits of riding an electric bike (and it's why they strive to make affordable e-bikes).
Other reasons why Aventon, which has been selling e-bikes since 2013, is considered a top brand include:
Great value for the price
Free Shipping on electric bikes (USA)
Full 1-year warranty + 14-day returns
Direct to consumer sales
Online payment plans
Offer accessories to fit their bikes
Offer class 2 and 3 e-bikes (some can even be modified from a 2 to a 3)
All bikes have an average 40-45 mile range
All bikes have a minimum top speed of 20 mph-28 mph
Every model has a step-through frame option
Every model offers 2 or 3 frame sizes
Every e-bike connects to their personal Aventon app
Take a look at how they design the best e-bikes for everyone:
Aventon Model

Top Pedal
Assist Speed
Average
Range
Tires
Best Suited For…
Soltera
20 mph
41 miles
700c
Road bikers; those wanting single-speed simplicity; anyone needing a lightweight electric bike (single-speed or 7-speed)
Pace 350
20 mph
40 miles
27.5″ X 2.2″
Beginning e-cyclists; budget-conscious buyers who want high-quality
Pace 500
28 mph
40 miles
27.5″ X 2.2″
Value-oriented consumers wanting high-quality & extra features at a great price
Level
28 mph
40 miles
27.5″
Commuters & daily road riders; families
Sinch Folding
20 mph
40 miles
20″ x 4″ Fat
Public transportation users, travelers,
& those short on space; riders as short as 4'11"
Aventure
28 mph
45 miles
4″ Fat Tires
Rough terrain & off-road riding; heavy riders
What is the Best Aventon E-Bike for the Money?
All Aventon e-bikes are priced to give access to the most people. They range in price from $1399-$1999. So, what you really need to know is which model gives you the most value for the price?
Considering this, the Pace 500 gives the best value for the money, at a price of $1699. It's not the cheapest e-bike in the line-up, but it gives tremendous value for the money with its integrated front and rear lights (headlight and taillight), hub motor, and battery.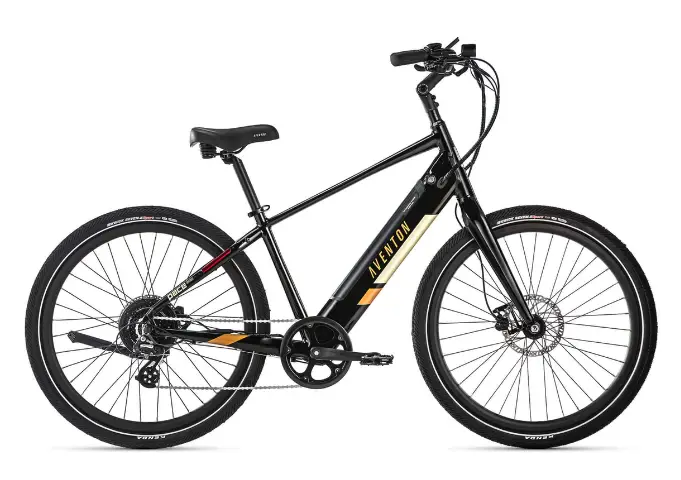 Plus, it generously offers:
5 level pedal assist up to 28 mph
Thumb throttle
An integrated lithium-ion 48V, 12.8Ah battery
Impressive range of up to 25-48 miles on average (40 miles average)
Upright cruiser-style frame
An adjustable stem for comfortable riding
8-speed gear shift
Color display (with Aventon app syncing)
What is the Best Aventon E-Bike for Beginners?
As a new e-bike rider, you need a sturdy, reliable bike that's affordable. The popular Aventon Pace 350 will give you a comfortable, relaxed ride with its upright frame and cushy saddle. With its 350W motor and 36V battery, it packs enough power to make riding fun and easy. Plus it gives you an average range of 24-40 miles.
And just because it's the least expensive option in Aventon's line-up, doesn't mean it falls short. In fact, it offers these features:
Fully integrated battery
Integrated headlight and taillight
Thumb throttle
mobile phone charger
Color display (with app sync)
27.5″ x 2.2″ tires
This is the best e-bike for beginning riders who are on a budget or who don't have a desire for anything more powerful. However, if you plan to go off-road, you should read below to discover the best e-bike for riding in sand, dirt, and gravel.
What is the Best Aventon Electric Bike for Commuting?
As their flagship commuter bike, the Level is the best choice for commuting to work or even college classes. With 28 mph as its top motor-assisted speed, you're sure to get where you need to go fast. And with an average range of 40 miles (depending on pedal assist level and throttle use), you'll be sure to get there without the battery dying.
The Level is also a great commuter e-bike because:
It has a coil spring suspension fork for comfort
A rear rack is included
Included fenders will keep the dirt and gutter water from splashing your work clothes
It fits almost everyone with 3 frame sizes
The powerful motor peaks at 750W (500W rear hub motor)
8 speed
Hydraulic disc brakes
Ships as a class 3 but speed limit can be modified
Still, there might be a better option for you.
If you generally hop on a bus or train to help get you where you need to go, then the Sinch folding e-bike may be the better choice. Just fold up the frame, handlebars, and pedals to carry it onto public transportation. The Sinch is also easy to store in small areas, say in your apartment, RV, or in a corner at work.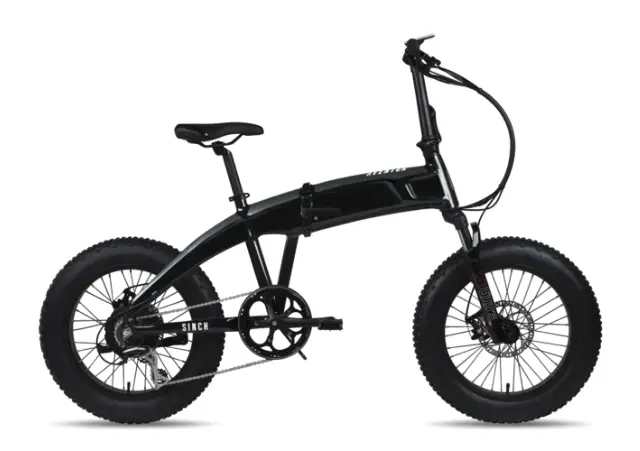 The Sinch folding e-bike also features:
40-mile average range
20 mph top speed
20″ X 4″ wide tires
500W brushless rear hub motor
front suspension fork
In fact, the Sinch has another huge advantage… it seats riders from 4'11" to 6'3″, so it fits nearly everyone.
What is the Best Aventon E-Bike for Off-Road or Gravel Riding?
Rugged, powerful, and versatile… that's what you need if you ride a lot on bumpy trails or gravel roads. Thankfully, the Aventure fat tire e-bike is able to give you a smooth ride wherever you need to go.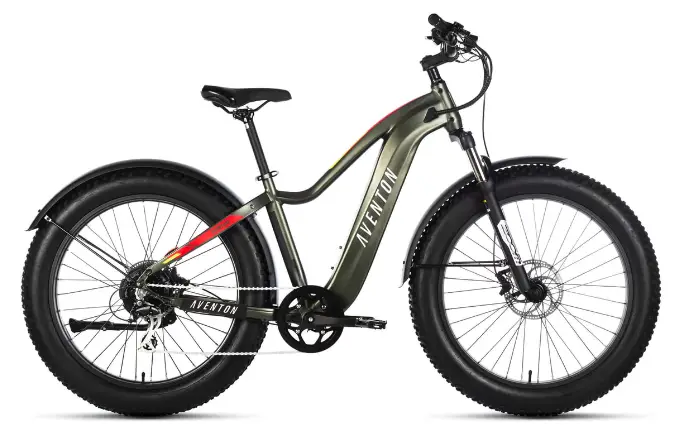 The 48V, 15Ah (720Wh) integrated Lithium-ion battery (removable) will power you over rocky roads and loose dirt or gravel in a smooth fashion thanks to its 26″ X 4″ fat tires and front suspension fork. Choose from 5 levels of pedal assist, which you can adjust to go up to 28 mph or gain speed quickly with the throttle, which can take you up to 20 mph in no time.
Other reasons the Aventure 2 electric fat bike is the best e-bike for rough terrain:
Wide saddle & ergonomic grips for comfort on bumpy terrain
Built-in fenders protect you from flying debris
Powerful 750W (1130W peak power) rear hub motor
Wide gear range (8 speed derailleur)
Class 2 e-bike that can be configured into a class 3 for greater motor-assisted speed
What is the Best Aventon Electric Bike for Heavy Riders?
There's no question that rider weight affects the battery capacity, pedal assistance, and the bike's frame. However, the Aventure electric bike can accommodate riders who are larger. Its ability to hold 400 lbs of weight is unrivaled by any other Aventon bike, not to mention most other companies' electric bikes as well.
There's no doubt that it's a powerful bike… the large, solid frame and 4″ fat tires can carry a heavy rider and equipment fast and efficiently. Plus, the five levels of pedal assist and "on-demand" throttle will make steep hills a breeze to climb.
See the more detailed electric bike reviews in the section above!
One thing to note: This e-bike weighs 73 lbs all by itself, so consider if you'll need to lift it and whether you will be capable of doing so.
What is the Best Aventon EBike for Families with Small Children?
If you're looking to carry a small child with you on your ride, then the Level electric bicycle, with its integrated rear rack, is a good choice. If you will be adding a child seat to your e-bike, make sure to check weight limits for the bike, the child safety seat, and the rear rack independently.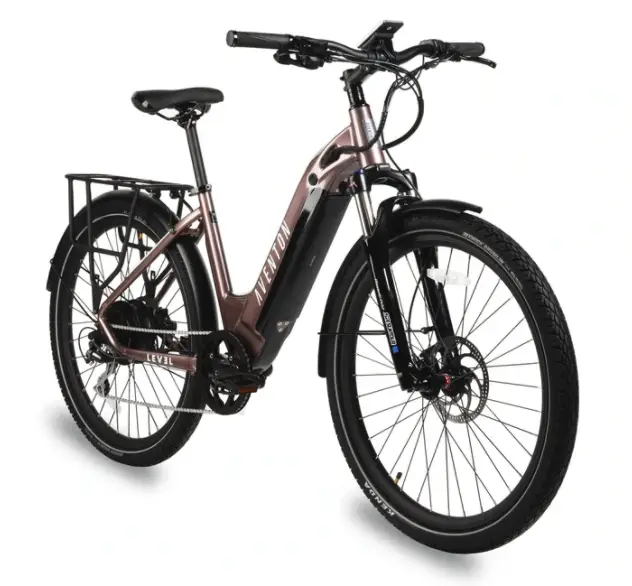 As the Level has a payload capacity of up to 300 lbs, carrying a small child up to 45-50lbs (in a properly installed child seat) shouldn't be a problem. Further, you can be assured that your small passenger will be safe since it'll stop fast and easily with its hydraulic disc brakes.
The Level is also a perfect bike for you if you have older children riding alongside you. Not only is it a comfortable ride, but you'll also be able to carry the family picnic or all of the kids' sports equipment to the park!
What is the Best Choice Aventon E-Bike for Seniors or Handicapped Persons?
If you're a senior rider, have injuries, or are handicapped, you want an e-bike that's manageable and lightweight. The Pace 350 Step-Through fits the bill weighing only 49 lbs, the lightest e-bike in the Aventon brand.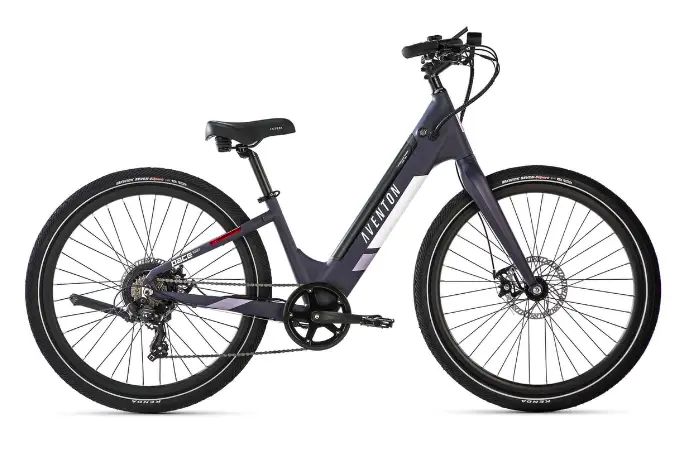 It may also be the best electric bike for you because:
It's very affordable
It's a comfortable ride in an upright position
If offers a wide saddle seat
The 350W motor isn't overpowering
It holds up to 300 lbs
You should note that I'm recommending the Step-Through version, as opposed to the Step-Over model. The Step-through makes it easy to get on and off your e-bike without having to swing your leg and hip over the top of the bike. And, it makes it easier to get off if you need to do so in a hurry!
If you're concerned about keeping your balance, however, then you should find out more about electric trikes before buying an electric bicycle.
What Is the Best Aventon Bike for Exercise (and Speed)?
Realistically, you can get great exercise on any electric bicycle, depending on how you ride it, where you ride it, and how much pedal assistance you use.
That being said, the Soltera is designed with a more "aggressive" frame that traditional cyclists, who ride for speed and fitness, would choose. Plus, it's a fixed gear bicycle (with a 7-speed option), lighter-weight (41-43 lbs) design that allows for more agility weaving in and out of tight spots.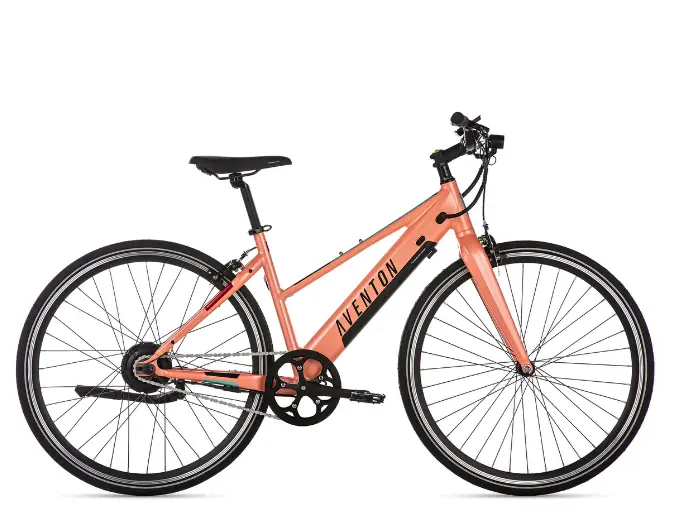 Although it still only reaches the average speed of class 2 (20 mph), it can zip along flat ground, up steep hills, and downhill thanks to its frame geometry.
Plus, the Soltera:
Is the least expensive model
Still has quality components
Has integrated lights and battery
Offers five pedal assist levels
Includes a throttle
Gives you a choice of many bright colors
What are the Best Aventon E-Bikes for Everyday Use?
The answer to this question isn't that straightforward, as it really depends on what type of riding you're doing every day. In general, either the Pace 500, Level, Sinch, or Aventure will be the best for everyday use.
If you're riding off-road, then the Aventure with its sturdy frame and 4″ wide tires should be your top choice. Plus, you can absolutely ride it on the pavement as well, so it should have you covered no matter where you go.
But, for commuting or running errands, the Level commuter bike and the Sinch Foldable e-bike are both great for riding every day.
And then there's the Pace 500 which offers the greatest value for the money, which is a good thing to consider when it comes to wear and tear.
As you can see, if you'll be riding frequently, you have a lot of options. So, make your decision based on where you'll be riding the most, overall value, and your budget.
Final Thoughts
Choosing a high-quality e-bike from the Aventon brand doesn't have to be difficult, even though there's a great line-up of electric bikes to choose from. Decide what you want most in an e-bike and where and how you'll ride it (like what pedal assist level you'll use most, if you need rear racks, or if you place an emphasis on ride quality, perhaps aiming for a smoother ride). If you'll be riding at night, for example, make sure you're getting front and rear lights.
To make it easy, find the question above that speaks to your needs, and be sure to check out the table showing you what each Aventon electric bike is best for.
Considering other e-bike brands? Find out: