When choosing the best electric bike, there are several reputable brands to choose from. However, Rad Power Bikes and QuietKat are two of the best options in the e-bike market. But how do these two brands compare, and which one has the best bikes? 
Both Rad Power Bikes and QuietKat are on par regarding quality e-bikes. If you're looking for a quality off-road or hunting or sporting e-bike, QuietKat has the best options. However, Rad Power Bikes is the ideal brand if you want a comfortable e-bike for your daily commute or recreation. 
In this article, we'll look at both e-bike brands in detail and compare the best-selling models of each. I'll also discuss what factors to consider before buying an electric bike and how to choose the right model for your needs. 
Rad Power Bikes vs. QuietKat: Basic Comparison
Both Rad Power Bikes and QuietKat have several models to choose from. However, Rad bikes have a greater variety of different models as compared to QuietKat which focuses on electric fat bikes.
Rad bikes meet the maximum speed limit requirement of 20mph (12.43kg) for riding an e-bike on most roads and trails. However, QuietKat has models that come with motors over 750 watts and have unrestricted speed limits. Therefore, you may not be allowed to legally ride them on public trails and roads.
In addition, you typically don't need a license to use the electric bikes offered by either brand. Just be sure you're following the same road rules as other cyclists.
Both Rad Power Bikes and QuietKat are established brands that offer warranties on all their e-bike models. Both companies also have reliable support departments and will cover you if you receive a defective product. 
Also, both brands offer a wide range of e-bikes, many of which can be modified. However, QuietKat electric bikes have more modification options, albeit at a higher price range.
So, what makes these brands different? Let's discuss the pros and cons of each of them and examine the best bikes offered by both brands.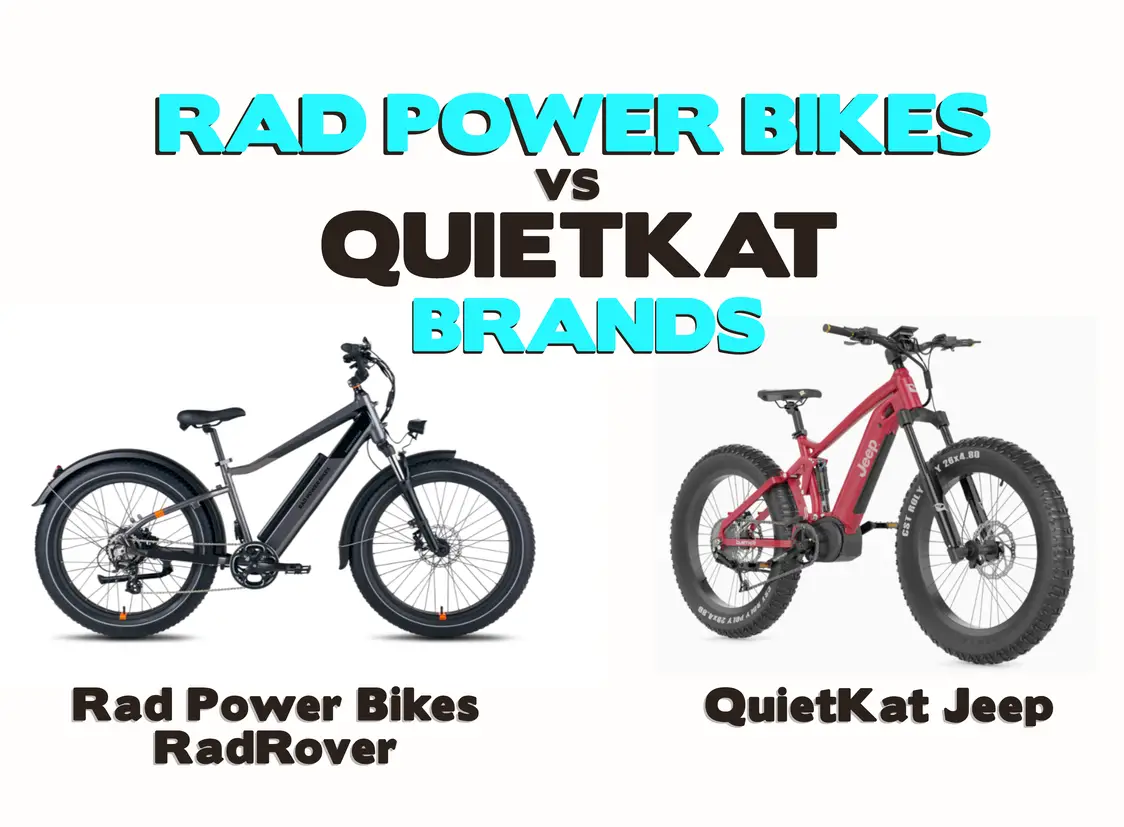 Rad Power Bikes Pros and Cons
| | |
| --- | --- |
| Pros  | Cons |
| Good range on most models | Doesn't offer enough specialist options |
| Comfortable and easy to ride | Some e-bike models can be heavy |
| Affordable | Some models have only single-frame options |
| Perfect for inner city commute | |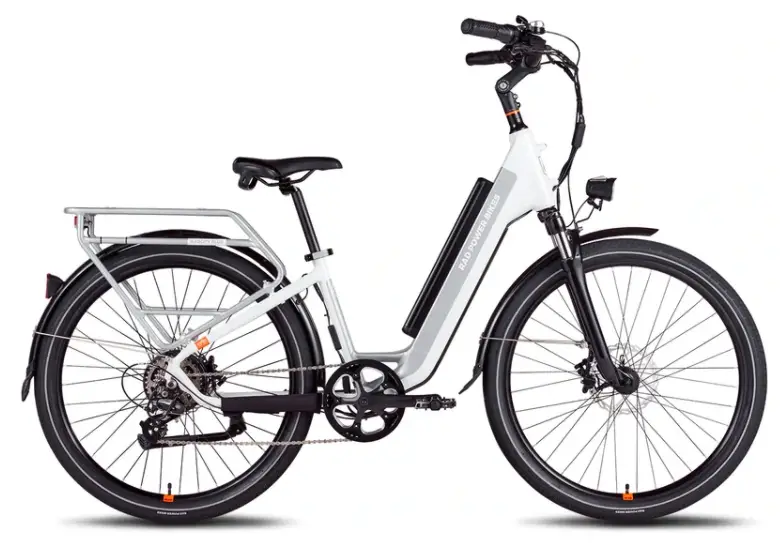 Rad Power Bikes are comfortable and offer a great battery range, especially if you choose an inner-city option. They come with puncture-resistant tires, 5-level pedal assist, LED lights, and other features designed to make your commute much smoother. 
Most Rad Power Bikes also come at an affordable price. 
The primary downside is that they don't offer specialized electric bikes. For instance, if you want a heavy-duty hunting e-bike or an electric mountain bike, you won't get the best-specialized option with Rad Power Bikes. 
However, they do have an electric trike in addition to models that can ride off-road.
While they do come with modification options, it's not the same as buying a thoroughly modified e-bike. Nevertheless, Rad Power Bikes offer great value for money, and this brand is ideal if you're looking for something reliable for your daily commute and the occasional weekend trip. 
Rad Power Bikes RadRover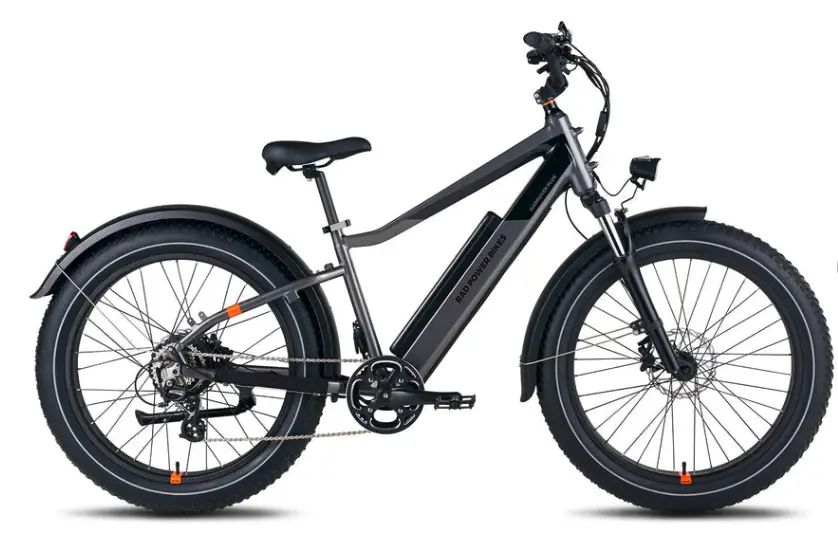 Since QuietKat specializes in fat tire e-bikes, it makes sense to compare it to the best fat tire Rad Power Bike. The RadRover is ideal if you need a powerful motor and 4-inch wide tires on your e-bike. It also has a suspension fork with lockout, hydraulic disc brakes, and a 12-magnet sensor pedal assist. 
Like many other Rad Power Bikes, the RadRover has adjustable handlebars, integrated headlight and taillights, and 7-speed gear shifts to enhance your riding experience. And with a lithium-ion battery and twist throttle feature, this electric bike offers a unique balance between power and range (up to 45-mile range). 
Best of all, it's more affordable than many other fat-wheel electric bikes or specialized electric bikes.
Pros
Twist throttle gives an instant push. 
It's well-balanced and quite comfortable. 
It has a lockout feature on both the suspension fork and the battery. 
It has a comparatively longer battery life than many "heavier" e-bikes. 
Cons
Pedaling with the battery in lockout mode can be tiresome. 
The rear rack is optional.
Top weight capacity is 275lb (less than QuietKat models).
QuietKat Pros and Cons 
| | |
| --- | --- |
| Pros  | Cons |
| Thick puncture-resistant tires for off-terrain | Most options are expensive |
| Option for a more powerful motor | Many of these ebikes are heavy to pedal |
| Decent range on most models | |
| Easily modifiable | |
| Different size frames on most models | |
| Integrated battery | |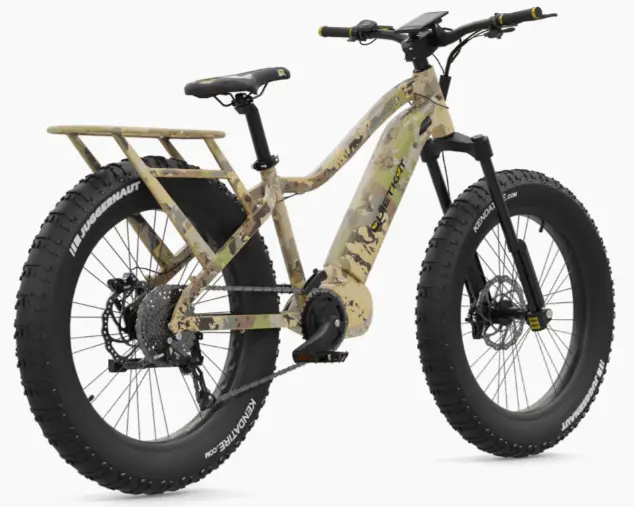 When it comes to electric mountain bikes and specialized hunting bikes, QuietKat is a market leader. Most QuietKat e-bikes are thick wheel models that have puncture-resistant tires and can carry heavy weights. 
The motor power in QuietKat brand e-bikes also provides extra leverage when driving uphill or if you need to get out of a ditch. 
The 750W-1000W engine power of most QuietKat electric bikes allows you to carry up to 325 lbs (147.42 kg), which is significantly more than what many other brands offer. These bikes also offer 5 pedal modes and have a full power mode that allows you to ride effortlessly in rough terrain. 
The only downsides of QuietKat e-bikes are that they are expensive and difficult for smaller riders to handle. The sturdy frame is great for off-terrain riding, but many people find the full pedal mode quite difficult to handle. 
Fortunately, the large battery capacity means you'll hardly ever have to resort to the full-pedal mode. 
QuietKat Jeep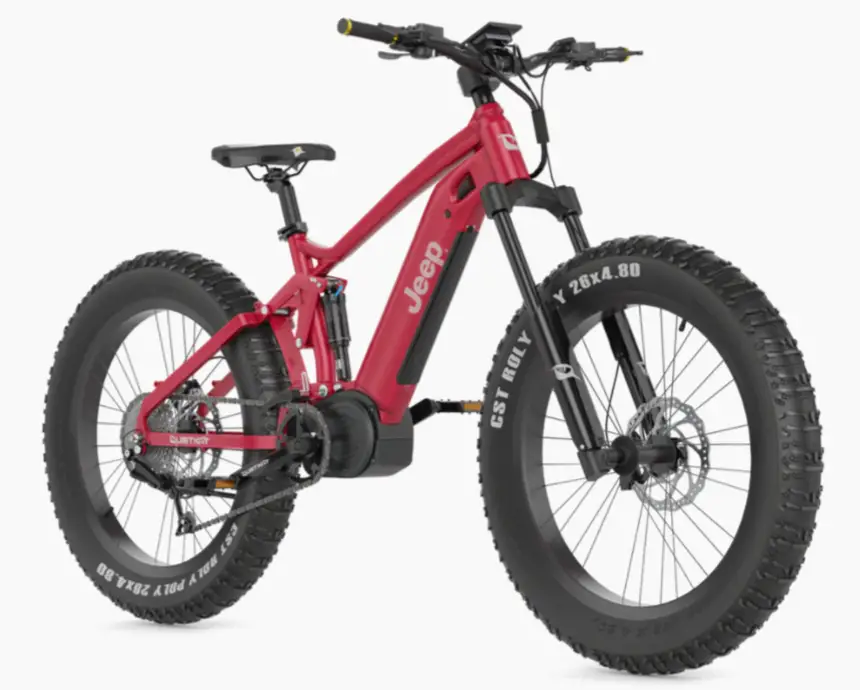 The QuietKat Jeep is the pinnacle of off-road electric bikes, with its large 4.8" (121.92 mm) puncture-resistant tires and a 1000W motor capacity designed to carry heavy loads. With a maximum power output of 1500W, the QuietKat Jeep is one of the most powerful electric bikes. 
It's also designed for longer hunting and angling trips and has a range of up to 63 miles (101.38 km). The "Jeep" also has modification options, and you can fit an angling or hunting kit for smooth fishing and hunting trips. 
The only downside to this e-bike is the price. At over $6,000, it's certainly heavy on the pocket. However, you'll have to consider this a premium off-road e-bike. 
Pros
Has a range of 63 miles (101.38 km) with the Rubicon model. 
Comes with an upgraded suspension and four-bar linkage.
Thick puncture-resistant tires for off-road terrain. 
Has a powerful motor that can be improved with upgrades. 
Cons
One of the more expensive e-bikes with pedal assist. 
It's pretty heavy and can be difficult to handle in the pedal-only mode. 
What To Consider When Buying an Electric Bike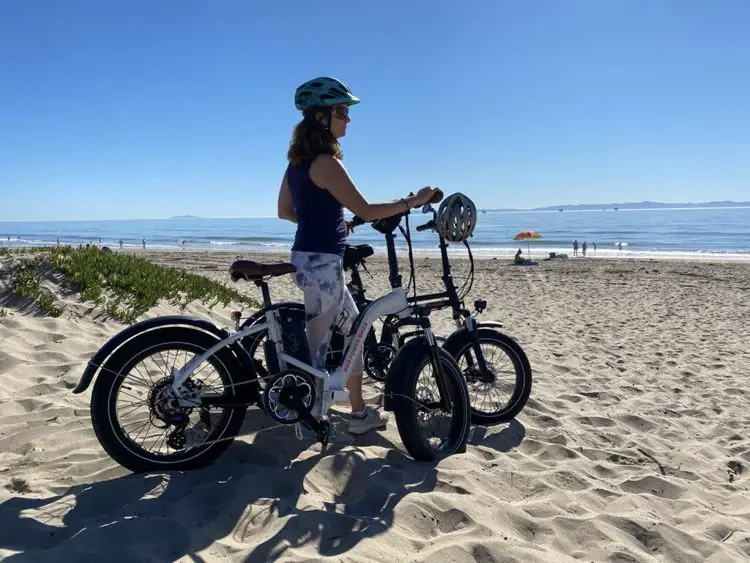 While Rad Power Bikes and QuietKat have options for all types of terrain, you'll want to consider a few factors before choosing an e-bike that suits your needs. Below are the main factors worth considering if you want to buy an e-bike.
Motor Output
Always look at motor output as it determines how much weight your bike can carry and how easily you can get out of ditches. If you're planning on riding in off-road terrain, look for an e-bike with more motor power such as a QuietKat bike.
Range
The range of an e-bike is always a big selling point and is one of the most important factors to consider. Whether you're looking for a daily commuter electric bike or one for hunting trips, always go for something with a longer range if you plan on riding frequently.
An average range is around 40-45 miles, which is more than adequate for many people. Either Rad Power Bikes or QuietKat are suitable.
Battery Longevity
Unfortunately, some of the better-performing e-bikes don't have long-lasting batteries. Always learn how to take care of electric bike batteries since replacing batteries can be quite expensive. 
It's a bonus if you know how to check your bike's battery health so you don't get stuck with a depleted battery on a long trip.
Final Thoughts 
It's clear that both QuietKat and Rad Power Bikes offer a decent range, engine power, and reliability. Rad Power Bikes have more affordable options if you're looking for a reliable inner-city e-bike for your daily commute or plan on riding just for fun and simple utility (like going to the grocery store).
However, if you're looking for a specialized hunting or angling electric bike and have the budget for extra features, QuietKat has the best quality options.
You might also wish to compare these brands before making a decision: