When you're ready to get out and ride your electric bike, you're probably wondering where it's legal to do so. With so many confusing laws and regulations, it's especially hard to understand where you can ride in the USA.
So, where can you ride your e-bike legally?
You can ride your e-bike in many places that regular bikes are allowed. The chart below shows where it is legal to ride in the United States. These are the places that you can generally ride, but there may be some restrictions based on the classification of your bike or state laws (so read further).
Class 1 E-Bike
Class 2 E-Bike
Class 3 E-Bike
National Parks
YES
YES- May Be Limited
YES- May Be Limited
State Parks
Check Each
State Park
Check Each State Park
Check Each State Park
Bureau of Land Management (Federal)
Motorized Trails/Open OHV (Off-Highway Vehicle)
Motorized Trails/Open OHV
Motorized Trails/Open OHV
Non-Motorized Trails & Bike Paths
Most States
Most States
Most States
Roadways (Bike Lanes)
Yes, unless classified as motor vehicle
Yes, unless classified as motor vehicle
Yes, unless classified as motor vehicle
See Electric Bike Classifications Below
The truth is that there are different regulations for each state, government agency, and the local area. And many of these regulations are based on a classification system for Low Speed Electric Bicycles that many (but not all) states have adopted:
E-Bike Class
Pedal-assist: Motor only
assists if rider is pedaling
Maximum Power
Output (Watts)
Motor Ceases
to Assist (miles per hour)
Class 1:
Yes
750W
20 mph
Class 2:
No
750W
20 mph
Class 3:
Yes
750W
28 mph
E-Bike 3-Tier Classification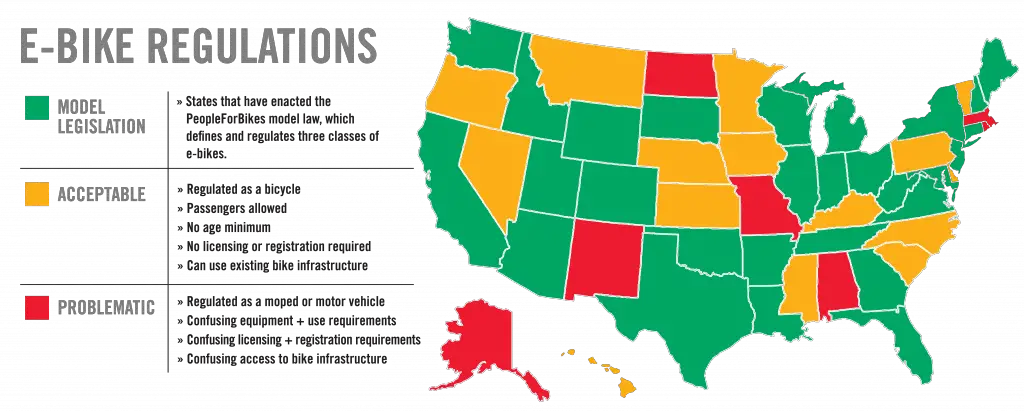 The laws are definitely a bit confusing, so continue reading to find out where you can legally ride and when you need to get more information before you do.
You certainly don't want to get fined because you were riding in a place that you weren't supposed to.
Riding E-Bikes in the USA: National Parks
National Parks in the United States have finally made e-bike riding legal as of 2019! E-bikes are generally allowed anywhere that traditional bikes have always been able to go.
This is very exciting because now almost anyone can see much more of the parks than they ever could on a regular bike. This includes people who otherwise have been limited due to age (seniors or your kids), disability, or fitness. Anyone riding an e-bike can travel farther with less effort!
And e-bikes provide benefits to the parks themselves. They can decrease auto traffic, increase parking availability, improve air quality, and even provide transportation for park employees. Further, more cyclists on the roads will help their visibility and encourage cars to slow down.
But there is one place e-bikes (or any bike for that matter) can NOT go… EVER: Wilderness areas. So, stay on the roads and paths that are designated for bicycles!
And keep in mind that you still need to follow park rules, which can change often due to weather, traffic conditions, and even wildlife.
For example, parks may limit riding based on the classification of your bike (1, 2, or 3). In these cases, Class 1 e-bikes may be allowed on a particular trail, but Class 2 or 3 bikes won't.
Further, Class 2 e-bikes are not allowed to use their motor exclusively to propel forward. You must ride the bike as you would any other bike… by using the pedals.
Rules of Riding in State Parks in the U.S.
In general, each state has its own e-bike riding rules. Therefore, you'll definitely want to check with each state and individual State Park before going.
However, many states have updated their e-biking guidelines and have followed the newest classification system.
For example, in California, Class 1 and 2 e-bikes are generally allowed wherever standard bikes are. However, if they've been altered or are specifically prohibited (due to their classification, motor wattage, etc.), then they may not be allowed in certain locations.
So, if the state park you plan on visiting doesn't have specific rules, you might assume your class 1, 2, or 3 e-bike can go where other bikes can.
In fact, many state parks offer "hike or bike" campsites, which are located further away from the crowds. When making your reservation, be sure to ask about the use of electric bikes.
Most importantly, just be kind and respectful. Slow down when approaching others and make sure you know exactly how to ride your bike before going into a populated area. And never ride off trails or in wilderness areas, for your safety as well as to protect the natural landscape which we are all there to enjoy.
One more important note: There are still some states who have not caught up to the new classification system and may view your electric bike as a motorized vehicle, thus making it ineligible to ride on certain paths and trails.
If you live in one of these states, I'd definitely contact the state park you want to ride in before attempting it in these states!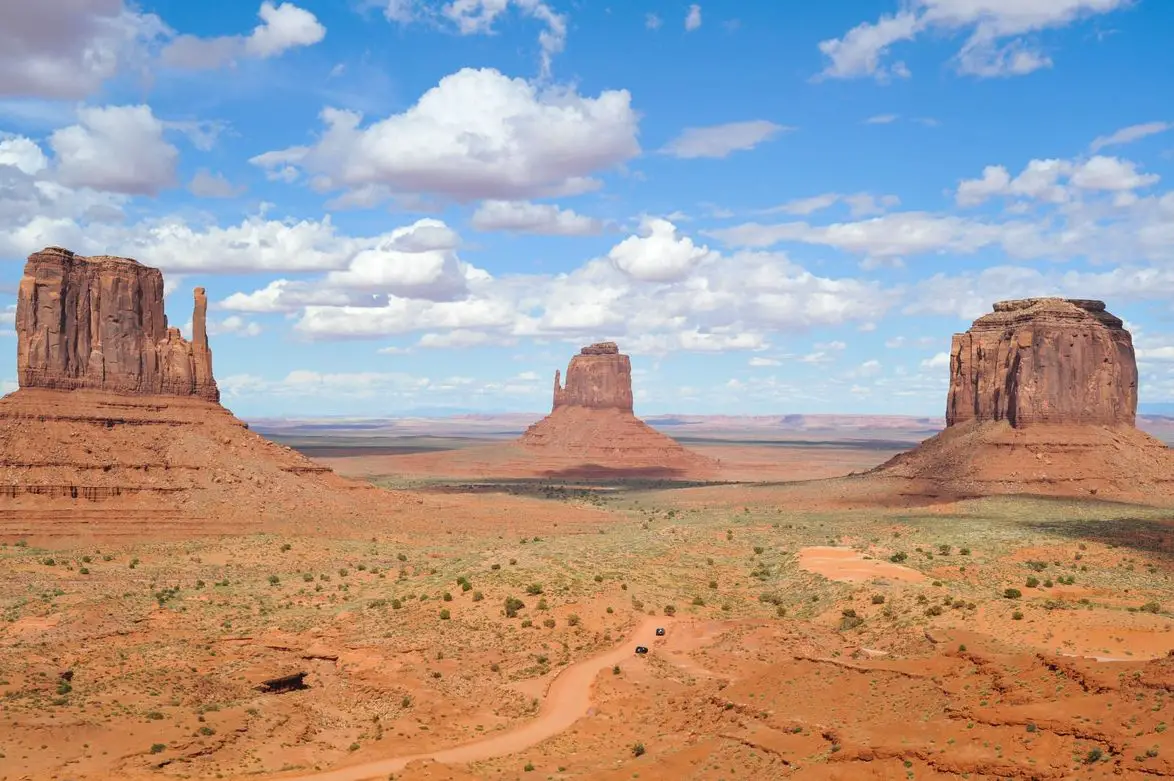 Bureau of Land Management (BLM)
Access to e-bike riding has been extended to public lands. This gives all riders the ability to ride on trails that allow motorized vehicles.
Additionally, in December 2020, an e-bike rule was put into effect which defines e-bikes and determines their use on non-motorized trails as well. This rule allows BLM managers to authorize the use of electric bikes on non-motorized trails but doesn't actually give the okay to do so… yet.
The good news is that the BLM believes that e-bike usage on public lands is good for all Americans and is continuously working on making public lands more accessible. So, it's expected that land managers will re-evaluate land use and issue some plans to open more trails to electric bikes soon.
Always make sure to check with each Bureau of Land Management location before using non-motorized trails. Or, plan to stay on already-approved motorized and Open OHV (Off-Highway Vehicle) trails.
And make sure to follow posted rules and protect trails by avoiding them during wet and muddy conditions. Further, make sure you have off-road tires or a fat tire bike to ride in sand and dirt!
United States Roadways: Laws for Riding an E-Bike
The United States has its own set of regulations for safety and the manufacturing of e-bikes. And Federal law allows them to go up to 20mph using a motor but states no maximum speed if the bike is operating as pedal-assisted.
However, actual e–bike riding laws are left up to the individual states (and local areas) to determine.
This means you'll have to turn to the legalities of the specific area you're riding in to determine the road laws. In general, and in most states, e-bikes are allowed in bike lanes or on the roads, just as with any other bicycle.
As mentioned above, most states have updated their e-bike laws and view e-bikes as either "motorized bicycles" or "electric bicycles". Unfortunately, a few states still classify them as motorcycles, mopeds, or even motor vehicles. So, check with your state and local area to see if you can ride on the roads and in bike lanes.
As ridiculous as that is, laws in these states may be very strict on where you can ride your e-bike.
Riding E-Bikes Legally on Bike Paths and Non-Motorized Trails
Electric bike access to trails and paths can vary significantly in the USA. Again, where it's okay to ride depends mostly on your state, county, and local trail laws. This is true even for the states with the more advanced laws and using the e-bike classification system mentioned above.
Generally speaking, however, in most states you can ride your e-bike on any path that allows for motorized and non-motorized use (here are some great places to ride in California) (here are some great places to ride in California). And trails that are only for non-motorized use may be acceptable, but you'll need to check with the county, city parks and recreation, or local trail management.
Any trail that doesn't allow bikes at all usually has a sign posted at the beginning of the trail. However, who wants to travel to a trail with bikes in tow only to find out they can't use them?
And if you have an eMTB (electric mountain bike), you're not automatically given permission to ride anywhere that other other mountain bikes are allowed.
Other Places to Ride Your E-Bike in the USA
Fish and Wildlife Service (FWS):

Permits all 3 classes of e-bikes to ride where other standard bikes are allowed. Your e-bike must use the pedal-assist mode and individual wildlife refuges or FWS lands may have other restrictions.

Check with your local wildlife refuge before riding.

Bureau of Reclamation (BOR):

E-bikes are considered "Off-'road vehicles". However, the BOR will look for areas that traditional bikes use and may open those areas to e-bikes as well.

Check with your local office before riding.

National Forest Service (NFS):

Unfortunately, electric bikes are classified as "motor vehicles". Therefore, only trails and roads that are designated for motor vehicle use can be ridden.

In other words, if a car can drive on it, so can an e-bike. But keep an eye out for changes. Currently, there are a couple of locations in the United States that allow only Class 1 bikes on a limited trail system (Durango, CO and Mammoth, CA).