Here's the #1 thing I love about electric bikes… you can ride just about any hill, paved path, road, or bike trail because you have the power of the motor behind you! And long-distance riding is certainly easier. 
Yet, you might still prefer to stay on paved trails, even as an e-bike rider.  Not only do asphalt and concrete bike trails give you a smooth ride, but they also allow you to see more and adventure further. However, finding the best paved roads for e-bike riding is time-consuming and requires digging through article after article. 
So, to make it easy, I've compiled a list of the best places to ride electric bikes in the USA… and they're all paved trails!
First, I've put together a table of the best paved bike trails in the U.S., listing their location, name, distance one-way, weather, amenities along the route, and what makes each one special for a long ride on your e-bike.
Then, keep reading to learn other important information about each e-bike trail, including where to find the trailhead for each one.
| | | | | | |
| --- | --- | --- | --- | --- | --- |
| USA Bike Trail Location | Name of Paved Bike Path | Distance (one-way) | Weather Concerns | Amenities | Need to Know |
| 1. Cape Cod, MA | Shining Sea Bikeway | 11 miles | Can be very windy as well as very cold in the winter | Falmouth or Woods Hole on either end of the ride provides water, food, and restrooms. | Witness beautiful scenery and diverse terrain on a short e-bike ride |
| 2. Provo, UT | Provo River Parkway | 15 miles | Summers are hot and dry but winters can bring snow and freezing temperatures | Parking, restrooms, camping, water, Utah Lake State Park | Connects with the Golden Spoke Network of 100+ miles of trails |
| 3. Coeur d'Alene, ID | Trail of the Coeur d'Alene | 73 miles | Winters are cold and snowy… Summer is a beautiful time to ride your e-bike | Bike-friendly businesses along the way | You'll need to charge your e-bike battery along the way or take a few days to see it |
| 4. Monterey, CA | Monterey Bay Coastal Recreation Trail | 18 miles | Can be breezy and cool, as well as foggy, throughout the year | Lots of places to stop on the south end of the ride in Monterey. Other towns along the way as well. | Primarily separated from traffic but gets busy on weekends. |
| 5. Ventura, CA | Rincon Bike Trail | 20 miles | Mild temperatures year-round but can be very windy, especially when going fast on e-bikes | Ventura or Carpinteria (Beginning or end of trail) + Fire Station 25 + Rincon Point | Must get on 101 FWY for about ½ mile (wide bike lane) + ride on some streets with traffic |
| 6. Henderson, NV | River Mountains Loop Trail | 35-mile loop | Deadly hot in the Summer: Ride this trail throughout Fall, Winter, and parts of Spring | Amenities at Lake Las Vegas, Hoover Dam & Boulder City | Keep an eye out for Bighorn Sheep |
| 7. Jackson Hole, WY | North Pathway | 20 miles | Lots of snow and cold in the Winter | Jackson Hole & Greater Yellowstone Visitor Center | Beautiful scenery… Watch for large wildlife (Bison, Elk) |
| 8. Miami, FL | Shark Valley Trail | 15-mile loop | Hot and humid much of the year, but pleasant during the winter & early spring | Visitors Center in Everglades National Park | May have to pedal around alligators & turtles |
| 9. Calhoun & Cleburne Counties, AL | Chief Ladiga Trail | 33 miles | Above-average rainfall, mild temperatures overall, but hotter and humid in the summer | Town of Piedmont a little over halfway point (Stop for amenities before continuing) | Connects to Georgia's 62-mile Silver Comet Trail |
| 10. Crow Wing State Park, MN | Paul Bunyan State Trail | 115 miles | Bitter cold in the winter; summer is pleasant | 5 Electric Bicycle repair stops along the way | Perfect for touring with towns along the way |
| 11. Columbia & Washington Counties, OR | Banks-Vernonia State Trail | 23 miles | Mild temperatures year-round but summer is the best time to ride your e-bike | L.L. Stub Stewart State Park near halfway point + town of Vernonia at the end  | Bridges and Trestles |
| 12. WA, ID, MT, WY, NE, IA, IL, IN, OH, PA, WV, MD, DC | Great American Rail-Trail | 3700+ miles | Be prepared for all weather systems depending on the portion of the trail | Check with each trail location  | 139 trails You'll have to pick and choose which trails to ride (only 50% of the trails are completed) |
1. Shining Sea Bikeway (Massachusetts)
This amazing rail-trail bike path is perfect for starting to explore riding your electric bike long distances. But it's also totally worth it for any e-bike rider.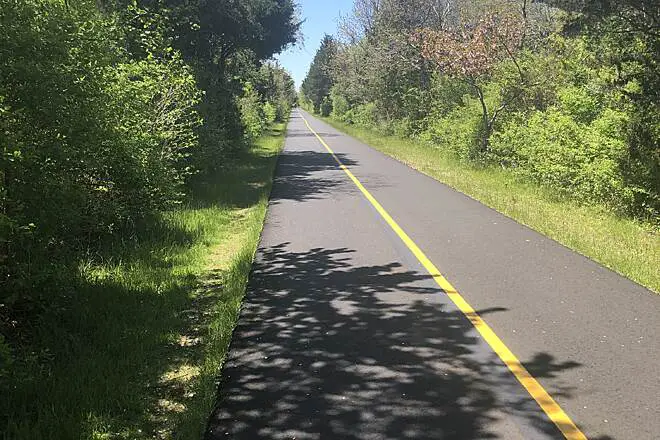 You'll ride wooded areas, through a saltwater marsh, past beautiful rivers, and get a scenic view on the section of Cape Cod seaside. If starting in Falmouth, you'll end your ride overlooking the Atlantic Ocean with the opportunity to take a swim or relax on the beach.
I've listed this as one of the best places to ride electric bikes in the USA because it was named after the "America the Beautiful" song lyrics…. And because it includes some of the most diverse terrains you'll see on a 10-mile bike ride.
Paved Trailhead
Start at the Falmouth Depot Road trailhead near Pine Street for the easiest parking (and to enjoy the best scenic reward once you reach your destination). The Woods Hole trailhead can be quite congested.
2. Provo River Parkway (Utah)
"Parkway" is a perfect name for this bike trail, as it winds from Utah State Park to Vivian Park in Provo Canyon. Plus, there are a few other parks along the way!
With a gradual incline, this multi-use trail is mostly flat with just a few steep uphill climbs. So even the lowest wattage e-bike can manage this, although going up the hills may be slower than you'd like. Although you'll find walkers and other outdoor enthusiasts on the path, it's plenty wide for all at 8-10 feet throughout.
With water, restrooms, and picnic areas along the way, you'll be well taken care of. And the main feature of your e-bike ride will be a stunning view of Bridal Veil Falls at the northern end!
There are a couple of places where you'll need to cross a street or ride through a narrow underpass. 
Plus, this 15-mile path connects to 100+ miles of other paved trails, so you can ride your electric bike as far as you'd like. Just keep an eye on your battery charge (and know its range in the first place) so you don't get stuck in the middle of a long trail without assistance).
Bike Trailhead
Start at Utah Lake State Park or Vivian Park at the Northern end.
3. Trail of the Coeur d'Alene (Idaho)
With 73 miles of paved trail through spectacular mountains and valleys, this is one worth spending a few days traveling over.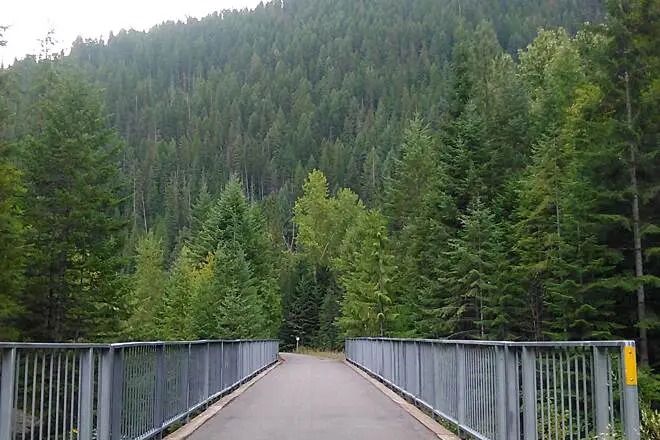 With lots of places to stop and visit, you'll get the most out of this adventure by spending a few days in the area and tackling a portion of the bike trail each day! If you do, this will truly be one of the best paved bike trails in the U.S. when it comes to lots to see and do!
If you're traveling during the warm season, you can stop for a cool dip in the lake at Heyburn State Park. 
And any time of the year, keep a lookout for lots of wildlife, including beavers, moose, and perhaps a black bear family. In the historical town of Wallace, you'll find great food and entertaining attractions.
One more cool fact… this trail is connected to over 3,700 miles of developing rail trail called the Great American Rail Trail!
Bike Trailhead
There are many small towns in which you can park and access the trail. Consider starting your e-bike ride in Harrison and continuing on to the end of the route in Plummer (this is a scenic 30-mile round trip ride around and across Lake Coeur d'Alene).
4. Monterey Bay Coastal Recreation Trail (California)
Another one of the best places to ride your e-bike is in one of my favorite California cities, Monterey. This 18-mile trail down the coast is easy on an electric bike, even if you ride both ways.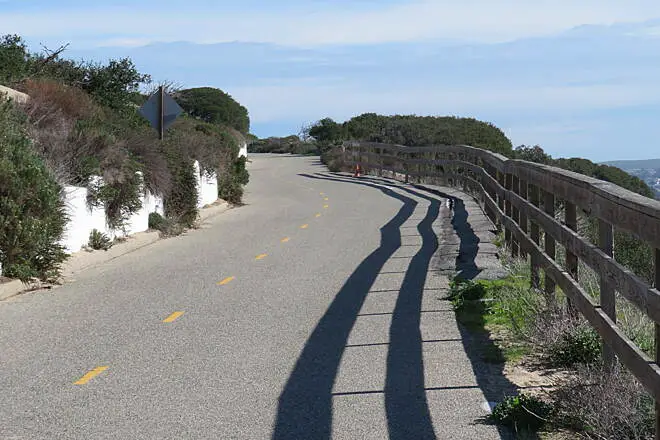 You'll wind along the Pacific Coast on a protected paved rail-trail path with amazing views of the ocean, boats, sea lions, and maybe even otters. And there are plenty of opportunities to stop and take pictures.
You can even stop for lunch and shopping in Cannery Row or Fisherman's Wharf, or take a tour of the famous Monterey Bay Aquarium. Just be sure to securely lock up your e-bikes if you leave them unattended!
Bike Trailhead
You can start inland at Castroville or on the south coastal end in Pacific Grove. The rail begins here near Ocean View Boulevard and Jewell Ave. You can probably find street parking with some patience or park in the paid lot.
5. Rincon Bike Trail (California)
Although you'll find information stating that this is only a 3.6-mile ride, you can actually ride almost 20 miles one way if you ride from Ventura into the town of Carpinteria!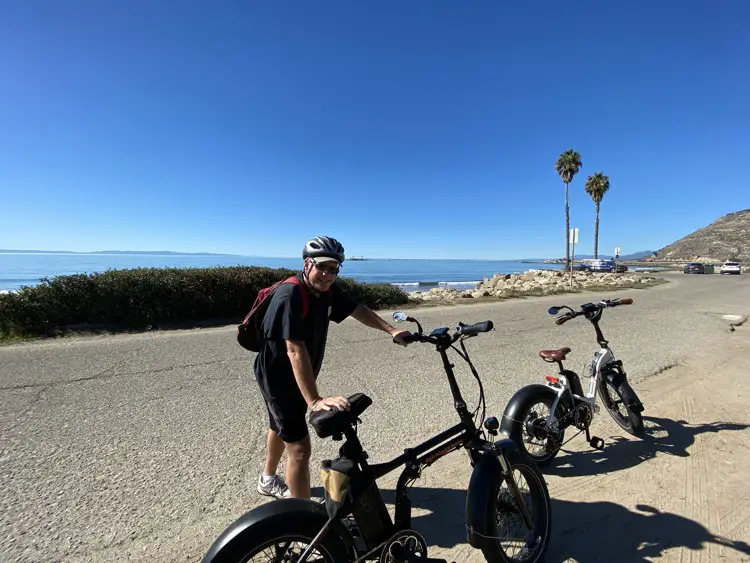 Most of the ride is protected but, if you want to go the full distance, then you'll have to ride a short jaunt on the 101 freeway (½ mile maybe) and on some side roads with car traffic.
However, with a little caution on these parts, it can make for an awesome full day's ride. Stop in Carpinteria for lunch on the beach before riding back to Ventura (my husband and I grabbed some tacos and ate them on the beach) or enjoy the beach and boardwalk on the Ventura end.
It can be quite windy, so dress accordingly. But the good news is that the wind won't keep you from riding the full distance on your pedal-assist electric bike!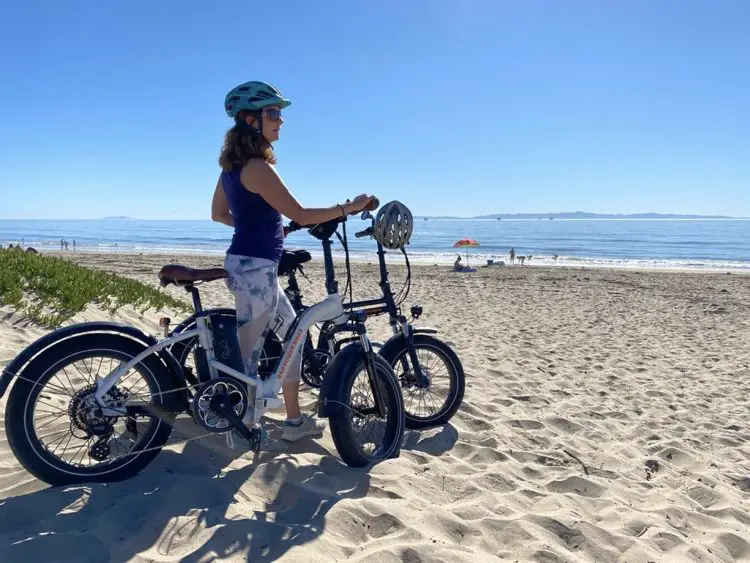 Bike Trailhead
Start riding in Ventura (there's a bike path parking lot off E. Main St.) and head North or begin your e-bike ride at Carpinteria State Beach. Alternatively, if you want to avoid getting on the 101 FWY, start in Ventura and turn around at Rincon point.
6. River Mountains Loop Trail (Nevada)
This is a wonderful 35-mile loop trail that's paved and approximately 12 feet wide. From this bike trail, you'll get a full view of the River Mountains as you ride around them and might even spot Bighorn Sheep (one of the largest populations lives here).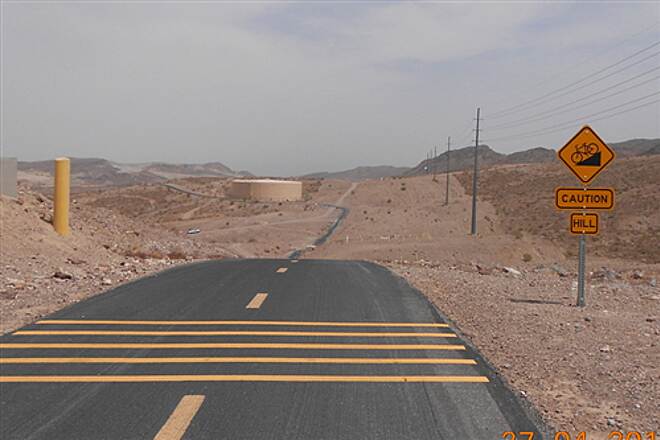 You'll also connect to the Lake Mead National Recreation Area and Hoover Dam, which is an amazing must-see! There are also several connecting trails to check out, as long as your ebike's battery charge can go the distance.
Even though you're in the desert area, you'll be riding uphill and downhill and may find some areas of gravel even though the path is paved (or if you choose to continue onto another trail).
Bike Trailhead
There are many places to start your ride on this loop. If you'd like to start with a big climb (so you won't have to do it later when you're tired), park at the Lake Mead Visitor Center and ride clockwise.
7. North Pathway (Wyoming)
You and your e-bike won't want to miss out on this amazing paved path. As it parallels HWY 89 and Teton Park Road, it's a stunning way to see the Grand Teton Mountains, and numerous wildlife, and even stop for a little fishing at Flat Creek.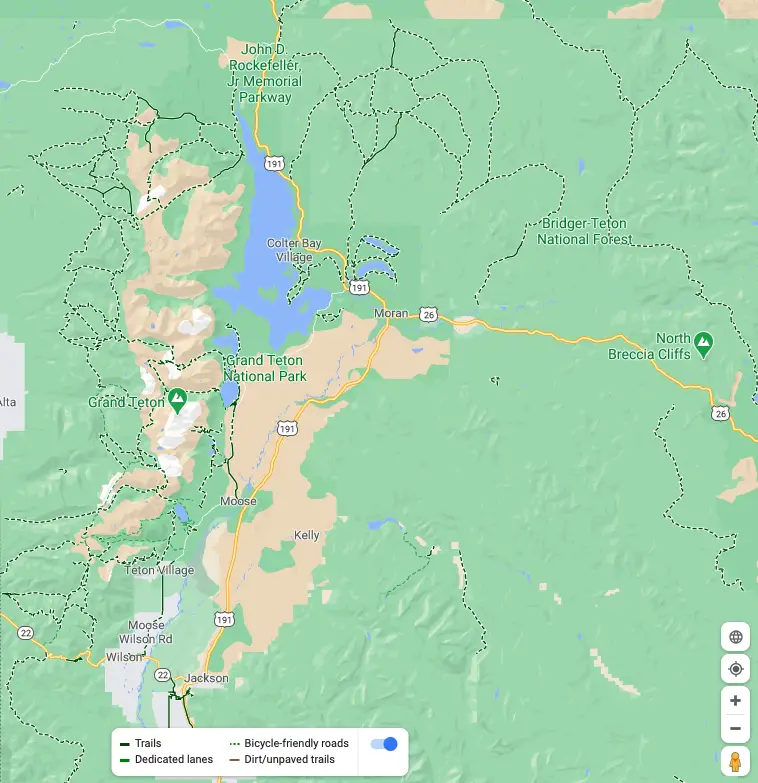 Halfway through this completely doable 20 miles (it's easy on an e-bike at least), you'll find the Craig Thomas Discovery and Visitor Center is a nice respite. Then, once you get to the northern end of the bike trail, you'll get to the Jenny Lake Visitor Center where you can even connect to the Jenny Lake bike path to ride along the eastern shoreline of the lake.
But the trails still continue… the Jackson Hole Community pathway adds another 27 miles of paved road all the way to Teton Village.
Bike Trailhead
Start at any of the three Visitors Centers, where each provides parking, drinking water, and restrooms. Starting on the southern end is Jackson Hole, then Craig Thomas, and then Jenny Lake Visitor Centers (Grand Teton National Park), respectively.
8. Shark Valley Trail (Florida)
Here's one trail you might not have heard much about. Located in the Everglades National Park, you can ride your electric bike (as long it's 750 watts or under) on Shark Valley Tram road around an easy 15-mile loop of wetlands.
Although you won't have to worry about your safety riding in traffic, you will have the occasional park tram pass you on this fully paved trail. But don't be deceived by this nice little road. Watch out for alligators and other wildlife on the roads! Good thing the speed limit is 15 mph (yes, even on your e-bike).
Halfway through your ride, you can stop at the Shark Valley Observation Tower and look over the park for miles.
You can start your ride right behind the Visitors Center (and even rent a regular bicycle if you'd rather not bring your electric bike).
Paved Trailhead  
You can enter the park in your car or park outside it on the Tamiami Trail and ride in. There will be a fee for each bicycle (around $15 each).
9. Chief Ladiga Trail (Alabama)
Ready to bike to the Alabama/Georgia State Line? This 33-mile path should be no problem on your electric bike!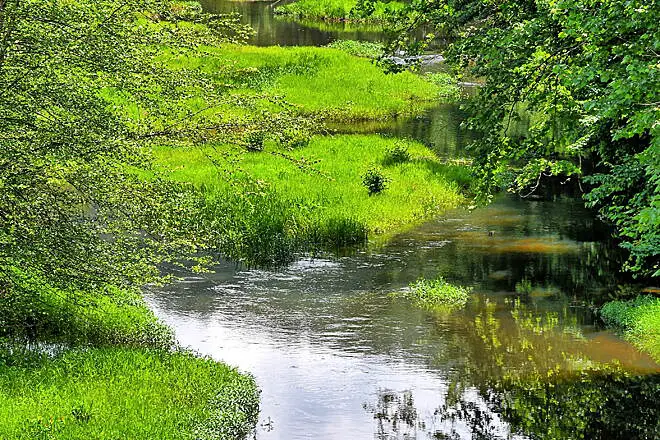 In fact, the trail is a smooth, flat ride through the countryside and small towns, all the way to Georgia where you can pick up the Silver Comet Trail for another 62 miles (okay, you might need to recharge your e-bike battery overnight before continuing).
This bike path is unique in that it passes through wetlands, open fields, and forests. There's even a stretch of the trail in which you're likely to see wildlife such as deer and foxes. Further, there are quiet towns to stop in as well as Jacksonville State University.
Bike Trailhead 
Woodland Park Trailhead off Holly Farms Road.
10. Paul Bunyan State Trail (Minnesota)
This insanely long paved bike road (119 miles!) is one of the longest rail-trail, multi-use paved bike paths in the USA.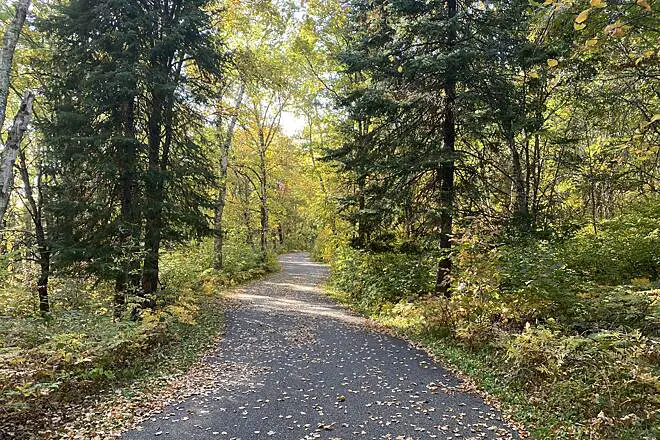 Naturally, you don't have to ride its entire length, but you may just want to take a few days on your e-bike to work your way along this inactive 1893 railroad. Since there are towns to stop in for the night every 10 miles or so, this isn't as hard as it sounds (just make sure you have the electric bike travel accessories you need, especially if you're camping).
Besides being no big thing riding an electric bike a long distance, it'll be worth encountering over 30 lakes, rivers, and streams along the way. And wildlife? Yes, absolutely!
Bike Path Trailhead
Start at either Crow Wing State Park or Lake Bemidji State Park on the northern end.
11. Banks-Vernonia State Trail (Oregon)
This paved rail trail is one of the best trails for families and boasts stunning views over 13 bridges and two huge railroad trestles. It's one of the best places to ride your electric bike in the USA in the summer! With beautiful weather along for the ride, you'll get a view of the coast as well as forests, rivers, and creeks.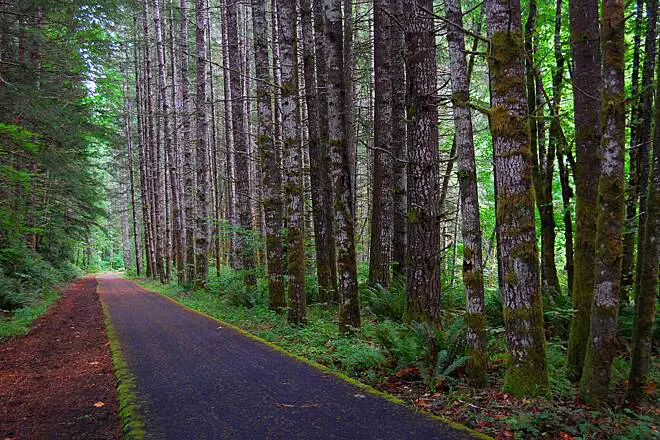 The path is typically 8 feet wide which runs alongside a horse path, and is generally only a slight incline. However, there is an area of switchbacks that go up 700 feet… but the path is still plenty wide.
Make use of picnic areas and interpretive trails, as well as L.L. Stub Stewart State Park and Campground. Then enjoy the shops, town museum, and art galleries of Vernonia before heading back over 22 miles to the beginning of the trail in the city of Banks.
Trailhead
The city of Banks trailhead has the easiest parking, as well as water and restrooms. It'll also provide for the longest ride. You'll find the beginning of the route at NW Banks Road and NW Sellers Road.
12. Great American Rail-Trail (13 States)
I just couldn't get away without mentioning this! The Great American Rail Trail is a multi-use bike path being developed all the way across the northern part of the USA, from the state of Washington to Washington, DC.
These paved trails have been built for over 30 years and are perfect for riding electric bicycles, even if you're a beginner. Not only are they meant for bike riding, but with an e-bike, you'll have no problem seeing any part of this trail system as you wish.
But you can't yet just ride the full 3700+ miles without connecting to other roads and trails. Instead, it's best to find a portion of the trail that you'd love to ride your e-bike on and drive to each trailhead.
However, the most fully developed bike paths(over 200 miles) are in Washington DC and Maryland and start at the U.S. Capitol.
Paved Bike Trailheads
You'll have to do a bit of searching to decide where in the northern U.S you'll travel in order to connect to a Great American Rail Trail. But, if you're up for a lot of e-bike riding, I'd suggest starting at the United States Capitol and riding west!
Conclusion
Generally speaking, as an e-bike rider, you can ride on almost any public land in different states with the help of your bike's electric motor. 
But, if you'd prefer to ride on paved bike trails, then the list and details above will help you decide which trail you want to ride on first! And although most electric bikes are allowed on these paths, you should check individual U.S. state laws before riding (especially if you have a Class 3 e-bike).
Frankly, the best trails for electric bikes are those that are paved. Riding on them will offer amazing views of so many places, landscapes, and small towns that you'd never see otherwise, even though you might've lived in the U.S. your whole life.
Enjoy this list of paved bike trails and the "Best Places to Ride Electric Bikes in the USA"!
Looking for more trails? Check these out: