Electric bikes are an environmentally friendly way of getting where you need to go fast. However, you do rely on the motor to get started. So, it can be quite annoying when you've misplaced your key or left it at home when you're about to hit the trail far away.
So, you should know how to get your electric bike started even if you are without the key that came with the bike!
Here are several alternatives to start an electric bike without a key:
Connect the ignition wiring.
Remove the battery.
Use a screwdriver.
Try a bump key.
Melt a plastic pen to create a replica of your electric bike key.
Use a shim.
Wait and order a new key.
Each of the above steps can potentially start an electric bike, so you'll want to give each a genuine try before moving on to the next. Who knows, maybe your bike will start before you even make it to step 7! Let's cover the steps in greater detail to help you understand what needs to be done in each.
1. Connect Ignition Switch Wires
Connecting the wires of your e-bike's ignition to the battery will allow you to start your e-bike using the electric starter motor. The process may vary depending on which electric bike you have, so look up instructions for your specific e-bike model if needed.
To connect the ignition wiring, locate the ignition connection on the wiring that goes from the controller to the motor in your e-bike's battery pack area. It's easiest to look through the wire casing at about eye level when seated on your e-bike, where you can see both ends of each wire coming out of it. The ignition system is typically located under the key-lock system.
Once you find the connecting wires, you'll need to cut and connect them together, allowing them to touch. This should start an electric bike but should be used for temporary fixes or short-term trips because it can cause your electric bike to lose power. 
2. Remove the Battery
E-bike batteries are used to supply power to the motor in your bike's battery pack area. The battery is directly tied to the pedaling action of the electric bike. So when the battery connection is removed, the pedal assist system switches off. 
When you start pedaling your e-bike, the pedals automatically turn the motor on. The battery supplies power to your electrical system (which includes your bike's motor), allowing for movement around ten mph (15kph). 
Without the battery, you'll still be able to ride your e-bike manually. The caveat is that you'll have to settle for manual pedaling. If that's not too big of an inconvenience, then removing the battery can be a solution for starting your bike when you can't access the key.
Here's the problem: To remove a battery, you'll most likely need the key or a screwdriver to unlock the battery from its mount on the electric bike itself. Unfortunately, you'll need to either insert the key or screwdriver, disengage the locking system, and pull out your battery.
So make sure to read how to use a screwdriver below!
Caveat: Not All E-Bike Batteries Are Removable
In some electric bikes, the battery is integrated into the frame. These types of batteries aren't removable. For batteries integrated into the e-bike frame, you'll need to use one of the other methods for riding your e-bike manually… or order a new key.
In other electric bikes, batteries are attached by screws to their mount on the frame. With these types of batteries, it's simply a matter of removing the mounting screws with a screwdriver and then pulling out your battery. 
In both cases, check if the key is required to remove your battery from its mount. If so, insert said key or screwdriver into the proper slot and turn as needed to unlock your battery from its power source before removing it from its place on your electric bike.
You may also need to remove or disengage cable locks in order to get to some batteries. If you don't know how to do this, there should be instructions on your e-bike or in the manual that came with it. 
Battery replacement once the key is found:
Locate where your old battery was on the frame of your electric bike.
Use a screwdriver or key to lock/unlock the locking mechanism holding it in place.
Insert the battery with its positive and negative terminals placed according to your bike's appropriate placement.
Make sure the new battery is secure within its holder before beginning to ride!
Suggestion: Always carry a complete maintenance bike kit with you while you ride… like this one from Amazon: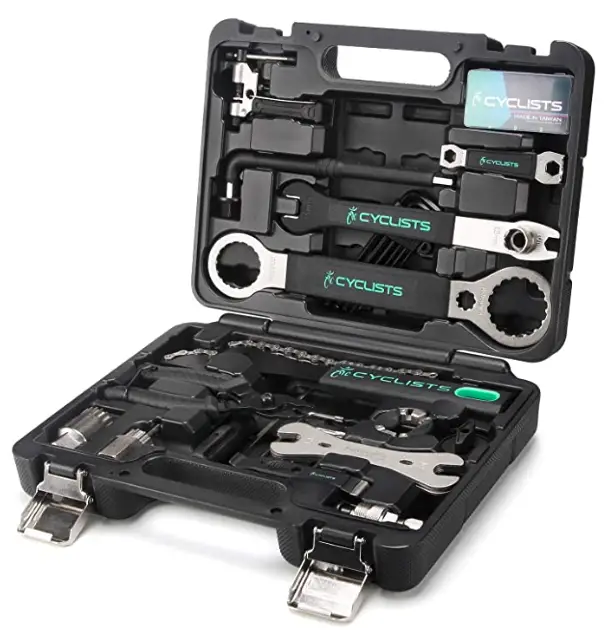 Or a bike multitool like this: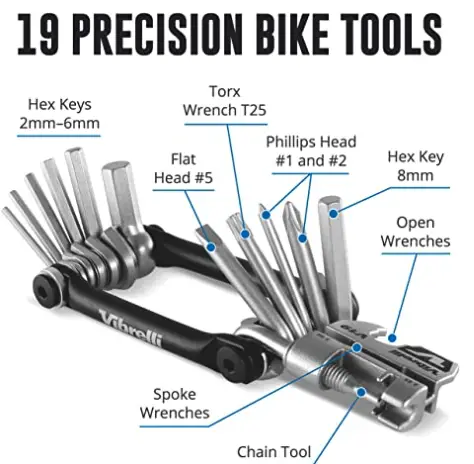 3. Use a Screwdriver
Using a screwdriver as a replacement key can be effective, especially in older bikes with older types of locks. To do this, you'll need to find a screwdriver that resembles your e-bike key's shape and size.
Once you find such a screwdriver, try unlocking your bike in the following steps:
Insert the screwdrivers into the slot where your key would normally enter to start your e-bike. Don't use too much force when inserting the screwdriver; otherwise, it may cause damage to your e-bike. 
Once the screwdriver is inside, push it up as you turn left of the slot. While turning the screw left works for most bikes, you might have to turn it the other way if that's the direction your key usually turns.
See if your electric bike is on. If the bike turns on, all that's left is to remove the screwdriver and ride. 
It's not recommended to use this method for more than a temporary or one-time solution. Continued use of a screwdriver may permanently damage your battery's ignition, costing you more money in maintenance than it would cost to replace your key.
4. Try a Bump Key
A bump key is a flat piece of metal that is cut with a pattern similar to that of a normal key. The difference is that a bump key is designed to use a bit of force. You need to "bump" it into your ignition slot, which is different from the usual insert-and-turn motion you'd use for a conventional key.
Bump keys are designed to fit most standard locks. More often than not, they are universal to specific brands and models. You can buy a bump key online. To start an electric bike with one of these, insert it into your battery ignition slot, slowly bumping each lock pin all the way up until it's flush with the top part of the steering column.
While this method is successful for many people, you shouldn't use it regularly because it can potentially damage your e-bike's ignition system. Like many other tricks discussed above, a bump key is meant to be a once-in-a-while solution.
5. Melt a Plastic Pen to Create a Replica of Your E-Bike Key
The cheapest way to make a working copy of your e-bike key is using a plastic pen or marker, such as an inexpensive BIC pen that melts at low heat. Although this method can have some success, it poses the greatest risk of damaging your electric bike's ignition system. As such, you should only use it in emergency situations.
Here's how to go about it: 
Find a plastic pen to melt and a heat source. 
Remove the ink from the pen, leaving only the outer plastic cover.
Hold the plastic cover over a heat source until it becomes hot and pliable.
Insert the softened plastic into your ignition until you feel it reach the bottom.
Allow the plastic cover to cool and harden.
Turn the pen the same way you would your key to start an electric bike.
6. Use a Shim
Using a shim is a method that can be used with both a barrel lock and disc lock. All you need to do is slide the shim in between your ignition, put it into place, and turn. If done correctly, it should start your e-bike with no problem.
Don't have shims on hand? A universal key that matches your current locks are interchangeable for both types of ignitions (barrels and discs). 
Here's a YouTube video detailing the steps for using the shim method on a cylinder lock (to give you an idea how to correctly use the shim): 
If this method doesn't work for some reason, try picking up an exact key duplicate: they're inexpensive and easy to find online or at most hardware stores. You may also want to check in with your local e-bike shop; most will cut keys on-site needed.
7. Wait and Order a New Key
If you have the luxury of time and another means of transportation, consider waiting to replace your specific key until you're ready to go out and get a new one. E-bikes typically come with at least two keys. If you have one at home, you might be better off hauling your e-bike on a car rack or any other means of transport available to avoid risking costly damages. 
If you've lost all your e-bike keys, purchase new ones from the manufacturer. Keep in mind that manufacturers typically verify your serial number to ensure that you're the legal owner of the bike before sending you a replacement.
A local bike store can also help in either getting a spare made or finding the correct replacement. Just be sure to provide your receipt and other supporting documentation to demonstrate proof of ownership.
Hiring a locksmith can also be an option. Generally, an e-bike master key doesn't have the anti-theft technology found in an electric vehicle key system. As such, any skilled locksmith can duplicate one of these the same way they do a house master key. Be warned, though; most locksmiths require proof of ownership beforehand.
How To Avoid Having To Start Your E-Bike Without a Key
Here are some key points that will help you avoid having to use any of these methods to start your e-bike without a key. 
Proper Storage
First and foremost, keep your key properly stored. If you have a detachable battery, then keep it in the key switch of the battery once removed from the bike (the battery should be stored in a cool pace). There will be no electrical power if the battery isn't attached.
Removing the battery with its key also helps to make your electric bike theft-proof. You're less likely to have to deal with a stolen bike if thieves can't get away quickly with electric power.
Assign Your Serial Number to a Tracking App
Tracking by GPS or through other means can be incredibly helpful in locating your e-bike, no matter where it ends up. If you're using a tracking app, try to use one that works best with the type of phone you have.
Some additional steps you can take to avoid having to use one of the methods on this list include: 
Make sure that any spare key or replacement keys are kept somewhere safe away from the electric bike, where it can be found quickly in an emergency. Leaving them attached to the lock itself with an electric bicycle is never wise.
Register and track your bike's serial number. Registering your electric bike's serial number allows you to get the police involved if it's ever stolen.
Observe Safety Guidelines When Riding
Using some common sense safety techniques when riding electric bikes will help you avoid having to use any of these methods in an emergency situation. Some safety reminders when riding e-bikes include: 
Park in well-lit areas.
Try to avoid riding late at night.
Follow all traffic laws.
Have a cell phone on hand if going for a ride after dark, just in case there's a problem. 
Always be aware of your surroundings.
Additionally, make an alternative plan for when something happens to your keys. 
For starters, always let someone know where you're riding to and at what time they can expect you back. This way, you're more likely to have someone looking for you when you get stranded. It might also be a good idea to provide them with a means of tracking your location, especially if you're going for long rides in unpopulated areas.
Most importantly, keep extra sets of keys on hand for emergencies. Then make sure you carry the emergency keys in a different location from the primary key (keeping one on your body and one in your bag perhaps).         
Final Thoughts
That does it for today's post. Hopefully, one of the above steps will come in handy when you find yourself stranded with your e-bike and no key. 
As you go about trying to start an electric bike without a key, be gentle and avoid letting frustration take over. If a certain step isn't working, using more force won't change that. If anything, it'll make things worse by damaging the ignition system.
Last but not least, be safety-oriented so you won't have to go through this hassle again. Keep a spare key somewhere important, and try to register and track your e-bike.
For more info on batteries and maintenance, read these: