Does anyone even make electric trikes for adults? Compared to regular electric bikes, this list is small. Surprisingly, however, there are quite a few good e-bike brands that build them.
In this article, we'll take a look at the best electric trike brands made in the USA. I'll give you a list of companies that offer e-trikes and tell you what you need to know about each brand and their best electric trikes, including location, features, cost, and what makes them special.
What are the best electric tricycle brands made in the USA? Here are the companies that made the list:
| | | | |
| --- | --- | --- | --- |
| E-Trike Brand | Location | Best Feature/s | Electric Trike Cost |
| AddMotor | California | 4 electric trikes to choose from | $3399-$3599 |
| Sixthreezero | California | Best Value; battery pack fits under the rear rack | $2199 |
| Buzz Bicycles | Ohio | Mid-Drive motor; best priced full-size tricycle | $1699 |
| Liberty Trike | Pennsylvania | "Active" mobility scooter/small wheel trike | $1598 |
| Zize Bikes | Massachusetts | Holds up to 550 lbs; built for large riders | $5100 |
| Emojo Bike | California | In stores all over the United States | $3199-$2999 |
| Outrider USA | North Carolina | Designed with adaptive features for disabled | $6700-$16000 |
Find out more below about the models of tricycles each USA brand offers. Take a look at their design, features, and cost, as well as discover which electric trike brand is the best overall.
No matter the reason for choosing to buy an electric trike, the best electric tricycles are the high-quality ones worth their price, which you can learn about on this detailed list.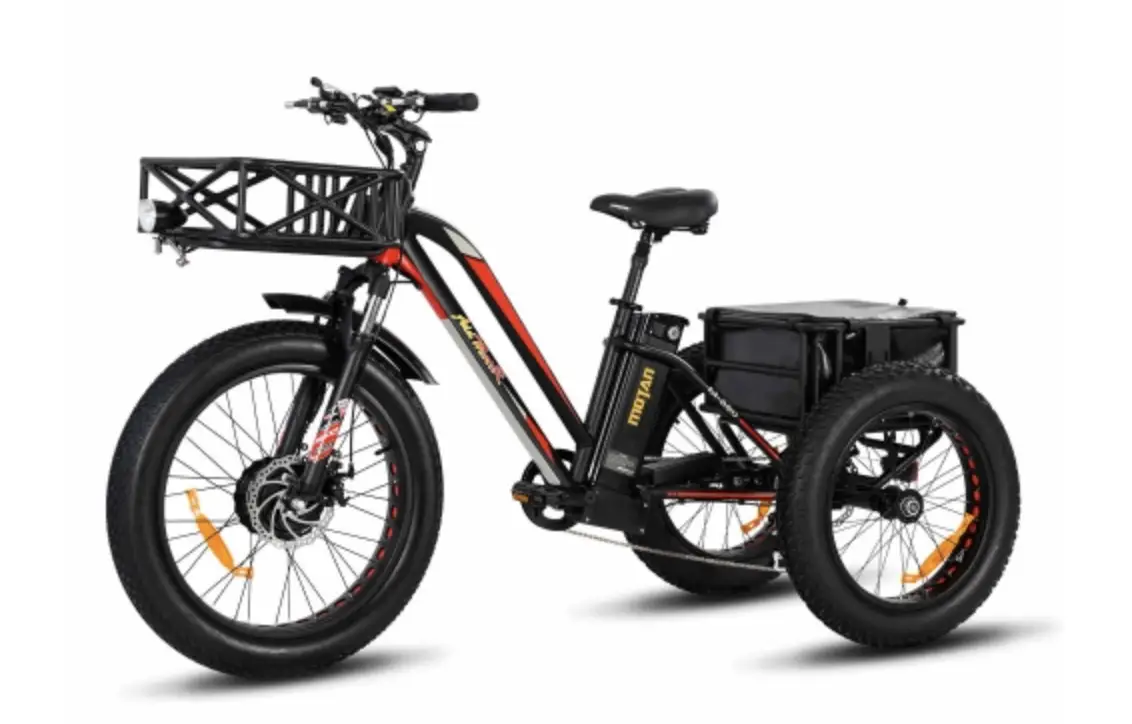 The AddMotor Brand began in California, back in 2011, thus being an established electric bike brand. From the beginning, their goal has been to design top-quality e-bikes that anyone can ride. Thus, the creation of four different electric trikes that are accessible to seniors, disabled adults, and anyone who can't ride a two-wheel bike or doesn't want to.
Brand Features and Benefits
There are several things that make this one of the best e-trike brands, besides the fact that they offer four models whereas most electric bike companies only offer one. Here are the benefits:
Best price guarantee (they'll match it if you find a lower price)
Free shipping (to the contiguous 48 states)
80% pre-assembled trikes
Financing
Multiple color options on most bikes
Free gifts with purchase
Electric Trike Models
With four great options, all with 5 levels of pedal assist, it can be hard to choose from the best electric trikes. So here's a breakdown of each:
M-360 Semi-Recumbent Electric Trike– Super popular for people who are disabled or have back pain, the semi-recumbent tricycle allows you to sit in a strong upright position without having to reach forward for the handlebars. Plus, it has 750W of electric power and the ability to roll smoothly over uneven terrain.
At the lowest cost of the four models, the M-330 P7 even comes with a rear basket and fenders at no additional charge, making this trike an excellent value. Plus, it still has the powerful motor, long range, and huge load capacity of the other models. The possible downside: It only comes with a black frame.
The brand new 2022 M-340 e-trike with a sturdy frame, powerful 750W rear hub motor, up to 55+ mile range, and a total payload capacity of up to 450lbs. Plus, its thick, padded saddle has a backrest for total comfort.
The Addmotor MOTAN M-350 P7 is a stable, agile trike built for urban riding in comfort. It has a wide saddle, 80mm travel front suspension, integrated lights, and a free rear basket liner as a gift. Additionally, it has 4.0″ fat tires to get over even rougher terrain.
Cost
With great value for the price, electric trikes start at a regular price of $3399, with only $200 more for three out of the four models (check here for discounts).
Sixthreezero began way before the electric bike trend did. Although the company was formed in 2005, the owners formed a love of bike cruising in the beach city of Hermosa Beach long before then. Their ongoing love of comfortable cruiser bikes translates into their goal of designing fun, quality electric cruising bikes that'll last.
Brand Features and Benefits
Although they only have one electric tricycle, they stay true to their cruiser model. Here's what you can expect overall:
Free shipping within the U.S. (Discounted shipping for Alaska and Hawaii)
Free return shipping if dissatisfied
90-day test ride
80% pre-assembled
Financing available
Height and weight calculator + "Body Fit" quiz to make sure the fit is right
E-Trike Model
The EVRYjourney Tricycle has a 250W and comes in 4 cool colors. It can go up to 28 mph in pedal assist mode (Class Three) and up to 15 mph with throttle only. Narrow 1.95″ tires make it agile and can take you up to 60 miles with one battery charge.
Plus, the ergonomic frame, upright seating, and wide seat make this e-trike ultra-comfortable. An added benefit is that the pedals are moved forward a bit more than traditional bikes, so you can easily extend your legs for a comfortable ride. Generally speaking, the EVRYjourney fits riders from 5 feet to 6 feet tall, but be sure to take their Body Fit Quiz.
Cost
Priced at $2199, it certainly beats out most other electric trikes and certainly offers the best value of any USA brand e-tricycle. Plus, you get a rear folding basket with your purchase.
Combining almost 125+ years of experience in the cycling industry, Buzz electric bikes offer quality e-bikes and e-trikes at affordable prices. Part of the United Wheels brand, Buzz bikes has access to large manufacturing which keeps their prices down, even on their electric trike.
Located in the U.S. heartland in Dayton, Ohio, they offer the Buzz Across America promotion that awards small businesses with one of their e-bikes.
Brand Features and Benefits
Thanks to their focus on community, Buzz creates electric bikes that are accessible to more people. They have great benefits including:
Comprehensive warranty: 2 years limited warranty on electronics, 10 years on frame
Free Shipping in the continental United States
30-day return policy
Financing
Gift Cards
Electric Tricycle
The Cerana T electric trike matches the specs of the Buzz Cerana e-bike, but with three wheels. The oversized tires (larger in the front than in the back) and wide padded saddle offer comfort and a smooth ride.
What makes it particularly unique is its mid-drive motor that responds quickly to your actions. With 350W, it can take you up to 20 mph using pedal assist. And you can ride up to 40 miles with the 4 pedal assist levels and 7-speed gears.
Plus, you get a headlight, rear foldable rack, front basket, and a USB port to charge your phone… all included.
Cost
At just $1699, you can have it shipped directly to you, with your choice of gloss white or matte blue.
With its main warehouse located in Pennsylvania, Liberty Bikes is a USA company through and through. as a part of Electric Bike Technologies, they've actually been making bikes and industrial trikes for over 125 years! This makes them one of the oldest bicycle makers in the United States who is still manufacturing and delivering to consumers.
What's really interesting is that the first Liberty Trike was introduced through Indiegogo and Kickstarter crowdfunding campaigns in 2015.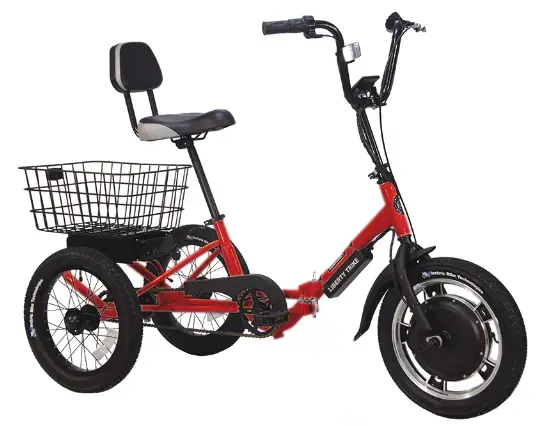 Brand Features and Benefits
This company has expanded its line-up from bikes and mobility trikes to an electric trike that offers more than just standard mobility. It's intended to give you access to do more, see more, and be more active overall. When you buy from them you should expect the following:
Pay $40 flat rate shipping (only shipped to the contiguous U.S.)
Direct to consumer only
Financing available
Industrial strength
Electric Trike Models
Calling it an "active mobility" trike, the Liberty Trike is not just a mobility scooter for seniors or the disabled. It has a 750W motor that climbs steep hills, although pedaling along with it is recommended. It has a top speed of 12 mph and a range of up to 20 miles, which is twice that of mobility scooters.
Unlike other electric tricycles, its narrow frame and smaller wheels can traverse even grocery store aisles (if they let you, that is). So, even though this trike is for anyone, seniors who want to ride e-bikes should take a look at it.
Cost
At a price of only $1598, this is a more affordable e-trike, especially if you are retired or disabled.
Zize Bikes was founded in 2005 by Joan Denizot. Joan's unique goal for her e-bike company is to make electric bikes that are sturdy enough for people over 200 lbs. She recognizes that e-biking is a great form of exercise for heavy people as it puts less pressure on your joints. This unique brand is based in Boston, Massachusetts, USA.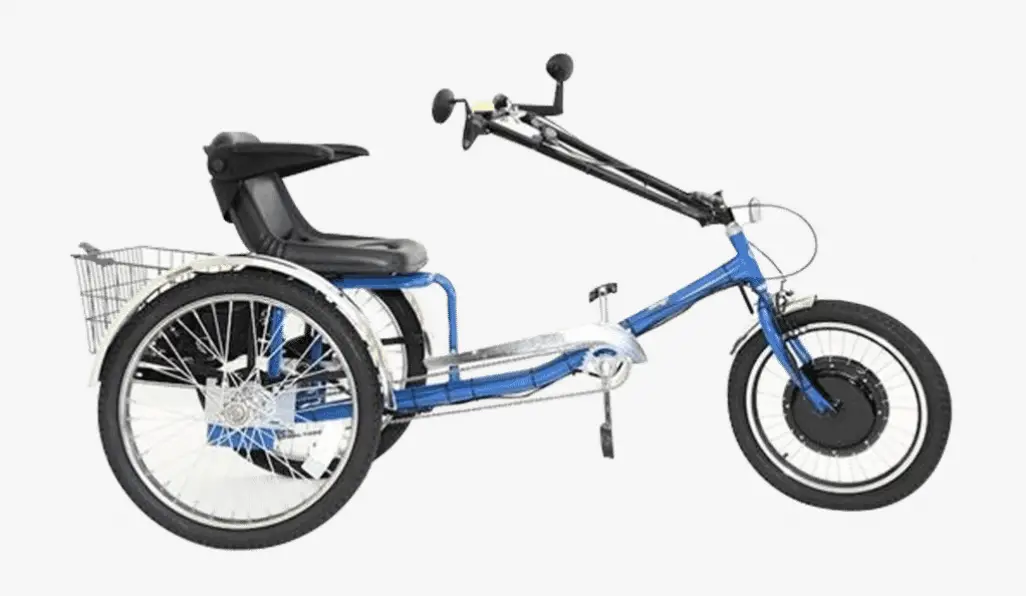 Brand Features and Benefits
An important feature of this brand is that they have three frame sizes for their e-bikes, all made for larger people. Since these electric bicycles are made for heavy cyclists, it's important to note that the "Small" frame will only fit people who are 5'8″, while the largest one fits cyclists 6'3″ and taller. But, when it comes to their electric tricycles, there is only one frame size that fits just about everyone from 4'11" to 6'4″.
The benefits of buying an electric trike from Zize are:
Free shipping within the continental U.S.
Worldwide shipping
Limited Lifetime frame warranty
60-day return policy
100% money-back guarantee
Bike financing
Bike sizing guide
Electric Tricycle
There's just one electric trike to choose from but it has a weight capacity of 550 lbs and should fit just about anyone 4'11" and taller.
Supersized Personal Activity Vehicle Tricycle E-Bike– At $5100, this is a huge price jump from their non-motorized tricycle ($2800). Simply put, a front hub motor and lead-acid battery were added to their regular tricycle. So, it still has Kevlar-reinforced tires, with slightly larger ones in the rear (24″ x 2.125″ as compared to the single front tire at 20″ x 2.125″).
Besides being built for strength, it's designed for comfort. So it includes a large, padded "high-back captain's seat" on a sliding rack that can be adjusted for the best fit. Plus, it comes with a rear basket and rear fenders.
Cost
The general cost is $5100 and you get your choice of 5 bright colors.
However, plan on spending up to a few hundred dollars more: Zize requires your electric tricycle to be professionally assembled; otherwise, it will void the warranty.
Another California electric bike brand, Emojo has dedicated itself to a green lifestyle that meets the desires of its customers. Their goal is to reduce the use of cars and provide e-bikes and e-trikes for recreational and commuting purposes.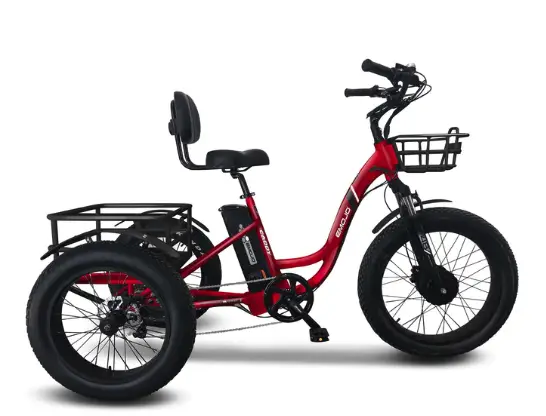 Brand Features and Benefits
Free shipping (to the contiguous 48 states)
7-day return policy
Financing
Electric Tricycles
With two versions of the same electric tricycle model to choose from, it's just a matter of deciding if two hundred dollars more is worth it for the Pro version.
The Emojo Caddy and Caddy Pro (Amazon) both have a 500W motor, a 35-mile range, and 7-speed gears. The major difference is that the Caddy Pro has hydraulic disc brakes, as opposed to regular mechanical disc brakes. This makes it easier to operate and stop thanks to the more powerful brakes. Both come with front and rear baskets, but only the Pro comes in a choice of three colors.
Cost
The Caddy Pro costs $3199 (regular price) as compared to $2999 for the basic Caddy.
Outrider USA is certainly special at the core. Their electric tricycles are hand-built to accommodate disabled individuals with injuries, neurological disorders, and other medical concerns as well as riders who just want to keep up with traffic speed for their own safety.
Located in North Carolina, this unique electric bike brand began in 2009 and to this day assists in making biking accessible for a variety of physical abilities.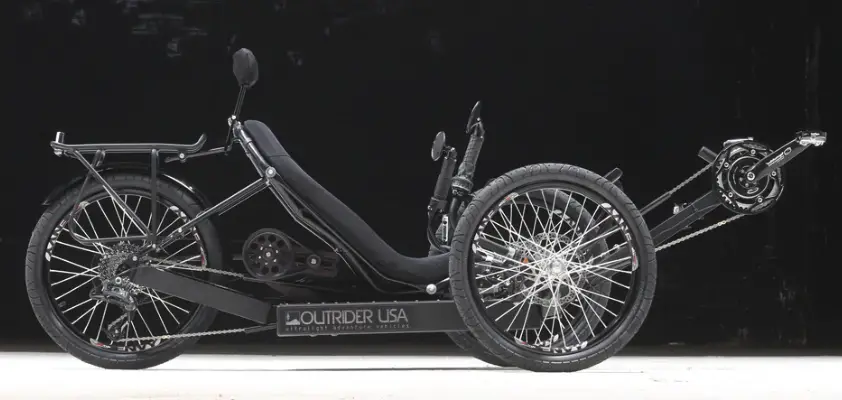 Brand Features and Benefits
Outrider lets you decide what you need from the start. So, you choose your own motor (from 1000 watts and up) and battery (giving you a range of up to 50 miles or 100 miles) as well as accessories such as headlights, cargo racks, and much more. They also offer:
Extended rentals allow for test rides
2 year limited warranty
Financing
Adaptive hunting ATVs
Electric Tricycles
Since they have a variety of hand-built models, which you help create, I'll focus on the features of the least expensive model, the Transition (Mid-Duty Road) Electric tricycle (priced at $6700).
This electric trike is built to order and features ergonomic seating, excellent handling on wet and dry roads, a high-powered electric motor, and a long-range battery. It's lightweight and adjustable for both big riders and small e-bike riders.
One important thing to know about this electric trike as well as the other models, is that it's not legally rideable on most public roads or in many places. This is due to the 1000W and up motors included. Thus, you need to look into the location in which you'll be riding to determine the laws and where you can ride it legally. Read more about the classification of electric bikes and follow the laws in your state and city.
Cost
The price of these adaptive electric trikes is prohibitive in many cases, due to their unique qualities and being built to order. That's why they sell as high as $16000. You may have to get creative in paying for one of these or use the company's own financing.
Who Makes the Best Electric Trike in the United States?
A majority of electric bike companies either outsource the build to other countries, especially China and Taiwan, or may use components primarily designed and manufactured in China. The electric tricycle brands listed here were founded and primarily designed and built in the USA, with components often sourced from other places.
That being said, the best electric tricycle made in the U.S. is the sturdy Addmotor M-340 with its solid step-through frame, powerful electric motors, long-distance battery range, and comfortable seat. For a more affordable price, Buzz Bike's Cerana T, with a mid-drive motor, is a great option.
As always, the best electric bike or trike is the one that meets your needs. So, I hope this list of the best electric tricycle USA brands and models has helped you decide which one to buy.