Rad Power Bikes and Aventon Bikes are two of the most popular brands of electric bicycles on the market. They have similar offerings and prices, making it hard to choose which brand is better.
While Rad Power Bikes is the largest North American e-bike brand with a dedicated following and top-notch customer service, Aventon has remained a popular choice thanks to features including mobile app integration, higher pedal assist speeds of 28mph, and multiple frame sizes to fit everyone.
The fact is that both electric bike brands offer riders a variety of options when it comes to powering their rides. And they both have their pros and cons. So which one is right for you? Read on to find out.
The only way to fairly compare these two top e-bike companies is to compare like models side by side, which I'll do for you in this article.
Is Aventon Better Than Rad?
Whether you're looking for an e-bike to take you on long rides, a relaxing cruise in nature, or to get you to work every day, there is a lot to consider. And both Aventon Bikes and Rad Power Bikes have a lot to offer. This makes it difficult to decide whether one brand is better than the other.
In general, Aventon has an edge over Rad when it comes to speed, having the Pace 500, Level, and Aventure with a top pedal assist speed of 28 mph (as compared to 20 mph). However, unlike anything Aventon has, Rad Power Bikes has The RadWagon, a huge electric cargo bike that can hold two passengers, and the RadRunner utility electric bike with an optional passenger seat.
So, if you need a utility e-bike to tote kids or large amounts of cargo, the choice of the RadWagon is obvious. Otherwise, you'll need to compare your needs and wants in choosing the best brand and bike for you.
The Brands in Comparison
Both companies are highly regarded and have been around (and are still growing) for years. Both offer a throttle on each model and a step-through (or mid-step) frame option.
Aventon has been in business since 2012 when they started with just a delivery van and a one-room warehouse. Since then, they've grown to become one of the leading e-bike brands. Their bikes are known for their quality, style, and performance, which is why many riders choose to ride them.
Rad Power Bikes really began in 2007 when owner Mike Radenbaugh first built an e-bike to ride to school. Then, after converting regular bikes into e-bikes for individuals, he joined up with Ty Collins in 2015, a college roomie, to start selling e-bikes to everyone. They combined their knowledge of bike technology and design with their passion for electric bikes, the result being a great selection of e-bikes at affordable prices.
As similar as both Aventon and Rad Power Bikes are, it's best to look at what makes each company special, as well as the pros and cons of each.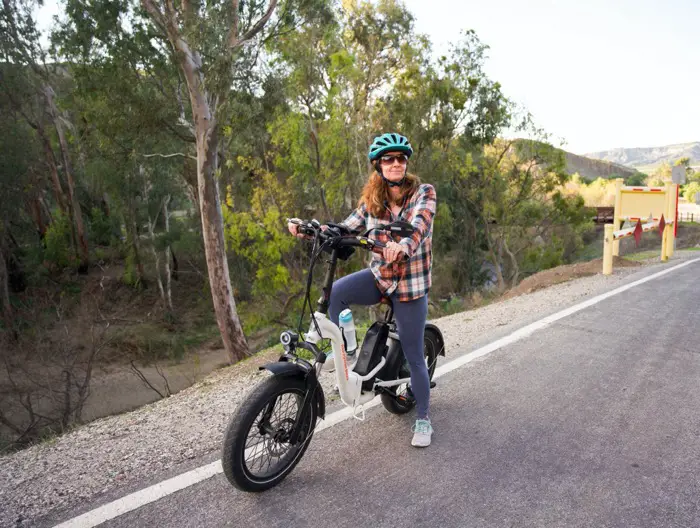 Rad Power electric bikes have plenty of advantages and few disadvantages as one of the best electric bike companies.
Pros
Largest e-bike company in North America
Excellent customer reviews
Award-winning
Exceptional customer service
High-quality, reliable parts
Affordable (starting prices at $1199)
Offers every type of electric bike
Long-range (up to 45+ miles)
High-watt motors (only one model under 750W)
Throttle on every model
Include front and rear lights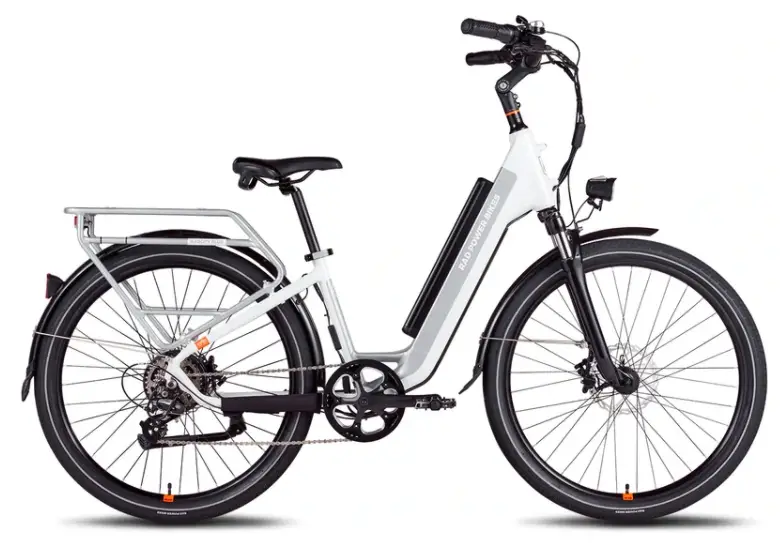 Cons
Doesn't offer multiple frame sizes (other than a step-thru version of each model)
Heavy (only one model weighs under 64 lbs)
Aventon has just as many advantages as Rad Power Bikes, with lower prices and e-bike weight being among the top pros.
Pros
Well-loved, popular e-bike brand
USA-designed and based
Excellent customer reviews
The fastest e-bikes have a top speed of 28 mph (Class 3)
More models with lower prices ($1199 and up)
Fits more people with multiple frame sizes for each model
Most e-bikes weigh under 63 lbs
Fully integrated batteries for a sleek look
Optional app integration
More models come with hydraulic disc brakes
Throttle on every model
5 levels of pedal assist
Cons
Don't offer a large electric cargo bike for families with more than one kid
Only one model with 750W motor
Range may be less depending on model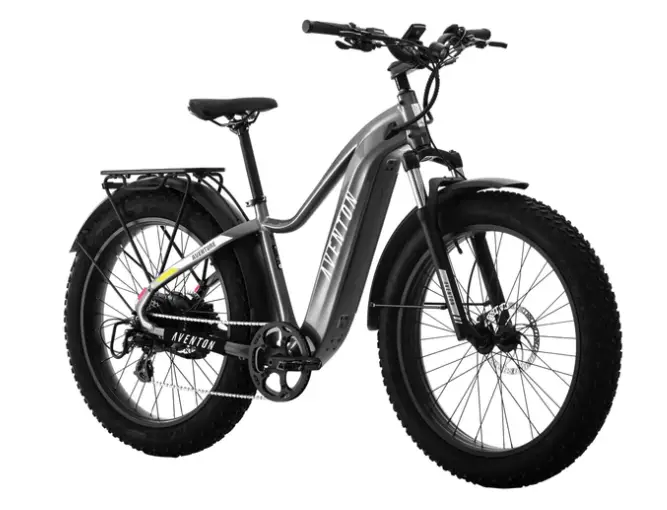 Rad Power Bikes vs Aventon Bikes: Price
Overall, Aventon has the lowest-priced e-bikes, such as the Soltera, starting at $1199, with three bikes at $1399 and under. Whereas Rad Power Bikes has one model at $1199 and the next lowest-priced e-bike is $1499. Both brands have a maximum price of $1999 for their hybrid fat tire electric bikes, the Aventure and RadRover Plus, respectively.
As you can see, their electric bikes fall within the same price range with Aventon having more lower-cost models (but not cheap) to choose from.
You can follow below to see how similar models of each brand compare in price and features.
How Fast Do Rad Power E-Bikes Go vs Aventon?
If riding as fast as the motor will take you is important, then Aventon is clearly the winner when it comes to speed with its Class 3 e-bikes. The fat tire Aventure.2, Level commuter bike, and the Pace 500 cruiser are the fastest electric bikes among both brands. The electric motor offers pedal assist up to 28 mph as opposed to only 20 mph.
That being said, any Rad power bike is plenty fast for most people, e-bike commuters, and recreational riders alike. All of their electric motors will assist you up to 20 mph… and you can make them go faster with your own pedal power. Take a look at the fastest Rad Power Bike and discover how to hack one to make it go faster.
Both brands' e-bikes have throttles that will assist up to only 20 mph.
Now let's compare similar models of each brand side-by-side.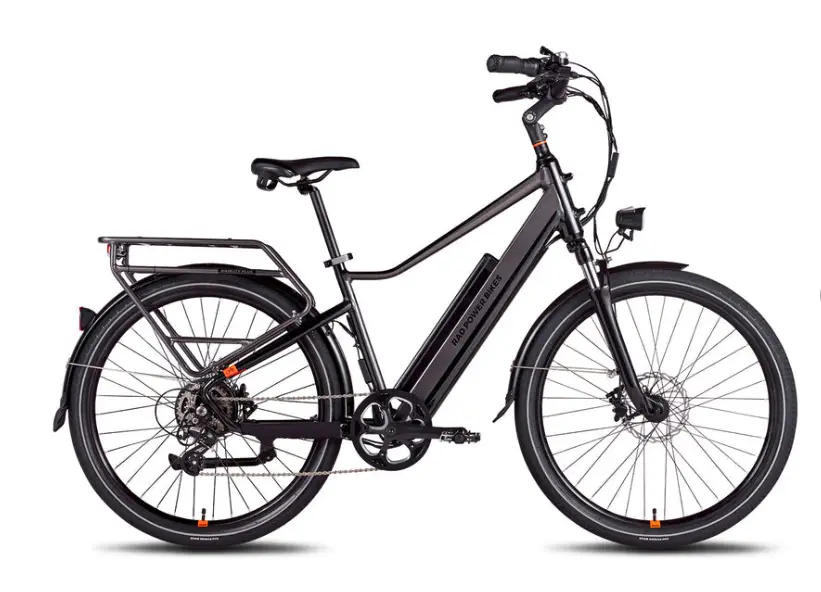 RadCity vs Aventon Pace 500 vs Aventon Level
There are two Aventon e-bikes that can be compared to Rad Power Bikes RadCity Plus, the Aventon Pace 500, and the Level.
All three e-bikes are great for commuting and urban riding with their hydraulic disc brakes. The main differences are that the RadCity Plus has a 750W rear hub motor that has electric assist up to 20 mph while both the Pace 500 and Level have a 500W rear hub motor but have a top assist speed of 28 mph.
This is what they look like in comparison:
At the highest cost, the RadCity Plus goes far with its long-riding range, backlight LCD, and integrated rear rack capable of holding over 59 lbs. It's made for taking comfortable e-bike rides in the city, whether for a long commute or just having fun.
Although the Pace 500 and Level don't have as long of a range, their pedal assist speed of up to 28 mph can't be topped, all while saving $200-$300 over the RadCity. The Level comes with integrated rear racks and fenders, while these are optional for the Pace.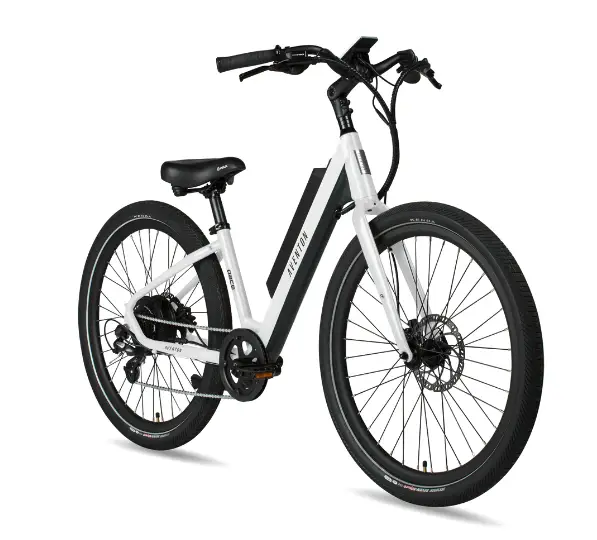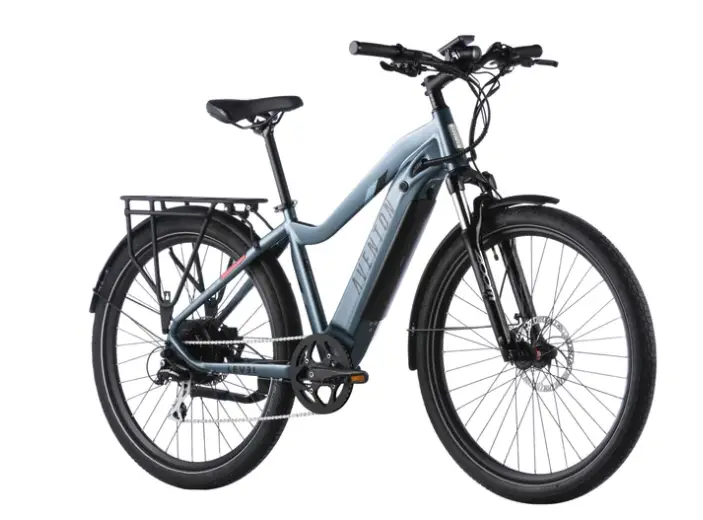 Thankfully, all 3 models are available in a step-through version. In addition, the Pace 500 is available in two frame sizes while the Level has three size options. Although the RadCity doesn't have individual frame sizes, its step-thru model does a good job of making it fit even the smallest bike riders, down to 4'8″.
If range and electric power are more important than overall electric speed and cost, then choose the RadCity Plus. If you're all about speed and don't mind saving money, then the Pace 500 or Level city e-bikes are for you.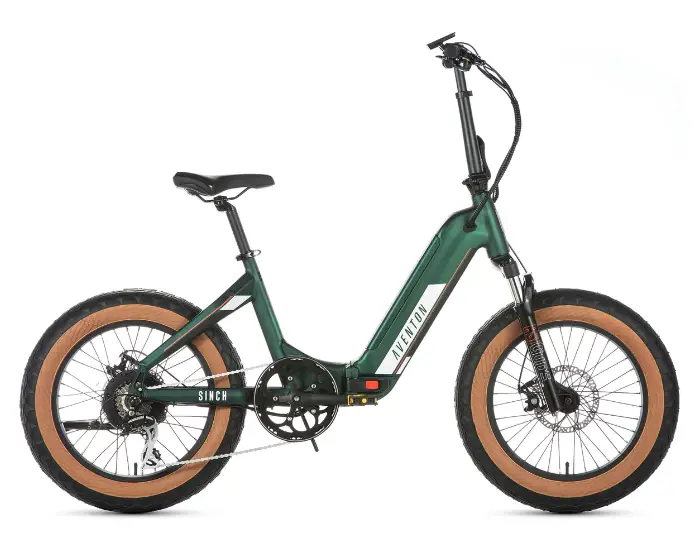 Aventon Sinch vs RadExpand
Comparing the folding electric bikes for each company is a no-brainer… they each have only one. And, in this case, choosing between them might not be so hard.
The Aventon Sinch and the RadExpand are pretty similar, both being Class 2 e-bikes having comparable top speed, range, tire size, and weight. Upon first glance, the primary differences are the Sinch's lower motor wattage but higher price.
| | | | | | | |
| --- | --- | --- | --- | --- | --- | --- |
| E-Bike | Motor | Top Speed | Range | Tire Size | Weight | Price |
| Sinch | 500W | 20 mph | 40 miles average | 20″ x 4″ | 68 lbs | $1799 |
| RadExpand | 750W | 20 mph | Up to 45+ miles | 20″ x 4″ | 62.5 lbs | $1499 |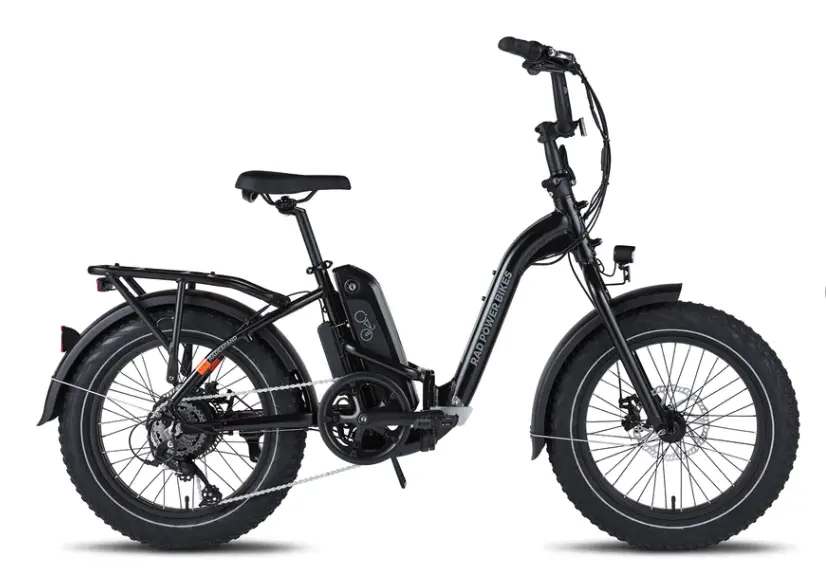 Let's look at what makes the Sinch more expensive and whether it's worth it over the RadExpand. First, to note, the RadExpand only comes in a step-through, while the Sinch offers a step-over frame as well. But what else does the Sinch offer that the RadExpand doesn't:
Unique colors
Integrated battery for a much cleaner style
mobile app synchronization
300 lb payload capacity (as opposed to 275 lb)
Are these details worth the additional price? If style and colors are ultra-important, then the Sinch could be for you. Otherwise, the RadExpand is the better choice when it comes to overall value… plus, it includes an integrated rear rack.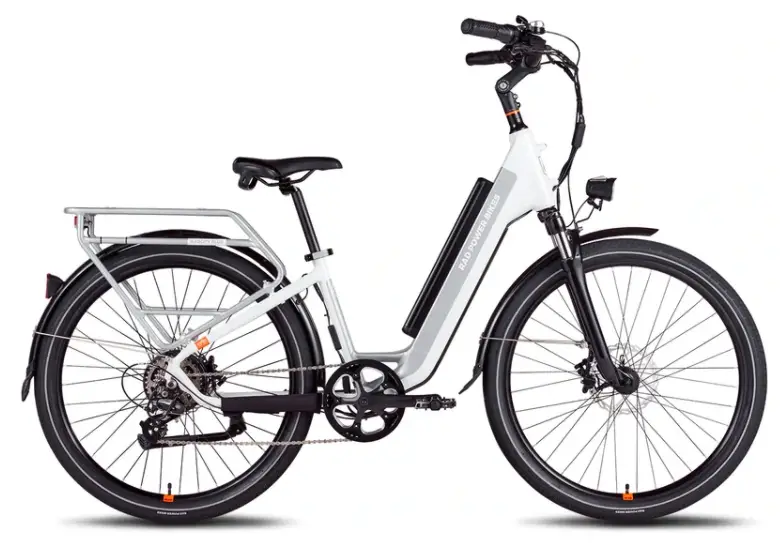 RadCity Plus vs Aventon Soltera
Both the RadCity and Soltera are both electric commuter bikes. Once again, the Aventon brand has a lower motor wattage of 350W compared to 750W on the RadCity, smaller tires, and a lower range, which could account for the price difference.
| | | | | | | |
| --- | --- | --- | --- | --- | --- | --- |
| E-Bike | Motor | Top Speed | Range | Tire Size | Weight | Price |
| RadCity Plus | 750W | 20 mph | Up to 50 miles | 27.5″ x 2.0″ | 65 lbs | $1849 |
| Soltera 7 | 350W | 20 mph | Up to 41 miles | 700c*35c | 43 lbs | $1199 |
The Soltera e-bike is designed more like a traditional road bike with racer-style geometry (so you won't be sitting upright). The RadCity comes in a high-step and low-step, whereas the Soltera offers a low-step and step-over version in multiple colors as well as the choice of two frame sizes.
A primary benefit of the RadCity is its higher-capacity battery pack. It'll let you ride farther on a single charge than Soltera's 345 Wh battery system. Plus, this Rad Power Bike has a 50mm of travel suspension fork while the Soltera has a rigid fork.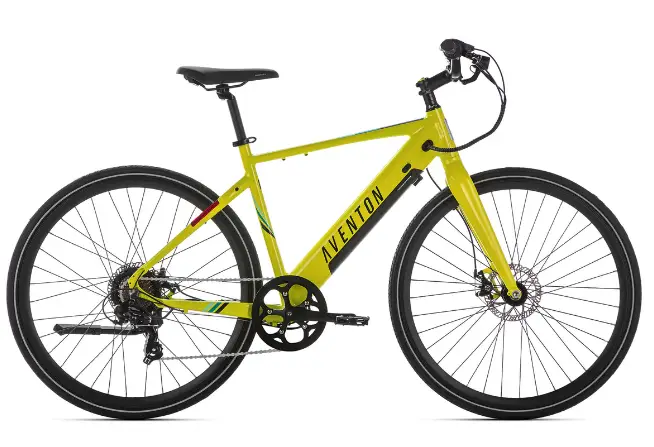 But the Soltera 7 still gives you everything you want in a zippy electric bike.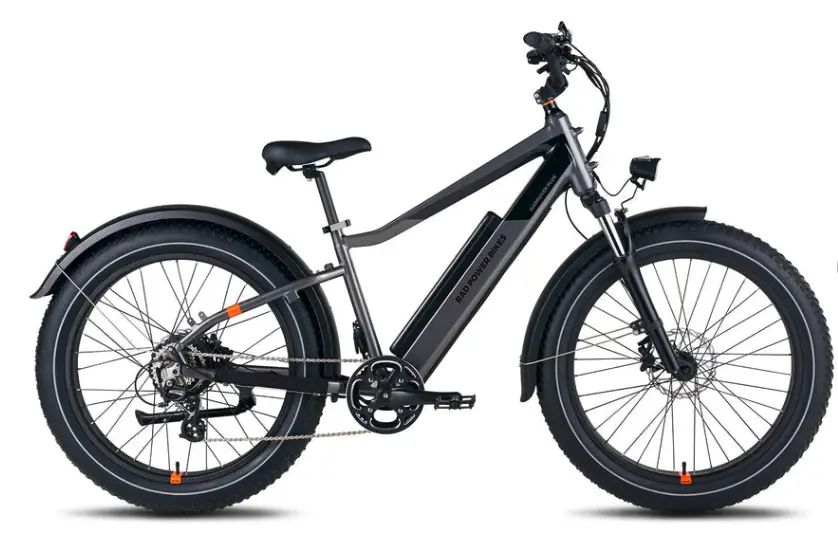 Aventure vs RadRover 6 Plus
When comparing the Rad Power Bikes RadRover 6 Plus and the Aventon Aventure 2, it's almost like you're getting the same powerful e-bike with fat tires for off-road riding and hill-climbing.
But upon closer look, the Aventure has some advantages over the Rad Rover that include higher pedal assist speed, a 400lb load capacity, a fully integrated battery for a sleek look, three frame sizes (small, medium, large), and three color choices.
| | | | | | | |
| --- | --- | --- | --- | --- | --- | --- |
| E-Bike | Motor | Top Speed | Range | Tire Size | Weight | Price |
| Aventure 2 | 750W | 28 mph | Up to 60 miles | 26″ x 4″ | 73 lbs | $1899 |
| RadRover 6 Plus | 750W | 20 mph | Up to 45+ miles | 26″ x 4″ | 73.4 lbs | $2049 |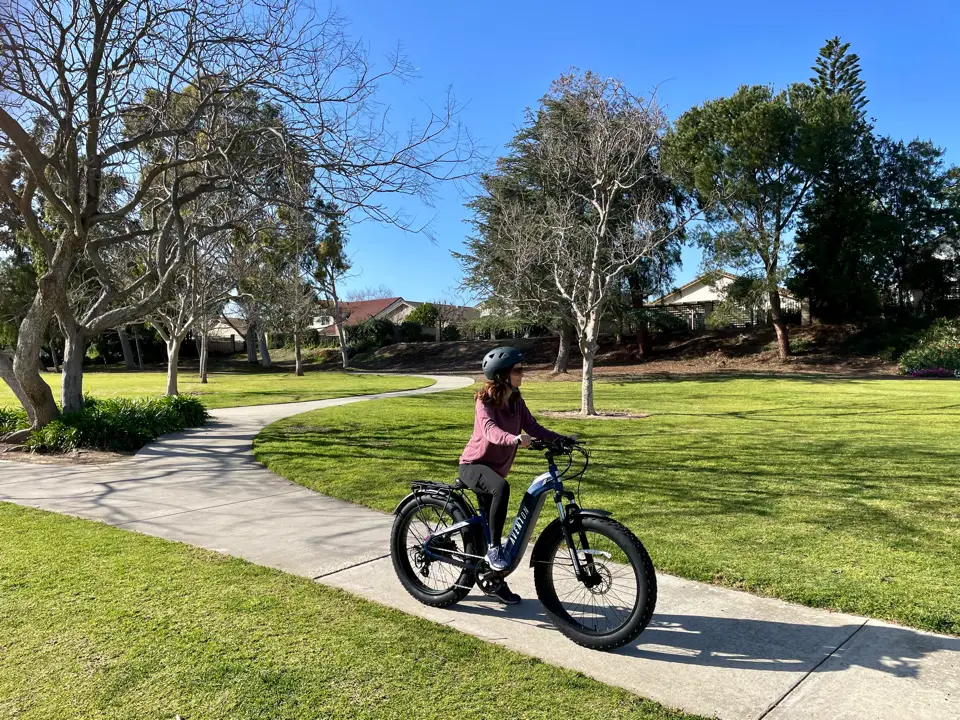 However, both models have 4-inch fat tires, hydraulic brakes, and optional step-thru frames. They can tackle steep hills and ride over rough terrain. Plus, their weight is almost identical, as is the price.
An interesting comparison is that the RadRover is on version 6 with a newly designed ergonomic frame and an improved 750W geared hub motor providing greater power than previous versions. The Aventure, on the other hand, is relatively new to Aventon's line-up.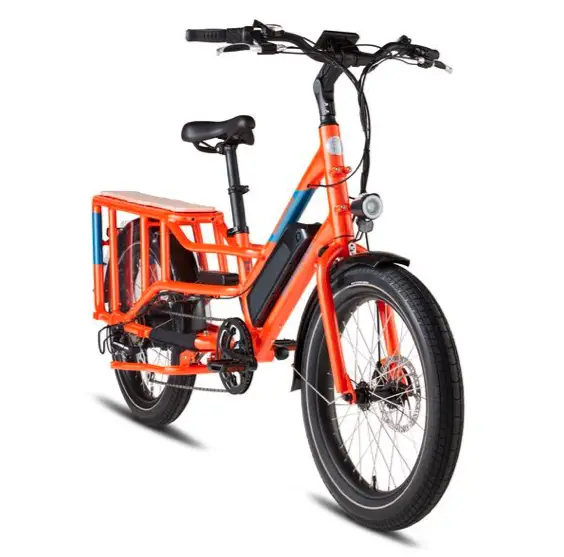 Rad Power Bikes vs Aventon: Other Models
Believe it or not, there are still other models from both electric bike companies that might be perfect for you.
| | | | | | | |
| --- | --- | --- | --- | --- | --- | --- |
| E-Bike | Motor | Top Speed | Range | Tire Size | Weight | Price |
| RadWagon | 750W | 20 mph | Up to 45+ miles | 22″ x 3″ | 76.7 lbs | $1999 |
| RadRunner Plus | 750W | 20 mph | Up to 45+ miles | 20″ x 3.3″ | 73.4 lbs | $1899 |
| Aventon Pace 350.2 | 350W | 20 mph | Up to 40 miles | 27.5″ x 2.2″ | 49 lbs | $1299 |
Both the RadRunner Plus and RadWagon are outstanding cargo e-bikes that can carry children, cargo, and even your dog or cat!
What's nice about the RadRunner Plus is that it has a rear rack that converts into a flat seat for second riders. And the RadWagon is so long that it can carry two child seats on the back. Plus it has a load capacity of up to 350 lbs.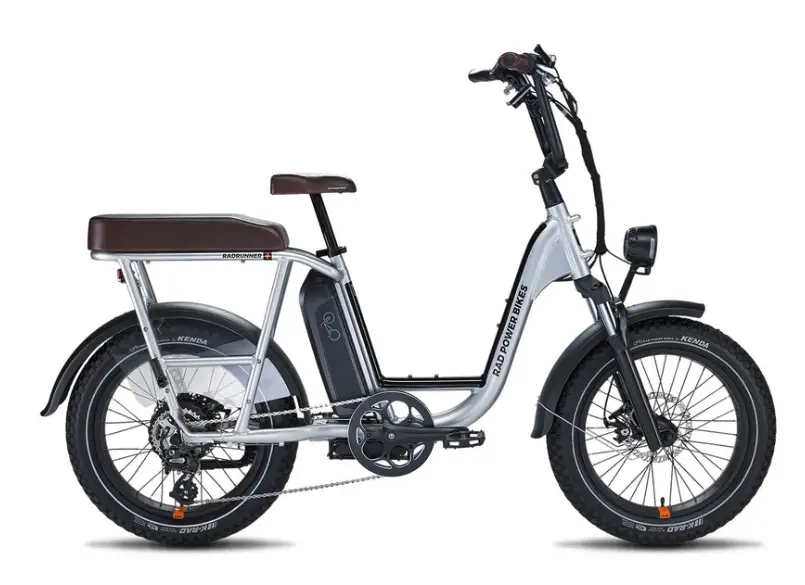 The Aventon Pace 350 is an affordable, classic comfort e-bike that is as sleek-looking as the other Aventon bikes. With integrated lights and battery as well as a throttle and color LCD display, its 5 pedal assist levels and 7 speeds will get you where you're going. And, not only is it less expensive than its counterpart the Pace 500, it weighs less too.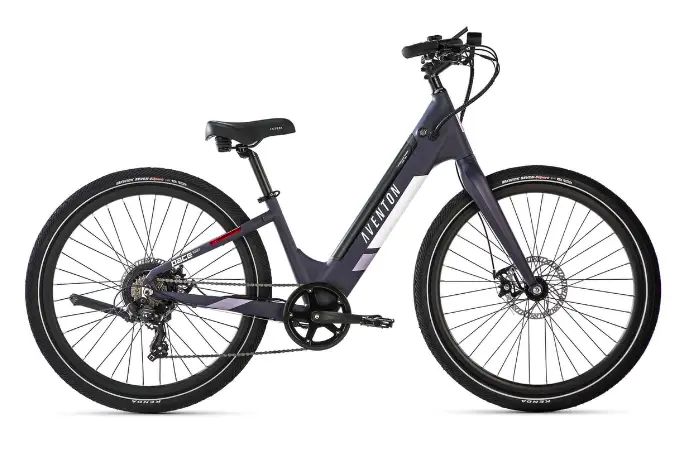 Conclusion: Is Aventon or Rad Power Bikes the Best E-Bike Brand?
Choosing your electric bike from two well-known, high-quality brands is a challenge. That's why this article looks at each model side-by-side, Aventon vs Rad Power… right after the two brands themselves are compared.
Take a look at the comparison tables to find the best options for you. Read what makes them each special and you'll be on your way to getting your new electric bicycle!
Need more help choosing an electric bike from either Rad Power Bikes or Aventon? Read:
Interested in other brand comparisons as well? Take a look: