You love your dog! So why wouldn't you want to take your dog with you when doing something you also love… riding your electric bike? Plus, you know they'll have so much fun riding in the breeze with you.
Fortunately, there are many ways to bring dogs on an electric bike. It depends on what size your dog is, the type of carrier, and your personal concerns.
Surprisingly, there are a lot of hard decisions to make when choosing how to let your dog ride with you.
With concerns over safety, your dog's size, and your own riding skills and preferences, I'll help you find the perfect solution to riding your electric bike with your furry friend, no matter how big or small (start by seeing the chart below).
How Can I Take My Dog on an Electric Bike Ride?
I'm not sure who has more fun on electric bikes... the human or the canine? Either way, it's a close race. So finding a way to take your dog (or multiple dogs) with you, safely and securely, is a must!
Keeping in mind that an e-bike is faster, heavier, and can be harder to maneuver, let's explore the four different ways you can take your dog on your e-bike ride: In a front bike basket, on the rear of your bike, in a bike trailer, or running alongside you.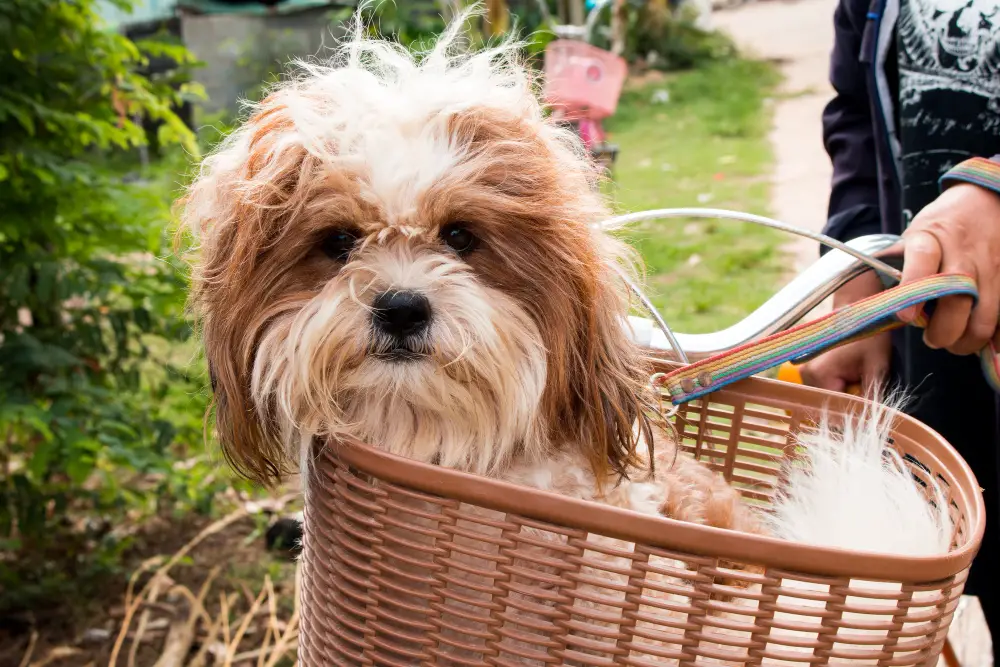 Can My Dog Ride in a Bike Basket? (Front)
A small breed dog (under 12 lbs) can easily fit in a front bike basket. You'll have a hard time finding a front riding basket for dogs who are bigger. But there are some dog carriers that hold up to 22lbs.
Most front pet baskets attach to the handlebars and sit over the front wheel, as opposed to sitting on a bike rack. This is one reason they can't hold a lot of weight.
Look for a basket that fits your dog comfortably, being just big enough to turn around and lay down in, but not so big that he might flop around in it and make it scary.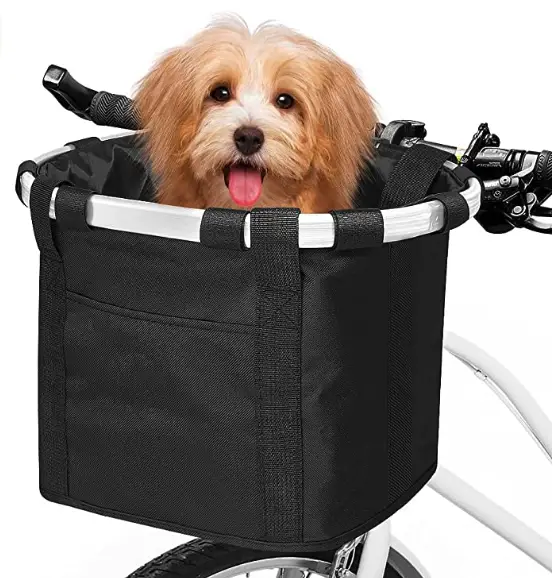 Problems and concerns with a front bike basket
But the other thing you really need to consider is whether you can properly control the bike with the extra load in front of you.
If you're new to electric bikes, you should feel confident that you have control of your e-bike before you add a dog carrier or basket. Weight on the front of the basket makes the front wheel more difficult to maneuver and the bike harder to turn.
Can My Dog Ride in a Rear Carrier?
Putting your dog on the rear of your e-bike is a little bit trickier but can be done. First, you'll need to have a rear rack attached to your e-bike.
Riding with a small dog in a front basket or bringing your big dog along in a trailer on the back of your electric bike makes a lot of sense.
But what if you have a medium-sized dog that's too big for a front basket but you don't want to hassle with a pull-along trailer? Or perhaps you'd rather take your pup with you on the rear of your e-bike, so you don't have to worry about trouble steering? Or maybe it's distracting to have your doggie in front of you?
Whatever the reason, bringing your dog along on the back of your e-bike is a good alternative.
Problems and concerns with a rear carrier
The biggest problem with using a rear carrier is that they're harder to find!
I discovered this really cute rear bicycle basket on Amazon: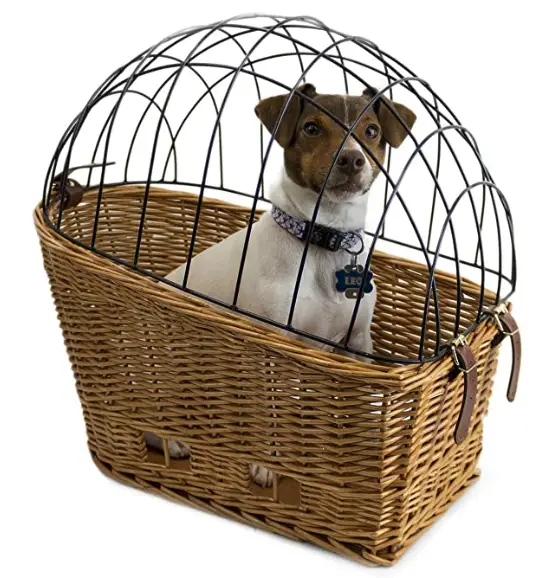 However, it seems that any of the rear baskets I've found have reviewers stating that it's still only for smaller dogs.
And when you do find one, there's still the issue of having a rear bike rack installed (check prices on Amazon), one that will hold the weight of the carrier and your pup!
So now you are left to your imagination. Obviously, there are other rear bike carriers, baskets, and panniers that might do the trick. But you'll need to make sure you fully secure them to the rear bike rack (they shouldn't slide around or have any chance of coming undone).
Then you'll want to have a way to safely attach your dog, big or small, to the carrier (I talk about safety issues later on in this article).
And remember, you can get going pretty fast on electric bikes, so securing your pet inside the carrier is super important, especially one that isn't designed specifically for dogs.
Can I Use a Bike Trailer for My Dog?
Bike trailers are great for larger dogs. Almost all dogs can fit in one as some trailers can carry up to 110 lbs. Dog trailers have a wide cost range (check prices on Amazon), as they fit different sizes of dogs (and cats).
But is there a difference between trailers made just for dogs and bike trailers made for kids?
Trailers made specifically for dogs typically have a more flat area to lay down in and a door flap that makes it easy for your dog to get in and out of. Plus, you'll find a place to connect a leash.
However, kid trailers are typically a little less expensive overall (average price of $150-$250) and many dogs can be found riding happily in one. Since many families already have one for their kids who are now riding their own e-bikes, it's not surprising that many dog owners use regular trailers.
Although more electric bike riders use dog trailers for big dogs who won't fit in bike baskets, I found this Dog Bicycle Trailer for small dogs who weigh up to 20lbs at Amazon.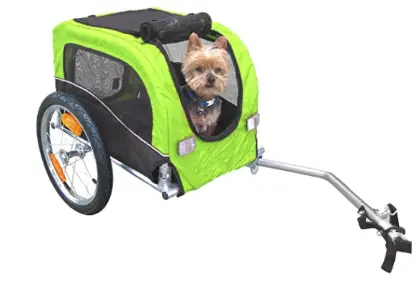 Problems and concerns when using a bike trailer
One problem with taking your best buddy on an e-bike ride in a kid's bike trailer is that the weight limit might not be as high as a dog trailer (especially one for large dogs). Even a 2-passenger trailer may only have a maximum weight limit of around 80lbs (that means it's around 40lbs for a single child trailer).
The other primary concern about using a kid trailer is that there won't be enough flat area inside to lay down. And even though dogs love to sit up and look around, they will get tired and need to rest. Kid's bike trailers are made for the child to sit up and wear the seat restraints built into the trailer. This leaves little room on the floor for a dog or multiple dogs!
So, you'll want to make sure that your dog has enough room to comfortably lie down and that your dog isn't too heavy for the one you're using, for your safety and theirs.
Here's another thing to consider: You may need to introduce it to your dog slowly. After all, it may be scary to them initially, especially once they are moving and they can't see you (because they're facing out the back). Make sure to put your pup's favorite toys inside and make it rewarding to get in by offering a healthy treat.
Can I Let My Dog Run Alongside Me While Riding My E-Bike?
That depends. Medium to large dogs may enjoy running next to your electric bike safely. But small dogs can get easily injured and won't be able to keep up with you.
Problems and concerns letting your dog run next to your electric bike
Large, active dogs will likely love to ride next to you, at a reasonable speed, of course. This won't be the time to test out how fast your e-bike can go, however. Having your dog running alongside you is already strenuous exercise. Plan on only going at the speed suitable for the condition of your dog.
Medium size dogs may also be able to do this, but keep in mind that their legs are probably shorter and they may have trouble keeping up, especially for a long ride.
There are some really awesome leashes made especially for dogs running next to bikes (found this bike leash on Amazon). I strongly suggest you get one that'll allow your dog to move from one side of the bike to another, even if you think they'll be trained to stay next to you.
Dogs are easily distracted. Just one sudden leap to another side could pull your heavy e-bike right over on top of you… and your best friend!
Can an Electric Bike Pull a Dog Trailer?
This is an important consideration if you're planning on using a trailer.
Electric bikes can actually pull a bike trailer much easier than a regular bike because of the motor power. Almost any rider can pull a trailer by simply increasing the pedal assistance if they need it.
However, some electric bikes may need an additional attachment… and there doesn't seem to be a universal one.
But you just need to know whether you have a quick-release or a thru-axle e-bike (check with your manufacturer).
Most trailers are built to be compatible with quick-release bikes (but you may still need to add a small spacer). However, if you have a thru-axle e-bike, you may need to ask the trailer manufacturer or local bike shop for help with an adapter.
Is It Safe to Ride an Electric Bike with My Dog?
The answer to this question partially depends on your dog having good health and temperament, an adequate activity level, and your skill in riding electric bikes. But there are some other things you should be aware of to make sure your dog is safe while on the ride.
It's generally safe to have your dog ride with you as long as your dog has the stamina and isn't skittish or highly anxious. You should also have good control over your e-bike and pay close attention to your dog's well-being by considering these:
Terrain
Distance
Temperature
Thirst
Hunger
Comfort
Security
E-Bike Maintenance
Terrain, Distance, and Temperature
Learning how to safely ride your electric bike is as important for you as it is for your dog. And understanding where, and in what conditions, you'll be riding is essential to both of your enjoyment.
Avoid particularly bumpy or slippery terrain. Riding for a bit on small gravel is one thing, but trying to climb over a mountain or go through mud or snow is another.
Start riding short distances with your dog to see how he does. Gradually build up the distance but take the cue from your dog as to how far is too much!
Heat can be detrimental to a dog, thanks to their fur coat and panting (rather than sweating as people do). Even if you're not too hot, your dog may be. And this could be in much lower temperatures than you think (check out the infographic below from VetsNow).
So, stop frequently for water breaks and notice if they're panting heavily or for a long period. Make sure you know the proper temperatures to take your dog outside in, and how to treat the symptoms of heatstroke for dogs.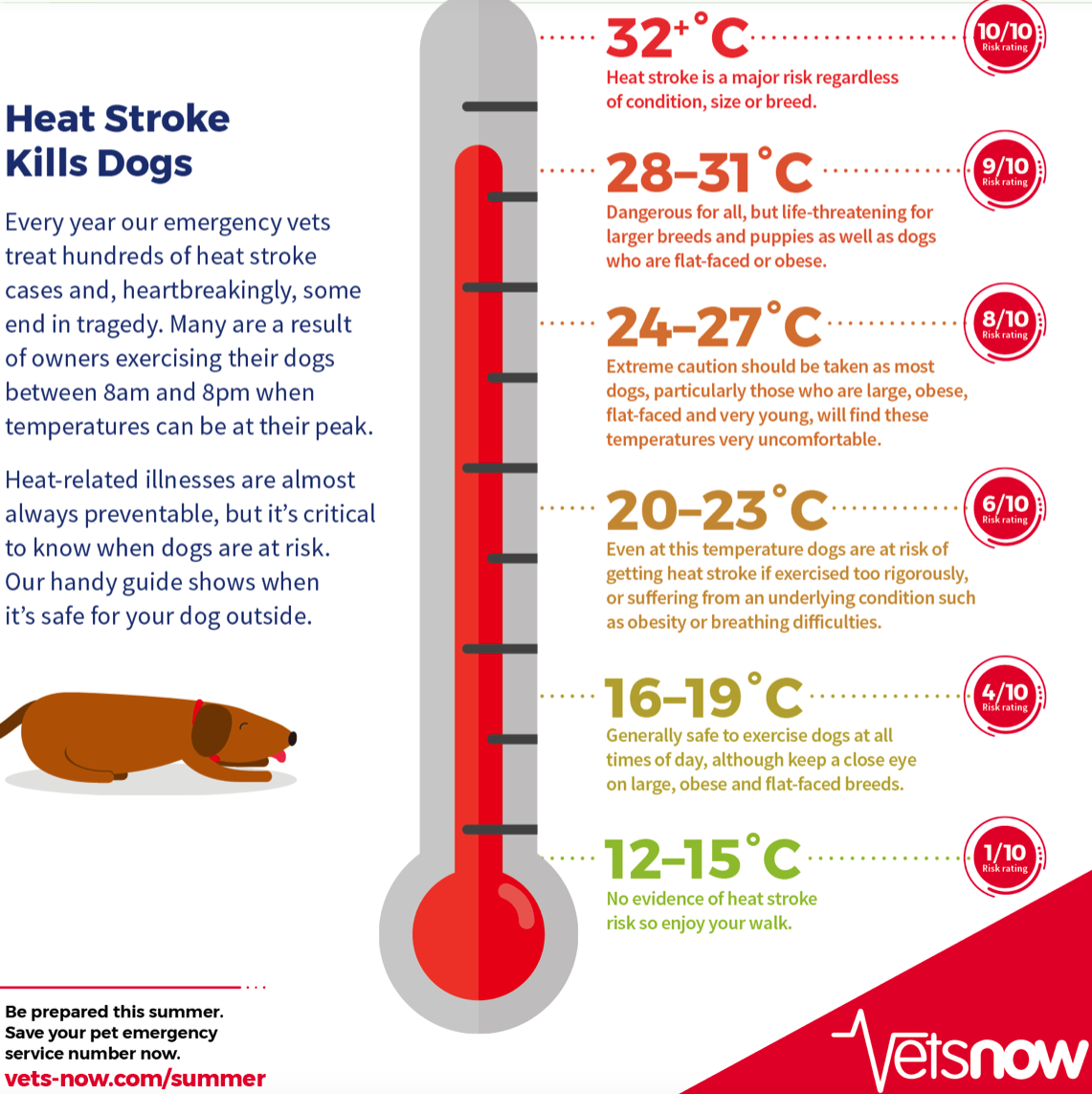 Thirst and Hunger
By far the most important safety consideration is to make sure your doggie is getting plenty of water throughout your ride. Even if they're not running alongside your e-bike, they may become dehydrated due to the weather and the air blowing in their face constantly.
Carry enough water for both of you and even more if your dog is running next to your bike. Don't ever assume that you'll just get them water when you get home. Remember, dogs have a fur coat on all of the time and can easily get overheated.
Don't forget a dog bowl for water! In fact, Amazon sells collapsible dog bowls that fit inside pockets or your bike pannier.
Also, bring a little snack and some treats… 1. in case you end up being out longer than planned and 2. to offer your pup as a reward for coming to you in case they break free or are in a dangerous situation.
Comfort and Security
Unfortunately, your dog can't speak to you to let you know how she's feeling. So, it's up to you to know how your dog acts when it's happy or miserable.
So, when you stop to offer food, water, and a potty break, it's also a good idea to stop periodically and check on your dog's comfort. Make sure the bike basket cushion or trailer is in position and that there aren't any small injuries from moving around in the carrier.
Then make certain the leash and harness are secure and comfortable.
E-Bike Maintenance
Finally, it's important to keep your e-bike well-maintained. With your dog in tow, you're not just considering the difficulties you'll face if your e-bike breaks down while you're riding. Your dog will be impacted as well.
I'd suggest you read our easy-to-follow E-Bike Maintenance Guide before heading out!
Can I Get an E-Bike with a Dog Carrier?
It's hard to find electric bikes that come with a dog carrier (check out the couple I found below). And it's unlikely that, if you did, it'd be perfect for your big or small dog and personal needs.
But I did find a couple of electric cargo bikes made just for dogs that are worth checking out:
If these work for your dog and situation, then fantastic. If not, you're probably better off finding an electric bike with a basket that fits you perfectly or adding the appropriate dog carrier or bike basket.
You might like to start your search by browsing some electric cargo bikes that already come with a variety of bike racks to attach a carrier to:
Conclusion
Riding your electric bike with your dog is a lot of fun if done properly and safely. I asked you to keep in mind that e-bikes are heavier and harder to maneuver than regular bikes. Thus, this should be taken into consideration when deciding how to take your dog on a bike ride.
That being said, there are several ways to take your dog, big or small, on your electric bike. And there are ways to do it safely. Take a look at all of the great options in this article to find the perfect dog carrier or other solution for you and your dog!
May you have many wonderful e-bike adventures with your dog!
Want to take your pup to a new trail? Find the best hitch rack for your e-bike!