You probably did a lot of research when choosing your dream e-bike, so why wouldn't you do the same when buying a bike rack? Picking the best electric bike rack requires research and attention to detail, the same as when buying an electric bike.
I've done the research for you and here are the top 5 electric bike racks for your vehicle:
Thule T2 Pro XT/ XTR (Amazon)
Hollywood Racks Sport Rider (Amazon)
The rest of this guide will take you through the details of the best bike racks for electric bikes on the market today, what features make them the best, and what you should be looking for in an electric bike rack.
Why Does An Electric Bike Need A Special Bike Rack?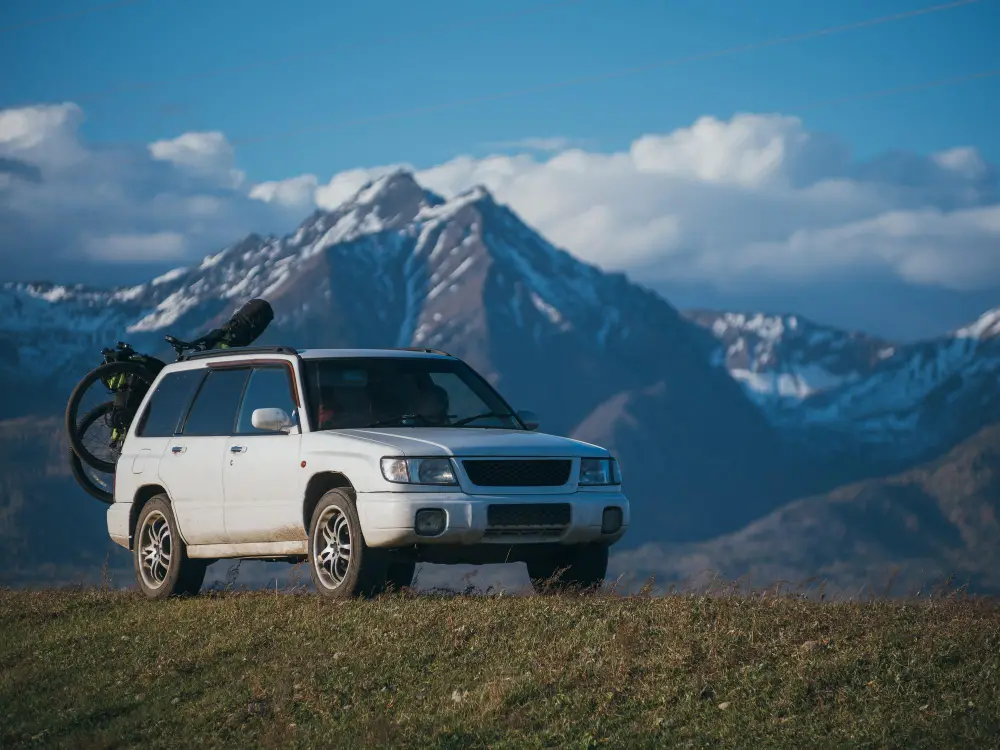 An e-bike rack makes it easy to transport your electric bike(s). The added weight of electric models over traditional bikes requires special consideration when choosing a bike rack. Trunk-mounted racks or other traditional racks that solely rely on straps to keep your bike in place will not be able to support the extra weight of your e-bike.
Racks for electric bikes also have an array of features that will make the mounting and demounting process easier while also ensuring that your bike is safely transported.
What Type Of Rack Works for an Electric Bike?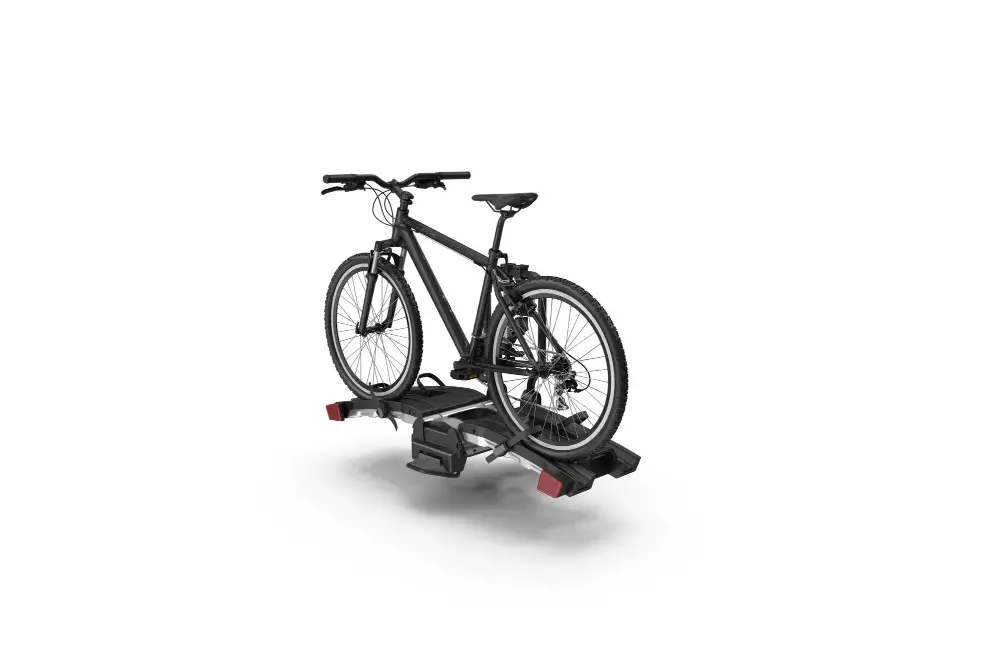 The simple answer is that you can't go wrong with a hitch-mounted bike rack. 
There are two types of hitch-mounted racks: The platform hitch racks and hanging bike racks. As the name suggests, platform bike racks for e-bikes have a platform where the cargo is secured. They are great for securely transporting bikes.
Hanging hitch racks are designed for you to hang your bike on them at the rear of your car. I don't recommend this type of rack for electric bikes, even if they are light enough. There's more concern over damage to your e-bike's components.
And, although you may have heard of roof racks and trunk-mounted racks, these should be avoided due to the heavy weight of e-bikes and their sensitive components.
5 Best Electric Bike Racks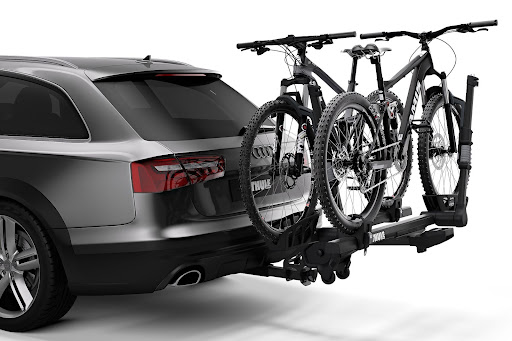 Thule T2 Pro XT/ XTR is one of the best hitch-mounted bike racks and is perfect for carrying heavier electric bikes. The platform bike rack has lots of storage space and its zero-contact design protects your bike from damage along the way.
The Thule rack has two holders that can carry heavy electric bikes with fat tires. The racks have 1.25 to 2-inch hitch sizes that can accommodate a wide variety of vehicles. While the car rack is generally used to carry two bikes, it can hold up to four bikes with its separately sold add-ons. It also has rooftop cargo boxes for extra storage.
This Thule hitch-mounted rack has a total weight capacity of 120 pounds, supporting tires with widths of up to 5 inches through its long sliding arms. It can accommodate a wide range of front and rear wheels. This bike carrier is best for transporting fat tire e-bikes.
The rack will keep your bike upright and in place and has rolling wheels for easier transport. Thule is very popular among cycling enthusiasts for its high-quality products. While it might be on the pricier end, it is the e-best bike rack out there.
Check out this Thule T2 Pro Hitch Rack on Amazon!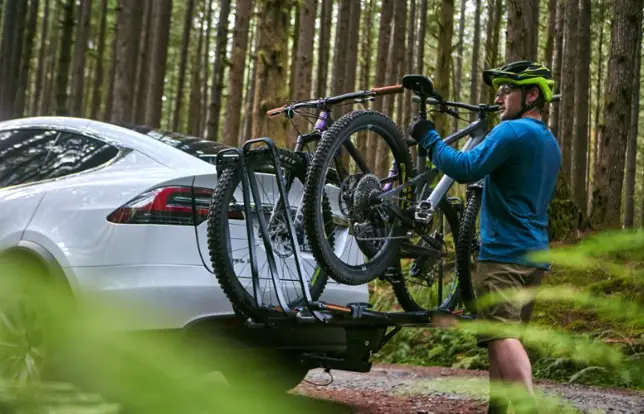 Kuat's Piston Pro X Hitch Rack is at the top of every perceptive biker's list of great bike racks. It practically and purposefully tackles all issues cyclists usually face when it comes to choosing racks for e-bikes.
Among the many bike racks, it is one of the few with touchless arms that hold your bike in place by the tires and not the body, which preserves the finish and paint of your e-bike. Of course, premium features mean a higher price, but the provisions and premium build are definitely worth it.
This Kuat hitch-mounted bike rack can hold wheelbases up to 53 inches and tires up to 5 inches wide. It can carry bikes that are 67 lbs each. The two-bike-holder rack easily expands into a bike carrier with its optional add-on.
The innovative OneTap levers allow the arms to open automatically and secure your bike from trailhead to garage. To ensure visibility, you have tail lights that are LED and low profile, and they're just another added plus point.
The best thing about the Kuat is that it is completely tool-free, meaning there is no struggle with assembly. The loading ramp also has a foot pedal that folds the rack up and down without you having to get your hands dirty.
Take a look at the Kuat Piston Pro rack at REI!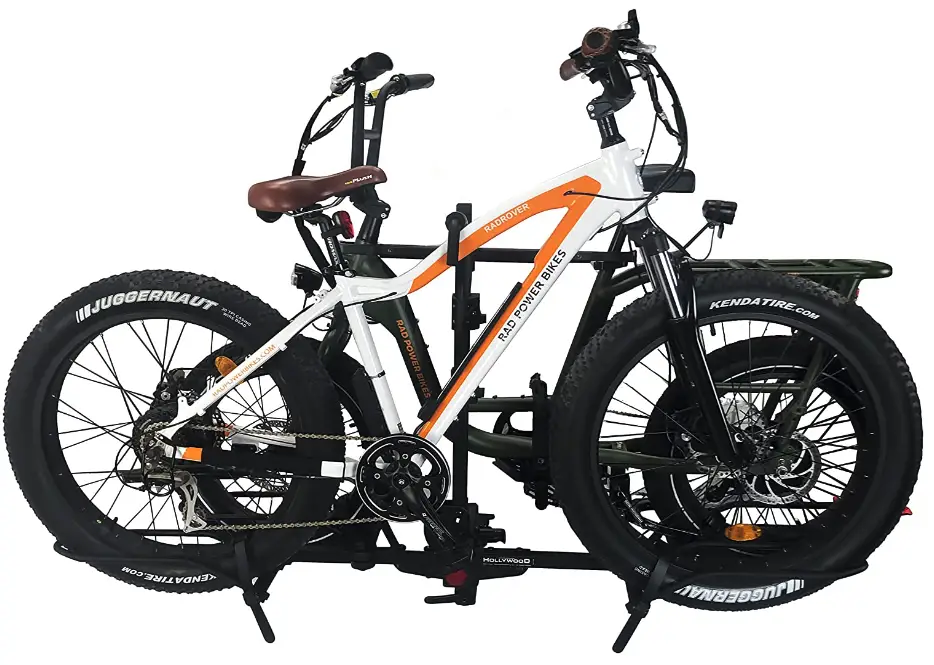 Hollywood Racks is a one-of-a-kind e-bike car rack. If you're looking for an affordable heavy-duty rack to carry your electric bike, then Hollywood Racks is the one. The 50-year-old company has been specializing in producing high rack weight carriers and has gained a positive reputation for its high-quality products.
A heavy e-bike or fat tire bike over 60 pounds is easily supported by this hitch-mounted rack and has a maximum capacity of 160 pounds. Cargo bikes, mountain bikes, and fat tire bikes of tire widths up to 5 inches (and pretty much any road bike) are able to be carried by this rack.
You should note that the Hollywood Racks Sport Rider is only compatible with 2-inch hitches, using the locking hitch pin to secure everything in place. Taking secureness one step further, the rack also has dual wheel-clamping hooks that ensure fat tires stay in place.
The loading and unloading process is extremely simple. You must place your e-bike on the wheel tray and secure the straps around the bike's wheels. Then use the swing levers to lock the middle tube. The Sport Rider also has a locking cable to secure your bike, so you won't need to worry about your precious cargo being stolen.
Take a look at the Hollywood Racks Sport Rider on Amazon!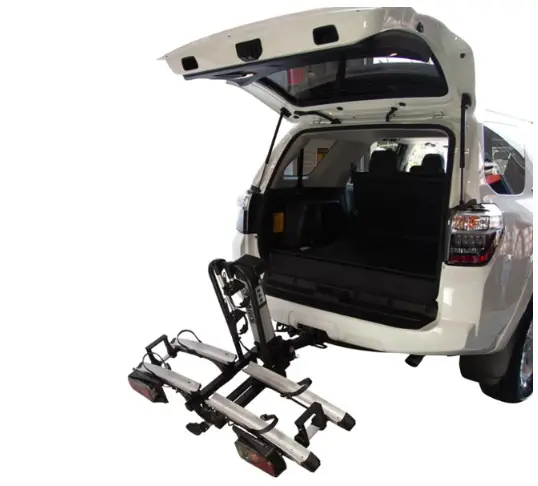 Perhaps the feature that stands out the most about this electric bike rack is the automated lift. That's right- this rack lifts the electric bike for you so you don't have to worry about the weight or placement. Plus, you can release the lift for unloading.
This pretty amazing rack has "claw-like bike holds, which allow room for fenders and a tube-mounted battery. In addition, you can use your car's 7-pin connection to keep your e-bike's lights and signals running. Thus, other cars will be able to clearly see you have bikes protruding off the back of your car.
It boasts a 10.5-inch lift and a rack tilting lever as well. This Saris Door County rack can carry up to 2 electric bikes (up to 60 lbs each) and has integrated bike locks to keep your e-bike secure and in place.
Of note, you must have a 2″ hitch receiver. And it can fit up to a 48″ wheelbase and 3″ wide tires. Therefore, it'll fit a lot of electric bikes but won't carry 4-5″ fat tire e-bikes. 
Check out the automated Saris Door County rack at REI!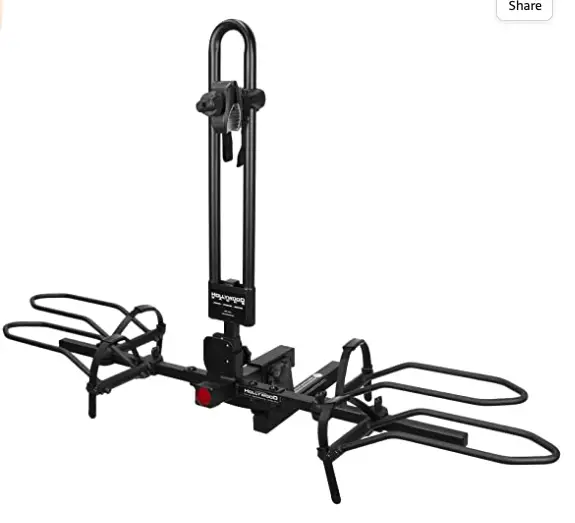 If you have an RV, 5th wheel, or flatbed, there is a rack for you. The well-known Hollywood racks will take care of you with their rack designed for RVs.
Just like any Hollywood hitch rack, this one is built to attach securely to the back of your RV with a keyed hitch pin. It's perfect for electric bikes with a double-walled receiver and hitch tightener to reduce unwanted motion.
One thing that's really impressive… you can carry two e-bikes up to 80 lbs each… that's 160 pounds total, which is very generous. So, you can even use this rack with your heavy-duty fat tire ebikes (or standard-sized tires)! Plus, the bikes are tightly held in place by the locking frame holders.
Note that you'll need a class 3, 2″ receiver on your RV.
Take a look at this RV Rack on Amazon!
What To Look For In An Electric Bike Rack?
With hundreds of racks to choose from, making any attempt to rank them would be pointless. While most bike racks offer a wide range of features, there are some you should be on the lookout for. Here are some criteria to keep in mind while picking out a special rack for your electric bike.
Weight capacity per bike: The first thing to consider is whether your rack will be able to handle the weight of your e-bike and accommodate tire widths. E-bikes generally lie on the heavier end of the scale, with the starting point being around 50 lbs. A bike rack with a high weight capacity is a better fit for your electric bike.
Total Weight Capacity: 2 trays on a rack does not necessarily mean you can load it with any two electric bikes. The number of trays is not equal to the number of bikes you can carry, especially when considering the total weight capacity. You don't want to overload your rack and the tongue that goes into the hitch receiver.
Lock features: You don't want to take the risk of your bike being stolen; e-bikes aren't cheap. A good safety mechanism with extra safety features will ensure that your electric bike won't budge an inch.
Accessibility: Choose a rack that folds down and is easy to mount bikes onto. A rack with a ramp makes the lifting, loading, and unloading process easy.
Of course, if you find a rack with an automated lift (like the Saris rack mentioned above), you will be in even better shape when mounting and dismounting your heavy e-bikes.
Fail-Safe Measures: This is a major factor to take into account when selecting a car rack for your bike. A rack should be able to withstand road conditions but also have fail-safe measures such as redundancies for securing the rack to the hitch and an integrated cable lock.
You should also ensure that your rack has a limited lifetime warranty.
Final Thoughts
There are many racks out there that can carry bikes, but my curated list includes only the best electric bike car racks that all feature innovative solutions to your transport concerns.
Take a look at the high-quality and durable racks I've mentioned to safely and securely transport your e-bike from one place to another.