There are many storage ideas for bikes. However, you need to find the right one for your particular bike, especially if it's an electric bike. Bikes with electric components require special care and shouldn't be stored in the same manner as a regular bike. 
Therefore, proper storage of an e-bike is essential to keep it safe and in working condition as long as possible.
Choose from these top ideas for the best storage solutions for your electric bike:
Waterproof Storage Covers
Wall Storage Racks – Vertical or Horizontal
Garage Floor E-Bike Racks
Outdoor Bike Sheds (Resin, Tent, and Metal Storage)
Ceiling Storage Racks and Bike Pulley Systems
Bike Storage Furniture
Storage Cleaning Solutions for Electric Bikes
In this article, I share the best storage solutions for one e-bike or several! I've researched and found the top-rated storage options and compiled them to help you find the custom system that'll work for you.
Take a look at the recommended product tables and the "pros and cons" chart for each type of storage solution. You'll quickly find the one that works best for you.
I'll also point out other important storage considerations for electric bikes. Learn about battery care, safety, and the differences between storing an electric bike and a standard bike.
Continue reading to learn more about the best storage solutions for your e-bike!
1) Waterproof Storage Covers for Your Electric Bike
It's very important to store your e-bike somewhere that's cool and dry in order to avoid rusting and damage to the electrical parts! This is especially important during the cold winter months or long periods of rain, snow, ice, or humidity.
The best temperature to store your electric bike in is between 32F-68F (0C-20C).
If home or garage storage isn't an option, and you must store it outside, you can place a solid cover over it to keep out as much moisture as possible. A good one will keep the bike mostly dry. However, if there's a lot of humidity, you may find moisture building up inside the cover. So, it's a good idea to check it periodically.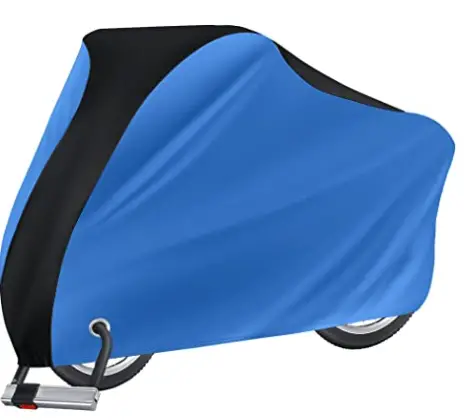 For storage inside your house, use a light cover to keep dust off of your bike. You might even just use a household sheet if you don't mind the way it looks.
Here are some of the best bike covers for long-term or seasonal storage from Amazon:
2) Wall Storage Racks – Vertical or Horizontal
You can purchase different types of racks for different types of e-bikes, although some won't work as well for your electric bike. Take a look at these floor racks, wall racks, ceiling rack systems, and outdoor bike sheds to get an idea what will work for you!
Here are some of Amazon's best options for storing your e-bike:
Best E-Bike Storage Solutions for Wall Mounted Racks
Wall mounting your electric bike is a great option if you use the correct wall racks. You need to consider the weight rating of any rack you're considering and determine whether it'll fit your heavier and bulkier electric bike.
This is especially important given that most e-bikes are an average of 20lbs heavier than standard bikes. They also have a bigger frame and possibly wider handlebars. So, when a bike brand states that their rack "holds most bikes", assume that your e-bike is the one it does not "hold". Make sure you check all the specifications for size and weight before buying one.
That being said, you should be able to find a wall rack that works for your e-bike. Wall racks can be very useful.
Wall racks could possibly be the best option if you have only one electric bike. First, this is a very efficient way to optimize space. Further, wall-mounting will help keep your e-bike from damage due to cars, lawnmowers, and other objects moving around in the garage (or kids running around your house!).
Be sure to check on what materials were used to build the rack to determine if it is strong enough to hold your bike.
An aluminum rack that is lightweight will most likely be the easiest to install and still hold your electric bike well. And a rack with soft, padded hooks will prevent damage to your bike. Keep in mind that you may need someone to help you mount a wall rack.
Vertical Bike Racks
These are racks that can be used to stand your bike up against a wall or surface vertically. Vertical bike racks can be mounted to wood or masonry, so they'll work inside your home or in the garage.
The great thing about these racks is that you can generally mount the entire family's bikes. Some of these racks hold up to 6 standard bikes. However, the same rack may only hold 4 electric bikes due to their bulkiness from the extra thick frame, motor, and battery.
But no matter how many e-bikes you mount in your garage, hanging them vertically uses less wall space than other options. This is why many apartment dwellers use a vertical rack to hang their bikes inside their homes. They can hang it behind a door so that it's completely out of the way (although you might not be able to open the door quite as far).
However, unlike a horizontal wall rack, your bike will stick out of the wall a few feet, so you should have room for this in your home (but again, could work well behind a parallel door). If placing the rack in the garage, you might not have enough room to continue to park one or more cars.
Another problem with vertical racks is that it'll be harder to lift a large electric bike up high to hang it. And, it might be impossible for your kids to hang up or remove even a standard child-size bike high up on the wall.
And again, as E-bikes can be pretty heavy, be cautious when mounting and lifting. 
| | |
| --- | --- |
| PROS | CONS |
| Common storage choice: Many options to choose from | Takes up more space inside the home or garage |
| Uses less wall space than other storage options | Kids probably can't reach to hang up their own bikes |
| Stores the most electric bikes in one space | More difficult for an adult to hang up their heavy e-bike |
| Works for any wheel size | |
Horizontal Bike Racks
Place your e-bike horizontally on your garage wall and it'll be easy to take on and off, as long as the rack is placed low enough. If you hang your rack too high up on the wall, you could struggle with getting your heavy electric bike off of it.
So, like a vertical bike rack, you can hang your bike mostly out of the way in your home or garage. But because your e-bike hangs horizontally, it'll take up more than twice the wall space than if you hang it vertically.
| | |
| --- | --- |
| PROS | CONS |
| Easier to lift bikes horizontally | Use a lot of wall space |
| Can fit better in your house or apartment | Wide handlebars may get in the way |
| Can fit smaller bikes | May not fit large electric bikes |
| Can find wall-mounted or free-standing options | May be hard to lift bike onto garage or house wall |
| | Can't store as many bikes as a vertical rack |
3) Garage Floor E-Bike Racks
Floor racks are perfect for heavy electric bikes. You don't have to worry about the ability of the rack to hold the weight. And you won't hurt your back lifting your e-bike up onto the wall.
Name:
CyclingDeal
(Up to 6 Bikes)
BIKEHAND
(1-3 Bikes)
Type:
Floor Rack
Floor Rack
Rating:
4.7/5
4.7/5
Approximate Price:

$69.99


$49.98

These garage floor stands are easy to use and may even be adjustable. Just slide the front wheel of your bike into the bottom of the rack. You can get stands that hold up to 5 bikes for your family or roommates.
Keeping your bike on the floor is also incredibly helpful for frequent and active riders. You can pull it right off the rack and head out on your ride. And because electric bikes make getting anywhere you need to go easier and faster, a floor rack makes a lot of sense.
However, floor racks will not save you space or keep your e-bikes out of the way of moving garage equipment. Thus, they're really only useful if you already have a lot of space, either inside your home or in a large, accessible garage.
And, as you might have guessed, your tire needs to fit in the wheel slots. This can be problematic for many electric bikes that come with fat tires that are 3 inches or wider.
| | |
| --- | --- |
| PROS | CONS |
| Easy access for frequent riders | Risk of damage to bike from other garage equipment |
| Can easily use in the garage or spare room of the house | Might not be big enough for tires wider than 2.5″ |
| No risk of injury due to lifting | Might be too big for small kid's bikes |
| No risk of a heavy e-bike falling off a wall or ceiling | |
| Can put multiple bikes in one rack. | |
4) Outdoor Bike Sheds (Resin, Tent, and Metal Storage)
For obvious reasons, a bike shed can only be a useful way to store e-bikes if you have a space to put one outside your house or even in a garage.
What's nice about a bike shed, as opposed to a common backyard shed, is that it's just big enough to store one bike (or several). So it'll likely keep them secure and out of the elements without being an obnoxiously huge eyesore. You can find the perfect size to hold your own bike or a walk-in shed for up to 8 regular bikes (so perhaps only 6 electric bikes due to their bigger frames).
Also, a shed will keep your electric bike protected and out of the way of other dangers. Plus, it'll allow you to keep the space you have in your home or garage for other things.
A high-grade metal storage box or durable resin shed should be theft-proof and protect your e-bike from the weather. But it never hurts to add another lock and check it regularly for water leaks.
However, a tent storage shed (check price on Amazon) is considerably less expensive and movable! So this option could work for you!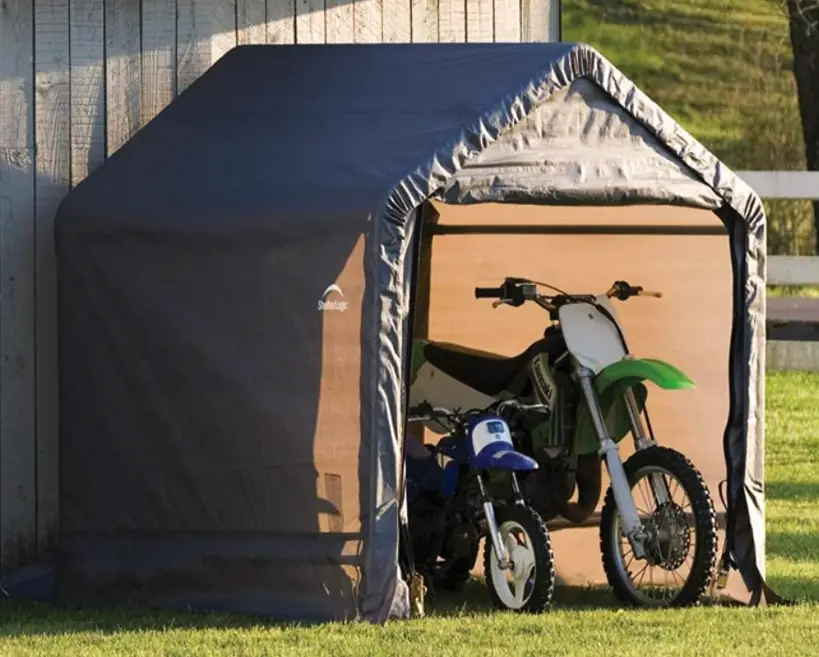 | | |
| --- | --- |
| PROS | CONS |
| Allows for secure outdoor storage | Need a flat surface to put it on |
| Can get a high-grade, virtually unbreakable one | Need space to set it up |
| Can include storage space for other bike equipment | Can be ugly |
| Choice of an easily movable storage tent | Storage tents could be easier to break into |
| | Greater chance of damage to electrical components |
5) Ceiling Storage Racks and Bike Pulley Systems
As far as getting your bikes completely out of the way, hanging them on the ceiling might seem like the best option.
However, besides it is difficult to install a ceiling rack or pulley system, electric bikes are super heavy. So not only do you need to make sure the system you purchase is using high-quality parts, you need to make absolutely sure it's installed securely.
Based on the many reviews I've read, buyers have added 2x4s to their ceilings before installing to enhance security. They've also replaced several cheap parts that come with their purchase, including screws, washers, bolts, and ropes.
In other words, installation is tricky and should only be done by someone qualified to put a 70-pound electric bike above your head or car. This alone makes me wary of these systems for something as heavy as even a 50lb e-bike.
Further, if you use a pulley system, you need to make sure it's strong enough to hoist your bike up and down. So, if hanging your ebike on the ceiling is the only option due to lack of storage space, consider using a system made for extra weight like this Kayak Hoist System from Amazon that holds up to 125-pound bikes as well as other equipment.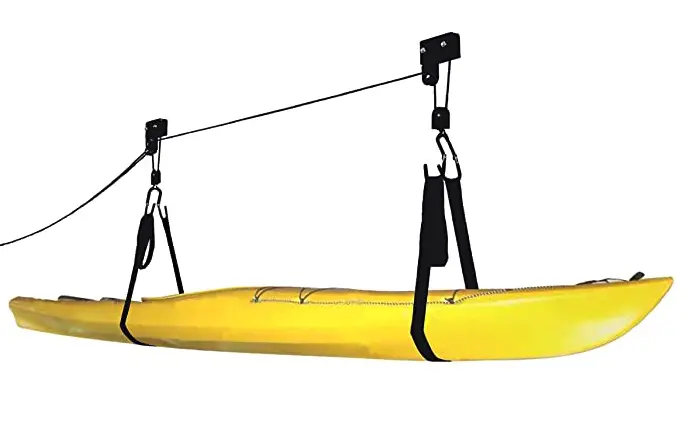 | | |
| --- | --- |
| PROS | CONS |
| Fits more wheel sizes than floor racks | Difficult to install (need to add 2×4?) |
| Space! Doesn't take up any! | Kids can't reach or access |
| Easy to pull up and down (pulley system) | Weight rating may not be high enough for electric bike |
| | Not easily accessible for a quick ride (might ride less) |
6) Bike Storage Furniture (What is it?!)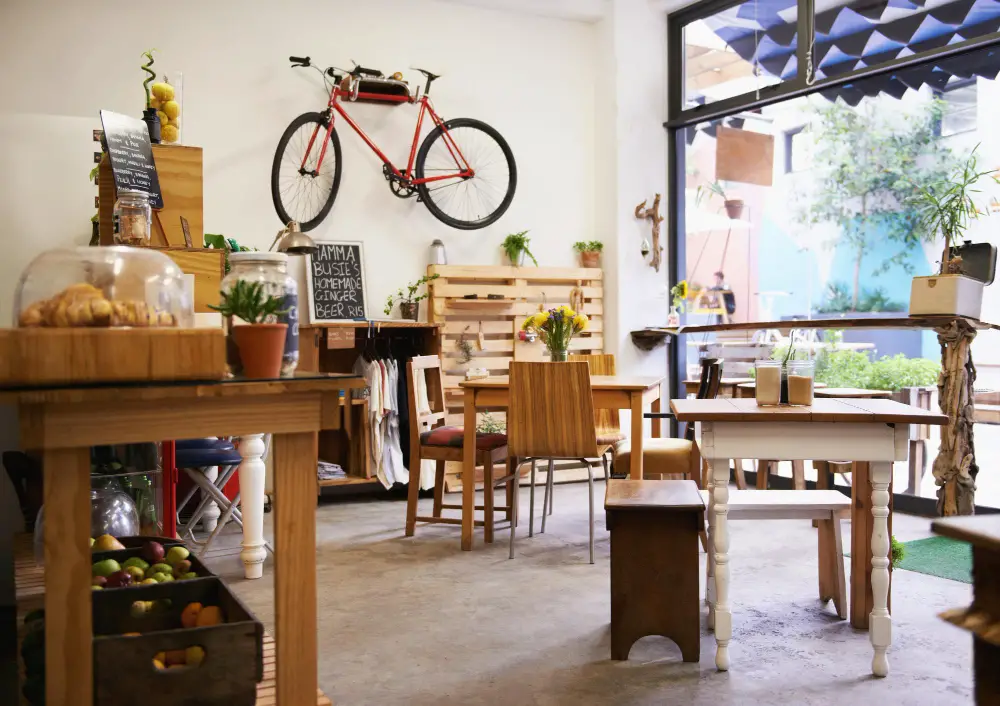 This is one of the most interesting bike storage ideas ever! It truly is household furniture or even wall decor that doubles as a place to keep your bike secured.
But, first, where do you even find such a thing? You can find it in creative e-commerce stores like Etsy or build a custom one yourself!
They can be as simple as a nice piece of wood used as a decorator shelf that holds a bike in between or a floor cabinet that a bike sits securely in the middle of. If you like this type of storage solution, plan on spending some time searching for the right one or having one custom-built to meet your needs. Let's leave this up to the imagination!
Once again, however, consider that your e-bike is very heavy and whether there is a storage furniture solution that will support it.
| | |
| --- | --- |
| PROS | CONS |
| Very unique! | Might not be attractive to you |
| Custom built for perfection | Might not securely hold a heavy e-bike |
| Useful solution for apartments and small spaces | |
7) Storage Cleaning Solutions for Electric Bikes
The best electric bike storage solutions always include cleaning your bike before storing it.
E-bikes are definitely more difficult to clean than traditional bikes but there are proper and effective ways to do it. Check your e-bike user's manual to see if it has any specific cleaning recommendations for your brand of e-bike and how water resistant it is.
In general, there are a few basic tips for cleaning electric bikes:
First off, don't use a power hose or jet spray to wash off your electric bike! This can damage the electrical ports and leave the bike prone to rusting. Instead, use a slightly damp rag and specific bike shampoos that are safe to use on plastic. Or use a soft brush or rag to gently scrub your bike.
The best practice is to wash or scrub off any dirt immediately after a ride, which will keep the filth from sticking hard to the bike. You can opt to use very light water pressure to clean your e-bike, but be careful to avoid too much water on or around the electrical components, bearings, hubs, seals, and motors.
Make sure to remove the battery and controller display if you do decide to give it a gentle wash. 

Use waterless cleaner and degreaser (see products below)
Keep the bike chains clean and be sure to use lube, degreaser, or other rust prevention methods so pedaling remains smooth. Make sure it's fully dry before putting it in storage!
Top Electric Bike Maintenance & Cleaning Products (Use Before Storage)
All bikes require quality care to maintain their value and functionality. And electric bikes simply need a little more, as well as added caution when it comes to cleaning important components.
You need at least two of the following products, one for cleaning and one for chain lubrication maintenance. Always use them before and after storage of your electric bike for a long period.
Finish Line E-Bike and Exercise Bike Cleaner Aerosol– 14 oz, Amazon
Rating: 4.6/5
Approximate Price: $7.99
What it is: E-bike cleaner: A spray to safely remove grime from your electric bike before it gets deep into the electrical components. It's safe to use on batteries and all bike surfaces. Just spray and wipe it off! No rinsing with water required.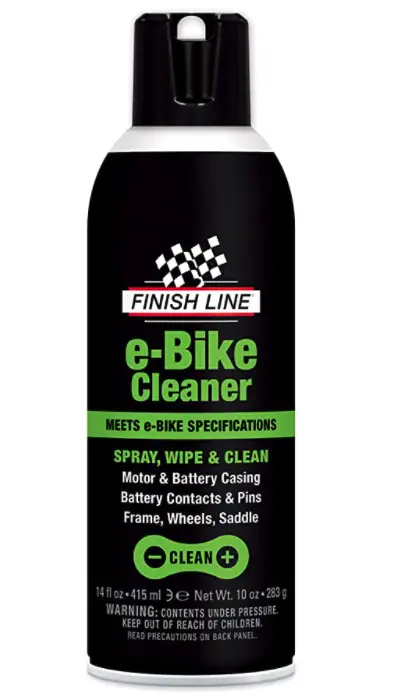 Finish Line E-Bike Chain Lube, 4 oz, Amazon
Rating: 4.6/5
Approximate Price: $11.99
What it is: Bike Chain lube specially formulated for electric bikes. This product is a wet chain lube created specifically for lubricating electric assist chains that are subject to high pressure and torque. Prevents rust and other premature wear on your e-bike's chains.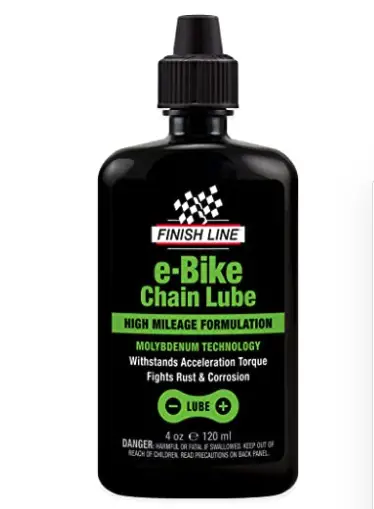 Muc-Off MOX-904 Nano Tech Bike Cleaner– 1 Liter, Amazon
Rating: 4.8/5
Approximate Price: $19.42
What it is: Bike cleaner. This product is great for removing deep dirt that is stuck on your ebike without ruining the finish. It works on any type of bike and is easy to use. Spray it on and lightly rinse off (or for an electric bike, just use a damp rag to wipe it off).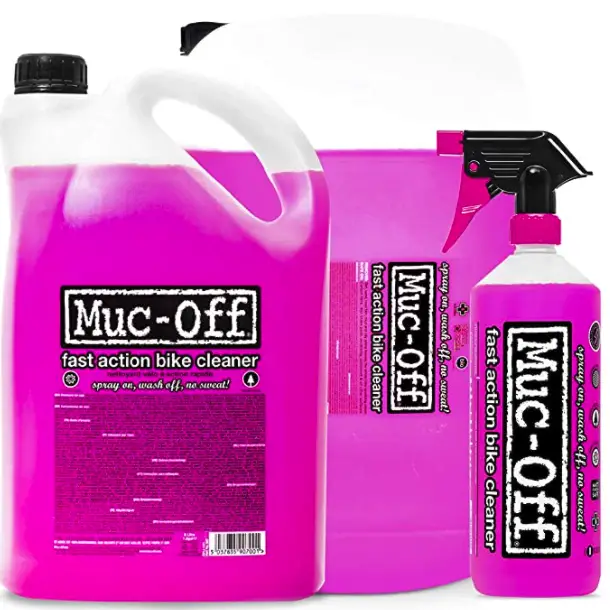 Rating: N/A 
Approximate Price: $74
What it is: E-bike Waterless Cleaner set. This is a complete set of formulas that are simple to use and don't leave any streaks or scratches. Use the EcoClean to remove dirt and grease, then protect your ebike from the elements with CeramicProtect, and finish off with the E-BikeCleaner to maintain your clean bike.
Plus, you'll get a microfiber towel, applicator, and sprayers. Just spray a few times and wipe it off! No water is required.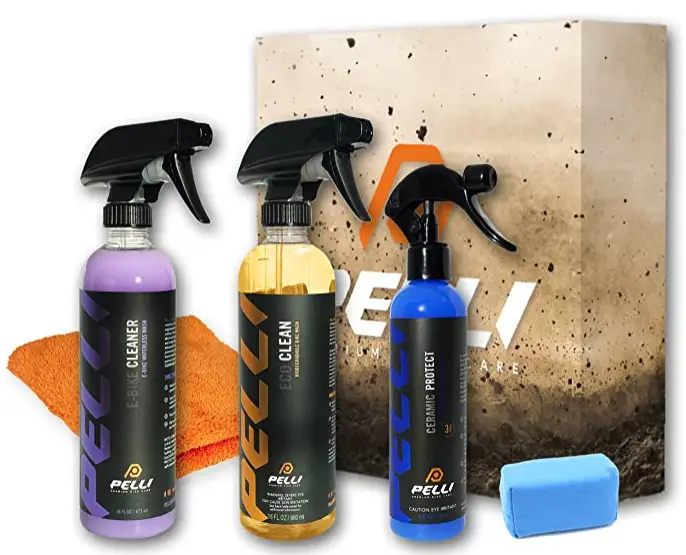 Rating: 4.7/5
Approximate Price: $9.38
What it is: Chain Lube. This is a wet lube formula designed to make your ride smoother and keep your bike chains healthy in wet, muddy, and other extreme conditions that e-bikes are likely to find themselves in. Prevents friction and doesn't require any wax. This is appropriate to use on any type of bike!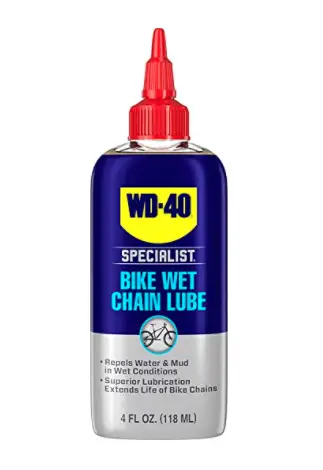 Finish Line 1-Step Bicycle Chain Cleaner & Lubricant – #1 Best Seller on Amazon
Rating: 4.7/5
Price: $9.25
What it is: Bike Lube. This product cleans and lubricates your bike chains in one step. Prevents friction and premature wear, and removes any grime that has built up on the chains. This is great for bikes being stored long-term near the coast or during the winter.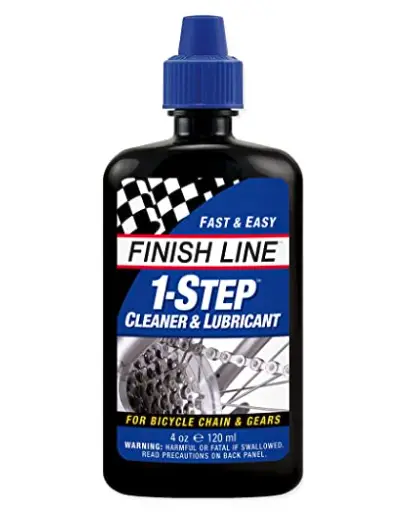 Finish Line Gear Floss, Amazon
Rating: 4.6/5
Price: $6.75
What it is: Detailing Tool. This is a detailing tool designed to clean your chainrings, hubs, brake arms, rear cassette or freewheel, and more. The microfiber floss captures dirt and grime in hard-to-clean crevices or the outside of your bike. The rope is washable and highly tear-resistant. 
MR.SIGA Microfiber Cleaning Cloth, Amazon
Pack of 12, Size: 12.6″ x 12.6″
Rating: 4.7/5
Approximate Price: $12.99
What it is: Cleaning Cloth. Microfiber cloths are great for cleaning any type of bike. They have an ultra-soft and non-scratch material and get rid of dust very efficiently. They are great for drying your bike, removing dust, and cleaning off dirt and grime with one of the sprays mentioned above. 
More Electric Bike Storage Ideas
It's best to learn everything you can about storing your electric bike so that you can preserve your investment. Here are some additional tips and ideas you should know before storing your e-bike.
Store the battery separately (even if in the garage)
Storing your battery separately can make it easier to store your bike as well as keep the battery protected. Most e-bike batteries are lithium-ion and need to be stored in a cool, dry place for the safest and most efficient usage. If batteries are left outside in the heat or humidity too long, it can cause shorter charges and lower electrical resistance.
However, batteries should be warmed up to room temperature before popping it back on the bike.
In addition, your battery will be safer stored indoors even though your bike (and the rest of the electric components) are in the garage or a bike shed. Not only will keeping it inside protect the battery from damage, it'll also be protected from thieves. Theft of e-bike batteries is common since it is typically the most expensive part (and it's easily removable from an electric bike).
Another battery storage tip is to never keep your battery on the charging port for too long. It's actually a good idea to remove it before it hits fully charged. This will preserve the overall life of the battery. If you continuously keep the battery on the charger in between uses, it will slowly damage the battery. Also, make sure your battery ports are clean and rust-free before attaching them back to the bike.
Keep your e-bike safe during storage
Just as you wear a helmet to protect yourself during riding, you'll want to protect your e-bike when you're not riding.
But if you have no room to store your bike indoors, it can be a bit nerve-wracking to leave it outside, even if locked to a bike rack. A bike shed or garage storage is the next best option.
Still, a good storage idea is to use a bike cover with a strong, efficient lock to give you peace of mind, even if you're storing your e-bike in the garage. Or lock your bike to something sturdy, like a metal pole, fence, or bike rack.
Again, bring your battery inside to prevent thieves from stealing it. In other words, use several storage ideas instead of just one to keep your e-bike safe.
If you don't ride your bike too often, you can also rent out a storage unit to keep your bike safe from thieves and bad weather conditions. Look up storage units in the area near you for the best pricing and space options. 
Store your electric bike inside your home if possible
Storing your e-bike inside your home is most likely the safest option, especially if you ride it often. However, it may be slightly annoying or frustrating to store your e-bike indoors if you live in a smaller house or apartment.
Consider using a wall rack as discussed above to allow more space in your home. 
If you don't have a rack, try finding a corner of your home that is the least used and lean it up against a wall. You can remove the wheels, battery, and handlebars to make the bike less bulky as well, although this would be more of a hassle to remove and reinstall before every ride. 
When you need to store it outside, be sure to keep it out of direct sunlight and away from any spraying water sources like sprinklers or even a pool. A bike cover is the best option to prevent corrosion and deterioration but you can also use a porch or overhang temporarily to block the electric parts from harsh sun, wind, and rain. 
Comparison and Conclusion: Storage for Electric Bikes vs. Standard Bikes
Keep in mind that e-bikes are much heavier, bulkier, and have more parts than traditional bicycles. They will require more caution when mounting on racks and lifting. They'll also take up a bit more space in your home, which is why it's a good idea to get one of the best e-bike racks discussed above to store it!
With electric bikes, remember that you'll also need a safe place to charge your battery. So if you ride frequently, you may wish to have the battery charger near your e-bike. Of course, this isn't a concern at all with a standard bike.
E-bikes will also take up more space in general than a regular bike due to their larger frame, motor, wider wheels, and battery. Thus, it can be harder to figure out the best storage solution for an e-bike.
Finally, when looking into the best electric bike storage solutions, you should always prioritize concerns with the electrical components and how it needs to be stored differently than a standard bike. Better cleaning, proper battery care, and caution with electric components are all things to consider.
Overall, there are plenty of efficient solutions to storing your e-bike anywhere that works for you. While the safest option is to keep it inside your home, you can also store it outdoors under a waterproof cover, on a hanging bike rack strong enough for the weight of your e-bike, in a garage floor rack, or in a bike storage shed.
Just remember to further protect your investment by keeping your e-bike clean and greased up while it's in storage!
By properly storing your electric bike, you can continue to use it for many years and enjoy every ride!