With so many different types, brands, and models of e-bikes being sold, it's already hard to choose the best electric bike for you. To further complicate the matter, you've probably heard that e-bikes can be very heavy.
So if you're hoping to find a lightweight one, you're probably wondering what are the lightest electric bikes available that are also affordable.
The world's lightest electric bike you can buy, the HPS Domestique, weighs 18.74 pounds and costs more than $14,000. However, there are many e-bikes on the market that are below the average e-bike weight of 55 pounds that are more affordable.
But, is it worth it to pay more to get a lighter-weight e-bike? This article will show you the best lightweight electric bikes I found for both women and men. And you can review the special checklist to determine whether it's worth it to you to spend more money to get one.
You might like to watch the video first:
What Are the Lightest Electric Bikes (That Are Affordable)?
There are many considerations that go into choosing the best electric bicycle. But given the concerns of having a heavy e-bike, as well as all of the advantages of getting a lighter one, discerning what is the lightest electric bike that fits your comfort level, and your budget is super important.
Ultimately, you can get one of the lightest e-bikes (that weigh less than 55 pounds) for a reasonably affordable cost as shown below. I've researched and hand-selected electric bikes that meet these price and weight requirements.
Take a look at the chart to find the best lightweight e-bikes from top brands that are affordable for a rider with a sensible budget.
You can find a light electric bike for under $2000!
Why Are E-Bikes So Heavy?
The weight of an electric bike probably isn't one of the things you counted on when looking for your perfect bike. After all, who would make a bike that's too heavy to pick up and put on a bike rack, right?!
But, generally speaking, electric bikes are much heavier than their traditional counterparts because of the additional electric parts required. These include the motor, battery, added wiring, controller, display, and utility features such as racks and lights.
Here are all of the reasons why electric bikes can be so heavy:
They have larger frames than standard bikes in order to support all of the extra electrical components.
The battery packs are quite heavy themselves, weighing an average of 7 pounds (some going over 12 pounds and some as few as 3 pounds).
The motor also adds additional weight: Typically, a motor can add up to 17 pounds of weight.
There may be additional accessories making it heavier: Lights, storage racks, and LCD controllers.
Manufacturers have made it more affordable to own an e-bike by not spending extra time or money making them lighter (yes, lighter-weight parts are more expensive).
The heavier the frame, the larger and more powerful the motor needs to be to move the e-bike forward.
Many electric bikes these days have wider and therefore heavier tires: This is in part because many are hybrid e-bikes that allow for riding on the road or in the dirt, sand, and gravel. Several models even include "fat tires" which are over 3 inches wide!
Disadvantages of a Heavy E-Bike
Many people these days order an e-bike online. Naturally, your focus is on what looks good, what meets your basic riding needs, and your budget. And, frankly, the weight of an e-bike isn't something that's often announced clearly online… unless they're showing off that it IS unusually lightweight!
This leads to several potential problems for e-bike buyers that I've listed here:
A heavy e-bike can cause physical strain on riders: Lifting it up steps, or even over a curb, can be too much for some. And putting it into a car or public transportation might be impossible. A 68-pound e-bike might have amazing features (like my husband's Rad Mini 4), but it isn't easy to lift into the back of your car even if you're an average-size rider!

It can be difficult to handle a heavy electric bike while riding: For instance, coming to a stop can take longer: How an e-bike stops and goes partially depends on whether the e-bike has a torque or cadence sensor. But it also matters because it can be much harder to stop quickly by putting your feet down as well.

Plus, a heavy e-bike is generally a bigger one as well: Thus, it's more difficult to fit it into tight places, like bike racks or your office cubicle, because of its larger frame size.

A heavier e-bike may cost more when repairs are needed: This is because it likely has lower-quality components that'll need to be fixed or replaced more often.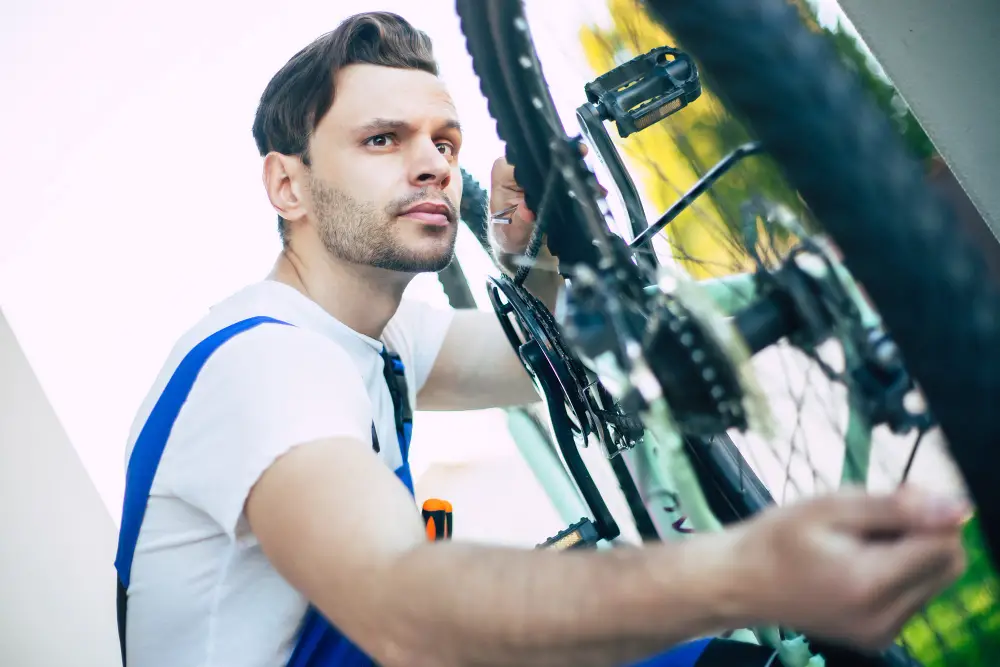 11 Advantages of Buying a Lightweight E-Bike
Buying the lightest electric bike for your budget has several advantages. I've listed them here:
They tend to look sleeker and more like a standard bicycle, as the electric parts are smaller and better hidden.

It'll feel sportier, and not only because the bike looks cool. But also because you can actually conquer tougher hills and longer rides… thanks to pedal assistance.

It's easier to put in a car or on public transportation due to being less bulky and fitting into small spaces.

Easier for smaller riders to physically manage.

Lightweight e-bikes offer reduced physical strain for everyone: You're less likely to hurt your back, tendons, or muscles lifting 35 pounds instead of 65!

That also means they're easier to carry upstairs or mount onto a bike rack.

There are now more affordable lightweight options than there used to be. This will allow more people, despite their incomes, an opportunity at owning one.

Another big advantage of riding the lightest electric bikes is the increased ability to climb hills. This is true even if you're using less electric power and more of your own exertion. The weight difference might not seem like much at first, but when your heart rate goes up during climbing, those extra pounds become noticeable quickly.

The lightest electric bike is more comfortable on bumpy roads or dirt paths because it has a smoother ride with less physical effort required by the rider.

Having an e-bike that's lightweight makes all riding conditions easier!

Finally, the lightest electric bike will use the least battery power. Thus, your battery charge can be preserved for much longer, meaning longer rides, less recharging, and more fun!
On average, electric road bikes cost more than other types of e-bikes because of their specialized nature. And many serious cyclists can be seen on the side of the road with this model.
The Scott Contessa Addict eRide weighs in at only 26.1 pounds with a price of around $7000. It's built for fast road riding with high-quality Shimano parts and a 24-speed electronic shift system.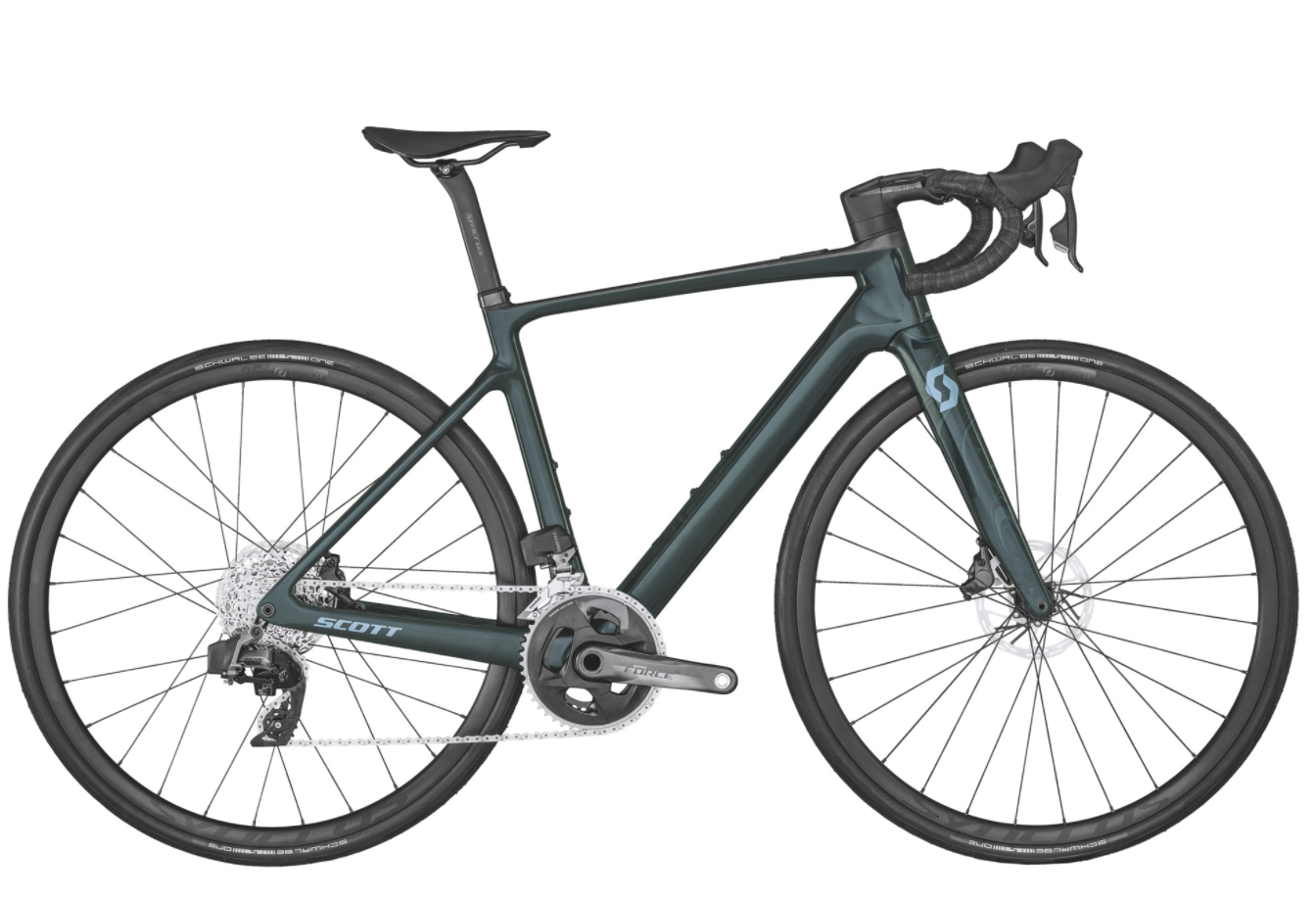 If you want the lightest electric road bike that's high-quality and relatively affordable, then this may be it.
At only 36.9 pounds, this 250 Watt hybrid e-bike already has lights, a rear rack, and fenders included in its weight. The small battery weighs under 4 pounds as well!
The lighter weight will make the bike easier to get moving, whether you're starting on a hill or in gravel or dirt.
However, this also means that its small size will not output as much power. Thus, it'll shorten your riding range, especially if using electric power consistently.
You'll pay around $3700 and get a 2-year comprehensive warranty. Another huge perk is that it comes in four different frame sizes so that you can find the perfect fit for you!
Finding a lightweight electric mountain bike that's inexpensive is somewhat like finding a needle in a haystack. By design, mountain bikes have heftier frames to support the rough terrain they're riding on. And because they're built to last, they aren't cheap!
So, I dug deep to find the Cannondale Moterra Neo 5, one of the more affordable and lighter-weight eMTBs.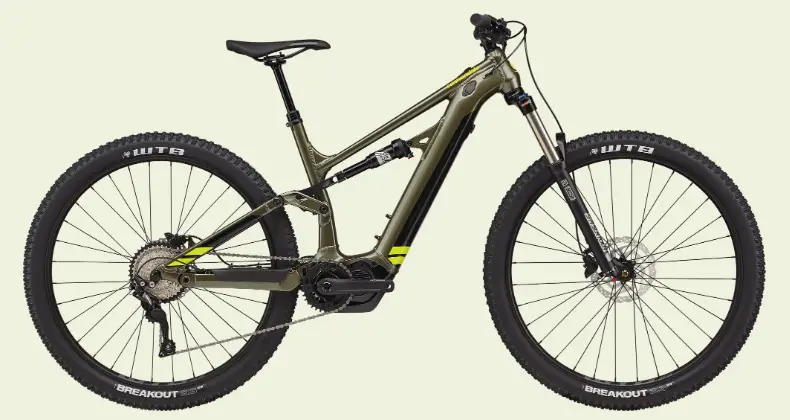 Starting at a price of around $4500, it weighs in at 52 pounds. Although it's quite a bit heavier than some electric mountain bikes, it still weighs less than average (barely) and less than many other e-bikes out there which are 65 pounds or more.
Plus, it has a range of up to 60 miles, an integrated weather-protected tube battery, and 10 speeds to help you navigate serious uphill climbs.
wondering how much weight an e-bike can pull? Check this out!
At 22.7 pounds, you can fold this, pick it up and toss it (literally!) where you want it to go. As a commuter/city e-bike, this makes it super easy to bring with you on public transportation. And, because it folds, you can store it in small spaces.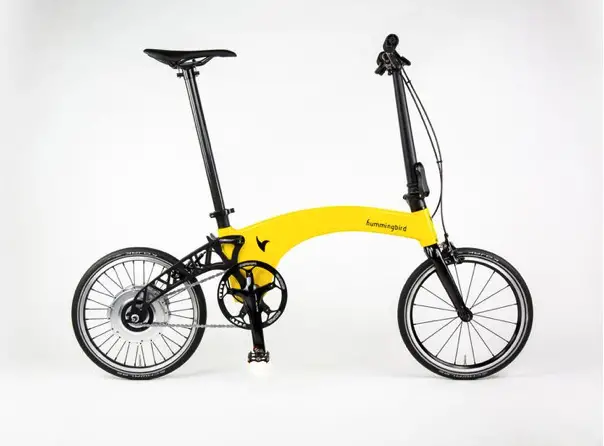 You can bring it with you anywhere without having to worry about breaking your back or getting tired from carrying too much weight around town. At around $5000 USD ($4495 GBP) it may seem pricey for a smaller e-bike with a 250 Watt motor. However, that's exactly what you're paying for… this lightweight small e-bike is ultra-convenient and easy to get around on!
Here's what else is cool… you can register your e-bike through the Hummingbird app to get live diagnostics and customer support!
How to Decrease Your E-Bike's Weight
Some buyers opt for upgraded, lighter bike battery packs in order to lower their total e-bike weight. You can also swap out some of the accessories that come included (such as lights or racks).
This means you might pay less money upfront (or even get it cheaper). However, you may end up replacing your batteries every year instead of twice per decade as most other light frames would require.
Conclusion
I hope I answered the question of what is the lightest electric bike and that you were able to find one that works for you. Although lightweight e-bike options are generally quite expensive, they may be worth it in the long run.
After all, if you get the lightest electric bike for the money, then it'll take you easily and happily through the next several years. And you won't have to replace it once you realize it's just too heavy!