Electric bikes have been around for many years and have become increasingly popular since the 1990s. In the decades since then, manufacturers have come out with new technology and many different designs that make choosing an e-bike daunting.
The best e-bike brands in the USA and the UK use high-quality components but offer good prices on one or more of their models. In general, they are able to sell an electric bike for less than their competitors because they use their own technology, sell online only, or use less expensive components (like a smaller battery or less powerful motor).
For this reason, I have compiled this comprehensive guide of the best electric bike brands in each subcategory that you can get for your money. I have also made sure to include both USA and UK brands to cover a wide range of e-bikes available on the market.
Best Value E-Bike Brands: The USA vs UK Difference
Before discussing the best brands for your money overall, it's first important to understand that there is a surprising amount of variation in the laws surrounding electric bikes. When electric bikes first came to the bicycle market, there were no set rules in place to govern their sale or use.
Now, after being on the market for almost 30 years, each country has its own rules in place to regulate electric bikes and these rules affect what each brand can do in the USA versus the UK. These regulations determine how fast and how powerful the motor can be to still be considered a bicycle.
The main difference between e-bikes from the UK and those from the USA is speed. In the UK, the speed is limited to 15.5mph (25kmph), whereas electric bikes from the USA are typically limited to 28mph. That's nearly double the speed. The current UK law is derived from the European Union.
Many countries, including Australia, follow the guidelines of the EU, so most electric bikes that are available in the UK are also legal in these countries. Because the USA has different guidelines than the UK, I've included what I think is a good value brand for each type of e-bike, for both the USA and UK.
Best Value Brand Electric Bikes in the USA
The Ride1Up Prodigy XC can be found for around $2,295. Considering that e-mountain bikes can be over $10,000, this is a great price for some off-road fun.
Ride1Up is an American company, based in California. They don't have a physical presence in the industry, meaning that you can only purchase their bikes online at this point in time. However, this is one of the reasons why they can keep their prices lower. And they also have been offering a 30-day trial to make sure you're happy with the bike.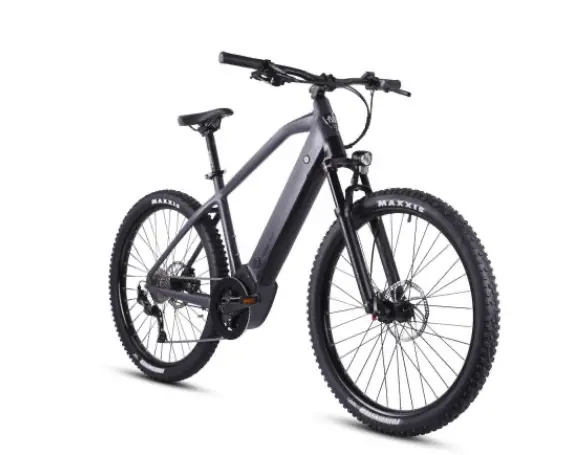 The Prodigy XC is a new class 3 e-bike, reaching a top motor speed of 28mph, but also has a throttle function up to 20mph. It uses top-quality components, including a Brose motor, Shimano drivetrain, hydraulic brakes, and Schwalbe tires.
The 250W Brose motor, although one of the best brands available, is smaller than some of the motors in more expensive electric bikes. The battery is also a smaller voltage meaning you might not experience as much power as some other eMTBs. In saying that, this bike still has enough muscle to take you on some fun trails.
Unless you're a professional mountain biker, this e-bike is well worth it for the price. Especially given that the components are of such high quality.
You have plenty of gears to play around with as you ride and hydraulic disc brakes to help keep you safe on those steep descents and sharp turns. Having a torque sensor is also going to give you a smoother transition between levels of assistance.
Basic Features
E-Bike Class
Class 3: PAS and Throttle
Max. Speed
28mph
Max. Load
275lbs
Motor
Brose 250W Mid-Drive
Sensor
Brose Torque Sensor
Drivetrain
Shimano
Battery
Samsung 36V (500Wh)
Range
30-50miles
Tires
Schwalbe 27.5"
Brakes
Tektro Hydraulic Disc Brakes
Gears
Shimano 9-speed
Frame
Alloy
Weight
48lbs
The Electric Bike Company's Model Y comes at around $1,699. This is a terrific price for a high-performing cruiser. One thing to keep in mind is that some accessories that you would almost always consider on a cruiser, such as the rear rack, come at an added cost.
The Electric Bike Company is another American-based company, operating out of California. They specialize in leisure and luxury when it comes to electric bikes. They also are highly customizable, making them very appealing to those of us who enjoy riding in style along a nice beach.
One of the main reasons that these bikes can be so affordable is that a lot of their technology is their own. Some people might be discouraged from buying this bike because they don't recognize any brand-name motor or drivetrain.
But for what you will be using a cruiser electric bike for, the Model Y does an excellent job. It comes as a class 3 e-bike, giving you the option of a PAS or a throttle if you're feeling tired.
The battery is uniquely integrated into the front basket, keeping it hidden. This is an interesting design, but some people may not like having the extra weight at the front of the bike.
The load limit on the Model Y rivals many of the dedicated cargo e-bikes, allowing for 300lbs. Although the motor and battery are their own brand, they still use Schwalbe tires and hydraulic disc brakes, demonstrating the company's attention to quality.
I like the idea of not worrying about gear changes in a cruiser, which is exactly why EBC has chosen to standardize their electric cruiser bikes as single-speed. But a good thing is they offer the upgrade to a 7-speed shifter if you prefer.
These bikes look great, have quality components, and are at a very attractive price. 
Basic Features
E-Bike Class
Class 3: PAS and Throttle
Max. Speed
25mph
Max. Load
300lbs
Motor
EBC 1000W Hub Drive Motor
Sensor
Cadence Sensor
Drivetrain
EBC
Battery
EBC 48V (500Wh)
Range
Up to 80 miles
Tires
Schwalbe 26"
Brakes
Hydraulic Disc Brakes
Gears
Single-Speed (7-speed option)
Frame
Aluminum
Weight
58lbs
The Giant Road E+ 1 Pro can be found for around $4,500. Electric road bikes are similar to mountain bikes in that many models are sold for over $10,000. So this is a relatively cheap price for this type of e-bike.
Giant was originally a Taiwan brand but has been in the US for around 40 years. They are known for their lightweight technology, creating some of the best road bikes on the market.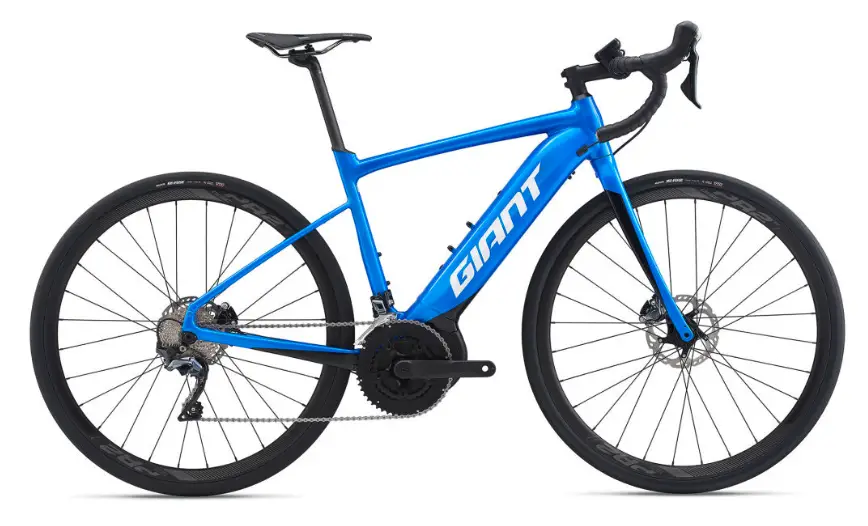 The Giant Road E+ 1 Pro is a class 3 electric bike with a pedal assist system, reaching a maximum assisted speed of 28mph. There is no throttle, but it's not necessarily common for road e-bikes to have a throttle.
The 250W motor doesn't seem like much, but this gives you enough assistance to make your ride easier and gives the pedaling an authentic feel. It's enough to handle the extra weight of this particular road bike.
With a combination of Yamaha, Shimano, and Maxxis, this electric bike offers high-quality components for a good price. The range isn't quite as much as you might like for a road bike, but there does need to be some compromises for the price.
The weight is another compromise. Having a smaller battery would help keep the price down, but given the quality of all the components, this is a compromise that seems reasonable for a good value road electric bike.
Having an 11-speed shifter and hydraulic disc brakes puts this in the same league as your average road bike. It seems this bike ticks all the boxes you'd need for a road bike, except the cheaper battery and frame.
Basic Features
E-Bike Class
Class 3: PAS
Max. Speed
28mph
Motor
Yamaha 250W Mid-Drive Motor
Sensor
6 Sensors
Drivetrain
Shimano
Battery
Giant 36V (375Wh)
Range
21-68 miles
Tires
Maxxis 700c (29")
Brakes
Shimano Hydraulic Disc Brakes
Gears
Shimano 11-Speed
Frame
Aluminum
Weight
44lbs
The RadMini might seem expensive for a folding electric bike, coming in around $1,499, but this is because a lot of folding electric bikes compromise on quality to make them lighter and more portable. Unfortunately, this makes those bikes less pleasurable to ride.
They may fit into smaller spaces when you store them, but cheaper ones can be annoying to ride and less reliable.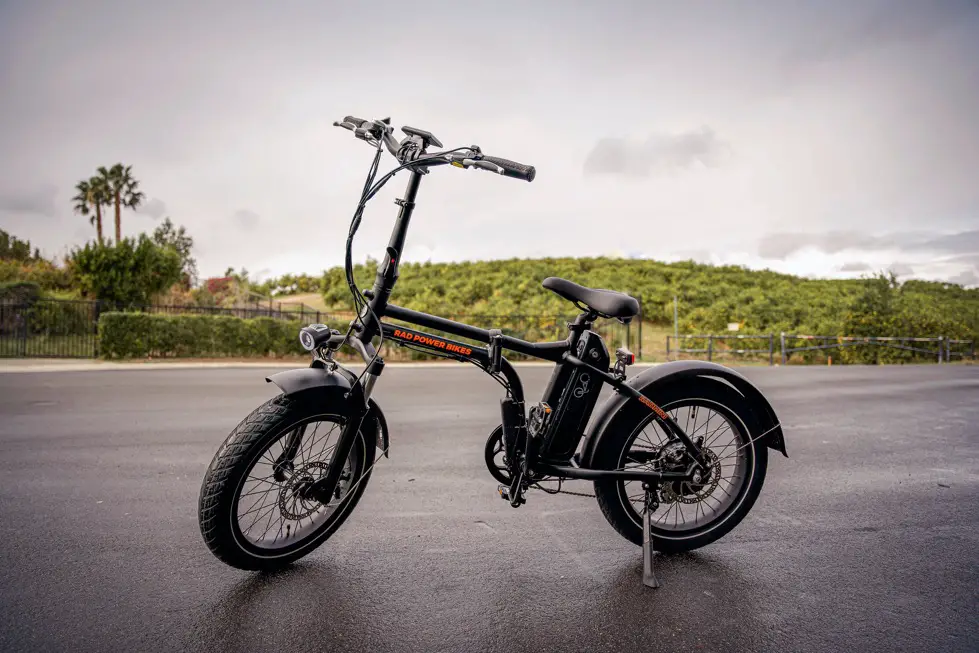 The RadMini gives you a sturdy foldable frame with good quality components, making it feel like its non-foldable counterparts. One major downside is the weight of the bike, but if it means a reliable and quality ride, the weight is worth it for that price.
Rad Power Bikes originates in Seattle and has a very modern feel to their electric bikes. Like EBC e-bikes, this brand designs some of its own technology.
This is certainly not a disadvantage, given that their 750W geared hub motor and drivetrain has proven to be loved by many. The 48V battery also gives a good amount of power.
The PAS and throttle are capped at 20mph, but given that many foldable bikes are used in crowded cities, you'll likely find that 20mph is plenty fast. But, you can actually max out the speed at 28mph going downhill if you're daring enough!
The tires are not your usual well-known brand but are sturdy fat tires with puncture-resistant technology.
One disadvantage might be the weight of the bike. It has an aluminum frame and weighs in at 67lbs, which might be too heavy for some people to lift.
In the grand scheme of things though, this electric bike is really not much more expensive than other foldable bikes and gets you so much more for your money. Plus, the RadMini also has a step-thru version!
Basic Features
E-Bike Class
Class 2: PAS and Throttle
Max. Speed
20mph
Max. Load
275lbs
Motor
750W Geared Hub
Sensor
Cadence Sensor
Drivetrain
Rad Power Bikes
Battery
Samsung 48V (672Wh)
Range
25-45miles
Tires
Kenda 20"x3"
Brakes
Tektro Mechanical Disc Brakes
Gears
Shimano 7-Speed
Frame
Aluminum
Weight
67lbs
Folded Size
41x22x28" (LxWxH)
The Rad Power Bikes has another quality and good value e-bike available in their cargo range. The RadRunner is only around $1,199 and has many of the same features that make the RadMini such great value.
Once again, they deliver a powerful motor and 48V battery to help haul the 300lbs it is able to hold. One other great feature is the hundreds of accessory combinations you can choose from to suit exactly what you need in an electric cargo bike.
These electric bikes have slightly fatter tires than the RadMini fat tire, helping to stabilize the bike with heavy loads. But those fat tires also mean a very heavy bike. So this is something that you will need to consider for the price.
The Rad Runner has been designed this model as a single-speed e-bike, with the thought that riders are more interested in the bike's ability to carry them and their cargo from one place to another.
You might think that a single-speed might struggle with a heavier load, particularly on an incline, but the powerful motor and battery seem to counteract this.
This electric bike seems to be robust, reliable, and versatile, which is anything you could want in an electric cargo bike.
Basic Features
E-Bike Class
Class 2: PAS and Throttle
Max. Speed
20mph
Max. Load
300lbs
Motor
750W Geared Hub
Sensor
Cadence Sensor
Drivetrain
Rad Power Bikes
Battery
Samsung 48V (672Wh)
Range
25-45miles
Tires
Kenda 20"x3.3"
Brakes
Tektro Mechanical Disc Brakes
Gears
Single Speed
Frame
Aluminum
Weight
65lbs
That's a strong list of USA brand electric bikes. As you can see, there is quite a bit of variation in the prices, but you can definitely get a good-quality electric bike for the money. In general, bike brands from the UK tend to be a bit more pricey, but there are still great electric bikes to be found at reasonable prices.
Best Electric Bike Brands in the UK with Good Value
Best Value Electric Bikes in the UK
E-Mountain Bikes (eMTB)
Vitus E-Sommet
£3,600
Cruiser E-Bike
VanMoof X3 Electric Bike
£1798
Road E-Bike
Ribble Endurance SL e
£2999
Folding E-Bike
Brompton M2L Electric
£2875
Cargo E-Bike
Tern GSD S10x
£4200
As I mentioned earlier, all electric bikes designed for European standards cannot go above 15.5mph (25kmph) when motorized. For this reason, the classification system used for electric bikes in the US does not apply to those in the UK.
The motors are also limited to 250W in order to be classified as a bicycle. Therefore, the following bikes are the best value for the money within these limitations.
The Vitus E-Sommet can be found online at around £3,600 (just under $5,000). This may seem expensive compared to other electric bikes, but European bikes often are a bit pricey and Vitus choose to use top-quality components within their bikes.
Vitus is another company that doesn't have a physical retail presence but sells directly to the customer. This tends to be the case when you find good quality at a lower price. They have been in the bike industry for decades, originating in France, and have plenty of experience in creating good bikes.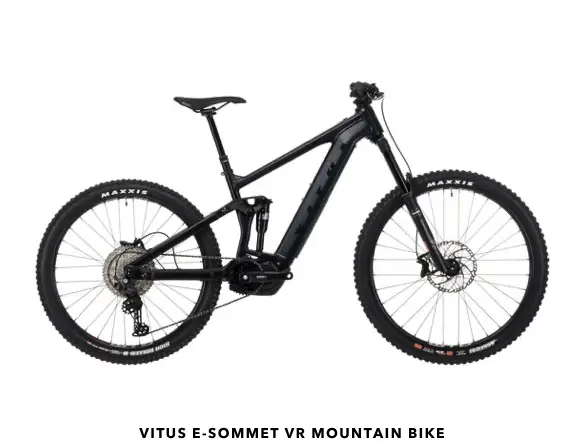 The E-Sommet uses Shimano for all of its electronics. Shimano is the leading brand in drivetrains, and one of the leading brands in electric bike motors. But one great benefit to this bike is its serviceability. Having the motor, battery, and drivetrain all built by the same company means every one of those components was designed to work together. 
Maxxis tires are one of the most popular and reliable in the eMTB industry, but one downside to this bike is the lack of hydraulic brakes. Mechanical disc brakes are still going to work well, but mountain bikes, in particular, need a good braking system for those steep descents and sharp turns.
This is also a fairly heavy bike and may be difficult for some to carry around when needed. It'll certainly give you and the battery a workout when going uphill!
Overall, the Vitus E-Sommet is one of the cheaper eMTB on the market for its high quality. 
Basic Features
Assistance
Pedal Assist
Max. Speed
15.5mph (25kmph)
Motor
Shimano 250W Mid-Drive
Sensor
Torque Sensor
Drivetrain
Shimano
Battery
Shimano 36V (500Wh)
Range
48-80km (30-50) miles
Tires
Maxxis 27.5"
Brakes
Shimano Mechanical Disc Brakes
Gears
Shimano 11-speed
Frame
Aluminum
Weight
24.7kg (54.5lbs)
The VanMoof X3 Electric Bike is a solid e-bike that brings new technology to the market. It is one of two electric bikes designed by VanMoof, priced at £1,798 ($1,998 in the US).
The company is quite young, originating in Amsterdam in 2009. Being the city of bikes, this is very encouraging. The two founding brothers dreamed of a day when bikes were as common in major cities, such as New York, as they are in Amsterdam.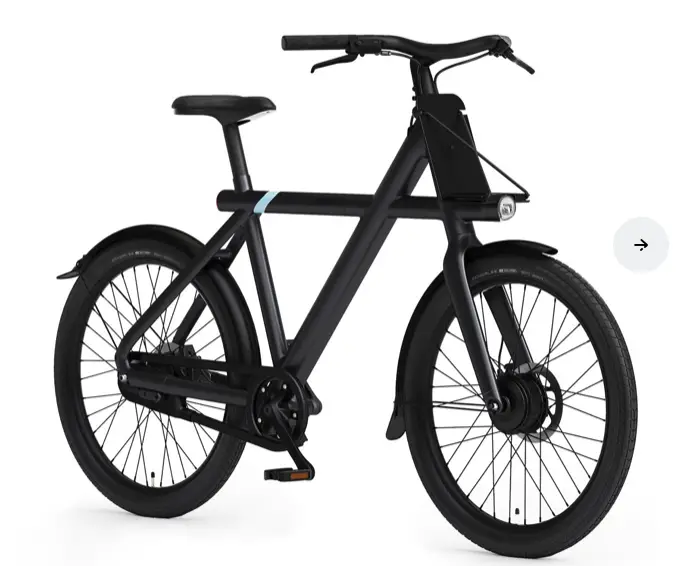 This bike has a custom-built drivetrain, motor, and battery, but these have been tried and tested with great results. The low price for both VanMoof bikes is likely due to how new the brand is.
This bike is not too heavy compared to other cruiser e-bikes, making it easy to ride if the battery is depleted. It also has good quality Schwalbe tires and a hydraulic braking system.
One thing that is completely new to the market is the idea of an automatic gear system. VanMoof has created a 4-speed shifter that works like a single-speed. Similar to an automatic car, this e-bike will do all the gear changes in the background without you even knowing about it. Some people love the idea of this, but those who like to be able to control their gear changes might not like it.
The VanMoof X3 is a sleek design and offers everything you could need in an everyday electric bike cruiser.
Basic Features
Assistance
Pedal Assist
Max. Speed
32kmph (20mph)
UK cut off at 25kmph
Max. Load
120kg (264.5lbs)
Motor
VanMoof 250W Hub Drive
Sensor
Torque Sensor
Drivetrain
VanMoof
Battery
VanMoof 36V (504Wh)
Range
60-150km (37-93 miles)
Tires
Schwalbe 24"
Brakes
Hydraulic Brakes
Gears
4-Speed Automatic E-Shifter
Frame
Aluminum
Weight
18.6kg (41lbs)
Ribble is a UK brand that prides themselves on their handmade quality electric bikes. The Ribble Endurance SL e has certainly proved to be of good quality for the £2,999 price tag ($3,460.60 in the US).
As I mentioned earlier, road bikes can be the most expensive type of electric bikes because of their lightweight design and endurance. Ribble has managed to keep this e-bike relatively low weight, weighing approximately 12.4kg (27.3lbs). This is due to the carbon frame, which is the most popular choice for all electric road bikes.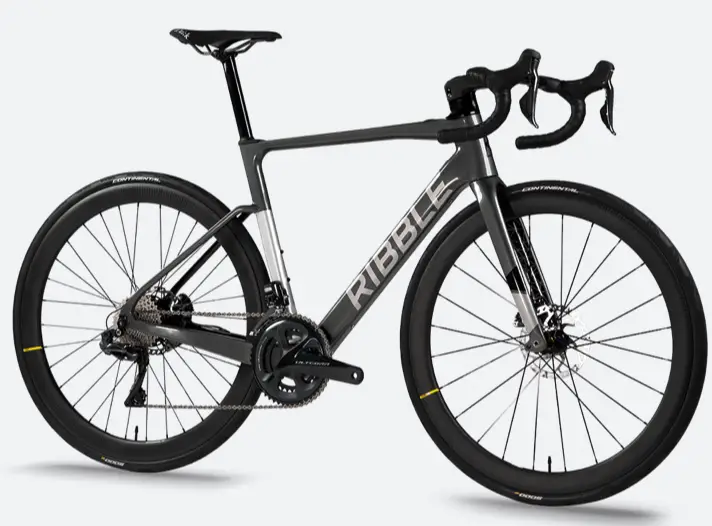 The battery also gives you a decent range to keep you going on those long bike rides. You have 11 speeds to help with any hills and trustworthy Continental tires. The hydraulic breaks will help bring the e-bike to a safe stop after reaching higher speeds on long flat roads.
To me, this seems like all the features you'd want in a normal road bike, but with the benefit of pedal assistance.
Basic Features
Assistance
Pedal Assist
Max. Speed
25kmph (15.5mph)
Motor
MAHLE 250W Hub Drive
Sensor
Torque Sensor
Drivetrain
Shimano
Battery
Panasonic 36V (250Wh)
Range
88-133km (55-83 miles)
Tires
Continental 28"
Brakes
Hydraulic
Gears
Shimano 11-Speed
Frame
Carbon Fibre
Weight
12.4kg (27.3lbs)
As mentioned above, a road bike can cost more than other types of electric bikes, although electric mountain bikes are pretty expensive as well. The article below can help you sort out the price differences among types.
The Brompton M2L Electric Folding Bike is a favorite in the UK, and for good reason. Brompton bikes are handmade in London and have been around for almost 50 years, but they've been making electric bikes since 2017. They also specialize in folding bikes, so if you're looking for a folding bike, they'll know a thing or two.
The M2L Electric bikes cost around £2,875 (just under $4,000), which seems like a lot for a small bike, but is very reasonable considering their power and the fact that they're handmade. They fold down to a handy 645x585x270mm (25.3"x23"x10.6") bundle.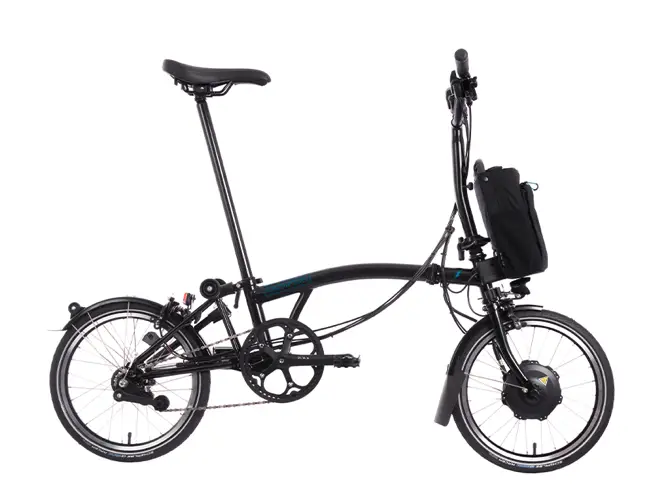 They also come with small wheels which allow you to pull the bike along the ground when folded. This helps with the bike's heavy weight, but some people don't like this feature because they find pulling the bike makes it easy to topple over.
The 250W motor is more than enough to take you around your city and the battery should last a long time if you're taking the bike around town. It has a decent range for such a small electric bike and a zippy feel to it. Although the components are custom made, Brompton Bikes pride themselves on their quality bikes and so have put a lot of thought into their electric masterpiece. 
Basic Features
Assistance
Pedal Assist
Max. Speed
25kmph (15.5mph)
Max. Load
110kg (242lbs)
Motor
Brompton 250W Hub Drive
Sensor
Torque Sensor
Drivetrain
Brompton
Battery
36V (300Wh)
Range
30-70km (20-45 miles)
Tires
Schwalbe 16"
Brakes
Calliper (Dual Pivot) Brakes
Gears
2-Speed
Frame
Steel
Weight
17.4kg (38lbs)
Folded Size
645x585x270mm (HxWxD) (25.3"x23"x10.6")
The Tern GSD S10 LXx is another pricey electric bike on first inspection, costing around £4,200 (just over $5,000). But when you look closer, you can see that this bike has the best component brands in the industry packed into a foldable cargo bike.
They've identified that Bosch makes great motors and batteries, Shimano makes an awesome drivetrain, and that you can't go wrong with Schwalbe tires. They also have incorporated hydraulic brakes to bring the bike to a safe stop with a heavy load.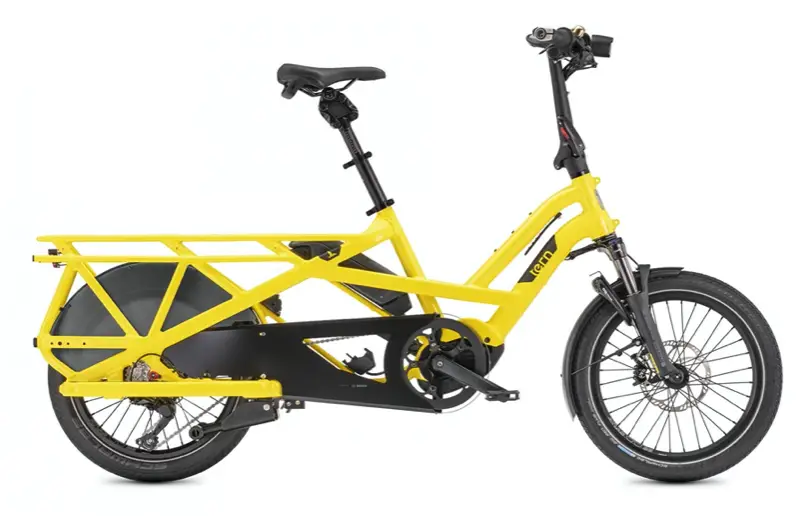 There's a 10-speed shifter to help you navigate between just you riding along a smooth flat road, or you carrying a large load up a steep hill. The mid-drive motor also means more battery conservation.
The battery has a wide range, which is to be expected with a cargo e-bike. But getting up to 110km (68 miles) on one charge is more than enough to get you around town.
I like the design of this electric cargo bike, with a large rear rack that can be accessorized with child seats, bags, baskets, etc. To me, this seems like the ultimate electric cargo bike design and seems to be worth every penny.
As a bonus, Tern has designed the GSD so that it folds up, meaning you can also transport it inside your car if needed.
If you think of it as a replacement for your everyday car trips, £4,200 really isn't that much money for what you're getting. But understandably, this might be a bit expensive for some.
Basic Features
Assistance
Pedal Assist
Max. Speed
25kmph (15.5mph)
Max. Load
200lbs
Motor
Bosch 250W Mid Drive
Sensor
Torque Sensor
Drivetrain
Shimano
Battery
Bosch 36V (400Wh)
Range
50-110km (31-68 miles)
Tires
Schwalbe 20"
Brakes
Magura Hydraulic Brakes
Gears
Shimano 10-Speed
Frame
Aluminum
Weight
27kg (59lbs)
Folded Size
1730x400x830 (LxWxH) (68"x16"x33")
Well, I hope this comprehensive guide to the best e-bike brands for the money, across the USA and UK, has helped you in choosing your own. Whatever you do choose, I hope you enjoy your electric bike as much as the rest of us do!