Are the best e-bikes for young adults the ones that are the fastest? Or ones that are foldable or easy to lift? Or is it a reasonable price that makes an electric bike the best one?
When you're an adult in your 20s or 30s, the best electric bike is typically one that is:
good for city commuting
rideable on dirt and pavement
powerful and fast
priced on the low end of good quality bikes ($900-$1999) 
Because your lifestyle can change a lot during these years, you may start to think you need a new e-bike that better suits your needs within 1-3 years after buying your first one.  So, you don't want to spend too much money on the first one. But you also want to make sure you find one that'll meet your needs for as long as possible.
Here's a list of the best electric bikes that meet those criteria no matter whether you're a 20-year-old young adult in college or a 30-year-old just out to have fun:
It's a good idea to look into your future for 3 years or so to determine what will meet your needs until then, so you're not throwing down money on another new pedal assist electric bike in that short time.
Continue reading and I'll help you determine which is the right bike for a rider who's your age and has your ever-changing lifestyle.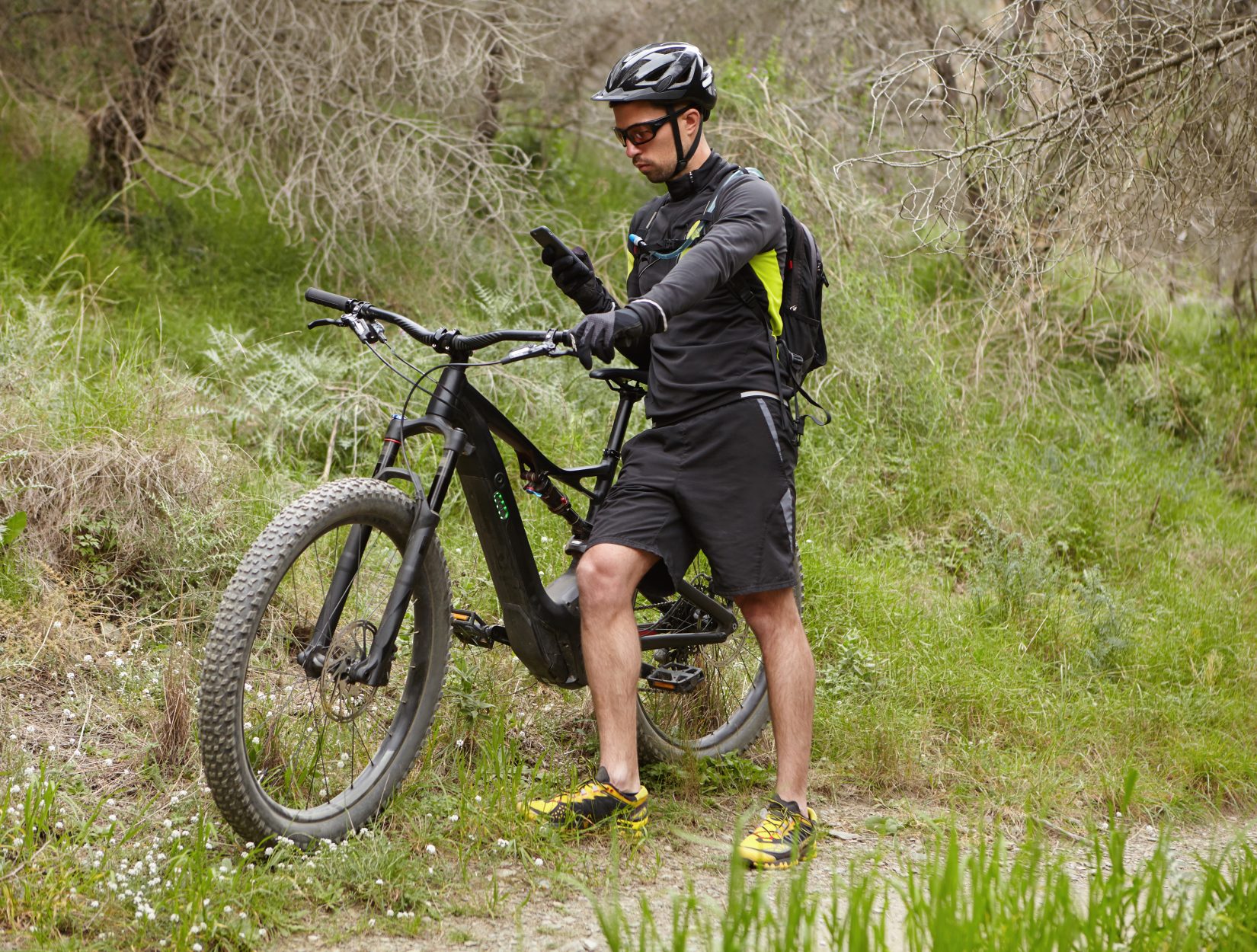 What are the Most Popular Electric Bikes for Adults in Their 20s and 30s?
The most popular electric bikes for adults in their 20s and 30s are those that do one of two things:
Help with the commute or getting around town
Offer great trail riding capabilities and ride well on most terrains
These sound like two completely different types of bikes… basically, one that rides on pavement and one that rides on dirt or sand.
But the truth is, the most popular electric bike for a 20-year-old or 30-year-old is a hybrid. A hybrid electric bike can ride smoothly on the road and tackle dirt trails, which is why it's in demand.
This type of electric bike is best for younger adults who want a little of everything and don't want to worry about where they might ride next.
Because hybrids generally have wider tires, they can ride over rougher terrain than any electric road bike or electric commuter bike. However, you'll want to consider the best tire pressure for the type of riding you'll be doing that day (lowering the tire pressure for rougher terrain and loose ground).
Plus, there are a lot of different features on various hybrid e-bike models, giving you the flexibility to choose the right ones for your age and lifestyle. So there's bound to be one that's a perfect fit!
What are the Best Hybrid Electric Bikes for Adults?
One of the most popular electric bike brands, Rad Power Bikes, also has some of the best hybrid electric bikes for adults. They can cover both your off-road and cargo needs, such as for carrying a surfboard.
Check them out.
The most notable thing about the RadMini folding electric bike is its 4.0" wide tires with 20" wheels.
These tires will get you over most terrains easily but also allow you to ride on paved road. And with a 750W geared hub motor, twist throttle, and powerful 48V, 14Ah battery pack, it's got plenty of power to help you fly up hills!
It comes standard with front and rear lights, mechanical disc brakes, a nice LCD display, and five levels of pedal assist.
For these reasons, it's probably the best electric folding bike there is that's affordable (I still ride its predecessor the RadMini).
Plus at a starting price of $1599, every young adult can aspire to have one!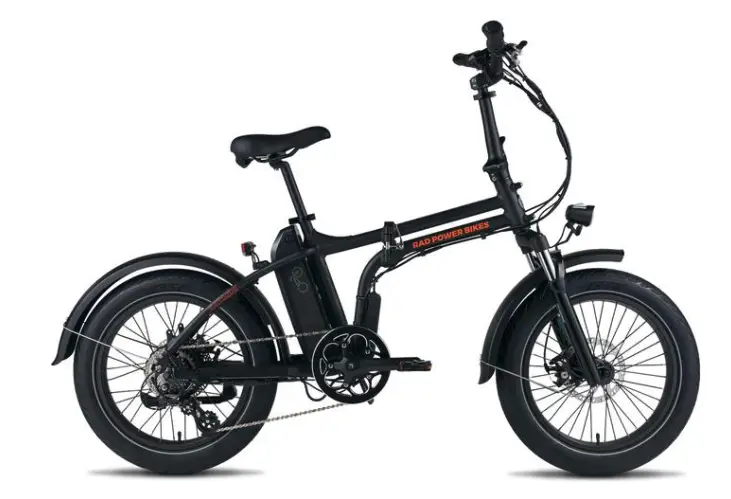 Designed as a step-thru electric cargo bike, this one is really so much more. With its 300lb payload capacity and 3.3" wide tires, it can haul what you need it to all while crossing loose terrain and jamming up hills!
I love the idea of this electric utility bike for people in their twenties and thirties because it can provide what you need now and what you might need later. For instance, you can store your groceries on a front or rear rack but easily add a child seat later!
And because it's powerful on the road and in the dirt, moving to a rural area from a city (or vice versa) won't be a problem.
Best of all, it's on the lower end of the price range, costing around $1499 (you may spend extra cash on the numerous upgrades offered, however).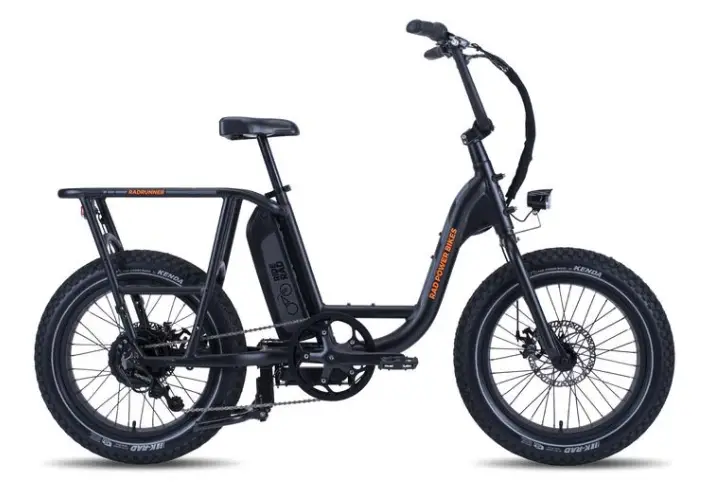 What Type of Electric Bike is Best for Adults in Their 20s and 30s?
As discussed above, hybrid electric bikes are popular among the younger adult crowd because of their ability to do it all… on-road and off-road.
But, ultimately, the type of e-bike that's best is the one that fits your riding style, riding schedule, and needs. Thus, you may be more focused on getting an electric bike so you can commute inexpensively or riding one just for fun, cycling exercise, and sport trail riding.
What electric bike is best for commuting?
In your 20s or 30s, your primary goal may be to get an electric bicycle for commuting to school or work or just to get around town. In this case, then getting one that's a smooth ride on pavement and is easy to lift and maneuver is essential. 
A foldable commuter electric bicycle is the best solution if you'll need to travel partway on a bus or to store it while you work for the day.
The LMT'D is a high-quality city bike that's both affordable and reliable. It's perfect for commuting to school or work as well as riding for recreation. Although it's geared toward city riding, you'll be able to ride a little on hard-packed dirt or gravel when needed.
What's really cool about it is that it is a Class 3 e-bike! This means that the motor will assist you up to 28 mph (instead of the typical 20 mph for most other models). In fact, all Ride1up e-bikes are Class 3 and the company designs them primarily for city and utility riding.
Plus, the LMT'D has a 750W motor with 100nm of torque and weighs in at only 53 lbs, which is quite a bit lighter than many models. Essentially, this is a powerhouse and gives you great value and high-quality to take you through your 20s and 30s.
Be sure to check out the LMT'D!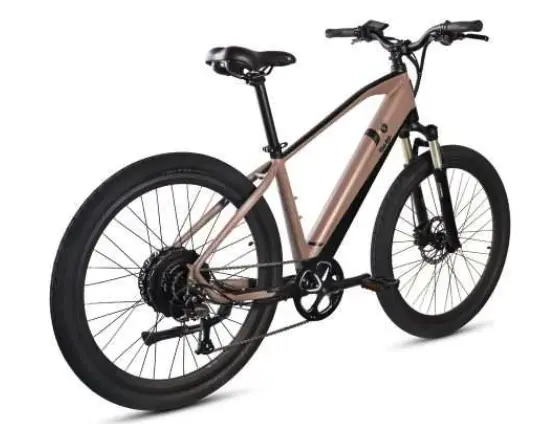 Priced starting at only $999, this foldable electric hybrid bike will get you to work or the grocery store quickly! And because it folds up, and has smaller 20" wheels, you can take it on a train or bus as needed or even put it in the back of an SUV or large hatchback if you need a ride home.
But, even though the wheels aren't full size, they're plenty capable of riding on the road as well as through puddles or areas of loose dirt or sand. This is in thanks to their 3" wide tires made to traverse different terrains.
You should know that it weighs 64 lbs, so make sure you're capable of folding and lifting it when needed.
For comparison's sake, I'm under 5'2" tall and my e-bike weighs 68lbs, which is almost two-thirds of my body weight. So I need help lifting it, even though it's foldable!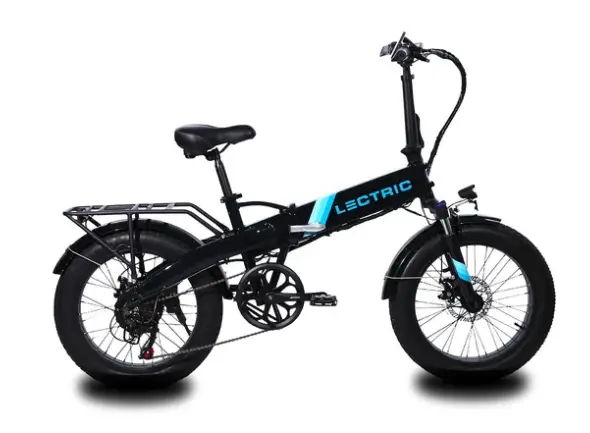 Alternatively, an electric city bike is another perfect option. It's made just for commuting and riding around town, so it's easy to manage and ride.
The Marshall is a 250 W geared hub motor city e-bike with a range of up to 35 miles, so you should never lose your battery charge riding around town. Plus, the 27.5" wheels and 2.3" wide tires make it the best for riding on paved roads.
So if you're not concerned about riding on non-paved terrain, then you can ride quickly and easily to your destination. 
Schwinn Bikes is one of the old and trusted brands that has recently made its way into electric bike production. So you're in good hands with this pedal assist electric bike which costs around $1500!
What electric bike is best for trail riding?
If, on the other hand, you're an adventurous 20 or 30-year-old who's all about riding for sport and having fun, an eMTB (electric mountain bike) or a fat tire e-bike are the top choices.
Only the best electric mountain bike will get you over steep hills and tight switchbacks. So if this is your thing, as it is for many adventurous riders in their 20s, the Ecotric eMTB is the best affordable choice at just over $1000!
And with its front fork suspension, it provides for a comfortable ride with good shock absorption for going over bumpy terrain and rocks!
What's more Ecotric is proud to tell everyone that they're UL Certified. This means that they're dedicated to personal safety and good quality. This is important because their pedal assist electric bikes are very well-priced but the quality is still assured.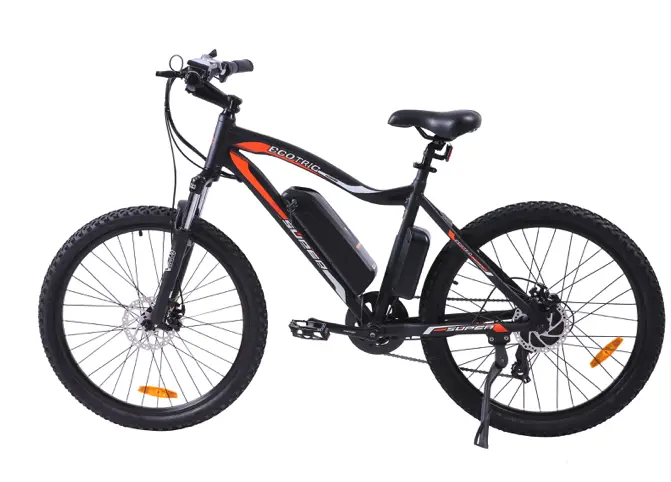 This incredibly cool fat tire e-bike can take you over any terrain… sand, rocks, dirt, snow, and then some. Plus it has a battery range of up to 55 miles, so you can hit the trails all day, camp overnight, and return the next day.
This may be the best electric bike for you if you're not quite as big of a risk-taker as mountain bikers, but want to be able to traverse tough terrain.
And with a 750W motor and 52V, 15Wh battery, it has plenty of power for riders in their 20's and 30's!
Bonus: The Magicycle has a two-year warranty on electrical components (whereas many brands only offer 1 year).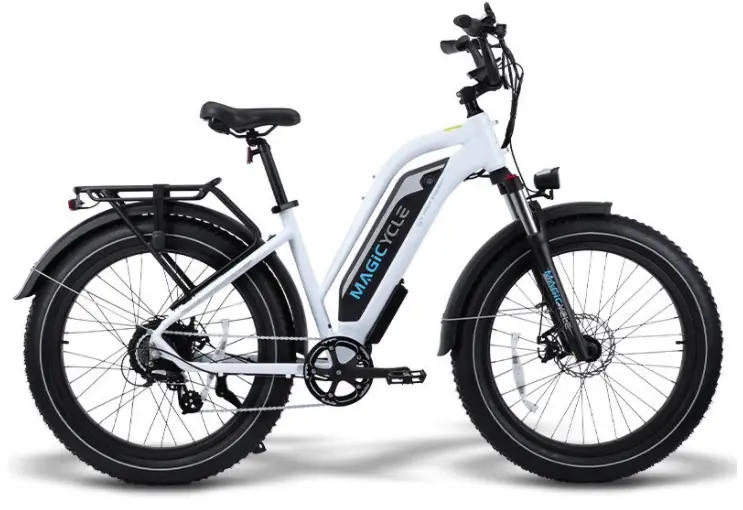 What is the Best Value E-Bike for Your Money?
Choosing a great electric bike that doesn't cost a lot is a challenging task. However, it's super important because your lifestyle can change drastically from one moment to the next in this stage of life.
For example, you might buy a dog to ride on your bike with you, begin higher education classes, get married, have children, work longer hours, travel more (or less), or start a new career!
All of these possibilities could change your electric bike needs. Maybe you'll find yourself needing an electric cargo bike with a child seat to carry your toddler with you.
Or perhaps you'll need a commuter bike that's easy to put onto a bus when you get your dream job.
And, sure, you might do your best to plan these life events out, but plans can change rapidly.
So, I'd suggest looking for an electric bike that's a good value for your money but less expensive in general. Keep in mind that most affordable ebikes have a hub motor as opposed to a mid-drive motor. This keeps their cost down but doesn't make that much of a difference when it comes to pedal assist mode or battery life.
Best Electric Bike Under $1000
One of the best budget electric bikes can be found at Ecotric for under $900!
This e-bicycle is a fantastic value for around $900. Not only is it UL Certified (so you know it's safe and made of good quality), it has 4" fat tires and is foldable, even though it's cheap. Talk about getting everything in one e-bike!
And what else is amazing, given the cheap price, is that it has disc brakes, a 500W rear hub motor, and a pretty decent battery capacity (36V 12.5Ah). Further, it only weighs 56lbs with the battery attached… this is much lighter than most competitors' foldable fat tire electric bicycles.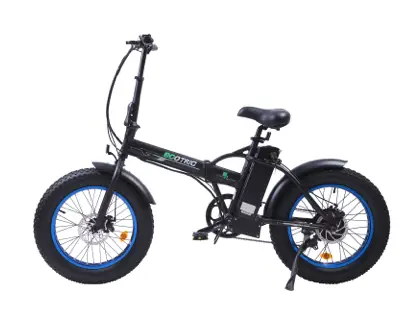 What's the Fastest Electric Bike (that's affordable for young adults)?
Being young and adventurous, you're probably interested in riding fast. So you might be wondering what the fastest e-bike is that's affordable but that you'll still love as a 20-year-old or 30-year-old.
Here's my advice: Get the fastest bike with the highest legally allowed motor watts. Although it depends on what country you live in, the U.S. doesn't allow bikes over 750W to ride on public roads, parks, or trails.
So, if you want to ride wherever you go, without constantly fighting limitations, don't get one with a motor over 750W and understand the electric bike classification system so you know where you can and can't ride.
As far as what's the fastest e-bike for someone your age, but still affordable, take a look at this: 
As if the RadRover wasn't already awesome, Rad Power Bikes added the RadRover Plus to their fat tire electric bike lineup. Although it has fat tires, the bigger wheel size of 26" (say as compared to the RadMini with 20" tires) helps you to get where you want to go faster.
But more importantly, the company says that they've redesigned it with a "custom" geared-hub drive motor that'll give you even more uphill riding capacity. So, it has more efficient power that'll help you increase speed faster.
It's definitely worth checking out if power and speed are important to you!
Which is the Best E-Bike to Buy (in your 20s or 30s)?
With all of the variety in electric bikes, it's no wonder you're a bit confused about which electric bike to buy.
Of course, you can check out the list at the top of the post of the best electric bikes for people in their 20s and 30s. But I thought I'd offer you a checklist of the features you might want, before deciding which one is the best for you to buy.
With these features, you'll get a comfortable electric bike that's powerful, fast, has good range and lets you ride wherever you need to. Further, as life changes happen in the next few years, you'll still have the best electric bike for the money and the greatest flexibility in riding.
Best E-Bike Must-Have Features Checklist
500-750 watt motor (plenty powerful to get up hills)
Minimum 48V, 14Ah battery (this should give you a range of 40+ miles)
Extra-wide tires or fat tires (3"-4" wide would be nice, 5" would be overkill for most)
Throttle (to help you pick up speed fast)
Wide seat (for comfort)
Integrated lights, both headlight and rear taillight (in case you end up riding in the dark even if you don't expect to)
Digital controller display (so you can keep track of the battery charge, miles, and speed)
Foldable (optional but possibly useful)
Conclusion
Because life is always changing, the best electric bikes for adults in their 20s and 30s include the styles that offer the most useful features and the flexibility to adapt to changes. 
Hybrid electric bicycles are a great option for many, but you might also have more specific needs such as commuting or recreation. 
You should choose one based on your current lifestyle and riding needs, but also consider how these might change within the next few years.
Take a look at the list of best electric bike options for your age in this article. You're bound to discover the perfect e-bike for you at a reasonable cost.