Ride1Up, a relatively newly formed electric bike brand, is rapidly gaining popularity. The company, launched in September 2018, offers a range of e-bikes. 
Ride1Up has several types of e-bikes, including commuters, cruisers, road, cargo, city, and even a mid-drive electric bike. Each model benefits different riding styles. For example, the Roadster V2 has a body that mimics a regular road bike and is perfect for flat terrains, while the 700 Series has the power to easily get up steep hills. 
The rest of this article will dive into these electric bikes and discuss the significant benefits of each one and what type of rider they're good for. Let's get started! 
Ride1Up's E-Bike Collection: Types and Uses
Ride1Up currently has a total of seven different types of e-bikes. Each one is built to perform at varying intensity and offer assistance during the challenging parts of a bike ride. 
Below, I'll help you examine the popular electric bikes this company offers and discuss what each is good for so that you can choose the best one for you.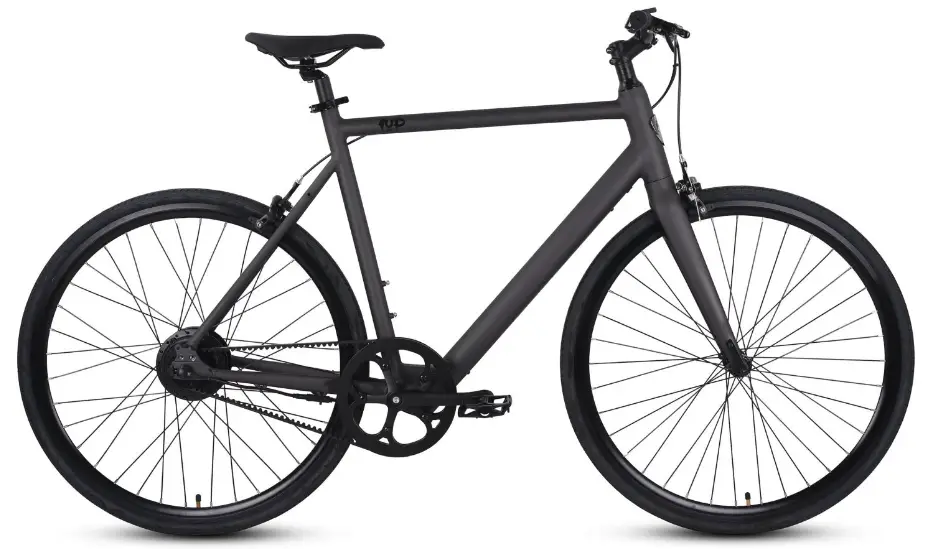 The Roadster V2 is one of the most simple e-bikes that Ride1Up offers. Known as the original bike, the Roadster V2 was designed to mimic a regular bicycle. 
One of only a few belt-drive e-bikes, the battery in the Roadster V2 is completely concealed, and the motor operates in almost complete silence. 
With only a single gear, this e-bike isn't built for the most challenging rides, but it remains the perfect bike to use when commuting those in-between distances of too far to walk but too short for a car drive. It offers a total range of thirty-five miles (56.33 km) before needing to be recharged.
The Roadster V2 can reach speeds up to 24 mph (38.62 kph), which is a little slower than some of the other e-bikes we'll be talking about today, but it's still a great speed when compared to many e-bikes that have a maximum speed of 20mph.
This is the perfect e-bike for daily commutes. Its lightweight body, sleek design, and hidden electronic components allow it to blend perfectly with your average non-electric bike. While many e-bikes advertise fancy add-ons such as hydraulic disc brakes or large head units, this electric bike keeps things simple. 
Who Is The Roadster V2 for?
This is the best electric bike for easy rides over relatively flat terrains. And because of its low price and easy-to-maintain belt drive, it's perfect for city commuters and college students.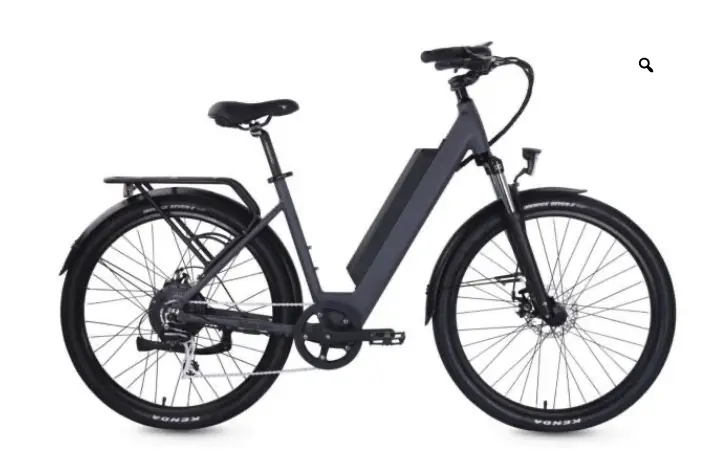 The 500 Series remains the most popular e-bike that Ride1Up offers and was the first model made by the company. 
One thing that makes this classic e-bike stand out is the combination of comfort and sportiness. This is hard to mimic in e-bikes or regular bikes because comfort often requires larger seats with more padding. In contrast, sporty bikes focus on being lightweight and versatile. 
However, this bike is incredibly stable and offers versatility for all terrains, including flat, hilly, and mountainous. Although, I do recommend sticking to flat or hilly areas, as climbing steep hills may be taxing on the motor. 
The battery range for the 500 series exceeds expectations, lasting significantly longer than other e-bikes offered by both Ride1Up and other electric bike companies. Depending on the terrain and road conditions, the range is between twenty-five and forty-five miles (40.23 and 72.42 km). 
Who is the 500 Series for?
Overall, this is an excellent choice if you want something that works in most terrains and provides comfort and power.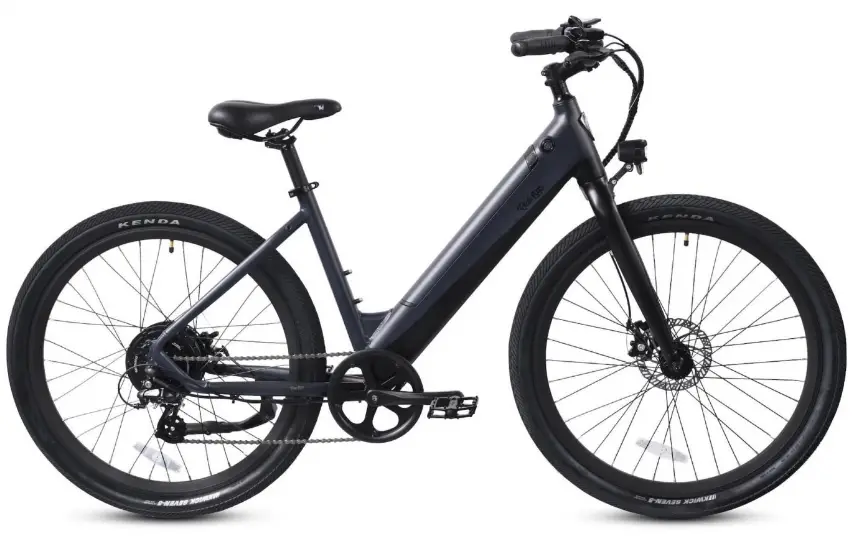 The Core-5 is one of the best "simple" bikes that Ride1Up offers, apart from the Roadster V2. While the Roadster remains the best bike for traveling on short paved commutes, the Core-5's all-terrain tires give it a leg up on slightly more challenging rides.
This bike isn't as lightweight as the Roadster but still weighs in at a relatively low 49 pounds. However, both models offer similar benefits. Where the Core-5 shines is on long stretches of flat terrain or small rolling hills.  
However, I wouldn't suggest pushing this bike to go on more than small hills. While decent, the motor in the Core-5 doesn't compare to some of the more powerful e-bikes Ride1Up offers. 
But it has great value for the price and the bike is sleek and nimble. And though you can tell that the Core-5 is an electric bike, it hides it well.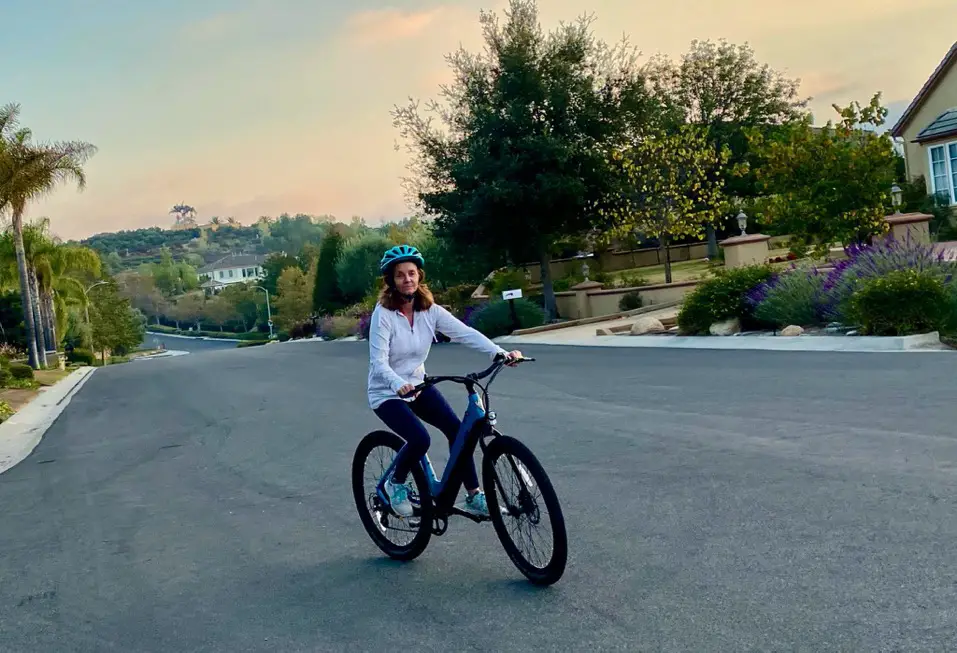 Who is the Core-5 for?
The Core-5 is one of the best options for traveling reasonably long distances at a decent speed. The e-bike offers speeds up to 28 mph (45.06 kph) and a throttle function that assists up to 20 mph (32.19 kph). So, at a lower price than some of the more powerful models, it's perfect for riders who want a fast and nimble e-bike that can handle light off-road riding but aren't worried about steep hills.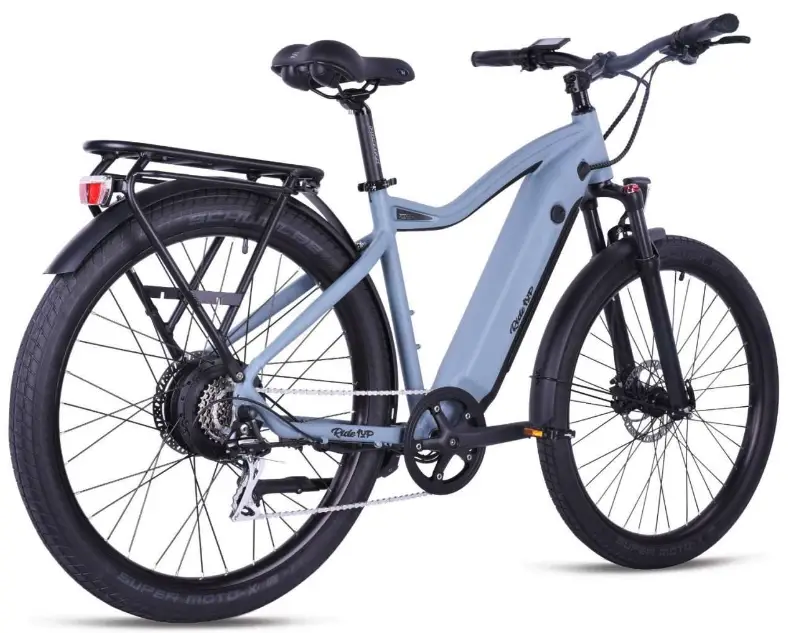 The 700 Series focuses heavily on the performance side of things, offering a 750-watt battery, a large amount of torque, and up to fifty miles (80.47 km) of range – this bike is built for maximum efficiency and power. 
The 700 Series can travel at top speeds of 28 mph (45.06 kph), but while it's not faster than the other bikes Ride1Up offers, it is full of power and climbs hills easily.
While it centers around performance, this bike still has a somewhat bigger frame than a traditional bike, as is true of most e-bikes. Despite this, the 700 Series offers a ride quality that is enormously smooth and forgiving of all those little bumps along the way, thanks to its front suspension. 
This e-bike is built for speed but excels in hilly areas. It almost seems like overkill to use it on flat terrains when you can purchase something like the Core-5 or Roadster V2.
Read my full, detailed review of the amazing Ride1Up 700 Series!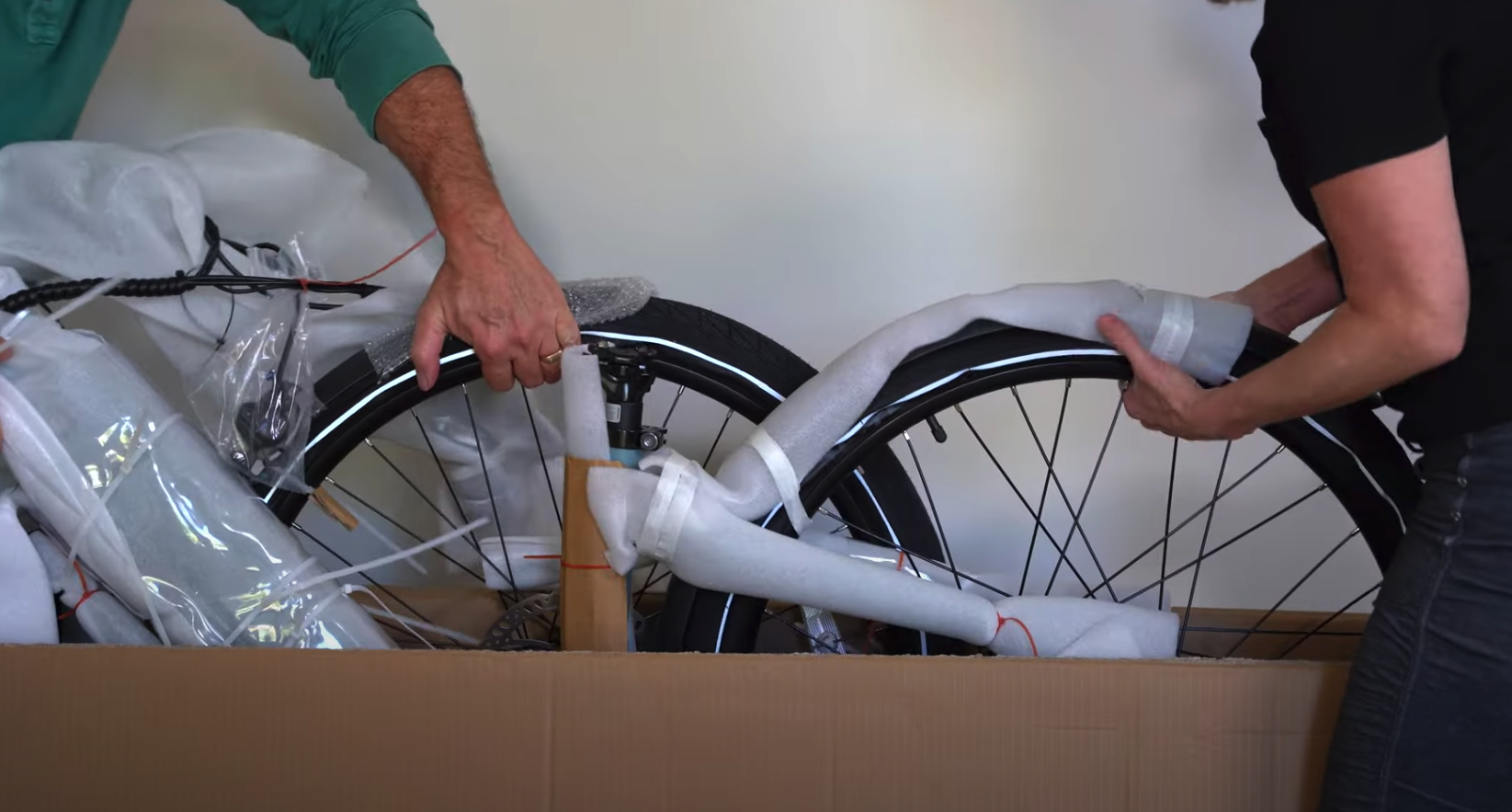 Who is the 700 Series best for?
Overall, this is one of the best electric bikes for comfort and performance. It combines practicality with advanced features and a smooth ride, which is why it's one of my favorites! Thus, it's a great e-bike for anyone willing to pay slightly more to get a bike with even greater value.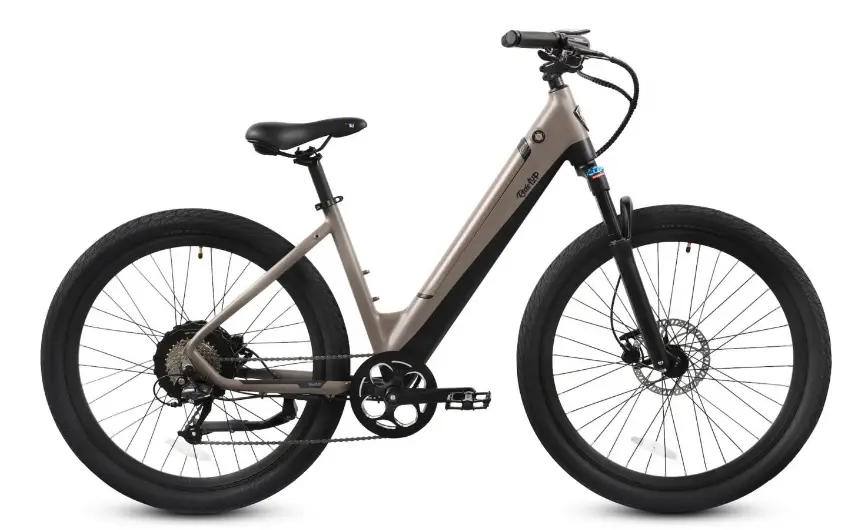 The LMT'D is one of the best options for a city commuter bike, thanks to its torque sensor!
Because of its torque power, this e-bike is reminiscent of riding on a moped. Perhaps it's the heavy-duty frame or the amount of power the LMT'D provides. The motor in this bike exceeds all others that Ride1Up offers, providing 100 Nm of torque that gives it the strength to navigate even the steepest inclines. 
The LMT'D reaches a top speed of 28 mph (45.06 kph), like most of the other electric bikes Ride1Up offers. 
This e-bike also offers a 2.2″ LCD on the handlebar, which shows all the standard metrics and the average speed you're traveling at any given time. 
Who is the LMT'D for?
Overall, this e-bike exceeds most others in power and ease of riding. So, it's perfect for more serious riders who plan on tackling steep inclines!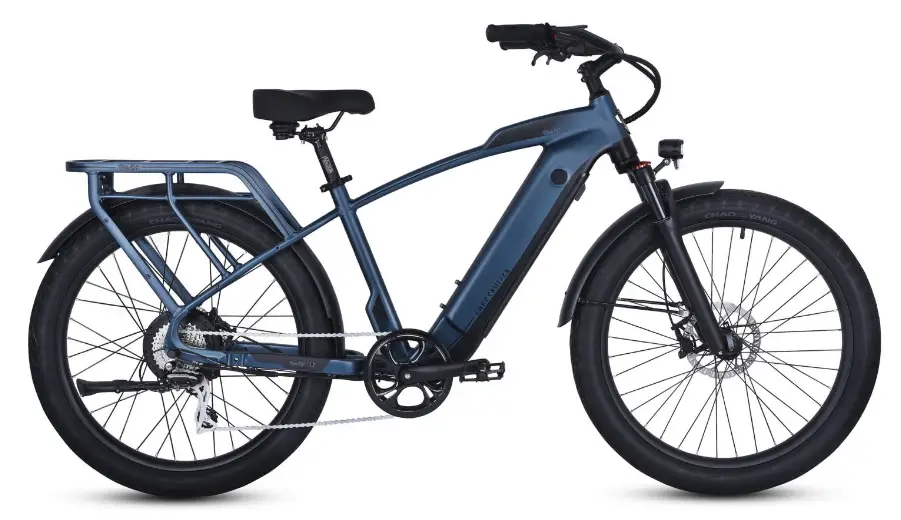 Both of these e-bikes are somewhat newer to Ride1Up's collection. For this reason, I've grouped them and given a quick overview.  
The Cafe Cruiser is built to mimic the feel of a beach cruiser. The comfort of this bike cannot be underestimated. It has wider 3.0″ ties and a rear rack with a weight capacity of 130 lbs, enough to carry a child seat plus a child or other heavy cargo. The bike's overall payload capacity is a whopping 350 lbs!
Thus the Cafe Cruiser is the best cargo e-bike for those who want to cruise in comfort with a high cargo load!
The Prodigy, on the other hand, offers greater performance than any other Ride1Up e-bike. With a Brose mid-drive motor, torque sensor, suspension fork, hydraulic brakes, and higher-level components, it's a pretty sweet deal for an e-bike that weighs only 50lbs.
The Prodigy is the best electric bike for anyone who demands more but still has a budget!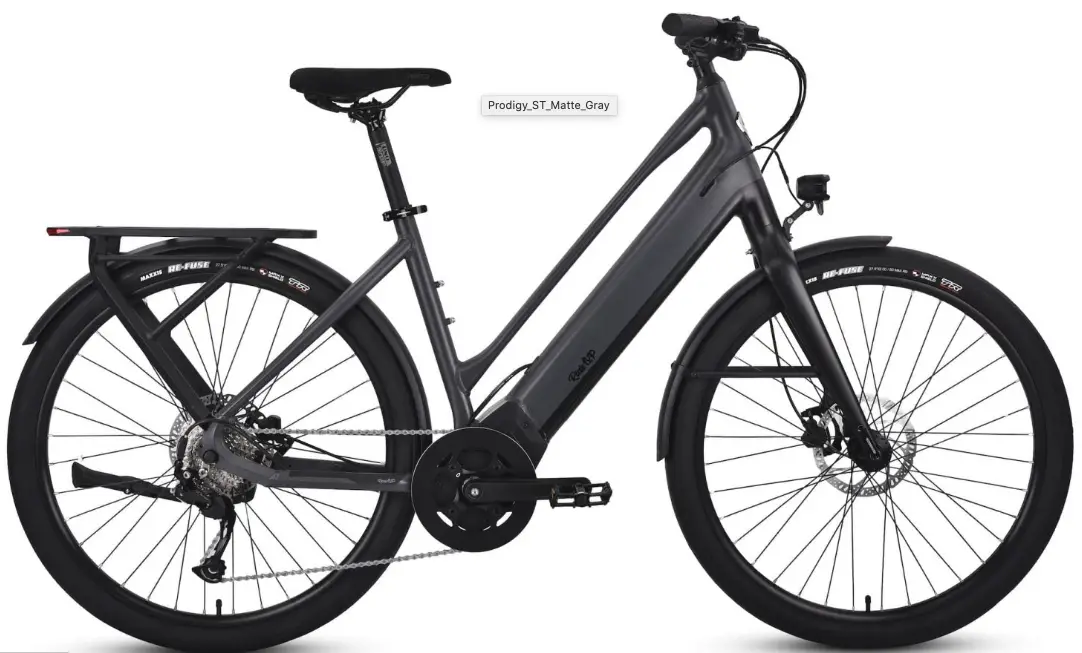 Final Thoughts
Ride1Up is growing exponentially as a company, and many of its electric bikes exceed expectations.
Overall, the best bike for riding on easy commutes is the Roadster V2. For performance, the Prodigy is your best bet. The 700 Series, which I ride, is the best all-around e-bike that Ride1Up offers. 
Want to compare Ride1Up with another top brand? Check out Ride1Up vs Rad Power Bikes.