If you haven't taken a look at the Ride1Up collection of electric bikes, the Core-5 is a great place to start. Thanks to its high value and low cost, it might be just what you've been searching for.
Discover the pros and cons, my first impressions, testing results, specifications, and more in this detailed Ride1Up Core-5 review. additionally, see the comparison between the Core-5 and 700 Series electric bikes.
Pros and Cons of the Ride1Up Core-5
Fortunately, the advantages of the Core-5 well exceed the potential disadvantages. Further, after checking out the pros and cons, you'll discover that most of the cons mentioned can be easily solved.
So, here is the list of Ride1Up Core-5 pros and cons:
| | |
| --- | --- |
| PROS | CONS |
| Weighs only 49lbs | Slightly lower handlebars mean somewhat less of an upright seated position |
| Updated with a headlight | No taillight (but comes with reflectors) |
| Looks like a traditional bike with its narrow frame and integrated battery | No suspension fork or seat post (upgrade to a suspension seat post inexpensively) |
| Offered in a step-through or step-over frame | |
| Great value for a 750W hub motor | |
| Class 3 e-bike offers a top speed of 28mph | |
| Uses Shimano components | |
| Customizable pedal assist & advanced display features | |
| All-terrain tires with puncture resistance | |
Ride1Up Core 5 Review: Overview
The Ride1Up Core-5 is meant to be simple and efficient. That is, it's an entry-level e-bike with all of the essentials to get you where you need to go… and the price is right!
You'll get a better idea of what I mean by reading my impressions and experiences during the test rides. And you'll find the answer to whether this low-cost electric bike is right for you!
First Test Ride & First Impressions
The very first thing I discovered about the Core-5 is how lightweight it is in comparison to many other e-bikes (only 49 lbs)!
Besides being impressed that I can lift it off the ground with one hand, there's no doubt that it's easy to stop as well as much easier to get moving than other e-bikes weighing 60-70 lbs.
For comparison, my RadMini weighs 68 lbs and gives me trouble just getting it over a curb or into a doorway… I have to get a "running" start and kind of lift it myself as I go. But since the Core-5 only weighs 49 lbs, I'm able to roll it right up and over. Plus, the tires are narrow and light, making it that much easier.
Further, its lightweight alloy frame makes it feel nimble and quick. Turning is smooth and easy. In truth, it feels much like a traditional bike. My friend even mentioned that she didn't realize that it WAS an electric bike, I'm sure in part due to the battery being enclosed in the frame.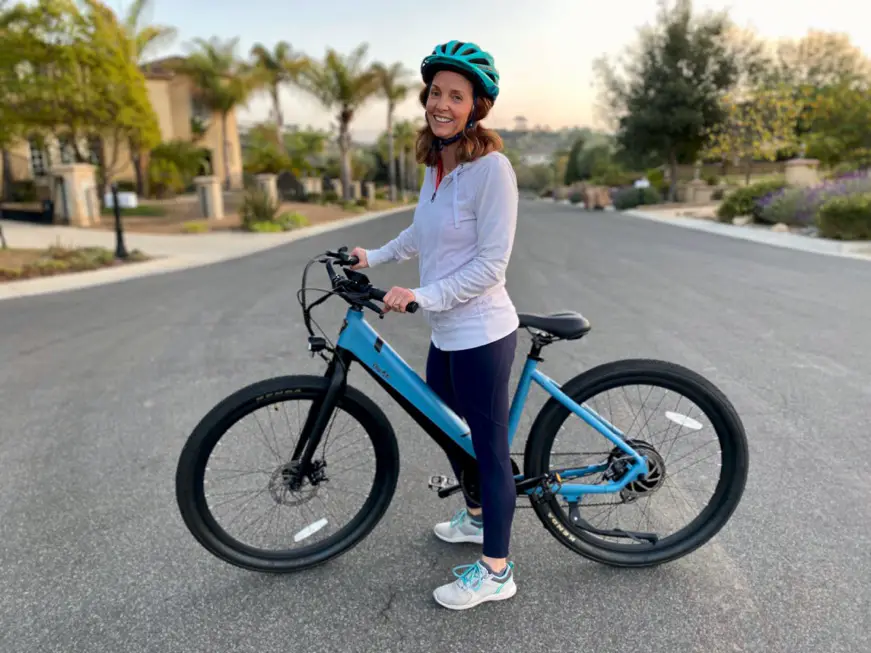 Week One of Testing
After adjusting the seat several times, I noticed that I am more comfortable with the seat at about 1″ above the lowest point. This makes sense since the minimum seat height is 32″ (one inch higher than the Ride1Up 700 Series I tested and reviewed), I'm 5'1″ and the bike is suggested for riders starting at 5'0″. Thus, the sizing seems to be right on.
Now, I've been on several sizes and shapes of bike seats. I was a little concerned about the smaller, narrower saddle that came on this electric bike. However, I was pleased to discover that it's quite comfortable and super easy to pedal on given its narrow width. So you can pedal hard and fast if you choose to! I've ridden my typical 12-mile daily ride without discomfort.
And while I was perfectly comfortable in my seated position (with a low seat), my taller husband Marc decided to tilt the handlebars a bit to help him sit more upright.
First Test Ride
When test-riding a new e-bike, my first inclination is to find a steep hill and go up it! Although getting up hills was certainly no problem, I was quite blown away by the throttle. It powered me up as fast as I would drive a car in any neighborhood.
Although doing this regularly would lower the range considerably and decrease the battery life overall, it's good to know you have it when you really need it (late for work, perhaps?!).
Since the Core-5 comes with all-terrain tires, it was important to see how it handles dirt and gravel. Mind you, this isn't a mountain bike and isn't meant to ride over rough terrain (it doesn't have the suspension to support it). But, I was thankful that it packed dirt and gravel well without any slipping, which makes me nervous.
Therefore, on a typical commute where you need to cross trails or gravel paths, it'll handle well.
Finally, although this is a great commuter e-bike that can be more easily carried upstairs or onto buses and trains than most electric bikes, I'm looking forward to putting it in the back of my car for a long ride on a distant trail.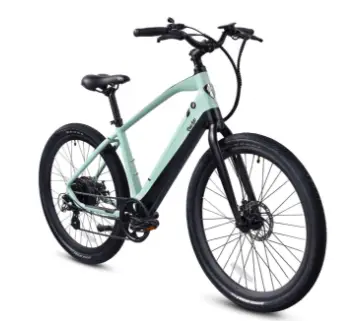 Week Two of Testing
After two weeks of exclusive test riding, I'm comfortable in saying that this is a great e-bike for the money. Yes, you could get an e-bike with more features such as hydraulic brakes or a suspension fork, but you'll pay hundreds or thousands more for it. And if you are a beginning e-bike rider, you will be plenty awed at the fast and smooth ride rather than concerning yourself with these extras.
I'll admit that I've missed my bike rack at times, but you can add one for just $50 from the Ride1Up Shop! This is also true of the Core-5 fenders if you'd prefer to have them (I'd definitely recommend them if you'll be riding in the dirt or gravel).
Overall, here's what I've enjoyed most about the Ride1Up Core-5:
The super lightweight feel and nimble turns
The powerful throttle
The tall, all-terrain tires
Easy-to-step-through frame: I tested the ST (step-through), but you can also get the XR (step-over)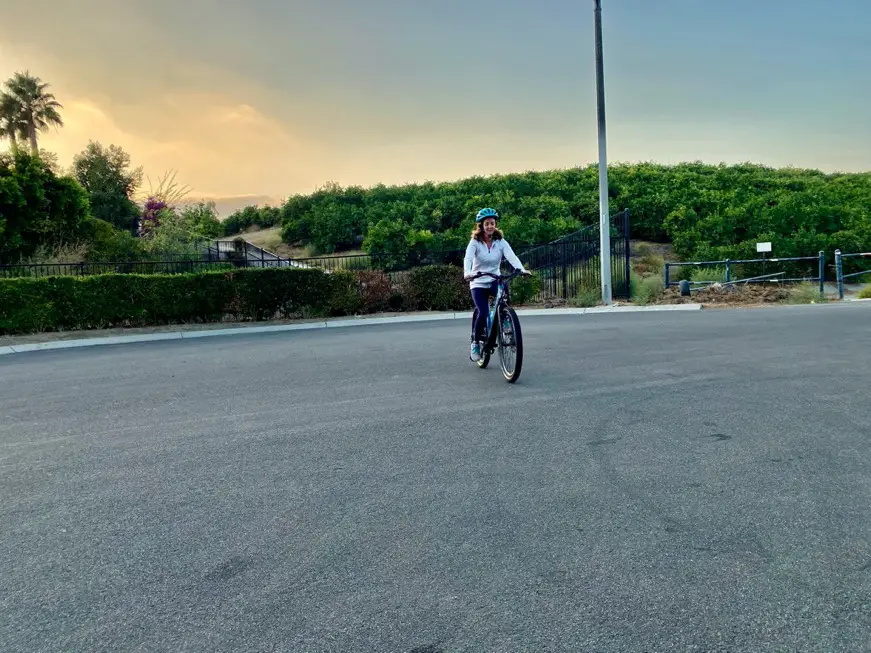 Ride1Up Core 5 Review: Performance and Specifications
You can learn everything you need to know about the Ride1Up Core-5 components and performance specifications below.
Check out the review notes in the table for the information on each component that stands out and take a look at the performance rating for each. The Performance rating was determined in conjunction with my expectations based on the $1195 price of the Core-5 as well as the quality and usefulness of each feature.
Ride1Up Core-5
Performance
Components
Review Notes
Performance Rating (1-10)
Motor
750W Sustained Geared Hub Motor (48V Shengyi)
Powerful for fast commuting, recreation, and exercise
9.3
Battery
48V 8Ah Reention Eel Pro with Smart Battery Management System
Smoothly integrated with the frame
9.0
Range
25-45 miles
This is a pretty standard range for a commuter e-bike in this price range (and testing revealed that you can get over 45 miles from each charge)
8.5
Brakes
Tektro 160mm Mechanical Disc Brakes w/ Cutoff Sensor
Brakes are quite capable given the low weight of the bike itself
9.6
Fork
Smooth Welded Alloy
Standard rigid fork: looks nice but there isn't any suspension to help you glide over bumps
8.0
Drivetrain (Gear Shifts)
Shimano 7-Speed
Easy to change and make a noticeable difference when climbing hills
9.6
Derailleur & Cassette
Shimano Altus & Shimano 11-32T
Shifts smoothly
9.4
Display & Controller
Adjustable Speed LCD Color Display & 48V22A Lishui Sinewave Controller
Basic functions are all that is needed; however, advanced settings can customize pedal assist levels, strength, and sensitivity as well as turn on/off the throttle
9.5
Tires
27.5″ x 2.2″ Kenda
Narrow all-terrain tires ride well on light gravel
9.7
Throttle
Left-Side Thumb
Really powerful; a little jammed in on the same side as the controller
9.5
Sensor
Cadence Sensor
Plenty fast take-off on level ground; best to start pedaling before going up an incline
9.0
Rear Hub Motor
The amazing thing about the Core-5 is that, even though it's offered at a low cost, it still hands you a 750W hub motor that's quite capable, no matter what hill you're climbing.
Plus, at this price, it's hard to remember that this is a Class 3 ebike with a pedal assist maximum speed of 28mph (as opposed to the majority of e-bikes topping off at 20mph)! Like all classified electric bicycles, you'll be able to speed up to 20mph using the throttle.
It seems that you may be able to get to work or school faster than on comparably-priced e-bikes… or your car if you sit in traffic!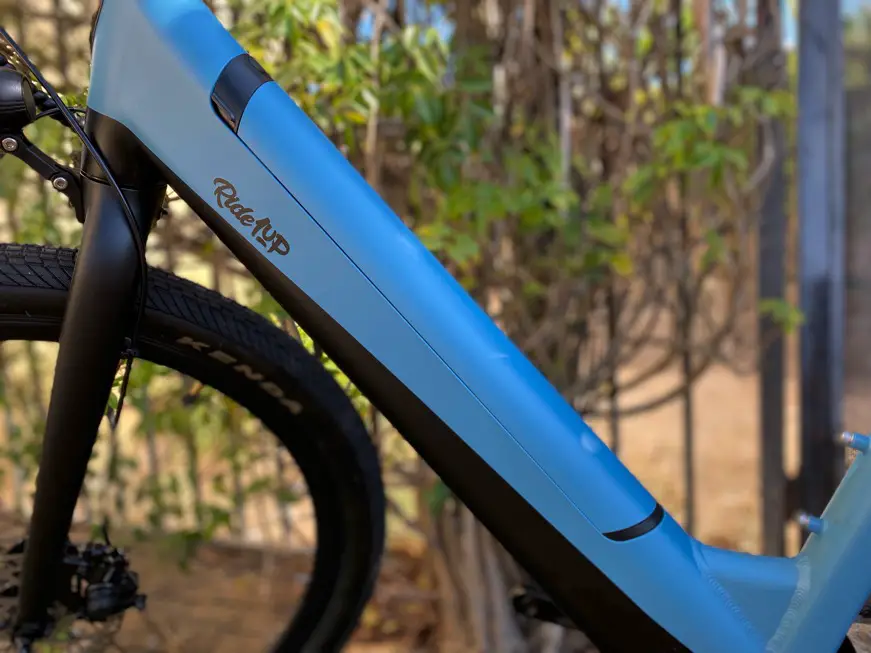 Battery & Range
Although the 48V 8Ah battery is quite capable, you won't be able to go quite as far as you would with a higher amp-hour battery. But, when compared to the Ride1Up 700 Series, for example, you're only losing an insignificant 5 miles per charge.
And if you're a typical rider who pedals and only uses high assist levels or throttle when needed to get up hills, then you should be able to get at least 45 miles per ride. This is quite satisfactory if you don't commute more than 20 miles each way.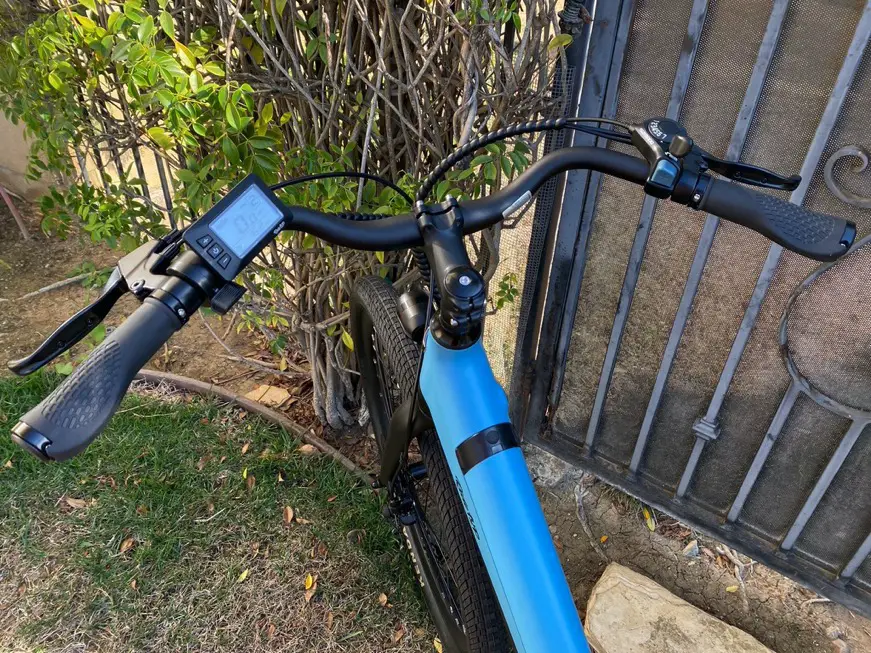 Pedal Assist and Throttle
Like more expensive models, the Core-5 has 5 pedal assist levels and thumb throttle, so it doesn't fall short here.
In fact, thanks to its lighter weight, its speed picks up nicely (but isn't jarring) when you pedal. There is just less metal to get moving, so get moving it does!
But I was really amazed at the power of the throttle. I can easily reach over 20 mph in a matter of seconds while going up a steep hill! You may need some time to get used to the left-side thumb throttle in general… and that it's pressed up next to the display.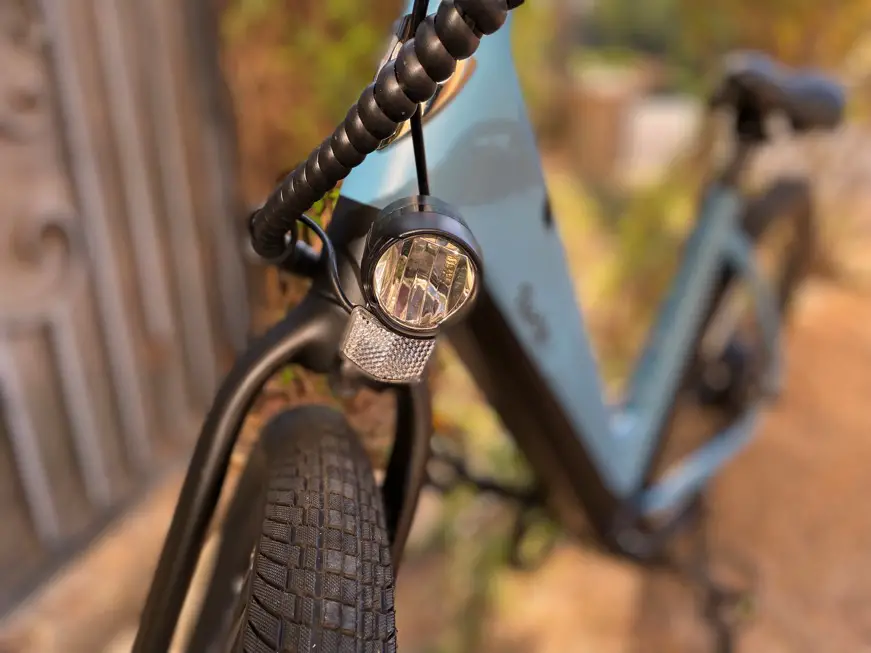 Additional Specs and Components
The Core-5 has a lot to offer in addition to its performance components.
Here are the additional features you'll get:
Integrated 60 Lux Front Light (no rear light)
2.2″ 2-tone LCD Display with Advanced Metrics
48V Battery Charger with LED Realtime Indicator
Swept-back Ergonomic Cafe Handlebars
Ergonomic Rubber Grips
Selle Royal Freeway Plush Gel Saddle
KMC 7-Speed Chain
Smooth Welded Alloy Fork
Black Stainless Steel Spokes
Powerwheel Rims
Heavy Duty Kickstand for Extra Support
Two Keys for Removing the Integrated Battery System

Ride1Up Core 5 vs 700 Series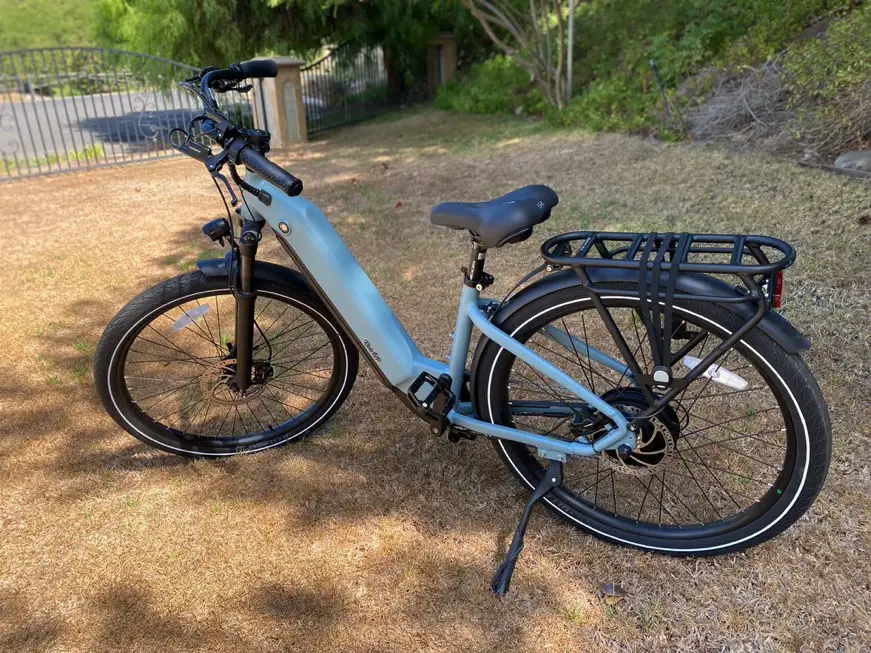 If you want a nice e-bike at a reasonable price, comparing the Core-5 to the Ride1Up 500 Series makes good sense and will help you decide which is the best e-bike for you.
The 700 Series costs over $500 more than the Core-5, yet they begin with a similar base. By looks alone, you'll see that the 700 Series is a bit larger due to the bigger battery. But to compare fully, let's look at what the 700 Series offers that the Core 5 doesn't:
8-speed gears (as opposed to 7-speed gear shifts on the Core-5)
Coil spring front suspension fork with 100mm of travel
Hydraulic disc brakes
30-50 mile range
Integrated front and rear lights
Adjustable stem
A more upright seating position
27.5″ x 2.4″ tires (slightly wider than the Core 5)
Ergonomic faux leather grips
Rear Rack
Fenders
And, the 700 series is my favorite from Ride1Up.

Thus, if the features above are important to you and you're willing to spend a little extra money, then you might wish to check out the 700 Series.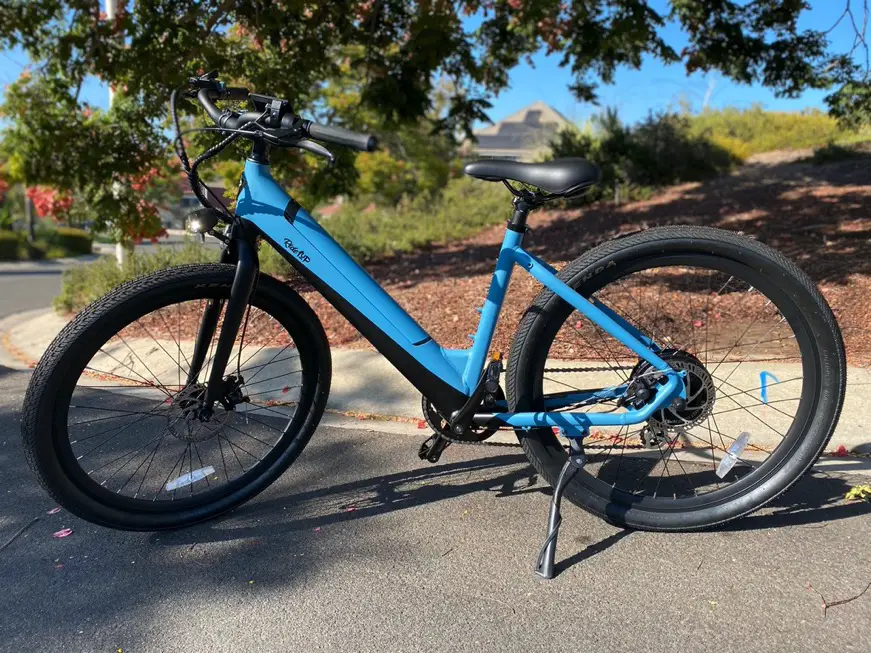 Ride1Up Core 5 Weight, Load Capacity, & Dimensions
| | | |
| --- | --- | --- |
|  | ST (Step-Through) | XR (Step-Over) |
| Bike Weight | 49 lbs | 49 lbs |
| Load Capacity | 300 lbs | 300 lbs |
| Rider Height Range | 5′-6'1″ | 5'6″-6'4″ |
| Stand-Over Height (Inseam) | 19" | 28.5″ |
| Seat Height | 32″-40″ | 32″-40″ |
| Seat Tube | 19″ | 19″ |
| Handlebar Reach & Height | 18" & 41″ | 22″ & 42″ |
Once again, this lightweight ebike doesn't disappoint with its 300-pound load capacity. This is something I'd expect to see on a more substantial e-bike with bigger tires. Thus, despite the sleek frame, it carries up to 50 lbs more than many bikes of its size and cost!
Further, most riders can lift 49 lbs when necessary. And even if you need help, two people can easily handle it.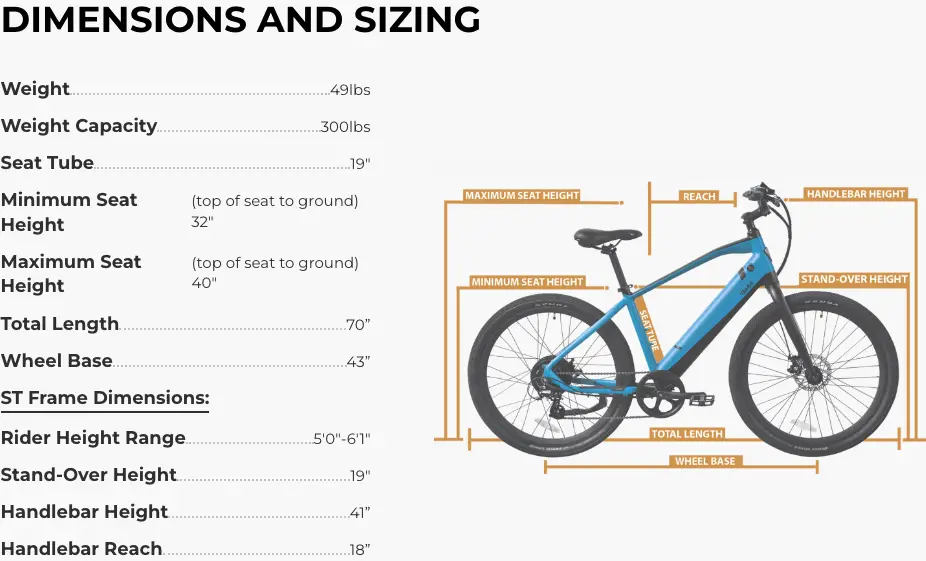 Comfort
Thankfully, the Core-5 has the standard comfort features that Ride1Up is known for. These include:
Selle Royal Freeway Plush Gel Saddle– Just as plush as one of Ride1Up's more expensive models, the saddle is smaller and narrower, meeting more of a road bike styling. This makes it perfect for rapid and consistent pedaling.
Promax 350mm Angle Adjustable Seat Post– You can find the right tilt for your riding style.
Ergonomic rubber grips– These are surprisingly smooth and soft.
Safety
The Ride1Up Core-5 has basic safety features. The rest is up to you!
Safety features include:
Front Integrated Headlight– No more riding in the dark!
Thumb Throttle– Get moving fast when you need to match traffic or get out of the way of people or dangerous cars.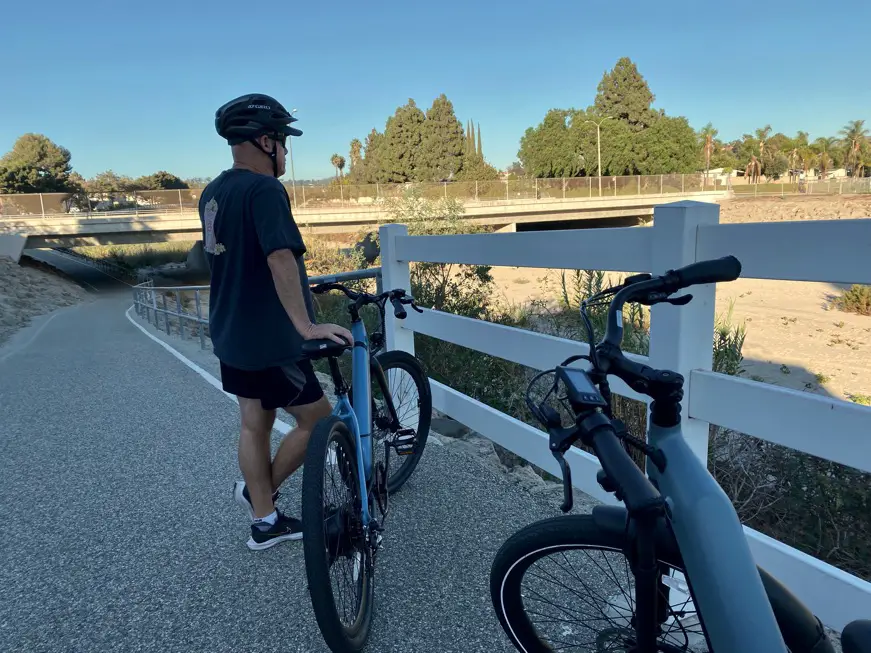 What Other Ride1Up Core 5 Owners Are Saying
On the Ride1Up website, reviews for the Core-5 are excellent! With an overall rating of 4.8, riders had loads of good things to say. In fact (at the time of this writing), the lowest rating is a 3-star, and these account for only 3% of the ratings. Over 81% gave the Core-5 a 5-star review, which is pretty significant.
What Core 5 Owners Like and Don't Like
| | |
| --- | --- |
| Liked by Customers | Not Liked |
| Price & value for the money | Handlebar extensions would be nice |
| Customer support | |
| Pleasing design | |
| Ability to conquer steep hills & wind | |
| Newly added front headlight | |
| Fast and "zippy" | |
Unboxing the Ride1Up Core 5
Unboxing this e-bike model was pretty easy, as it's around 85% put together. It came out of the box smoothly and I didn't have to spend a lot of time cutting zip ties, yanking, and pulling (see my Ride1Up 700 Series unboxing video for that)! And I was excited to see the beautiful blue frame as it appeared (it also comes in a dark gray).
All of the parts were there, along with some other goodies! One of the best things to come in that box is a set of heavy-duty Allen wrenches (even sizes you don't need for assembly). You can keep this in your bike toolkit and use it for other projects!
Assembly Time and Instructions
After assembling the Ride1Up 700 series, the Core-5 was much easier! I completed the assembly by myself in around one and a half hours. To give you a reference point, at the time, my assembly experience included putting together a couple of other e-bikes (with help from my husband).
Thankfully, this e-bike comes direct to you about 85% pre-assembled. However, if you've never assembled a bike, there are still a few areas you can get tripped up on.
Make sure to watch the Ride1Up on-site video in advance so you have an idea of what is expected. There seem to be a few minor steps that are missing in the instructions. But, I've listed out a couple of things to watch for:
Remove the battery from the bike to make it lighter and more manageable. Plus, it can be getting fully charged while you assemble the bike itself!
Before sliding the front wheel on, loosen and remove the bolt and washer already attached to the frame.
Make sure you solve the riddle of twisted handlebars: You want to make sure the stem goes into the bike so that you can grab the handlebars while making sure the brake line and other cords have a little "give" and aren't too taught.
Apply some bike grease (you can get it on Amazon) to the pedal bolts and the seat post to help them get seated snuggly but not stick.
Headlight: This is a new feature and there weren't ANY instructions. I found a way to wrap the light cord loosely around another cord so it wouldn't interfere with the front tire. Then I used the long screw, washer, and bolt to attach it. Complete it by tightening it with a wrench.
Ride1Up Brand Overview
The Ride1Up brand has a variety of high-quality e-bikes to offer buyers. And they have great service and support as well (according to other Ride1Up owners).
I think it's a straightforward purchasing experience:
| | |
| --- | --- |
| Service and Support | Benefits |
| 1-Year Warranty | Standard |
| 30-Day Returns | This is a great guarantee that you will love your e-bike |
| Free Shipping | Standard if you live in the Continental United States |
| Affirm Payment Plan | Choose from 6, 12, or 36 months of payment |
Find out more about the Ride1Up E-Bike Brand here!
Review: Wrap-Up
The Ride1Up Core-5 does what it intends to do: Get you where you need to go quickly, efficiently, cleanly, and comfortably.
Truthfully, the only thing that makes this electric bike "entry-level" is the low price. The quality and speed you'll get from it are anything but entry-level. It's simple but still has the basic necessities that make it a great commuter vehicle or weekend ride!
If after reading this review, you still have questions about whether this is the best electric bike or brand for you, make sure to check out the Ride1Up website!
Read more about Ride1Up:
Check out other commuter electric bike reviews: