Having been intrigued about Ride1Up brand e-bikes for a couple of years, I was super excited to get a Ride1Up 700 Series Step Through for review and testing. I'd had my eye on the 700 Series since it seemed to offer so many cool features for a surprisingly low price.
When I started this review, I was hopeful that it would be everything it appeared to be. Read to find out if the 700 Step-Through lived up to my quality and features expectations and whether it might be the right e-bike for you.
Pros and Cons of the Ride1Up 700 Series Step-Through
So here it is… the low-down on the Ride1Up 700 Series Step-Through, tested over a 2-week period.
After reading these pros and cons, the clear takeaway is that the Ride1Up 700 Step-Through offers great value through impressive features and quality components, with only a few drawbacks that can be easily overcome.
PROS
CONS
Sleek look of the frame with an integrated battery (instead of a clunky battery attached to the outside of the frame)
Assembly was more difficult than it needed to be… a few added details in written and video instructions would be helpful
Impressive use of high-quality components, with brand names from Tektro & Shimano
The pedal assist cadence sensor takes off rather quickly when barely pressing the pedal (you may get used to this quickly… or read below for how to reduce sensor sensitivity)
8-speed gear shifts (most drivetrains are only 7-speed, at least in this price range)
Pedal assistance lags a bit when climbing
hills (increase the pedal assist level before starting up an incline to solve this)
Hydraulic brakes make it much easier to stop than mechanical disc brakes
The front suspension fork makes a huge difference in ride quality and comfort.
Class 3 e-bike with a higher maximum speed of 28mph while pedaling (as compared to most Class 2 motors that cut out at 20mph)
A powerful 750W hub motor gets you moving fast
Ability to customize pedal assist levels and functions (read in detail below)
The step-through frame makes it easy to get on and off (you can also choose the step-over frame)
Ride1Up 700 Series Step-Through E-Bike Review: Overview
The Ride1Up 700 Series, Step-Through or Step-Over frame, is styled as a higher-end electric bike for a lower-than-expected cost, one that performs so well that you're ready to get rid of your car. So, the ultimate question is… does this e-bike model live up to these expectations?
My answer is an easy "yes"! After spending two weeks riding the 700 Step-Through exclusively, I still can't believe I'm getting all of the features and quality components on an e-bike priced at $1695. I'd expect to pay over $2000 for an electric bike package like this.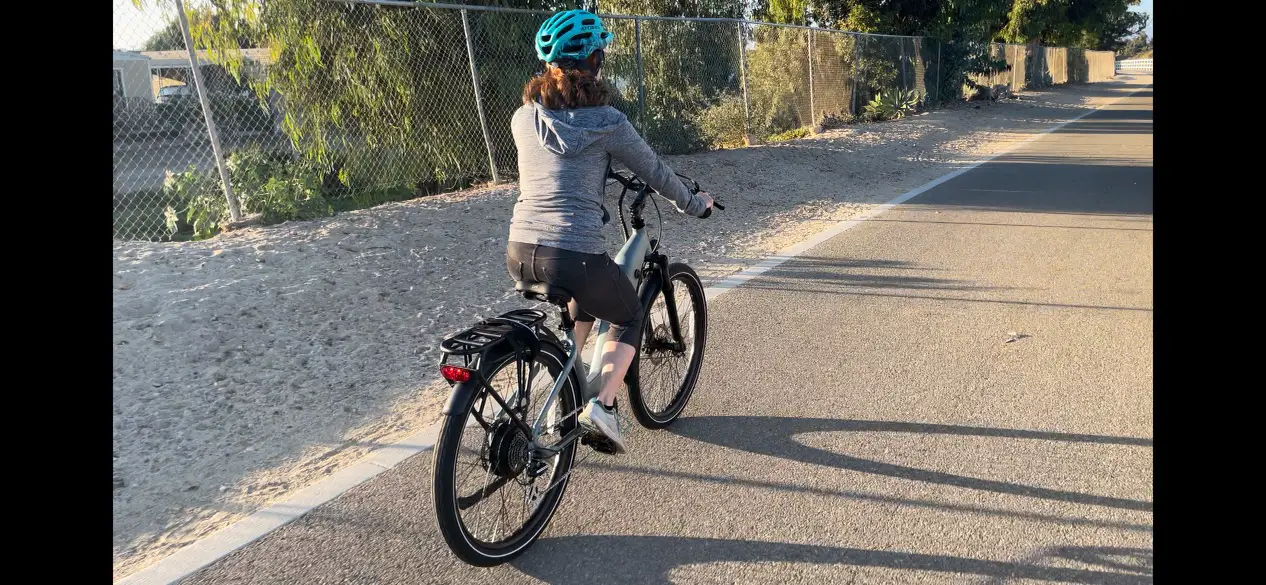 First Test Ride & First Impressions
On my first ride, I was amazed at how comfortable I was getting on this step-thru and fitting easily on it despite my small size (5'1″).
The next thing I noticed was how smooth and easy the ride was. Not only did I feel like I was gliding down the road, I easily passed my riding partner while we were both riding at a pedal assist level of 1 with gears set to 8 (and at the same pedal cadence or rhythm).
My positive first impressions were in large part due to the 700 Series 27.5″ x 2.4″ wheels (as compared to my RadMini ebike with 20″ X 3″ tires). But even without a comparison, I've loved everything about the tall wheels and WTB Groov-e tires… from the fact that I can cover a great distance quickly to the ability to ride easily on hard-packed dirt and slide over curbs.
Not to mention the ability to roll the Ride1Up 700 e-bike right into my house, as opposed to needing a running start with a front wheel lift.
Week One of Testing
After a week of riding on smooth pavement, bumpy sidewalks, and steep hills, I found myself abnormally impressed by the added front suspension fork and hydraulic brakes. To me, these are huge bonuses that have increased my riding pleasure immensely (I'm still blown away at the price for all of this)!
Although I added a suspension seat post to my previous e-bike, I can take it or leave it with the 700 Series. Yes, a suspension seat post would be nice, but then surely Ride1Up would have to increase the price!
But thanks to the front fork's 100mm suspension travel, which removes a majority of the shock from hard bumps, adding a suspension seat probably isn't necessary.
I did have to adjust the hydraulic disc brakes a bit after installation (Ride1Up suggests you will need to do this simple task… you can watch a two-minute video if you don't know how). But, once I used the brakes down every test hill and around corners, I was pretty certain I didn't want to go back to mechanical disc brakes.
The Tektro dual piston hydraulic brakes on the 700 Series come to a complete stop smoothly and efficiently, without any jarring or feeling as though you'll be thrown off your bike, even when stopping on a downhill (at a reasonable speed). This is why hydraulic brakes are typically found on higher-end e-bikes… because they provide more stopping power.
But yet again, Ride1Up isn't charging you extra for this beneficial feature. Paying $1695 for all of the other features on the 700 Series would be worth it, even without the hydraulic brakes.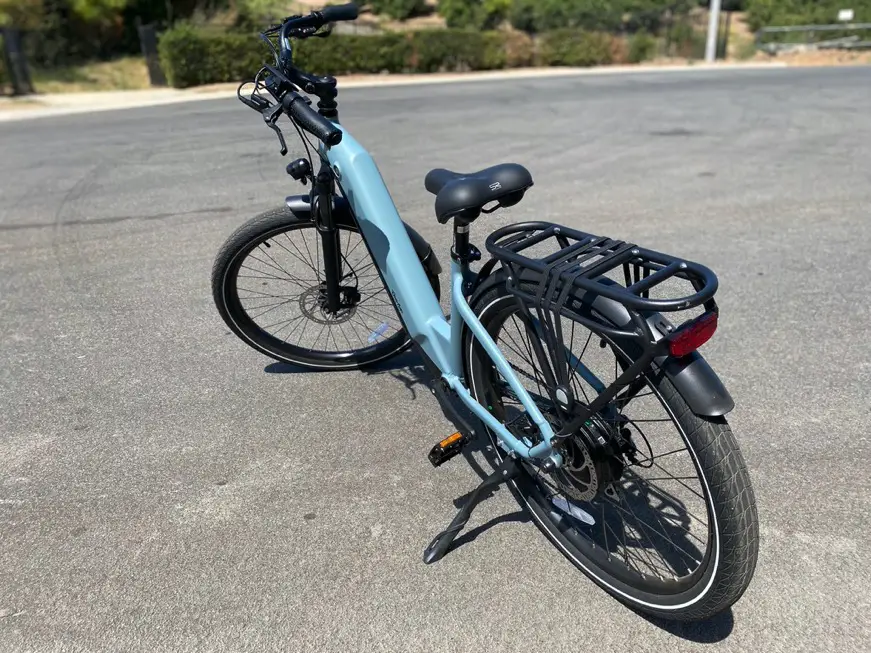 Week Two of Testing
By week two, I was already beginning to wonder whether I'd ever go back to riding my old e-bike, which just seems slow and clunky in comparison.
It has been so easy to ride the 700 Series, that I nearly forgot that I used to be happy riding another e-bike.
By far, I've been most impressed with the:
integrated battery (super easy to take on and off)
advanced settings in the display (to adjust pedal assist, etc.)
front suspension fork
hydraulic brakes
powerful 750W motor
27.5″ wheels and tires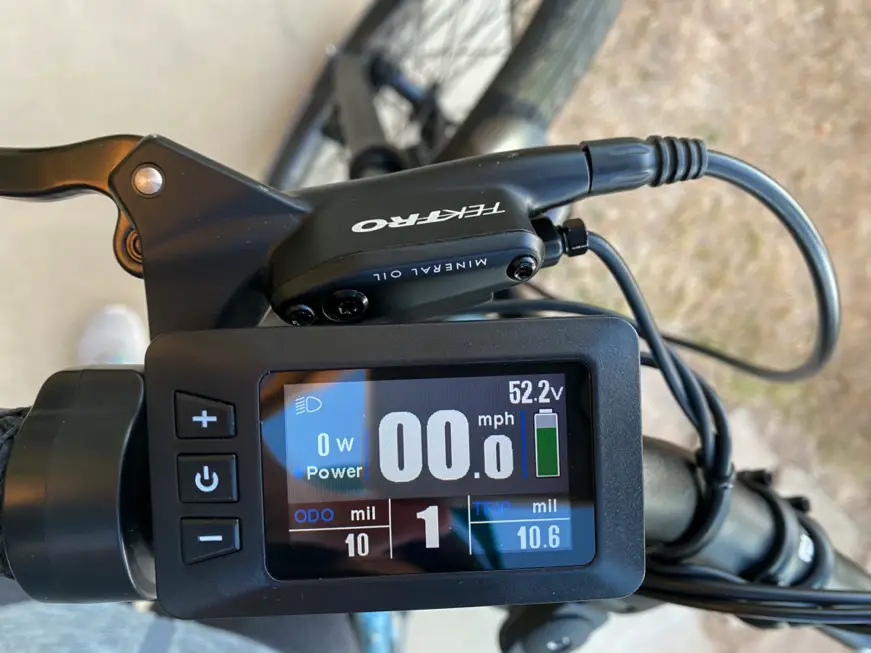 Ride1Up 700 Step-Through Review: Performance and Specifications
To truly decide if the Ride1Up 700 is the best electric bike for you, look closely at the specs and how each component performs.
Read the review notes in the table below for the most notable information and check out the performance rating for each. The Performance rating was determined in conjunction with expectations based on the $1695 price of the 700 Series.
| | | | |
| --- | --- | --- | --- |
| 700 Series Performance | Components | Review Notes | Performance Rating (1-10) |
| Motor | 750W Sustained Geared Hub Motor (48V Bafang) | More than powerful enough for commuting and riding for pleasure | 9.5 |
| Battery | 48V 15Ah Reention Rhino with Samsung Cells | Plenty powerful but not unusual; extra points for frame integration | 9.2 |
| Range | 30-50 miles | Pretty standard for an e-bike in this price range (testing revealed that you can get 40-50 miles from a single charge…see below) | 8.5 |
| Brakes | Tektro Dual Piston 180mm Hydraulic Disc Brakes w/ Cutoff Sensor | Smooth, capable stopping & easy to dismount e-bike while braking | 9.7 |
| Fork | Mozo Hydraulic Lockout with 100mm Suspension Travel | Almost unbelievable to get a front suspension hydraulic fork on an e-bike at this price! | 9.8 |
| Drivetrain (Gear Shifts) | Shimano Acera 8-Speed Trigger Shifter | Easy to change; 8 gears make a difference over the standard 7-speed gearing | 9.6 |
| Derailleur & Cassette | Shimano Acera Derailleur (RD M3000) & Shimano 11-30T | Smooth-shifting transitions | 9.4 |
| Display & Controller | Adjustable Speed LCD Color Display & 48V22A DMHC Sinewave Controller | Basic functions are easy and intuitive; Large # of advanced settings to customize your ride (follow this video if desired) | 9.5 |
| Tires | 27.5″ x 2.4″ WTB Groov-E | Provide a smooth, comfortable ride (may also get Schwalbe Super Moto X tires, depending on frame and color choice) | 9.8 |
| Throttle | Left-Side Thumb | Somewhat unusual to be on the left side; not as much motor power as I'd like going up steep hills (but it does the job) | 9.0 |
| Sensor | Cadence Sensor | Takes off a little too fast on level ground and lags a bit when riding up an incline | 8.8 |
Rear Hub Motor
As a Class 3 electric bike with a throttle and 750W geared hub motor, you can easily reach your destination while still riding legally (in most places). The rear hub motor is powerful enough to take you to the top speed limit of 28mph and get you where you need to go fast.
Just understand that the geared hub motor will cut out (stop producing power) once it reaches 28mph (while pedaling) and 20mph (using the throttle). But if you continue to pedal, you can reach a higher speed limit. Many electric bicycles have motors that stop working at 20mph with pedal assist.
So, the extra speed you get with the 700 Series is a bonus. It's also why this e-bike is perfect for daily commuters.
Battery & Range
The 700 Series battery capacity is typical for an electric commuter bike at this price level, although it does have quality Samsung cells (which should give it a long-lasting battery life). It has a range of 30-50 miles, depending on the following:
road conditions
weather
riding style
cargo load
rider weight
overall use of throttle and pedal assist
In general, the 48V15Ah battery's capacity is more than enough for a 40-mile+ daily commute or weekend ride (as long as you use the throttle sparingly and pedal primarily at the lower pedal assist levels).
During one range test, I completed a 10-mile relaxed ride on which I lost one-fifth of my battery charge. I used the throttle freely (as needed) and had an average pedal assistance level of 3. This suggests that you should get a good 40-50 miles out of your new 700 series battery without sacrificing power or ride quality (the actual range will be lower the more boxes you check off above).
Next, I completed the same 10-mile ride on Level 1 the whole way, only using throttle a few seconds at a time to get up a couple of rolling hills. After this ride, there wasn't any notable drop in battery charge!
What does make this removable battery special is its position on the bike… centered on the frame and locked inside. This battery integration improves the stability of the ebike and protects the battery from weather, debris, and battery thieves, not to mention it makes the bike look nice.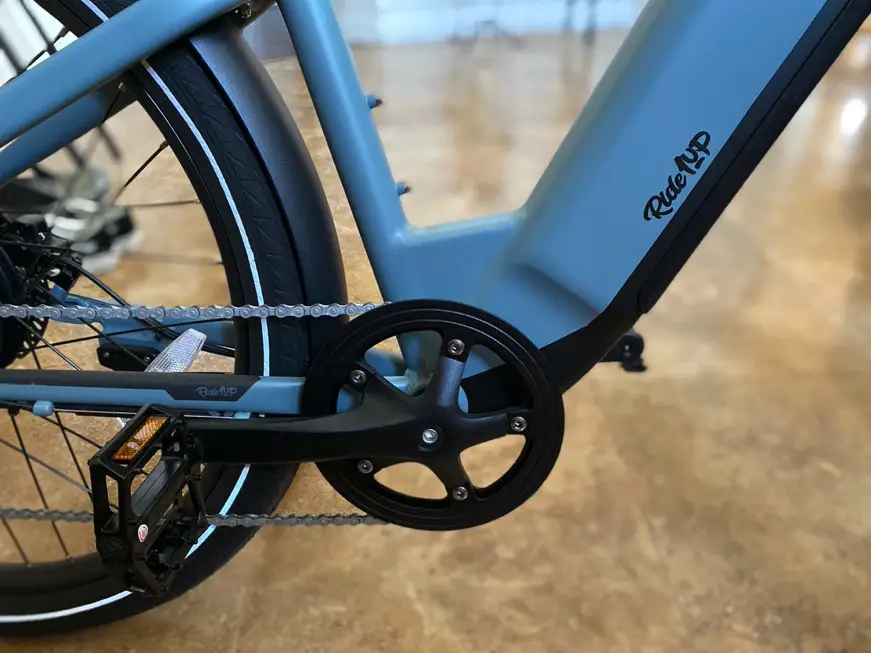 Pedal Assist
The 700 Series starts you with 5 assistance levels, more than enough to give you lots of speed and riding flexibility. However, at times it can either be too sensitive, moving you forward when you're not prepared to do so or continuing to move ahead a bit once you've stopped pedaling.
This isn't unusual on any electric bike with a cadence sensor rather than a torque sensor.
But here's where I gave the pedal assistance feature extra credit… the sensitivity and amount of motor power it gives you at each level can be modified using the adjustable display! This customization ability is something that makes it stand out above other comparably priced models with controllers that aren't programmed for these adjustments.
Here's what you can modify using the 700 Series display:
Set each of the 5 levels to start at a slower or faster speed.
Change the battery voltage available at each level, perhaps making level 4 more powerful to help you get up hills easier.
Add assist levels (factory set at 5 levels).
Change the "Sensitivity" to a lower number- this will make your Ride1Up 700 Series start and stop more quickly. This is a game changer, as e-bikes with cadence sensors don't require you to pedal hardly at all to move forward. So, e-bikes can start off suddenly and won't stop right away once you're no longer pedaling, which can be dangerous.
Modify the "Slow Start" setting- this will allow the powerful motor to come on slower.
Throttle
Admittedly, I've gotten used to a right-hand twist throttle. So, remembering to use a left-hand thumb throttle has been a small adjustment.
But if you've never used a throttle, you will be quite impressed at how easily you can accelerate up to 20mph without pedaling at all.
That being said, the throttle is quite easy to use and the acceleration is plenty powerful in most instances, giving an adequate speed burst to get up hills or through traffic. It also works well when getting the 700 series started on a slight incline or crossing the street quickly.
The throttle doesn't have as much power as I'd like to get up my steep test hills. You'll get to the top, but not quickly.
And, quite frankly, I really don't have any problems with it being on the left handlebar instead of the right.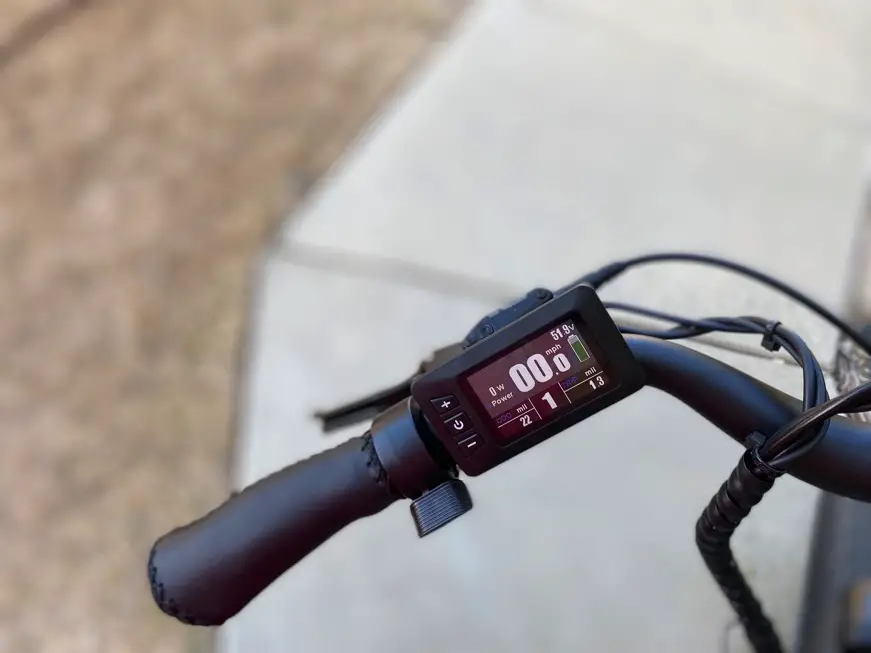 Additional Specs and Components
I believe that the 700 Series performance features are worth the price you pay for the e-bike itself (for either the step-through or step-over frame). But add in the other quality parts and benefits and you get one of the best electric bikes for the money.
Here's what else you get:
Integrated Front Light (Buchel 50 Lux) Plus Rear Light
Front and Rear Alloy Fenders
Rear Cargo Rack
48V Battery Charger with LED Realtime Charging Indicator Light
Promax Adjustable Stem
Upright Handlebars
VELO Faux Leather Grips
Selle Royal Freeway Saddle (Plush Gel)
KMC Professional 8-Speed Chain
Wellgo Alloy Pedals
Stainless Steel Spokes
33mm Double Wall Rims
Heavy Duty Kickstand for Extra Support
Two Keys for Integrated Battery System Removal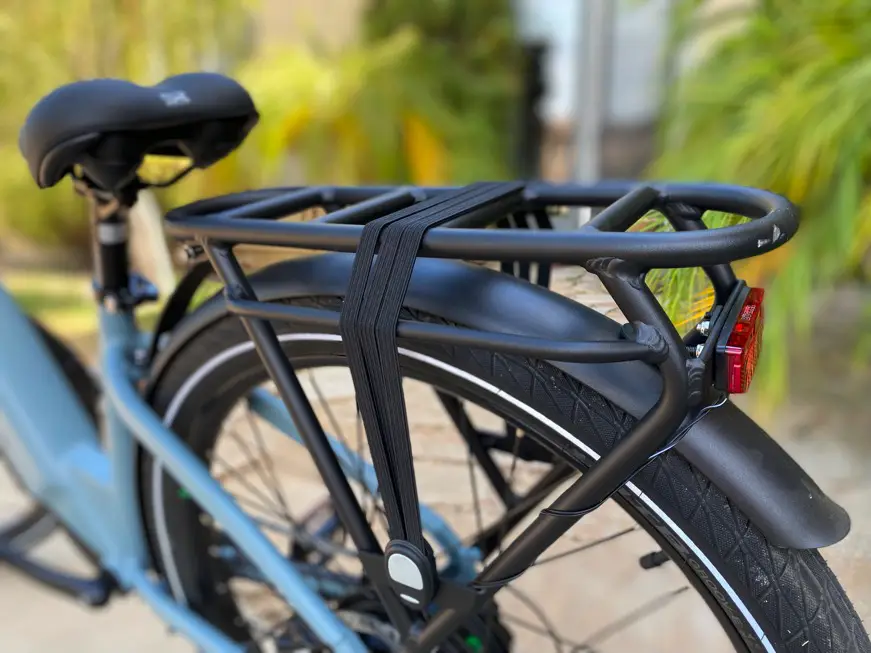 Ride1Up 700 Step Through vs Regular Step Over Frame
Since I rode and tested the Ride1Up 700 Series Step Through, it may be helpful to understand how it's different from the regular step-over 700 Series XR.
There are only small differences between the step-thru frame and the regular frame, primarily the size of the frame and how you get on and off. With the step-thru, you only need to lift one leg up just over 17″ to get into riding position. With the regular frame, you must lift one leg up and over the top tube to get on and off. On the regular 700 Series (XR), you'll need to get your leg over a 29.5″ top tube.
Truthfully, you can simply choose to ride the 700 Step-Through instead of the regular frame, unless you are taller than 6'2″. But, if you are over 6′, there's a good chance that you will be more comfortable riding on the 700 Series XR frame.
Here are the reasons you might choose to ride the 700 Step-Through:
You are under 5'5″ (or your inseam is too short), in which case, the step-thru is recommended
You are not physically able to lift your leg up and over the bike's frame to mount it
You want to be able to dismount quickly (or get on your bike quickly)
You want to be able to ride if you get injured or have sore hips, back, etc.
You are a senior citizen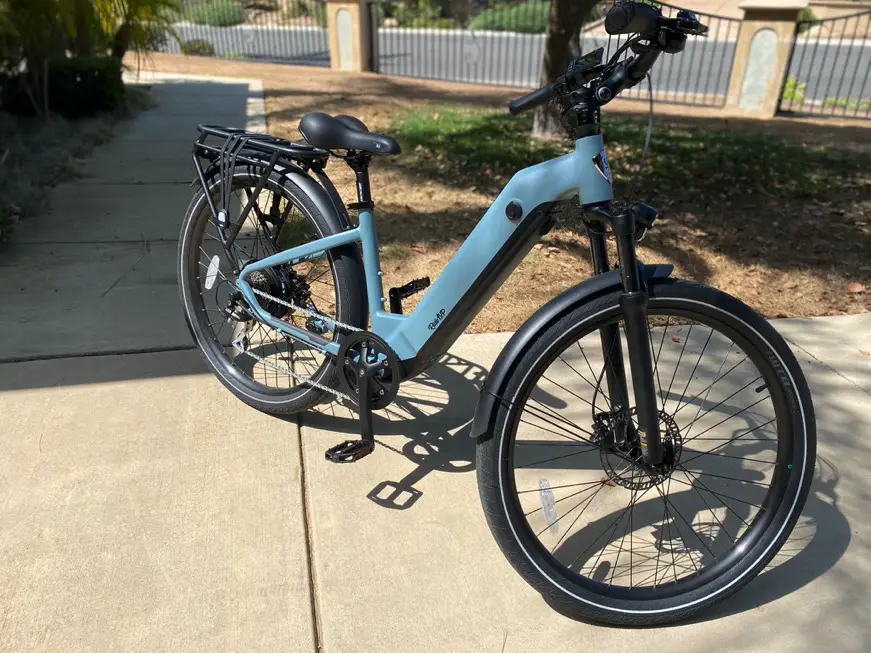 Weight, Load Capacity, & Dimensions
To be truly comfortable on an electric bike, it's essential that you find the right fit for your body and needs. I was honestly surprised to find that I fit extremely comfortably on the 700 StepThrough (ST) even though I'm at the bottom end of the rider height range at 5'1″. And there is still room left to lower the seat.
Here's a look at the 700 Series' weight, sizing, and load.
| | | |
| --- | --- | --- |
| | 700 Series ST (Step-Through) | 700 Series XR (Step-Over) |
| Bike Weight | 62lbs | 62lbs |
| Load Capacity | 300lbs | 300lbs |
| Rider Height Range | 5′-6'2″ | 5'5″-6'4″ |
| Stand-Over Height (Inseam) | 17" | 29.5″ |
| Seat Height | 31″-38″ | 33″-40″ |
| Seat Tube | 18″ | 19″ |
| Handlebar Reach & Height | 18" & 40″ | 22″ & 41″ |
Both the 700 Series Step-Through (ST) and Step-Over (XR) models are quite capable with their 300lb load capacity, carrying 25-50 lbs more than many comparable e-bikes. This is more than enough to carry yourself and the gear you need for your daily commute or weekend ride. What you carry on your rear rack is included in this, but keep in mind that the rear rack itself is rated at 50 lbs maximum load.
A 62-pound bike is still quite heavy, but I'm thrilled because it's 6 pounds lighter than my previous e-bike! Plus, many electric bikes weigh even more than 70 lbs.
The 700 Series will fit just about anyone, as long as you choose the correct frame, ST or XR.
Those under 5′ may struggle to reach the ground. However, thanks to the 700 Series step-through version, there's a little bit of leeway here if you don't mind sliding off the saddle when stopping. I can lower my seat an additional 2.5″, which means that someone 4'11" may fit on it.
Be sure to measure your inseam if you're concerned about being able to comfortably reach the ground or stand over the XR frame.
How Much Does the Ride1Up 700 weigh?
I've mentioned that the Ride1Up 700 is not exactly lightweight at 62 lbs. However, this weight does include the rack, fenders, and battery. This is a pretty average weight for an electric bike, as most weigh between 55 lbs and 70 lbs without a rear rack or fenders.
The 700 Series actually weighs around 6 lbs less than my first e-bike, so I'm pretty happy about this.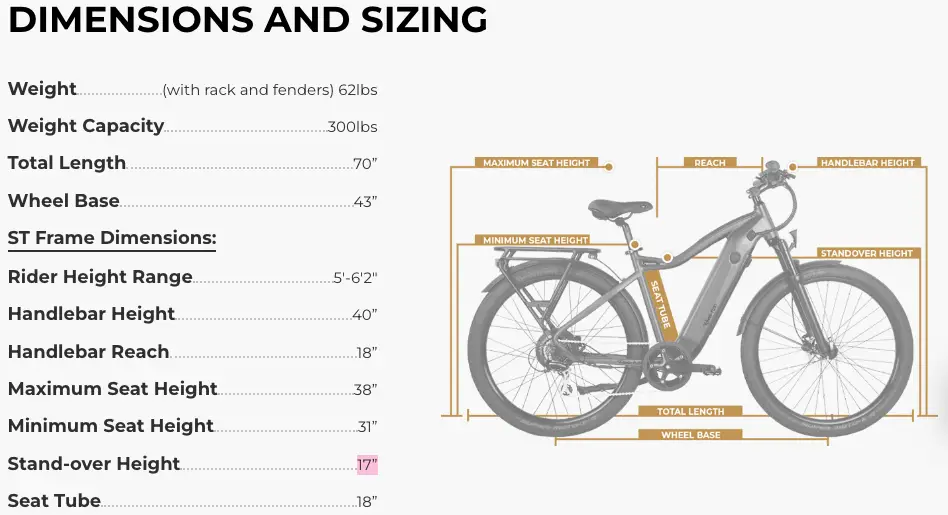 Finally, keep in mind that these size guidelines are just that… guidelines! Getting the perfect fit on any bike is a personal thing and also has to do with your riding style and how often you ride.
But, based on my experience with the 700 series, I'm pretty confident that you'll get a great fit if you fall within the stated guidelines.
Comfort
Ride1Up boasts that the 700 Series is built for the "most comfortable ride ever". And if you're commuting or riding pretty much every day, then comfort is essential.
Now, I haven't ridden every electric bicycle out there, but there's no doubt that this commuter bike is full of comfort features. And I'm super comfortable when riding. Not only that it's an improvement over my Rad Power Bikes RadMini/RadExpand that's currently selling for only $100 less than the 700 series.
So, what will make you comfortable riding on the 700 Series?
Selle Royal Freeway Plush Gel Saddle– the seat definitely has some give and is extra plush where your sit bones typically rest on the saddle
Promax Adjustable Angle Seat Post– you don't want to feel as though you're sliding off your seat… this allows you to adjust the angle to your comfort
Adjustable Upright Handlebars – rotate them to give you the best grip (I rotated mine up fairly high so I can get a better grip on the brakes with my small hands)
Hardened Alloy Fenders – protects you from flying debris (and protects e-bike components from damage)
And, of course, the hydraulic lockout front suspension fork– this will save you from countless hard bumps and provide a smooth ride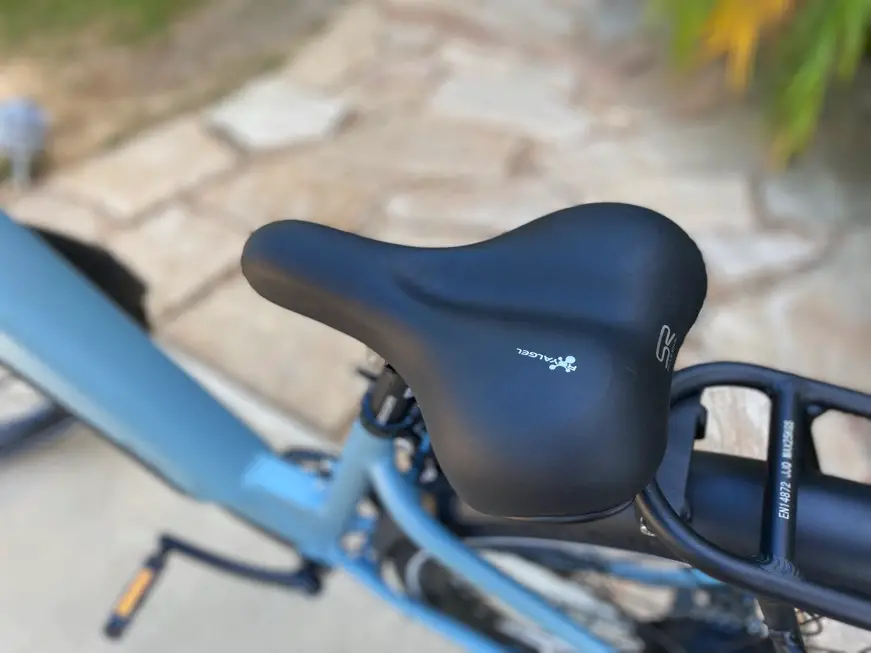 Safety
Fitting comfortably on your 700 Series electric bike is just one important thing keeping you safe while you ride.
There are several additional features that Ride1Up adds to the 700 series to protect you:
Integrated Front and Rear Lights– Controlled from your handlebar display
Hydraulic suspension fork– Keeps you from launching off hard bumps (I crashed my first e-bike in this way… it did NOT have any suspension)
Hydraulic disc brakes– greater stopping power than mechanical disc brakes (which is really important for a commuter bike that can go as fast as the 700 Series)
Thumb throttle (as opposed to a twist throttle)- you can't accidentally wrap your hand around it when grabbing your handlebar
What Other Ride1Up 700 Owners Are Saying
Don't just take my word for it that the Ride1Up 700 series offers great quality and value.
With an overall 4.8-star rating and over 658 customers leaving a review on the Ride1Up site, I was able to get a good feel for how other 700 series riders view the e-bike. First, note that 85% of the reviewers gave this model a 5-star rating while 12% left a 4-star rating. So, overall, 97% of 700 series buyers rated it excellent or above average!
The value (components and features) you get for the price is excellent!
What 700 Series Owners Like and Don't Like
| | |
| --- | --- |
| Liked by Customers | Not Liked |
| Customer support | Assembly instructions* |
| Quality and workmanship | Prefer a lighter e-bike |
| Pleasing design | |
| Ability to conquer steep hills | |
| Easy-to-read color LCD display screen | |
| Battery life | |
| Speed | |
| Value for the money | |
*Note on assembly: Some customers found the e-bike easy to assemble while others did not.
Unboxing the Ride1Up 700 Series
Unboxing the 700 Series would have been impossible for me alone. I'd suggest having at least one other person help you get it out of the box. And if you're lucky enough to have a third helper standing by, have them hold the box down while you and your partner pull out your new electric bike.
That being said, the Ride1Up 700 Series commuter bike is well-packed and protected, so there's nothing to worry about there! You will spend quite a bit of time unpacking and cutting zip ties before you actually begin assembling.
Assembly Time and Instructions
Although the Ride1Up 700 Series is mostly pre-assembled, some people reported taking around 2 hours to assemble it. I've also heard of more experienced e-bike assemblers taking a little over an hour. Truthfully, it took me around 3 hours with about 75% help from my husband, Marc. But not being a professional bike technician, this includes a few mistakes I made that had to be redone.
That being said, if you're willing to put in the time, you can do it yourself, even if you're not super handy. Otherwise, take it to your local bike shop.
One other thing I should mention, my husband and I put together 2 e-bikes a couple of years ago, if you call that having previous experience.
If you intend to put it together on your own, I'd strongly recommend that you follow the assembly video as well as read the instructions. However, the video moves really fast and leaves out a few details that owners with zero or little e-bike assembly experience need. I believe that this lack of detail also contributed to the amount of time I spent assembling the electric bike.
Here's one way to save time in the long run: be sure to list and count all of the assembly components before you begin. It's no fun being in the middle of building an e-bike only to discover you are missing parts. Contact Ride1Up's customer service as soon as you have any concerns.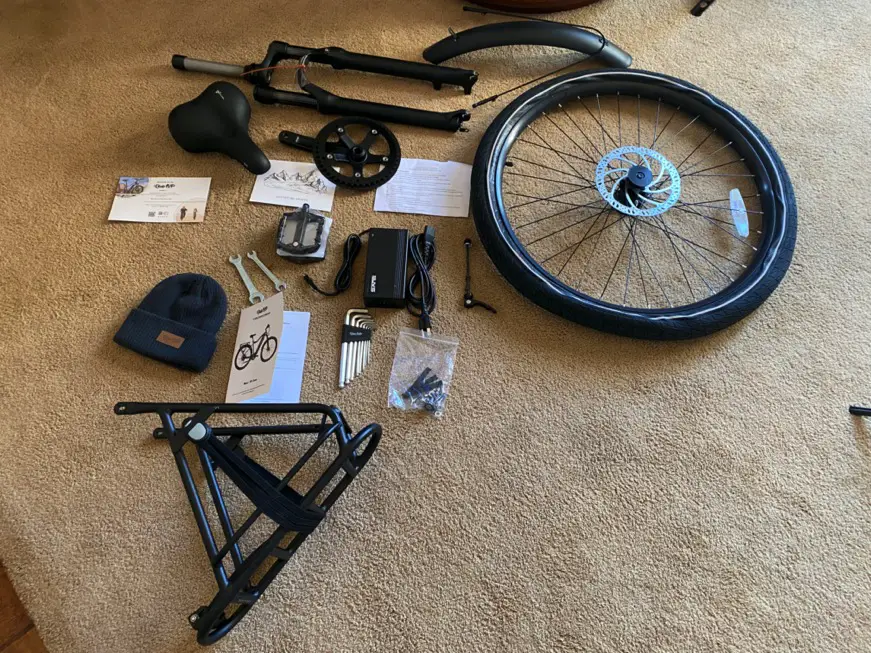 Ride1Up Brand Overview
| | |
| --- | --- |
| Service and Support | |
| 1-Year Warranty | Standard |
| 30-Day Returns | This is a great guarantee that you will love your Ride1Up e-bike |
| Free Shipping | Standard if you live in the Continental United States |
| Affirm Payment Plan | Choose from 6, 12, or 36 months of payment |
Choosing an electric bike should be as much about the brand as the e-bike model itself. Brands that aren't helpful or responsive to questions aren't worth buying an e-bike from. After all, you're bound to need help at some point, whether it's during assembly, learning how it functions, or with adjustments and repairs.
Thankfully, Ride1Up is a quality brand and purchasers report satisfaction with their customer support and electric bikes. And with a 100% Satisfaction Guarantee (and 30-Day Return policy), you can be comfortable buying one of Ride1Up's high-quality, value-oriented e-bikes.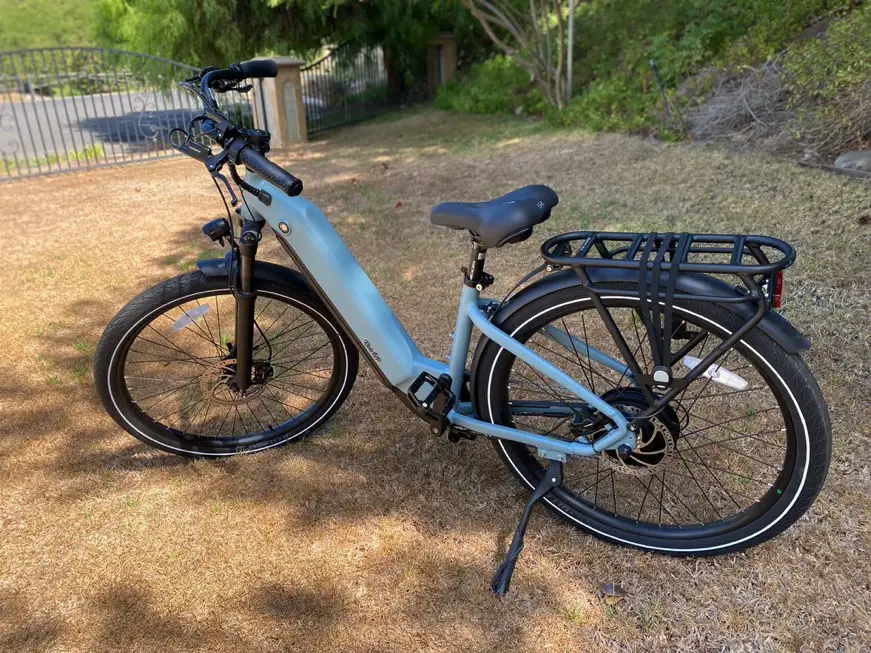 Ride1Up 700 Step-Through Review: Wrap-Up
The Ride1Up 700 Series Step-Through is an excellent value for the money and an overall great electric commuter bike. It gives you unexpected features and perks such as brand-name components, hydraulic disc brakes, a front suspension fork, 8-speed shifters, and an integrated battery.
As if that isn't enough, the Ride1Up 700 series comes with integrated front and back lights, fenders, and a solid rear rack, at no additional charge.
Even though most people will be able to fit on the 700 Step-Thru comfortably, Ride1Up makes it easy to double-check your fit using its size chart. There's always the regular high-step frame as an option.
Plus, you can easily order any Ride1Up e-bike online and have it shipped directly to you. There's no risk with their 30-day satisfaction guarantee!
Looking for a less expensive e-bike with solid features? Check out my review of the Ride1Up Core-5!
Additional reading: