If you are taller than average, like my brother Dave at 6'3″, you've probably struggled to find clothes, beds, showers, and without a doubt, sporting equipment that match up to your size.
This isn't easy, though, and if you're looking to buy yourself an electric bike, you may be wondering, "What are some of the best electric bikes for a tall guy or gal?" 
Having reviewed the top e-bike brands, the best ebikes for tall riders are:
Ride1Up 700 Series
Rad Power Bikes RadCity Plus High Step
Aventon Soltera
Aventon Level
HaiBike SDURO TREKKING
AddMotor Motan M-560
Nakto Super Cruiser
Pedego City Cruiser
Tern Vektron S10 Folding Electric Bike
Juiced Bike RipCurrent S
There isn't really a particular bike that is 'the' best ebike for tall riders. Instead, there are certain brands that tend to cater to those above the 6-foot mark. These include the likes of Juiced Bikes, Aventon, Tern, Rad Power Bikes, Ride1Up, and Pedego.      
If you are near or above 6′ tall, you're probably wondering if the right-sized electric bike is out there for you. Since my brother is over 6 feet, I was determined to find the best ebikes for him to choose from. So, I've done the digging and found the top contenders of e-bikes for tall riders. Check out the details of each model below! 
The 10 Best Electric Bikes For Tall Riders
As mentioned, there is not one particular winner as there are many factors to consider, but the main deciding factors will probably be personal taste and budget. Below is a list of the best electric bikes for you to choose from. 
1. Ride1Up 700 Series
Priced at approximately $1695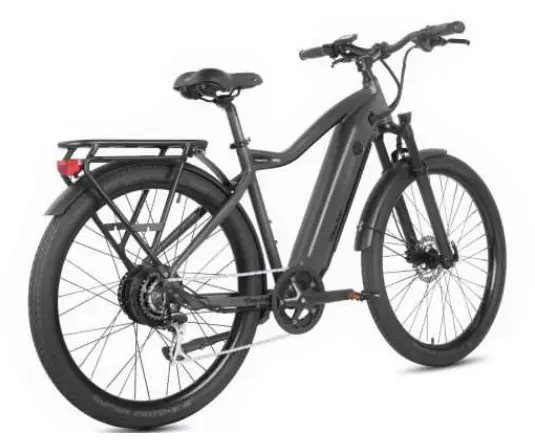 The Ride1Up 700 Series is a great value for any tall e-bike rider up to 6'4". It offers above-average features for the price, including front suspension, hydraulic disc brakes, and high-quality components from Shimano, Tektro, and other top brands.
The XR Frame reaches a maximum seat height of 40" with a handlebar height of 41", thus allowing anyone with long legs and arms to fit comfortably. Plus, it comes with full-size 27.5" tires, making it a welcome electric bike for a tall man or woman!
The 700 series also has a maximum speed of 28mph and a range of up to 50 miles.
This is the ebike I'd choose for my 6'3" brother Dave based on its value, comfort, and price. It helped that I ride the 700 Series and wrote a review on it, so I can testify to it being a solid, high-quality electric bike. 
The only difference between the two 700 series models (ST vs the XR) is the frame size. The XR frame should be chosen if you're anywhere near 6 feet tall like my brother.
There are so many features you'll love in this value-packed e-bike that I've listed them here:
Easy on and off integrated battery
Advanced display settings
Front suspension fork with 100mm travel
Hydraulic disc brakes as opposed to basic mechanical disc brakes
Powerful 750W geared hub motor
27.5″ wheels with Schwalbe Super Moto X tires (or WTB Groov-E depending on the frame)
Shimano 8-speed gears
Additionally, the Ride1Up LMT'D and the Prodigy can fit rider heights of 6'2" and 6'3" respectively. These are also worth checking out if you'd like your ebike to have a torque sensor or a mid-drive motor.
Discover the Ride1UP 700 Series here!
2. Rad Power Bikes RadCity 5 Plus High Step
Priced at approximately $1999
The RadCity Plus electric bike (see RadCity 5 Plus Review) is a tried-and-true piece of craftsmanship that has all of the features you need in an electric commuter bike. Accommodating riders up to 6'5″, it's one of the best bikes for tall riders.
With a 750W high-torque hub motor, front suspension, 27.5″ tires, 7-speeds, and 5 levels of pedal assist, it can take you where you need to go efficiently and comfortably.
You'll manage to get up to speeds of 20mph, and it is capable of trips up to 50+ miles. It comes with a twist throttle but you'll still need to do some pedaling to preserve the battery power for long rides. 
Other advantages include hydraulic disc brakes, integrated front and rear lights, fenders, and a rear rack.
Overall, you can't beat the quality of an e-bike that fits tall guys and gals!
Take a look at the Rad Power Bikes RadCity Plus High-Step here!
3. Aventon Soltera
Pricing starts at $999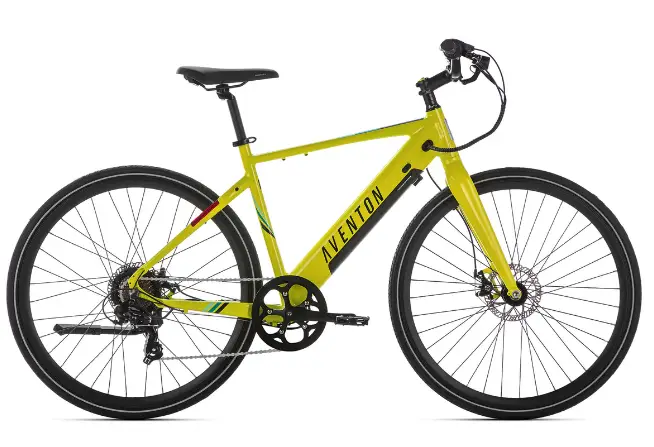 The Soltera, with its traditional 700c road bike tires and single-speed option, is a great option if you want simplicity and a low price… and you're not more than 6'4" tall.
With a max weight capacity of 300 lbs, and weighing only 41 lbs for the single speed (43 lbs for the 7-speed version), it's easy to get where you want to go as well as take what you need with you.
The Aventon Level, however, also has a load capacity of 300 lbs but weighs a bit more at 54 lbs. However, it offers more advanced features such as a front suspension, 750W motor, torque sensor, and 8-speed shifters.  
It also has a 60-mile range, as opposed to an average 40+ mile range for the Soltera.
Get more details on the Aventon Soltera (and the Soltera.2 with a torque sensor).
4. Aventon Level
Prices Starting at $1599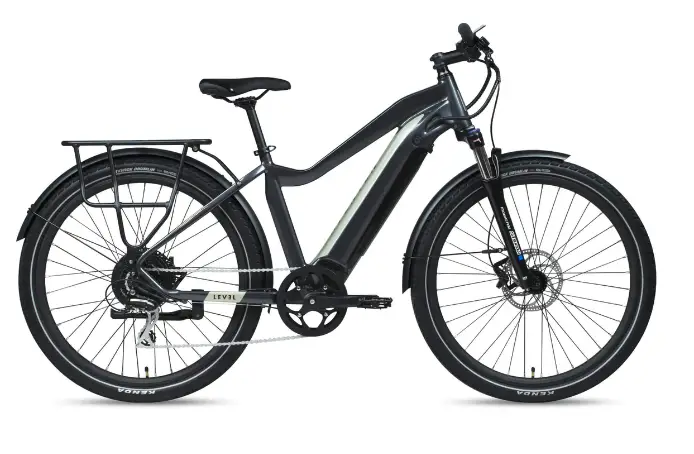 The Level, like the Soltera, also has a load capacity of 300 lbs but weighs a bit more at 54 lbs. However, it offers more advanced features such as a front suspension, 750W motor, upgraded torque sensor, and 8-speed shifters.  
It also has an up to 60-mile range, as opposed to the average 40+ mile range for the Soltera.
Both of the above Aventon models offer a "Large" frame carrying tall riders up to 6'4", so it's really a matter of your preference for the more affordable Soltera or the feature-enhanced Level. Plus, the Level comes with a rack and fenders.
Get more details on the Aventon Level (or the Level.2 e-bike with a torque sensor).
5. HaiBike SDURO TREKKING
Priced at approximately $3,100 (2,549 GBP)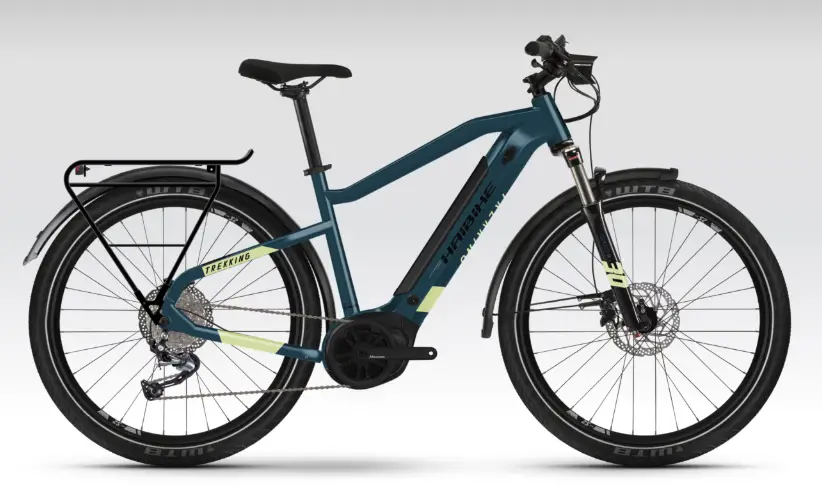 Haibike is definitely a reputable brand that has made its name as one of the top companies for e-bikes. This is because their frame sizes are many and varied. They accommodate riders up to 6'6" tall, making them one of the best contenders.
Their most popular model among taller riders is this one. This is because not only is it a comfortable ride, but it also offers a durable Aluminum 6061 frame and Shimano gears and brakes.  
If you are above the 6-foot mark, it is advisable to opt for the XL frame, specifically designed with you in mind. 
Apart from the height conveniences, it also sports a 500W battery by Yamaha, and it is, in fact, capable of speeds of up to 20 mph. 
Its tires are Schwalbe Super Moto-X 27.5 x 2.4 inches, and they are awesome for both commuting and trail riding. So, in this case, you get an all-in-one. 
Check the SDURRO TREKKING out at Haibike.
6. AddMotor Motan M-560
Priced at approximately $1,599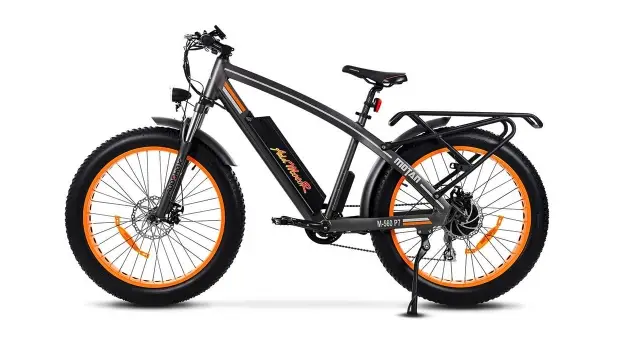 Another great choice is the Motan M-560, which can accommodate riders who are up to 6'6″ tall. AddMotor has been selling electric bikes since 2006 and is becoming increasingly known in the e-bike community. 
If you are also a slightly heavier rider, then this comfortable electric bike will definitely be the one for you, as it can support a weight of up to 300 pounds.
This bike has an even beefier set of tires which come in at 26 inches x 4 inches, also known as fat tires. They make cruising on the tarmac or sidewalk a walk in the park and can easily tackle the rugged terrain as well. You can lock the front suspension while commuting and then unleash it when you want to head off the beaten track. 
It comes with a rather sizable 5-inch LCD display that works flawlessly. Plus, it offers the ability to charge mobile devices via a USB connection. The battery will last for long trips and takes roughly 3 to 4 hours to charge.  
You can clock speeds of up to 23mph on this electric bike while also traveling up to 25 miles without pedaling. 
Learn more about the Motan M-560 here!
7. Nakto Super Cruiser
Priced at $1,299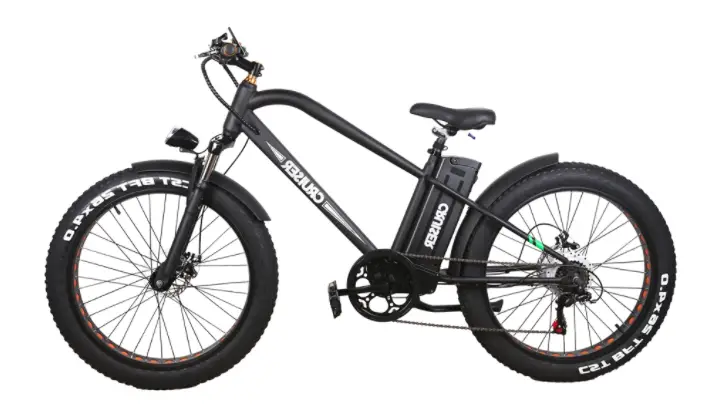 This is another very well-priced e-bike that comes from a company you may not have heard of, as they tend to ship directly from the manufacturer. The reason they do so is, in fact, for your benefit, and that is to ensure a cheaper price tag. 
This is one of the electric bikes for tall riders that offer even more versatility in accommodating the rider's height in that the recommended user height is between 5'6" and 6'8". It can also bear a load of up to 300 pounds, so this one is definitely designed with the big boys in mind. 
This monster has a 500W brushless motor and is powered by a waterproof 48v12a lithium battery which means that you can go faster for longer. You will be able to clock speeds of up to 35mph and travel as far as 35 to 50 miles. 
You can get moving with either the use of a twist throttle or by pedaling your way along. And this momentum will be displaced via a set of 26-inch x 4-inch fat tires. 
The frame is also fairly light and exceptionally durable as it is made from carbon steel.  
8. Pedego City Commuter
Prices start at approximately $3,000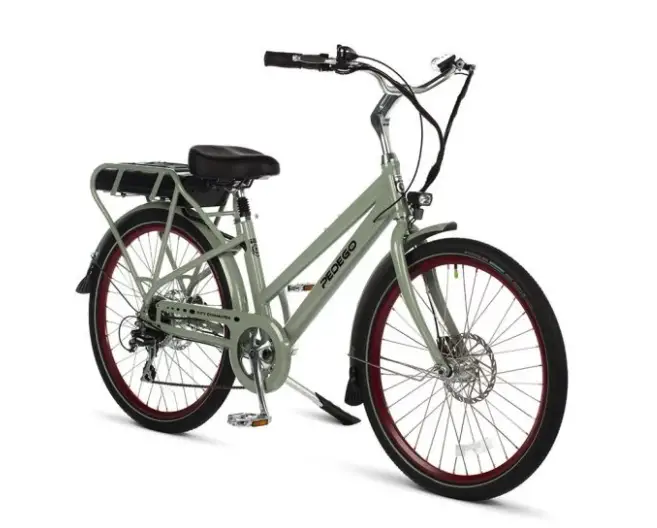 This cruiser-style e-bike is something that any stylish city commuter would love to get their hands on. What's more, it comes with 28-inch tires and an adjustable handlebars and seat. All these elements combined make it a ride suitable for anyone sitting in the 6'3" – 6'4" height range.
It has a marvelous 48V, 500 W rear hub motor with impressive torque being fed to the wheel. Powering this stylish ride is a quality lithium-ion battery. 
What is lovely about this e-bike, compared to similar types in this style, is that it offers a smooth ride and allows you to get there quicker.
You can cruise at a maximum speed of 20mph with pedal assistance with five different levels. All you need to do is twist the throttle and go. 
As specified in the name, this is a city commuter. Thus it is designed for cruising. This means that you will not be able to take your treasured ebike off-road. However, you are in for a wonderfully comfortable and sleek ride. 
Take a look at Pedego Electric Bikes.
9. Tern Vektron S10 Folding Electric Bike
Priced at approximately $3699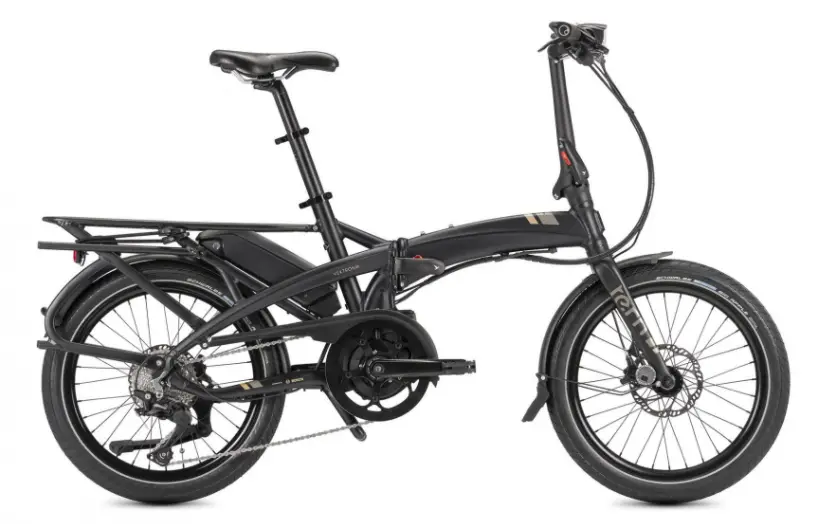 One major dilemma that taller and larger people often face is that their belongings are often bigger and take up more space, and this is generally no different when it comes to e-bikes; however, there is an answer to that problem. The solution comes from Tern, with their folding e-bike.
This is a savvy investment for anyone who lives in a small flat or apartment, and there is not much space to store a bike. 
So we have the convenience covered, but what about the comfort and accommodation for the tall rider? Well, this ingenious electric bike will amaze you as it can easily be readjusted to suit riders as short as 4'10" and as tall as 6'5".
This novel device does not stop giving there. It also happens to have an adequate-sized 400Wh battery and a 250W mid-drive motor that will see you traversing the streets at 20mph. The awesome thing about this is that it is one of the longer-range electric bikes, coming in between 31 – 62 miles. 
Take a look at the Tern Vectron.
10. Juiced Bikes RipCurrent S
Priced starting at around $2399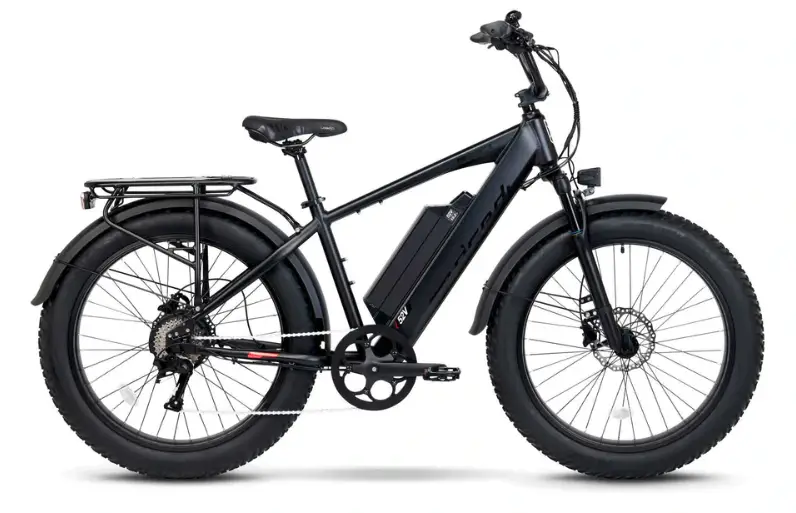 Juiced Bikes brand offers electric bikes with frame sizes that include Large and X-large. In fact, the RipCurrent S2 is one of the few ebikes for riders at a height of 6'0" and up wanting all-terrain fat tires!
With 26″x4" fat tires and a 300 lb weight capacity, this bike can handle you if you're both a tall and heavy rider.
The size chart says it all: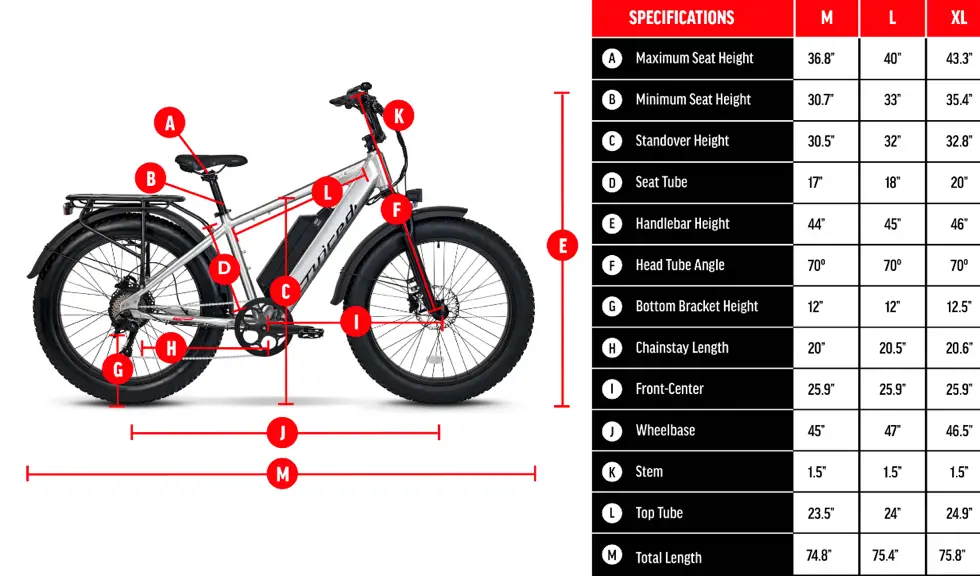 Notice how much greater the XL maximum seat height is than the Large frame, not to mention the greater lengths and heights of other size specifications such as the handlebar height.
And what's more, the RipCurrent is packed with great features for all tall guys and gals! 
You'll get 28" tires, hydraulic brakes, both cadence and torque sensors, a front air suspension fork, a 9-speed transmission, a 1000W rear hub motor, a 52 Volt battery (and a 70+ mile range), and a thumb throttle.
Plus, as a Class 3 e-bike, the motor power can take you up to 28mph!
Check out the RipCurrent S and other large-framed electric bikes at Juiced Bikes right here.
What a Tall Person Should Consider When Buying an E-Bike
You need to think about the type of frame size that will suit you best. Along with this is the type of material that the frame is made of. For a larger and taller person, you may want to buy a frame made from either steel or titanium.
These are not the only durable options, though, so don't be afraid to consider other alternatives. More importantly, pay attention to the total payload capacity of each ebike. As long as your body weight (plus cargo) stays below this maximum, any type of frame should be suitable.
Another consideration is how much the seat can be raised. Then, once the saddle is raised, will you be able to reach the handlebars comfortably enough without having to lean over and put a strain on your back?
Brands Size Guide
Many manufacturers will gauge the size of their electric bikes by the size of the seat tube. This can be misleading, however, as you may find that this is adequate for you. However, as mentioned before, the height difference between the handlebars and seat then comes into play. So you want to get a bike that has a good-sized top tube, as well as a tall seat tube. 
Additionally, the distance between the seat tube and the handlebars is important. This is because you want to be able to stretch your arms out a bit and not have to bend your arms in awkward angles to accommodate the bike's measurement. You want to have some sort of equilibrium and evenness of the spacing between the front and rear axle. 
One thing that is helpful is the modification of your electric bike by using something like a seat post that would allow you to adjust your seat, not only on the Y-axis but the X-axis as well. However, this could lead to more weight being put on the bike's rear tire and put you off balance.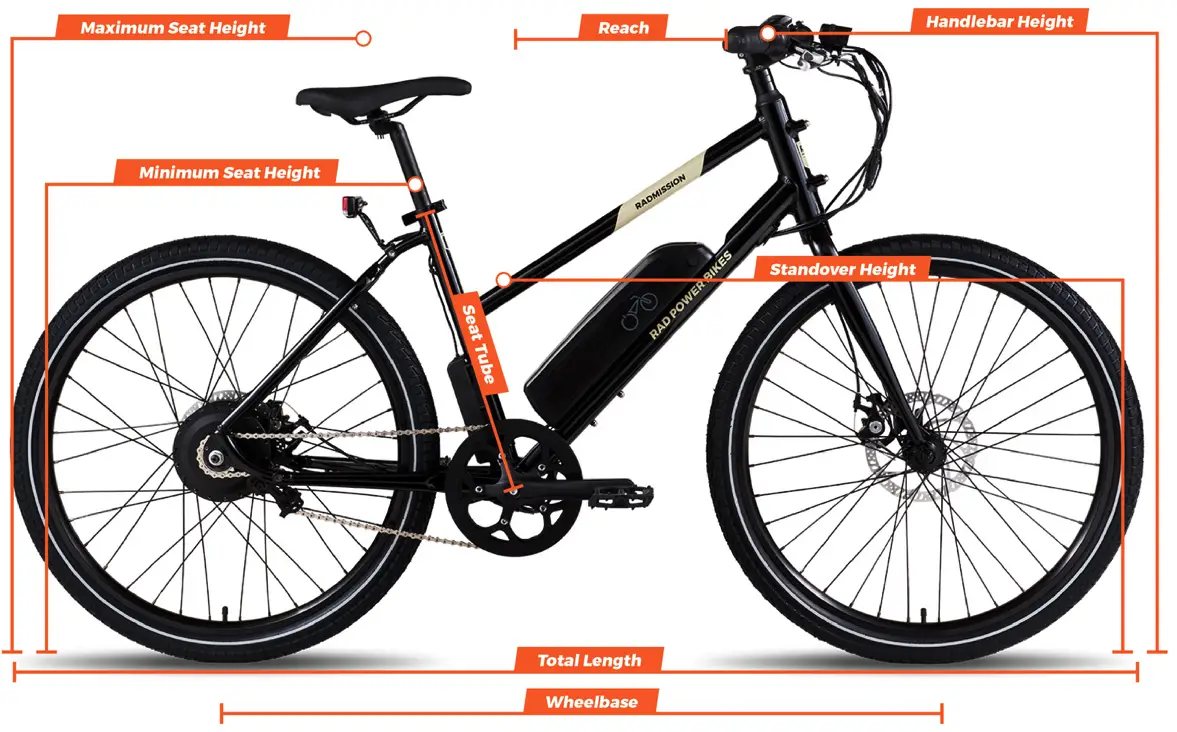 When it comes to ebikes for tall guys, a very important aspect is the wheel size, as this will also come into play when determining the overall size of the electric bike. With larger wheels, you may only need a large frame instead of an extra-large frame.
You may already have a brand and price in mind; however, being taller puts you in more of a niche market, particularly where smaller companies are concerned.
You may, therefore, be likely to end up spending a bit more money on your bike. This is due to supply and demand and the additional materials that go into making an e-bike a better fit for you.
Figuring Out Which Frame Size Is Best
Below is a table that demonstrates which electric bike frame size will be the best fit for you. Consider both your height and inseam (from your crotch to the floor).
| | | |
| --- | --- | --- |
| Your Height | Inseam Length | Minimum Bike Frame Size |
| 5'6" – 5'9" | 29.5" – 31" | 20" – 21" |
| 5'10" – 6'1" | 31.5" – 33" | 22" – 23" |
| 6'2" – 6'5" | 34.5" – 36" | 24" – 25" |
| 6'6" – 6'9" | 37" – 38.5" | 26" – 27" |
Measure your Inseam
How to measure yourself for the correct frame size:
Stand with your feet roughly a foot apart
Measure from the ground to your crotch (this is about where the seat of the electric bike will be)
Convert the measurement you get from inches to centimeters
Do the following calculation: Inseam measurement in centimeters X 0.685
Then convert this number back to inches, and you will have found your frame size.
Conclusion: Choosing one of the Best Electric Bikes for Tall Riders
To reiterate, when it comes to choosing your ideal ebike, be sure that the measurements you are being told or are reading are, in fact, correct. You don't want to be in a situation where you purchase an XXL electric bike and assume it will fit you. This purely refers to the size of the frame and nothing else (this holds true if you're buying a smaller adult e-bike as well).
It's wise to get the full specifications of any electric bike that you are looking at purchasing. Ensure that the measurements are accurate and not misleading. The easiest way to make sure you'll be comfortable is to go into a store and test out the feel and fit of the ebike before you make the purchase.
This is not always possible, though. Therefore, get educated on what the measurements mean. When in doubt, ask for help. Contact the manufacturer or dealer and have them give you a proper rundown of what you will be purchasing. 
So, there are options available for taller riders like my brother Dave; you've just taken a look at the best e-bikes for tall riders. Not only are they from high-quality or well-known brands, but they each fit riders well over 6 feet. Some of these electric bike models fit up to 6'7″ tall.
You don't have to feel like you're riding a child's bicycle. Now you can confidently purchase your desired e-bike knowing that cycling will be a pleasurable experience.