If you're familiar with Made in the USA Corbin seats, you know that you can get a comfortable, customized seat for a motorcycle. But now, you can choose from a variety of Corbin seats for electric bikes as well.
In this review, I'll show you three unique USA-made electric bike seats from Corbin that can be customized to your liking:
The Cruise Saddle
The Active Saddle
The Commuter Saddle

Find out which one you should buy and which one you shouldn't.
Plus, I'll help you decide which one fits your lifestyle best, whether it's for fitness, commuting, or simply cruising the boardwalk. Then discover how to customize your own e-bike saddle.
Number 1. The Cruise Saddle for Electric Bikes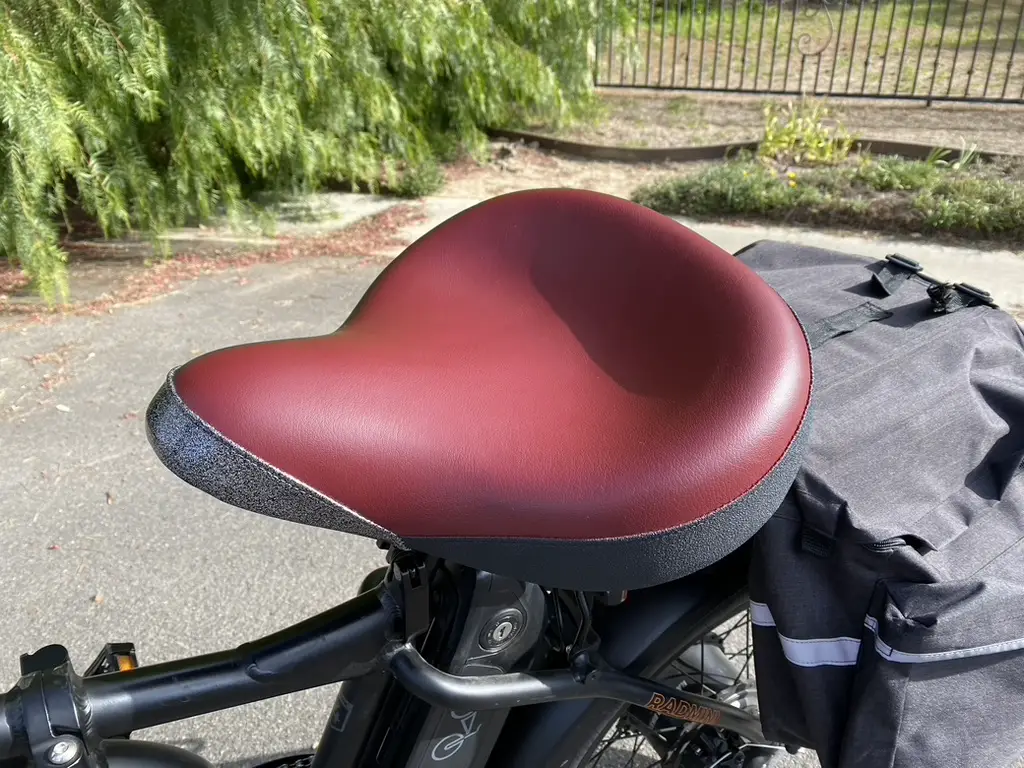 This electric bike seat will redefine what you think a bike seat should be! If you plan on cruising without much pedaling or have a short commute using the throttle, then the Corbin Cruise Saddle may be the best e-bike seat for you.
Taking a ride on this cruiser seat feels like you're sitting on a full-size chair. I slid onto it with ease but had a little trouble believing I was actually sitting on a bike seat. It's that huge! And my body conformed to it quickly.
Who is the Cruise Saddle Best For?
Here's what I discovered when test riding: This electric bike seat is best for cruising without pedaling much.  
Now, keep in mind that I'm around 5 feet 1 inch and smaller than the average rider. I really couldn't pedal comfortably because the nose of the seat is just too wide for me. My husband Marc, who's 5 feet 8 inches was comfortable in the saddle and could pedal occasionally, but also agreed that he wouldn't want to pedal long-distance.
That being said, a larger person, or someone with longer legs might have no problem pedaling as needed.
But this is why Corbin calls it the Cruise Saddle… it's made for enjoying the ride without putting in a lot of work. So, if you want an electric bike to cruise the beach boardwalk or easily get around town (perhaps to use on a no-pedal e-bike or moped), then you'll probably find this comfortable bike seat to be worth it.
However, if you're a fitness lover or want to get in a good workout on your electric bike, pay close attention to the next ebike seat because it could be perfect for you!
Number 2: The Active Saddle E-Bike Seat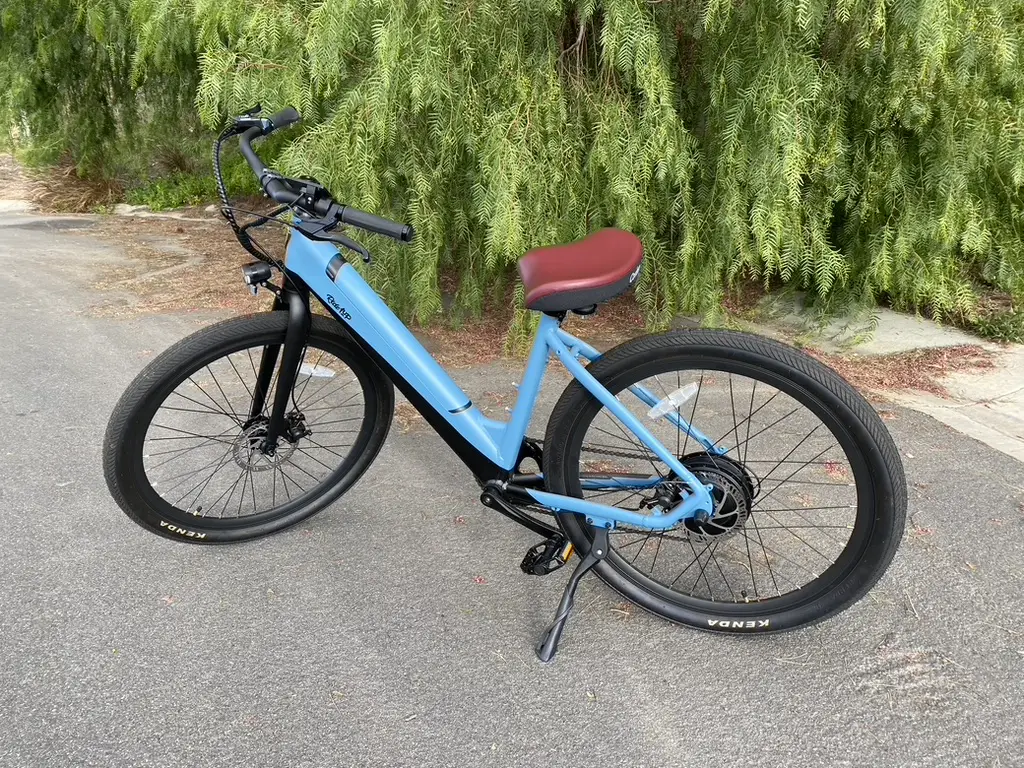 The ingenious Corbin Active Saddle is "nearly noseless". This helps you avoid chafing and lets you pedal without a long saddle nose getting in your way. But there's just enough of a shape on this oversized bike seat to keep you nicely centered.
This seat is made in the same way as other Corbin bike seats except that, instead of springs, it has two rigid, rubber bumpers.
After riding on it, this design makes sense: This is because you need to ride with the saddle tilted slightly downwards to be able to actively pedal yet keep your backside firmly planted. 
I had to readjust my seat to angle down a bit after my first ride. Otherwise, I would've had to continue to sit on the edge of the saddle to pedal, instead of being fully seated.
Who is the Active Saddle Best For?
It's best for athletic types and fitness-oriented riders who want to pedal hard and fast or maximize their exercise. It's not for off-roading or difficult riding courses. But it will also offer a pretty sweet ride on your stationary bike or in a spin class.
Now, if either of the first two Corbin seats doesn't seem right for you, there is a solution. Although the last is not always the best, I believe in this case it is, because I think this will be the best Corbin seat for most of you.
Number 3: The Corbin Commuter Saddle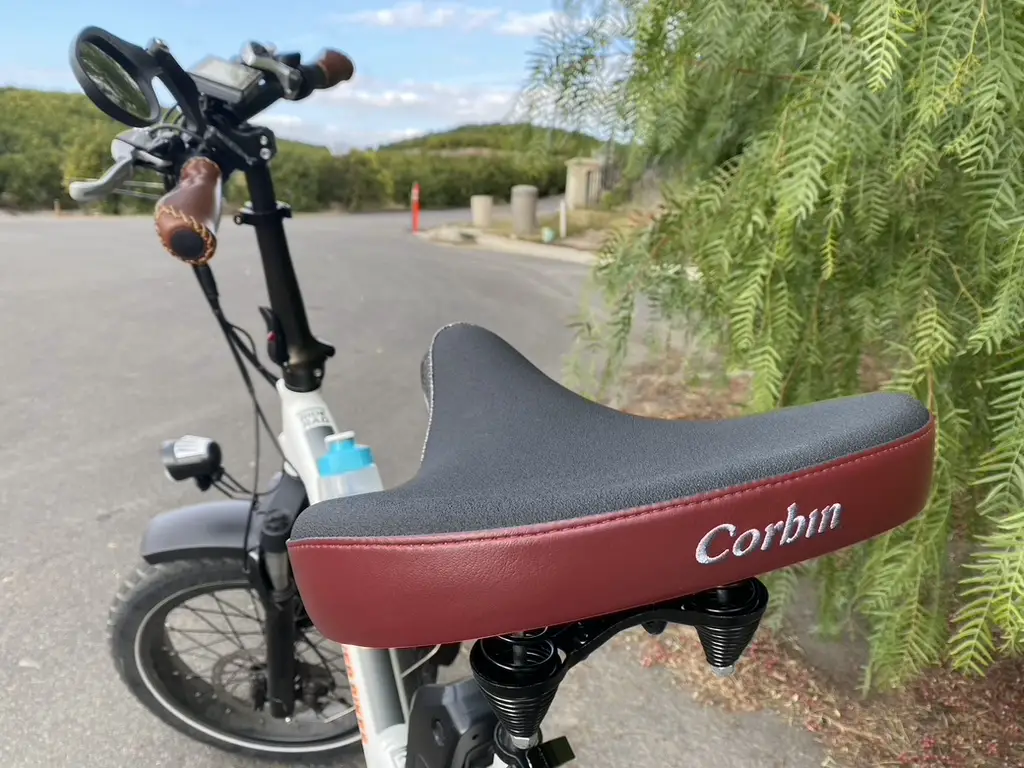 Just as wide and supportive as the Cruise Saddle, this electric bike seat lets you actively pedal on low to medium pedal assist and enjoy a good cruise as well. 
Designed just like the Cruise Saddle to maximize comfort and healthy body support, the primary differences are the narrower nose and slightly flatter saddle. These features give you the ability to ride with as much pedal assist as you desire for as long as you'd like… or until your e-bike battery runs out!
Who is the Commuter Saddle Best For?
The Corbin Commuter Seat is the best bike saddle for you if you bought an ebike for commuting, utility, pleasure, or overall health and fitness. Most ebike riders will find this to be the perfect oversized saddle for daily riding.
In this case, and if you're an active rider, the Active Saddle seat will be best for you. But if the Active seat doesn't meet your needs, you probably shouldn't buy one of these three Corbin seats for electric bikes.
Note: If you're a small e-bike rider like myself, you may feel some resistance against the seat after pedaling for a bit. It feels a bit like the seat is still too long for those with shorter legs. Thus, the seat is a little too big for a petite person to pedal on long-distance.
I think this saddle would work well on a commuter bike as well as a comfortable fat bike but not an electric mountain bike.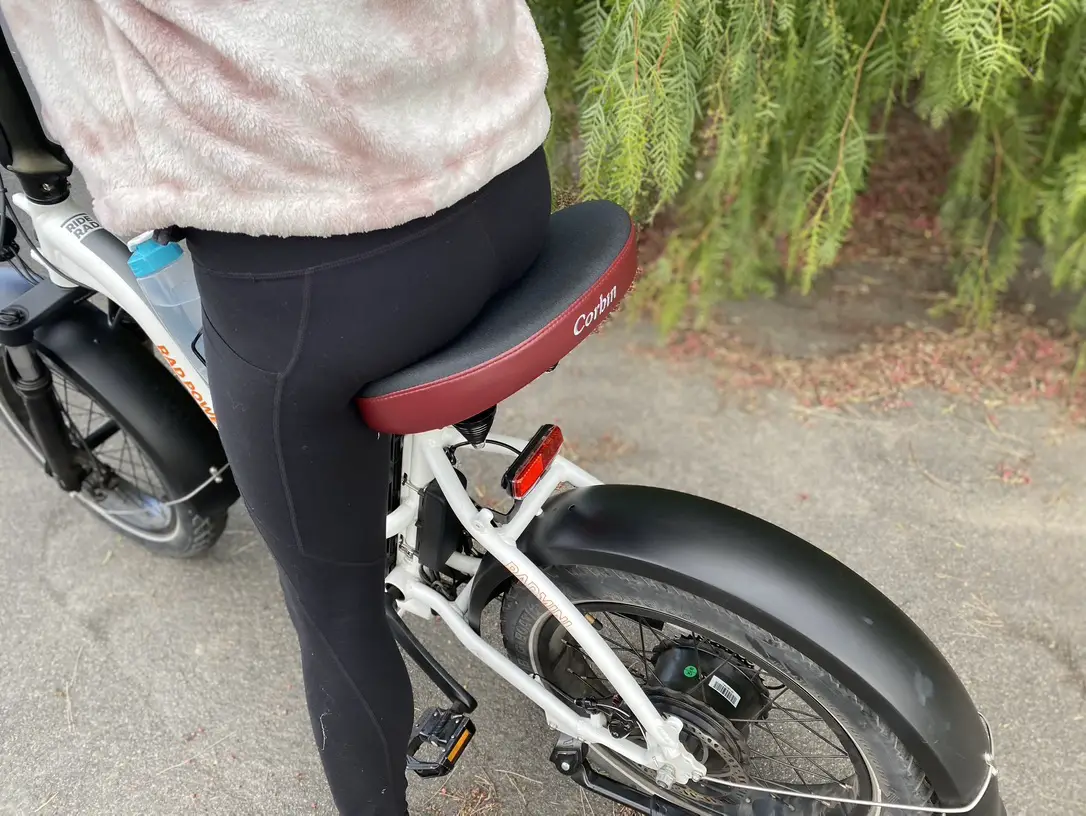 How to Design Your Own Custom Corbin Seat
Now let's get into how to choose your Corbin bike seat materials to make it the custom bike seat of your dreams. Keep in mind that you will order and receive only the seat. I'd recommend adding a suspension seatpost for total comfort.
Once you've decided on the best electric bike saddle from Corbin, head to the "Order" page. This is where you'll design your custom ebike saddle using leather or vinyl materials, just like I did. Please note that Corbin believes vinyl materials will hold up better for your electric bike due to friction from pedaling.
Use the Design It Button
When you begin customizing, I highly recommend you use the "Design It" button under the "Configurator", rather than placing a "Quick Order". This will help you see the colors and materials you're getting and how they work together. After all, you're getting a high-quality saddle to use for years to come, so it's best to use their visual seat design tool.
Once you click on "Design It", you'll see an image of the ebike seat. Click on it to open the customization box. Under each option, you can click on different colors and materials and watch the seat change right in front of you (be sure to give it a few seconds if needed).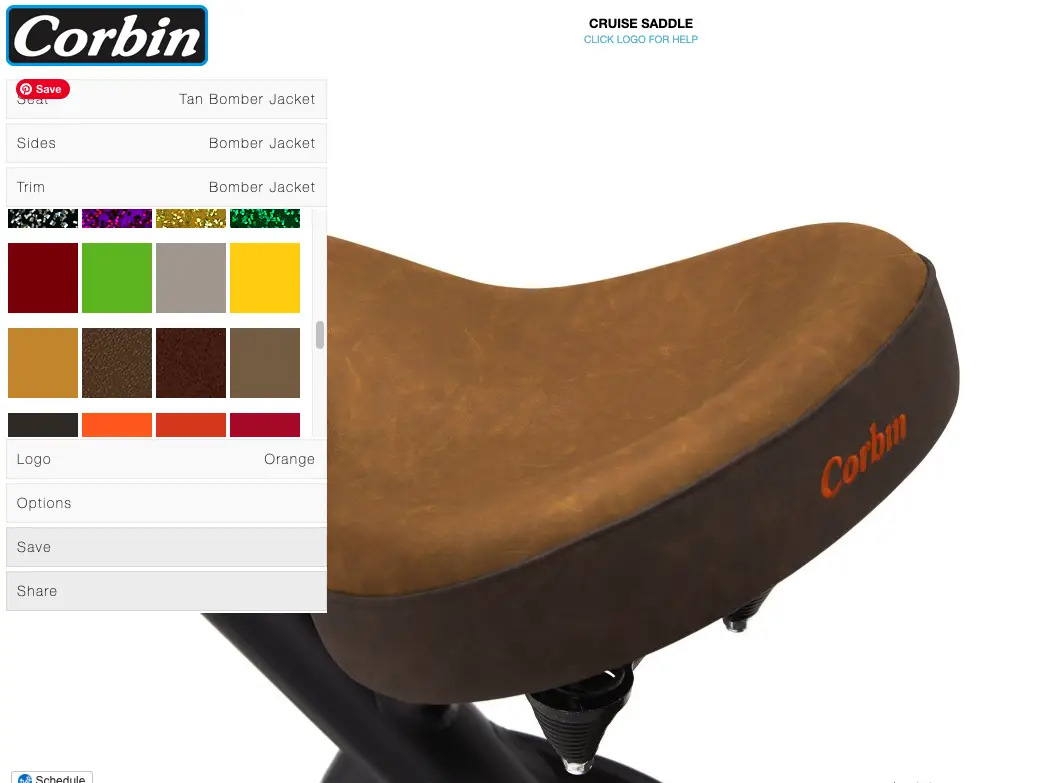 Choose E-Bike Seat Options
Make sure to select a material for the Seat, Sides, Trim, and a Logo color for the rear of the seat. You can choose from a variety of black or brown materials but also some very unique or bright colors. Consider that you'll be sitting on the seat, so whatever color you choose will be covered up when riding and it'll be mostly the sides and trim showing.
You can even create multiple saddle designs and download or email them to ask for opinions before you purchase. And, if you're not sure about the colors or material, just contact Corbin support and ask them to send some material samples.
To give you an idea, I used the same colors and materials on all three seats you see in this video. Here are the colors and materials I used:
Burgundy Vinyl (Seat or Sides)
Asphalt Vinyl (Seat or Sides)
Charcoal Metalflake (Trim)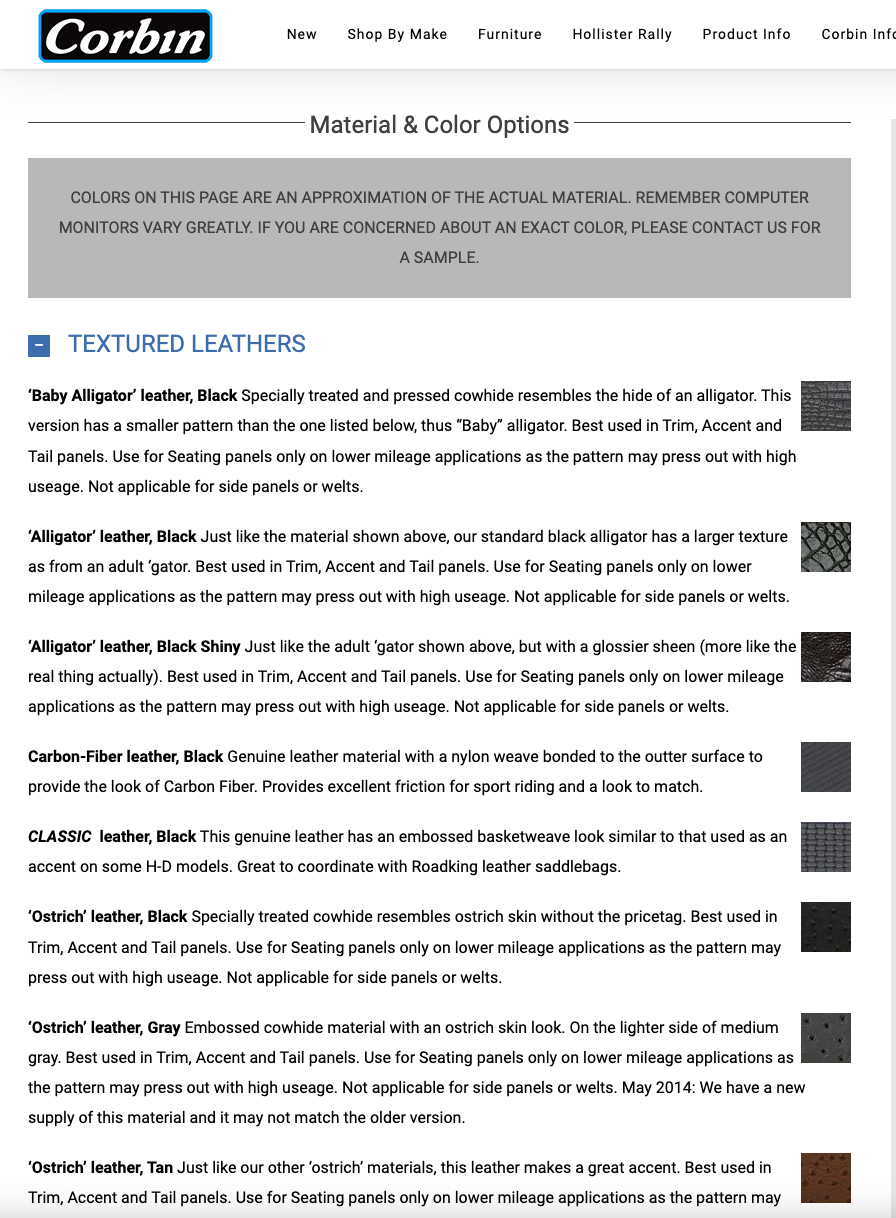 What Makes Corbin Seats Special? 
Well, besides being USA-made e-bike seats, Corbin created a large ergonomic seating area to maximize body-to-seat contact. This helps disperse your weight and minimize uncomfortable pressure. And it promotes better posture and reduces joint stress, allowing you to ride longer.
Second, Corbin's e-bike seats are engineered using their time-tested comfort cell foam and special Fibertech material that's rigid and waterproof, making it feel firm but supportive.
And third, they're typically assembled with springs that act as a buffer against hard bumps and poor road conditions.
In fact, because of its design, Corbin claims that their seats may even be eligible for purchasing through your HSA or FSA spending accounts. I'm unable to verify this for each individual, but it might be worth checking this out!    
Want to know what it's like to get a Corbin seat delivered to you? Take a look at this:
Final Thoughts
In this saddle review, you'll discover three Corbin seats for electric bikes that serve different purposes: one for cruising, one for active pedaling, and one for doing a little of both!
No matter which one you choose, they're all made with the same sturdy comfort foam and special Fibertech materials, that'll keep you comfortable and hold up when riding. Plus, they are USA-made and larger than you'll get from most other oversized bike seats on Amazon.