Riding an electric bike makes it easy to traverse 40 or 50 miles daily. With pedal assistance and/or throttle, you can go further than you ever thought possible on a regular bike. But what's the downside? A very sore backside!
Thankfully, a suspension seat post can relieve the discomfort from vibrations and bumps while riding your electric bike.
Here's a list I've put together of the 6 best suspension seat posts that will fit onto your e-bike:
Aventon Suspension Seatpost
Cane Creek 3G Thudbuster Suspension Seatpost
PNW Coast Suspension Dropper IR Seatpost
Bolany Suspension Seatpost
Redshift Shockstop Suspension Seatpost
Kinekt 2.1 Aluminum Bike Suspension Seatpost
Take a look at the detailed information (and table) of each seat post I provide below. I'll give you the information you need to make a decision on what suspension seat to put on your e-bike. You'll be able to choose the perfect one to suit your rear end and your budget.
I'll also tell you why having a suspension seat on your electric bike is worth the cost and help you explore whether a dropper post might benefit you.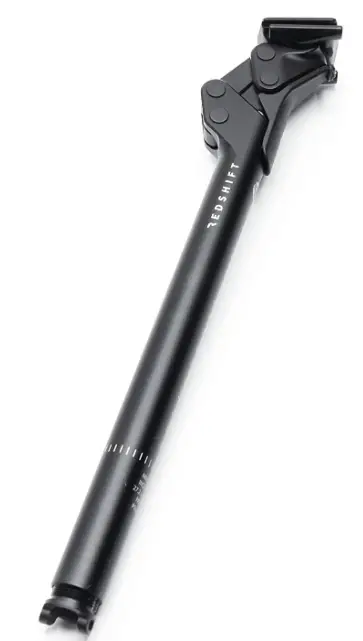 What is a Suspension Seat Post?
Most electric bikes come with a standard seat post that doesn't absorb shock well, which means you feel every bump and jarring motion. Although many e-bikes offer wider seats for comfort, don't confuse this with having a suspension seat post.
A suspension seat post is built to minimize the impact of bumps while you are riding. It does this by damping vibrations and increasing shock absorption of bumps, holes, and rocks.
Essentially, it makes your ride more comfortable.
Why You Need a Suspension Seat on Your E-Bike
Because you can easily ride 20, 30, 40, or more miles a day on your electric bike, a suspension seat will provide more comfort than any other bike seat, even if it's fully adjustable and you're wearing padded bike shorts.
A suspension seat will give you a smooth ride. It'll reduce the impact of everything you ride over, helping to cushion your behind, allowing you to ride farther, providing better handling of your e-bike by absorbing bumps that can cause you to lose control, and protecting your spine long-term.
Further, riding with a suspension post will make your body feel more relaxed by the end of a long ride, not only because you won't need to stand up over rough terrain to avoid jarring shocks, but because the pressure on your lower back is lessened.
Finally, you'll discover that suspension seat posts offer a practical solution being that they are far less expensive than buying a full-suspension electric mountain bike.
There's no question that it's worth it to have a seat post with suspension, but naturally, you'll want to consider price and quality before choosing one.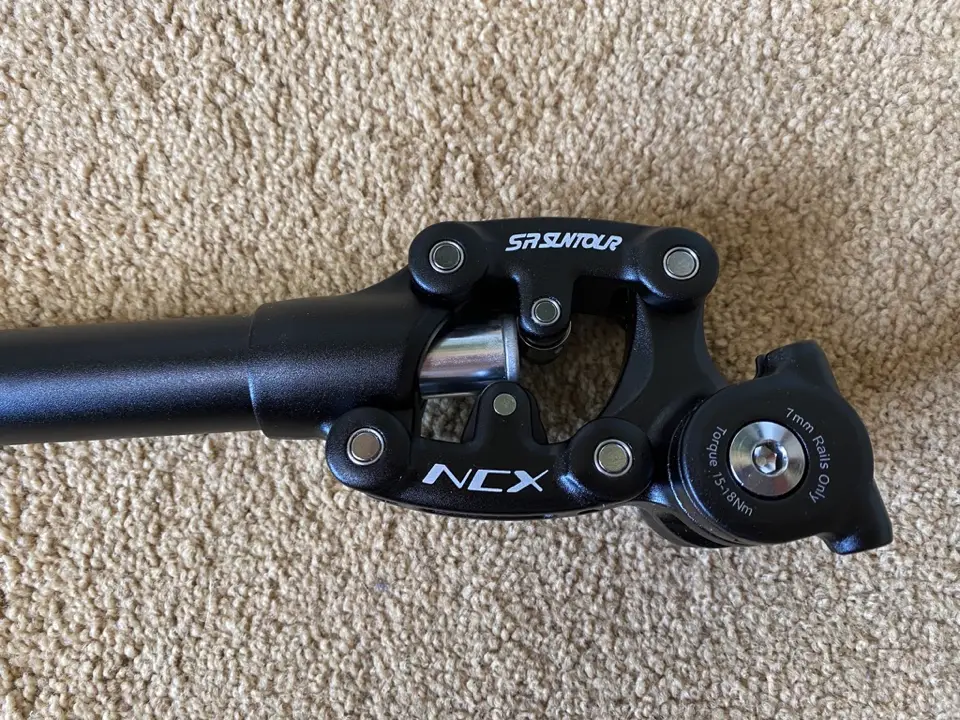 What is Travel in a Bike Suspension Post?
In order to properly choose a suspension post, it's a good idea to understand travel measurement. Basically, travel refers to the amount of distance the seat post can compress before it hits the bottom and you feel it.
A higher travel absorbs more force, making the seat less likely to bottom out. So, naturally, a heavier rider will need higher travel to absorb bumps while seated.
Further, some suspension posts have elastomer springs (rubber cushion) placed where the greatest force hits. This will further reduce unexpected shocks.
6 Best Suspension Seat Posts for Electric Bikes
Here's what you need to know about each electric bike suspension seat post in detail.
Price: $120 at Aventon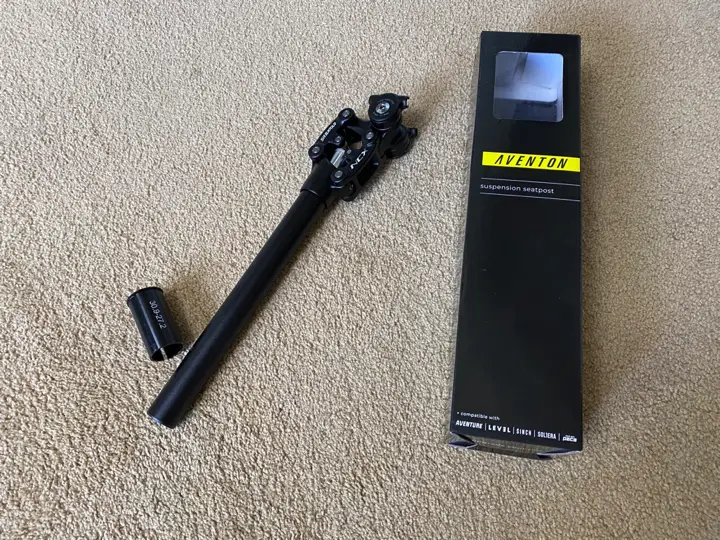 The Aventon suspension seat smooths out jarring bumps on rough terrain or on the road. With 25mm of suspension travel, this seatpost is a definite upgrade to your ride experience, especially during off-road riding.
Although it was made for compatibility with all Aventon electric bike models, it comes with adaptors to fit almost any bike from 27.2mm to 30.9mm in diameter.
Further, it has a maximum extension of 240mm and a total length of up to 350mm.
Check out this sturdy seatpost with size adaptors at Aventon e-bikes.
Prices start at $134 on Amazon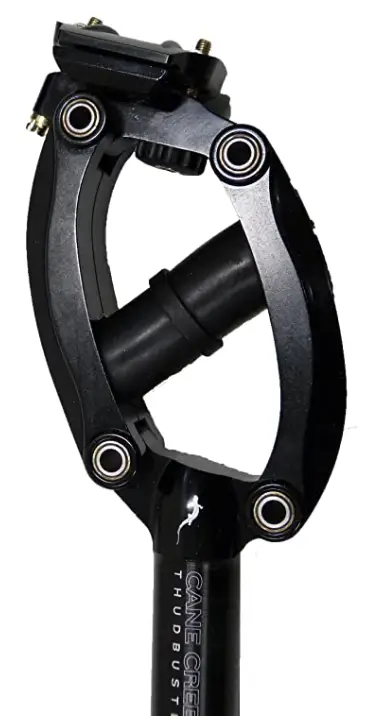 With its parallel linkage technology (patented) and tunability, the long-travel Cane Creek Thudbuster suspension seatpost is one of the most versatile suspension seat posts for the price. It offers a minimum of 27.2mm of suspension travel up to 31.6mm, absorbing force and offering equal compression, without any saddle movement.
What makes the Cane Creek suspension great for electric bikes, is that it protects from bumpy roads while keeping your body in the same comfortable ride position relative to the pedals. It's perfect for folding e-bikes with small tires that are less forgiving, as well as for long cargo bikes, electric road bikes, and hardtail mountain bikes.
Plus, what makes this one of the best suspension seatposts for the money is the addition of elastomers that provide up to 3″ of fine-tuning suspension.
Price: $189-$199 at Backcountry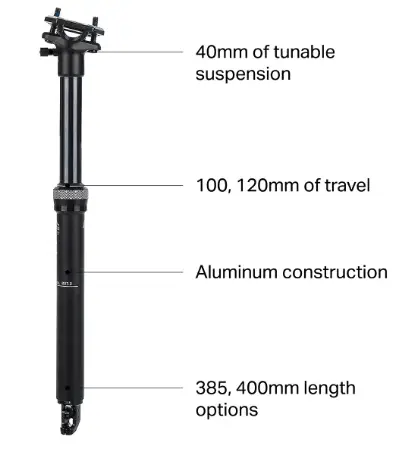 Designed with a dropper post (with 120mm of drop travel) for easy dismounting, you can put your feet flat on the ground with a simple push of a button. Then return to the previous saddle height when you continue on your ride. This feature is especially helpful if you are managing a big load or have short legs (or are just generally a smaller rider).
Further, the PNW Coast suspension dropper seat post with air suspension smooths out the bumps from rocks and potholes alike. Additionally, it has 40mm of air suspension making it optimized for just about any riding purpose.
What's not to like? It's a little pricier than some options. But the dropper post can make it well worthwhile, especially if you are a stop-and-go rider. Plus, the added expense isn't that significant if you require a higher suspension due to different rider weights, hardtail mountain bike riding, or are a daily commuter or frequent high-mileage rider (20+ miles).
This seat post is available with internal or external cable routing (but does not come with the cable or lever).
Price Starts at $29.88 on Amazon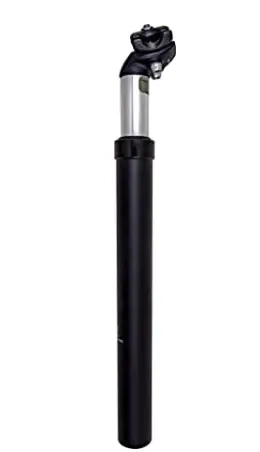 If you're not ready to pay hundreds of dollars for a suspension post but you'd like to relieve your body from bumps and jolts, the good news is that the Bolany suspension seatpost is a great option for under $100.
With a damping coil spring and 40mm travel, you'll get a solid suspension that won't do much damage to the pocketbook. This seat post is adjustable to meet your weight and can hold riders up to 397 lbs (180kg) by tightening the screw. However, most electric bikes don't have that high of a load capacity. So I wouldn't recommend testing those limits unless your e-bike is also capable of holding that much body weight.
Besides offering two diameter sizes, it also comes in a choice of three colors to best match your electric bike.
Price: $229 on Amazon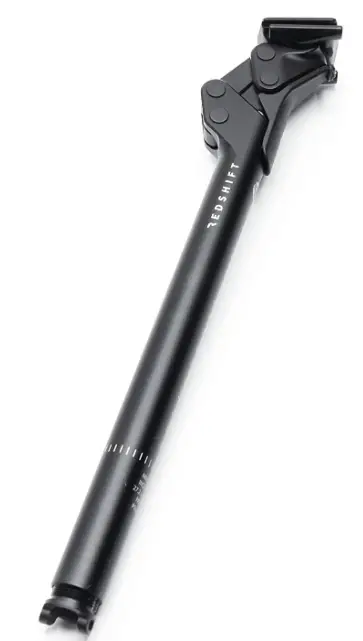 According to customer reviews, this may be the best electric bike suspension seat post you can buy, thanks to its ultra-responsive suspension. There's also a reason the Redshift shock suspension post is the most highly customer-rated suspension seat post on Amazon.
It has a spring-loaded fully adjustable suspension and two-bolt seat clamp. You can even add a second spring to customize it for your own weight and comfort. Plus, with the removable mudguards, you'll be able to fit a saddle bag.
Finally, with 35mm of tunable travel, you can expect to dampen vibration and bumps up to 60%, relieving your body from fatigue and improving efficiency.
Price: $279.95 on Amazon
With preload adjustment, 35mm travel, and swappable springs, the Kinekt suspension seatpost is especially helpful for heavy electric bikes that experience more vibration.
Plus, it's worth noting that this suspension seatpost is a perfect fit if you're a heavy rider with between 240 and 320 lbs of body weight. In fact, it was specifically designed for you! So, even though it is more expensive than the other suspension seatposts, it's a cost-effective way for a large person to ride an e-bike comfortably (rather than buy a full-suspension bike).
Further, it has pretty high ratings from customers who are in the same weight range and who were also looking for an effective suspension system.
Wrap-Up
Even the best suspension seat post can't claim to replace a full-suspension electric bike or mountain bike if you're riding on gravel roads or even small bumps. But it can reduce the jarring on your body while riding, improving your ride quality and overall comfort, thus making your rides more enjoyable!