Electric bikes give you all the joys of cycling without some of the main challenges. You don't have to strain your muscles too much to conquer steep hills, and you don't have to reach your destination looking frazzled and sweaty.
However, to enjoy all the benefits of e-bikes, you have to choose a model that fits your stature. And that can be hard for a smaller size adult or teen.
But there are some great options that may include a folding electric bike, an e-bike with smaller wheels, or an e-bike that you can buy in a Small frame size or that sits lower to the ground. After researching these options as well as the overall quality of a variety of electric bike models and brands, I found some impressive choices.
The 12 best small electric bikes include the following:
RadExpand Step-Thru by Rad Power Bikes
Rad Power Bikes RadRunner
Prolog by LeMond Bikes
Cannondale Adventure Neo
Electra Townie Path Go Step-Thru!
Cero One
Aventon Level
Rad Power Bikes RadWagon
Propella 7S
Electric Bike Company Model X
Gazelle Ultimate C380
iZip Simi Step-Thru
The rest of the article will discuss the e-bike models above, highlighting their strong suits, what makes them work as a small e-bike, and any other characteristics you should know about.
These e-bikes were chosen as the best small electric bikes, not by frame size, but because they offer a feature that makes them easier to manage, especially for a smaller person. Continue reading and you'll discover my favorite small e-bike as a size-challenged adult!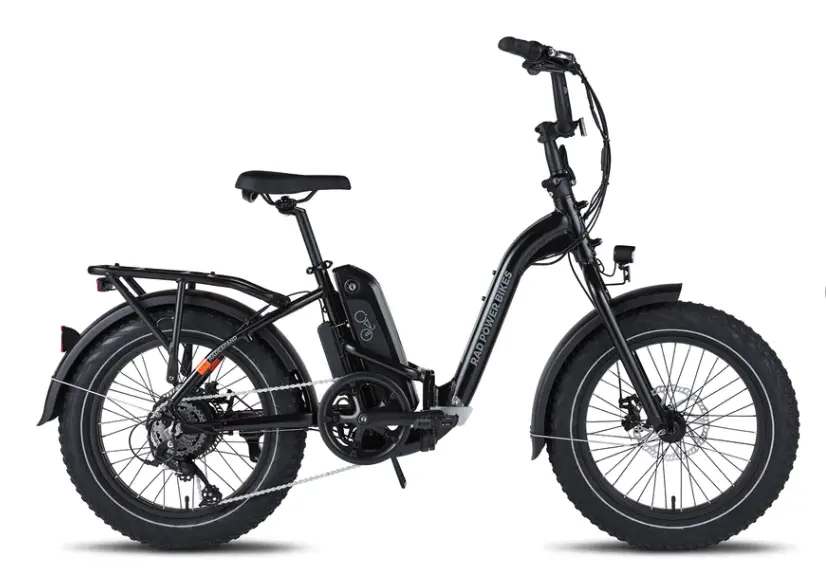 As a small woman myself and a rider of the RadMini, the RadExpand's predecessor, I can't help but choose this as my all-time favorite small electric bike!
Yet another e-bike model by the largest US-based brand, Rad Power Bikes, the RadExpand folding electric bike fits riders sizes 4'10" to 5'10". So it was intentionally designed as a small e-bike for a size-challenged person!
With its small 20″ X 4.0″ wide tires and step-thru frame (you can also get a step-over one), it's easily the best small electric bike for small grownups and even teen e-bike riders.
With a 750W electric motor, Tektro disc brakes, Shimano gears, front and rear lights, and a throttle, it's a great value at a reasonable price (around $1500).
This is one of the best e-bikes for a small or average-sized person due to its folding ability. Thanks to its smaller tires, it can be easily folded into a compact unit and taken with you wherever you go. Plus its step-thru frame makes it easy to get on and off quickly, even without tall legs.
The RadExpand folding step-thru model is as stylish as it is efficient. It's also the best folding electric bike in its price category.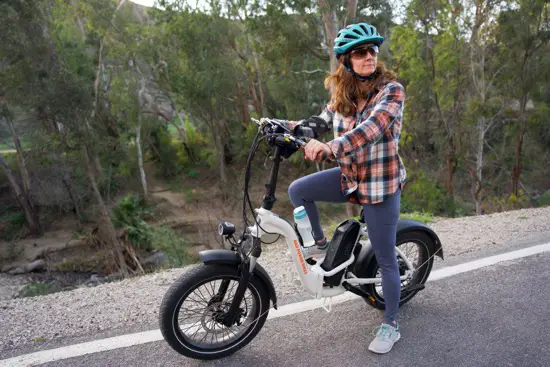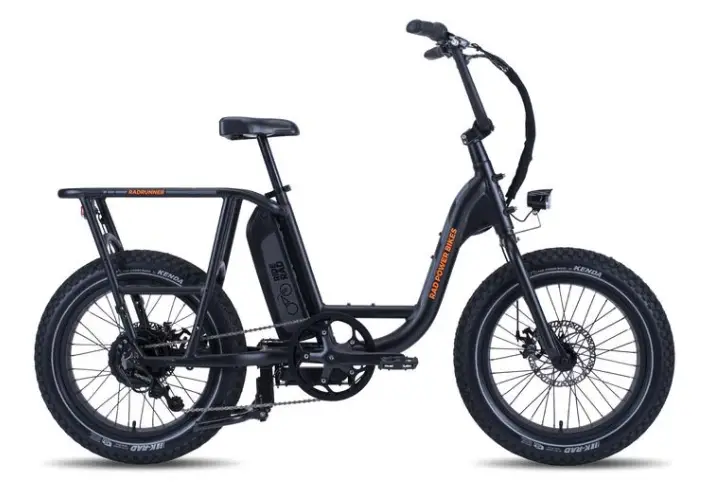 The RadRunner is one of the most valuable small e-bikes you can get as an adult. It's also a fan favorite amongst many Rad Power Bikes enthusiasts and for good reasons. Its unique blend of usefulness, versatility, and affordability makes it one of the e-bikes you should expect to see several times when you're out on the streets each day.
This electric bike features a custom drivetrain, small but wide Kenda tires (20″ X 3.3″), and a high-capacity rack (120lbs or 54.43kg). The 750 watts motor comfortably beats many other e-bikes in this price range.
Yet the bike frame is undoubtedly one of the biggest reasons for its popularity. The construction means it can serve as a commuter or leisure bike for adults in different size categories. In fact, it allows kids and even smaller grownups to ride on the rear seat without affecting pedal assist.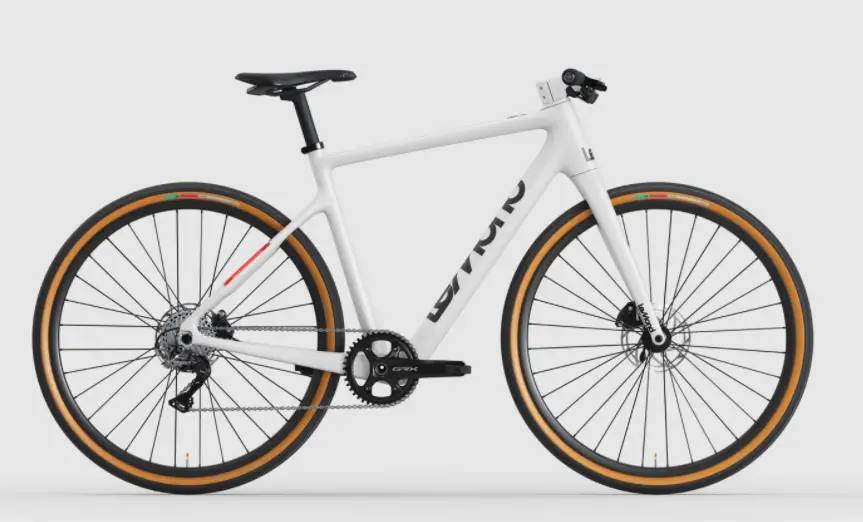 One electric bicycle that has grown in popularity over the last year is the Prolog series from Knoxville-based Lemond. The Prolog is an excellent commuter e-bike featuring a light frame and an exquisite matte-finish exterior. The fancifully designed fenders give the bike a luxurious look.
The main components of the electric bike come from popular names in the bike manufacturing industry, including Shimano (gearing system), Panaracer (tires), and Mahle (drive system). Combining these units gives you a versatile and durable electric bike that's easy to manage and repair.
Available in three different frame sizes, it can fit just about anyone, even though it's a step-over.
Do you want to test your speed limits? This lightweight e-bike is one of the fastest around.
If you're in the market for an electric bicycle you can trust for your commute that isn't overfitted with unnecessary bells and whistles, the Cannondale Adventure Neo 4 should be high on your list. The manufacturer is one of the biggest names in this niche, so you're getting an e-bike supported by a strong network of affiliate shops and retailers.
The model features a light aluminum frame and a Bosch 250-watt motor. The built-in seat suspension helps ensure a comfortable ride at all times. The mid-drive motor has no issues navigating streets, backroads, and village lanes. You can expect to get up to 64 miles (103km) out of the 400Wh battery on a full charge. The battery is also removable in case you've got an extra.
The cables are routed internally, giving you a clutter-free appearance. The Shimano hydraulic brakes also guarantee reliable performance at all times.  
Thanks to the step-through frame, getting on and off the bike is easy, especially for smaller adults. In fact, this e-bike offers a large or small frame size, allowing a person as short as 4'9″ (149cm) to ride comfortably.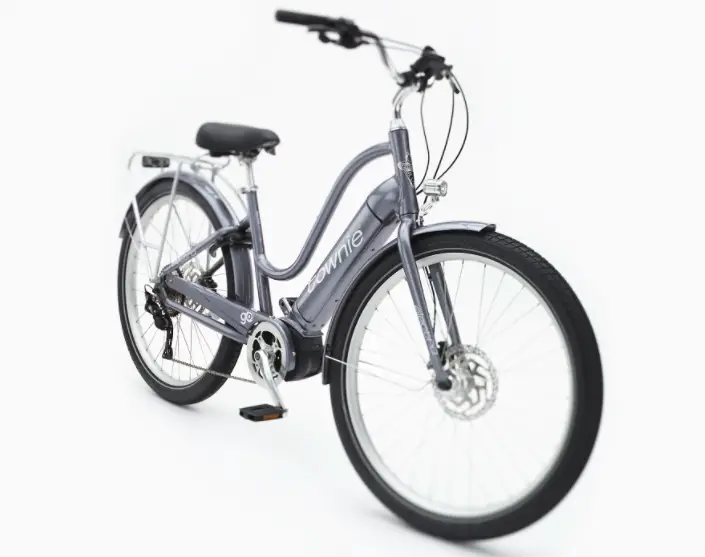 If you're looking for an e-bike that delivers well on short trips around town and during longer trail rides, the Electra Townie Path Go Step-Thru is an excellent option to go with. The unit features step-over pedals, typically found on racing and e-mountain bikes. The result is a more balanced ride experience at all times. 
The unit features 27.5-inch (69.85 cm) tires and a high-capacity battery that can last up to 65 miles.
Other interesting features you can expect to find include a SmartphoneHub controller (which allows easy monitoring of ride data) and the Flat Foot technology, which moves the pedals to match up with the saddle as closely as possible. With this technology, you can enjoy riding with your leg fully extended—a super comfortable position—and relaxing your foot on the ground at stops is a lot easier (especially if you're a size-challenged person).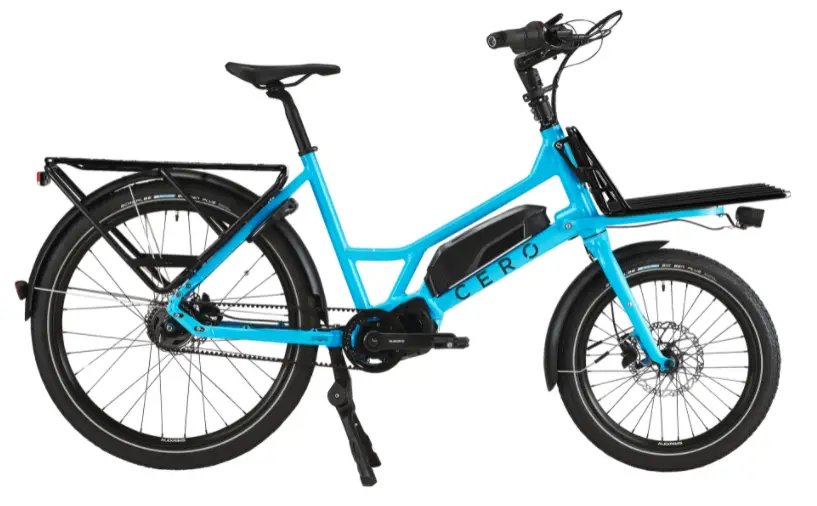 If you're looking for a reliable and comfortable electric cargo bike good enough for your commute, carrying cargo, or taking your kids to school, the Cero One is one of the best. The model sports an eye-catching design with a smaller front wheel and larger back wheel combo made for easy maneuverability.
The Cero One is compact, lightweight, and laden with high-end components from manufacturers like Shimano, Satori, and Schwalbe.
The combination of the Gates carbon belt drive, 250-watt Shimano Steps Motor, and the Schwalbe tires combine to give you an e-bike that can conveniently relegate your car to the background. Cero supports customization, so you can spec out your electric bike as you deem fit and have it arrive at your doorsteps ready to go.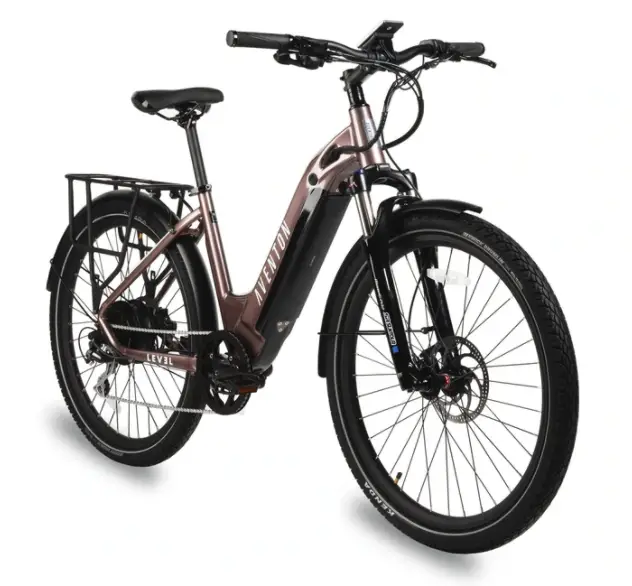 The Aventon Level is a hugely practical e-bike that has an unassuming exterior and comes in a Small/Medium size frame (in addition to Medium/Large). Don't let the simplistic design deceive you, though. The bike is powerful enough to compete with other commuter electric bicycles on the market today.
The unit features full fenders, a kickstand, a rear cargo rack, and an upright geometry. The reserved exterior houses a powerful motor you're sure to feel on mounting the bike. It's another e-bike that features a throttle.
Its rear hub motor delivers 750 Watts of peak power and 500 watts of sustained power. A 672 Watt-hour lithium-ion rechargeable battery supplies the motor with power. You can expect 40 miles (64.37 km) of average range from the fully charged battery. The electric parts are neatly tucked away, giving it an aesthetically pleasing look.  
The bike's 8-speed Shimano drivetrain, Kenda tires, and the Suntour fork combine to deliver a seamless and pleasurable riding experience. This e-bike is also quiet while in full flow.
The Aventon Level is competitively priced compared to some others in this niche. However, it's not designed for night riding right out of the box. There are no lights or bells installed.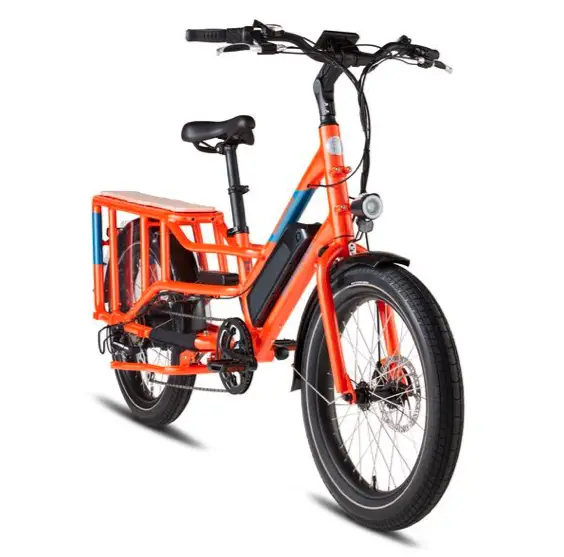 The latest iteration of the RadWagon sports a complete redesign. It's now lower to the ground and a lot easier to maneuver. The tires are now smaller and fatter after redesign by Rad Power Bikes' in-house team and Vee Tire Co.
An interesting feature on the bike is the twist throttle which comes in handy when pedaling is limiting or too tasking.
Although it's rather long and carries a ton of cargo, its small tires keep it low to the ground and easy to step onto. Traditionally, full cargo e-bikes are quite large. But this one allows a short person to manage it comfortably.
Some users have reported electrical arcing on the bike, though, so it's best to store yours in a shed or indoors. It's also not a good idea to assemble the bike on your own. If you do, visit a manufacturer-approved service partner to go over your assembly.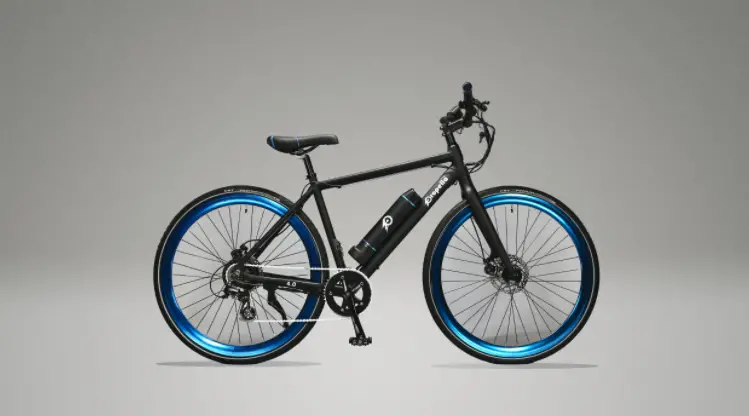 If you're looking for an e-bike that does the basics and isn't too expensive, the Propella 7S is one of the best you can find in this price range. It's an affordable model with a reliable motor and a powerful frame you can trust in a wide range of situations and on all kinds of roads.
The reason this is listed as one of the best small e-bikes is not due to the frame or wheel size. It's because it is one of the lightest-weight e-bikes making it easily manageable for any size adult (and at a very reasonable cost of around $1299).
The unit features Shimano hydraulic disc brakes and a 250Wh Samsung battery that powers the Bafang motor. The battery goes from zero to full in less than three hours. Other cool features include the suspension seat, pedal-assist function, and an LCD to monitor the battery level. With the multi-speed setting, tackling any hills is a breeze on this bike.
One notable downside to choosing this electric bike is Propella's direct-to-consumer model. There's very little support on the local front, so if your e-bike develops major issues, you may find yourself in a bind.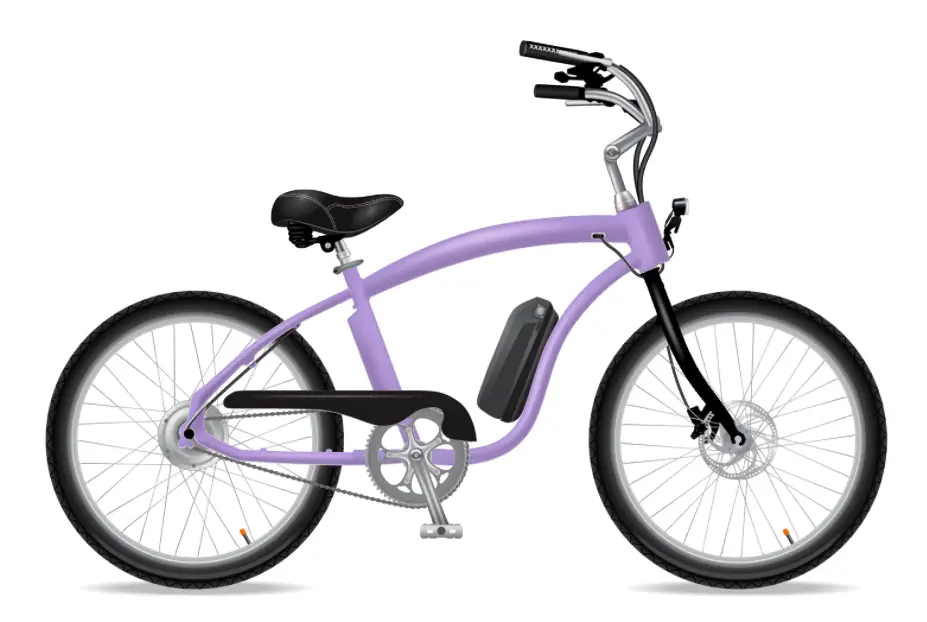 One of the first things you'll notice about the Model X is that it looks more premium than the price will indicate. As an e-bike assembled in the USA, the manufacturer's attention to detail is immediately evident once you fully unbox it.
Although it's not a step-thru frame, you can choose a small tire size of 24″ as opposed to the regular 26″.
The unit is another one that features a throttle, and it runs quietly while in motion except for the faint whirl you might hear from the rear hub motor. The steel fork, aluminum frame, and Fat Frank tires all combine to ensure you'll enjoy a smooth ride every time you're on the road.
The retro handlebar and the comfortable saddle deliver relaxed sitting while the e-assist makes controlling the e-bike a breeze. The pedal assist function can deliver top speeds of 28 miles (45.06 km) per hour.
The 500-watt motor on this unit can deliver up to 1,500 watts of power, which makes this unit a good option for even the sporty crowd. The vanilla design doesn't come with a lot of bells and whistles. If you want optional fittings like GPS tracking, suspension seat posts, special frame colors, extra batteries, a rear rack, or other such fittings, you'll have to request them separately.
One downside customers have pointed out on this unit is that the hub motor makes changing flat tires more difficult than it should be.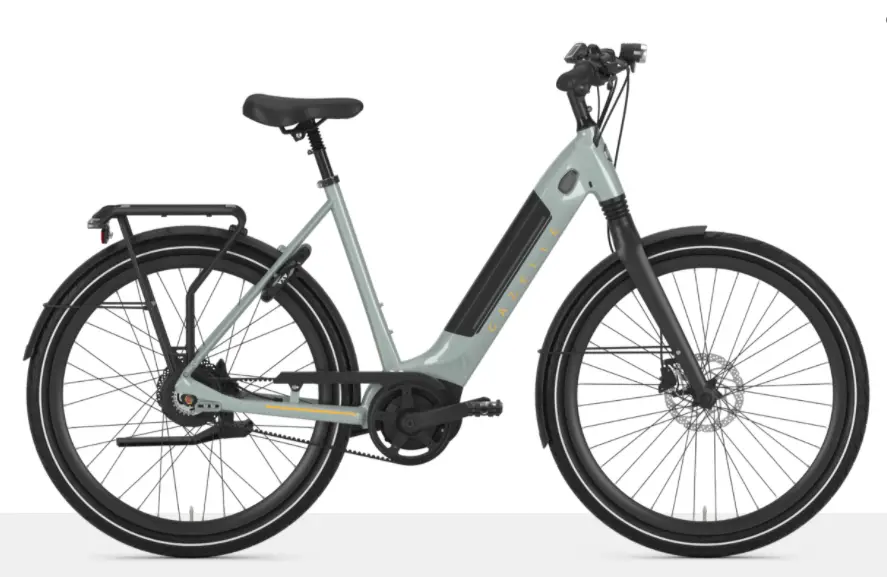 The superb design of the Gazelle Ultimate C380 immediately screams "high quality" even from afar. It's no surprise that the manufacturer offers a 10-year frame warranty.
The unit features a 500W battery, durable hydraulic disc brakes, neatly integrated taillight, and a powerful headlight. There aren't many better-looking bikes you can compare to this unit. 
Away from the aesthetic side, the e-bike delivers a smooth riding experience.
The mid-drive motor is a Bosch Performance Line 3.0 that ensures the e-bike can deliver top speeds of up to 20mph (32.18 kph). The low step-through frame is nicely balanced and as stable as you'd expect from a bike in this price range.
Are you looking for a low-maintenance e-bike? The stepless gear system and maintenance belt drive on this unit is a combination that will keep the bike running seamlessly most of the time.
Little extras like leather grips and the Selle Royal saddle round off the features that make this unit a truly upscale electric bike model. However, the jury's out if it's worth the price, especially compared to other commuter e-bikes.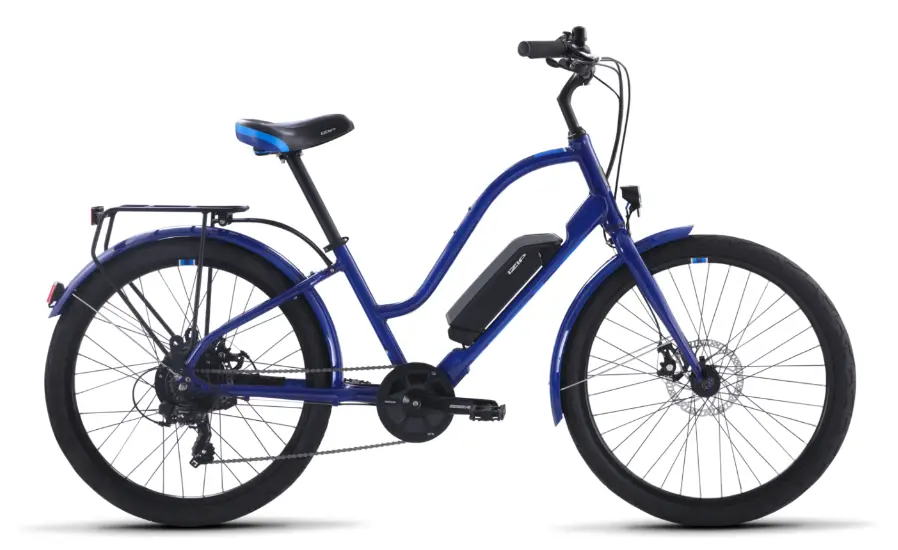 are step-through e-bikes unisex? Get the answer here!
If you're in the market for a cheap cruiser e-bike you can ride in an upright position, the iZip Simi Step-Thru is one of the best small electric bikes in its price range (under $1800). The step-through frame ensures you can easily put your foot down when you're at stoplights. The manufacturer throws in fenders, a kickstand, a rear rack, and lights—a welcome surprise at this price range.
However, the manufacturer saves money in other areas. For example, the unit features Shimano's 7-speed drivetrain. You'll instantly notice that it's not quite as smooth as the drivetrain on higher-end e-bikes. However, it works well enough, so you shouldn't have any problems climbing most hills.
The unit features a hub-driven SR Suntour, which gets a bit wonky while engaging or disengaging. However, it balances out as soon as you get going, and you can barely hear any noise from the motor while in motion. The Simi Step-Thru also features Tektro mechanical disc brakes, which gradually grind to a halt when applied. It's a nice change from the jarring braking adopted by some other e-bike models in this range.
The battery on the unit can last around 62 miles (99.77 km) if you're cruising at the slowest setting. If you want to go speeding, be ready to recharge fairly quickly as the range drops to just 15 miles (24.14 km) if you're riding on the fastest e-bike setting.
The bike frame comes in four colors: Navy Blue, Salmon, Turquoise, and Charcoal gray.
Should You Buy an Electric Bike? (Bonus)
You should buy an electric bike if your lifestyle allows you to draw full value from the investment. If you're an avid cyclist, an e-bike allows you to cover more ground without expending too much energy.
Senior citizens or people recovering from injuries may also use an electric bike to stay active. Some environmentally aware commuters also rely on electric bikes for a commute that won't leave them all sweaty on arrival to the office. You don't have to wait until you can afford an electric car to make your commute more eco-friendly.
Regardless of your lifestyle, you can find a reason to pay for an electric bike.
How To Finance an Electric Bike
There aren't many financing options for e-bikes yet. Lending companies are less likely to offer a plan for an electric bike. However, more manufacturers are making it possible for prospective customers to pay for their bikes with monthly payments. Check your preferred manufacturer's website to see what offers they've got.
How Can You Choose the Right Electric Bike?
To choose the right electric bike, you need to first determine how you intend to use it. The right bike will vary from one individual to another. If you have to ride across flat terrain for your commute, you can get by with a Class 1 electric bike. 
Cycling enthusiasts looking for more versatility should go with Class 2 or 3 e-bikes. Class 1 e-bikes don't have a throttle, but they feature pedal-assist functions with a maximum speed of 20 mph (32.18 kph). Class 2 electric bikes also have maximum speeds of 20 mph (32.18 kph) but feature throttle assist.
Class 3 e-bikes feature pedal assist and have a maximum speed of 28 mph (45.06 kph). They also don't have throttles.
Across all three classes, motors are limited to 750 watts. The power distinction across different electric bicycles is most visible in the motor ratings and the battery capacity. If you're an avid e-biker, you're better off choosing an e-cargo bike with a powerful motor and battery combination.
Other Tips To Keep in Mind When Buying an E-Bike
Choose brands with readily available bike components. Companies like Shimano and Bosch make parts for the most popular e-bike brands. Choosing bicycle models with parts from these companies means you won't have to look too hard to find replacement parts when you need them. Also, it ensures your local bike shop can help with repairs when you need them.
E-bikes are not maintenance-free. Many e-bikes require even more maintenance compared to standard bikes. You should keep this in mind when calculating the cost of your bike.
Pay attention to e-bike laws and regulations in your state. Some local governments have banned certain types of e-bikes. You should pay attention to what the rules say about owning e-bikes in your area. This guide from the National Conference of State Legislatures is a good place to start.
Learn how to ride a normal bicycle first. We've covered some of the smallest e-bikes you can find in the market today, but most of these can go up to 20 mph (32.18 kph). If you don't have standard cycling experience, you risk losing control at moderate to high speeds. Seasoned cyclists on non-electric bikes don't ride at top speeds at all times. It'll be more difficult for you as a beginner.
Keep all safety tips in mind. Riding an e-bike doesn't make you immune to accidents. There's an argument that electric bikes are riskier than standard variants. Features like pedal and throttle assist can make you ride absent-mindedly. Always exercise caution when out on the streets—crowded or not—and don't forget your helmet.
Read about some of the other best electric bikes in their category: