Bike theft is a serious problem. And a stolen e-bike is hard to replace given the high costs of owning one in the first place.
So, it would be a huge benefit to have a GPS tracking device on your e-bike so that you can find it if it's stolen and thwart those bike thieves!
Unfortunately, most electric bikes don't have a built-in GPS tracker. A few brands are starting to include them, such as VanMoof and Stromer. However, you can add a GPS computer to your e-bike that will work as a location tracker and/or theft deterrent as well as provide other benefits.
Continue reading to find out which electric bikes already have a built-in GPS system and how you can add a GPS tracker to your own e-bike. I'll show you the best GPS computers and help you understand some of the really cool features that you can opt to buy.
Here are some of the best GPS devices you can add to your e-bike (links to Amazon where I'll get a commission)… I'll go over them in full detail below!
Electric Bike GPS Tracker Models
How an E-Bike GPS Tracker Works
A GPS tracker for your electric bike works similarly to any other type of Bluetooth device. It sends out a signal that can be tracked using a dedicated app installed on your smartphone. If your e-bike is stolen, you can pinpoint where it is and advise the local authorities to help in recovery.
Once you decide where the GPS system should be installed on your e-bike, preferably in a hidden location such as inside the handlebars or underneath the bike seat, you'll need to make sure it's fully charged. Charging the tracker's battery shouldn't take more than a couple of hours. Then you can Bluetooth pair it with your mobile phone and the app.
Depending on the GPS tracker, you'll be able to control and locate your electric bike with an app on your smartphone. So, if it's stolen (or you forget where you parked it!) you can simply look up its location using the app.
The GPS you choose might also use a SIM card or subscription for tracking.
Additionally, your GPS tracking device may also offer alerts if your e-bike is tampered with and/or set off an alarm on the bike itself to scare away would-be bike thieves. You just need to have your emergency contact handy and your serial number recorded.
Best GPS Tracker for E-Bikes
Finding the best GPS tracker for an e-bike isn't much different than finding one for a regular bike. You simply want to be able to trace your stolen bike to its current location.
The biggest difference is that you're looking to protect a more expensive electric bike as compared to a regular, non-electric bike. So you want to make sure the GPS tracker you choose is one of the best for actually tracking your electric bicycle to the correct location.
Priced at $159, this is a solid, well-rated GPS tracker for a bicycle. It's small enough to stay hidden somewhere on your e-bike (under the seat perhaps), which is a huge bonus.
The Invoxia will alert you to every movement of your electric bike, even if it just tilts over a bit (however, this could get annoying if your bike is just slipping or someone accidentally bumps it). You'll get a notification on your smartphone so you never have to worry about what's happening to your e-bike while you're at lunch, in the doctor's office, or at work.
This tracker uses the 4G/5G network, has an above-average battery life (up to 4 months vs just 1-3 weeks), and you can even set custom alerts for notification of your e-bike leaving various locations (like outside your college class or work).
Although you'll get 2 years of free tracking service, you will be expected to pay about $40 per year thereafter. This is actually a pretty good deal as many tracking subscriptions charge $10-$20 per month! And there are no setup or activation fees.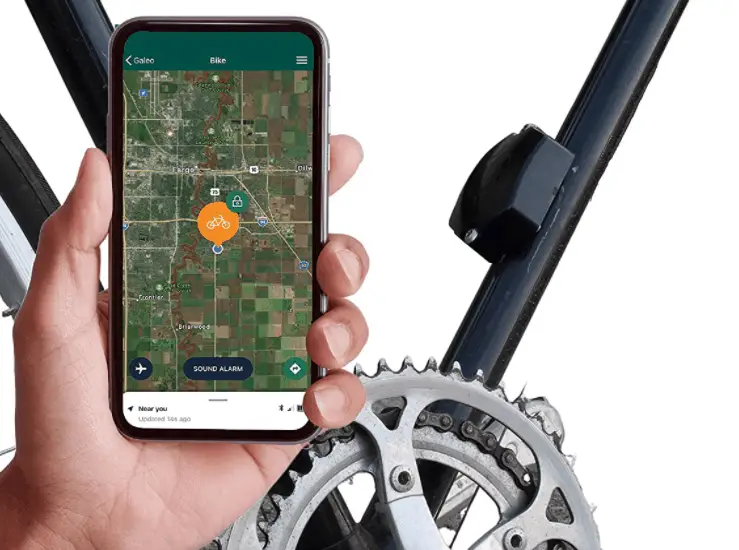 This GPS tracker is designed for bikes, so it's small and unnoticeable and it gives you an alert on your smartphone the second it senses vibration or your e-bike's motion.
Plus, you can actually activate the on-bike alarm from your app to scare off thieves and vandals. And if you aren't able to hide the tracking device, that's okay too. It comes with "tamper-resistant bolts" to make it difficult and time-consuming for a thief to remove.
Although it's a little pricier than some ($250), it may be worth paying the price to protect your electric bike from theft. After all, it'd be quite a bit more expensive to replace a stolen e-bike.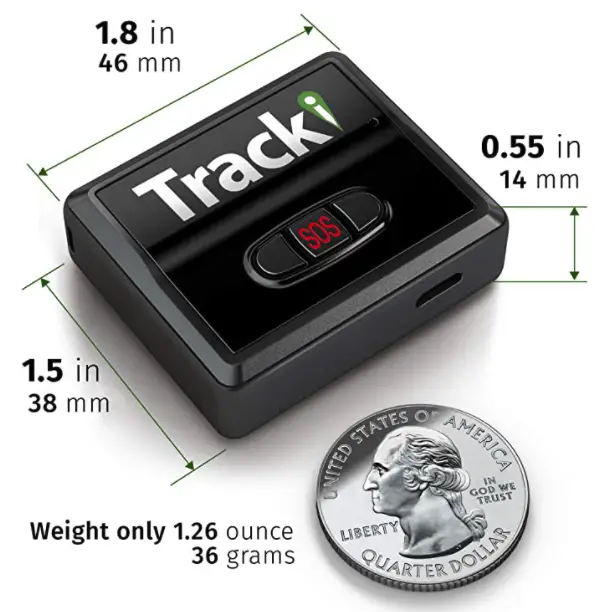 I picked this out as one of the best GPS trackers because it's so darn small (1.75×1.5×0.55in) and light. So, it's really easy to carry or hide on your electric bike. Plus, it's so easy to use for tracking other things as well (like your dog, baby stroller, etc.) that you can just move it back and forth where you need it.
Realtime tracking is also available. Just note that the battery will only last 2-3 days if using this feature. Otherwise, it should last you 30 days or more.
For $14.99, you'd think it's hard to beat. However, keep in mind that there's a required $20 monthly fee for service!
This small, lightweight GPS computer is easy to set up discreetly, even though it's technically made to be a car GPS tracker. Fit it under the seat on your electric bike or hidden under a bike rack or another area. It attaches using a secure, high-strength magnet.
It also offers real-time tracking and boundary alerts (with web-based software) to help you keep track of your valuable e-bike. And it already includes a SIM card, so you don't need anything else.
You can set the battery to "low power" mode and it'll last up to 6 months (otherwise, it'll stay powered for 1-2 weeks while giving real-time updates. This can come in handy if you're living with roommates you don't know very well!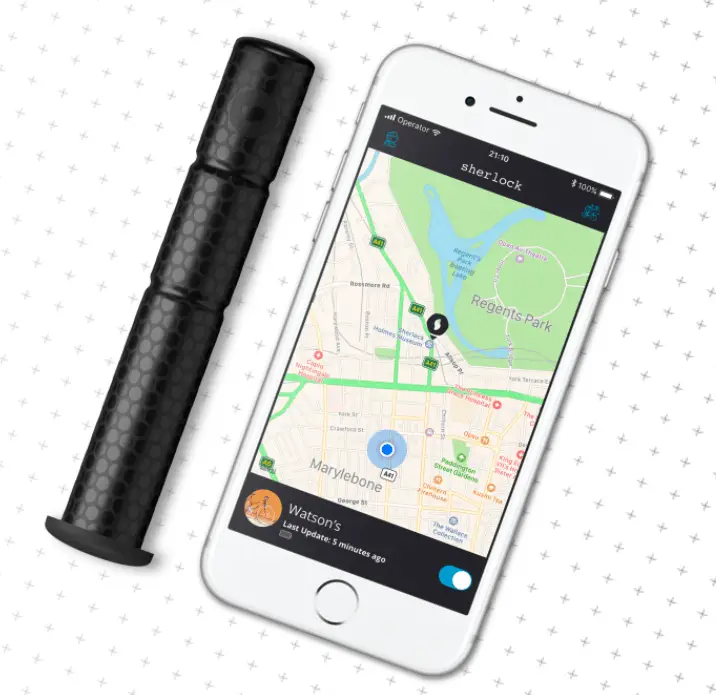 This is one of the best trackers that's designed to be "invisible", just for a bike. It's an antitheft device that hides inside your handlebars, so it's virtually undetectable. You'll be able to track your e-bike from a mobile app with GPS localization.
The Sherlock is lightweight, made to fit any handlebar design, and offered with 2 free years of internet connection in Europe and the USA.
In theft mode, it uses a unique code to share your electric bike's position with the local authorities. Plus, if the bike is disturbed, you'll get a mobile phone alert immediately that you can share with the local police.
One downside, however, is that the battery only lasts for "up to 7 days" for typical usage, which is pretty short when compared to the other GPS trackers listed.
And, you'll have to locate a dealer in the US or Europe in order to purchase one (no one-click online purchase here).
Which Electric Bikes Come with a GPS System?
If you want to purchase an electric bike that already comes with anti-theft protection, you'll be limited in your choices and you'll pay for it with an increased overall cost.
That being said, there are a couple of brands that include such amazing technology… but only one of them is on the lower price tier.
Stromer ST
The Stromer ST (models 2 and up only) has a high-tech built-in GPS tracker paired with an app (Omni) to control it. This means that, if it's stolen, you can get the location of the e-bike fast just by looking it up on the app with your phone. And customer service is there to help as well.
Additional features give you access to automatic locking and unlocking of your bike (using Bluetooth technology), and bike performance tuning, system status, service records, and more.
The lowest-priced e-bike model with GPS included starts at around $5700. If this is more than you're willing to pay then, thankfully, VanMoof has a much lower cost option.
VanMoof S3 and X3
The S3 and X3 from Vanmoof have a built-in gps theft defense system that detects tampering and has remote lockdown capability, in addition to location tracking. The GPS tracker is hidden and will actually sound an alarm if someone's messing with it (just like your car alarm).
Like the Stromer GPS, you can unlock your e-bike and configure information right from the VanMoof app.
These models are surprisingly low-priced for including GPS tracking technology… both start at $2298.
What Is the Most Helpful GPS Device for an Electric Bike? (Multiple features)
Truly, a GPS for your electric bike can do so much more than just be a theft tracker. If you're super active on your e-bike, whether it's exploring new paths and trails for fun or physically challenging yourself for fitness, the best GPS might just be one with all of the features you can get your hands on.
Buying a GPS device that includes an alarm, theft tracker, location finder (access to Google maps), and fitness tracker might just be worth the additional cost.
The downside is that you won't be able to hide a large computer display.
Trek Bikes sells quite a collection of Garmin GPS computers for your bike. And you can compare features and prices with Trek and through Amazon.
You'll likely pay $200-$300 more than for a GPS that just tracks your e-bike's location, but you'll likely add several really cool features such as:
Training insights and workout statistics (such as eMTB jump countand distance)

Health notifications (such as you should eat or get hydrated)

Preloaded maps and navigation

Group messaging and tracking

Incident detection (automatically notifies emergency contacts of your location)

Anti-Theft Bike Alarm

Rearview radar with lights (visibility for you and for others to see you)
If you decide you need a GPS computer like this, just compare the features so you make sure to get everything that's important to you!
How Do I keep My E-Bike From Being Stolen? (GPS Tracker, Alarms, and Bike Locks)
The truth about GPS trackers is that they really don't prevent theft. They simply help you recover your e-bike and have a little peace of mind knowing where it is.
However, you should still learn how to prevent thieves from stealing your e-bike, then you'll be pretty well covered no matter what happens.
Follow these tips (& products from Amazon) to help you protect your electric bike from theft
Using an E-Bike GPS Tracker (to Prevent Theft)
At a minimum, you want to protect your valuable electric bike from theft, which is why many people use a GPS tracker.
Although a GPS computer for e-bikes can sometimes perform many functions, you should decide which features you will actually use. The cost of the GPS device will go up as features and technology increase.
If you're simply worried about your electric bike getting stolen, then you should look for a basic tracking device that follows your bike wherever it goes (even if you aren't with it). You'll most likely have to buy one that attaches to your electric bike… someday, all e-bikes will probably come with a GPS. But until then, it's kind of nice to be able to choose the one that has the features you want.