As electric bikes become more common, the question of whether you need insurance for your electric bike is being heard more and more. And with good reason.
Do you even know if your homeowner's insurance covers your electric bike if it's stolen or damaged? Or whether you're protected if injured while riding?
In general, you need electric bike insurance if the monetary value of your bike is higher than the cost of the insurance plus deductible. And you may want insurance if you won't be able to buy a new e-bike without the insurance payment.
However, if you've ever shopped for insurance, you know how confusing it can be as well as how costly! Read the article to find out what it takes to insure your e-bike, how much it will cost… and if you even really need it.
Plus, is your e-bike already covered by your homeowner's or renter's policy?
I've answered these questions below, so read on!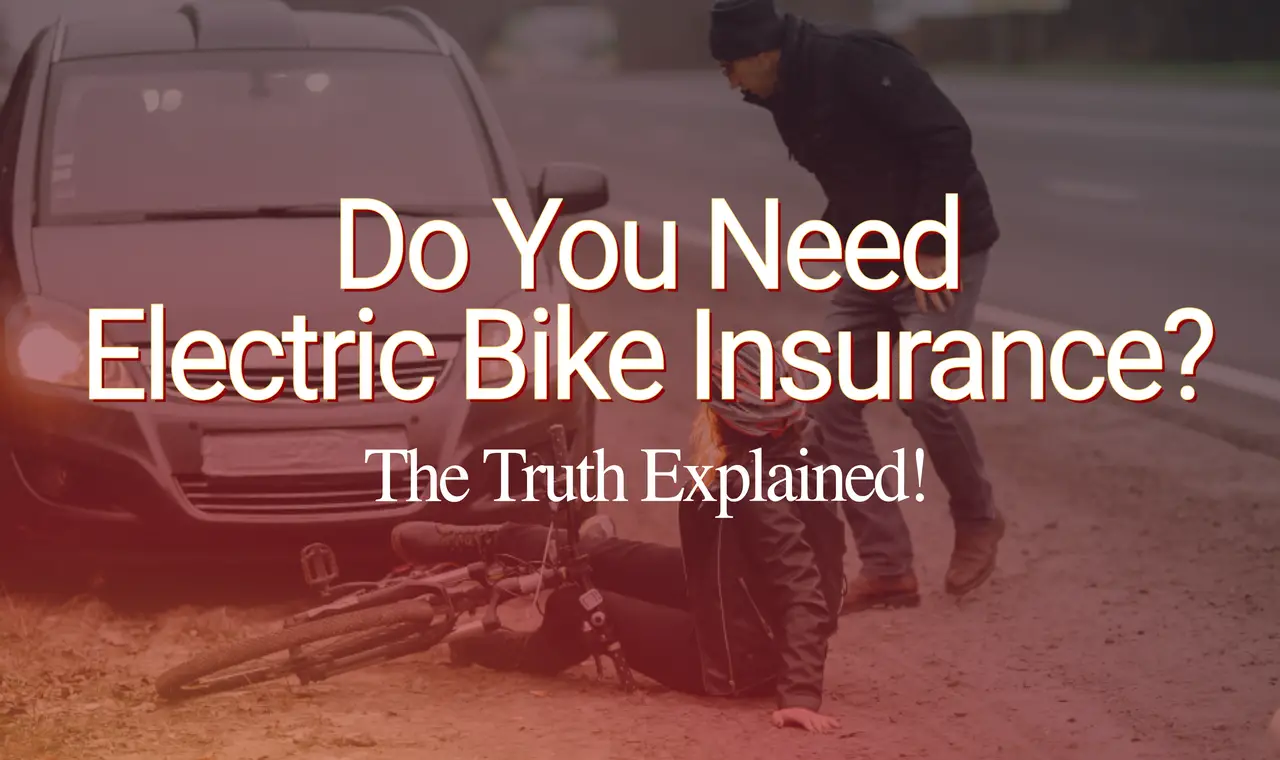 Are Electric Bikes Covered by Homeowners Insurance?
A question often asked is whether or not an electric bike will be covered by homeowners insurance in the event that it's stolen, damaged, or otherwise rendered unusable.
To answer this question, we must first understand a few things about how homeowners insurance typically works:
Homeowners insurance is a policy designed to protect the homeowner and their family from financial disaster

Typically, homeowners insurance policies will cover all sorts of disasters that might happen at home – including theft or damage of property, as well as personal injuries that occur on the premises

Do these same rules apply for electric bikes? Yes and no. In short: it's complicated!
Bike insurance on a comprehensive homeowners policy
A comprehensive homeowners insurance plan generally provides protection against any type of loss you could incur, including theft or damage of personal belongings such as an electric bike.
However, it's not that simple.
Many homeowner's plans have limits on what they will pay out on valuable items. So, if you have a $5000 ebike stolen, your insurance may only cover up to $500. Therefore, you'll only get compensated for $500 instead of the full $5000.
But many companies allow you to add an insurance rider to your plan that provides higher limits of coverage for your bike. This will increase the cost of your policy and there may be a separate deductible for just the bike.
So, it's not right to assume that your electric bike will be covered in full automatically. Further, depending on how they rate your electric bike, they may not cover it at all. Most policies only cover electric bikes that are 750W or less. And then they may have additional rules as well.
Finally, if you're like me and you have a very high insurance deductible ($5000!), your insurance might not even kick in if your e-bike is stolen. In this case, an electric bike would need to be worth $5200 or more before I'd get any payment at all.
And that'd only be if my electric bike is covered in the first place.
Filing a claim for your e-bike on your homeowner's insurance
Don't assume that just because your electric bike is covered by your homeowner's insurance that putting in a claim will pay for it.
Let's look at an example.
First, as mentioned above, you'll have to meet your homeowner's insurance deductible, which is typically $500 to $1000 or more. If you paid $1500 for your e-bike and your deductible is $500, then you'll have to pay one-third of the cost of a new bike out of your own pocket if it's stolen or damaged.
Yes, it'll be nice to have the insurance company pay the other $1000 for a new e-bike. However, it's possible you may then be penalized for filing a claim.
Some companies will increase your premium going forward. Now they see you as someone who files claims and is more likely to do so again. Yep, you've just been dubbed as "higher risk".
And, if you've had other claims on your insurance, there's even the chance of getting dropped from the policy (because they believe you'll continue to be a risk).
Bottom line:
Insurance companies are in it for big profits… not because they care about you getting a new electric bike.
Reasons You Need Electric Bike Insurance
In general, if your bike is worth more than $1000, e-bike insurance may be worth the cost (and reduced stress of something happening to it). If it's worth less than $1000, paying for insurance can be hard to justify.
The first thing to know is that e-bikes insurance is generally not required by any of the 50 states in the US. Nor is e-bike insurance included through your auto policy (this isn't even an option!).
So, you can legally ride your electric bike without any type of insurance (but what about a license!). However, there are plenty of other laws and rules you need to be aware of.
But just because an e-bike insurance policy isn't required doesn't mean you shouldn't get one. Even though staying safe on our electric bikes is our first priority, accidents do happen.
Further, theft of e-bikes is common, especially since they're worth more than a traditional bike.
So what you really need to do is to determine whether e-bike insurance is worth it for your situation. In order to do this, you need to carefully calculate the costs and benefits before purchasing a bike insurance policy.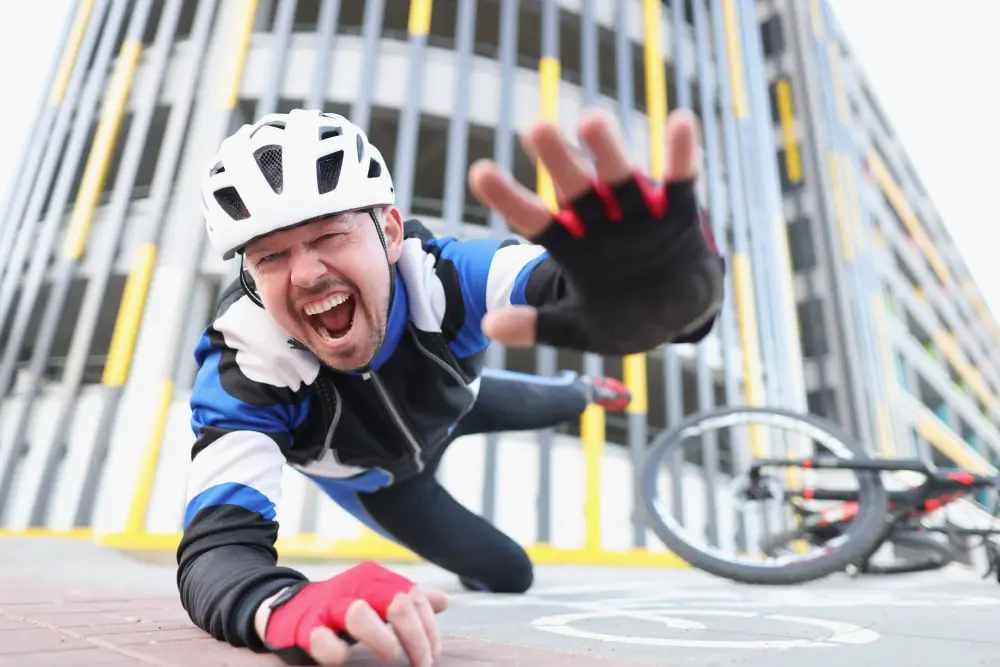 Benefits of e-bike insurance
Because homeowner's coverage on your bike may be limited, buying specialty bike insurance has benefits. These may include:
full replacement cost of the value of your e-bike
theft protection no matter whether it's at home or away
coverage while your bike while it's being shipped or in transit
coverage for added accessories and small parts
additional coverage for apparel worn while riding (say if it was damaged in an accident)
coverage for uninsured riders or drivers who injure you or damage your bike (you're compensated if they don't have insurance)
liability if you hurt someone or damage property while riding (may be an optional add-on)
coverage for medical payments (limited)
possible roadside assistance (optional)
limited bike rental reimbursement
reimbursement for some competitive event entry fees
Steps to getting ebike insurance
If you're considering purchasing insurance for your e-bike, just follow the steps I used to get several quotes.
First, contact your current homeowner's (or Renter's) insurance.

Ask them whether they are currently covering e-bikes. If not, ask them how to get covered, what the cost would be, and whether there is an additional deductible.

Make sure you are clear about the value of your bike and tell them that it's an electric bike. The coverage and costs could be quite different than for traditional, non-motorized bikes.

Next, get quotes from a variety of companies online that offer electric bike policies only.
Make sure to:
find out whether it covers your particular electric bike model – insurance companies may limit coverage to e-bike's with up to 750W motors (like Veloinsurance).

learn what is and is not covered for each policy – does it just cover the bike or does it include liability insurance to protect you, the rider, as well? Some basic policies only cover the bike but offer optional liability coverage (thus, the large difference in price when compared).

inquire about the cost of the deductible – this is what you'll pay out-of-pocket upfront (or possibly in installments) before getting reimbursed for loss by the insurance company.

ask if they have discounts – such as through AAA or even USA cycling or triathlon memberships.

get a premium quote that's specific to your location (you'll need your zipcode) and bike model – find out how much it will cost annually (over per month for one year); the good news is that this should be relatively small when compared to a homeowner's insurance deductible.

ask how payment can be made – you need a company that works with you to pay premiums affordably… Can you pay per month? Use a credit card (so you can get points on what you spend)? Are you able to make an easy payment online?
3. Read reviews of each company you'll consider before paying any one company!
By reading reviews on each company, you'll hear from other bike riders about the coverage and how they handle claims.
Whether they pay claims without a hassle is a super important detail. After paying premiums month after month just in case something goes wrong, you want to make sure that you'll be covered and taken care of if it does.
Here's a list of companies that offer the specific electric bike insurance you need:
Cost of Electric Bike Insurance
Insurance costs will vary depending upon the value of your electric bike, its age, accessories added, previous claims, and the coverage you purchase. Basic e-bike policies can start at under $100.
Determining the cost of e-bike insurance is really the same as car insurance. If you buy the latest model Porsche for $80,000 instead of a $20000 Honda, you're going to pay way more to insure your vehicle simply due to its value and the cost to replace it.
If you have a $9,000 electric bike as opposed to a $1500 one, you'll pay more for bike insurance. This is because the insurance company will have to cover the much higher cost of your e-bike if it is stolen or destroyed.
Additionally, a higher-priced e-bike has higher-cost parts.
So, even if you just need to replace your motor and rear tire, it'll end up costing the insurance company more than it would for a cheaper bike with cheaper parts.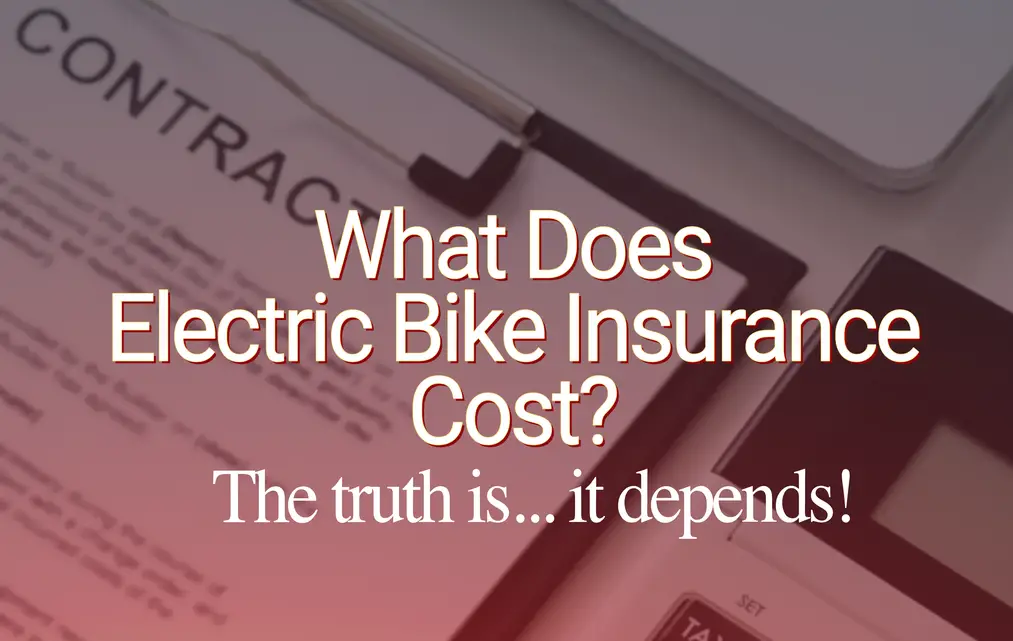 How Do I Get Affordable Electric Bike Insurance?
The good news about electric bike insurance is that it's affordable and readily available. You'll get the best-priced policy for your situation if you shop around a bit.
It could cost less to buy an electric bike insurance rider with your renters or homeowners policy… but only if you have a very small deductible (which means that you're paying even more for your insurance in the first place).
Ask about adding an endorsement onto your policy – it may be cheaper than buying standalone coverage. But it might not be the best option for you, as discussed above.
You'll need some documentation in order to add an insurance "rider" onto your existing policy such as proof of ownership.
If you have an expensive e-bike but don't want to pay too much for insurance, then look into insuring your bike with a higher deductible ($500 instead of $200, for example).
If you haven't already purchased an electric bike, this is a good time to find out what brands of electric bikes are the least likely to need repairs or replacement. So, when you get insurance rate quotes, your bike insurance may be cheaper.
Alternatives to Buying E-Bike Insurance
If you decide that getting electric bike insurance isn't right for you, then there are viable options to protect your bike and yourself.
If you haven't bought an electric bike yet
If your e-bike comes with an extended warranty or purchase plan, then that will cover any repair needs in case something goes wrong. This is a great alternative to buying separate e-bike insurance.
Ask whether this is offered before you buy your e-bike. You may be at least able to protect your bike from theft or damage. This could be really useful if it's an expensive model.
Some of the best electric bike companies offer warranties. However, if it doesn't come with a warranty or you choose not to get coverage from the bike company… take the precautions I discuss below so that your investment stays safe.
If you've already purchased an e-bike
Unfortunately, bike theft is the most common claim processed through insurance companies. Fortunately, however, there are many ways to protect your e-bike and yourself before, after, and during your rides.
First, always lock your bike up securely
At home, keep it in a safe, locked-up location without easy access (such as hanging up in your garage). (such as hanging up in your garage).. Don't just put it in your backyard or throw a tarp over it. Instead, keep it inside your home or garage or lock it up in an outdoor bike shed (Amazon paid link) or locked bike box.
Take a look at the best electric bike storage ideas:
If you want to keep it outside (without a locked shed), find a good place to secure it.
Lock it to a heavy metal pole that can't be removed or cut. A wood or chain link fence won't do… wire cutters or saws will get right through those.
And never lock it around a tree… thieves will not only take your expensive e-bike, but they'll also cut down your beautiful tree to do so!
Second, use the strongest bike locks
Not only do you want to make sure that you secure your bike with strong locks that can't be easily removed or cut… using more than one at the same time is always a great idea!
Locking up your bike while out in public is a no-brainer, but only certain types of locks will protect your valuable electric bike (cable lock… no way!).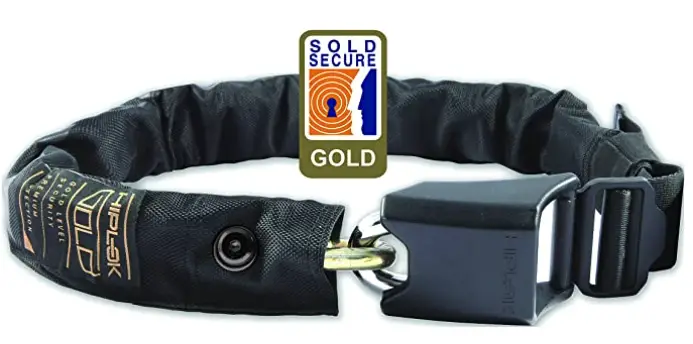 Here are some of the most secure locks that can't be easily held in one hand and cut:
U-lock– This heavy, u-shaped lock from Amazon is made of metal with a non-damaging rubber exterior. It's wider and thicker than a cable lock. It fits somewhat awkwardly but snugly, so it's harder to grab and cut.

Some of these locks do come with a cable as well, so at least using both will make it a little harder for a thief to steal your e-bike.

Heavy chain lock (on Amazon)- This is heavy and made with ultra-thick loose chain metal. So, it's super hard to hold in one hand and cut with the other. It's also generally long enough to wrap around different parts of your bike frame, which allows some flexibility in how to lock a bike.
I searched for the best-rated chain or u-locks and included them on my recommended gear list (see #6).
Do I Need Electric Bike Rental Insurance?
If you rent an e-bike, you'll still be held liable for damage to the bike or injury to others. Therefore, when riding a rental, you should strongly consider insuring it, even if it's just for the day. That's because damage to a rental bike might not be covered by the renter and it could lead to you paying for repairs out of pocket.
Some bike insurance companies will offer protection for rentals in limited circumstances. For example, Veloinsurance will provide some coverage but only if you're riding in an "organized or competitive event more than 50 miles away from home."
The best option is to inquire about rental coverage directly with the company you are renting from. Bike shops often rent out bikes as well as offer insurance for the day. But, it's a good idea to check this out before you arrive at your travel destination.
Buying insurance will increase the cost of your e-bike rental substantially, but peace of mind may make it worth it in the end.
Conclusion: Do I Need Insurance for an Electric Bike?
If for no other reason than for your peace of mind, you need some type of insurance coverage on your electric bike (unless it's a really inexpensive model). Do your research and find out what types of coverage are available in the area you live, as that tends to determine insurance costs.
Or, if you're not riding very often and only go short distances (and you've secured your e-bike at home), then insurance may not be necessary at all.
Just remind yourself why you purchased an electric bike in the first place. You might've bought one specifically because it can go faster and a longer distance than traditional bikes. Both speed and distance increase your risk.
So, you may wish to add on extra liability protection from your homeowners or renters insurance provider, if offered.
Or, to be sure you're fully covered for your priceless electric bike, consider purchasing specialized bike insurance. This will protect you from any accidents or theft outside of your home.