Electric bike riders are always looking for ways to make their ride safer, more comfortable, and more efficient. And, quite frankly, there are more safety gear and helpful items that can be added to an electric bicycle than you might think.
You need a helmet for safety, a bag to carry your items in, and even lights to keep you visible on the road at night. But what other things do electric bike riders need?
I've compiled recommended gear and accessories for electric bike owners, both from my own experience and from researching products and reading reviews.
First, I'll show you the seven accessories or gear you absolutely need to ride safely and enjoy a stress-free day on your e-bike. And I'll show you the best, most highly rated options I've found for each on Amazon.
Then I'll point out other affordable accessories to use to make e-biking more comfortable and convenient.
*I may earn commissions as an Amazon affiliate if you click on links on this page.
1. E-Bike Helmets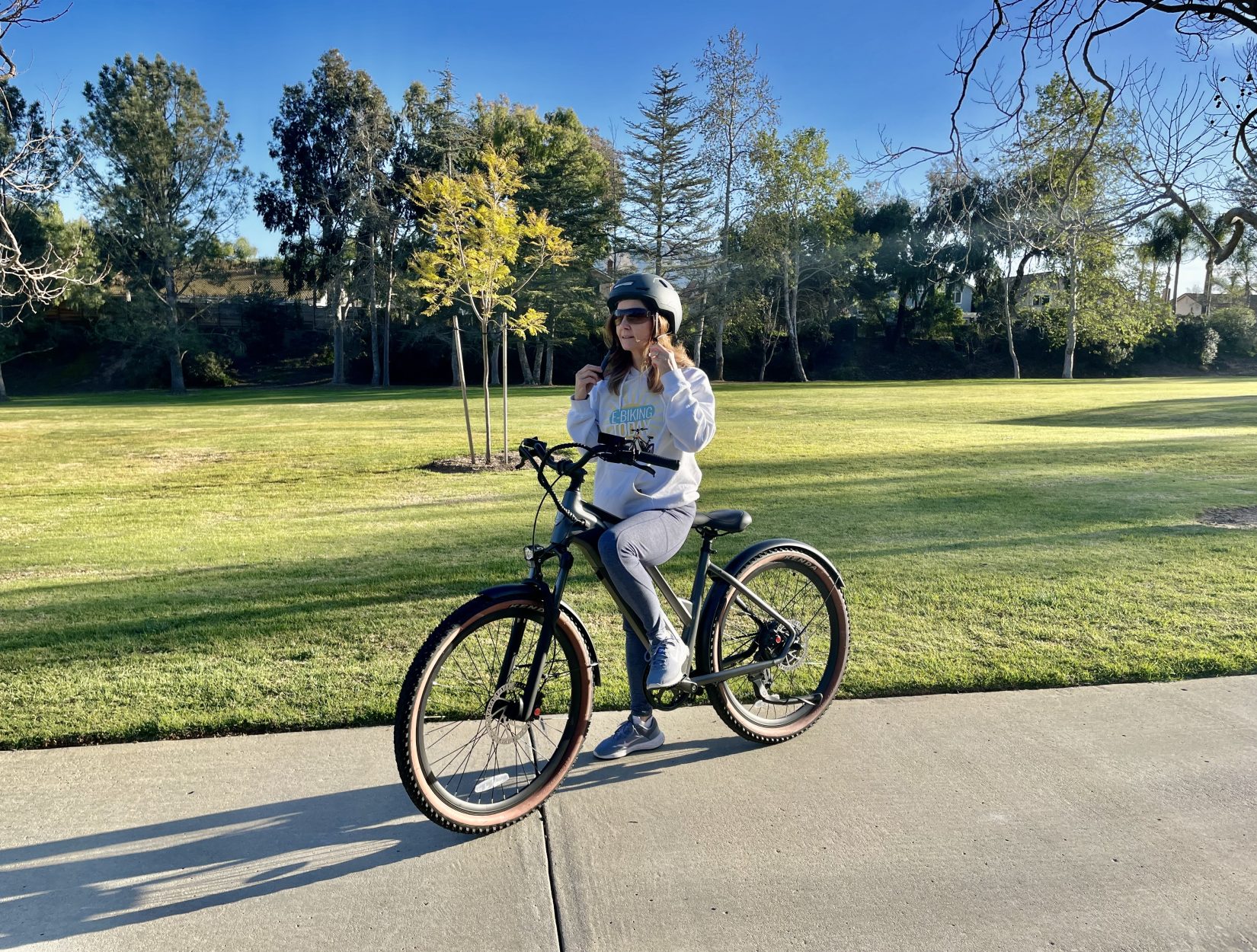 Always wear a helmet while you ride any bike, but especially an electric bike. Why?! You're riding faster than you ever would on a regular bike! And most likely much farther distances when you ride. So, your chances of getting into an accident increase.
But, in my book, any chance of head injury is too much.
Just because you're an adult and not legally required to wear one doesn't mean your head is any less susceptible to injury than a child's.
I've seen so many adults without helmets carrying children (wearing helmets) on the back of their bikes… as if their lives aren't as valuable as their child's! Your children need you!
All bike helmets are required to meet certain safety standards, so paying more for one than the other doesn't always make sense. However, a helmet with a MIPS safety design is totally worth paying for.
A helmet with a Multi-Directional Impact Protection System (MIPS) protects your brain from serious injury better by adding a liner inside that moves in a similar way as your brain. It's meant to reduce stress caused by rotation upon impact.
So, although you'll pay maybe twice as much as for a cheap helmet, protecting yourself from brain damage is totally worth it! Right?!
Here are a few options that are MIPS, highly rated by customers, and let you choose your color and size!
2. Rear-View Mirror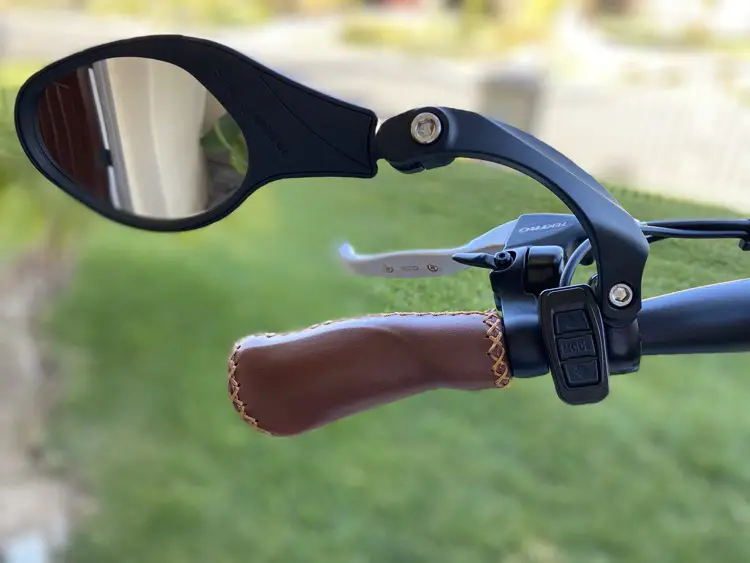 A carefully placed mirror makes riding on busy streets so much easier. You won't need to whip your head all the way around to see if you should move further into the right lane. However, you should always glance over your shoulder after checking your mirror for cars or other bikes before moving out into the road or turning.
This was the very first accessory my husband and I bought for our e-bikes. You'll immediately feel more comfortable riding when you can easily glance to see who's coming up behind you.
We use the Hanfy mirror below… it's easy to swivel and adjust, easy to attach, and has a reflector on the back (never hurts to have one more way to get seen). Plus, you can put it on either side of your bike. Some people prefer having one on each side.
You can also check out the 2-pack of mirrors. I'd just recommend getting mirrors with long, adjustable stems so that your body doesn't get in the way of your view!
3. Water Storage
You'll likely go much further on an e-bike than on a standard bike. So, don't think you can ride without water, especially if you're in a hot or dry location.
This is a simple and inexpensive add-on that makes it easy to hop on your e-bike and ride without carrying an entire backpack just for water. Pick out one that looks good with your bike: Maybe it's sporty or maybe you want a bottle holder that blends in with your sleek style bike.
And look closely at your options because some of the holders actually come with a water bottle.
4. Headlight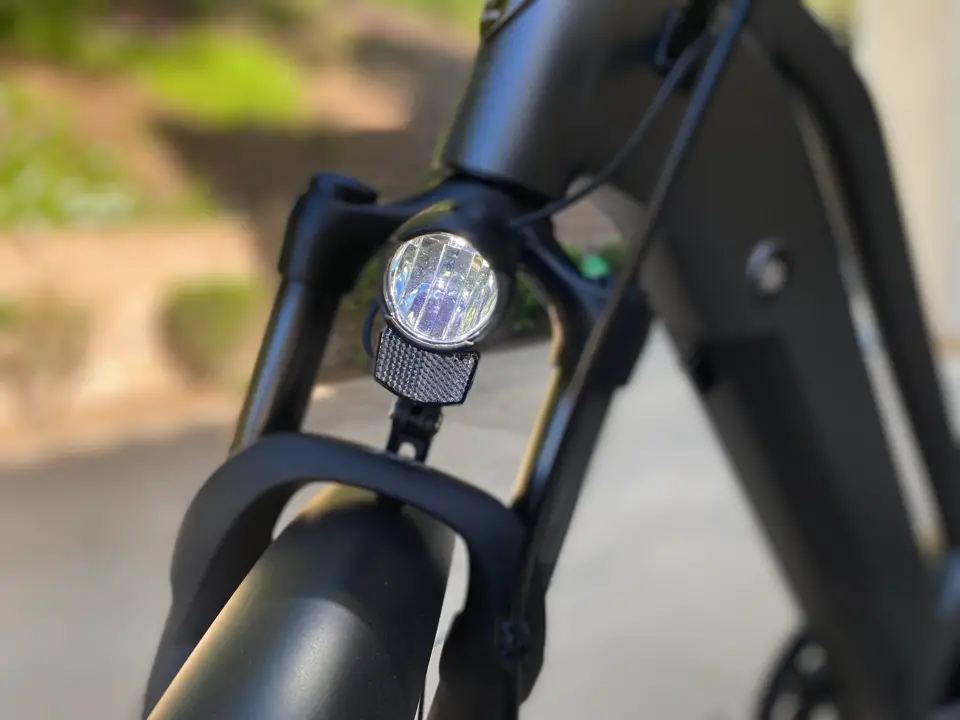 If your e-bike doesn't come with a headlight, make sure to add one. This light will keep you visible to cars and people, even when it's light outside. Pay attention to what you're looking for though… you'll need a light that attaches to your bike's electrical system so that it works whenever you need it.
I found this really cool 4 in 1 e-bike headlight that's way more useful than most. It's a headlight, horn, and waterproof phone holder. Further, the headlights detach so you can use them as flashlights or to light up your camping tent.
Or check out the headlight AND rear-light combo (if you need one, you probably need them both):
5. Rear Light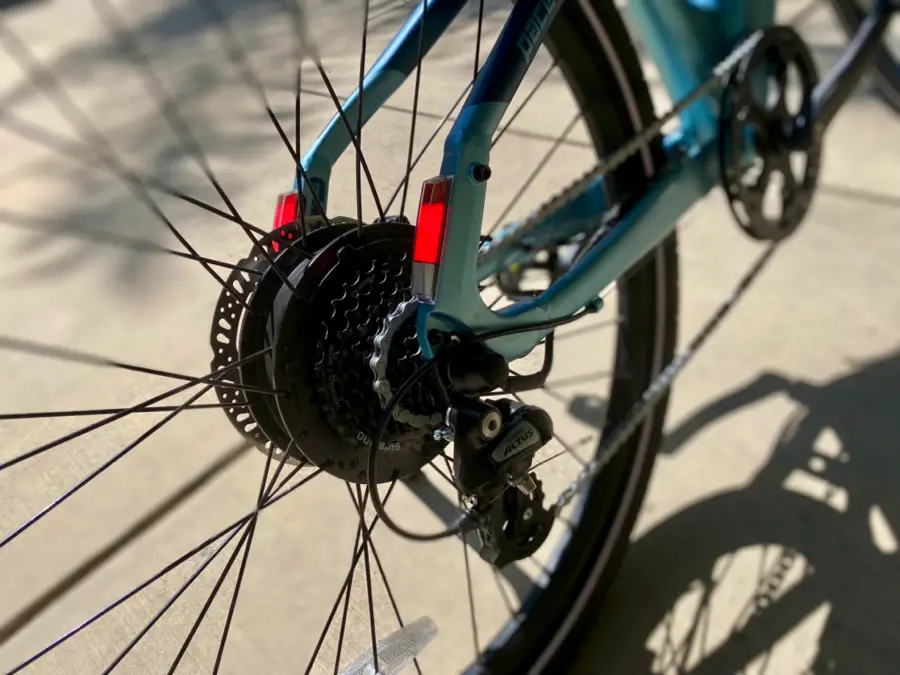 Most bikes come with a rear reflector at the least. But having an actual light, that's easily powered by your electric battery, is much better. So, if you already have a headlight, just make sure to add a rear light. You can get one a little cheaper than the one I list here, but you should read the reviews before deciding if saving a few dollars is worth it!
6. Bike Locks
If you plan on walking away from your electric bike even for a few seconds… you should lock it up! You might even want to use 2 or more locks. After all, your electric bike was a large investment!
But there are some types of bike locks better than others… the ones that can't be easily cut from your bike for starters. So, get a heavy-duty U lock and/or a chain link lock.
The best U-Locks are the ones that come with a cable as well. Use the U lock to attach the frame of your bike to a secure post while using the cable to wrap through your tire. Like this one:
The highest security locks are going to be a little more expensive. But you can still get a chain lock for a reasonable price as seen below.
I've also discovered the "Foldylock". It's lightweight and folds up small but it's reportedly heavy-duty! I haven't tried it yet myself but it has excellent ratings and looks unbelievable. Just read the details and reviews to see what you're getting!
7. Flat Tire Repair Kit
Get a kit to repair a tire and take it with you wherever you go. It won't be easy (in fact, it'll be really hard) to push your heavy e-bike back home or to a bike shop. And really disappointing if your fun day out gets interrupted.
You can get a special tube sealant, but you'll have to determine where the air is leaking in the tire. However, since this isn't always guaranteed to fix the leak, I recommend getting a backup tire tube that fits your ebike. This should be in addition to a complete tire repair kit that includes a portable tire pump, tire repair tool kit, and repair patches like these highly rated ones:
You might also like these accessories to add comfort and convenience to every ride:
8. Cargo Rack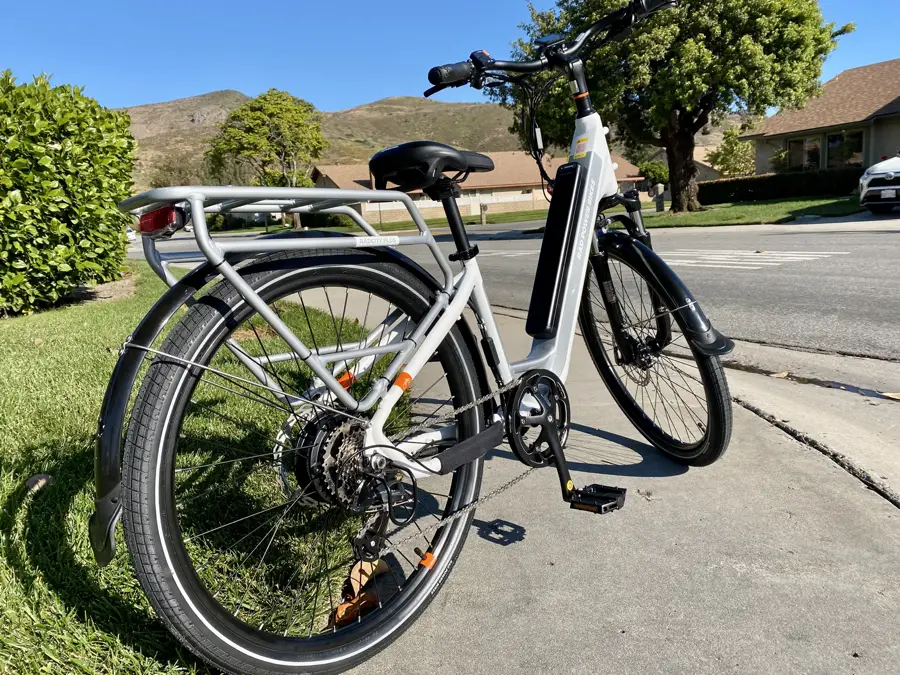 You can put a bike rack (also called a cargo rack) on the back of your e-bike and carry a picnic basket, groceries, or supplies. A rack makes it easy… and you don't have to carry a pack on your back that swings all over the place, throwing you off balance as you ride.
Check the size and specifications to make sure it'll fit on your electric bike. Most universal bike racks will fit on any bike, but since e-bikes tend to have larger frames, there's always a chance it won't fit.
I'm pointing out this next rear rack because it claims to have a high payload capacity (and it received high ratings)!
9. Storage Bag (Pannier)
If you have a rack, you'll probably want a pannier bag for it. You can still attach a bag to your e-bike if you don't use a cargo rack.
The first cargo rack bag I discovered is pretty massive and should be able to carry everything you need, whether it's overnight camping gear or an awesome picnic spread and a 6-pack. Then there's a really cool saddle bag that allows you to hang it off to the side and STILL carry more cargo on your rack!
The last type of bag is a smaller bag that you can attach under the seat of your bike (there are also bags you can attach to the mainframe or handlebars).
10. Non-Slip Bike Gloves
If you're like me, you might totally underestimate how cold it can be riding an e-bike, even when you'd be warm if you were walking. The wind is hitting you fast and going downhill can make you feel like a popsicle.
So, cycling gloves became an essential item for me during the California "winter", even though I probably didn't ride my bike when it was less than 60 degrees Fahrenheit.
Consider grabbing some non-slip gloves that you can easily fit in a pocket or your cargo bag so that you have them when you realize your fingers have suddenly frozen solid. These don't have to be gloves made specifically for cycling as long as your grip won't slip. another option is to wear driving gloves that are also made non-slip.
11. Full Coverage Glasses
And here's another thing no one tells you when you buy your first e-bike... the wind will dry out your eyes and possibly blow debris into them, especially considering how fast you could be riding.
You can get official cycling glasses, but most of us really just need something that covers our eyes, protects from the sun, and stays secure on the face and head.
Oh, and they need to look good! Here are a few cool, sporty options:
12. Padded Bike Pants
Cycling gear doesn't always have to refer to what others can see. Your comfort is the most important concern because you want to ride far and often. Of course, you can go for the typical bike shorts… and even wear them under your clothes if you want.
But, ladies, in researching the different gear and fun accessories for e-biking, I discovered something I didn't know existed: Women's Cycling Underwear!
They're not shorts… they're just like underwear! No tight shorts grabbing at your leg! And, guys, you get to check out the brief-style men's underwear (although they're still pretty much like shorts). Take a look:
Enjoy Your New Electric Bike Gear and Accessories!
Getting the right gear for riding is essential if you want to be comfortable and efficient, as well as get the maximum joy out of your e-bike. All of these products shown here are rated 4 stars or higher and they include everything you need to get started – and more!
All of the products on this page are rated over 4 stars and they're some of the products I use or have researched to find the best for you. Building an e-bike accessory arsenal can take time, but I hope this helps you get started. Grab one (or a few) items from Amazon and ride safe!