If you're moving across the country, taking an e-biking vacation, or are a college student who can't leave your bike behind, then of course you want to know how to safely ship your electric bike. And, naturally, you won't want to spend a fortune on shipping costs. But if you don't want to end up with it damaged or lost in the mail, then you need to ship it properly, despite the cost.
On average, it costs a minimum of $100 to $200 to ship an electric bike within the US, depending on its size and weight, packaging, and destination. Shipping the battery will incur an additional cost.
| | | | |
| --- | --- | --- | --- |
| Shipping Option | From | To | One-Way Cost |
| Bike Flights | Los Angeles, CA | Miami, FL | $143 |
| Ship Bikes | Los Angeles, CA | Portland, OR | $102 |
| Luggage Forward | Los Angeles, CA | Miami, FL | $189 |
| FedEx | Los Angeles, CA | Seattle, WA | $119 |
| Roadie (Gig Driving) | Nyack, NY | New York, NY | $96 |
These shipping charges don't include a shipping box, insurance, packing expenses, or added battery fees.
Since there are many different ways to ship or transport your e-bike, and many other factors involved, it can be confusing when trying to figure out how much you'll have to spend. Plus, there are many added costs including boxing, packing, insurance, and battery shipping.
In this blog post, I'll point out all of these factors and charges so that you'll know what it costs to ship an electric bike. No matter what the reason is!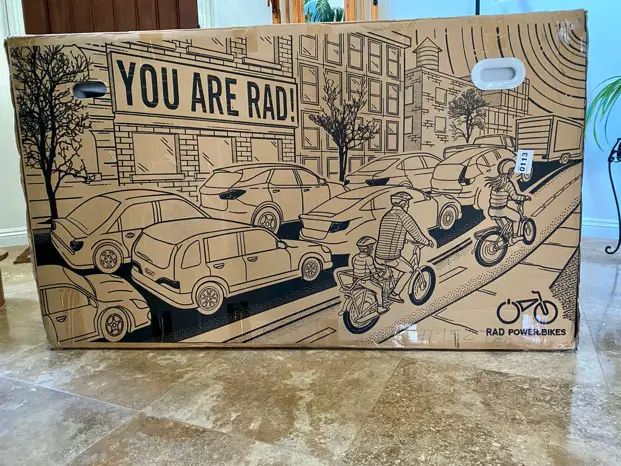 How Much Does It Cost to Ship an Electric Bike?
The cost of shipping an electric bike will be higher than shipping a regular bike. This is because e-bikes generally weigh more and special considerations will be needed for the battery.
If you pack your own electric bike, you'll pay additional for the weight and size of the package. And you'll pay separately for packing materials like boxes or bubble wrap. If a store or service does it for you, though, rates for the packing could be reduced and included in the overall shipping.
Further, the shipping company will charge an additional fee for your e bike's battery (read important details below about shipping "Dangerous Goods").
Shipping companies and services will be priced differently, as well as offer a variety of services.
Let's consider the various shipping options to find the best price.
Cost of Traditional Shipping Companies (UPS and FedEx)
You can ship your e-bike just like any package… well sort of. UPS and FedEx will ship it for you and charge you only for shipping if you do the packing yourself.
However, they also have a service that takes care of the packing. Either way, you'll have to disassemble the bicycle completely yourself.
When you ship your electric bike with FedEx, here's an example of how much it'll cost just for shipping (you'll pay additional for the packing materials or packing service):
Los Angeles > Miami, Florida
For 6 day shipping, you'll pay around $168. However, to get it there in half the time, your cost will more than double ($472)!
Los Angeles > Seattle
You'll pay $119 to get your e-bike to Seattle from Los Angles in 5 days, whereas 3 days will cost $287!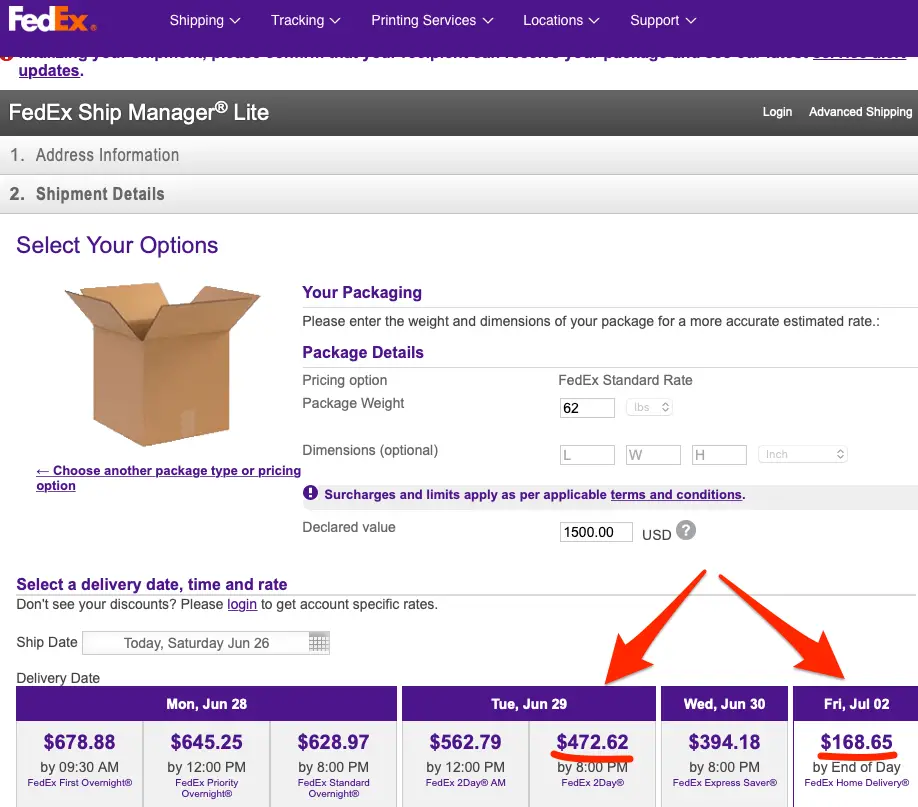 E-Bike Special Handling Fee
Unfortunately, these high shipping costs are just the beginning. Both FedEx and UPS will add a "special handling fee" of $54 or more for air shipment of your lithium-ion battery since it's designated as "dangerous goods".
Plus, you may want to pay for insurance for your expensive electric bike.
Cost of Liability and Insurance
Make sure you understand how liability and insurance for damage to your e-bike is priced.
If you state a "declared value", you will get covered for damage or loss up to the amount stated. This will be calculated into your total price (and is why you might be surprised to see a higher cost than expected)! When you state a "declared value of $1500, then UPS or FedEx is only liable to repay you for the loss up to that amount.
If you purchase insurance for shipping, you'll be covered up to your insurance amount. So, if UPS damages your electric bike while in their care, you could be covered up to $5000 if you pre-purchased a policy for that amount.
Electric Bike Shipping Services
This is a good US shipping option that works directly with UPS. I like Bike Flights ease of use and clear costs. Plus, they make it very clear that, if you want to ship your electric bike with the battery "installed", that you'll need to get approval (you can contact their support to get information).
They also offer a box made specifically for the size and weight of an e-bike. The cost for the box is steep, however, at $149.
One other thing I like about them is that they offer clear instructions on how to assemble the box and ship your product.
Here's an example of the shipping costs from Los Angeles to Miami, Florida.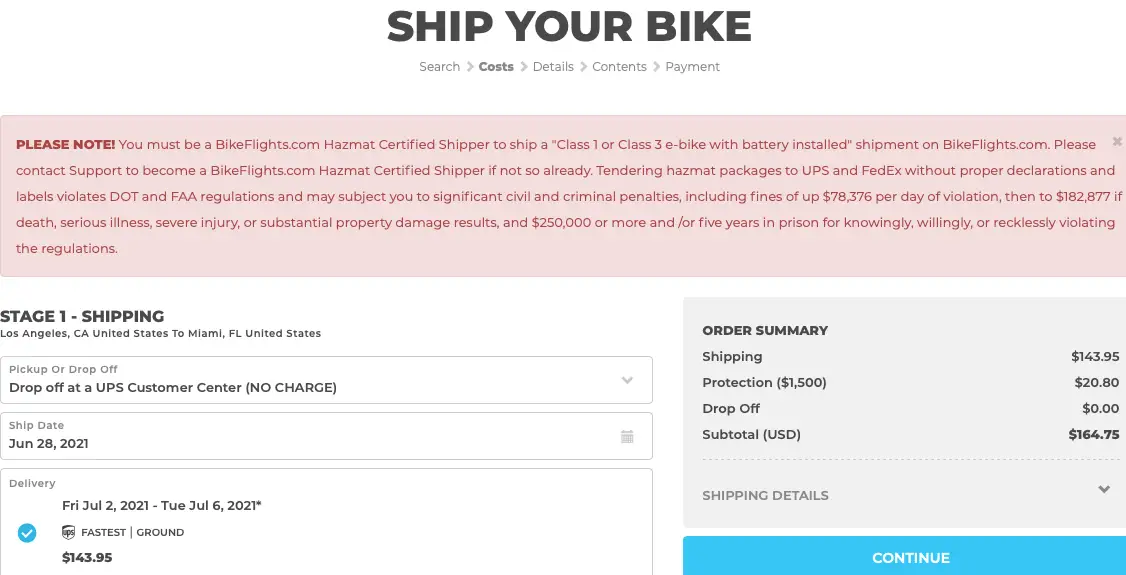 ShipBikes works with FedEx to get you a packing box that's perfect for your bike and sends you the shipping label. You can get cardboard, hard plastic, and more, all at various sizes and weight limits (between 60 and 100 lbs).
Once you receive your box and pack your electric bike, you can drop it off at a local FedEx or Kinkos store.
ShipBikes recommends that you have it shipped directly to another FedEx or Kinko's store because it's cheaper, safer, and faster. You can purchase their shipping boxes from around $50 to $150 for a box made specifically for larger electric bikes with fat tires.
Shipping example:
Los Angeles > Portland, OR
Receive your electric bike in just 3 days for a cost of $102 (includes declared value protection of $1500).
Just as with the other shipping options, you can schedule your bike shipment online. Then they'll come right to your door to pick it up (you can even leave it for them in a safe place). Or you can drop it off at a shipping location (which might be the safest option for your expensive electric bike).
This is a great option if you're taking your e-bike roundtrip, for an extended vacation.
You will be expected to pack your bike in a "rigid" container for protection. Luggage Forward doesn't offer boxes for sale but you can get your shipping container ahead of time from one of the above services or shipping companies.
Unfortunately, they won't accept your lithium-ion battery. So you'll still have to find another way to ship it.
However, they're so sure that they'll give you the cheapest way to ship your bike that they offer to match any other price you find. And, they'll offer you $25 toward a future shipment.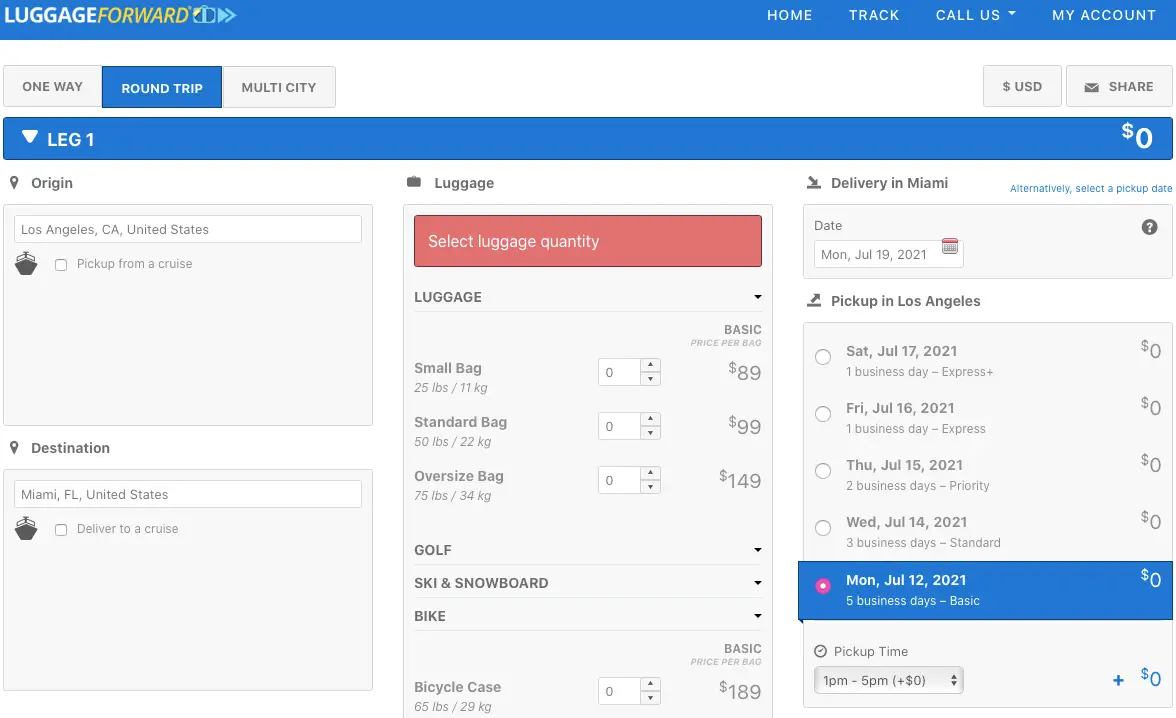 Roadie (an interesting "shipping" option)
I'm just going to throw out another unusual opportunity since it is super easy… Roadie will transport your electric bike from one place to another in the USA.
You really don't have to do anything but wait for someone to pick up your bike from home. And no expensive box is needed. The driver will put your bike in their car or truck and continue driving where they were going anyways… even if it's a few states away (although see my NOTE below).
Your e-bike won't have to go through handling at a variety of shipping locations and you are covered for damage through your declared value. The downside… this seems a little riskier to me when we're talking about an electric bike, rather than a standard one. Will your electric components be well taken care of? Will they also transport your battery?
NOTE: Look into this thoroughly before you choose this option, especially based on where you are shipping from and to. There seem to be a lot of rules as to how far your shipment can be taken. Each state has its own rules regarding "gig" driving.
For example, California limits the delivery to only 50 miles within the state, whereas other states like New York limit it to 350 miles. Also, you may have to ship your battery separately.
How much does it cost to bring your electric bike on a plane?
If your electric bike weighs under 50 lbs, many airlines will charge you their checked luggage fee of $30-$40. However, if it weighs more than 50 lbs, you'll typically pay more for the excess weight.
As for any luggage, the excess baggage fee can jump as high as $150 if your bike weighs even 51 lbs (removing the battery will help decrease the weight). Some airlines will allow your bike to be in place of another piece of checked luggage, so it's possible that you might be able to bring it for free.
If you're taking your e-bike on a plane with you, you might want to consider the cost before deciding which airline to fly. Some of them charge as much as $75-$100 to carry your electric bike.
Unfortunately, even though you can take your electric bike on an airplane, you can't bring the battery with you. This is for everyone's safety. Plan ahead to make sure your bike battery will arrive at your destination by the time you need it.
How Much Does it Cost to Ship an E-Bike Battery Separately?
Shipping your bike's lithium-ion battery separately will incur an extra cost. Your total price will include shipping to it's destination (with your declared value), the special handling fee for hazardous materials, and optional insurance.
Shipping the battery separately from the bike might be required by your shipper and/or you may have an extra backup battery for your e-bike as well. All lithium-ion batteries (which most e-bikes have) are considered "dangerous goods". This is because charged batteries can occasionally overheat and start a fire. Clearly, special care is needed.
Here's an interesting fact: The federal government requires specialized training for all "dangerous goods" shippers, as well as expects them to follow a detailed set of regulations. Not surprisingly then, the cost of training will be passed on to the shipper.
Can you ship an electric bike without the battery?
In many cases, shipping a lithium-ion battery in a separate package is a good idea, and will likely be required. You can't just throw your e-bike's battery in a mailer or in your backpack while boarding a plane! No matter how you decide to transport it, it's still a hazardous material.
Plus, you need to pack it carefully.
To do this, make sure the battery terminals aren't touching any conductive materials, such as metals and other batteries. If you're shipping it yourself, you should cover the terminals with something non-conductive like rubber, wood, or plastic (and don't forget to put it in a sealed, padded package for protection).
Packing and Preparing Your Electric Bike (Cheapest Way!)
Your electric bike is valuable and probably very special to you. So, truly the most important thing about shipping is to make sure it's well-protected and gets safely to its destination.
But, understandably, packing and shipping it can be costly and there's no harm in figuring out how to save money doing it.
Save money- Pack it yourself
You can definitely save money by packing your own e-bike. And as long as you do it correctly, then there's no reason not to.
Disassemble your e-bike
Good news! You don't have to take apart the entire bike. But what you need to remove will depend upon the box and company you'll be shipping with.
However, you will probably need to remove, at a minimum, the front wheel, handlebars, pedals, and seat (but you may be able to just lower it, depending on the bike). You can do this with your bike multitool (paid link, Amazon)… or use the tool kit you assembled your e-bike with.
Another option is to ask your local bike shop if they can disassemble it for you. This will likely cost from $50-$75. Hint: They may even be able to ship it for you if they contract with a shipping company.
Find a cheap but sturdy e-bike shipping box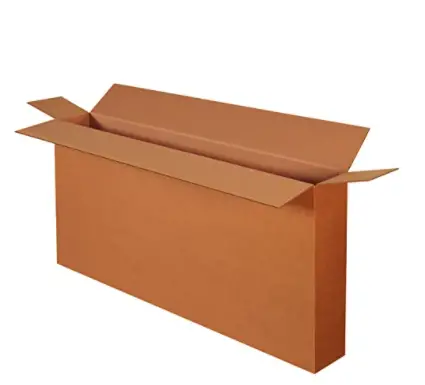 However, if your electric bike is an upscale model or holds sentimental value, then you still might want to pay more for a box from a bike shipping company that you have complete confidence in. The bike company can recommend the right box for your bike… and if they're shipping it for you, they'll want it to be well protected!
But here's another idea that could save you quite a bit of money… ask a local bike shop if they have an extra shipping box. If you've shopped there before, or even purchased your electric bike from them, they may be willing to help you out. They might also charge you for it, but it'll likely be far less than getting a new box.
Pack it carefully
As with packing anything valuable and/or delicate, you'll want to do two things:
Secure any loose or moving parts
Wrap the bike to prevent scraping
Shipping your bike will end up costing you much more if you have to repair small scratches or bent parts that aren't covered by insurance.
So use zip ties to secure parts that move such as the rear tire and wheel crank. Since it's an electric bike, you should also make sure all of the electric wires are tied to the bike.
Then wrap the bike with bubble wrap or cushioning that'll keep your metal frame and other delicate parts from scratching the box or each other. Add any extra cushioning needed surrounding it once in the box so that it doesn't have room to move around.
Zip ties and bubble wrap (paid link, Amazon) will cost you an additional $15-$20 (if you don't have any lying around!).
How to Ship an Electric Bike Overseas (International Costs)
Shipping an electric bike overseas has the same requirements as shipping locally. But it can easily cost $500 or so more than shipping within the United States.
You'll pay more to ship internationally due to the distance and because of added duties and taxes. For example, Bike Flights will charge $695 to ship your bike from Los Angeles, CA to the UK. $99 of that includes extra fees, as seen below: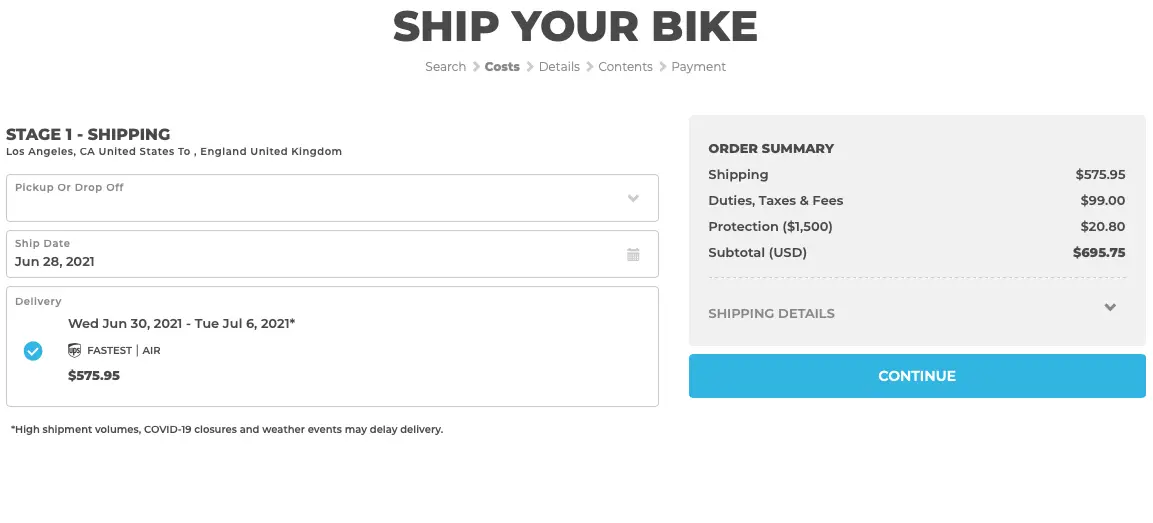 Unless you're into bike racing or touring, you might even decide that it isn't worth it to ship your bike that far. If you're moving overseas, and your e-bike is only worth $800-$1200, you might rather buy a brand new electric bike when you get to your new home.
If you're traveling, then you can almost certainly rent an e-bike for much cheaper at your destination. Plus, it can be fun to try out different bike models.
Conclusion
As you can see, costs to ship your e-bike can vary quite a bit. So, your best bet is to price out your different options well in advance of your need to ship!
I'd recommend finding the perfect box to fit your electric bike, getting an idea of how to pack it, and then deciding how to send it to where it needs to go.