As a Rad Power Bikes owner, I know firsthand how much fun my RadMini is to ride. But this isn't the only reason one of this brand's electric bikes might be perfect for you (and honestly, there is one reason why you may not want to buy one of their e-bikes… I'll tell you about this as well).
Overall, Rad Power Bikes is one of the top electric bike brands, as you'll find out in this article.
Here's a list of the 13 reasons to buy an electric bike from the Rad Power Bikes brand:
Largest e-bike brand in the USA
Wide selection of models (see Comparison chart)
Exclusively sells electric bikes
Sells direct to consumer
Affordable prices
High-quality e-bikes
Reliable components
Powerful batteries and motors
Value-added features 
Excellent customer ratings
Great support
Award-winning
Accessories to fit Rad Bikes
As this list shows, Rad Power Bikes offers high-quality and great value for your money… but you'll find out even more to help you make your electric bike buying decision.
In fact, there are reasons each Rad e-bike model is special that you won't know about just by viewing this list.
Continue reading and you'll discover which Rad Power Bikes e-bike is best for you in an easy-to-read side-by-side comparison chart of all of their e-bikes.
Plus, get your questions answered about this brand of electric bicycles!
1. Rad Power Bikes is the Largest E-Bike Brand in the USA
When I bought my Rad bike, I can't deny that one of the top reasons I chose it was because Rad Power Bikes had some of the most complete and trustworthy information online as compared to the majority of brands out there.
This is evidence of the fact that they are the largest e-bike manufacturer in the United States. Rad Power Bikes has been selling e-bikes since 2015, but the brand has really been around since 2007 when founder Mike Radenbaugh built his first electric bike to ride to high school. Subsequently, he worked for years converting regular bicycles into e-bikes for individual customers.
But in 2015, he and his former college roomie, Ty Collins, decided it was time to offer this new brand of pedal assist e-bikes to everyone. Thus their flagship model, the RadRover fat tire e-bike, was born!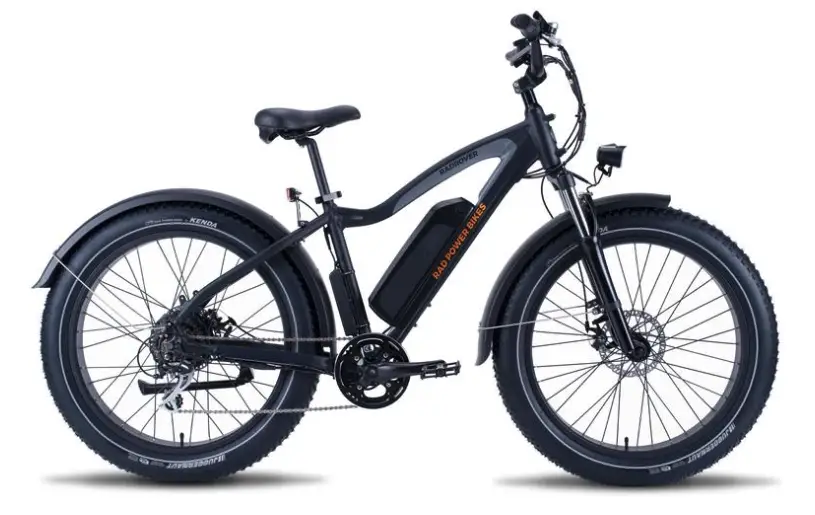 2. Rad Power Bikes Offers a Wide Selection (Compare E-Bike Models)
When you buy a Rad Power Bikes brand e-bike you'll get to choose from almost a dozen models with varying features that will make one of the best e-bikes for you. And you can buy one directly from Rad Power Bikes' official website.
Check out this model chart and you'll find step-thru and foldable frames, fat tires, cargo features, on-road and off-road capabilities, a variety of wheel sizes, and unique features.
Rad Power Bikes Models
Type of E-Bike
Motor
E-Bike Weight
Off-Road
Capable
Special Features
Approx Cost (subject to change)
RadRover 6 Plus
Fat Tire
750W
73.4 lb
Yes
4.0" tires
$2099
RadRover 6 Plus Step-Thru
Fat Tire/Step-Thru
750W
72.5 lb
Yes
4.0" tires
$2099
RadRunner 3 Plus
Utility
750W
74.3
Hard-packed
Integrated Rear Rack
$2299
RadRunner 2
Utility
750W
65 lb
Hard-packed
Integrated Rear Rack
$1499
RadCity 5 Plus
City
750W
65 lb
No
Integrated Rear Rack
$1999
RadCity 5 Plus Step-Thru
City/Step-Thru
750W
64 lb
No
Integrated Rear Rack
$1999
RadCity 4 High-Step
City
750W Direct Drive
64 lb
No
Integrated Rear Rack; Regenerative Braking
$1599
RadWagon 4
Cargo
750W
76.7 lb
Hard-packed
Integrated Rear Rack/Carries 2 kids or 2 child seats
$1999
RadExpand
Step-Thru
Fat Tire, Hybrid/Folding
750W
62.5 lb
Yes
Integrated Rear Rack; 5 lbs lighter; New in 2022
$1649
RadTrike
3-wheel trike
750W
82 lb
No
Fold-down handlebars; 415 lb load capacity; Up to 55+ mile range
$2499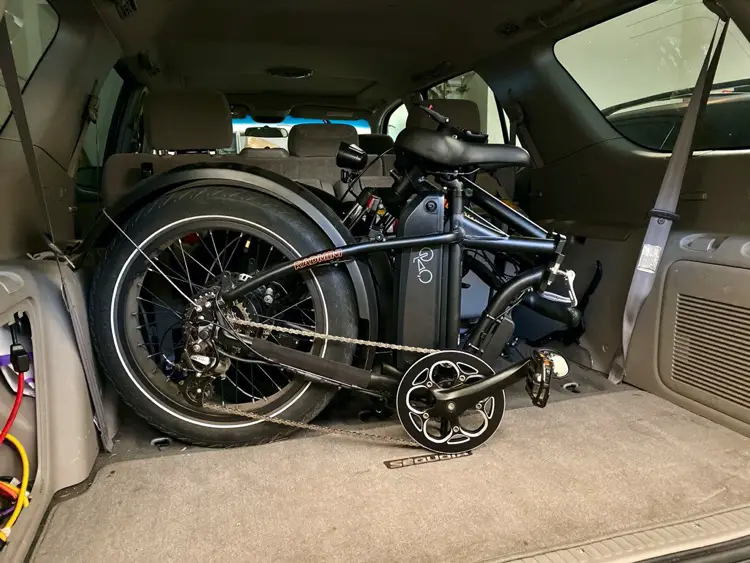 3. Rad Power Bikes Exclusively Sells Electric Bikes
Rad Power Bikes is a Seattle-based electric bike manufacturer that sells electric bikes exclusively, which further lends itself credibility and adds to its large market share. After all, the very first ones were built by just one person whose level of expertise has naturally grown over the years. 
And because they sell only electric bikes, you can be sure Rad Power Bikes is focused on making them perfect for the e-bike consumer, not just your traditional cyclist. So they're made for fun, utility, and recreation, as opposed to road racing bravado.
4. Sells Direct to Consumer
Here's a secret… because Rad Power Bikes sells directly to consumers, there aren't any middlemen or retailers to slow down the purchase or make changes to what you're getting. When you buy an e-bike, you'll get it shipped directly to your door from the bike warehouse.
Plus, selling directly to you saves you money… there's no retail shop to mark up the price!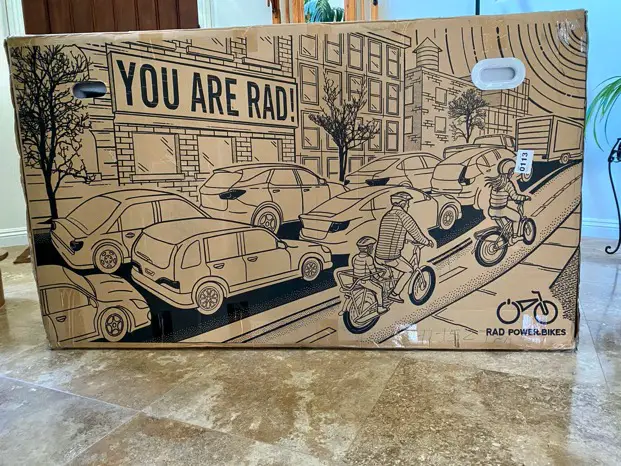 5. Rad Power Bikes' E-Bikes Are Affordable
This brings us to the fact that Rad Power Bikes are affordable for a much larger population than some of the other e-bike brands. Not only can you choose the type of e-bike that'll work best for you, but you don't have to worry that the one you pick is thousands of dollars more than another model.
In fact, the Rad Power Bikes lineup of e-bikes is priced between approximately $1000 and $2000! Many other pedal assist e-bike brands and shops have bikes varying in cost from $800-$13,000, which makes them very hard to compare. 
This variation leaves you wondering if you're getting a poor-quality bike if you buy a less expensive one… or if you need to spend more money to get a great e-bike.
6. Rad Power Bikes Offers High-Quality E-Bikes
Because Rad Power Bikes electric bikes all fall within the same general price range, you can expect the same quality among the choices. Thankfully, with an average price of around $1500, you're getting a high-quality e-bike that will last for several years.
You'll know you've gotten a high-quality e-bike the first time you sit on it… the frame feels solid, the tires provide good balance (and have puncture-resistant tubes), and none of the parts squeak. I noticed this immediately after putting the RadMini Folding Step-Thru together myself (with no bike-building experience mind you).
In fact, if you put your e-bike together yourself like I did (it comes about two-thirds assembled if you don't opt to have it built for you), you'll notice that all of the parts and materials are strong and that the electric bike is well-packed and protected.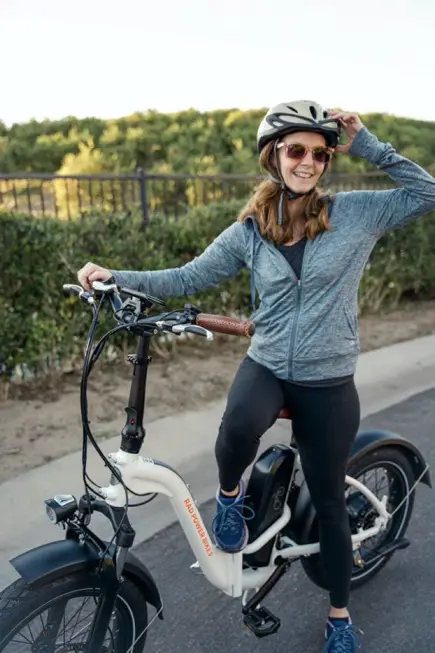 7. Uses Reliable Parts and Electric Components
There's another reason Rad Power Bikes have excellent quality at an affordable price… they use quality brand-name components like Shimano (gears), Kenda (tires), Tektro (mechanical disc brakes), and Samsung (batteries).
The use of high-quality parts is what puts them in the $1000 and up price range. If they didn't do this, their e-bikes would either need to be sold more cheaply or they'd be charging too much for poor quality.
Although you're not getting the premium parts you would if you spent a few thousand dollars more on an e-bike, you're getting reliability and assurance of overall good quality from Rad Power Bikes.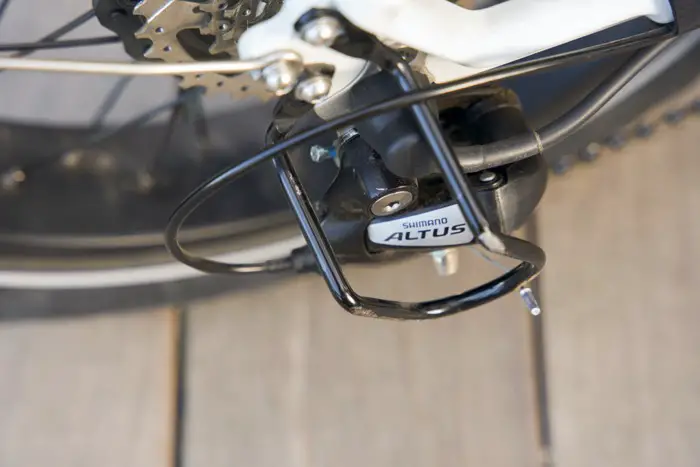 8. Every Bike Comes with a Powerful Motor and Battery
No matter what e-bike model you buy, you'll get an electric pedal assist, a powerful rear hub motor or direct drive motor, and a high-capacity battery! With only one model having less than a 750W motor (the single-speed RadMission has a 500W rear hub motor), you don't have to second-guess if the bike you choose is powerful enough. So there'll be no regrets!
If you shop outside the Rad Power Bikes brand, you'll discover a huge variety of motor wattage in different models, many of which are only 250W-500W. And frankly, if you're going to go electric, you want to make sure you end up with the power you're expecting.
As for a battery, you're getting one with enough capacity to give you a range of 20-45 miles (battery range depends on how you ride and recharge). Thus, it's unlikely you'll wish you had more, especially if you're a recreational rider.
9. Valuable Features Added
The price of a fast Rad Power Bike is again exceptional considering that they add cool (and necessary) features to each model, sometimes depending on their main purpose.
In addition to pedal assist, their electric bicycles have a throttle, extra-wide tires (or fat tires on the RadRover), and an LCD controller display, as well as mechanical or hydraulic disc brakes. Additionally, some models have seating for a second rider (RadRunner Plus) or cargo racks included (RadWagon).
10. Excellent Customer Ratings
Take a look at the brand's customer reviews and you'll quickly see that Rad Power Bikes models and equipment have customer reviews of almost 5 stars… out of nearly 30,000 reviews! And some individual models have thousands of reviews! Naturally, the bikes with fewer reviews tend to be newer models.
You can read them for hours! They're in order of date, which helps you see what the current trends are instead of reading old reviews on outdated equipment and e-bikes.
For example, all of their city/commuter bikes have a 4.6-star rating (out of 5.0).

11. Rad Power Bikes Provides Exceptional Support
Truly, the Rad Power Bikes support is exceptional. Not only did customers have good things to say about the help they received, but you can find the answer to just about any question in their Help Center.
The Help Center easily gives you information on topics including:
Before you buy
E-bike basics
Owners manual and tools
Troubleshooting

But you can also search for your topic as well. Before you start, use the pull-down tab to select your region so that you get the most direct advice: North America or Europe. 
Here's an example of my search for the correct tire pressure: I simply put "tires" in the search field and in one step found a listing ("Tire Performance") that answered my question about the best inflation (PSI) for my Rad bike tires (20-30 PSI is recommended, in case you have the same question).
And if you still can't find an answer, just click on "Contact Us" and submit a question. Or you can call them directly or use their chat feature at the bottom of the screen (a little orange button that says "help").
12. Rad Power Bikes is Award-Winning
Receiving awards hasn't been hard for this top brand. They've received numerous awards on various pedal assist models from Electric Bike Review and the notable Core 77 Design Awards. Further, Rad Power Bikes was named one of 2021's "Most Innovative Companies" in a review by Fast Company and one of the "Fastest Growing Companies" by Inc. Magazine.
13. Accessories to Fit Rad Bikes
From baskets, bags, and fenders to security features and cool electric bike upgrades, you can accessorize as desired, all the while protecting and enhancing your ride.
Plus, they always have a selection of optional equipment at a special discount.
Frequently Asked Questions About Rad Power Bikes
Are Rad Power Bikes Any Good?
I certainly think this article has answered this question in general. Rad Power e-bikes are better than good… they're great! Just read the customer reviews and try out an e-bike for 14 days without fully committing.
You get amazing value for the price and they use well-known brand components to build their electric bicycles, which is pretty impressive considering the cost is on the lower end of the price range.
Additionally, you know a brand is good when they continuously upgrade its models. For example, in the 6 years, they've been selling direct to customers, they have produced 6 versions of their RadRover flagship model. That's an upgrade once every year.
What Are the Disadvantages of Rad Power Bikes Brand E-Bikes?
Generally speaking, there's only one disadvantage… they're heavy! With the exception of one model, the RadMission (which weighs 48 lbs), every one of their e-bikes weighs between 64 lbs and 77 lbs (see each model's weight in the comparison chart above).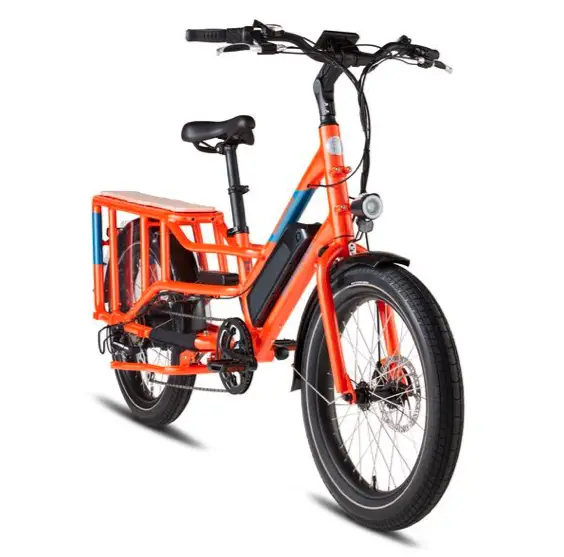 So, if you're a smaller person or not physically capable of lifting 64+ pounds, then you need to plan on either not lifting it at all (fine if you ride everywhere from home) or having a partner on hand to help you.
Of course, this weight issue isn't exclusive to the Rad Power Bikes brand. Electric bikes are generally 20-40 lbs heavier than traditional bicycles. And many e-bike brands struggle with making their bikes lighter while maintaining quality and a reasonable price.
How Fast Do Rad Power E-Bikes Go?
Every electric bike in the Class 2 Rad Power line-up can go up to 20 mph with pedal assist. The geared hub motor cuts off after you reach that speed. But you can end up riding well over 20 mph downhill because of the rolling force (or if you use your own pedal pumping energy). 
And since each e-bike comes with a throttle, you can actually get a burst of additional speed whenever you need it. This comes in super handy when starting off on an incline or at a stoplight with other traffic.
If you're like my husband, you can easily go 27-28 mph downhill. But, I prefer to not exceed 22-24 mph when riding down a steep hill.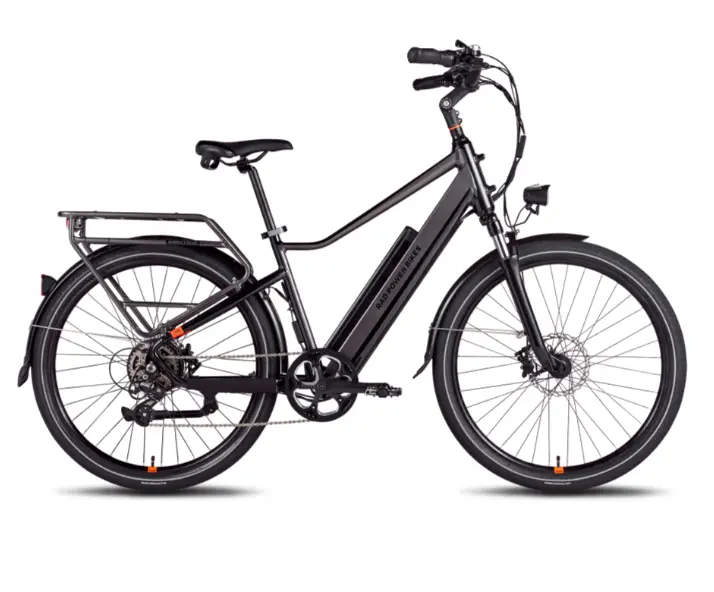 How Long Do Rad Power Bikes Last?
When well taken care of, the actual frame of the e-bike should last for many years, much longer than the battery which will generally last up to 5 years.
Since most Rad models use a 48V, 14 Ah lithium-ion battery and have a 30 Amp continuous BMS (Battery Management System), you can expect to get up to 800 full charges. 
Of course, most riders won't ride until the battery is completely depleted. So, realistically, you could get over 1600 bike trips if you typically recharge it from half full. This means that the battery may last close to 15 years if you ride it twice a week, only discharging the battery to half full each time.
Which Rad E-Bike is the Best?
The best Rad Power e-bike is the one that is best for you. Here are the things you should consider when choosing the best one:
Will you be commuting, riding with kids, or seeking exercise and/or recreation?
Do you want to ride on paved roads or off-road?
Do you need an e-bike that folds for storage or travel?
Are you a tall rider or short?
Do you prefer a step-thru frame, which makes it easier to get on and off, as well as gentler on the joints and muscles?
Do you intend to carry groceries, supplies, or pets with you?
Take Rad's e-bike fit quiz and you'll quickly narrow down the electric bicycles you should look at!
Do Rad Power Bikes Come Assembled?
This is a favorite question as you probably don't have any experience building bikes and want to know this before you buy one. You might read somewhere that it should take you about an hour, but plan on some extra time if you're new at this. Just taking the e-bike out of the box and unwrapping it requires a good deal of time.
Fortunately, the company shows you the level of difficulty for assembly on each electric bike they sell. Most of them fall somewhere in the middle between "Anyone can do it" and "Leave it to the pros", with a few models being harder or easier than the others.
But, what's great is that they give you the tools you need and have assembly videos and manual instructions for each e-bike. So, you might want to take a look at these before you decide whether to put it together yourself or have a professional do it.
This should give you an idea as to the difficulty, however…
My husband and I put together both our RadMini (now upgraded to the RadExpand) and RadMini Step-Thru, both of which fall almost exactly in the middle of the difficulty level. We had never put together a bike and worked at home on the computer, thus having few actual tool skills.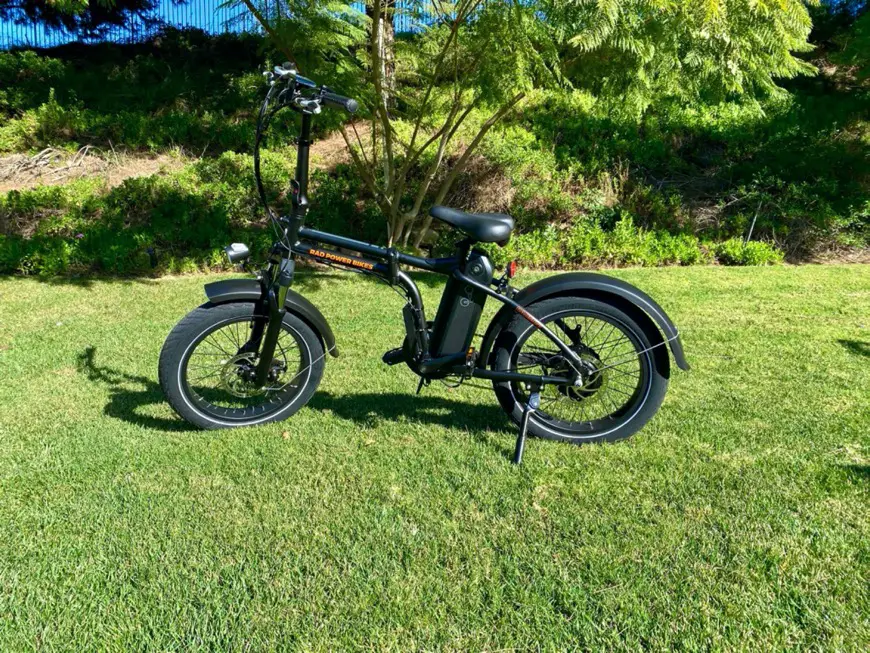 The first bike took us a few hours to assemble and we had to regularly pause the assembly video to figure out what to do next and how to do it. The second e-bike took around 2 hours. A professional would probably have had it done in 30-45 minutes!
However, we saved $200-$250 per e-bike by building it ourselves and gained a better understanding of the technical aspects of our Rad Power e-bikes along the way.
So, you decide!
Conclusion
There are probably hundreds of reasons to buy a Rad Power Bikes brand e-bike vs another, as it's truly a personalized experience. But I hope these 13 reasons why you should buy from this brand will help guide your e-bike buying decision.
Check out other popular brands of e-bikes in this list.