E-bikes have skyrocketed in popularity, with more unique and efficient models released every year. This increased demand has driven up the competition, with many new brands introducing electric bikes to the market. But how do competing top e-bike brands, such as Ride1Up and Rad Power Bikes, compare?
Overall, the Ride1Up brand offers better value if you want more torque and need a fast e-bike for your daily commute. However, Rad Power Bikes is a more established brand and a better choice if you need a hybrid or utility e-bike to take on road trips and uneven terrain. 
However, there are numerous features and benefits to compare, especially if you're uncertain as to how these brands differ. In this article, I'll compare Ride1Up and Rad Power Bikes' unique brand styles and functions in-depth, as well as consider some popular models and features from both. And I'll show you the benefits offered by each brand and any downsides of specific models.
By comparing two of the top e-bike brands in the market and their best models, I'll help you choose the electric bike that best suits your needs. I think you'll be surprised to discover how perfect one of these two brands will be for you over the other.
Read on to find the best e-bike for you and take a look at the comparison charts below!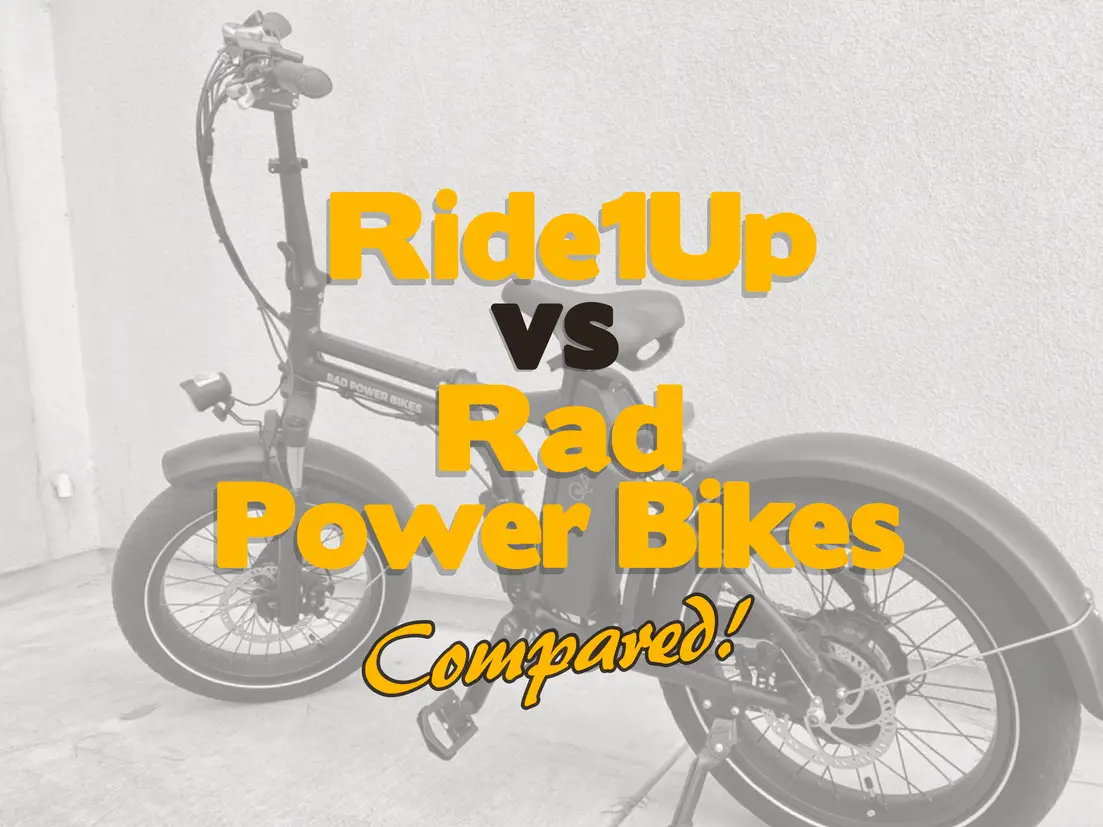 General Overview of Each E-Bike Brand
Before we stack individual models side by side for comparison, let's first dive into a brief overview of each brand. 
Both brands are based in the U.S. state of California and have production facilities worldwide. Rad Power Bikes is the largest and one of the best e-bike brands in the USA as well as North America. It's also the more established brand of the two. However, Ride1UP is not far off (learn more about where Ride1Up ebikes are made) and is growing quite rapidly to take advantage of the 300% increase in e-bike demand during the pandemic.
Since both electric bikes are designed in the United States, both are made with the requirements of the U.S. market in mind. However, each brand has different selling points. While Rad Power Bikes are targeted toward recreational use, Ride1Up has marketed its e-bikes as a practical daily transport solution. Hence, Rad Power Bikes are more rugged, while Ride1Up bikes are more urban and have a slender, road bike design. 
Both brands provide excellent quality, and both have similar prices, although Ride1Up has a lower starting price for their basic e-bike. Both brands also offer excellent customer support, although Rad Power Bikes has a more established after-sales service.
Now that we've established that both brands have a similar standing in terms of general factors, let's look closer at each brand to see what they offer, starting with Ride1Up.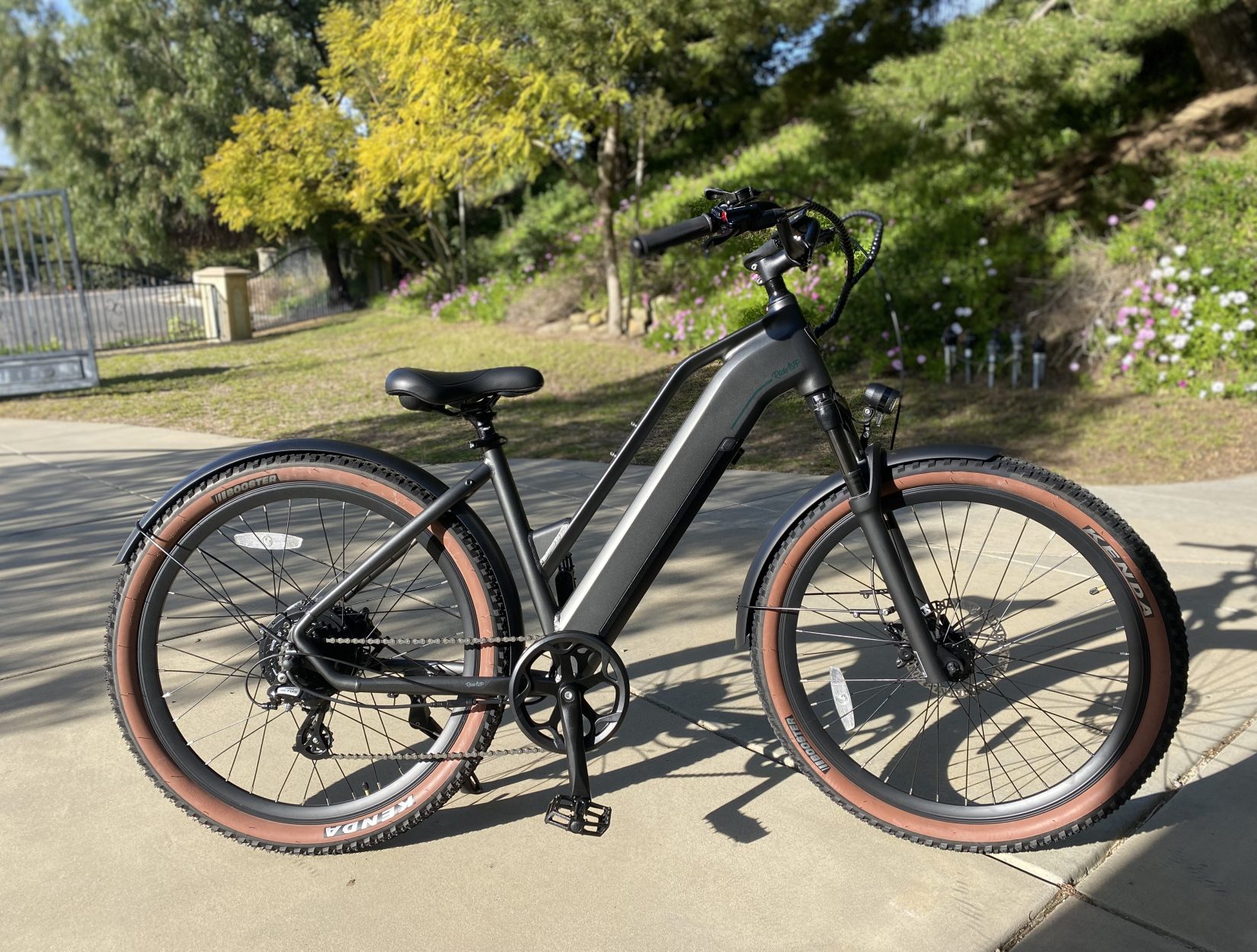 | | |
| --- | --- |
| Pros  | Cons  |
| More Affordable  | Rear Rack or Fenders May Be Optional |
| Lighter-Weight Frames  | Not Good For Off-Road Riding |
| Step-Through Frame Options | Less Established Customer Support  |
| Better Torque  | |
| Sleeker Designs | |
| Higher Pedal Assist Speed (28 mph vs 20 mph) | |
Pros and Cons of Ride1Up Brand E-Bikes
Ride1Up electric bicycles are generally designed for use as electric road bikes or commuter e-bikes. They're lightweight, have decent torque, and even offer a single-gear model for a short-distance daily commute. Ride1Up e-bikes are also more affordable than many, with the cheapest models starting at just over $1000!
The sleek design of these comfortable electric bikes also makes them ideal for daily inner-city commutes or paved road riding. These e-bikes are designed in the same pattern as regular bicycles and do a great job of blending in. One thing that really stands out is that the e-bike's battery is integrated into the bike's frame, giving it a smooth, slender design.
They may also pack a less powerful motor (350W to 750W depending on the model) than Rad Power Bikes of the same price range. The wheels are larger but not wider, and they don't carry any additional add-ons such as rear racks or fenders. If you need a utility e-bike, this may be a disadvantage, but if you need a commuter bike, you don't need fancy add-ons or wider tires. And, of course, you can always add a bike rack.
While it's important to remember that different models may have different specifications, many e-bikes will sacrifice utility for style and ease of use. In short, Ride1Up e-bikes do a great job of fitting their purpose and giving you the best bang for the buck.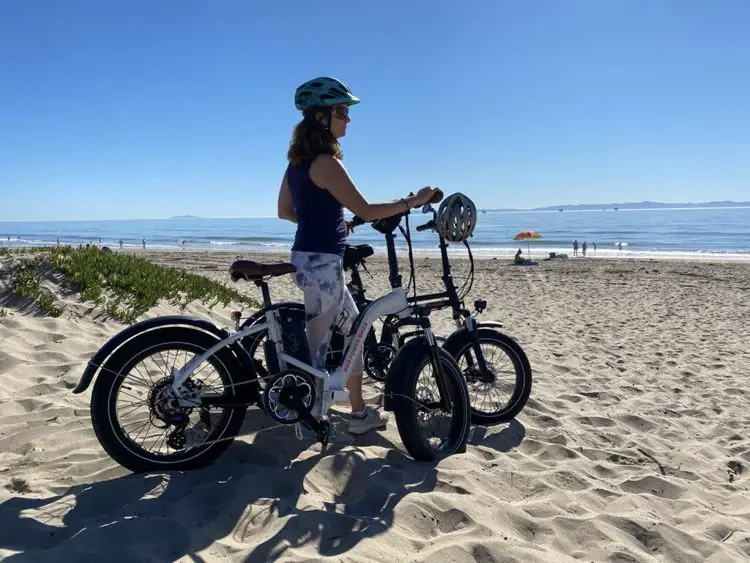 | | |
| --- | --- |
| Pros  | Cons  |
| Stronger Frame  | Slightly More Expensive |
| Step-Through Frame Options | Heavier Frame  |
| External Battery (easily removed to protect from theft) | External Battery (design isn't as sleek) |
| More Motor Power  | |
| More Add-ons Including Rear Racks and Fenders  | |
| Better After-Sales Service  | |
| Better Off-Road Performance  | |
Pros and Cons of Rad Power Bikes Brand E-Bikes
Rad Power Bikes is the most established and popular e-bike brand in the U.S. These electric bikes are known for their quality and durability, and the company's customer support network is known to be much more efficient than others. They also have a wider range of e-bikes to choose from. Although, as a result of all this, Rad Power Bikes models are more expensive than other e-bike brands. 
With Rad Power Bikes, you'll get every dollar's worth of value. These e-bikes are designed to provide additional features and are generally more powerful. Even though the battery isn't integrated into the frame, many RAD e-bikes have a chic look. Depending on the model, they can be used as either electric commuters, road, or utility bikes, as well as off-road e-bikes. 
Rad Power Bikes usually have thicker, wider tires, making them perfect for off-road terrain. Some models even include 3″-4″ fat tires. They also have excellent balance and decent torque, especially the bigger models. And Rad Power Bikes utilizes seamless gear transition technology, which provides a smooth riding experience. 
My own Rad step-thru e-bike is all of this and more. With its 3-inch tires, it's quite capable of moving from a paved trail or road to a dirt or light trail as needed. Plus, it's a folding e-bike that's also powerful and sporty… so I can take it anywhere!
If you're searching for hybrid or utility bikes with an outstanding variety of features, there's a perfect Rad Power Bike for you. While they may be a bit heavier and won't look as sleek as pure commuter e-bikes, they make up for it with additional benefits like integrated racks or fenders. In short, they're the ideal multi-purpose e-bike.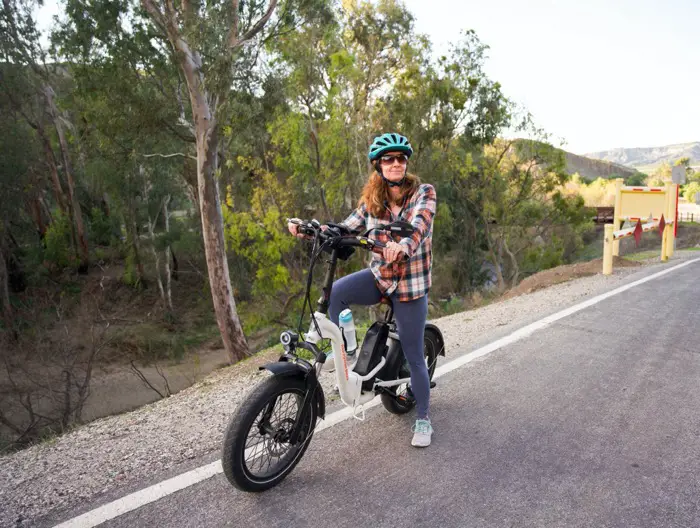 Ride1Up 700 Series vs. RadCity Plus: A Detailed Comparison 
Now that we know the basic factors that separate Rad e-bikes from Ride1Up e-bikes, let's compare two of the most popular ones: the RadCity Plus and Ride1Up 700 Series. Comparing these two electric bikes is appropriate since they are both built for urban road riding and are the most similar.
We'll look at the basics such as motor capacity, price, weight, design, and battery specs. We'll also dive deeper into the comparison by looking at display systems, braking efficiency, and additional accessories.
Motor Power
Ride1Up 700 Series: 750w capacity with 60 nm torque 
RadCity Plus: 750w power with 40 nm torque 
While both motors advertise the same power capacity, it's essential to look at the range and torque and understand how this relates to the bike's performance. 
The 700 Series has more power, and the maximum peak motor capacity is 800W. With this, it can reach maximum speeds of 28 mph (45.06 kph), making it a Class 3 electric bike. However, you'll hardly be using the motor at full capacity. In most cases, it will have a sustaining power of 500W. 
On the other hand, the RadCity has a motor wattage of 750W and a maximum speed of only 20 mph (32.18 kph), making it a Class 2 e-bike. Since the sustained capacity of 750W is higher than the 700 Series, it may be better for long-distance drives. However, it just may be the fastest Rad Bike due to its tall wheels and narrow tires!
However, the motor performance advantage goes to Ride1Up in this case, but only because of much higher torque. If you need an affordable e-bike with a high-performance motor, the Ride1Up 700 series is a great option.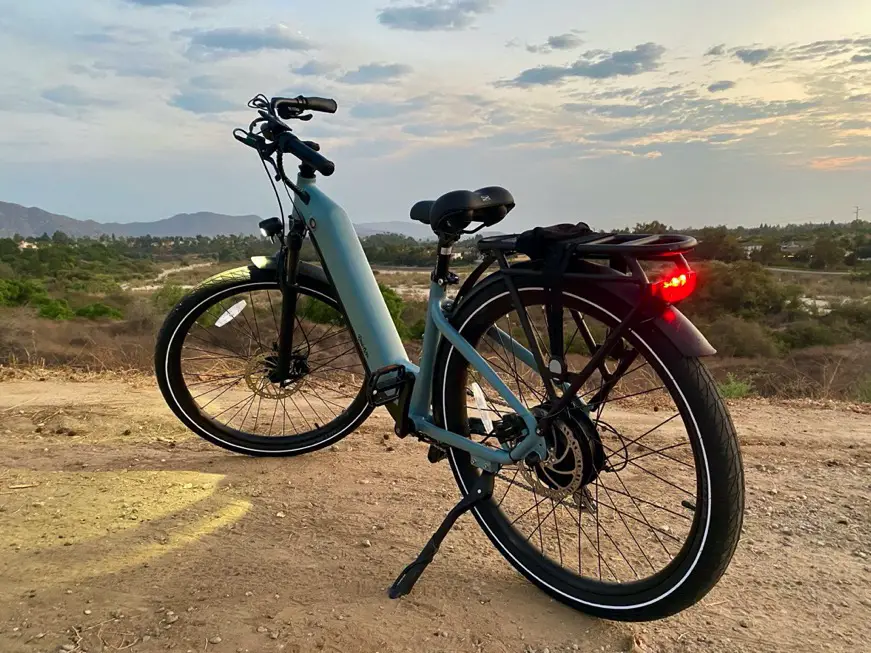 Battery Performance 
Ride 1 Up 700 Series: 48V, 14Ah with 672Wh (Watt-hours) battery charging 
RadCity Plus: 48V, 14Ah with 672Wh charging
Both e-bikes have a lithium-ion battery and the same battery capacity. However, the RadCity has an edge with over 800 charge cycles and thus may have a longer battery life than the 700 Series. It's a negligible difference but still something to consider. 
The range for both e-bikes varies from around 30 miles to 50 miles, depending on how much power assistance you use while riding (both pedal assist and throttle).
Weight and Frame Design 
Ride 1Up 700 Series: 62lbs (28.12 kg) with both step-through and standard frames. 
RadCity Plus: 64 lbs (29.02 kg) with both step-thru and standard frames. 
The 700 Series is 2 lbs (0.9 kg) lighter than the RadCity, which is negligible as both are on the higher end of the e-bike weight range. Both offer slender frames and have an aesthetically pleasing design. However, the RadCity has the battery attached to the frame externally. In contrast, the 700 Series has it integrated into the frame, giving it the edge in design. 
Additional Accessories 
Ride 1Up 700 Series: Integrated Rack/Fenders and LED headlight and taillight; LCD screen (adjustable speed color display); heavy-duty kickstand
RadCity Plus (see the RadCity 5 plus review): Integrated Rack/Fenders and headlight with brake light; backlit LCD display; heavy-duty aluminum kickstand
Both e-bikes include integrated racks and fenders. The RadCity also comes with a backlit LCD with unique control options. For example, you can manually overrun the top speed limit on this e-bike to reach max speed. So, overall, the RadCity electric bike has the edge when it comes to accessories (but keep in mind that you are paying for these within the higher purchase price).
Pricing
Ride1Up 700 Series: $1695
Rad Power Bikes RadCity Plus: $1999
As you can see, both e-bike models are around the same price range. However, you can also get the less expensive 500 Series for around $300 dollars less without rack and fenders, as compared to the 700 Series, which is why the Ride1Up brand is considered a more affordable option. 
Further, you may be able to get an earlier RadCity model starting at around $1599.
Ride1Up vs. Rad Power Bikes: Models Compared
There are two major differences between all Rad Bike and Ride1Up models:
All Ride1Up models are Class 3 (which means the electric motor will assist you until you reach 28mph) while all Rad Bikes are Class 2 (which means motor power will assist you until you reach 20mph)

The former brand offers a thumb throttle while the latter offers a twist throttle
To see how some of the other unique models compare between brands, take a look at the following charts:
Brand & Model
Motor
Battery
Drivetrain
Brakes
Weight
Special Features
Price
Rad Power Bikes 3-Wheel
RadTrike
750W geared hub; 50nm torque
48V 10 Ah (480 Wh)
Single-speed chain drive
Mechanical
Disc Brake (Front) + rear coaster
82 lb
3-wheel stability; fold-down handlebars; step-thru design
$2499
Ride1Up Roadster V2
350W geared hub; 40nm of torque
36V 7Ah (252 Wh)
Single-speed belt drive
Tektro Mechanical
Disc Brakes
32 lb
Pedal assistance to 25mph; integrated battery; belt drive
$1095
Rad Power Bikes RadTrike or Ride1Up Roadster V2?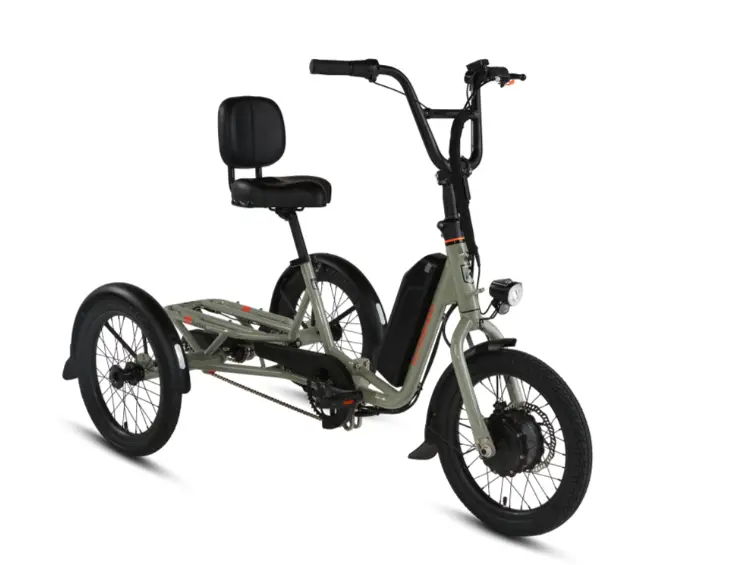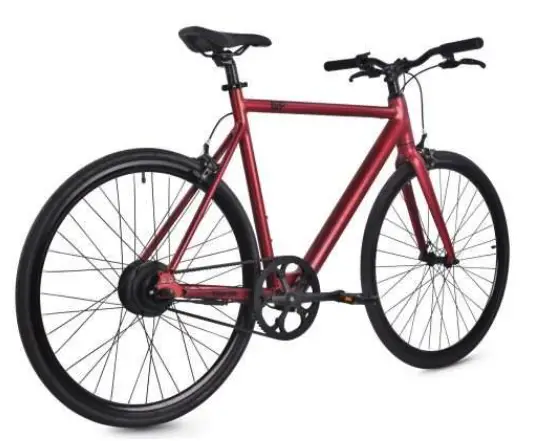 Brand & Model
Motor
Battery
Drivetrain
Brakes
Weight
Special Features
Price
Rad Power Bikes
RadRover Plus

750W brushless geared hub; 50nm torque
48V 14Ah (672Wh)
7-speed chain drive
Hydraulic
Disc Brakes
73lb
12-magnet cadence sensor; twist throttle; semi-integrated battery
$1999
Ride1Up
LMT'D
750W geared hub; 100nm of torque
48V 14Ah (672Wh)
8-speed chain drive
4-piston hydraulic disc brakes
53lb
100nm of torque; pedal assist to 28mph; 27.5″ X 2.4″ tires
$1795
Rad Power Bikes RadRover Plus vs Ride1Up LMT'D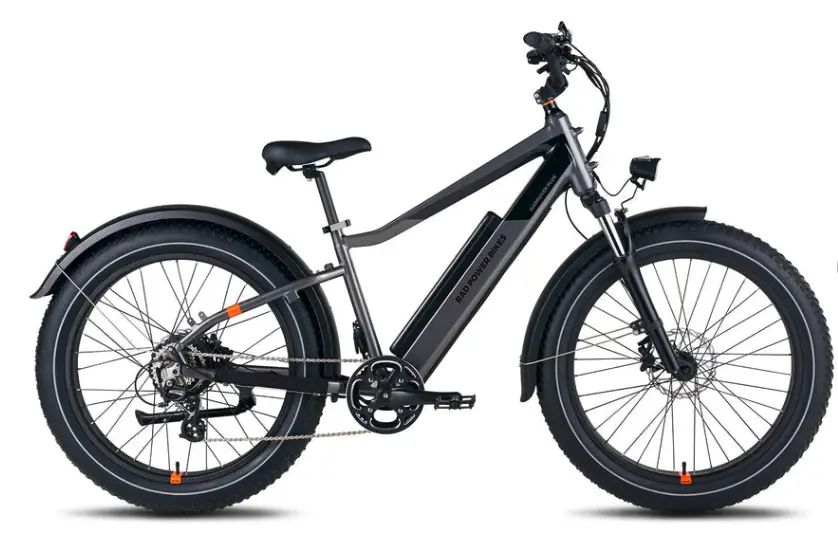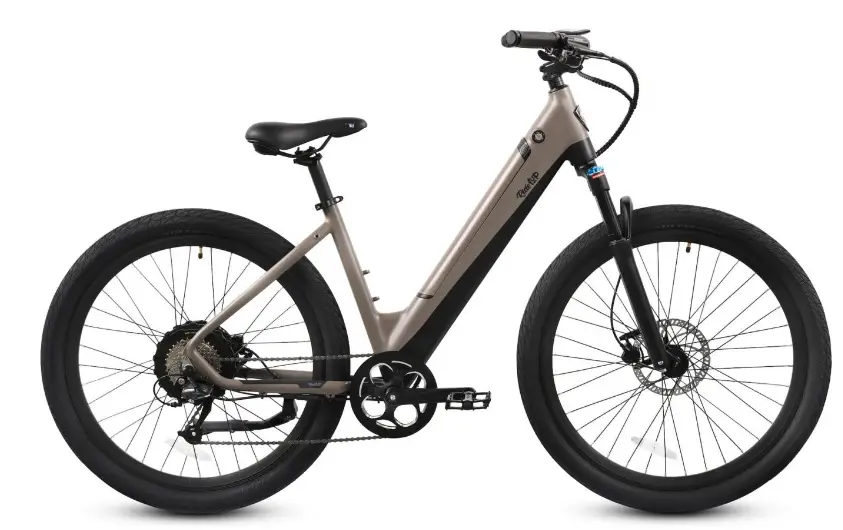 Finally, here are some reasons to check out other e-bikes from each brand:
Additional Ride1Up Models
Core 5– A simple e-bike with all of the essentials, built to "replace and outlast your car" (get our detailed Core-5 review right here)
Turris– A Ride1Up upgrade that's bound to be one of the most popular models designed for riding long distances
Cafe Cruiser– Cargo-style e-bike that carries up to 130 lbs on its integrated rear rack
Prodigy– Built to impress, this electric bike will take your riding to a new level with unbeatable value
Revv1– A cool moped-style electric bike with a rugged design made for thrills!
Additional Rad Power Bikes Models
RadRunner– With a simple seat adjustment, this bike can be used like a traditional bike, cargo bike, or utility e-bike that carries a second rider on the back
RadWagon– Just like it sounds, it's built to bring your kids along for the ride
RadExpand– All new in 2022 and the most affordable model that mimics the RadMini but is lighter and has fatter tires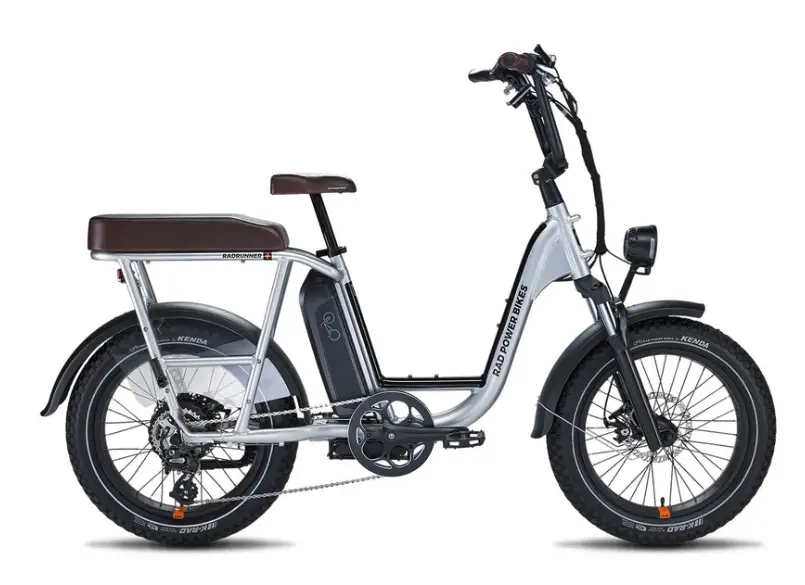 Rad Power Bikes vs Ride1Up E-Bikes: Final Thoughts 
Both Rad Power Bikes and Ride1Up brands have some of the most popular e-bikes available, both due to their quality and affordable prices. Still, when you compare the specs of similarly priced electric bicycles in-depth, you'll find noticeable differences. 
Rad Power Bikes offers e-bikes with more accessories, wider tires, and more stability, making excellent utility and off-road bikes. Ride1Up offers bikes with a sleek design, more torque, and a lightweight frame, making them the perfect electric bike for commuting to college classes or work, or just to get around town.
In summary, if you want to use your e-bike for more than an inner-city commute, go for Rad Power Bikes. Otherwise, Ride 1Up electric bicycles are an excellent choice. 
You might also like to compare these brands: