The number of electric bike brands is rapidly expanding, as is the number of e-bike models. No longer is there just an electric road bike or a mountain bike. Rather, there are e-bikes that are purposefully designed with the best features of cruisers, commuter bikes, off-road bikes, folding bikes, fat-tire bikes, mountain bikes, and so on. These hybrid e-bikes will allow you to get the most out of your e-biking experience.
The best hybrid electric bikes typically blend the most desired characteristics of a more upright riding position, wide tires, and a comfortable frame and saddle. They may also fold, carry cargo, or feature a step-through frame. The average price for an entry-level hybrid e-bike is around $1500.
But you might wonder if you can get a great electric hybrid bike for an affordable price from top-selling brands?
Below, I've put together a list of 16 of the best high-quality, entry-level hybrid e-bikes from dozens of models. They're all priced at under $2000 from well-known brands and have above-average (and most often excellent) reviews.
Take a look at the chart to find the hybrid models listed from least expensive to most expensive. I've posted the list price but you may find special offers when you take a closer look.
After you've browsed the list, continue reading to discover what makes each electric hybrid the best!
Below, discover the important details about each hybrid e-bike and what makes it a worthwhile entry-level e-bike. You'll find an incredible mix of features and specifications, such as electric folding bikes with fat tires, step-through cargo e-bikes, and off-road e-bikes that are just as much fun on the pavement. Check them out!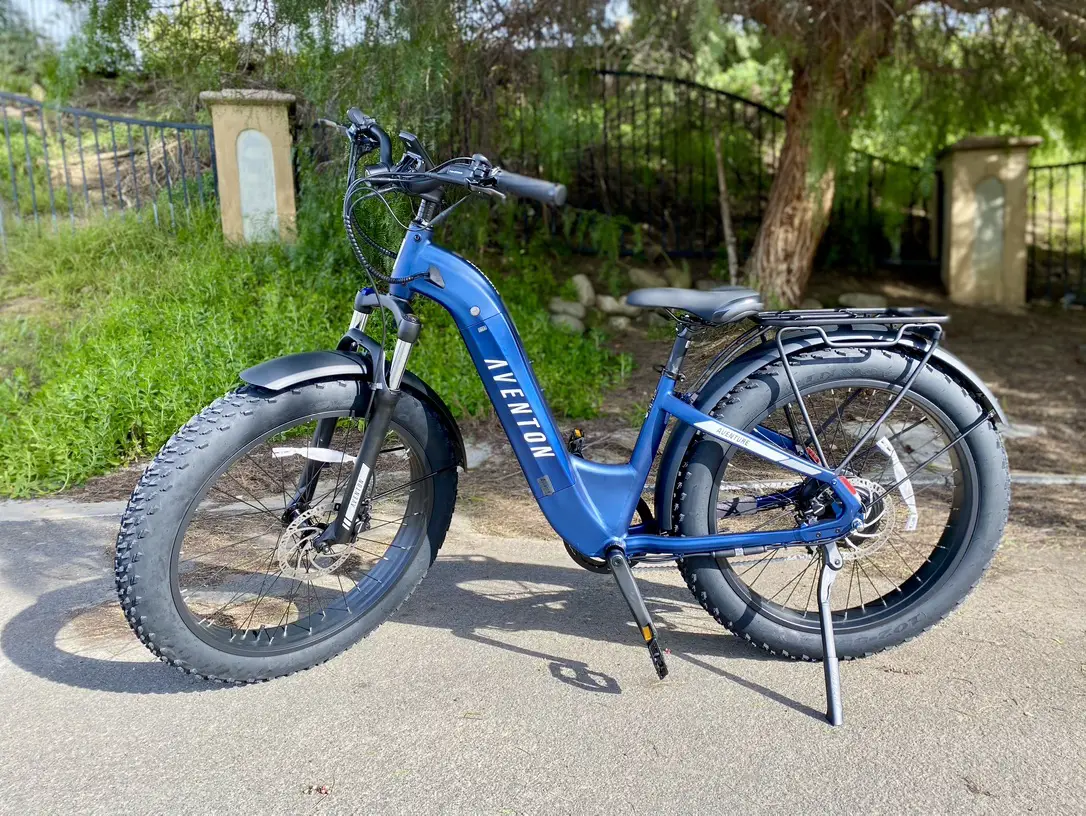 1. Lectric XP Lite
The Lectric XP Lite model is brand new in 2022 and makes the top pick for the best budget hybrid e-bike, given its substantial value for the price. Whether or not this will be your first electric bike, or you just want a solid bike for your money, the XP Lite is really just a "lighter" version of the popular Lectric XP 2.0.
Notable Features:
Powerful 48V battery
275 lbs load capacity
Folds up small with 2.4″ tires
Lightweight
Long battery range
Besides having features that really give this best-priced hybrid bike a leg up, the XP Lite also has everything else you need. It comes with a 300W (720W peak) rear hub motor, mechanical disc brakes, 5 levels of pedal assist, and a twist throttle. The narrow tires make it easy to maneuver lighter and super compact when folded up.
All of these features make this a great e-bike for a commuter or anyone who wants to throw it in the back of the car and go! Plus, choose from 4 colors.
Take a look at the XP Lite on the Lectric website.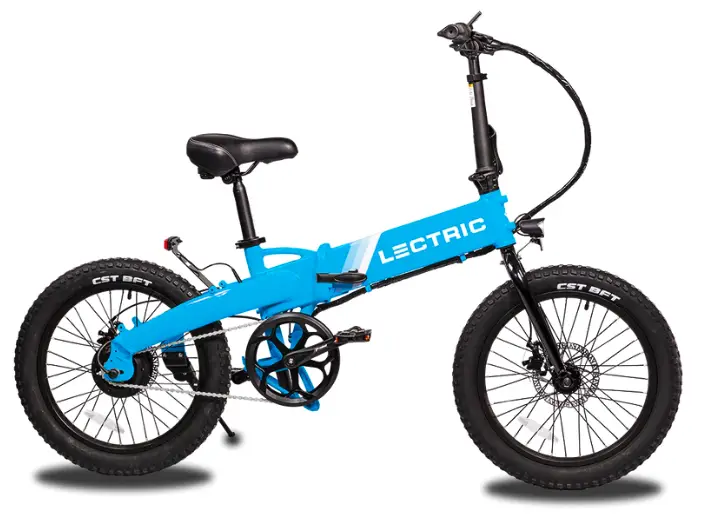 2. Nakto City Cargo Pony
The Nakto Pony is a super affordable single-speed city/cargo e-bike, making it one of the least expensive hybrids. With 3 pedal assist levels, traveling at a speed of up to 18mph, you'll get where you need to go and have fun doing it.
Notable Features:
20″ x 1.75″ wheels
Step-thru model
Integrated rack
Padded saddle
Hi-Rise handlebar
Even though this is a discount e-bike, the low-step frame and comfortable upright riding position make it one of the hybrid e-bikes to consider. With throttle and integrated rear rack, it offers value for the price and makes for a good first e-bike.
You'll find this low-cost hybrid at BikeBerry...check for discounts.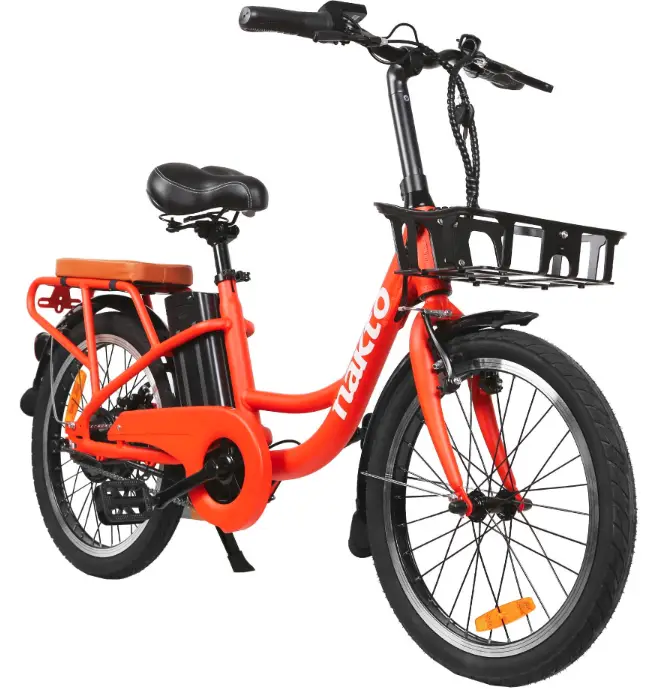 3. Lectric XP 3.0
The popular Lectric XP has thousands of excellent reviews among its regular and step-thru models… and it truly is one of the best hybrid e-bikes, even though the price is entry-level. There's no doubt that the affordable price is the first to catch your eye. But, when you look further, you'll find that the price you pay is an incredible value for the powerful, long-range e-bike you get.
Notable Features:
Lectric's flagship, award-winning e-bike
Folding
48V 10.4Ah battery with 45+ mile range
NEW Lectric Pedal Assist Wattage Regulation (improves performance)
Option to carry a passenger up to 150 lbs!
Hydraulic brakes (unusual for an e-bike at this price)
Fenders, integrated headlight and taillight, and a rear rack
Check out my detailed Lectric XP 3 review here!
With 5 variable pedal assist levels, throttle, 3″ fat tires (with Slime installed to protect from punctures), and front fork suspension, the XP can handle off-road terrain. And the fact that it's a folding bike means that you'll be able to get it to the trailhead or local path easily.
The only real issue is that the XP 3.0 weighs 18 lbs more than the Lite version detailed above. But this isn't surprising given the 1000W peak rear hub motor, higher payload weight limit, powerful battery, and wider 3″ fat tires. Bigger batteries, tires, and motors simply weigh more.
You might also get a comfort package for FREE! Or add a long-range battery or optional cargo package (includes a small and large basket as well as a front rack).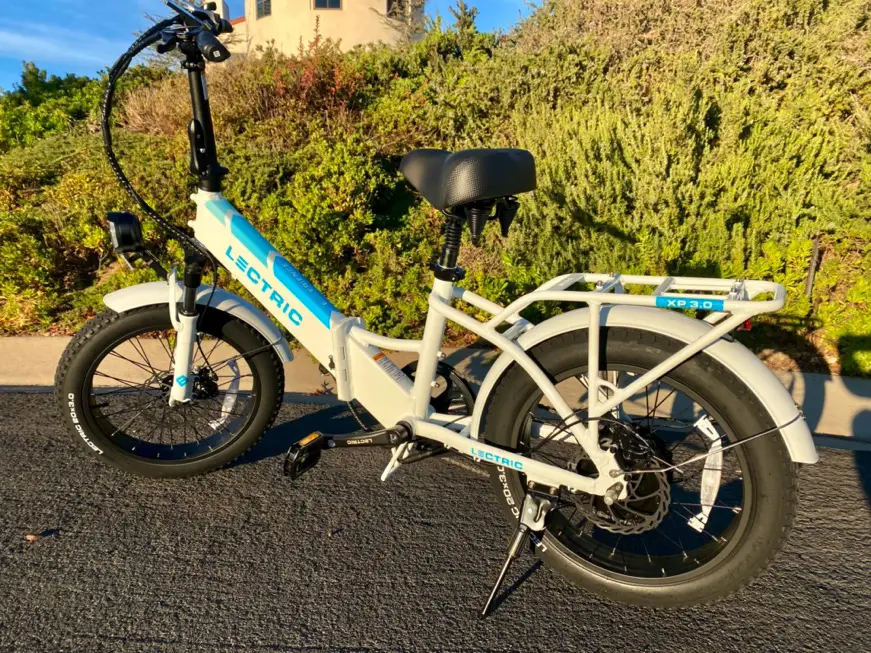 4. Buzz Bikes Centris
Even with its low price, the Centris from Buzz Bikes offers benefits that other hybrid fat bikes don't, making it the best hybrid e-bike for the value.
Notable Features:
Front fork suspension
Folding bike
Front and rear rack included
2-year warranty
5 pedal assist levels
The Centris also has all of the features you need to have a great ride whether it's for your daily commute, picking up supplies at the store, or just for recreation. It has a 500W hub motor, 20″ x 4″ tires, a 48-volt battery, 6 speeds, and mechanical disc brakes.
Plus, it folds! So you can take it with you n the rear of your car, bus, or train.
Take a look at the Centris on Buzz Bikes website!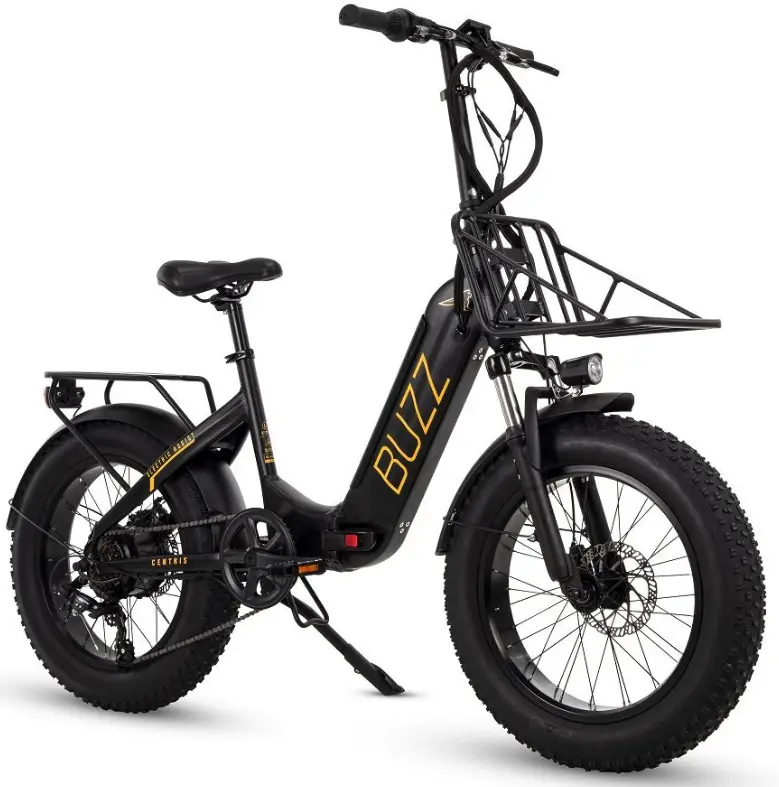 5. Ecotric Rocket Fat Tire
The Ecotric Rocket has one thing an e-bike of this price range doesn't often have…. a front suspension. This gives it the ability to traverse sand and snow comfortably, at a max speed of 23mph (20mph motor-assisted).
Notable Features:
36V 12.5Ah lithium battery
7-speed gears
Front suspension
Hydraulic disc brakes
26 x 4″ fat tires
If you want an affordable electric bike that can get through a variety of weather conditions, the Ecotric Rocket may be the one for you. There's no doubt that the suspension and fat tires are a trade-off for battery capacity, however. This isn't a problem if getting an entry-level hybrid e-bike that traverses tough terrain (at a price this low) is a good trade-off for range.
You can still enjoy a throttle and enough power to have a great time riding!
Take a closer look at the Ecotric Rocket at BikeBerry.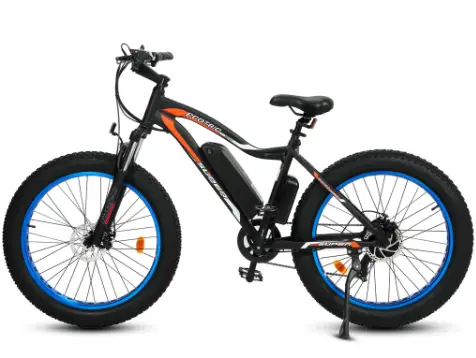 6. Rad Power Bikes RadRunner 2
The second-generation RadRunner 2 is a solid entry-level hybrid thanks to its price and general popularity. Not only is it a capable electric commuter bike, but it's a comfortable bike for both urban riding and gravel riding… and it lets you add a passenger right onto the back seat.
Notable Features:
Weight limit of 300lbs
Thick saddle
672 Wh battery
4-level pedal assist + twist throttle
LED headlight and integrated taillight
The RadRunner has plenty of power, range, and payload capacity to make this one of the best electric hybrid bikes for pretty much any riding style or utility need. Yet, it's still affordable.
Plus, there are lots of accessories you can add to make this moped-style hybrid e-bike perfect for you. Or if you want to kick it up a notch, you can spend $400 more and go straight for the fully loaded RadRunner Plus.
Get the popular RadRunner from Rad Power Bikes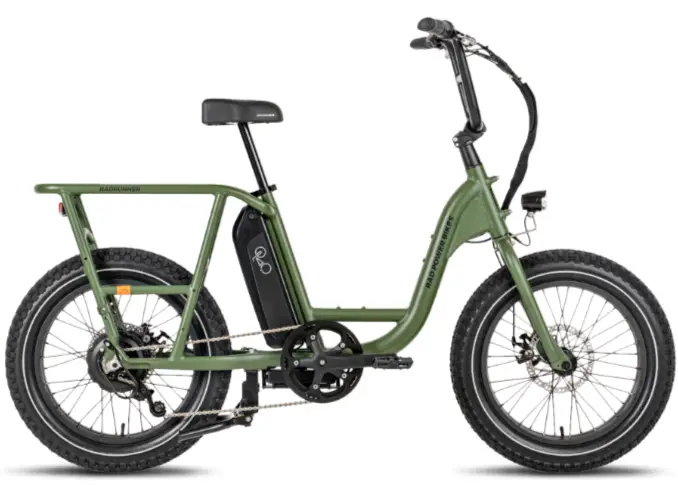 7. Ride1UP Cafe Cruiser
As one of the newest Ride1Up models, the Cafe Cruiser stands out in its line-up as the true comfort cruiser with its plush padded seat, upright position, and 26″ x 3″ tires with advanced traction. The list of notable features below justifies why this is a great electric hybrid, and possibly the best electric hybrid when it comes to versatility.
Notable Features:
28mph top speed
60Nm torque
"Comfort" frame geometry
8-speed shifters
Includes 130lbs rated cargo rack
Integrated battery
So, it goes beyond an individual bike cruiser with its 300lb weight limit and rear rack that can hold a child bike seat and passenger up to 130lbs of combined weight. Plus, it's a hybrid electric bike that has enough power and range to take you up to 50 miles in comfort, on bike paths or light trails.
You can choose a step-through or step-over frame in one of three colors. And it helps that it sits right at the average price for an entry-level hybrid e-bike (you can add the passenger kit for an additional charge).
Check out Ride1Up's Cafe Cruiser!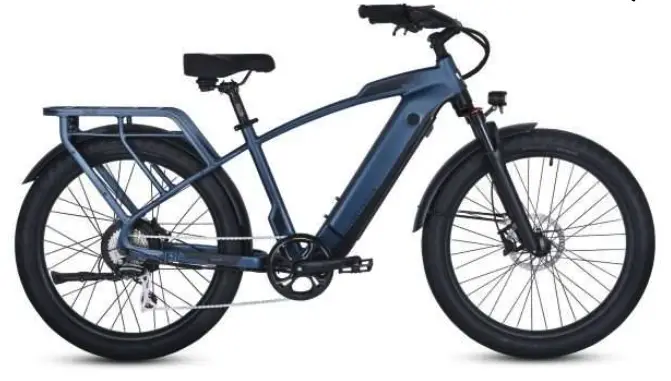 8. Rad Power Bikes RadExpand 5
Weighing less than its predecessor, the RadMini, it still has the power and range, payload capacity, easy portability, and affordability. Plus, they've added a few new features and benefits.
Notable Features:
750W hub motor
48V 14Ah lithium battery
Step-thru frame
4.0″ fat tire e-bike
Integrated taillight
The RadExpand enters the territory of hybrid e-bikes thanks to the ability to fold up its step-thru frame, all while boasting 20″ x 4.0″ tires that can travel over variable terrain. It also has full upright seating and a twist grip throttle to power up those steep hills, if the 750W motor and pedal assist doesn't take care of it on their own.
Plus, Rad Power Bikes makes it easy to customize your bike (for an additional charge) for greater comfort, adventure, or daily commutes.
Learn more about the RadExpand at the Rad Power Bikes website!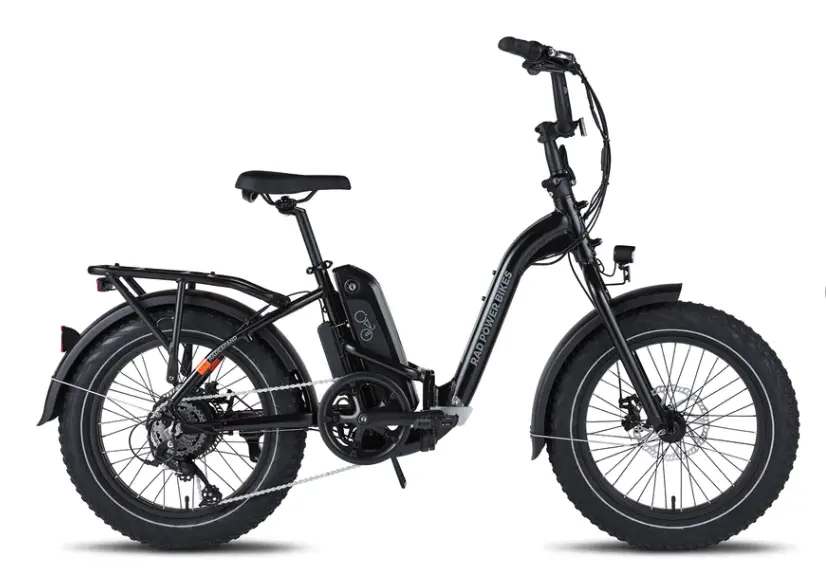 9. Juiced Bikes RipRacer
The RipRacer is labeled "fun-sized", not because it's an e-bike for kids, but because the 20″ x 4″ knobby fat tires offer a smooth ride over variable terrain and the bike itself has quite a bit of power for a single-speed electric hybrid bike. However, it does accommodate riders at a height of only 5′.
Notable Features:
52V 15.6Ah lithium-ion battery with water-proofing
Pedal assist speeds up to 28mph (Class 3 model)
80Nm max torque
Advanced LCD Matrix Display
Integrated AirTag/SmartTag for security
Reading the above list of features, you're sure to notice that the RipRacer is full of power and technology. But it also has plenty of great features such as hydraulic disc brakes, integrated lights, a half-length twist throttle, a custom-designed seat with a handle, and a bike bell.
See the RipRacer on the Juiced Bikes website.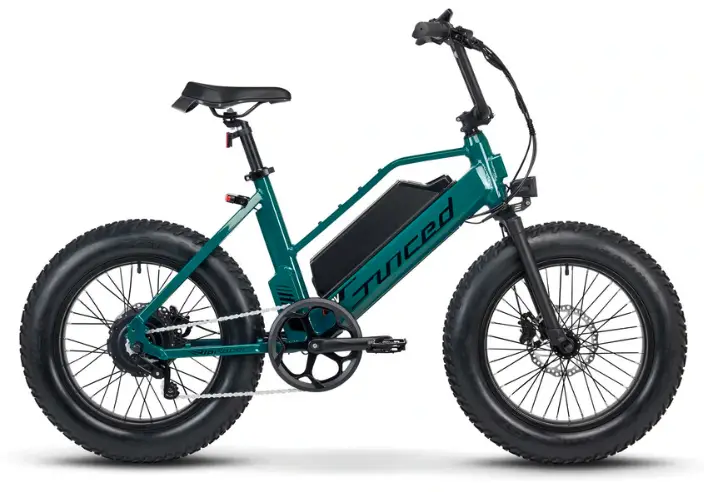 10. KBO Ranger Cargo Bike
Without a doubt, the KBO Ranger lives by its name. With a range of over 60 miles, this hybrid cargo e-bike with an upright position can carry up to 400 lbs of rider /cargo combined while sustaining a motor power of 750W. Even with a full load, you'll be climbing hills in no time.
Notable Features:
840Wh (Watt-hour) lithium-ion battery
High Range of 60+ miles
Center kickstand with 2 sides
Comes with full fenders, a large rear rack, and running boards
LCD Backlit display
There's no doubt that, for the price, you get a lot of value. Just the powerful battery alone goes above and beyond what other e-bike brands might offer. The 20″ tires have a 3″ width to make the ride comfortable and stable, especially with extra cargo.
Like most others in its price category, the Ranger has 7 speeds, 5 levels of pedal assist, throttle, mechanical disc brakes, and integrated lights. The only evident downside is the 77lb weight.
Check out the KBO Ranger on their website.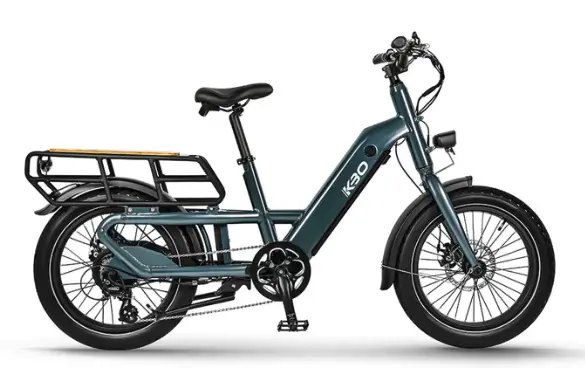 11. Cyrusher XF650
Besides its cool name, the Cryrusher XF650 shows off with bright-colored rims and bike designs. But it's not just fun to look at, it has some decent power with a 1000W peak motor (750W sustained) and 80 Nm of torque.
Notable Features:
Front suspension with 80mm travel
Weight limit of 330lbs
"Mountain" fat tires
21-speed
Hydraulic disc brakes
On/off button on twist throttle
Five motor assist speed settings keep you at your desired top speed, while the battery range gives you up to 50 miles and approximately 800 full charges. Further, the front fork suspension will get you over rough terrain with style and comfort.
The fully customizable LCD display is easy to read at 3.7″ tall. Rider height is 5'3″-6'3″.
See the Cyrusher XF650 on their website.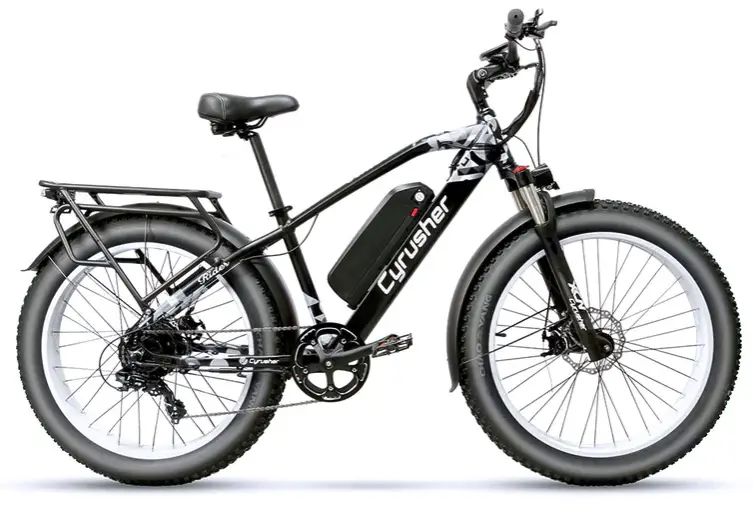 12. Aventon Sinch
Surprisingly fast and capable, the Aventon Sinch folding e-bike has a peak motor capacity of 750W (500W sustained) and has a weight limit of up to 300lbs. It's capable, comfortable, and portable, so it can fit in your RV, trunk of your car, or in a small space at home, school, or work (and you won't need a car bike rack).
Notable Features:
Lockable front suspension
20″ x 4″ fat tires
Backlit LCD controller display
Foldable with quick-release clamps
Additionally, this foldable hybrid has 7 speeds, 5 levels of pedal assistance, on-demand throttle (no pedal assist required), mechanical disc brakes, and suspension forks. So, this e-bike goes way above your typical compact e-bike. You can ride up to 20mph with motor power and 40 miles on average, give or take depending on electricity usage, rider and cargo weight, and road conditions.
And it's certainly sleek-looking with an integrated battery and two-tone color options.
Take a closer look at the Aventon Sinch.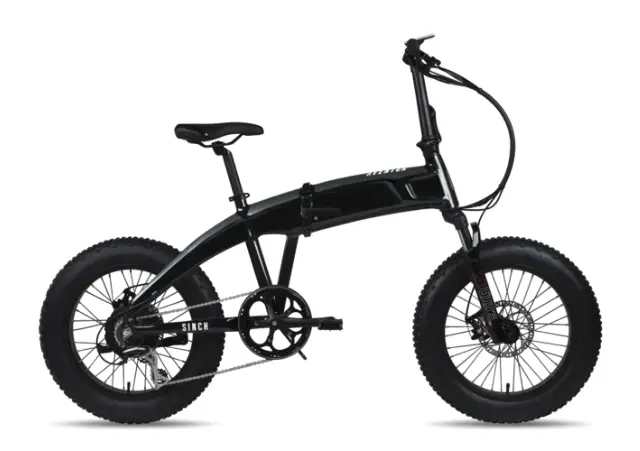 13. Addmotor Motan M-50 Fat Tire
The M-50 is a powerful, long-range fat tire e-bike. It sits low to the ground and is easy to get on and off thanks to the low step. It's a true hybrid e-bike, offering comfort cruiser features with 4.0″ wide tires!
Notable Features:
Spring suspension fork with 80mm Travel
Cruiser style handlebars that adjust for comfort
Wide, comfortable saddle
Integrated headlight and taillight
Sold with a rear rack and full fenders
A 750W brushless hub motor, combined with a 48V 16Ah battery, twist throttle, 5 levels of pedal assist, and 7-speed derailleur give this electric bike the power to go just about anywhere. With 280lbs of load capacity, you can add overnight bike camping gear to take with you while touring, or picnic supplies for a day in the park.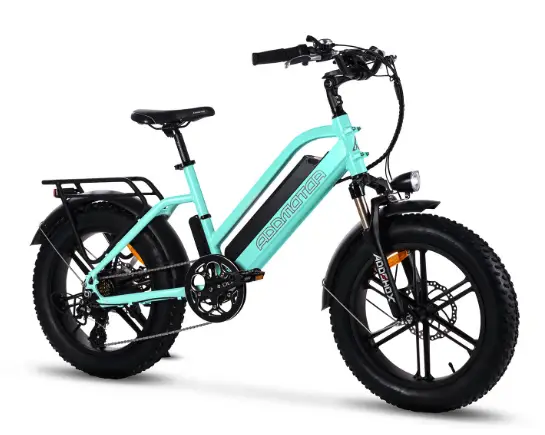 14. Juiced Bikes RipCurrent
Some of the most powerful electric bicycles come from the Juiced Bikes brand. So, it's surprising to find an entry-level hybrid bike as the RipCurrent offered for only $1999. Given the 52V, 15 Ah battery, 750W motor, and 9-speed transmission alone, you've just discovered one of the best all-terrain fat tire e-bikes that'll let you sit comfortably upright on your adventures.
Notable Features:
9-speed transmission
Hydraulic disc brakes
Torque sensor
52V battery
Coil suspension fork
This kind of power comes with a 750W rear hub, thumb throttle, and 28mph max speed. Not only will it take you up steep hills and over uneven terrain, but it can also take you farther than 45 miles, depending on your riding style, weather, and terrain. Thankfully, the hydraulic disc brakes can stop this perfect hybrid bike fast and efficiently.
The RipCurrent comes in 3 frame sizes starting with Medium. Sadly, it's not really an e-bike for a smaller person under 5'4″.
Find the Juiced Bikes RipCurrent right here.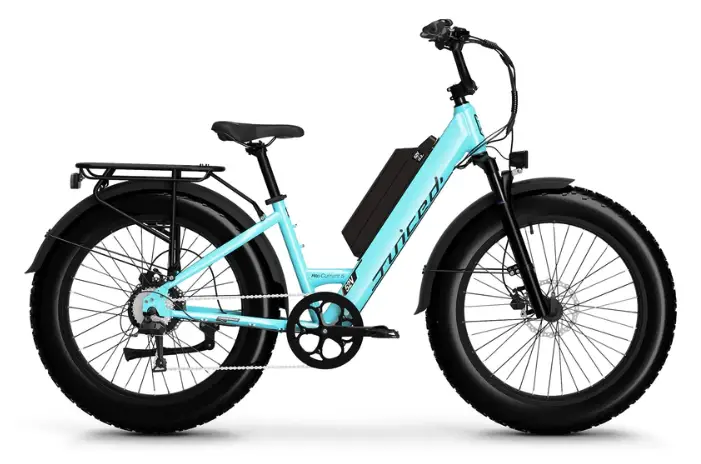 15. Rambo Bikes The Cruiser
Rambo Bikes are built to be tough. And their entry-level hybrid bike "The Cruiser" has everything you need to go off-road.
Notable Features:
Mid-Drive motor (from the Truckrun brand)
145nm maximum torque
300 lb weight capacity
26″ x 4.0″ tires
59 lb weight is on the low side for this type of e-bike
With a 500W motor (750W peak), high torque, 7-speed rear cassette, and thumb throttle, you can get over variable terrain for up to 35 miles. Rambo brags that, similar to a Tesla motor, the mid-drive motor has a "high-speed reduction ratio", which isn't typical on most e-bikes. Plus, you'll get good traction with the Kenda double-wall fat tires and keep track of your distance, battery level, and speed with the LCD display.
The Cruiser also has a line-up of optional accessories including a front suspension fork, fenders, and a rear rack. Unfortunately, these are an added expense you'll probably want and need for off-road sporting adventures, thus making the Rambo Cruiser tip the under $2000 scale.
See the Cruiser at Rambo Bikes.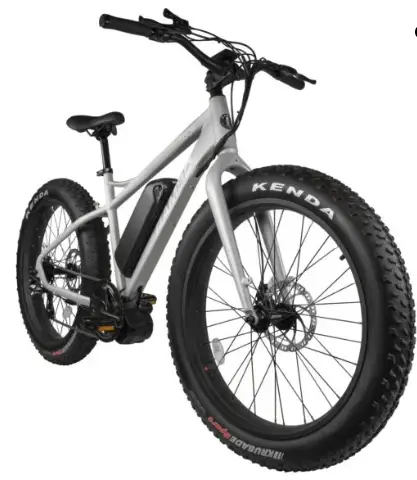 16. Aventon Aventure 2
The Aventure 2 is a well-built, fast, and powerful 8-speed, fat tire e-bike from the popular Aventon brand. As their only full-size fat tire model, it's a hybrid e-bike that gives you a powerful 750W (1130W peak) motor plus a 28 mph top speed, front suspension fork, and a comfortable upright seating position.
Notable Features
26″ x 4.0″ fat tires
High capacity battery
Max weight capacity of 400 lbs
Fenders and integrated front and rear lights included
Offered in a step-through model as well
Check out my detailed AVenture 2 review!
In addition, with a 48V, 15Ah (720 watt-hours) lithium-ion battery, 5 pedal assist levels, 45-mile average range, and a throttle that gets you going from a completely stopped position, you can ride fast and far whether you're on rough terrain or city streets.
There's also a backlit LCD display and the ability to synchronize with the Aventon app on this cool Class 2 (adjustable to Class 3) electric bike. And you can choose from three frame sizes, so the Aventon Aventure fits almost anyone.
A small disadvantage of this hub motor hybrid bike is the 73 lb weight; however, you shouldn't really expect any less with this rugged bike that sells for under $2000!
Take a closer look at the Aventure on their website.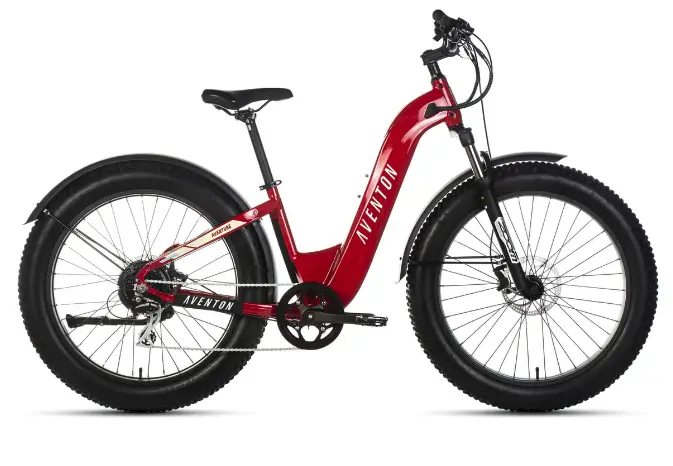 Summary
You've just reviewed 16 of the best entry-level hybrid e-bikes. I'm sure you've discovered that they are affordable, give a comfortable ride, and have the features you'd expect to find in entry-level bikes. However, there is still quite a bit of difference between these hybrid bikes.
For instance, some have hydraulic brakes and some disc brakes. A special feature on another might be a lightweight aluminum frame geared toward city riding while one in the same price range might include puncture-resistant tires with front and rear fenders to ride on local bike paths.
This list is not exhaustive as there are dozens of different models to choose from. However, with affordable pricing and excellent reviews, these models are a great place to start your search for the best electric hybrid bike. And I just have to mention, these are great hybrid bikes for experienced riders too!