Juiced Bikes have been around for many years and are a reliable, well-known California-based e-bike brand. If you're in the market for an e-bike, you've likely come across Juiced Bikes and wondered if they're worth the investment.
Juiced Bikes are good because they offer affordable, high-quality electric bikes with long-lasting 52-volt batteries. They also have an average charge of 50 miles (80 km). You can choose between moped-style, fat tire, commuter, and adventure electric bikes. Each style offers speeds up to 30 MPH (48 kph).
In this article, I'll give you a detailed brand review of Juiced Bikes, including their pros and cons, some general details about the e-bikes, and more. I'll also address some commonly asked questions about the brand, its bikes, and what you should know before buying one.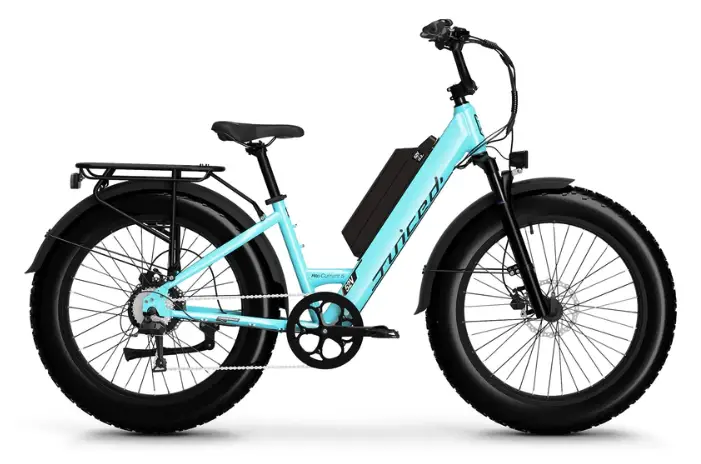 Pros and Cons of Juiced Bikes
Juiced Bikes are generally quite good and have very few downsides. They're known for their mechanical innovation, power delivery (with speeds up to 28 mph), reasonable prices, high-quality components, and mid-tier features, making them great for e-bike enthusiasts of all levels.
While their cons are relatively minor, it's always good to know the ups and downs of an electric bike before investing in one.
Without further ado, let's jump into the pros and cons:
Pros (Reasons to Buy)
Its e-bikes come with larger batteries than other brands in the same price range. Most comparable e-bikes offer 36V or 48V batteries, but Juiced comes with a 52V battery. The large batteries make them more powerful and long-lasting.
Juiced Bikes claims their e-bikes can go up to 100 miles (161 km) per battery charge. Most Juiced Bikes manage 50 miles (80 km) per charge, but that's still far more than most competing brands. The mileage can change based on pedaling speed, pack weight, terrain, and more.
Juiced Support offers excellent customer service from experienced cyclists. You can contact them via a phone number, email address, or a customer service ticket on their website. Juiced Bikes headquarters are in San Diego, California.
Each fat tire e-bike comes with puncture-resistant tires. These durable tires are designed to handle ever-changing terrain, including dirt, mud, rocks, asphalt, and more. The company offers multiple warranty options for mechanical and electrical parts as well.
Juiced Bikes come with many customization options. They can be modified according to each rider's needs, so you can use many e-bike accessories to enhance your Juiced Bike.
The Juiced brand offers both a cadence and a torque sensor on their e-bikes. This allows pedal assist to feel effortless and offers you a smooth ride.
Advanced Display. You can improve your riding performance and overall experience with the extensive functionality of their advanced LCD display.
Juiced Bikes uses Tektro hydraulic disc brakes and a suspension fork. These improve comfort and help you stop smoothly and safely, also saving wear and tear on your tires.
These electric bikes come with additional perks. These include a rear rack and fenders, a USB charging port, a bright headlight, and an integrated brake light with turn signals.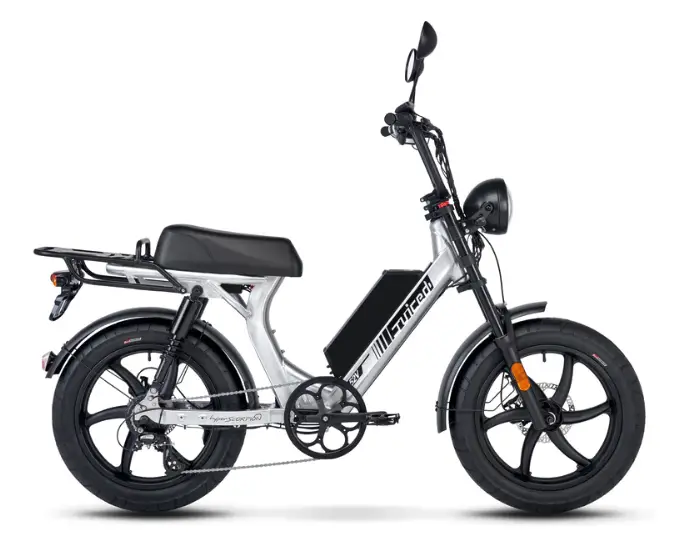 Cons (Reasons Not to Buy)
The battery weighs more than expected, which could negatively affect the stability and maneuverability of the electric bike. Not only do the batteries weigh up to 20 pounds (9.1 kg) in some models, but they're also quite bulky and awkward to handle.
Some models are super heavy. The Scorpion models weigh around 100 lbs, while the dual-battery HyperScrambler is 119 lbs.
Keep in mind that the user experience changes based on the model. For example, the moped-style Juiced Bike can't navigate difficult terrain as easily as their adventure model, the HyperScrambler.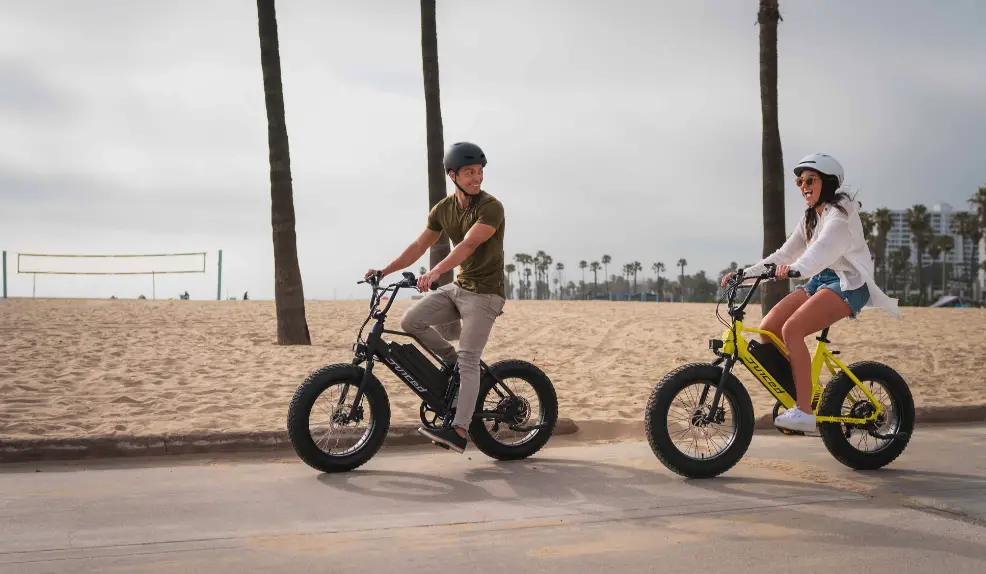 Different models might have more specific advantages and disadvantages, so it's always better to research your preferred model.
What Types of E-Bikes Do Juiced Bikes Have?
Juiced Bikes carries a wide variety of electric bike styles. They manufacture powerful commuter, fat tire, moped-style, and cargo e-bikes at low to mid-range prices. Each model has a top speed of 28 mph or more, some offer off-road capabilities, and others have step-through frames.
Here's a list of each primary electric bike model:
How Long Do Juiced Bikes Last?
Juiced Bikes last between 33 to 100 miles (53 to 161 km) per charge. Their batteries last between three to five years, but the whole e-bike is covered by a one-year warranty. The Bafang motor can work for up to ten years, which is the average time it's supposed to last.
The shelf-life of an e-bike depends on multiple factors. Anything from weather to rough terrain could affect the electric bike's life.
Here are five factors that affect how long a Juiced Bike lasts:
Rain can damage any e-bike, including a Juiced Bike. While you can ride electric bikes in the rain, you shouldn't store them outside when exposed to the elements.
The battery life depends on how fast you pedal and ride. Slower speeds require less power, so each charge will let you go further. The company explained that a Class 3 Juiced Bike at race track speeds (maxing the speed at 28 mph) could last as little as 33 miles (53 km).
The terrain impacts how long the tires, battery, and Bafang motor will work. For example, cruising on flat pavement is less damaging than riding over roots, rocks, and mud. Smooth, flat terrain will bring you closer to the 70-100 mile (113-160 km) limit.
The ambient temperature changes how long a Juiced Bike's battery lasts. The brand claims its batteries work more efficiently in warm weather, around 80°F (27°C). Colder temperatures will deplete its batteries faster.
Constant strain from wind, elevation changes, and rider weight can affect the electric bike's longevity. Riding against the wind or uphill with a heavy pack can limit the e-bike's potential. Juiced ebikes claim their mileage estimates assume the rider is on a semi-smooth surface with slight increases in elevation (and using a low to mid-range pedal assist level).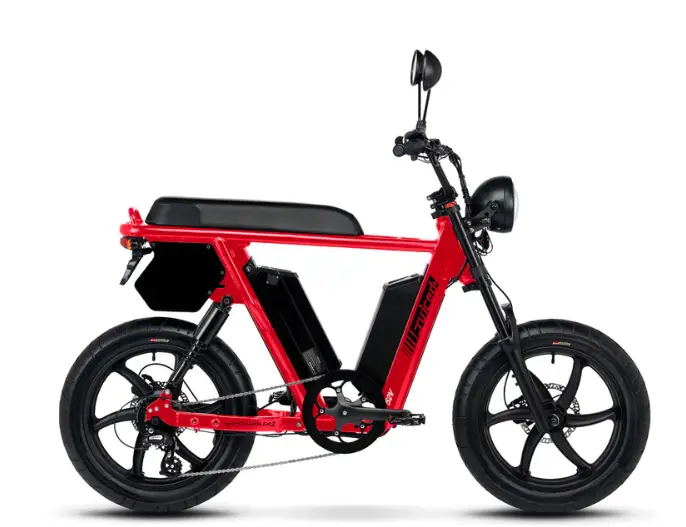 What Motors Do Juiced Bikes Use?
Juiced Bikes use 750-watt and 1,000-watt motors, making them some of the most powerful within their price range. They also offer high-end motors that go up to 1,800 peak watts, though that's not the standard option. The 750-watt motor peaks at an impressive 1,300 watts.
One of the main reasons Juiced has bigger rear hub motors is that they need to pull a lot of power from the 52V battery to get up to 28 mph. Pairing a low-end hub motor with a large battery just wastes the potential of both. Thankfully, the company pairs both components without increasing the price by much, keeping their electric bikes in the affordable range.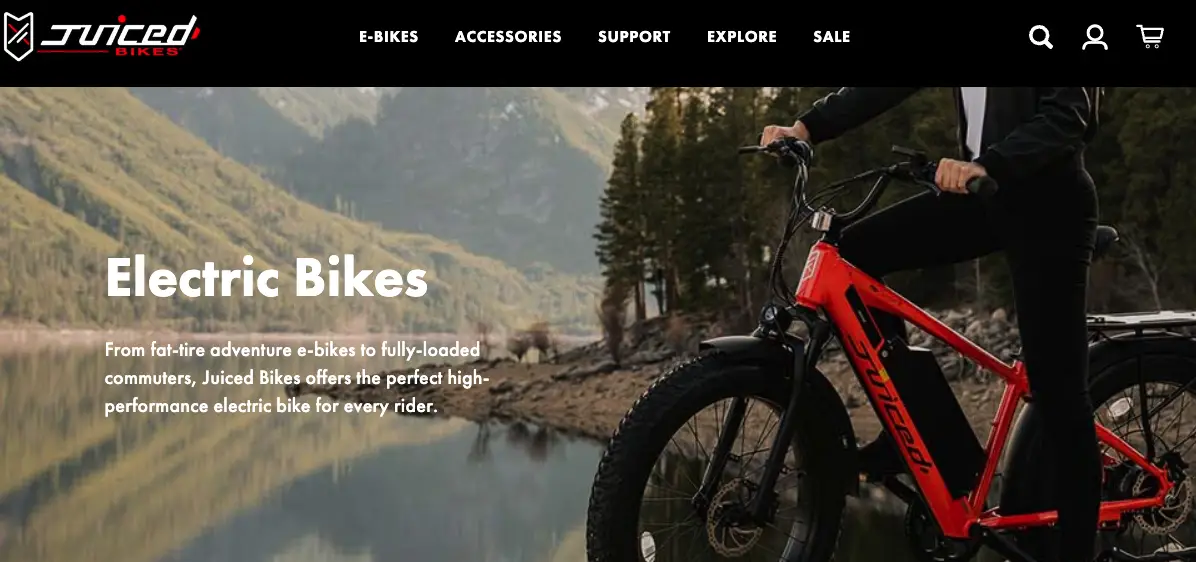 What To Know Before Getting a Juiced Bike
Before getting a Juiced Bike, you should know the following details:
They use hydraulic disc brakes. These braking systems are more efficient than traditional mechanical disc brakes. They require less pressure, so you can stop sooner without wearing down your tires. Plus, hydraulic brakes lead to a smoother stop.
Juiced Bikes was founded by Tora Harris, a former Olympian and Princeton University graduate, in California in 2009. If you're looking for a company that knows about e-bikes and can offer expert advice, Juiced should be at the top of your list.
They're also designed with modifications in mind. You can attach smartphones, additional headlights, panniers, and other e-bike accessories. Furthermore, the company offers battery upgrades, making the stock battery interchangeable, and tire upgrades without voiding the warranty.
Each Juiced Bike includes a one-year mechanical warranty, a one-year electrical warranty, and a 14-day money-back guarantee. These warranties are limited manufacturer agreements that ensure you won't have to pay for any defects.
Juiced Bikes uses beginner-friendly features with expert-level results. For example, the simple three-button LCD display lets you check the battery life, speed, and more. The screens also have adjustable brightness settings, letting you view them while cycling at night.
All of their bikes can be customized with upgrades for new batteries, controllers, headlights, tires, and high-speed charging ports. The customization options allow you to modify your e-bike according to your own needs without spending much on expensive upgrades.
You also no longer have to purchase separate warranties, as they come with each purchase.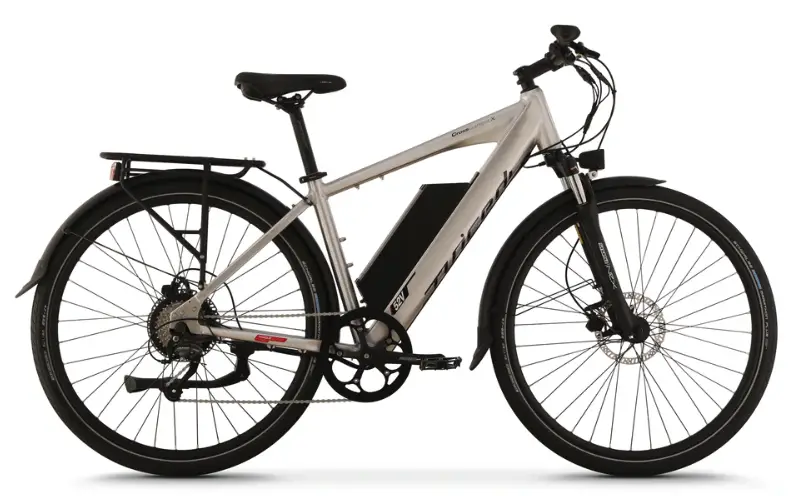 Final Thoughts
Whether you prefer their long battery life, their speed limits of 28 mph, or their unique designs, Juiced Bikes are an excellent choice for beginners and experts alike. The weight issues might be a slight drawback, but they're overshadowed by their electric bikes' overall performance, 5 pedal assist levels, and capacity for customization.