Wish you had an electric bike that does it all? Today, I'm introducing the revamped and reimagined Heybike Mars 2.0 – an affordable folding e-bike for demanding riders!
In this Heybike Mars 2 Review, I'll show you why the newest addition to Heybike is not just another cool-looking ebike with fat tires that folds up for storage and travel. After test-riding it, I discovered it has much more to offer.
Watch the Mars 2 Review below:
Introduction to Heybike Mars 2.0
For starters, the Mars 2 electric bike (best price on Amazon) has unique features that upgrade it from Heybike's original bestselling Mars model. Not only does it have more power, greater speed, a longer range, and a higher maximum payload, it has other unique features worth checking out. 
In this e-bike review, we'll take a look at the advantages of the Mars 2 electric bike and its cargo and folding bike performance. Then, I'll point out one disadvantage that might put it on the chopping block!
Advantages of the Heybike Mars 2
So, what are the advantages of the Heybike Mars 2? I have lots to show you. And, watch for a feature that I think is both practical and fun!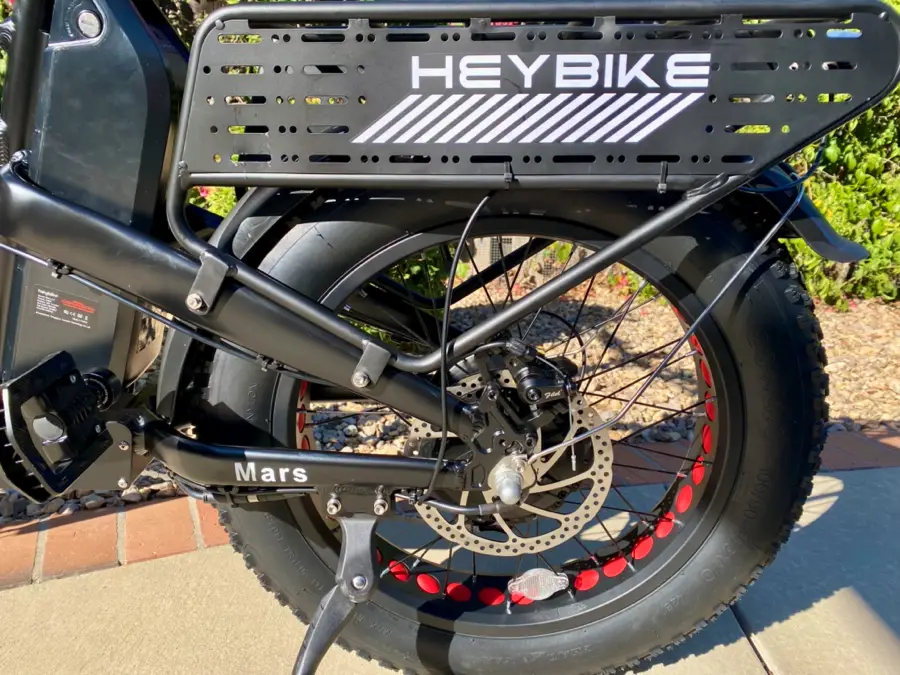 Upgraded 1200 Watt Peak Rear Hub Motor
With an already powerful 750-watt motor, the Mars 2 is simply out of the universe when it hits its peak output of 1200W. Honestly, I didn't ever use the highest pedal assist level for more than a few seconds, just to test it out… it was already screaming fast.
Higher Torque
The hub motor performance, combined with 80 Newton Meters of torque, ensures this ebike is capable of reaching its top speed of 28 mph. Let me clarify… this 20-inch tire electric bike takes off fast! And I easily sped up to 20 mph on long climbs and steep hills.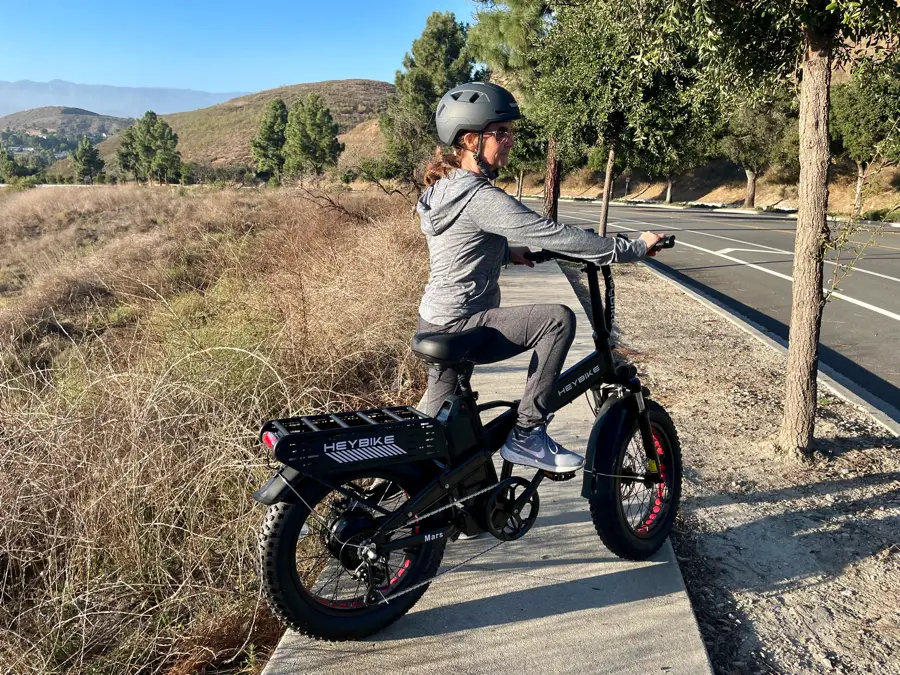 Adjustable Handlebar
Raise the handlebar to your desired height. Doing so improves the fit and comfort of the Mars 2 for different riders.
Compact Folding
The Mars 2 folds up easily within seconds, which makes it perfect to take with you on your travels and store in a small space.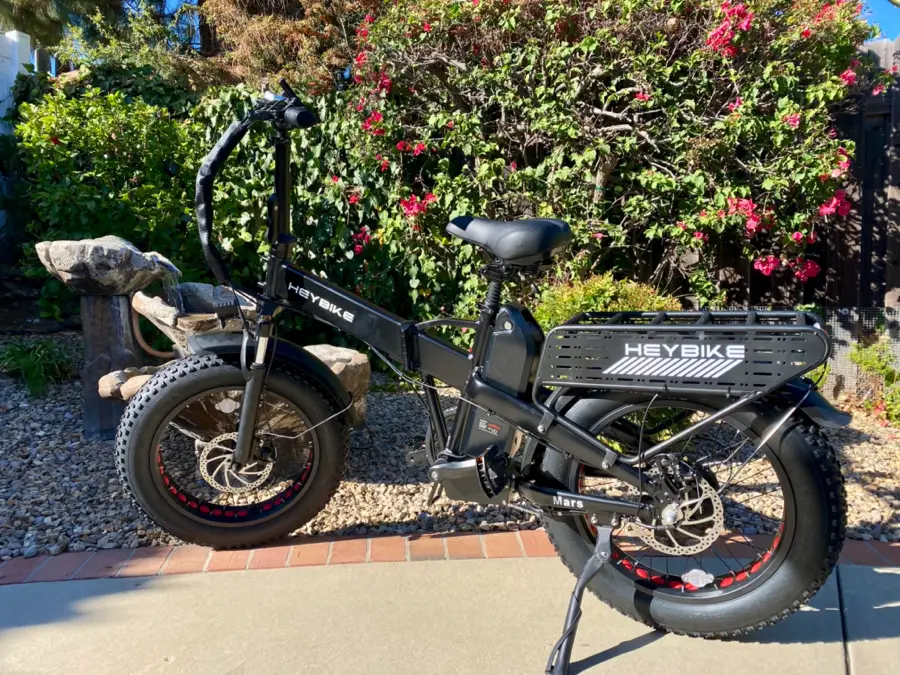 Fat Tires with Fenders
On a folding electric bike, there's really nothing better than 4-inch fat tires. You can take the Mars with you everywhere. Drive it to an off-road trail, pop it in your camper van, or take it for a spin on a long, leisurely bike path. On my off-road test ride, the knobby tires gave me a smooth and stable ride without slipping on loose dirt and rocks.
Spring Suspension Fork
Front suspension with 65mm travel is definitely a benefit for off-road riding on the affordable Mars 2 (Amazon). It lessened the impact of jolts and bumps, making for a pretty comfortable ride on rough terrain and paved roads. The suspension includes preload adjustment and lock-out.
And, finally, here's what makes the Mars 2.0 stand out from other foldable electric bikes.
Enhanced Rear Rack
I love the functionality of this unique rear rack. Not only does the rack itself support up to 120 lbs of cargo, but the expanded rack length facilitates the attachment of large bags, baskets, or passenger seating.
Plus, the pegboards on each side are tailored for optimal storage solutions. Effortlessly arrange essentials such as panniers, water bottles, and bike locks with convenience. 
Check these compatible connectors on Amazon or check the Heybike website.
Disadvantages of the Heybike Mars 2
First, like all high-speed ebikes, the Mars 2 may be faster than you prefer.
But the only real disadvantage of the Heybike Mars 2 surprised me a bit. The Mars 2.0, weighing 75 lbs, is notably heavier than its Mars predecessor, weighing 66 lbs. Adding a longer and more functional rack would undoubtedly add weight. However, this might pose challenges for riders looking for a lightweight e-bike experience.
What You Need to Know (Before You Buy)
If you're a short or tall rider, listen up. The suggested height range is 5'3" to 6'1". However, this is the first ebike that I'm comfortable riding even though I'm 2 inches shorter than what's recommended. Keep in mind that it could be a struggle to get on the bike if you're carrying cargo.
Or, if you're over 6 feet, you may find the Mars 2 frame too small. In this case, the original Mars e-bike fits riders up to 6'3". I've included links to the options in the description below.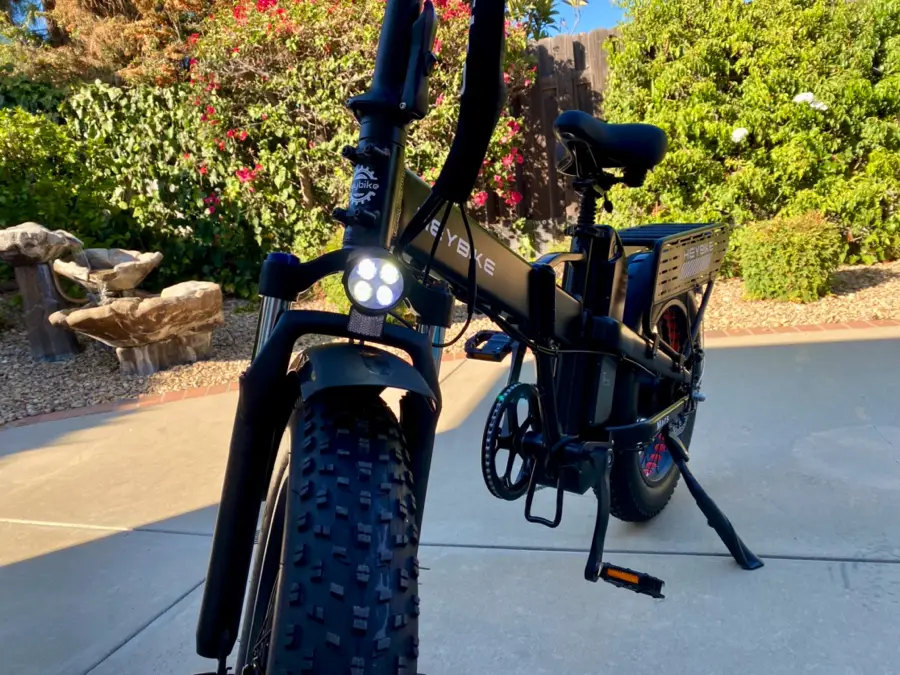 Additional Features (Add Value)
There are several other important features on the $1499 Mars 2.0 (check here for the current price). There's a Shimano 7-speed shifter, 5 levels of pedal assist, a right-hand thumb throttle, and an LED headlight, taillight, and display.
Further, the 600-watt-hour lithium-ion battery offers up to 45 miles of riding, which is pretty average. Most riders won't need more than this on a single battery charge.
Finally, check out the Heybike app for iOS and Android. It's able to synchronize with your ride, tracking details such as distance, speed, battery charge, and calories.
Is the Heybike Mars 2.0 the Best Ebike?
If you want an electric folding bike that doubles as a cargo e-bike, then the Mars 2.0 is a great e-bike for you! Its cargo space and attachment options make it suitable for bikepacking, camping, or even road-tripping.
Further, if power and speed are on the top of your checklist, this Heybike does the job easily. 
However, it might not be the best electric bike for you if you don't want or need so much power or would have an easier time managing a step-through e-bike. And, if you need to be able to lift it yourself, make sure you are fully capable without risking injury.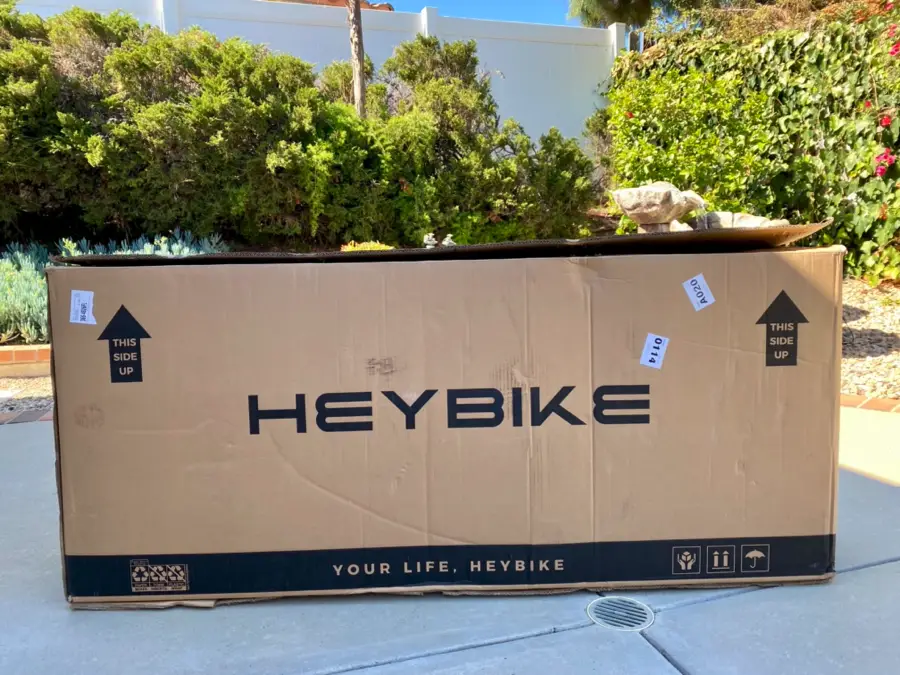 Heybike (Conclusion)
A little about the Heybike brand… it offers a 30-day trial and a 1-year all-inclusive warranty on any of its electric bikes.
What's important to know is that the new Heybike Mars 2.0 is a great value for its price and a huge upgrade from its predecessor. It can meet the needs of any rider dreaming of power, speed, and extra cargo capacity all in a folding electric bike.
If you missed it, watch my Heybike Mars 2 Review. And enjoy your ride!