Craving a manageable folding ebike that traverses all terrain? One that packs in the features you'd never expect for a budget-priced electric bike?
To say that the Ride1Up Portola has massive value for a fold-up electric bike is an understatement. But is it just another affordable but cheap ebike?
In this electric bike review, you'll discover everything the Ride1Up Portola offers. Learn the pros and cons and get help deciding if this compact ebike is worth your money. Further, I'll share something shocking you have never seen in one of my reviews!
I'm Lisa from E-Biking Today and I'm geared up to show you everything you need to know about this budget folding bike in the Ride1Up Portola electric bike review.
The first thing you should know is that its retail price of only $995 is competitive with the Lectric XP3 at $1095. Even comparing sales prices, the Portola beats its competition by around $100. Check the Portola's best price in the link I've provided below the video.
However, whether Ride1Up's first-ever folding ebike offers greater value than the competition is another thing entirely. Let's look at the Pros and Cons of the Ride1Up Portola to find out.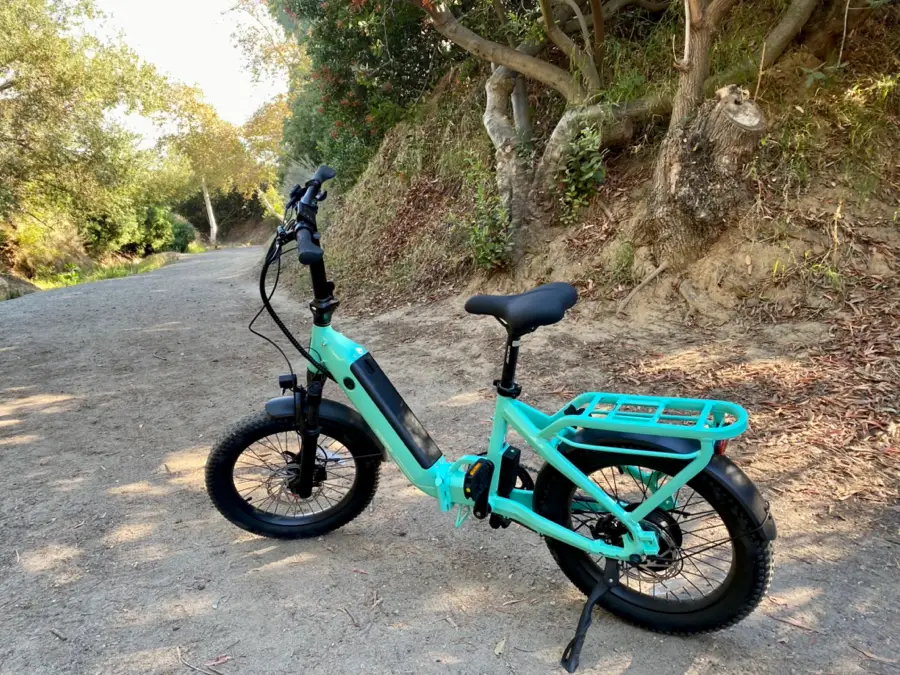 Pros of the Portola Electric Bike
750W Geared Hub Motor
For a smaller folding ebike, I was surprised that the Portola had so much power. With a 750W sustained geared hub motor and 65 Newton Meters of torque, the motor kicks off quickly and keeps its speed.
Class 1-3 Electric Bike 
The Portola speeds up to 28mph with 5 levels of pedal assist or up to 20mph using the left thumb throttle. I appreciate that the throttle put out as much juice as I wanted, when I wanted it, rather than limiting its power by pedal assist level. 
You can change between classes using the display by pressing the Plus and Minus buttons at the same time. Changing your ebike's classification is handy when riding in National Parks or other locations that restrict Class 2 or 3 ebikes. 
Additionally, you can modify pedal assist sensitivity in these settings.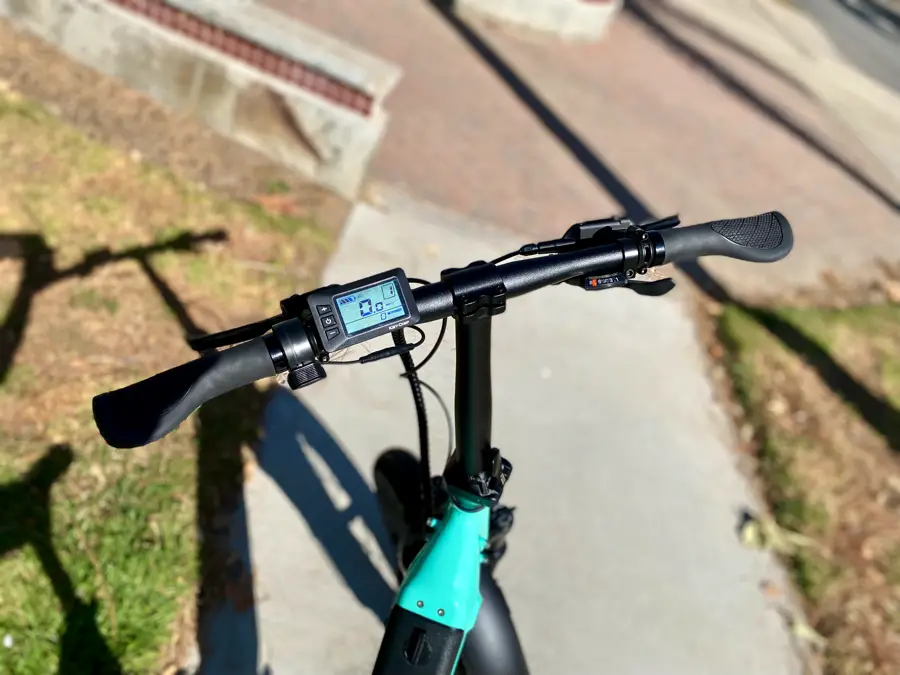 Dual-Piston Hydraulic Brakes 
These add way more value than the mechanical disc brakes put on most inexpensive electric bikes. Yes, I love that this ebike is going to stop when I need it to, especially when riding dirt and gravel. 
20"x3" Cross-Country Tires
Even though they're not 4-inch fat tires, the 3-inch wide tires have chunky knobs that made me feel comfortable riding over dirt and gravel. So, I never felt like I was slipping.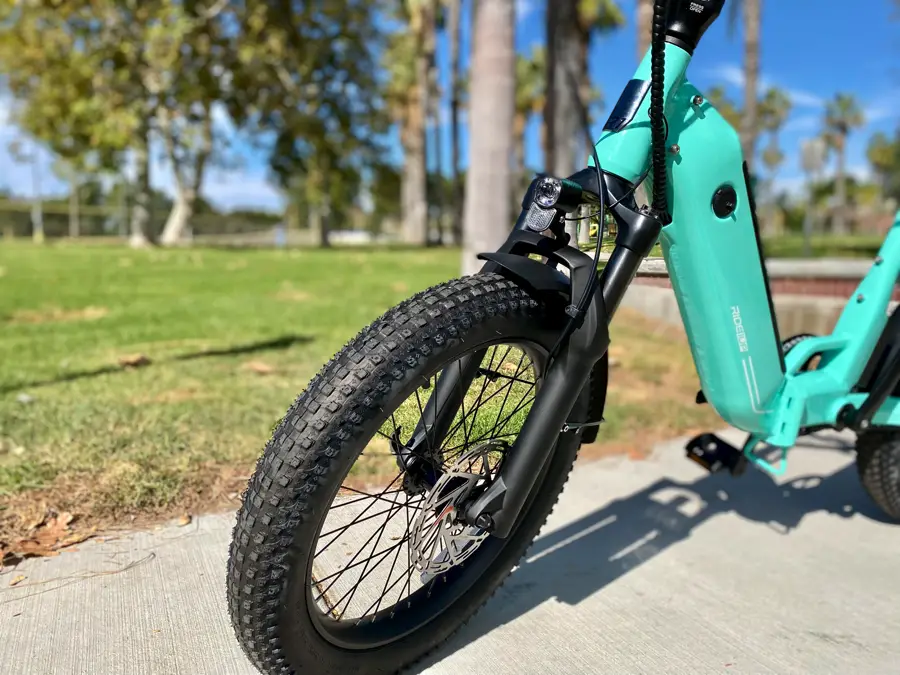 80mm Suspension Travel with Hydraulic Lockout
Trust me, this suspension makes all the difference. When I first got on the Portola, I thought I must have overinflated the tires because the ride was so hard. As it turns out, the suspension had been in lockout mode since I assembled it, allowing for no suspension at all! So, let me suggest that you unlock it before riding.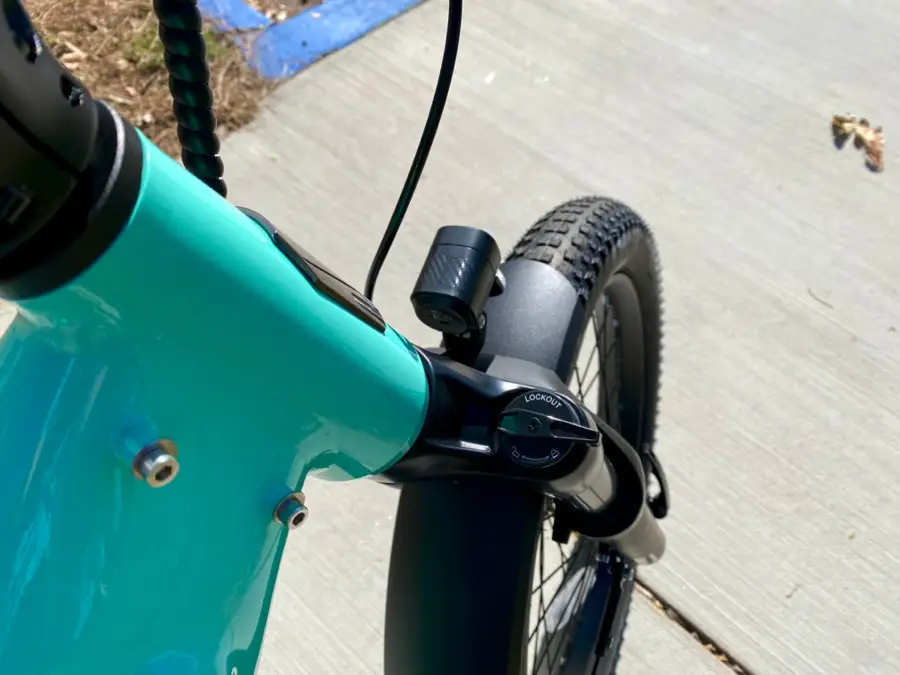 Shimano Parts
Another sign of good value is the use of a Shimano Altus 8-speed shifter, cassette, and derailleur. It's promising that Ride1Up didn't use cheaper parts just to make it's ebike affordable.
Rear Rack
With a pannier side mount and a weight capacity of 130 lbs, you can add a child seat, heavy cargo, or even a passenger to the rear rack.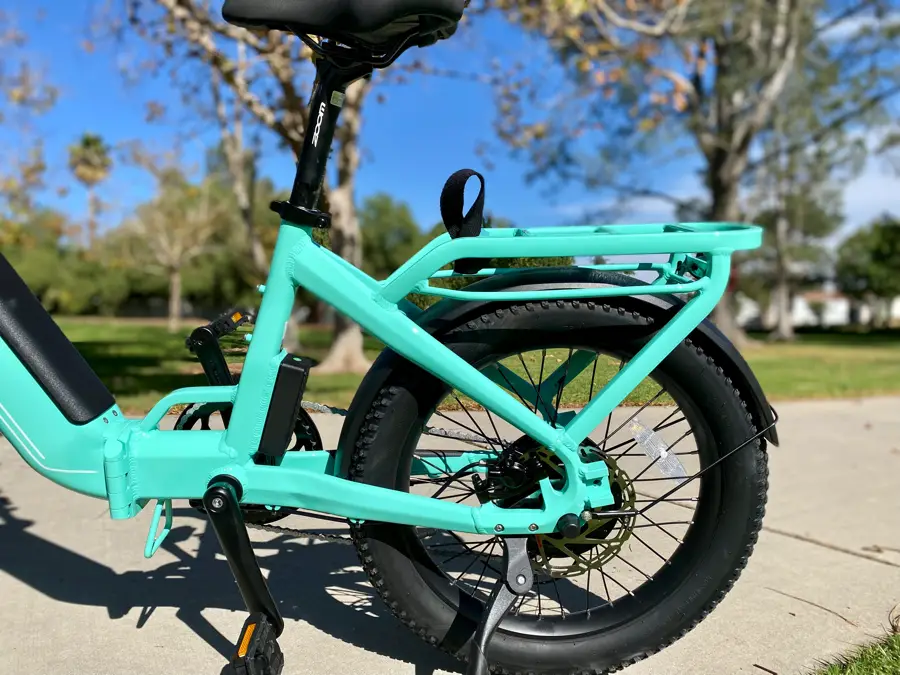 CHECK OUT RIDE1UP'S BEST DEALS HERE!
Additional Advantages of the Portola E-Bike
You can see that the Portola electric bike has lots of value for the price. But there are still other advantages that add even more value. Before I mention these, I'd appreciate you taking a second to subscribe to E-Biking Today on YouTube. You'll get to watch more helpful reviews and learn everything you need to know about electric bikes.
Now, other pros of the Ride1Up Portola include hardened alloy fenders and a taillight that doubles as a brake light. There are even connector cables that are easy to manage at the top, as opposed to threaded through the bike frame.
Another huge pro is that the Ride1Up Portola is a manageable folding e-bike! What I mean by that is this… Even with its hefty payload capacity, the Portola weighs only 60 lbs! Compare that to the 64-pound Lectric XP3 and the 68-pound Aventon Sinch 2.
But here's what was most shocking! I lifted the folded Portola into the van all by myself, which I've never done with an electric folding bike! Not only is it lighter than similar electric bikes, but it also has an attached strap to hold together the folded frame. I was surprised that all 5'1 inches of me could manage it! This should assure smaller riders and those concerned about lifting an ebike that they can probably manage the Portola.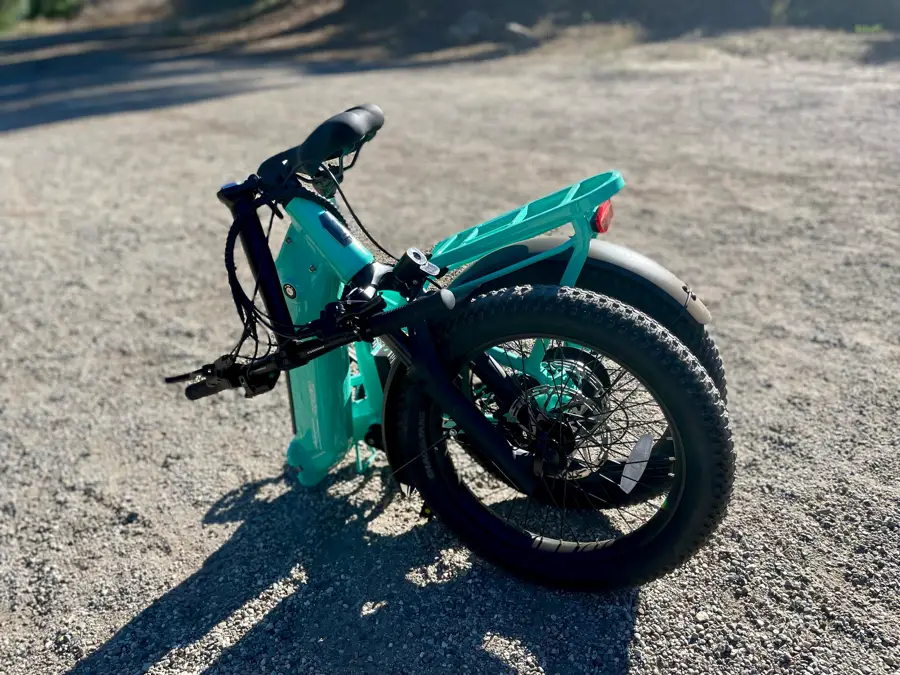 Cons of the Ride1Up Portola
Overall, this Ride1Up ebike is great value for the money. However, I did find a few considerations.
The Comfort Saddle
Honestly, I didn't find the bike seat to be particularly comfortable. It's okay. But this is really more of a personal opinion. And you can easily replace the seat with some of the money you're saving on the Portola in the first place.
Lack of a Protector Bar on the Derailleur
This is a little disappointing, especially on a folding bike that's going to be hauled to other places or stored folded up. So, you may want to use a blanket and some bungees to further protect your ebike during travel.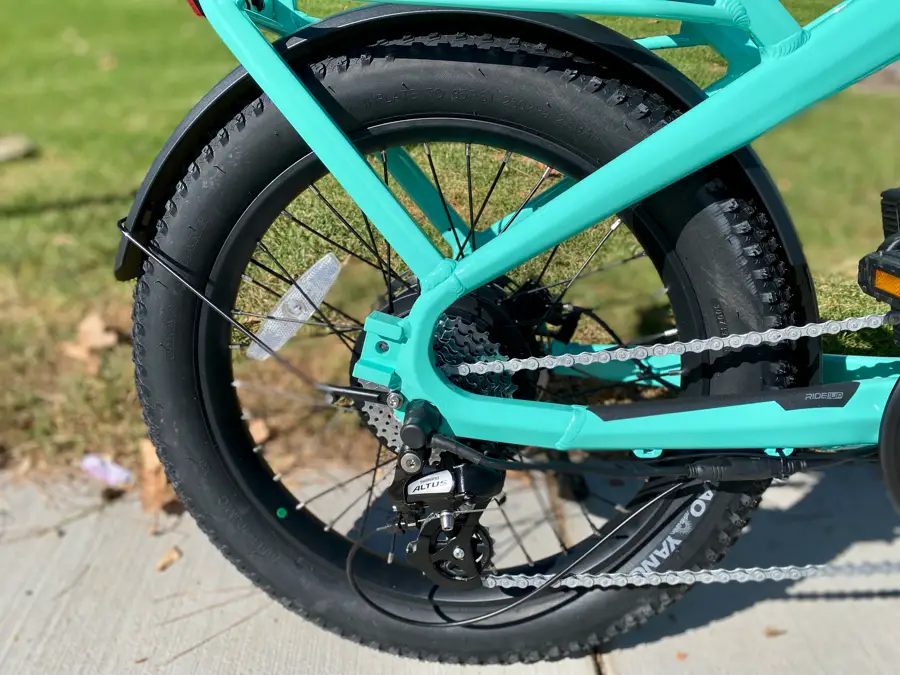 No Preload Adjustment
As I mentioned earlier, the suspension has a lockout. But, you can't adjust for the load. So even though the Portola can carry up to 300 lbs, a large load may cause the seat to bottom out.
What You Need to Know Before You Buy
Overall, the Ride1Up Portola is a solid electric folding bike with better features than other ebikes at the same price point. But let's check out other important details.
Range
You can ride a range of 20-40 miles with the $995 e-bike or 25-45 miles with the optional 13.4 Amp Hour battery upgrade, for about $100 more.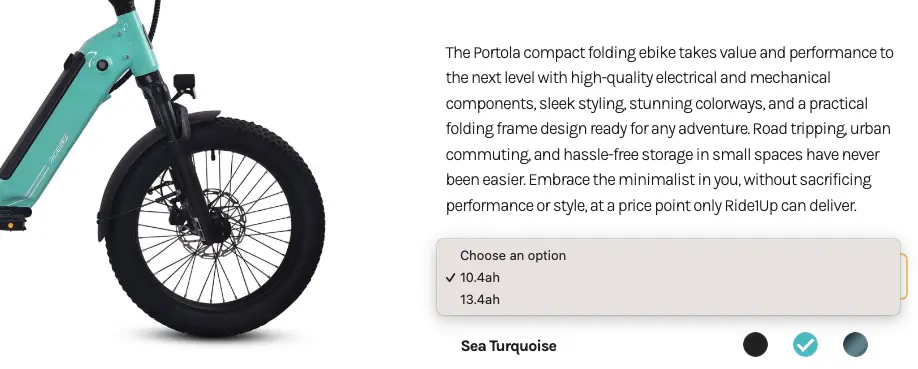 Sizing and Fit
Make sure you'll fit comfortably by checking out the sizing chart on the Ride1Up website. I put the seat up higher than typical for myself, so I question whether it would fit a rider over 6 feet tall.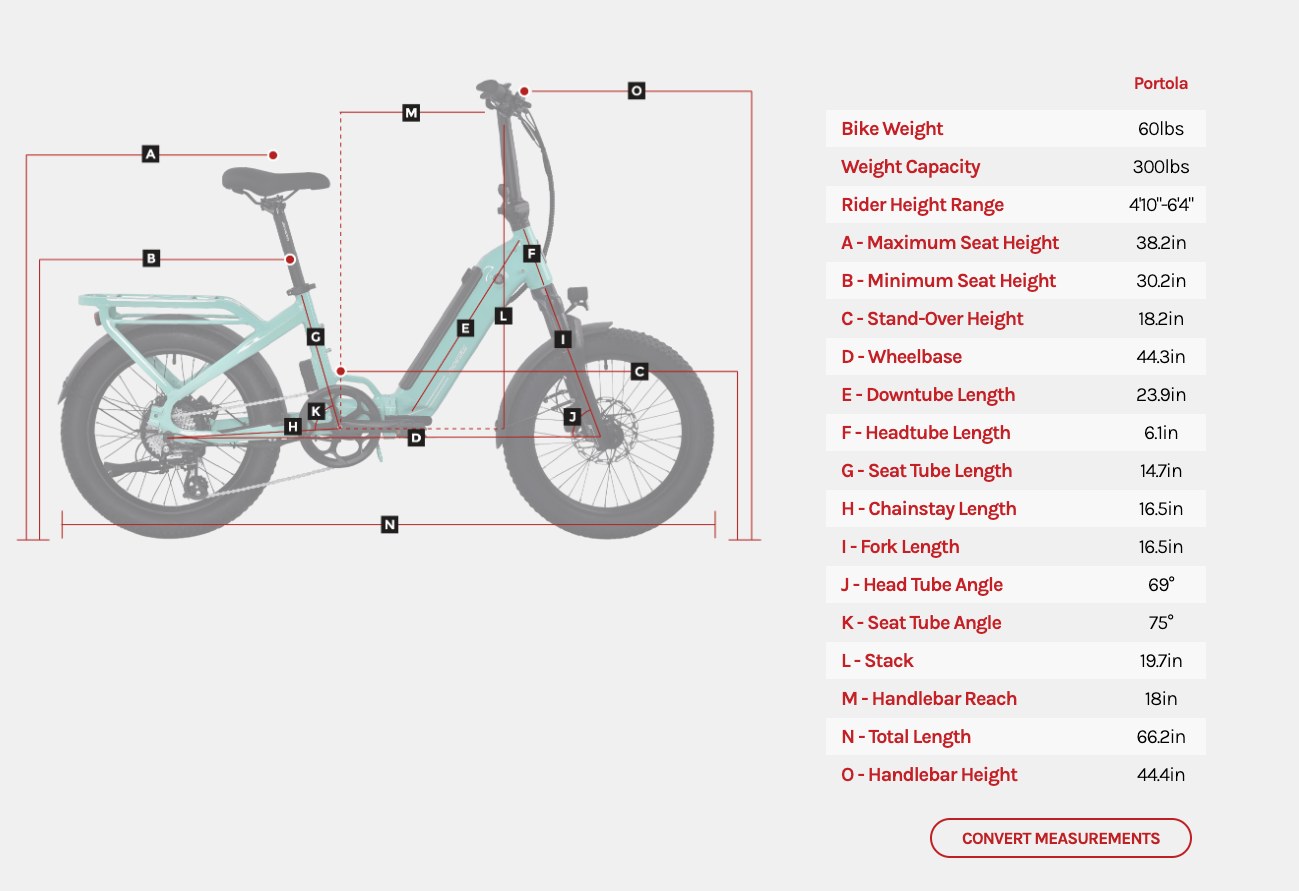 Assembly
I'm happy to say that Ride1Up has figured out that we don't want to assemble our new e-bikes! In fact, the Portola was completely assembled except for the header tube and handlebars. Front wheel, check. Pedals, check. Rack and fenders, check. 
Plus, it comes with a step-by-step card showing you what's left to assemble (although I noticed they forgot to mention attaching the seat and tightening up the display)! Regardless, bike assembly is quick.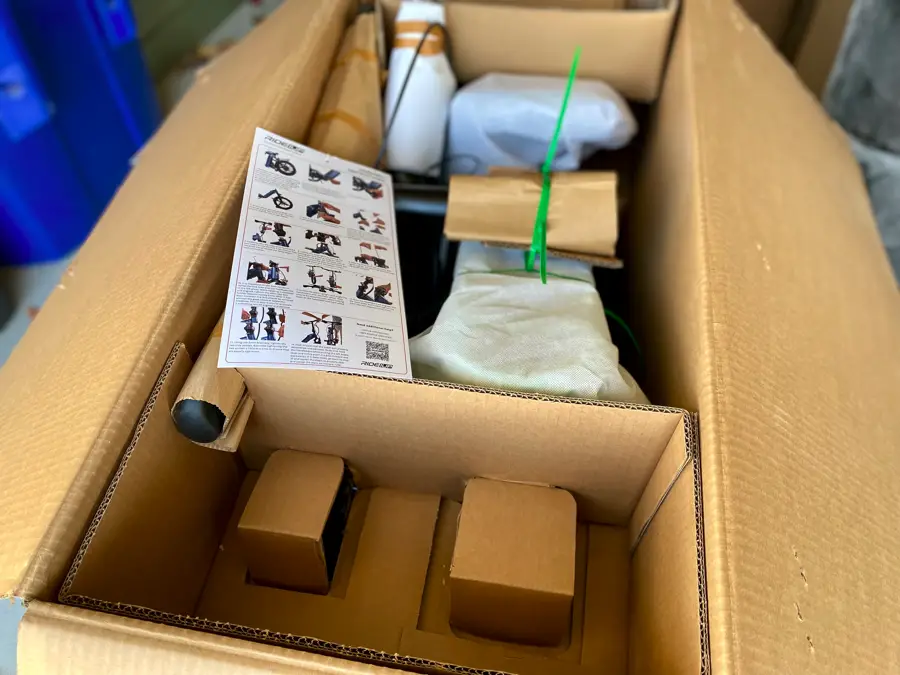 Color Choices
Okay, come on, the Sea Turquoise color that I tested is a ton of fun. But if that color isn't right for you, check out the Indigo or Charcoal options.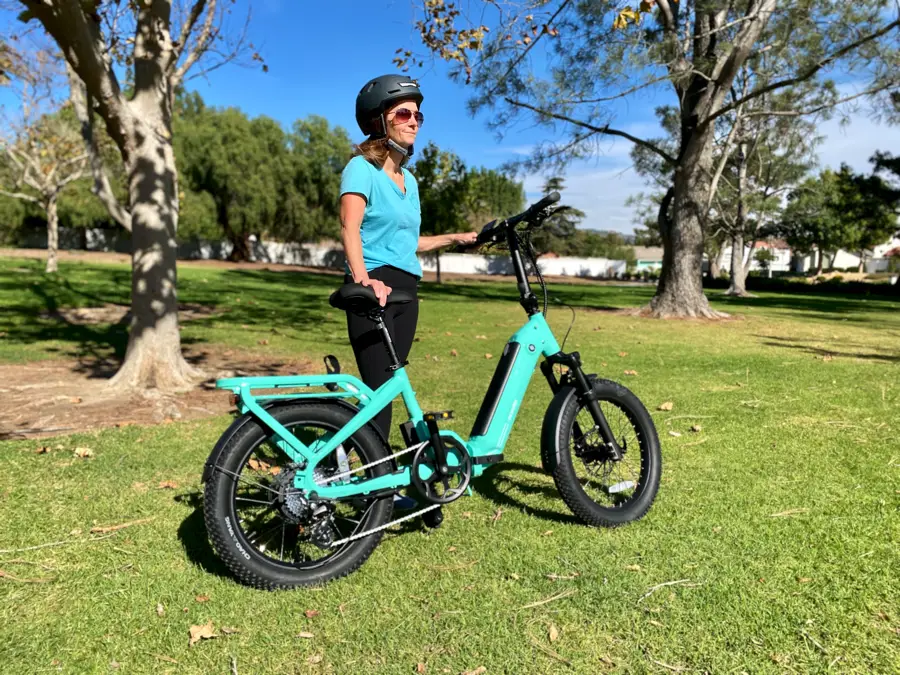 Is the Portola Electric Bike Right for You?
It may be the best electric bike for you if you want one that travels with you. Whether you are an RVer or live it up in posh hotels, this foldable bike can go with you.
It's also a great choice if you want to ride on any terrain, especially if you need to pack it up to get to a trailhead.
The Portola may not be right for you if you don't have any need to fold a bike. Alternatively, if you have an extra $500 or more in your budget, you may want to take a look at the Ride1Up LMT'D e-bike with a torque sensor and a longer range.
To conclude the Ride1Up Portola electric bike review, I'd have to say that Ride1Up has done it again, but even better! The Portola is a quality, feature-filled electric bike at a ridiculously affordable price.
It's definitely worth checking out! But whatever you decide, enjoy your ride!