Electric bikes are perfect for those who want to experience the thrill of riding at maximum speed without pedaling all of the time. As e-bikes become increasingly popular, many people are looking for ways to get their hands on one.
However, it's helpful to know as much as you can about how a no-pedal electric bike works before you buy one. The most important thing to know is that this type of bike allows you to operate it without pedaling. These e-bikes also include throttle and may or may not include pedal assist.
This article will provide an overview of the pedal-less electric bicycle, including how it works and where to find one.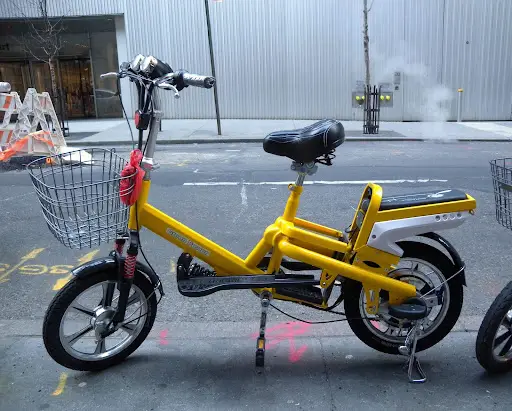 What Is A No-Pedal Electric Bike?
A no-pedal bike has an electric motor and battery that powers the wheels, making pedaling optional. You can ride these e-bikes without pedaling or use the motor to give you a boost when you pedal.
No-pedal electric bikes are perfect for people who want to enjoy the scenery while riding or those who want to get a workout without all the effort.
No-pedal electric bikes are mostly throttle e-bikes; some include pedals while others do not.
Throttle E-Bike
The simplest type of electric bike is the throttle e-bike. These e-bikes have a twist throttle on the handlebars that you can use to control the motor. To ride, twist the throttle and go! The thumb throttle is also available in some models.
Throttle e-bikes are great for those who want maximum power with minimum effort.
How Do Electric Bikes Work?
E-bikes are operated by using a motor to power the wheels. The motor is powered by a battery, which can be recharged when needed.
Electric bikes also have a power control that regulates the amount of power going to the motor.
The motor is connected to the wheels via a chain, just like a regular bike. When the motor is turned on, it will rotate the chain and turn the wheels.
More power means the bike will go faster, and less power means it will go slower.
Where Can You Find Pedal-Free Electric Bikes?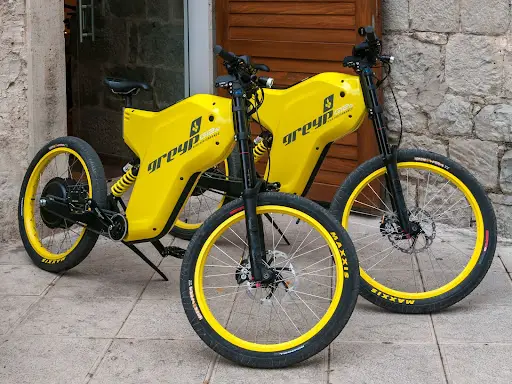 Electric bikes are available from a variety of retailers. You can find them online, in bike shops, and in department stores. When shopping for an electric bike, there are a few important things you'll want to keep in mind.
Speed:
Most e-bikes can vary in speed from around 15.5mph to upwards of 28mph. A lower-speed bike will be fine if you're looking for a leisurely ride around the neighborhood. However, if you're looking to commute or keep up with traffic, you'll need a bike with a bit more power.
Range:
Most electric bikes have a range of 40-100 miles on a single charge, which is plenty for most people. However, if you plan on using your electric bike for commuting or other long distances, you'll want to ensure that it has a good range.
Cost:
Of course, the cost is always a factor when shopping for anything. Electric bikes can range in price from around $400 to over $9,000. The price will depend on the bike's features, quality, and manufacturers.
Weight:
E-bikes are typically heavier than regular bikes due to the battery and motor. However, some electric bikes are lightweight, making them easy to carry and transport.
Three Top No-Pedal E-Bikes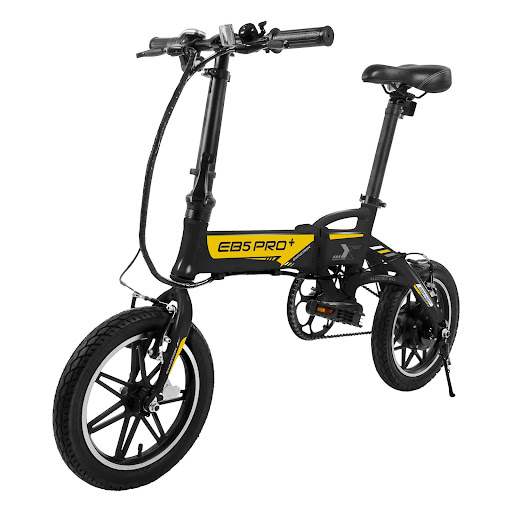 This e-bike has a powerful motor that provides pedal-assist power, making it easy to zip around town. It also folds up for easy storage.
This e-bike comes pre-assembled. All you have to do is unfold it and start riding! The seat and handlebars are adjustable to accommodate riders of different heights. The EB-5 is very lightweight, making it easy to carry around.
The EB-5 has 14-inch wheels that make it easy to maneuver. Rubber tires with a quick disconnect power line make it easy to take off and put on.
This e-bike model has a lower range than many e-bikes of only 15.5 miles. However, you can ride this e-bike up 15.5 miles at full throttle, without pedal assist.
Pros
Foldable
Better traction and durability
Maintenance friendly
Cons
Pedal assist is not super-powerful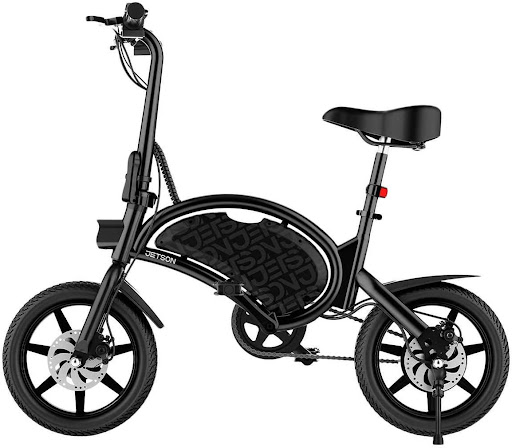 The Jetson Bolt folds up easily, so you can take it with you on the go, and it has a powerful motor that will give you a boost when you need it.
The twist throttle makes it easy to get up to speed without pedaling, and the brakes are reliable and responsive.
It has a Lithium-Ion battery that's rechargeable and has a range of up to 15 miles on a single charge.
It weighs only 25lbs, so it's easy to carry with you.
The 250 Watt motor is a perfect size, not too powerful that it becomes unwieldy but enough to get you up any incline.
Pros
Long lasting batteries
Front lights
LCD
Cons
Comparatively slower speed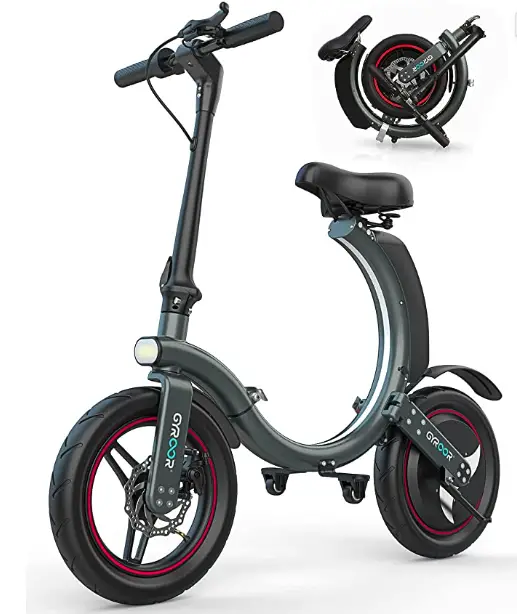 The Gyroor is a high-quality, durable, powerful folding electric bike perfect for adults and teens alike. It has a 450W motor that can reach speeds up to 19 mph. It also features 14″ air-filled tires, dual disc brakes, and 15 speeds.
What's impressive is that it can fold into a complete circle, saving more space than your typical folding e-bike! Plus it has a handle that lets you pull it when folded.
The e-bike also has a max load capacity of 265 lbs, and the adjustable seats and handlebars make it comfortable for riders of different heights. This bike is perfect for you if you're between 4'9″ and 5'11".
The high capacity 36V 10.5Ah lithium battery is an excellent feature of this bike. It gives you plenty of power to ride for a long time without having to recharge. It can also climb a 15° slope with ease. That's thanks to the powerful motor.
The max riding range is 20-25 miles with throttle only.
It's also safe, thanks to the front and rear double disc brakes. It will help you stop quickly and safely. The e-bike also has a bright headlight. It will help other cyclists and motorists see you.
The battery and accessories are guaranteed for half a year and one year, respectively, and customer service is good. You can purchase confidently, knowing you will be supported for the product's lifetime.
Pros
Headlight and taillight
Fit for 12-60 years of age
One step folding
Cons
No ability to pedal if it runs out of power
These are some of the best e-bikes on the market. They are perfect for anyone looking for a convenient, easy-to-use, and reliable way to get around town.
Regulations Regarding No-Pedal E-Bikes
There are some laws and regulations to make sure that electric bicycles are operated safely.
In the USA, a three-tiered classification system is typically used. E-bikes with throttle are legal as class 2 e-bikes as long as they have a maximum speed of 20 mph. If you don't want to ride your e-bike with full throttle, or don't expect to use a throttle at all, then you can go for the class 3 bike, which has a speed limit of 28 mph.
While in the UK, the law states that you can use an e-bike with a motor that provides pedal assistance up to 15.5mph. Anything above this limit is illegal.
Local law penalties for e-bike violators can vary, so it's best to check your state and area laws. Most countries require drivers to wear safety gear, such as a bike helmet, in public. In case of any violation, you might face a severe fine and penalty.
Advantages of an Electric Bike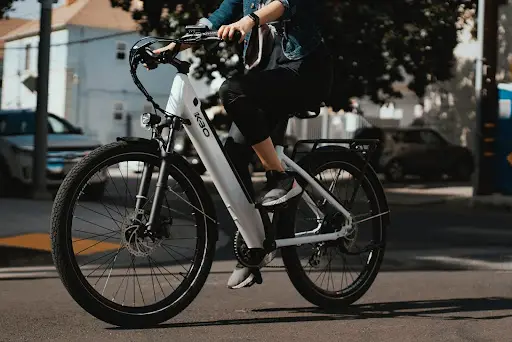 Environmentally-friendly
E-bikes don't produce emissions like cars or motorcycles. They're powered by electricity, which is much cleaner for the environment.
Quiet
Electric bikes are powered by electricity, so they don't make a lot of noise. This is a significant advantage over gas-powered vehicles.
Low Maintenance
E-bikes typically don't require expensive tune-ups or oil changes like cars do. You'll save money on maintenance and repairs.
Convenient
Electric bikes are very convenient. You can ride them through traffic, take them on the bus or train, and even take them inside your home or place of work.
Disadvantages of an Electric Bike
Expensive
E-bikes can be pretty expensive. The battery, motor, and other components can quickly add up.
Heavy
Electric bikes are usually heavier than regular bikes. It can make them difficult to ride and carry.
Range
E-bikes have a limited range. You'll need to recharge the battery after riding for a certain distance or time.
Speed
No-pedal electric bikes can have a lower top speed compared to regular bikes. They're limited by the power of the motor and battery.
Final Thoughts
Now that you know all about no-pedal electric bikes, it's time to get out there and enjoy the ride!
These unique e-bikes offer a great way to get around and enjoy the scenery without pedaling. You can choose from the three e-bikes featured above or find another model that fits your needs. Whichever electric bicycle you choose, you're sure to have a blast riding it.