Do you really need a folding electric bike? Or will it just be an extra hassle you don't need?
Having a folding e-bike myself, I've learned there are things you should know before you buy one. There are many reasons for and against owning a foldable electric bike.
First and foremost, you should only buy a foldable e-bike if you can manage its weight and size easily enough to fold it up. Once you are certain that you're capable of handling it, then you should consider all of the advantages and disadvantages of a folding electric bike before deciding to buy one.
In this article, I've compiled a list of the advantages and disadvantages of a folding electric bike. I'll help you weigh one against the other so you can decide once and for all if you should buy a folding e-bike. And, I'll also show you what to look for in a folding e-bike that'll help you work around any potential disadvantages.
Make sure to check out the affordable options of the best folding e-bikes in the chart later on in this article!
What Are the Pros and Cons of a Folding E-Bike?
You've likely seen the small and inexpensive conventional bikes that easily fold up and pop into your car or can be carried up a flight of stairs, sometimes with one hand.
But, the truth is that folding electric bikes are quite different than regular foldable bikes due to the added electric motor, battery pack, and controller, not to mention additional wires.
Thus, electric folding bikes have certain advantages and disadvantages as compared to regular folding bikes.
But there are also pros and cons of folding e-bikes that must be considered when comparing them against non-folding electric bikes (compare the Lectric XP with the Rad Expand here) (compare the Lectric XP with the Rad Expand here).
Take a look at the two lists below to find out exactly what you need to know before you buy a folding e-bike.
Advantages of Buying a Folding E-Bike (Pros)
Easy to Take With You: When folded, they fit into most cars and can even be put in your RV's storage compartment

Easy to Take on Public Transportation: Take a foldable electric bike with you on trains or buses just by folding it up and carrying it on

Saves Space: Takes up less space in storage at home or work

Goes Fast: You'll get the amazing speed and range of an electric bike (plus the added benefits of a folding e-bike)

Many Have a Long Range: You can go super far thanks to a powerful lithium-ion battery included on many models

You'll Save a Ton of Money: Riding a foldable electric bike is far less expensive than driving a car… save on gas, car maintenance, and repair by commuting to work or school on a foldable electric bike

Less Risk of Theft: You can take your folding e-bike with you so that it's not easy to steal (you don't have to leave it unattended like you would with a non-folding e-bike)

Has All The Best Features of an Electric Bike: You don't have to sacrifice anything if you choose a folding e-bike over a non-folding one
Disadvantages of a Buying Folding E-Bike (Cons)
Heavier than Traditional Bikes (non-motorized): Electric bikes can weigh as much as 70 lbs or more and folding e-bikes are no exception (my RadMini Step-Thru Folding E-Bike weighs 68 lbs!)

Folding Locking Latch: You'll need to make sure the latch is locked tight when you open your foldable electric bike to ride it

May Break More Easily: If you buy a cheap folding e-bike, it'll likely break sooner, especially if you are opening and closing it regularly

Can Cost More: Including the folding feature on an electric bike can increase manufacturer's cost, which will be passed on to you

May Be Slower: As an electric bike, this is really only a concern if it has super small wheels (especially 12″-16″ wheels)

Ride Can Be Bumpier: Once again, those smaller wheels will make your ride a little bumpier and not as smooth

Electric Wires Can Get in the Way: When folding up and/or storing folding electric bikes, all those added wires can get snagged

Might seem too small for tall bike riders (here are the 6 best e-bikes for tall guys and gals)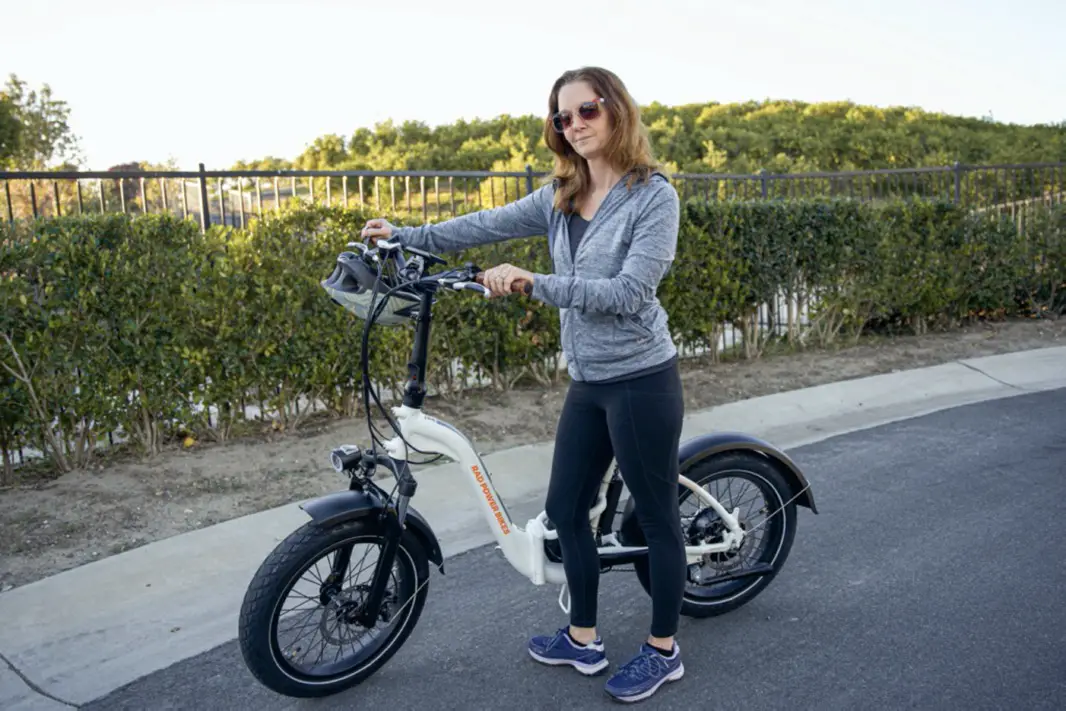 What Should I Look for in a Folding Electric Bike?
Now that you have an idea of the advantages and disadvantages of buying a folding electric bike, you need to know what to look for to avoid those disadvantages.
You can get the best folding e-bike for your needs by taking a look at these 14 things to consider:
Wheel Size
Tire Width
Type of Electric Bike
Electric Motor Power
Battery Range
Brakes
Folding Mechanism
Frame
Gears
Throttle vs Pedal Assist
Fit
Weight
Quality
Price

1. Wheel Size
Wheel size is the number one thing that makes a good folding e-bike. This is because most foldable e-bikes generally require smaller than average tires so that they can fold up properly. However, there are some drawbacks to getting one with super small tires, including a rougher and slower ride.
You can find ones with 12″ wheels, but I'd suggest avoiding them unless you're going a short distance, such as riding around a college campus. 16″ wheels are better but will still limit your speed and range.
You can overcome this disadvantage by choosing the most common folding e-bike wheel size of 20″. Any larger and you'll lose the ease of portability.
Twenty-inch wheels will typically meet all of your needs while avoiding the disadvantages of smaller wheels. They're pretty standard on most electric bikes and offer a wide range of tire widths, from road tires (around 1.75″-2.6″) to fat tires (4.0″).
So, you won't have to give up riding on the type of tire you want to just because you have a foldable bike.
2. Tire Width
Choose the tire width based on the type of riding you want to do.
On a 20″ wheel, you can get narrower tires if you just want to ride on paved road (I'd still recommend 2.3″+ for a heavy e-bike frame), 4″ fat tires if you intend to be riding through rain, mud, or snow, or even something in between if you want to ride on the road and on dirt trails (perhaps 3″-3.3″ wide tire).
If you choose a wheel size smaller than 20″, you may be giving up some of the flexibility of choosing tire width.
Find out more about tire size and how to choose the best tire for you!
3. Type of Electric Bike
What is your primary reason for purchasing a folding electric bike? Is it for commuting? For exercise? For recreation?
Do you need to ride with a child seat on the back, carry cargo, or even bring along your dog for the ride?
You can find a folding e-bike that fits your purpose. Most electric bikes, even if they're not labeled as cargo bikes, can come with a rear rack capable of holding 50 lbs or more (make sure to compare to the weight of your cargo).
If you want to ride only on paved bike paths, concrete, you can get a road e-bike with narrow tires. But if you want to be able to ride on dirt paths, then you'll want to get a hybrid e-bike or electric mountain bike with wider tires.
4. Electric Motor Power
Folding e-bikes primarily use a front or rear hub motor because they're small and stay out of the way of folding it up. This is just fine as you'll find there's plenty of power to be had.
In the USA, you can buy an e-bike with 250W-750W of power pretty easily thanks to many states following the three-tiered e-bike classification system. However, some countries won't allow any greater power than 250W motors, so be sure to check before you buy.
Despite the amount of wattage, most motors will legally cut off at 20 mph (Class 1 or 2) or 28 mph (Class 3). But some e-bikes, especially smaller ones, will only reach speeds up to 15.5 mph. This can be a disadvantage if you intend to ride a lot or get where you're going quickly.
So, to make sure you have enough power, I'd typically recommend buying a folding e-bike that has a 500W or higher electric motor that can reach 20 mph. You'll have so many bikes to choose from. And you can always go slower when it's appropriate.
5. Battery Range
One of the disadvantages of some foldable e-bikes is that they have smaller batteries. Thus, they can't go as far on a single charge as other batteries. If you're only looking at the very cheapest folding e-bikes, you will likely end up with a less powerful battery.
You can avoid this by checking out the battery voltage (V) and capacity (Ah) of the battery before you buy. Since VxAh= Wh (Watt Hours), all you really need to know is the total Watt-hours (Wh) from the bicycle manufacturers or brands.
But if you have trouble finding this number, just know that a 48-Volt battery is more powerful than a 36-Volt battery and so on. Additionally, the higher the Ah, the greater the battery capacity, and thus the larger the range. This means that you can go farther on a single battery charge.
Most USA e-bike brands tell you how many miles you can go on each of their e-bike models, so you shouldn't need to figure it out yourself.
6. Brakes
Good quality electric bikes will have good quality brakes and brake pads like Shimano or Tektro. So, if you want to be sure to stop your e-bike, foldable or not, make sure it has mechanical or hydraulic disc brakes.
Don't assume that because it's a folding e-bike you don't need powerful brakes, especially since it might be just as heavy as an electric bicycle.
7. Folding Mechanism
As this is what makes an electric bike fold and open securely, make sure there have not been any complaints about the folding latch on the model you intend to buy. As mentioned above, if this isn't strong or doesn't work correctly, you'll have a greater chance of your bike breaking, a definite disadvantage to buying a folding e-bike.
Also, understand what kind of folding mechanism you're getting and how it works.
The most common type is the split-fold mechanism. This typically uses a strong hinge in the frame's center that releases for an easy one-way fold.
Another type is a triangular hinge. This is a little more complicated but allows you to compactly fold your e-bike for storage or hopping on and off trains or buses.
8. Frame
Most electric bike frames are made of aluminum, as this is the most cost-effective and affordable. However, you can get folding e-bikes with a titanium or carbon fiber frame as well, but you will pay quite a bit more for these lighter frames.
So, if you see a huge difference in e-bike prices for what appears to be a similar model, check the type of frame. Then you'll have to decide whether the more expensive frame is worth the difference in cost. And as e-bikes are already heavy, it might just be worth it.
9. Gears
The question is… do you need to use gears if you already have electric assistance?
Well, the advantage of having gears is that you'll have an even wider range of pedaling options. If you lower the gear shift and increase your pedal assist level, you'll have more opportunities for speed. You'll also make it easier (or harder) to pedal, which means you'll have greater control over how you ride.
10. Throttle vs Pedal Assist
Naturally, you're thinking of buying an electric bike because of its electric power. But, exactly what kind of power do you need most? Will you need a throttle or just pedal assist?
The benefits of a throttle (in addition to pedal assist) include:
Getting a burst of speed at any moment
Propelling you up a steep hill without too much effort
Providing full electric power without pedaling when you're too tired (or if you don't love to exercise)
Personally, I use my throttle frequently to get myself out of the way of oncoming traffic or to get my e-bike started up a hill. So I think it's essential to have if you'll be riding in traffic or up steep hills!
11. Fit
Because electric folding bikes typically sit closer to the ground with their smaller wheels, it might not seem the right fit for a tall person. But you can find the right fit if your e-bike has adjustable handlebars or a stem that can be lengthened or replaced with a taller one.
On the other side, folding e-bikes with smaller wheels can improve the fit for smaller riders, especially ones that have a step-thru frame.
12. Weight
So you know by now that e-bikes are heavy, and that folding ones generally aren't an exception. But the difference with a folding e-bike is that you actually need to be able to manage the weight in order to fold it up and lift it, whether it's into a car or up a flight of stairs to your apartment.
This is the biggest disadvantage of a folding e-bike!
With the exception of the smallest ones (which most adult riders wouldn't want), folding e-bikes typically weigh from
50lbs-75lbs. This is no lightweight bike!
But you can overcome this disadvantage in two ways:
You'll need to be able to fold and lift by yourself (without getting hurt) or
You'll need to have a partner to help. My husband and I help each other fold and lift our nearly 70 lb folding electric bikes to assure that neither of us gets injured.
13. Quality of Electric Components
The quality of the electronics and other components on any e-bike is obviously important, but even more so on a foldable e-bike. This is because these parts need to be able to withstand a little more contact from folding and unfolding the bike.
Every time you fold it, you run the risk of breaking parts and damaging electrical wires. But you can overcome this issue by learning how to correctly fold your e-bike (follow your manufacturer's directions) and getting help from another person when you do so.
Will you pay more for better-quality parts? Generally speaking… you bet!
14. Price of Folding E-Bikes
Although adding a bike frame folding feature can increase the cost, thankfully, there is a good amount of competition that has helped folding e-bikes stay affordable.
You can get a cheap foldable e-bike for around $400 and a premium quality one for close $4000. However, average prices for electric folding bikes of good quality hover around $1500.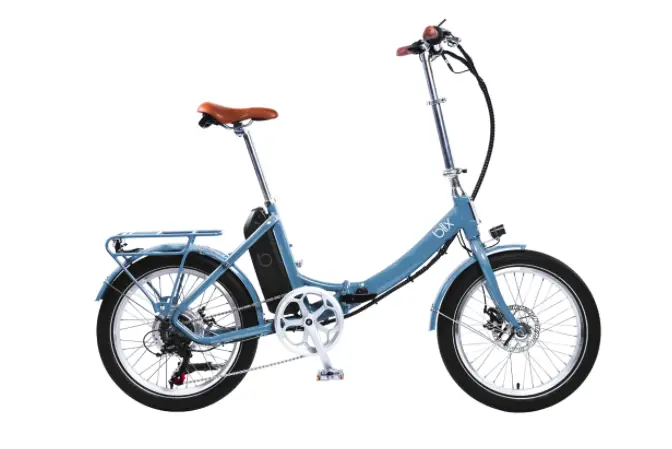 Best Foldable Electric Bikes for Adults
When buying the best folding electric bikes, you should be willing to spend $999-$1800. The best ones have great to excellent customer reviews and the brands of each model should provide details about all of the things you should look for in a folding e-bike (as listed above).
Here are 5 of the best folding e-bikes that you can buy for adults (that meet the above criteria):
Generally, sticking to this price range will get you an awesome e-bike that folds and has enough power and range to get you where you need to go. Plus, you'll typically get a throttle (all of the foldable e-bikes in the chart have one), disc brakes, gears, and an LCD display. Check each model for additional features that make the price worthwhile.
What Is the Lightest Folding Electric Bike?
The lightest, premium quality folding electric bike is the Hummingbird, weighing only 22.7lbs (10.3kg). It has a motor power of 250W and a battery range of 31+ miles (50+km).
Although it has a huge advantage of being small and lightweight, its speed maxes out at 15.5mph (25 kmh). After all, a lightweight folding e-bike of this compact size can only carry a smaller motor. So don't expect to go as fast as a larger, more powerful e-bike.
Unfortunately, there is a huge disadvantage to this e-bike as well… its $6000+ USD price tag!
Get all of the details on its website here.
Are Folding E-Bikes Worth It? (Conclusion)
So, why should you buy a folding e-bike? And will it be worth it?
If you're looking for convenience, then a folding e-bike is right for you. Not only can you fold it, carry it, and easily store it, you can take it with you pretty much anywhere you go. You don't need an expensive car bike rack or trailer to haul it.
Plus, there are many affordable options that are high-quality and can be ridden just like any other e-bike, without giving up a smooth ride or other essential features.
Although there are some potential disadvantages of a foldable electric bike, the advantages typically outweigh them, as you can see from the pros and cons listed in this article.
Helpful Reading: