So, I recently got my hands on the Aventon Sinch 2, and let me tell you, I've been buzzing to give this folding e-bike a spin. I've had my eye on it in the hopes that it might just be the folding ebike bliss I've been searching for. 
Follow along as I break down the pros and cons of the Sinch 2 folding fat tire ebike, compare costs, and tell you what else you need to know to decide if it's the best ebike for you!
Starting with an easy step-thru folding frame, and a bit of a rugged look, I'm excited to take you along on my ride in this Aventon Sinch.2 review.
Let's go!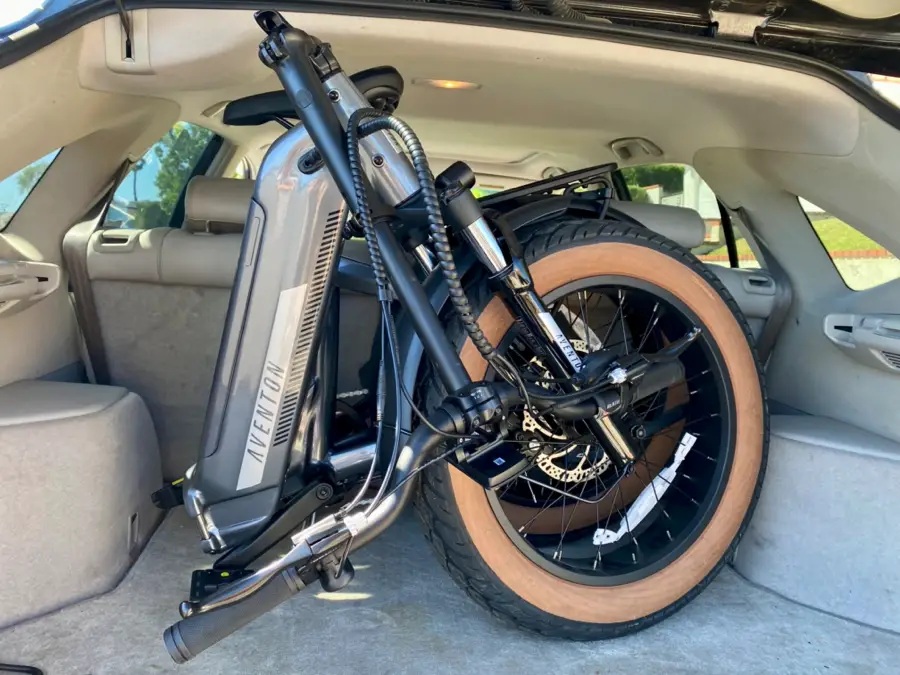 The Pros of the Aventon Sinch.2 Electric Bike
Super Easy Unboxing and Assembly
Removing the sustainable packaging was easy… and assembling the Sinch 2 was a breeze. I didn't need to attach even one component!  I folded up the handlebar, unfolded the ebike frame, used two tools that came with it to tighten up, unfolded the pedals, adjusted the seat to the correct height, added some air to the tires, and I was ready to ride! 
Foldable Design 
One of the biggest highlights! The Sinch 2 ebike folds up neatly. Thus it's perfect for city-dwellers with limited storage space or folks who wanna toss it in the trunk of their car for some off-the-beaten path riding.

Powerful Motor 
It's got a 500W sustained hub motor with a 750W peak, which means you get that extra push when you need it. I found it to be plenty powerful and easily rode up hills at 19-20 mph! 

Torque Sensor
If you checked out my review of the Aventon Aventure 2, you already know that I love torque sensors. Having one on the Sinch.2 is a huge benefit, giving me more control over how I ride! Check out the Aventure 2 review to help you learn more about riding with a torque sensor.
Integrated Lights with Turn Signals
The Sinch.2's front headlight may be standard, but the integrated rear lights with turn signals upgrade the safety factor. Using them to change lanes worked to my advantage and notified others of my intention to turn. 
Strong Battery Life 
After riding it for 1 hour, the 48 Volt battery had lost only 6% of its charge. Thus, if you ride like I did, with low to moderate pedal assist and occasional throttle, then you should be able to ride close to 55 miles on a full charge.

Some folding e-bikes have a range of only 20 to 30 miles on a single charge. If an electric bike offers 40 miles or more as the Aventon Sinch.2 does, it has a very good range that will satisfy most e-bike riders. Just understand that this distance can vary based on factors such as the rider's weight, terrain, pedal assist level, and typical usage.

Fat Tires
I love having 4-inch wide tires instead of the 3-inch tires I've had on other electric folding bikes. The Sinch's fat tires gave great traction on my favorite rocky paths.  

Further, the ride felt stable and secure with the wide contact surface of the 4-inch fat tires and the low-to-ground 20-inch tires. This will be particularly helpful for new ebike riders or those wanting extra assurance on uneven surfaces.
Front Suspension
You'll get up to 45mm of travel to help reduce bumps on the road and off-road. At first, I found the bumps quite strong and jarring. But once I adjusted the suspension, my ride became much more relaxing.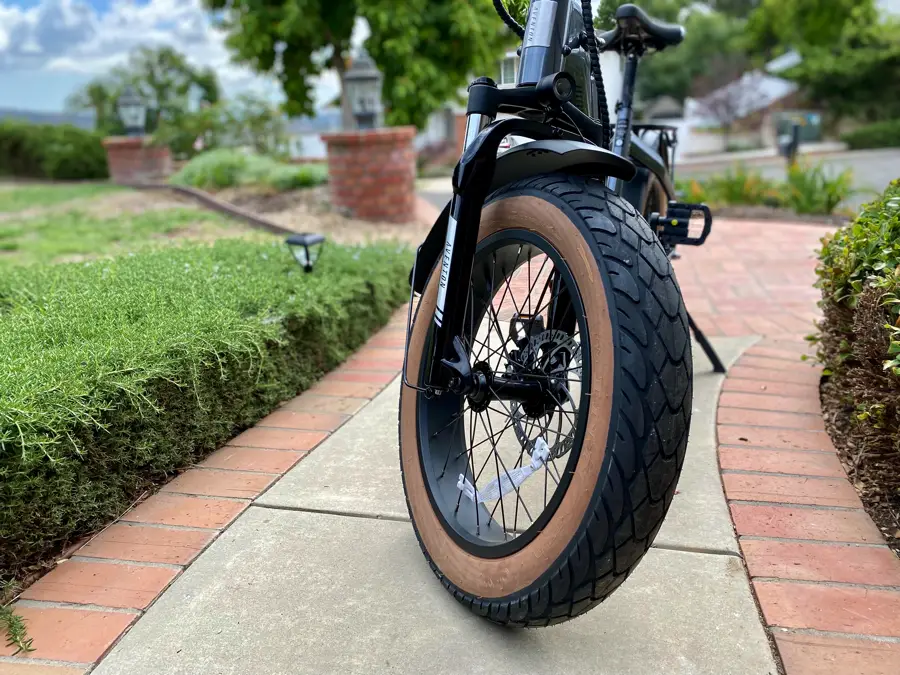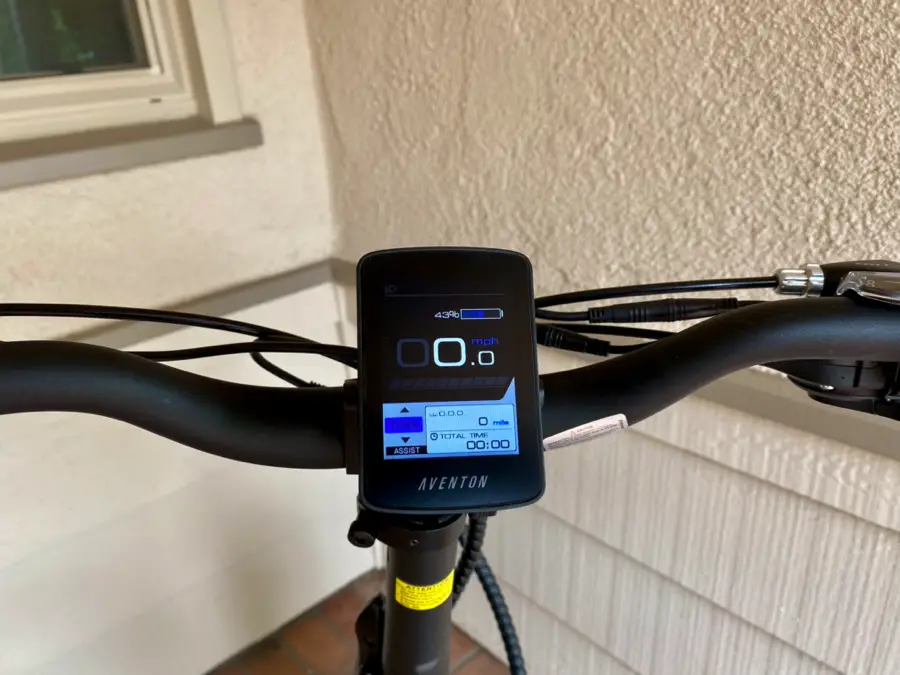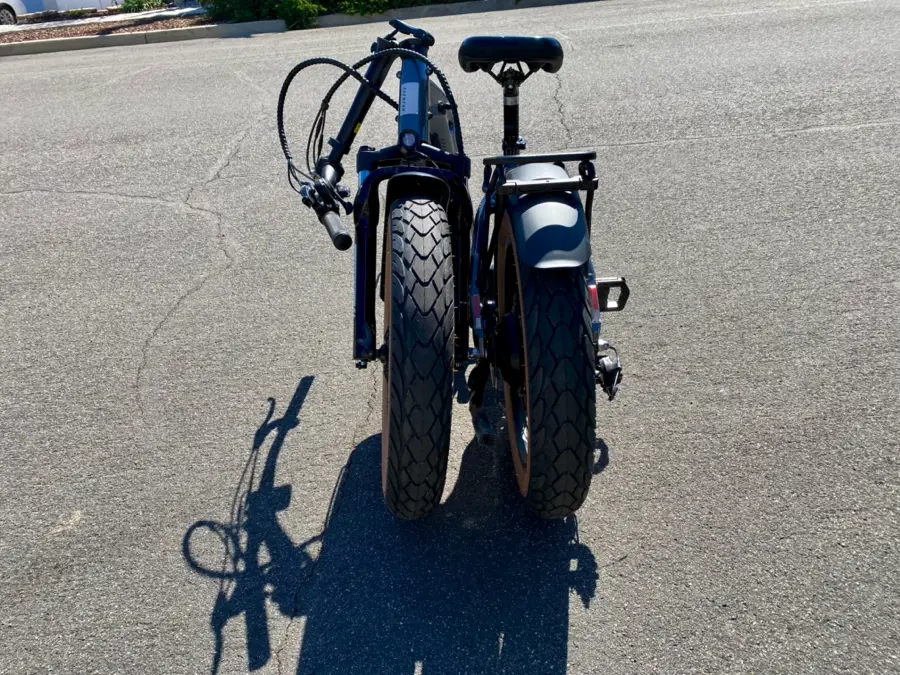 Other Benefits of the Aventon Sinch.2
The Backlit LCD Display
I appreciate the easy-to-read full-color LCD screen. It provides info like speed, distance, pedal assist, and battery life. And be sure to check out the Aventon iOS and Android app!

4 Levels of Pedal Assist  
You get to choose how much oomph you want when you're pedaling. Ride up to 20mph using pedal assist or using the on-demand throttle. I found both easily achievable. Whether you want a light assist or full-on "take me to the top of this hill without breaking a sweat" mode, it's got you.

Frame Size
Seating riders from 4'11" to 6'2", the Sinch 2 fits almost anyone. Plus being able to step through the frame makes it accessible for any fitness level as long as you can ride a regular bike. At 5 feet 1 inch, I sit upright and am super comfortable.

Adjustable Handlebars
These are just one more thing that makes it a comfy ebike. Set the height of the handlebars to keep your shoulders comfortable.

Bonuses!
A rear rack and dual fenders are included with the Sinch 2 electric bike.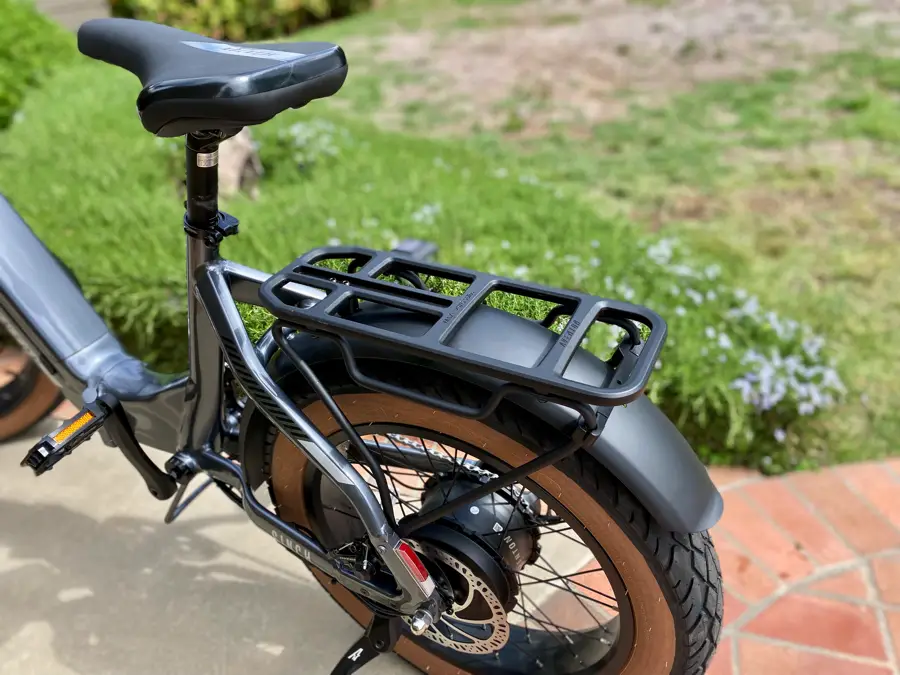 Cost to Purchase
First, let's compare its cost with equivalent folding electric fat tire bikes. The Sinch 2 ST ("step-through") and the first generation Sinch electric bike ("step-over") frame are priced separately. The Sinch.2 retails for about $200 more, around $1799. This is a great value considering the multiple added and improved features.
It's important to note that the range of the new Aventon Sinch.2 is 25 miles longer than the original Sinch e-bike. In my opinion, a longer range and the addition of a torque sensor are worth paying a little more for. Plus, most riders will benefit from the low-step frame.
When comparing the Aventon Sinch 2 retail price to other folding electric bikes, it's in the middle price range. The best value for your money depends on what you prioritize in an electric bike. You might prefer power or top speed to brand reputation, or require features like the Sinch 2's torque sensor or long range. 
Make sure to check the most recent prices and reviews when shopping around.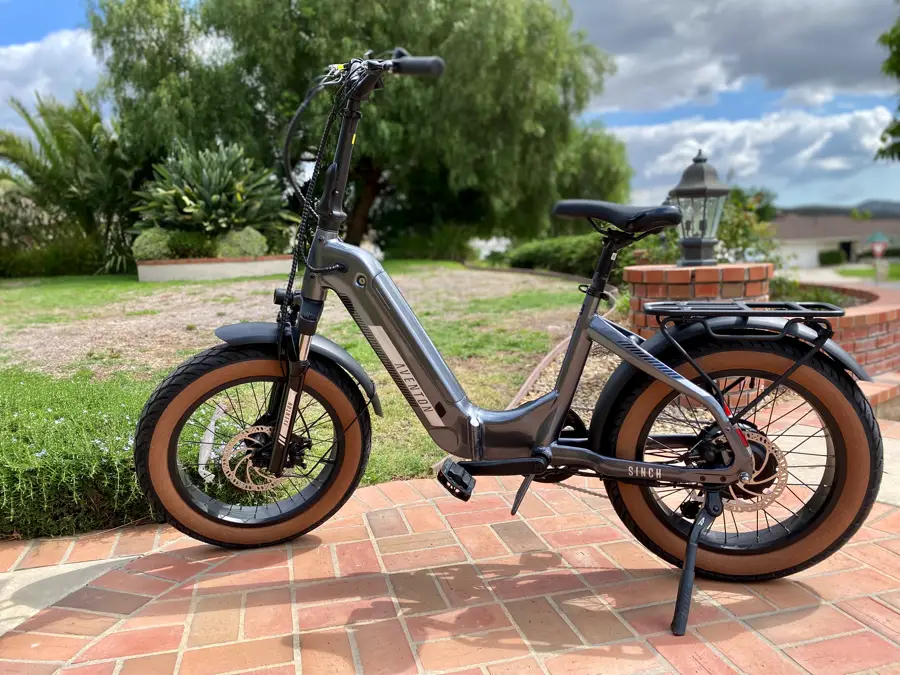 Cons Discovered in the Aventon Sinch 2 Review and Test Ride
Cost
Like most e-bikes, the Sinch 2 isn't exactly cheap. If you're on a tight budget, this might not be the one for you. But, if it's in your price range, the quality and value make it a winner. Plus, Aventon Bikes offers sales like the one for $300 off.

Handlebar Grips
Although they're very grippy, they aren't the most comfortable, as you can see by the light pattern left on my hand. The upside is that your hands won't slip… and thankfully, nicer grips are inexpensive, so this isn't a deal-breaker.
Folding Mechanism
While it's super handy that it folds, the mechanism took me a bit to get used to. Initially, I didn't push it hard enough to lock it, and my first attempt at folding it took some time.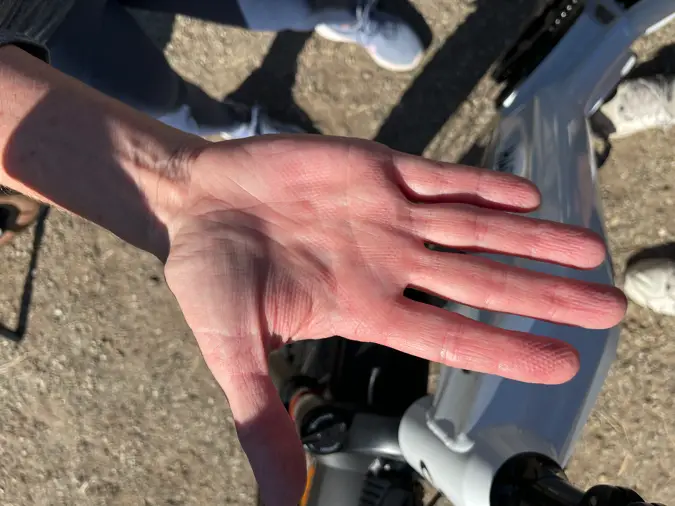 What Else You Need to Know About the Sinch 2
Weighing in at around 68 lbs, it's not lightweight, but heavy is pretty standard for a folding fat tire e-bike. Still, it could be a bit cumbersome for some people.
And, even though it's foldable, it still takes up a bit of space because its chunky frame holds a decent-sized battery. Make sure to check the dimensions to ensure it'll fit wherever you plan on storing it.
A few other things to know… It has 8 speeds, mechanical disc brakes, and a weight limit of 300 lbs, while the rear rack holds a hefty 55 lbs.
Note of Caution
Be careful when reading the reviews on the Aventon site. Some customer reviews about the original Sinch e-bike are mixed with the new Sinch 2 Step-through, so looking at the specs as stated by customers is a bit confusing.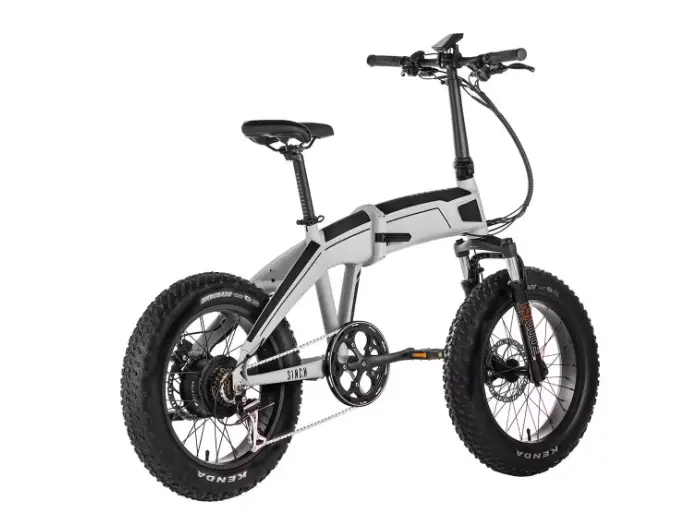 E-Bike Review Conclusion
So, what's my conclusion from the Aventon Sinch.2 review? The Sinch 2 bike is near perfect and qualifies as one of the best folding e-bikes with fat tires, just as I hoped it would. And if you're looking for a bike that blends urban commuting with off-road adventure, it could be the best electric bike for you.
I hope you've learned a lot in my Sinch.2 ebike review.
And, as always, enjoy your ride.