You might be wondering… "What's the big deal about just another version of an e-bike with a standard 500 Watts of motor power?"
I wondered the same thing when beginning this electric bike review. However, I believe you'll come out of this review with a better understanding of what's needed in a great commuter e-bike that doubles as a cruiser.    
Like any electric bike, the third version of the Aventon Pace 500 has its pros and cons. You'll want to make sure it's the best e-bike for you before spending around $1699.
Plus, I'll show you what I love most about the Pace 500.3 and what's missing that you might find a little disappointing.
Continue reading as I share my Aventon Pace 500.3 electric bike review and ride experience with you. Plus watch the Pace electric bike review below!
Aventon Pace 500.3 Overview
Performance and handling are truly where this Aventon e-bike shines. Its slender frame, narrow tires, and ease of riding are the first things I noticed when riding the Pace 500.3. But, there's still a lot to consider. Take a look at the advantages and disadvantages of the newest Pace 500 to help you decide whether this is the best electric bike for your needs.
Pros of the Pace 500.3
The Aventon Pace 500.3 qualifies as a powerful electric bike thanks to its top speed of 28 mph when using pedal assist. So, although it might be called a cruiser, there's nothing slow about this e-bike. If you need to get somewhere fast, consider it done!

The Pace offers a battery that provides a higher-than-average range of 60 miles per charge. Thus, commuting or taking long weekend rides doesn't have to be just a fantasy. It's important to note that this third-generation Pace 500 has close to twice the range of the previous Pace e-bike model.

It also has 4 well-defined pedal assist levels including eco, tour, sport, and turbo modes.

Hydraulic disc brakes are a welcome benefit for excellent stopping power, especially at high speeds.

Plus, here's what makes this e-bike perfect for commuting or cruising. The relaxed, upright riding position and swept-back handlebars that provide an incredibly comfortable ride.

The Pace 500.3 also offers a standard or step-through frame, both of which come in two frame sizes to ensure the perfect fit. If you're a fan of the step-over frame, you can choose it in midnight black or camouflage.

The step-through frame, however, makes it easy to get on and off without getting tripped up. You can choose from ghost white or blue steel, like the one I tested in my e-bike review.
 
Make sure to check out Aventon's own sizing tool (click on the blue box to the right) to get the best fit.

These are all great benefits but there are some features that really add to its high value.
First, you can adjust the stem! With an adjustable angle and handlebars that raise or lower, you'll get comfortable and enjoy every ride that much more.

And, just like on the Aventon Adventure2, you'll get a fully integrated headlight and rear lights with turn signals to keep you safe around other bikes and vehicles. Plus, the easy-to-read backlit display with an included USB port and the Aventon app keeps you connected!

And I can't forget one of the biggest benefits of all… it's lightweight! At only 52 lbs, it feels like a more natural ride and is easier to maneuver and lift than many other electric bikes.

Interestingly, this lightweight electric bike can hold up to 300 lbs, which should be plenty to accommodate most riders' weight and gear.

Now, here's what makes the Pace really stand out in value and performance… the new Pace 500.3 comes with a torque sensor. Basically, implementing a torque sensor allows you to be in charge of your ride. It's truly a more natural pedaling experience. This type of sensor matches your momentum instead of taking off without you like a cadence sensor can.

I personally love the feeling of riding with a torque sensor because it allows full control of the ride and keeps the rider actively involved. Additionally, it helps conserve battery life, letting you take longer rides.

Remember, you can always use the on-demand thumb throttle to get you started from a full stop. Further, it can take you up to 20mph without pedaling when you've had enough.

With all of these advantages, and compared to other e-bikes with similar specifications, the Pace 500.3 is competitively priced, making it a very good value.
Before we take a look at the disadvantages, please take a second and subscribe to E-Biking Today on YouTube. You'll get a ton of other informative ebike reviews and helpful information.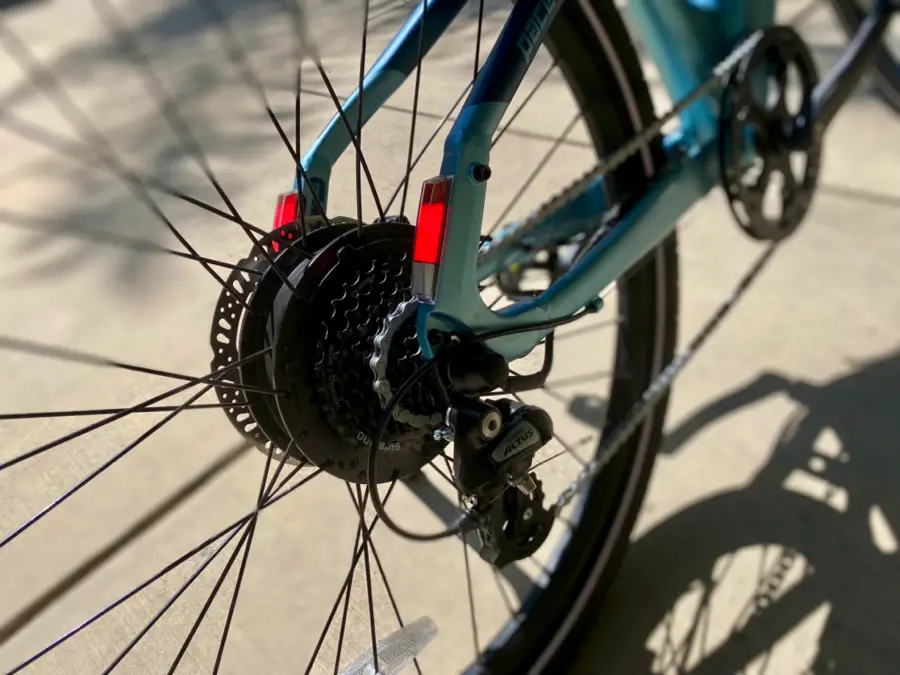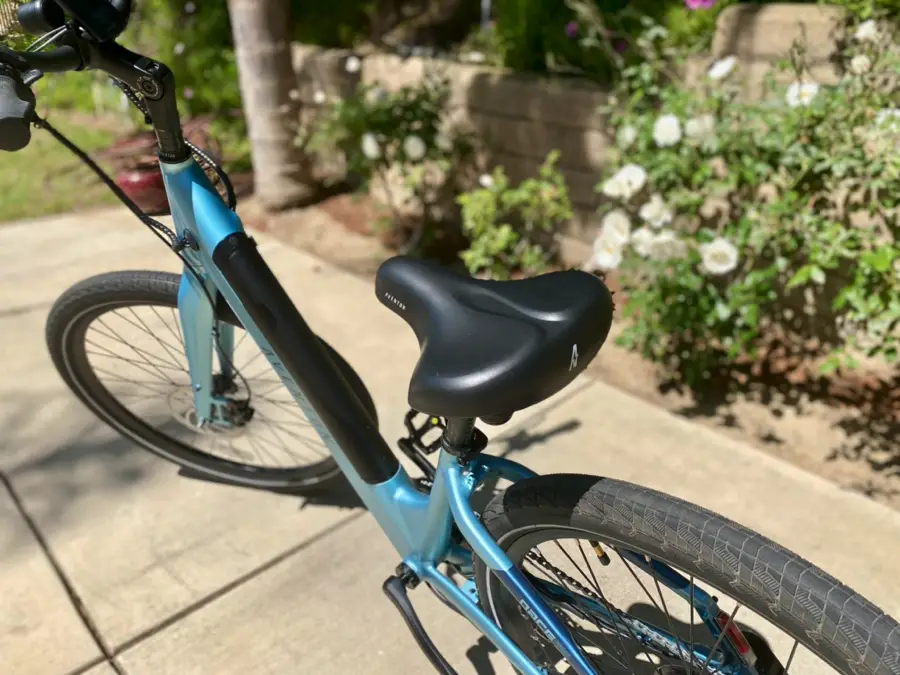 Cons of the Pace 500 version 3
Now, here are the cons of the Pace 500.3:
You'll have to purchase your own fenders and cargo rack if you need them. At least, Aventon offers them to you when you make your purchase, making them easy to come by.

Limited off-road capability: The Pace 500.3 e-bike is primarily designed for cruising and commuting, so it may not perform as well off-road or on uneven terrain. However, if you need to do some light off-roading, you can make it work.

Like most electric bike brands that ship e-bikes to your door, the assembly will need to be completed. Fortunately, it doesn't take long since Aventon gives you the correct tools and a great assembly video.

Finally, it is a little disappointing that the Pace 500.3 doesn't have a front suspension, which could improve the ride on bumpy or uneven terrain. After all, even a paved road can be bumpy or jarring at times.

If this is a concern for you, it will be helpful to ride with a suspension seat post and/or upgraded saddle. You might also consider lowering the tire pressure.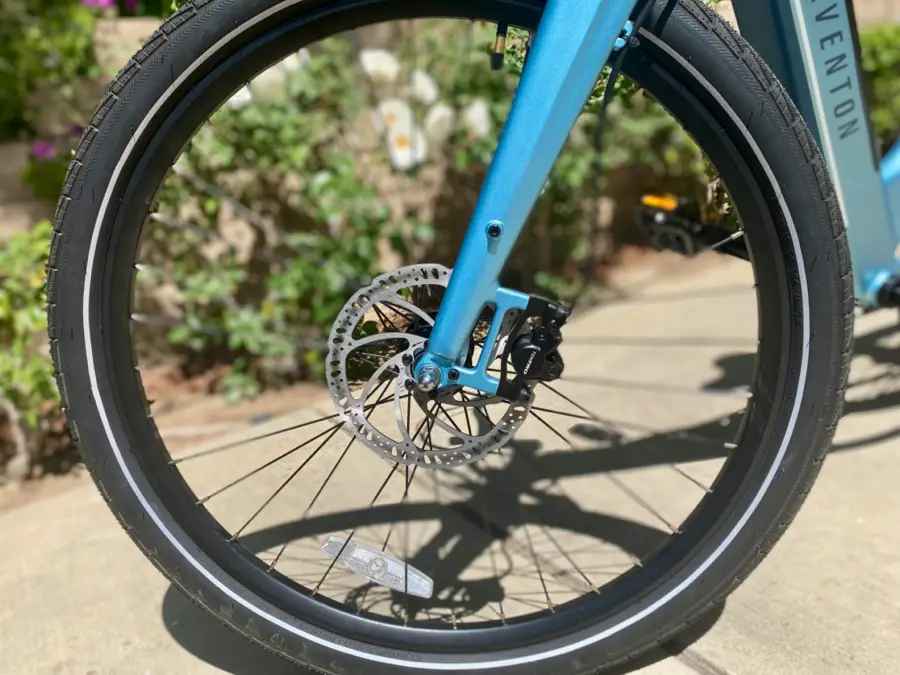 Who Should Ride (or Not Ride) the Aventon Pace 500.3
Overall, the value is clear for the newest Pace 500 cruiser e-bike. Besides only weighing 52 lbs, it rides up to 60 miles at 28 mph and has a torque sensor for a very reasonable price of $1699.
Who the Aventon Pace is Best For
The Aventon Pace 500.3 is a great option for you if you commute, ride regularly, enjoy putting in the effort to pedal, or want to be comfortable on long-distance rides.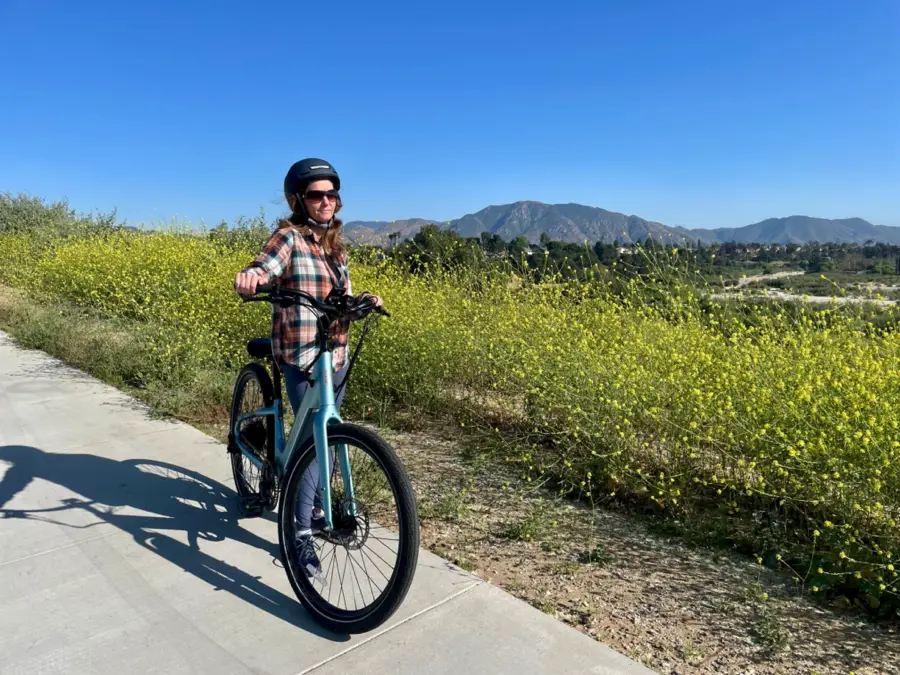 When to Choose A Different E-Bike Model
There is one good reason not to choose the third version of the Aventon Pace cruiser electric bike. It may not be for you if you'd prefer the pedals to take you along on a ride instead of matching your own effort. If this is the case, you might prefer an e-bike with a cadence sensor as opposed to a torque sensor.
Conclusion
If you'd like to learn more about the Pace 500.3 or other electric bikes, be sure to take a look at other E-Biking Today articles. You can also check out other electric bike reviews such as the Aventon Adventure 2 review as well as other information on torque sensors.
I hope you've learned a lot from my Pace 500.3 e-bike review! Enjoy your ride!